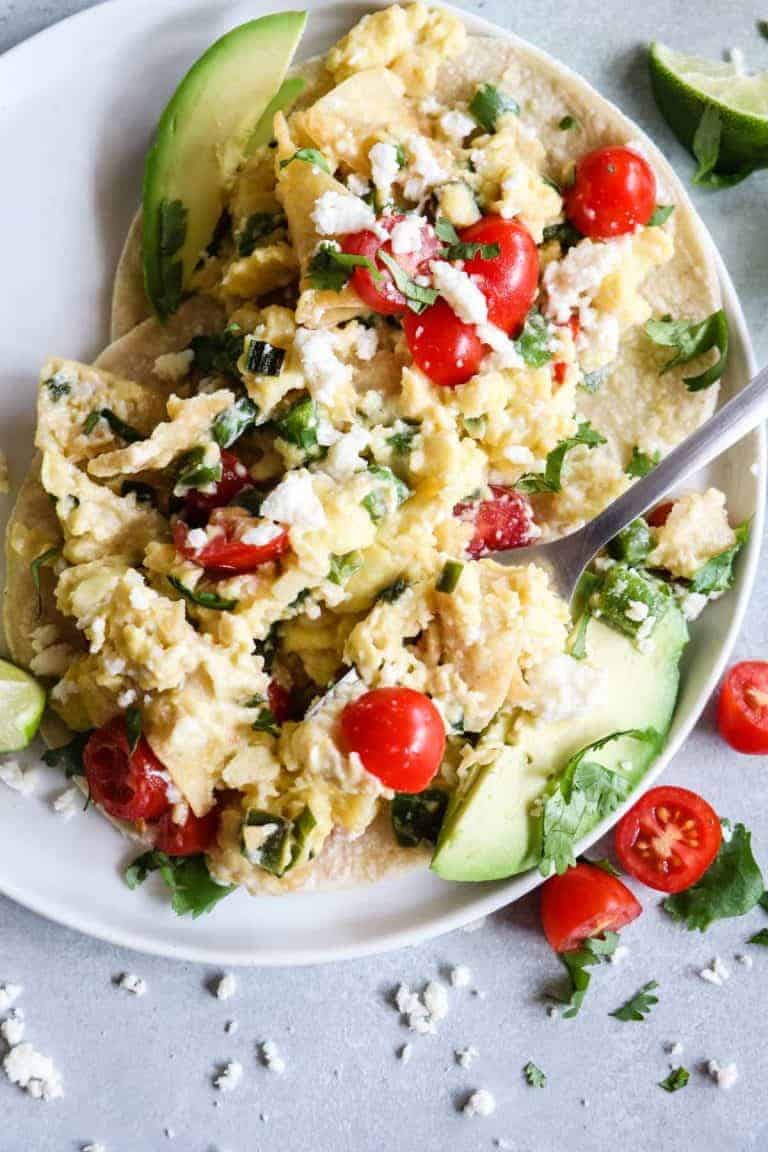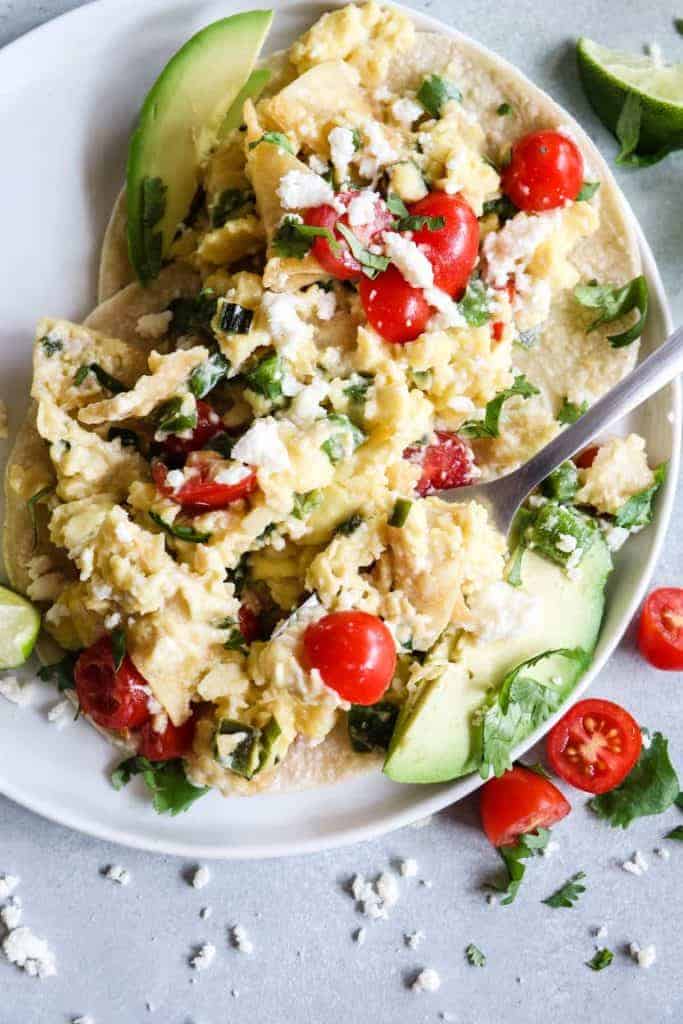 Easy migas are the Tex-Mex way to start your day! Soft and cheesy scrambled eggs loaded up with fried tortillas.
Sadly, if you've not visited the southwest you may not know about this dish. Migas is basically soft and cheesy scrambled eggs loaded up with peppers, onion, and fried tortillas.  Plus anything else you want really. Some people will serve this dish with refried beans, top it with salsa or sour cream. It's basically all the good things involved in Tex Mex food plus scrambled eggs. Which means we can have it for breakfast.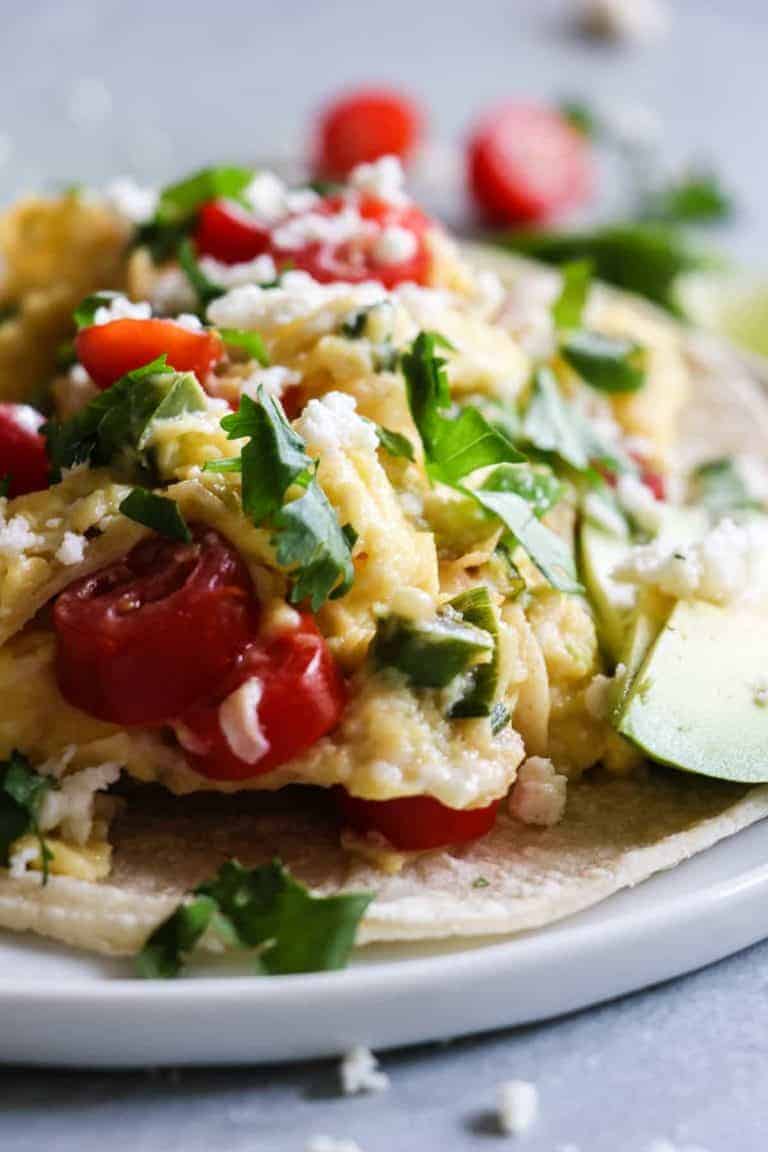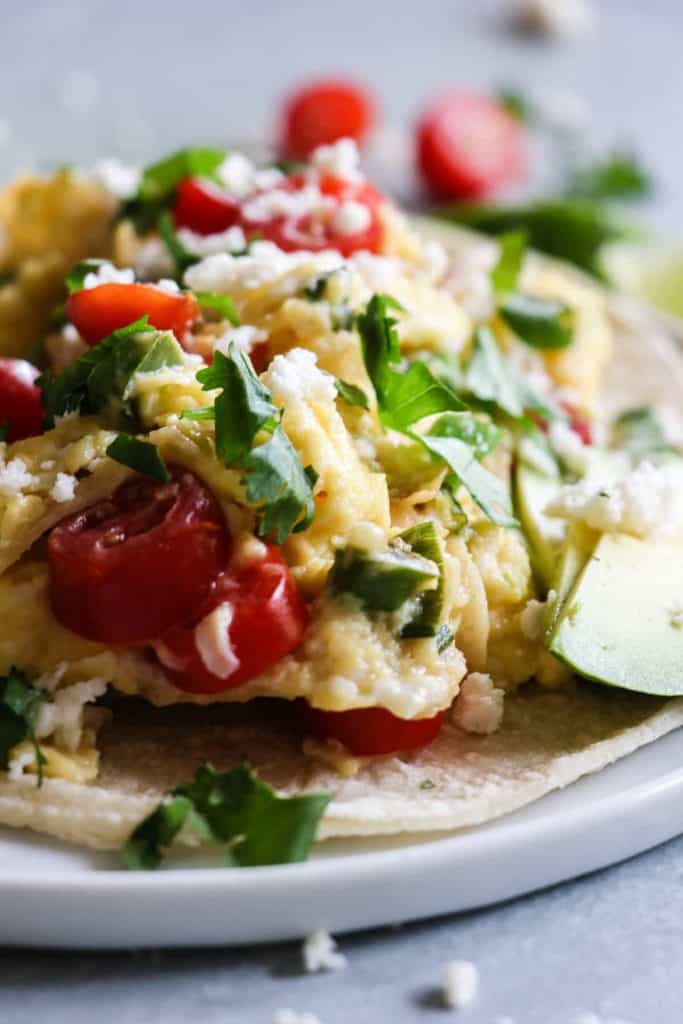 This is a wonderful dish to make if you have some leftover tortillas. A quick dip in some oil and a sprinkle of salt is all we need to make our own little fried tortilla strips. If you've never done this to make your own fresh tortilla chips, I highly recommend it. Serve some up with a little homemade salsa and we're good to go.
Making your own fried tortillas is the best way to make this dish work. Fry them up before you make the eggs and add them to the eggs after they are slightly cooked. Save some though to add to the dish at the end. That way you have the fried tortillas mixed in with the eggs that are slightly softened and you have some fresh crispy ones to add to the finished dish.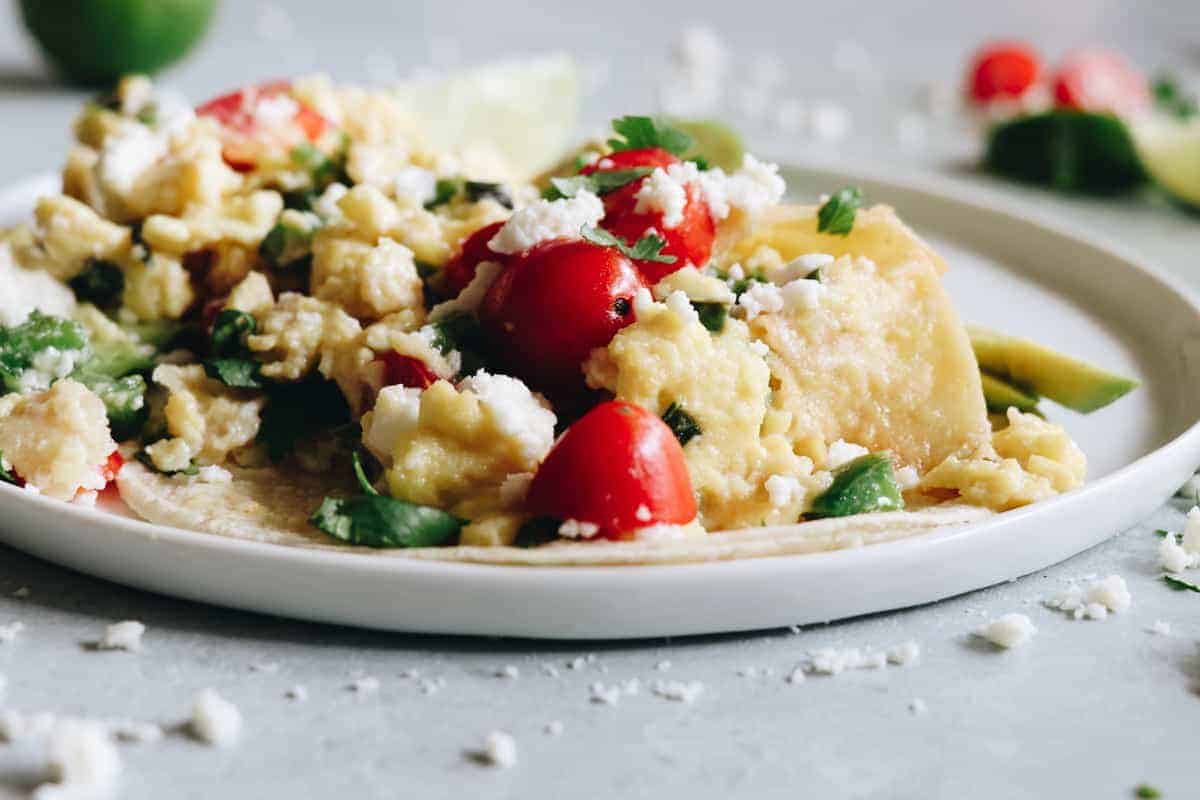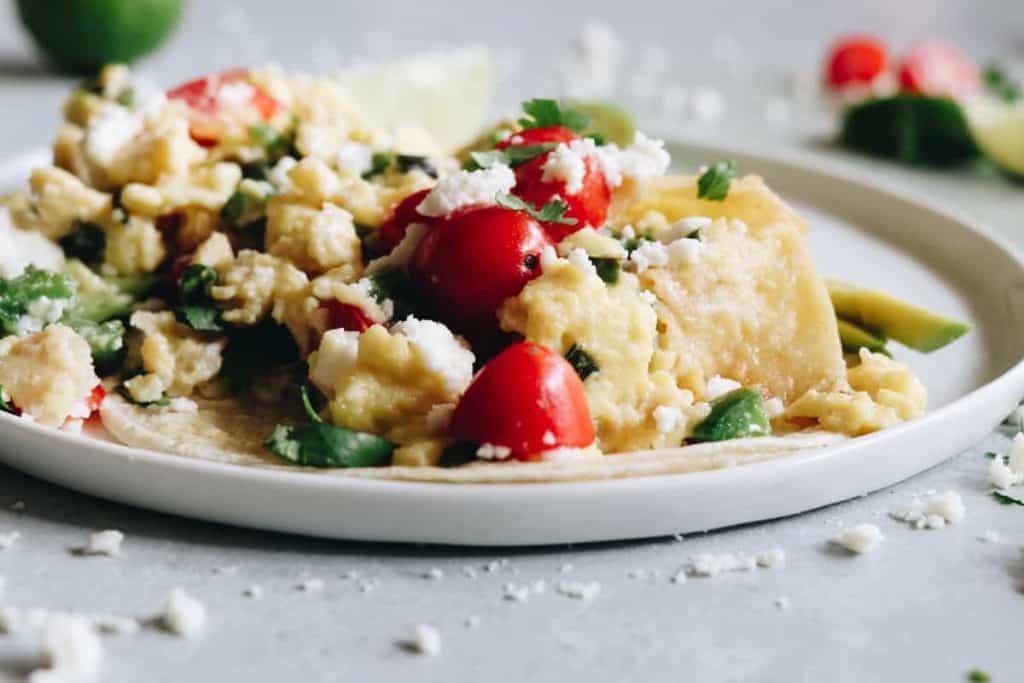 If you love a good Tex Mex breakfast, make sure you check out my Chilaquiles recipe too. Which is similar, but it's more like nachos with the fried tortillas soaked in a red chile sauce.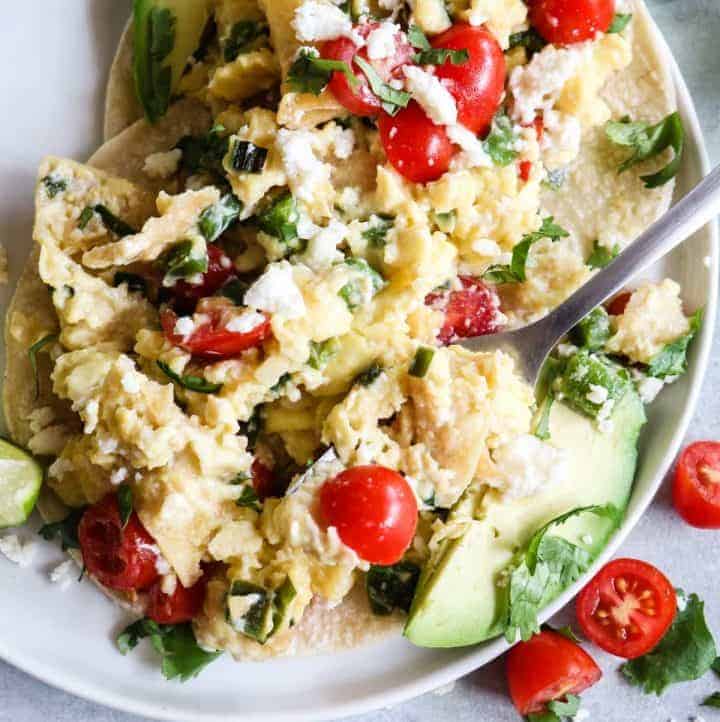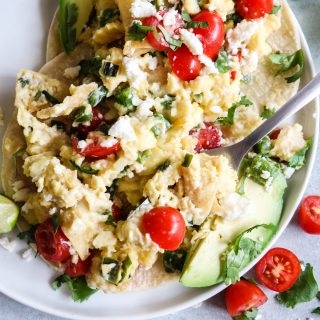 Migas
Migas. This quick and easy Mexican breakfast recipe uses up leftover tortillas to create a flavorful breakfast skillet! Serve with fresh flour tortillas or refried beans for a complete meal!
Ingredients
3 tbsp avocado oil, or extra virgin olive oil
6 white corn tortillas, cut into bite size pieces
8 large eggs
2 tbsp milk
salt & pepper
½ cup Monterey Jack Cheese, shredded
Serving Options
2 cups refried beans
4 corn/flour tortillas
Toppings (Optional)
Salsa
pico de gallo
queso fresco or cotija, crumbled
avocado
cilantro, diced
Instructions
Heat olive oil in a large skillet over medium heat. 

Add the corn tortillas to the skillet and cook until crispy. Sprinkle with a pinch of salt.

In a medium size bowl whisk together the eggs, milk and salt and pepper as desired.

Pour the egg mixture into the skillet over the fried tortillas. Allow the eggs to cook, once they start bubbling, carefully scrape the eggs with a silicone spatula to scramble them. 

When eggs are partially cooked, add the shredded Monterey Jack Cheese and stir to combine until cheese is melted.

Continue cooking until the eggs are fully cooked, no longer runny. 

Remove the skillet from the heat. 

Serve over refried beans or on corn or flour tortillas.

Garnish with optional toppings.
Nutrition
Calories: 441kcal, Carbohydrates: 31g, Protein: 22g, Fat: 25g, Saturated Fat: 7g, Cholesterol: 341mg, Sodium: 911mg, Potassium: 215mg, Fiber: 7g, Sugar: 4g, Vitamin A: 683IU, Calcium: 234mg, Iron: 3mg
House of Yumm is a participant in the Amazon Services LLC Associates Program, an affiliate advertising program designed to provide a means for us to earn fees by linking to Amazon.com and affiliated sites.