This Hawaiian grilled cheese is bursting with pineapple, Canadian bacon and jack cheese!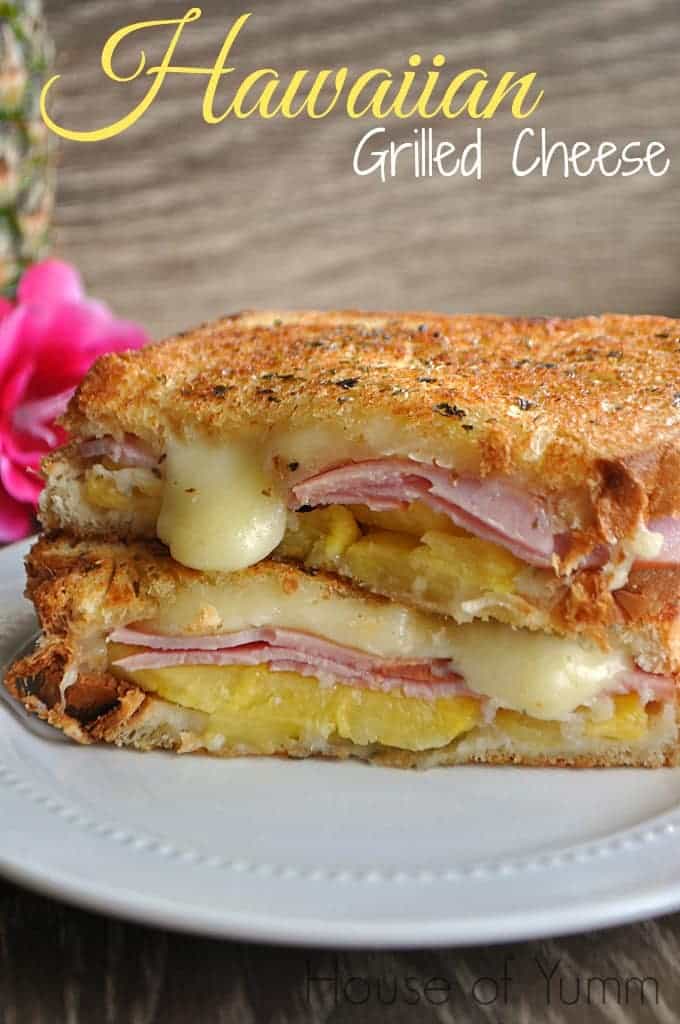 I don't know what it is about Hawaiian pizza, but it was always my favorite when I was a kid.  Maybe because it was different?  I love pepperoni and cheese pizza, that's a classic.  But the Hawaiian, was just so much fun!
To this day eating Hawaiian pizza reminds me of being a kid.
This grilled cheese was everything that I hoped for.  It truly matches the Hawaiian-ness of the pizza.  I've never been to Hawaii, but I imagine it to be like how a pineapple tastes.  If that makes any sense.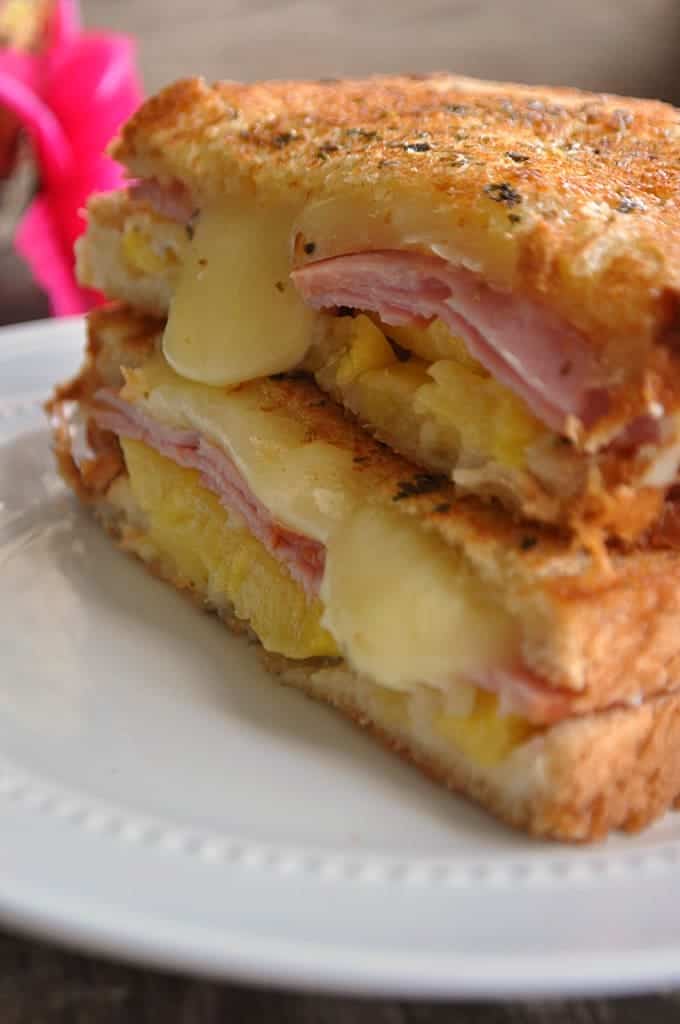 The day I made this was the hottest day of the year so far.  I didn't look to see the temperature, all I know is that I was my poor Lily (now 10 months old) was so sweaty and sticky, and that was with her stripped down to just her diaper.  It was also the day I gave her a ponytail!  Her very first one.  I took it out when she went down for a nap though, and she spent the rest of the day with the best mohawk!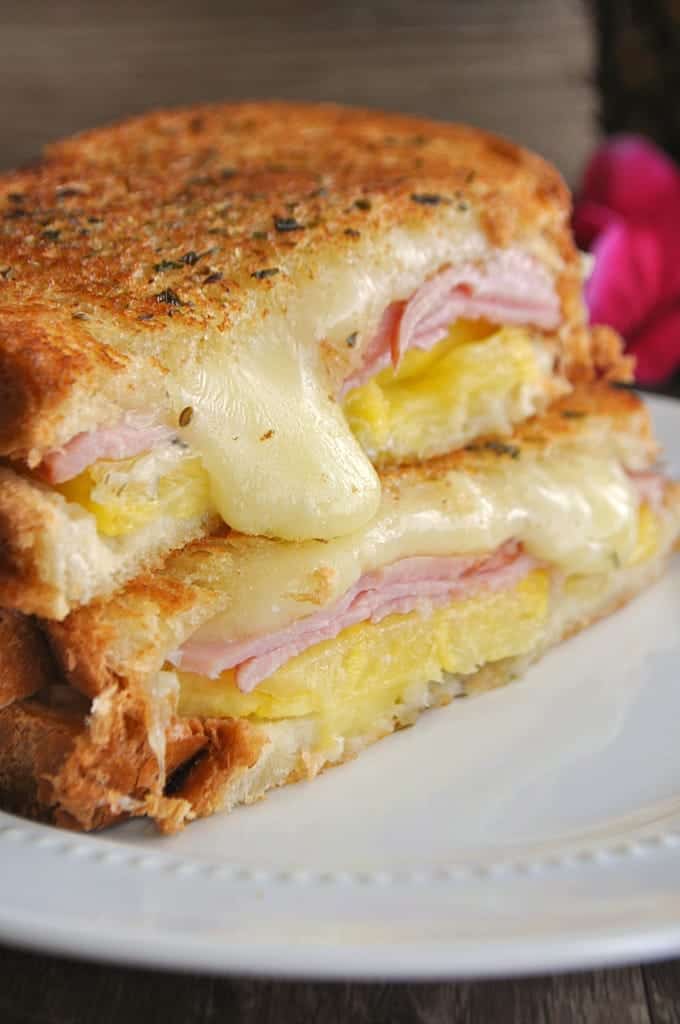 Goodness..where was I?  Oh yea.  It was hot outside, and inside.  So eating this grilled cheese made me think of Hawaii.  And sitting on the beach under an umbrella, enjoying a drink from a coconut.  I don't care whats in the coconut.  Could be ice water.  The important part of the story is that whatever it is I'm drinking is in a coconut!!  How amazing would that be?!  For those of you who have had a drink in a coconut don't tell me how lame it really is and ruin this fantasy for me.  It's a life long dream of mine to someday enjoy a drink in a coconut.  And it has to be done on a beach.
I am definitely enjoying the month of April being National Grilled Cheese month.  I wonder what kind of grilled cheese will be next…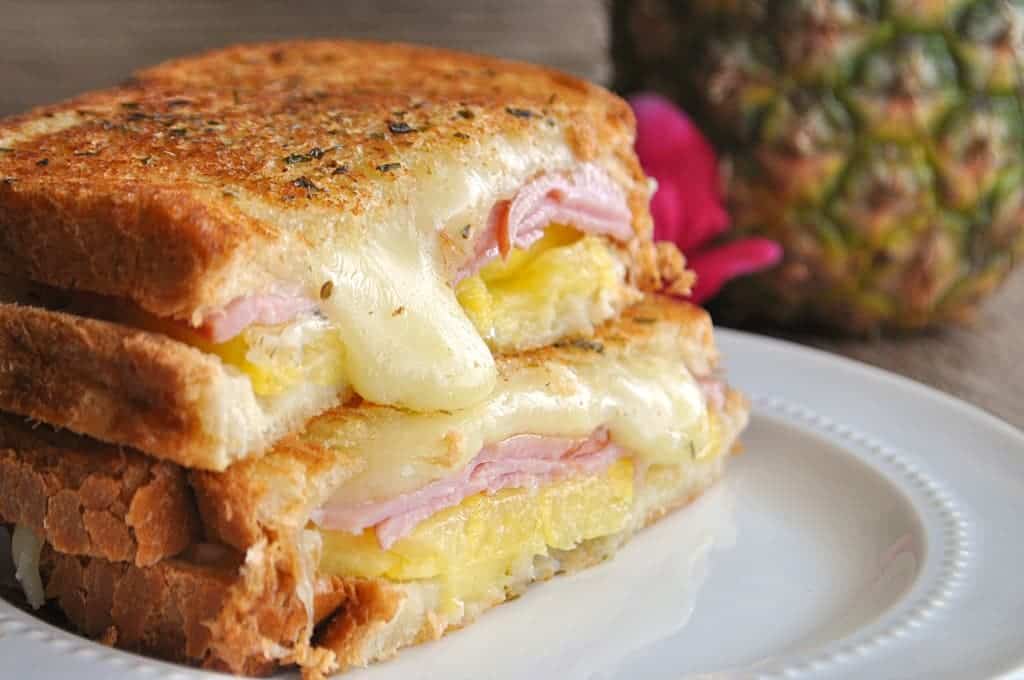 Thanks so much for visiting! Never miss a recipe from the House Of Yumm! Choose your favorite way to follow, or do them ALL!
FACEBOOK | PINTEREST | GOOGLE+ | TWITTER | INSTAGRAM | BLOGLOVIN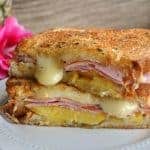 Hawaiian Grilled Cheese
---
Ingredients
2 slices of bread
3 slices of pineapple, fresh or canned
3 slices canadian bacon
shredded Monterey Jack cheese
butter
oregano and parsley
---
Instructions
Butter one side of each slice of bread and sprinkle with parsley and oregano to taste
On non buttered side of bread place the shredded cheese, then the canadian bacon, pineapple, and top with the other slice of bread, buttered side facing up.
Cook sandwich on stove top on a griddle or frying pan. Once bread is toasted on one side flip the sandwich to toast the other side. Cook on a low heat to allow the cheese to melt while the bread is toasting.
Other Sandwiches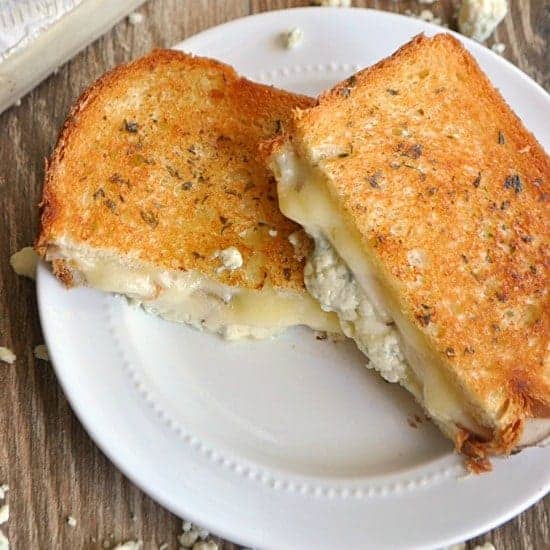 Pear Gorgonzola & Brie Grilled Cheese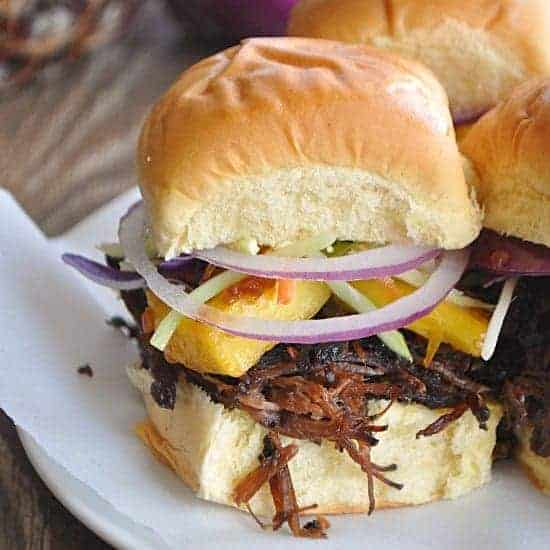 Sweet & Spicy Meatball Sliders