Twice Baked Potatoes! Basically mashed potatoes loaded up with cheese, bacon and green onion stuffed into a baked potato. This easy to put together side dish is sure to be a new favorite! Can be made ahead and baked fresh to serve with any meal.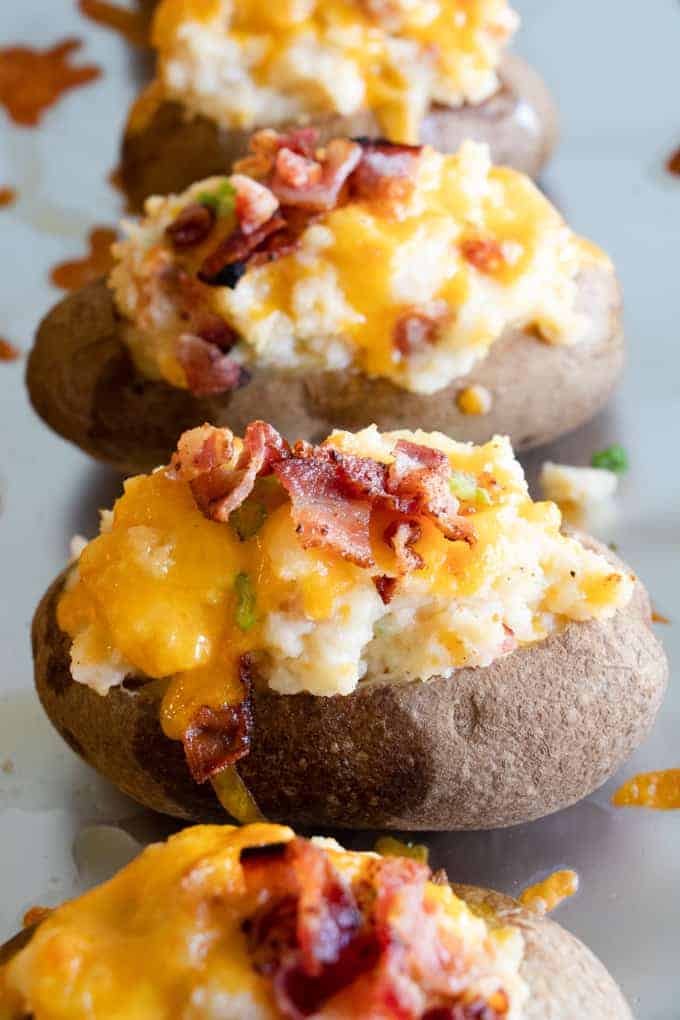 Twice baked potatoes are a fun side dish! This potato recipe is great for serving as a holiday side dish, or as a side dish at a BBQ. I love to make these as a side for when my husband wants a steak for dinner. The ingredients are easy, and best of all I can find them all at my local Walmart and get them when I do my online grocery pickup.
How to make twice baked potatoes
This recipe for twice baked potatoes is fairly easy to make. It does take some time though, because the potatoes have to cook twice. Which is where the name comes from. The general idea of a twice baked potato is that you are making a baked potato then scooping out the softened potato while leaving the skin in a sort of shell.
Add butter, sour cream, and a splash of milk to the scooped out potato to get the right consistency, then load it up with your filling of choice! I love to go with bacon, cheese and green onion. 
How long do twice baked potatoes cook for?
*Cooking time can vary based on the size of the potatoes you're cooking. In the directions I am giving you the timeframes I generally use, but if you are using large potatoes, they can take a bit longer. Always make sure you check that the potatoes have baked long enough; a fork should easily slide in and out showing that the potatoes will be easily mashed* 
My preferred method for baking potatoes is in the oven. To cook these potatoes in the oven, so they're soft enough, it will take about 45-60 minutes. Again, a large potato could take up to 1 and 1/2 hours to completely cook.
You can also bake the potatoes to soften them in the microwave, if you're looking for a quicker method, and are only making 1-2 potatoes. If using more potatoes it's just more convenient to use the oven. 
To bake the potato in the microwave, follow the first steps to prepare the potato, but instead of putting in the oven, put into the microwave, cook on high heat for about 5 minutes, turn the potato and continue cooking for another 5. Check the consistency of the potato to determine if longer is needed. 
Once the potatoes have baked, let them sit for a few minutes, so you don't burn your hands when you touch them. Cut just the very top off, then scoop out the softened potato. Make sure you leave a little bit to help keep the skin sturdy enough to stuff it again. 
Mash the potato with the butter, sour cream, milk, bacon bits, cheese, and green onion. Season with salt, pepper and garlic powder. Always taste the potato to make sure it's flavorful. Add more seasonings as needed. You can also add more milk or butter to get the desired consistency.
After the potatoes are stuffed, add some more of the filling to the top of the potato, and add a small slice of butter before doing the second bake time.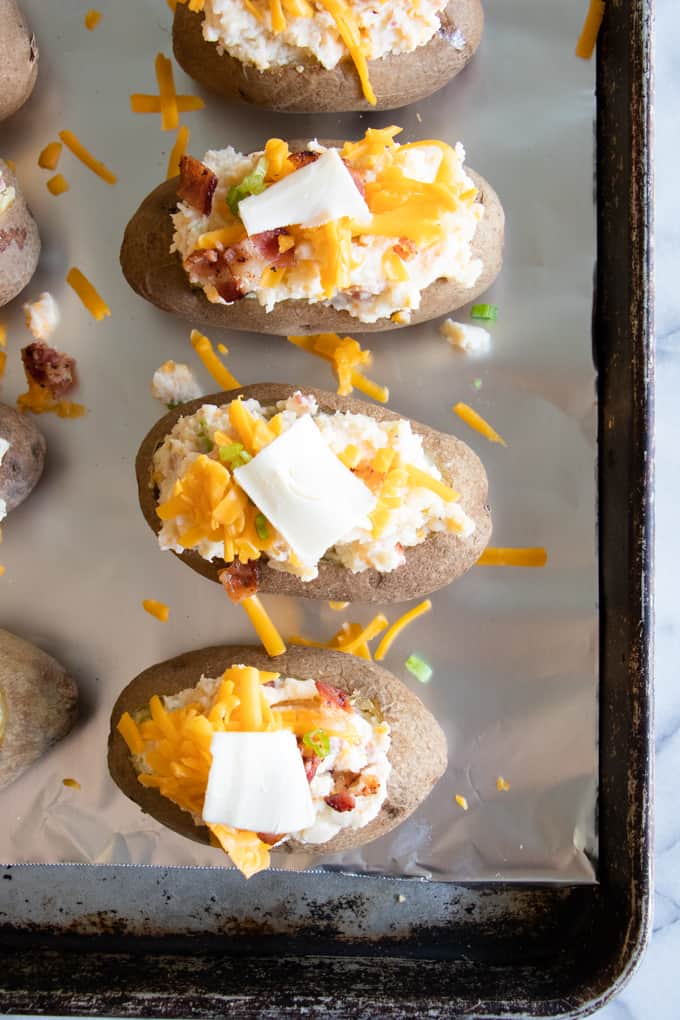 Can you make twice baked potatoes ahead of time?
Yes! One of the best features of this side dish recipe is that it can be prepped and made ahead of time, which makes this a perfect holiday side dish! It's also great as a BBQ side dish. If these are prepped and ready to go, then they can just be reheated and baked quickly once the BBQ is almost done.
After the potatoes have been baked the first time and then stuffed, you can simply cover the tray with some plastic wrap, then place it in the fridge. These potatoes can store in the fridge for 3-4 days before baking again and serving. 
IF needed you can FREEZE twice baked potatoes. When you're ready, bake them at 375 for about 15 minutes. Remove, add toppings and then bake again for another 10 minutes. Check to make sure that the potatoes are heated through, if not then bake a bit longer. Due to the varying sizes of potatoes it's difficult to give an exact time. 

What kind of potatoes do I use to make a Twice Baked Potato?
Russet potatoes! These potatoes are starchy, which means that they will break apart and mash easily when baked, which is exactly what we want for the filling for our potatoes. They also have a sturdy skin, which is great for having to scoop out the inside of the potatoes and then stuff them again.
I was so excited to be able to find Russet potatoes grown here in my own home state, at my local Walmart. By locally grown they mean that the produce is bought and sold right in the same state.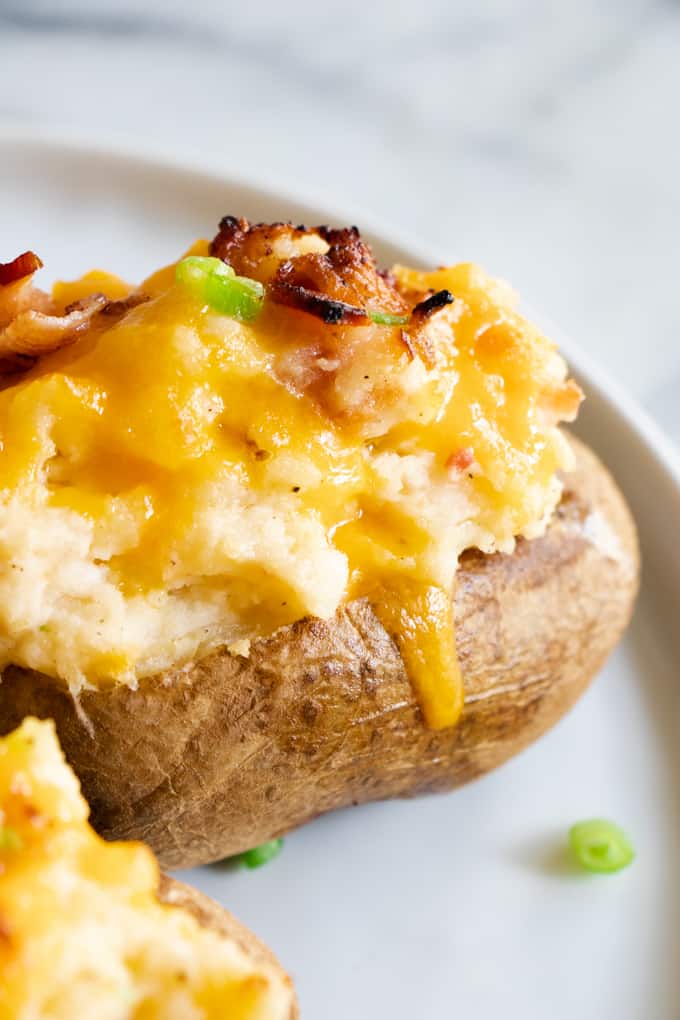 Walmart backs its fresh produce with a 100 percent money-back guarantee. If customers aren't happy with Walmart's produce they can bring back the receipts for a full refund. That's it! No questions asked and no need to bring back the produce. 
Walmart has made a commitment to make healthy food more affordable, and has already saved customers more than $2.3 billion over the last two years on fresh fruits and vegetables in produce sections across the country. 
And my absolute favorite thing about Walmart?! The grocery pickup service. With this, I am able to order my groceries from an app on my phone, or you can do it online at Walmart.com/grocery, and pick it up same day. I always get my weekly order for pickup on Monday mornings. It's the best service around!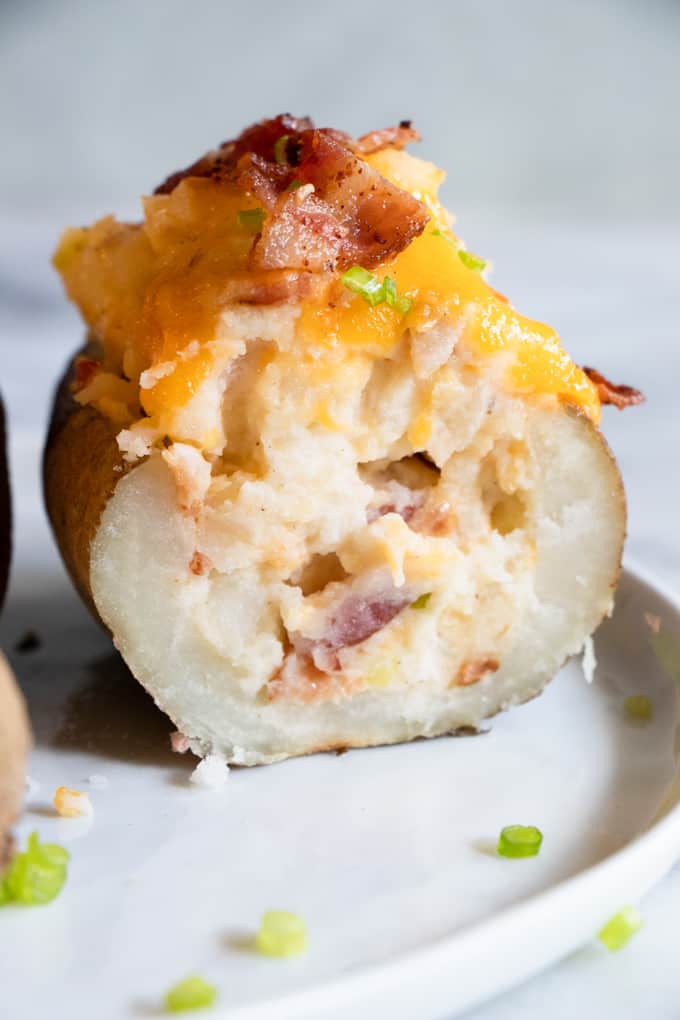 One of my favorite things about this twice baked potato recipe is the endless filling options! 
Broccoli and Cheese
Spinach and Artichoke dip (just make the dip I have a version here, and mix it with the potatoes.)
Sausage or ham and cheese
Chili topped twice baked potatoes?! Just fill with cheese and some salt and pepper, maybe onion and spoon some chili on top.
Sloppy Jo (basically the same as the chili version)
WANT TO TRY THIS TWICE BAKED POTATO RECIPE?
PIN IT NOW! 
FIND ME ON PINTEREST FOR MORE GREAT RECIPES!
Print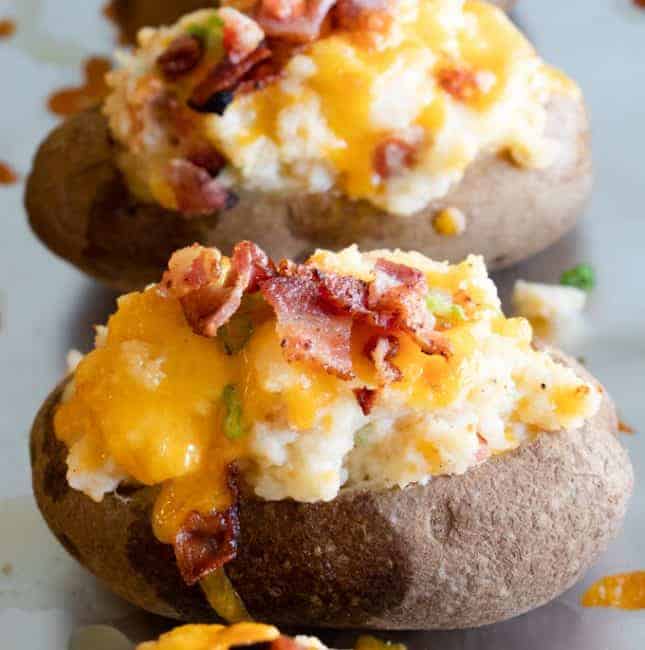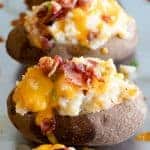 Twice Baked Potatoes
Author:

Prep Time:

5 mins

Cook Time:

75mins

Total Time:

1 hour 20 minutes

Yield:

6

-

8

1

x
Category:

side dish

Method:

baked

Cuisine:

American
---
Description
Twice Baked Potatoes! Basically mashed potatoes loaded up with cheese, bacon and green onion stuffed into a baked potato. This easy to put together side dish is sure to be a new favorite! Can be made ahead and baked fresh to serve with any meal.
---
Scale
Ingredients
3

lbs russet potatoes

2 tablespoon

s olive oil

1 teaspoon

coarse salt

1/2 cup

sour cream

3 tablespoon

s butter

1/3 cup

buttermilk (or milk of choice)

6

slices of bacon cooked and chopped

3

green onions diced

6 ounce

s shredded cheddar cheese

3/4 teaspoon

s salt

1/4 teaspoon

s pepper

1/2 teaspoon

garlic powder
---
Instructions
Clean the potatoes and scrub them to ensure that all dirt is removed. Dry with a towel.
Poke a fork into each potato 3-4 times on the top to make enough holes for moisture to escape the potato while baking.

 

Coat with oil and sprinkle with coarse salt. Lay on large baking sheet.

 

Bake at 375 for 45-60 mins until softened, a fork inserted in the potato should go in smoothly.

 

Remove the potatoes from the oven and allow them to cool for about 10 minutes, or until you can handle them safely.

 

Cut the very top off the potato and using a spoon scrape out the potato, leave about a 1/8 inch layer in the potato skin to help it hold it's shape.

 

Place the potato that is scooped out into a large bowl. Continue until all the potatoes are done.

 

Add the chopped up bacon, shredded cheese, diced green onion, sour cream, butter, salt, pepper and garlic powder to the bowl with the potatoes. Using a potato masher, mash the potatoes and mix together all of the ingredients. Add in the milk. Mix together. Mash to desired consistency. Taste the potatoes and adjust flavors and seasonings as needed. Add milk as needed to get desired texture.

 

Spoon the mashed potato mixture into the potato skins. I always fill the potatoes full, then add a scoop of mixture on top of each potato so that it is overflowing
Sprinkle the tops with remaining shredded cheese, bacon bits, and chopped green onion. Place a small slice of butter on top of each potato.

 

Broil for 5-10 minutes. Keep an eye on the potatoes, the cheese will melt, start to bubble and will start to brown. That is when you want to remove them.

 

Remove the potatoes from the oven and allow them to cool for a couple minutes. Serve warm and enjoy!

 
---
---
Nutrition
Serving Size:

1

Calories:

452

Sugar:

3 g

Sodium:

920 mg

Fat:

21 g

Carbohydrates:

57 g

Protein:

14 g

Cholesterol:

45 mg
Keywords: twice baked potato,
This is a sponsored conversation written by me on behalf of Walmart. The opinions and text are all mine.
391