Perfect Slow Cooker Pulled Pork. Easy to make slow cooker pulled pork! No smoker needed! Tender, flavorful and smokey pulled pork straight from your own slow cooker! Perfect for enjoying as a BBQ Pulled Pork Sandwich, or loaded up on nachos, tacos, or even as a pizza topping! The possibilities are endless!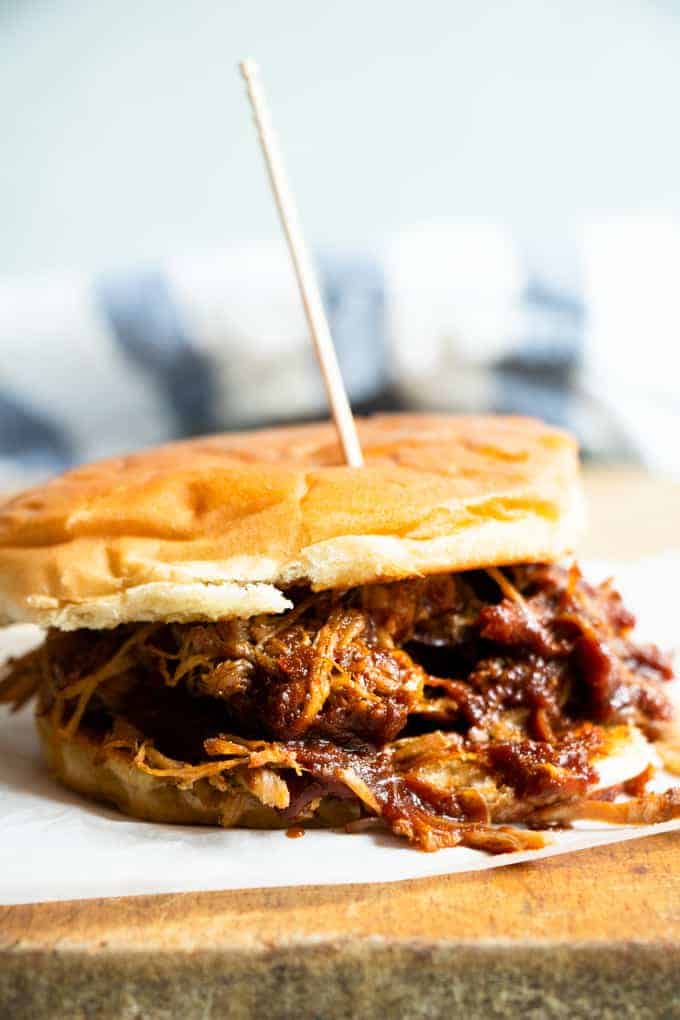 Perfectly juicy, tender, smokey, sweet, spicy, crispy pulled pork. All made easy with the use of a slow cooker.
Pulled pork is amazing when done right. Typically from a BBQ joint. Or from following a long list of directions involving marinating the pork and then slow cooking it on a smoker or in an oven. Getting up in the early hours of the morning to get it started.
But this slow cooker pulled pork is SO easy to make and you can enjoy it as a weeknight family dinner.
And can I get an amen from my fellow Texans…there is NO BBQ SAUCE involved in the making of this pulled pork.

How To Make Slow Cooker Pulled Pork:
The flavor of the meat is going to come down to the seasoning that we use and the liquid that we use to cook the pork in. The texture of the pork is going to come from the temperature and length of time that we cook the meat.
To get the perfect juicy, tender, easily shredded pulled pork we want to cook it low and slow over the course of several hours. You can't rush it. Setting the slow cooker to low and letting it cook throughout the day is the best method.
The meat itself is rubbed down with a Texas Style Dry Rub. The dry rub is the perfect balance of sweet and spicy. It's my favorite for using on pork.
Then we will cook the pork in a mixture of worcestershire sauce, apple cider vinegar, and liquid smoke.
Broiling the meat briefly is a trick I do with my Slow Cooker Carnitas, and it gives just the perfect little crispy bits of pork. If you would prefer not to have the crispy bits you can absolutely skip that step, although it really only takes 5 minutes to do.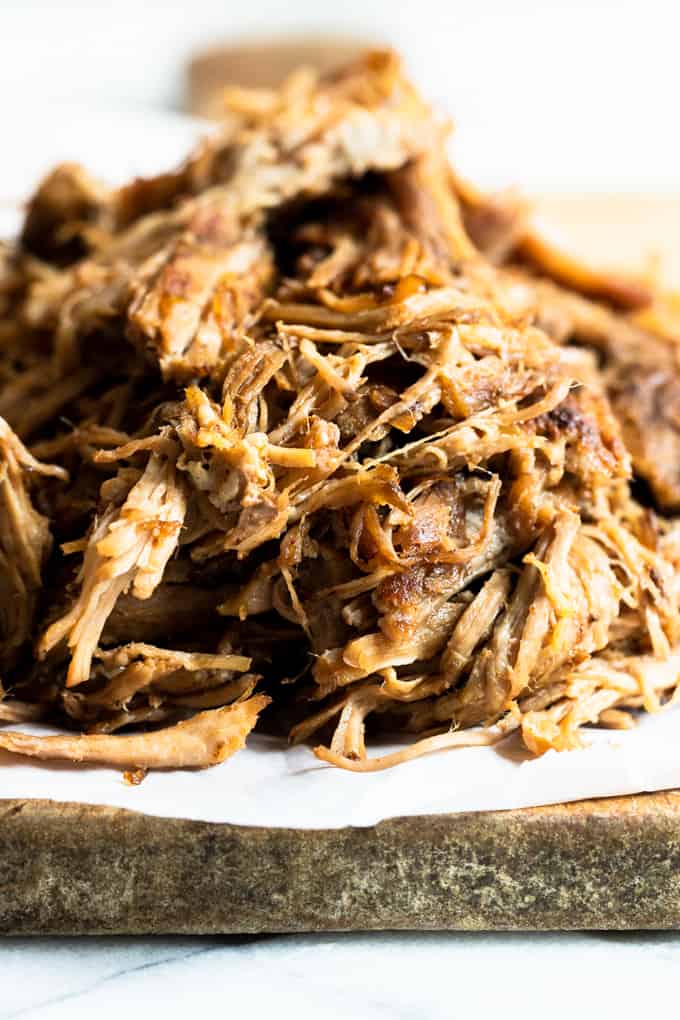 What cut of meat do I use for Pulled Pork?
The best cut that you can usually find at the market is the Pork Shoulder. Which might also be labeled as Pork Butt. They're the same thing. You could also go with a Boston Butt or a Picnic Roast. These are both smaller cuts that come from the shoulder. And you can do either a bone in, or a boneless that has been tied up with the bone removed.
What temperature do I cook my Pulled Pork to?
Technically you will see that pulled pork will be done at 190-195. BUT! I find that the meat just falls apart once it gets to a temperature of 200. You will know when it's done, when you stick a fork in it, the meat will just separate and shred basically all on it's own.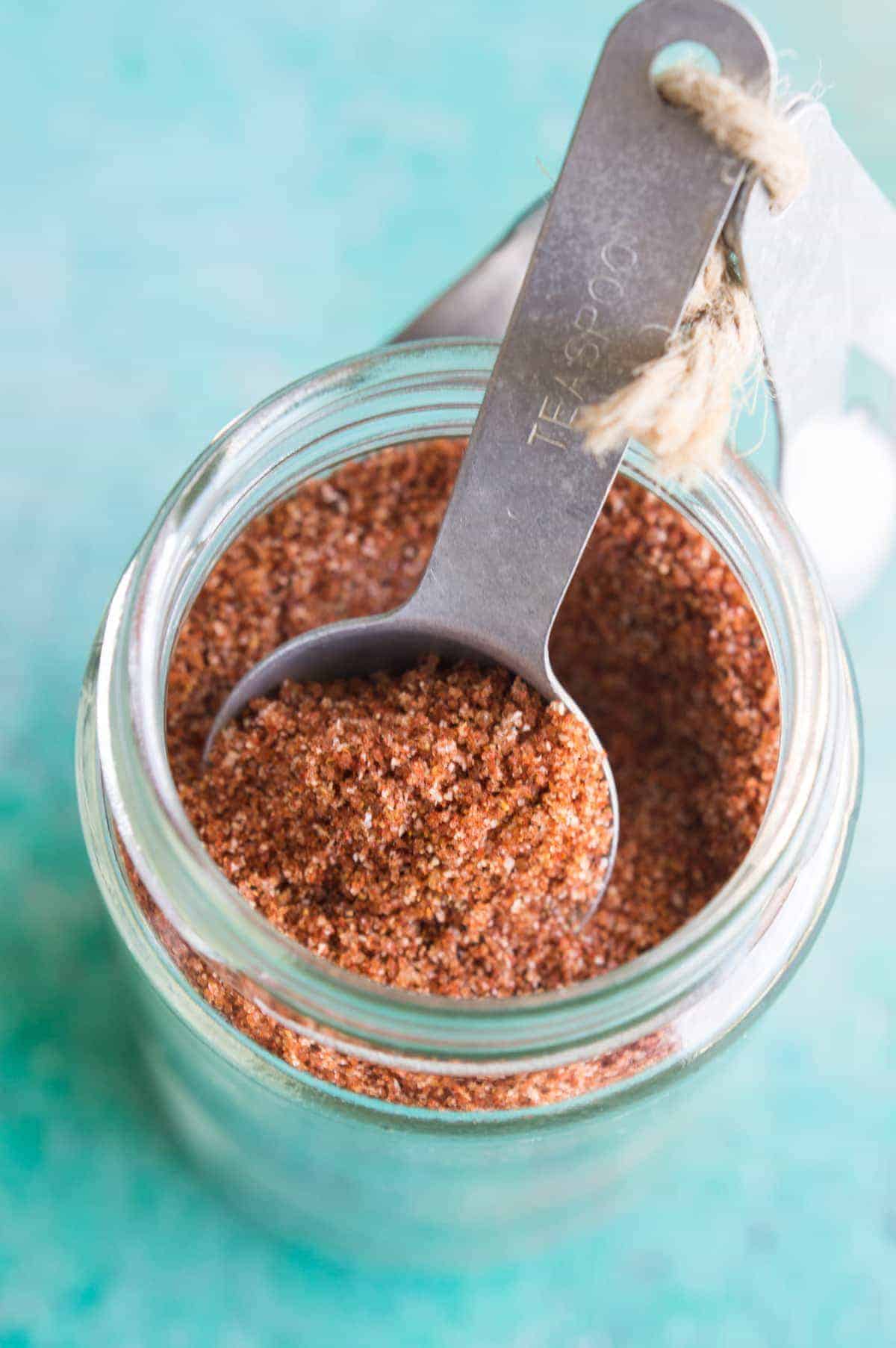 Recipes that Use Leftover Pulled Pork:
Pulled pork sandwich you just need to slather it down in some Texas BBQ Sauce. Add some Coleslaw if desired, or just go with the pork if you wish. Again, there is no BBQ sauce used in making the pork, so if you want to add some sauce to your sandwich, that is up to you!
Pulled Pork Pizza this quick and easy pizza uses a no yeast pizza dough, meaning you can toss this pizza together in minutes, top it with tons of pulled pork, cheese, and some red onion.
King Ranch Pulled Pork Casserole. This casserole is a play on a classic Texas King Ranch Casserole, typically made with chicken, but dressed up with some leftover pulled pork. Layers of tortillas, cheese, and pulled pork.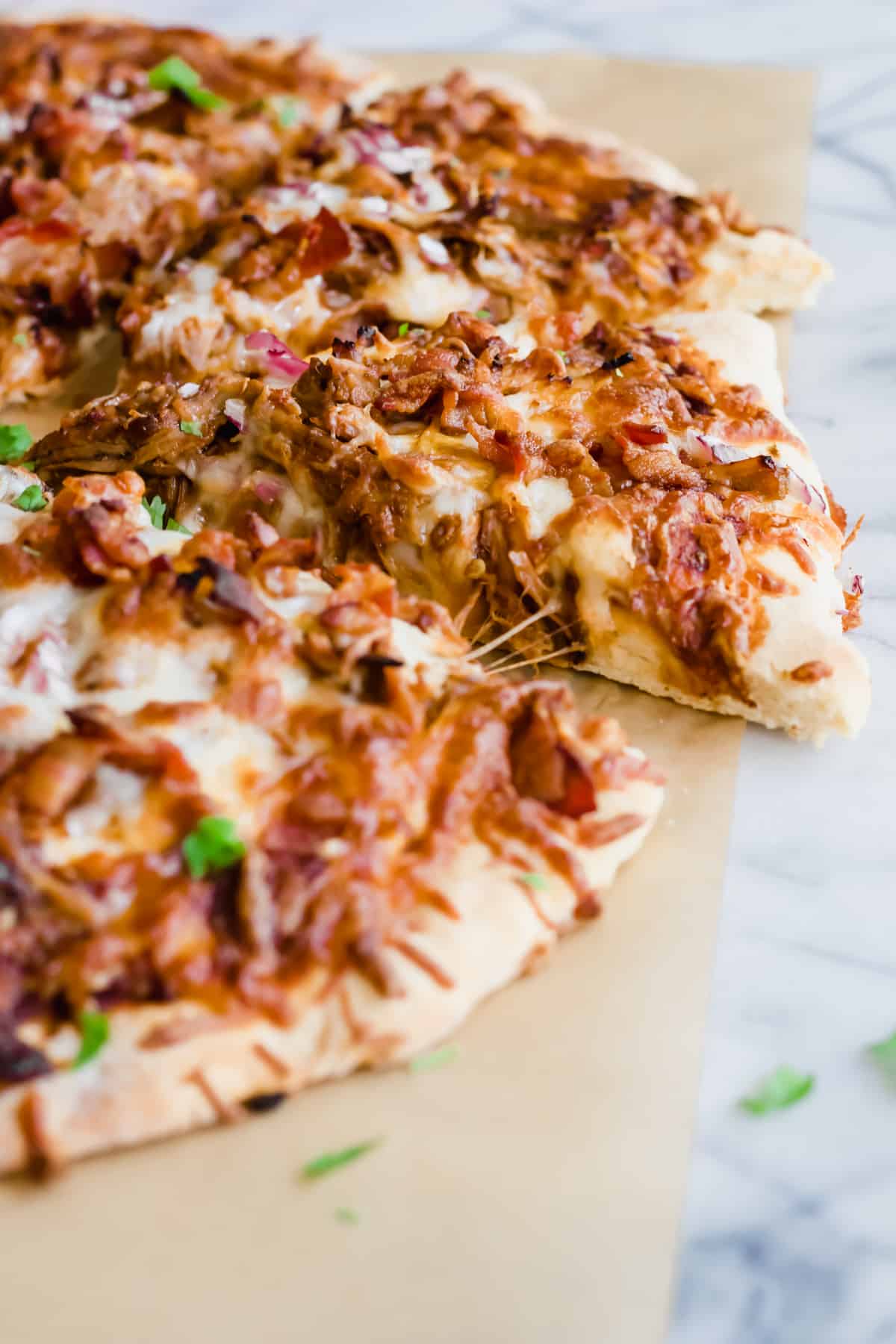 Frequently Asked Questions about this Crock Pot Pulled Pork
How do I reheat this pulled pork?
My favorite way to save this pulled pork is to save the meat in one container, then I get all of the juices from cooking and save that in another container. Store both in the refrigerator. Then the next day when you're ready to reheat, add the meat to a large skillet over medium heat, and spoon in the juices. The fats will have separated from the juices, so it's up to you how much of the fats you want to add back into the meat, I typically just scoop out the juice from beneath the fats.
Can I freeze this Pulled Pork recipe?
Yes!! Store the meat in an airtight sealed container. Can be stored in the freezer for 2-3 months.
Perfect Slow Cooker Pulled Pork
Perfect Slow Cooker Pulled Pork. This Texas style pulled pork is made easier in the slow cooker. Perfect for enjoying as a BBQ Pulled Pork Sandwich, or loaded up on nachos, or even as a pizza topping! The possibilities are endless!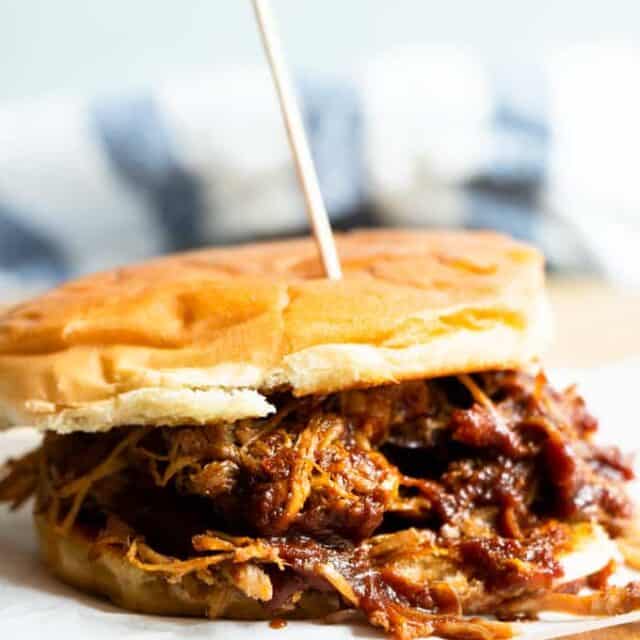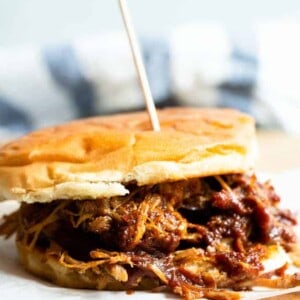 Instructions
Mix together the ingredients for the Texas Dry Rub in a small bowl.

Trim off any large excessive fat pieces from the pork roast. Rub the pork shoulder with the

dry rub on all sides. Place into the slow cooker.

Stir together the apple cider vinegar, worcestshire sauce, and liquid smoke in a small bowl, then pour over the pork roast in the slow cooker.

Cook on Low heat for 8 hours until tender.

Remove the pork from the slow cooker and shred using forks. Spread the shredded pork over a large baking sheet lined with foil. Pour the remaining juice from the slow cooker over the meat.

Broil for 5 minutes to get the crispy pieces of pork. (optional)

Remove from oven, allow to cool for a couple minutes. Serve warm on hamburger buns.
Nutrition
Serving:
1
|
Calories:
296
kcal
|
Carbohydrates:
45
g
|
Protein:
15
g
|
Fat:
8
g
|
Cholesterol:
92
mg
|
Fiber:
5
g
|
Sugar:
9
g
Nutrition information is automatically calculated, so should only be used as an approximation.
Like this? Leave a comment below!
SaveSave