Homemade Sloppy Joes. Hearty and flavorful! This homemade sauce is perfect for using as a quick weeknight meal for the family!
Making Sloppy Joes at home is quick and easy! This homemade Sloppy Joe sauce comes together quickly with pantry ingredients! The best part? It's completely HOMEMADE meaning you can customize it and make it just how your family likes!
Ingredients used to make Homemade Sloppy Joe Sauce:
Tomato Sauce– recipe calls for one cup of tomato sauce which is the same as an 8 ounce can, the smaller can of tomato sauce.
Tomato Paste- just a small amount, to add a more intense tomato flavoring and thickness.
Worcestershire Sauce- adds an umami savoriness to the sauce.
Ground mustard- this is the dry, powder mustard in the spice section at the markets. Can sub this with regular yellow mustard or dijon.
Molasses- Adds a wonderful depth of flavor and hint of sweetness. I much prefer using this over any type of sugar. If you don't have any on hand though, you can substitute with light or dark brown sugar.
Apple Cider Vinegar- adds a small amount of tang to the sauce.
Chili Powder- adds a bit of spice. My all time favorite is Gebhardt's Chili Powder.
Paprika- has a slight sweet flavoring.
Salt and Pepper- add to taste.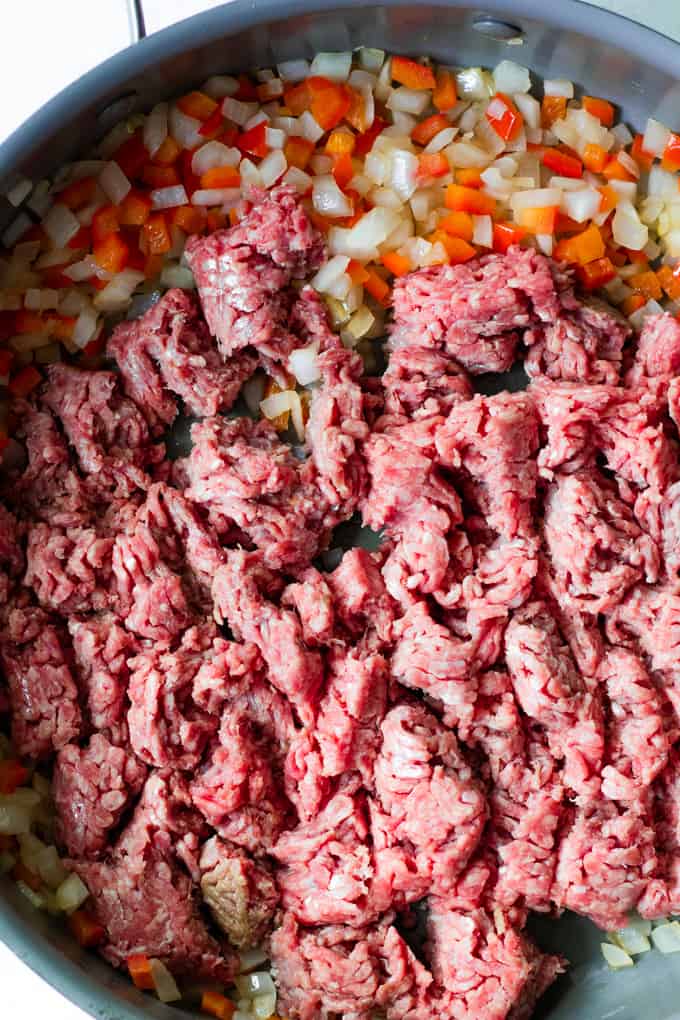 How to Make Crockpot Sloppy Joes:
Cook the ground beef with the diced onion and bell pepper. Cook until the ground beef is all browned and the pepper and onion are tender.
Add the meat to the slow cooker.
Add the remaining ingredients to the slow cooker. Stir to coat the meat in the sauce mixture.
Cook on LOW for 6 Hours or HIGH for 3 Hours.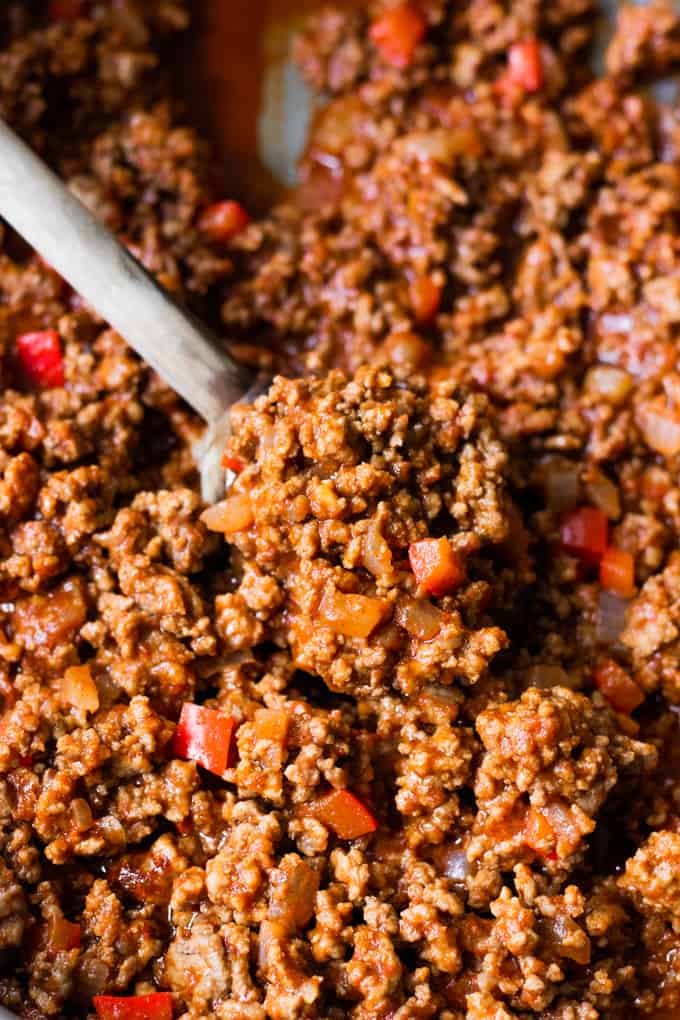 Tips for making the BEST Sloppy Joes:
Add or subtract things according to your family's preference! I know my son is against eating green things right now, so I opt for red bell pepper instead of green. You can also make these spicier by adding some hot sauce. Serve with cheese or without.
Swap the ground beef for ground turkey to make a leaner dinner.
Use this as a great opportunity to sneak in some extra veggies! Finely chop up some zucchini, mushrooms, or carrots. Mix it in with the onions and bell peppers to soften. It will mix in nicely with the meat.
Always use sturdy buns and toast them briefly to help prevent them from getting soggy.

What to serve with Sloppy Joes:
We love serving this with potato chips, pickles and some cheese! Some other options would be
Can this sloppy Joe recipe be frozen?
Yes it can! Make a large batch and save the leftovers for a later date. Simply let the sloppy Joe meat cool to room temperature, add to a freezer safe container and freeze for up to 6 months. To thaw place in the refrigerator overnight and reheat in a large skillet to serve.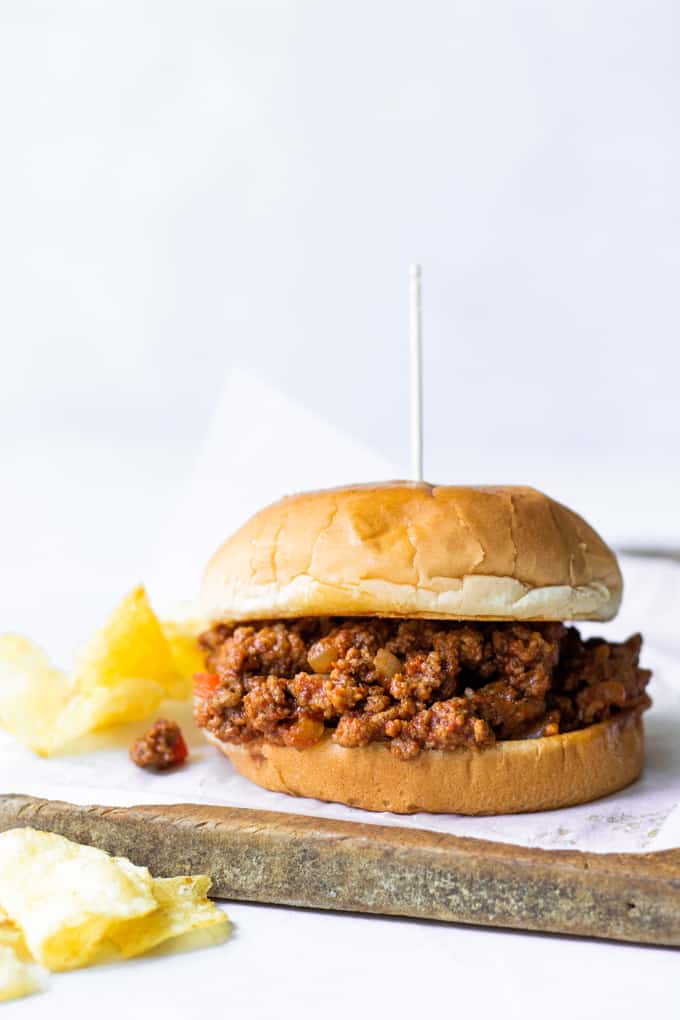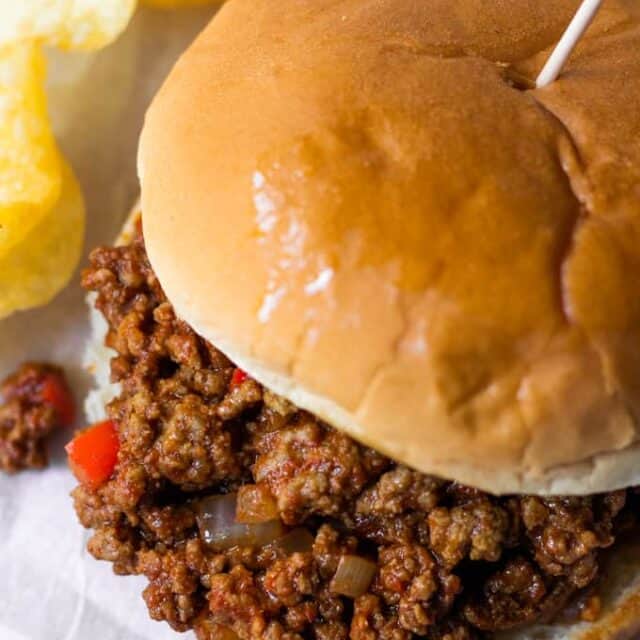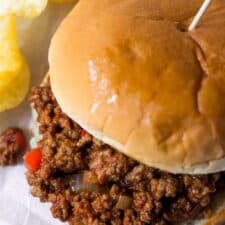 Homemade Sloppy Joe Recipe
Homemade sloppy joes. Hearty and flavorful! This homemade sauce is perfect for using as a quick weeknight meal for the family!
Ingredients
1 tablespoon extra virgin olive oil
1 bell pepper , chopped
1/2 onion , diced
2 cloves garlic, minced
1 pound ground beef
1 tablespoon tomato paste
1 tablespoon Worcestershire sauce
1 15 ounce can tomato sauce
1/2 teaspoon ground mustard, or can use dijon
1 tablespoon molasses, can sub with brown sugar
1 tablespoon apple cider vinegar
1 teaspoon chili powder
1/2 teaspoon paprika
1/2 teaspoon salt
1/4 teaspoon pepper
6 hamburger buns
Instructions
Stovetop Sloppy Joes:

Heat olive oil in a large skillet over medium high heat. Add in the bell pepper and onion. Cook for 2-3 minutes. Add in the ground beef. Continue cooking over medium heat. Breaking up the meat while it cooks. Cook until the meat is completely browned, approximately 5 minutes.

Once the meat is browned and the onion and peppers are tender, add in the garlic. Cook an additional 30 seconds.

Add in the tomato paste, Worcestershire sauce, tomato sauce, ground mustard, molasses, apple cider vinegar, chili powder, paprika, salt and pepper. Stir to coat the meat.

Allow the meat to cook in the sauce for about 5 minutes. During this time prepare the hamburger buns by spreading a little butter on the insides and toasting in a skillet.

Serve the sloppy joes warm.

Crockpot Sloppy Joes:

Cook the ground beef, bell pepper and onion in a large skillet. Drain the grease. Add the meat mixture to a slow cooker.

Add in the remaining ingredients. Stir to coat the meat mixture.

Cook on LOW for 4-6 hours or cook on HIGH for 2-3 hours.
Equipment
Nutrition
Serving: 1, Calories: 192kcal, Carbohydrates: 9g, Protein: 17g, Fat: 11g, Fiber: 1g, Sugar: 5g
House of Yumm is a participant in the Amazon Services LLC Associates Program, an affiliate advertising program designed to provide a means for us to earn fees by linking to Amazon.com and affiliated sites.