Cuban Sliders
These Cuban sliders are loaded with ham, swiss cheese, and dill pickles, topped with a dijon mustard onion spread!  Super easy to make and definitely a crowd pleaser!! An easy to make sliders recipe!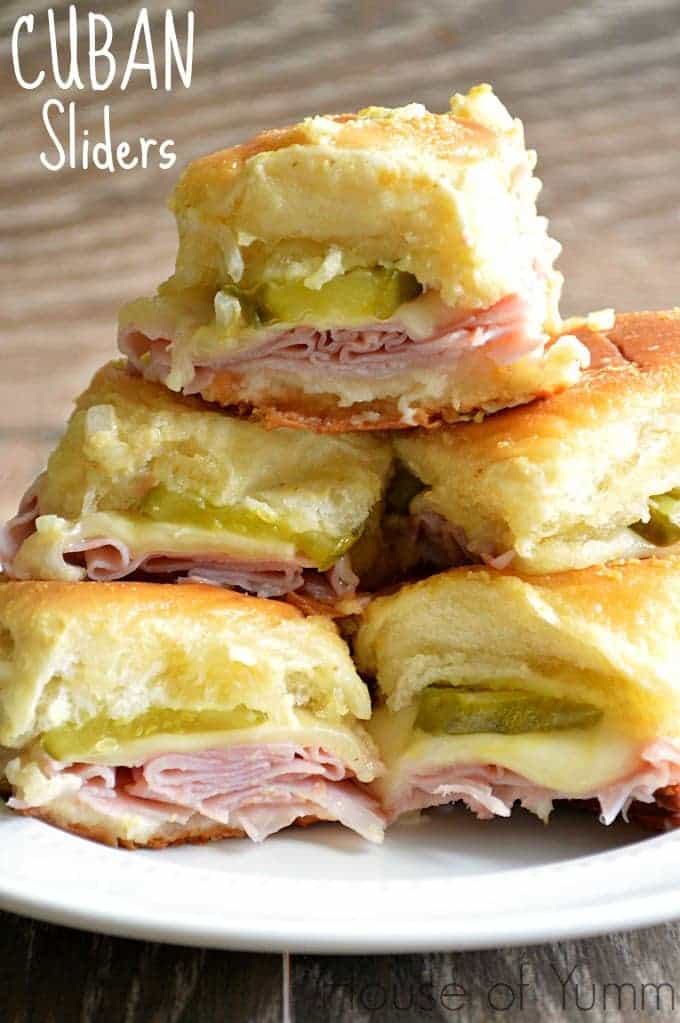 First of all, can I just confess my love for sliders.  If you haven't seen my previous sliders recipes you can see them here.
I'm not sure what my obsession is with sliders.  They're just so much more fun than sandwiches.  And it's totally okay for me to sit and eat five sliders in a row, whereas eating five whole sandwiches in a row is just not considered normal.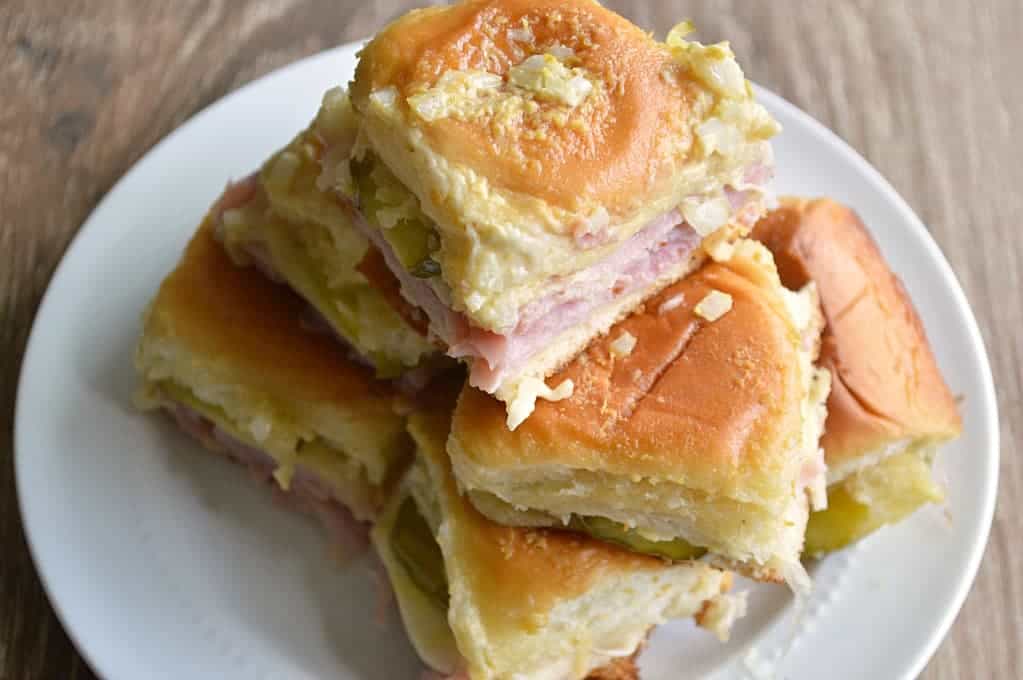 This sliders recipe is perhaps my favorite so far.  The cuban!  Loaded with ham, swiss cheese, dill pickle.  Topped with a dijon, onion, butter spread.  Baked til those wonderful little rolls are lightly toasted and the cheese is ooey gooey.
These are so easy to make, and they definitely don't stick around for very long.
I've made these before for potlucks, and get togethers.  I also like to make a batch of these just for us as a family to have for dinner.  The leftovers keep really well in the refrigerator, and they make a lovely cold snack.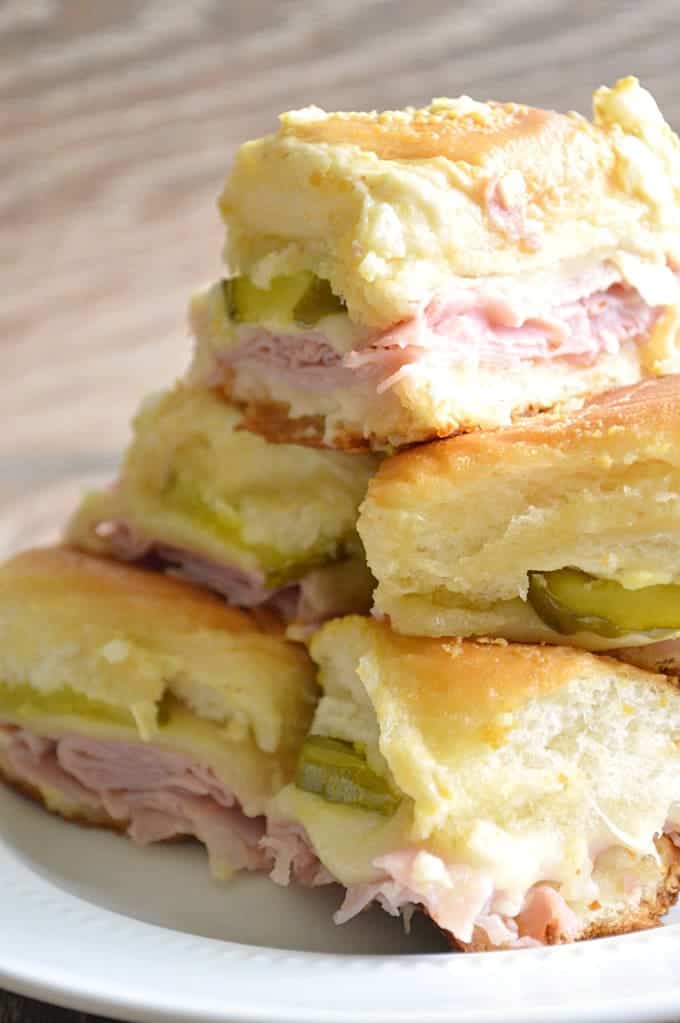 Am I the only one who likes to snack on cold leftovers?  Cold pizza is a favorite of mine.  But as I sit here snacking on a cold cuban slider, I'm thinking these just may beat out the pizza now.
How to make this Cuban Sliders Recipe:
When I make sliders I love to use Hawaiian rolls, the sweetness of the bread just adds that little extra for me.  So for these I buy the big pack of 24 rolls.  Cut it in half so you can just separate the top from the bottom of the rolls.  They fit perfectly inside a 9×13 cake pan.  Layer the meat, cheese, and pickle, and stick the top of the rolls on the top!  How easy is that?
Once you have the sliders assembled, add a few ingredients (in the recipe below) to make the dijon spread and pour it over the top.  Cover and bake.  Voila!!
You will love how simple these are to make, but how they taste as though you just spent a lot of time working hard in the kitchen!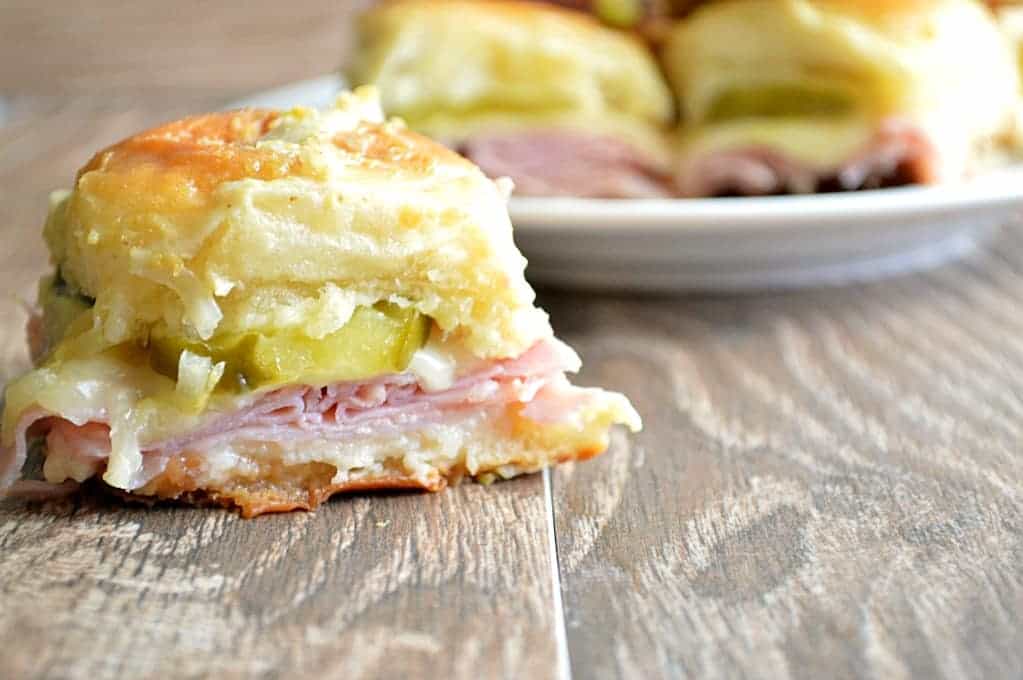 More sliders recipes to enjoy:
WANT TO TRY THESE CUBAN SLIDERS?
PIN IT NOW! 
FIND ME ON PINTEREST FOR MORE GREAT RECIPES!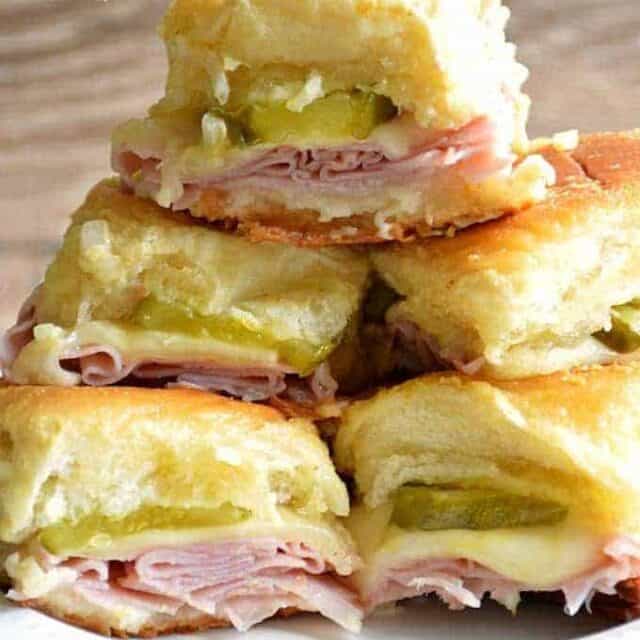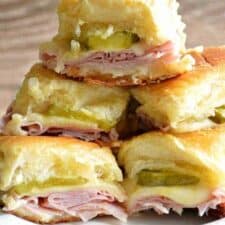 Cuban Sliders
Cuban sliders! Ham, swiss cheese, dill pickles on slider buns topped with a dijon mustard spread!
Ingredients
24 pack Hawaiian rolls
1 package sliced ham lunch meat
8 slices swiss cheese
dill pickles
Dijon Spread
2 tbsp minced onion
½ cup butter, melted
2 tbsp dijon mustard
Instructions
Preheat oven to 325°F

Grease 9x13 baking pan and set aside.

Cut the Hawaiian rolls in half removing the top and placing the bottom of the rolls in the baking pan. Layer the meat, cheese, and pickles. Place the top of the rolls on top.
Dijon Spread
Whisk together the butter and the dijon mustard. Add in the minced onion (could also grate onion if you don't want the minced onion chunks!) and stir. With a spoon pour the dijon spread over the top of the rolls.

Cover the sliders with foil and bake for 15 minutes.

Remove the foil and continue to bake for an additional 10 minutes or until the rolls are a toasted brown.

Cut the sliders and remove from the baking pan. Enjoy!
Nutrition
Serving: 1(2 sliders), Calories: 285kcal, Carbohydrates: 34g, Protein: 14g, Fat: 12g, Saturated Fat: 6g, Sodium: 595mg, Fiber: 2g, Sugar: 12g
SaveSave
House of Yumm is a participant in the Amazon Services LLC Associates Program, an affiliate advertising program designed to provide a means for us to earn fees by linking to Amazon.com and affiliated sites.