This Tomato Twiddle recipe is perfect as a tea party sandwich.  Easy to make, only 3 ingredients, and so flavorful! Get ready to meet your new favorite sandwich!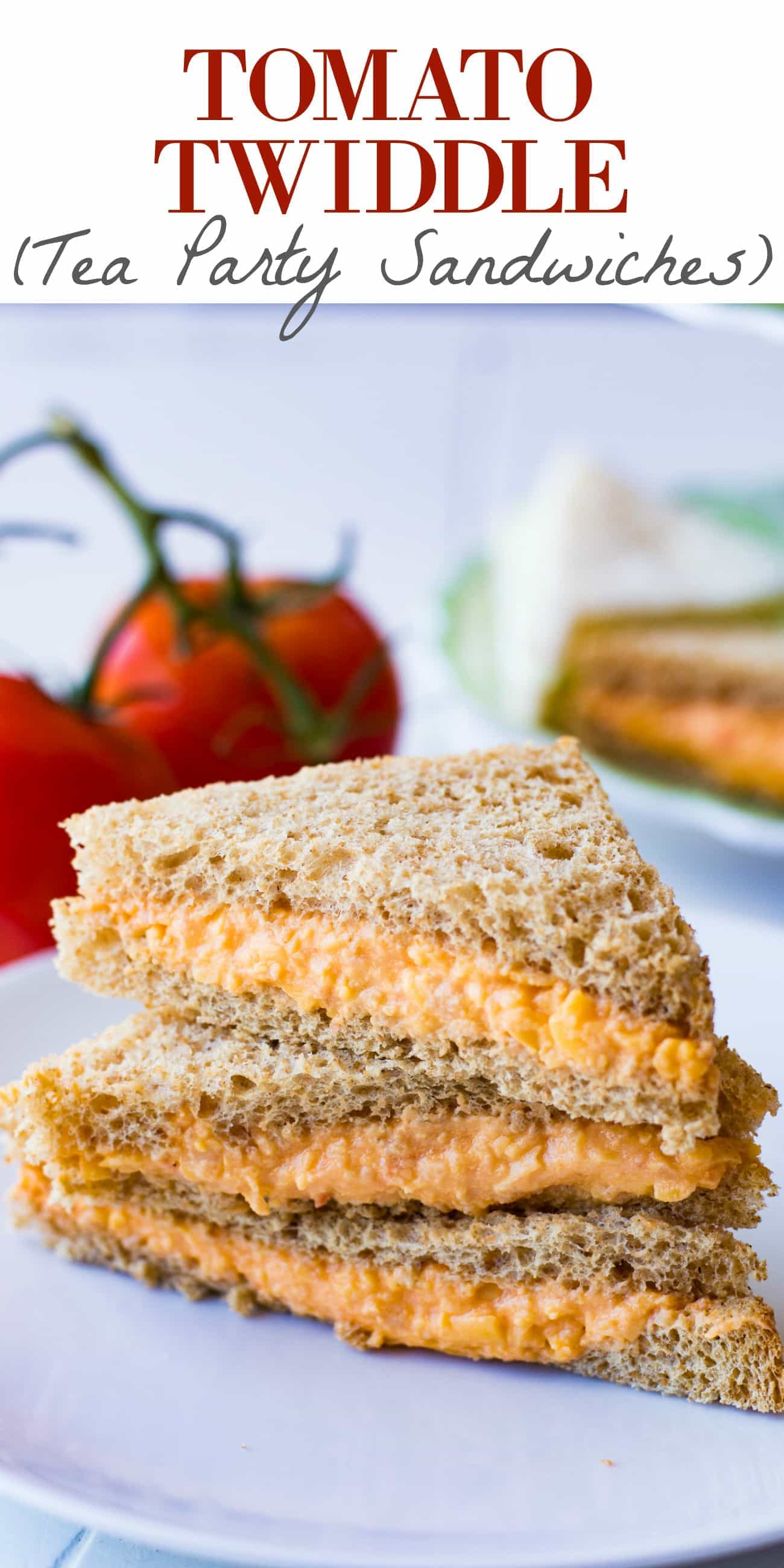 So this is new and different right?! Tea party sandwiches. I'm betting you haven't heard of tomato twiddle. Well, it's totally a thing.  We've talked a lot about family here on this little blog: the inspiration for the cuban inspired recipes, for the mexican food recipes.  We've talked about Gramma and her homemade refried beans.  My Grandma and her Banana Bread recipe.  My mom is sprinkled throughout the whole blog, especially in her sugar cookie recipe.  Today I'm introducing you to Nana Sue (as the children refer to her).  The rest of us I suppose can call her Sue.  Sue is my husband's step mom.  She is a kind, gentle, lovely woman.  There's some things that you should know about Sue.  She is British (yes she has a spectacular accent).  And she loves her tea.  Which means she knows how to throw a tea party.  My favorite part of a tea party? The sandwiches.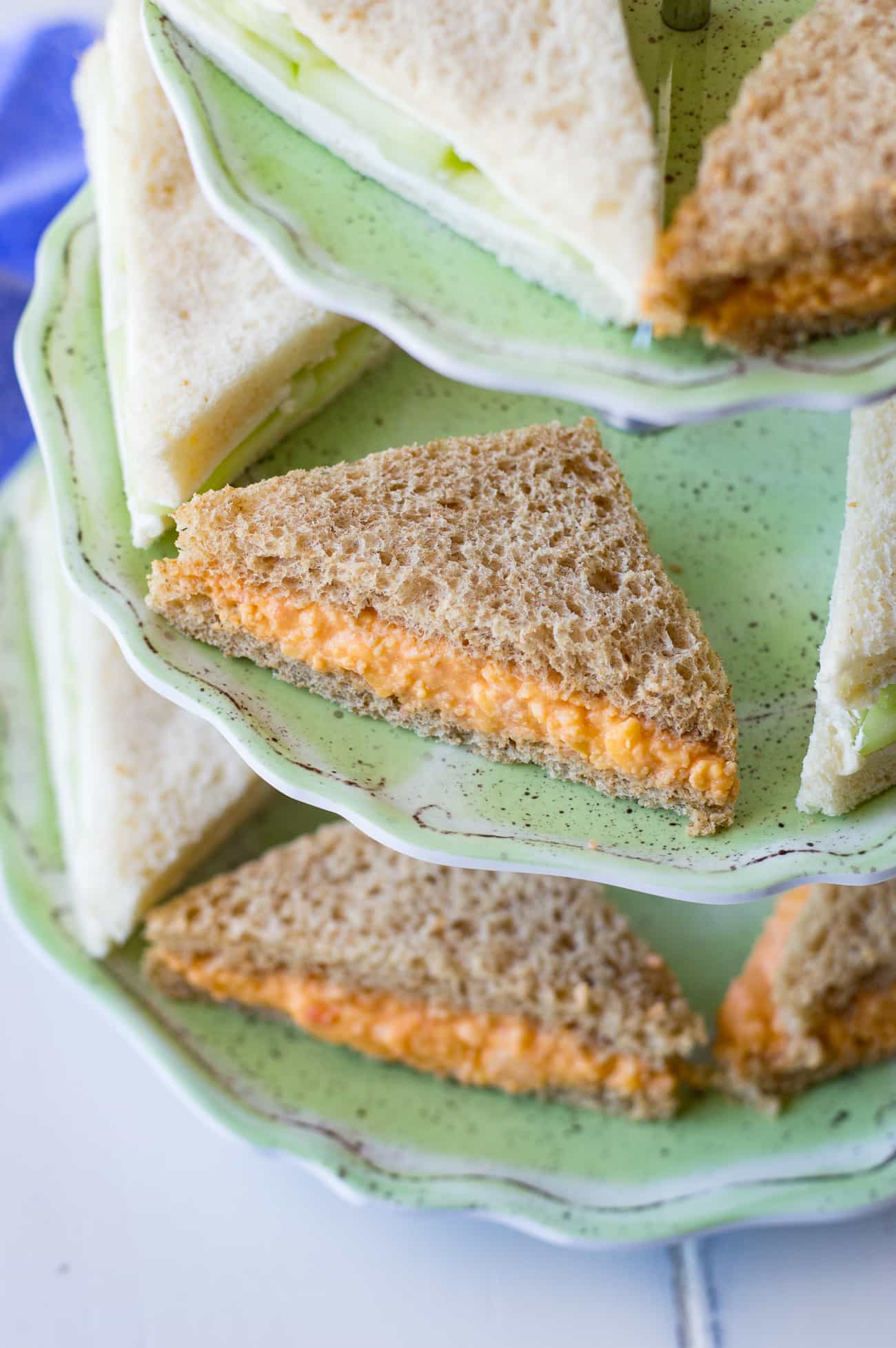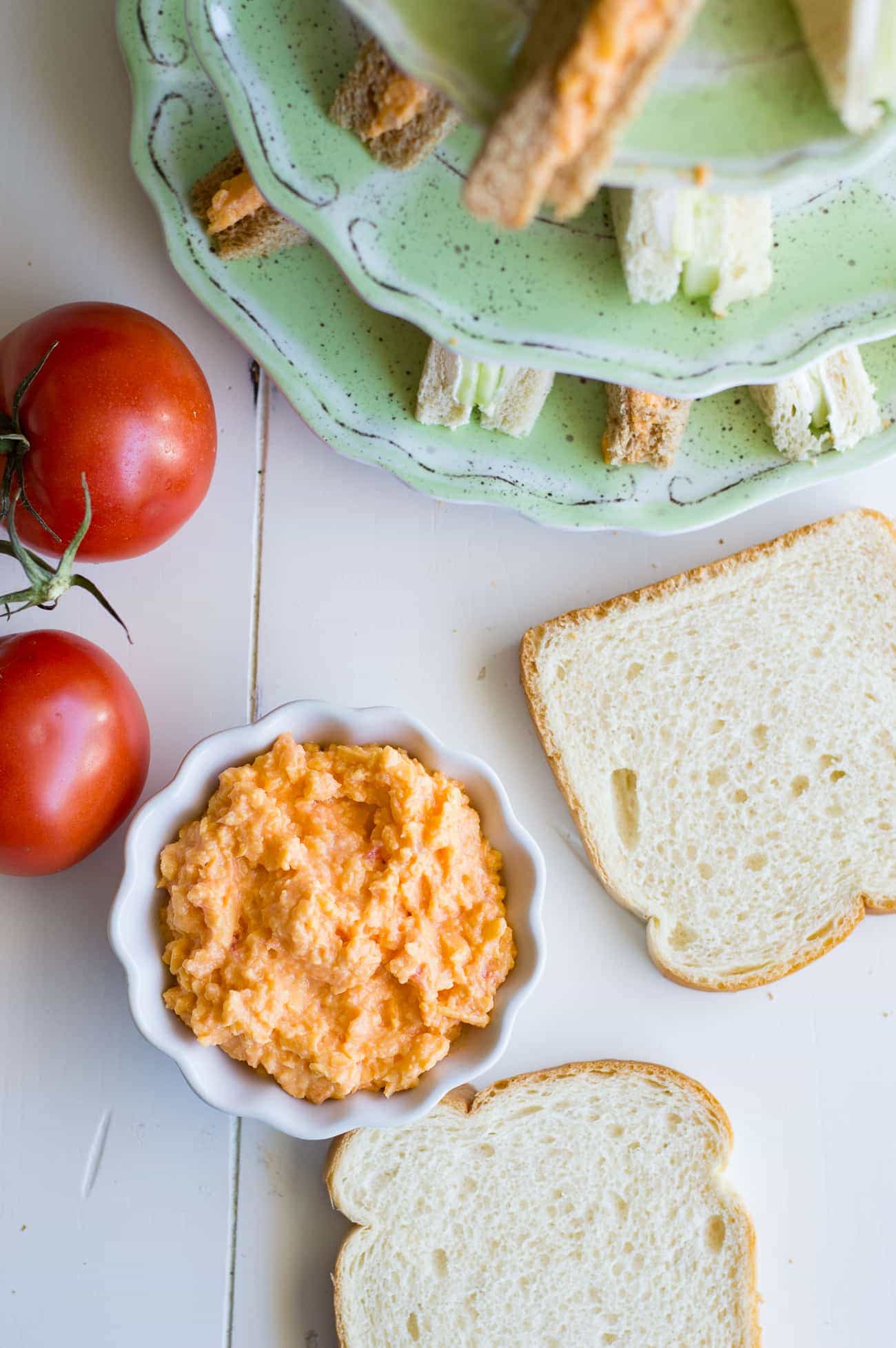 My girls adore Nana Sue.  When we lived closer, she would have them over for sleepovers, they would have tea parties.  She would let the girls get dressed up and borrow one of her fantastic hats.  They would sit in her magical garden surrounded by beautiful flowers and the sound of the fountain.  The girls still talk about these tea parties.  They had such a wonderful time, and they didn't even notice how Sue would instruct and teach proper manners throughout the entire party.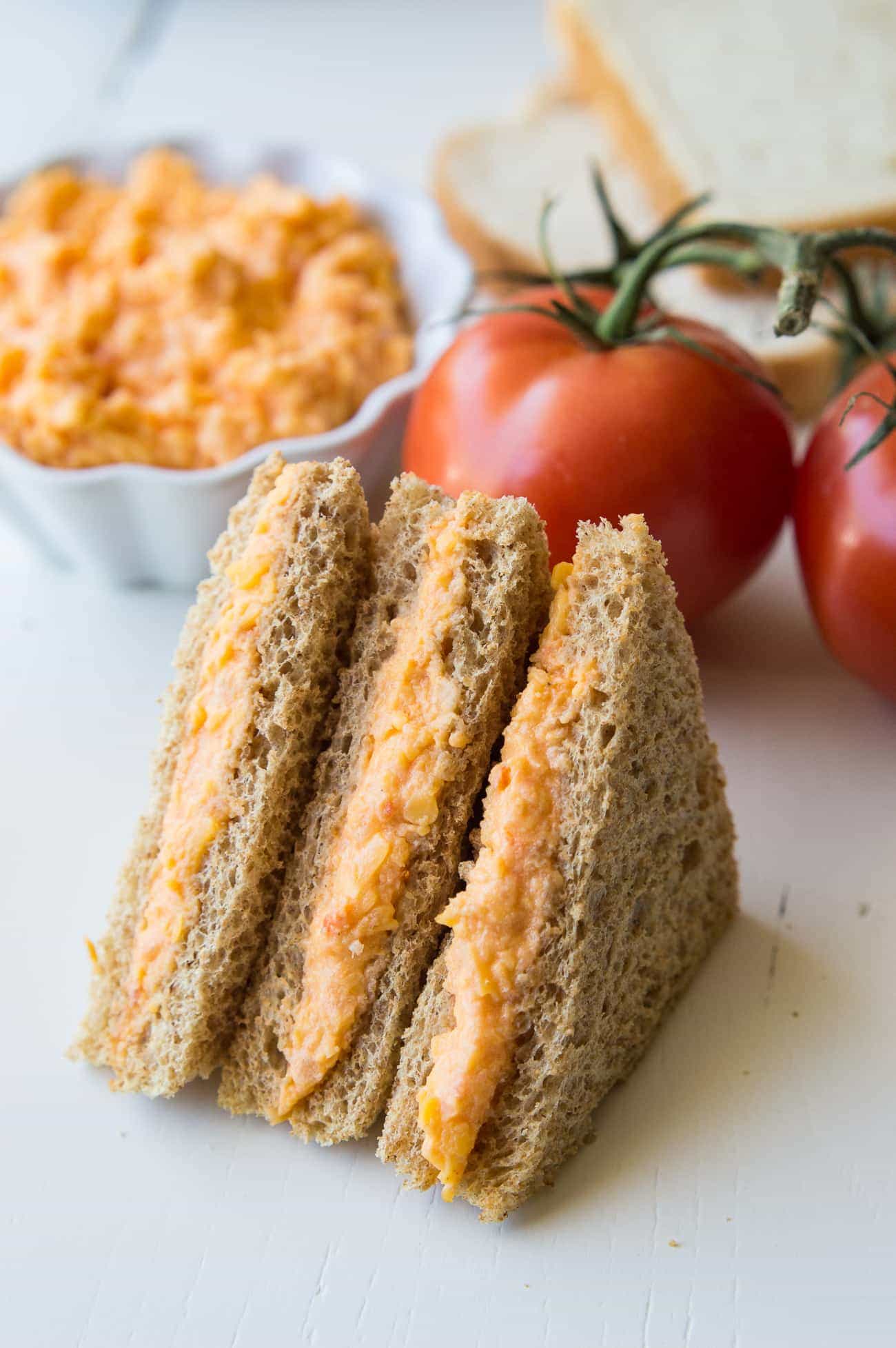 Even though Nana Sue comes to visit us here, the girls don't get the full tea party experience.  I don't have a fantastic hat collection.  And my gardening skills are basically non-existent.  But one thing I CAN do is make the tea party sandwiches. My girls are super understanding, and they humor my attempts at re-creating a Nana Sue experience.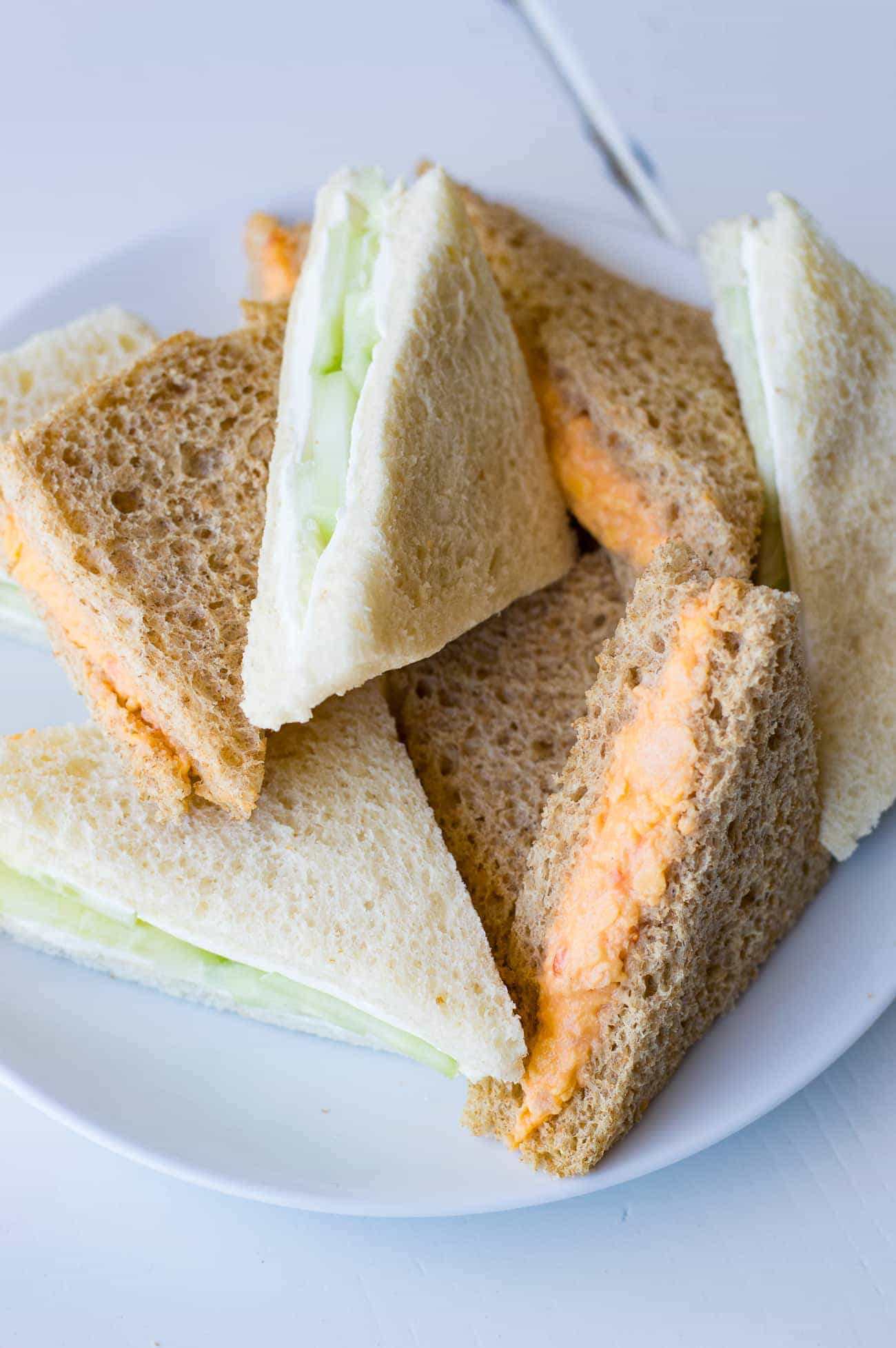 Some tips for you in re-creating this sandwich.  The tomato twiddle, is super easy to make.  Three ingredients.  Tomato, cheese, and onion.  The trick is finding the balance. Which a lot of that will be your personal preference.  We want to remove the skins and seeds from the tomato.  The easiest way will be to boil it slightly.  Just slice a little "X" on the bottom of the tomato.  Place this in boiling water for just a few minutes, 2-3.  Keep an eye on them though.  We just want them boiled enough so that the skin starts peeling up where you cut it.  Once you can see the skin peeling remove them from the water and allow them to sit and cool for minute.  The skins will just peel right off.  Cut the tomatoes in half and remove the seeds.
Now, add the ingredients to the food processor.  Start with a little less than the full amount of cheese.  This is how you will control the consistency.  And start with a little onion also.  This way you can control the taste.  Add in the tomato that you have prepared.  Then pulse together until completely combined.  If it's too runny add more cheese!  You want it to be a nice spreadable consistency. Want more onion flavor? Add a little more!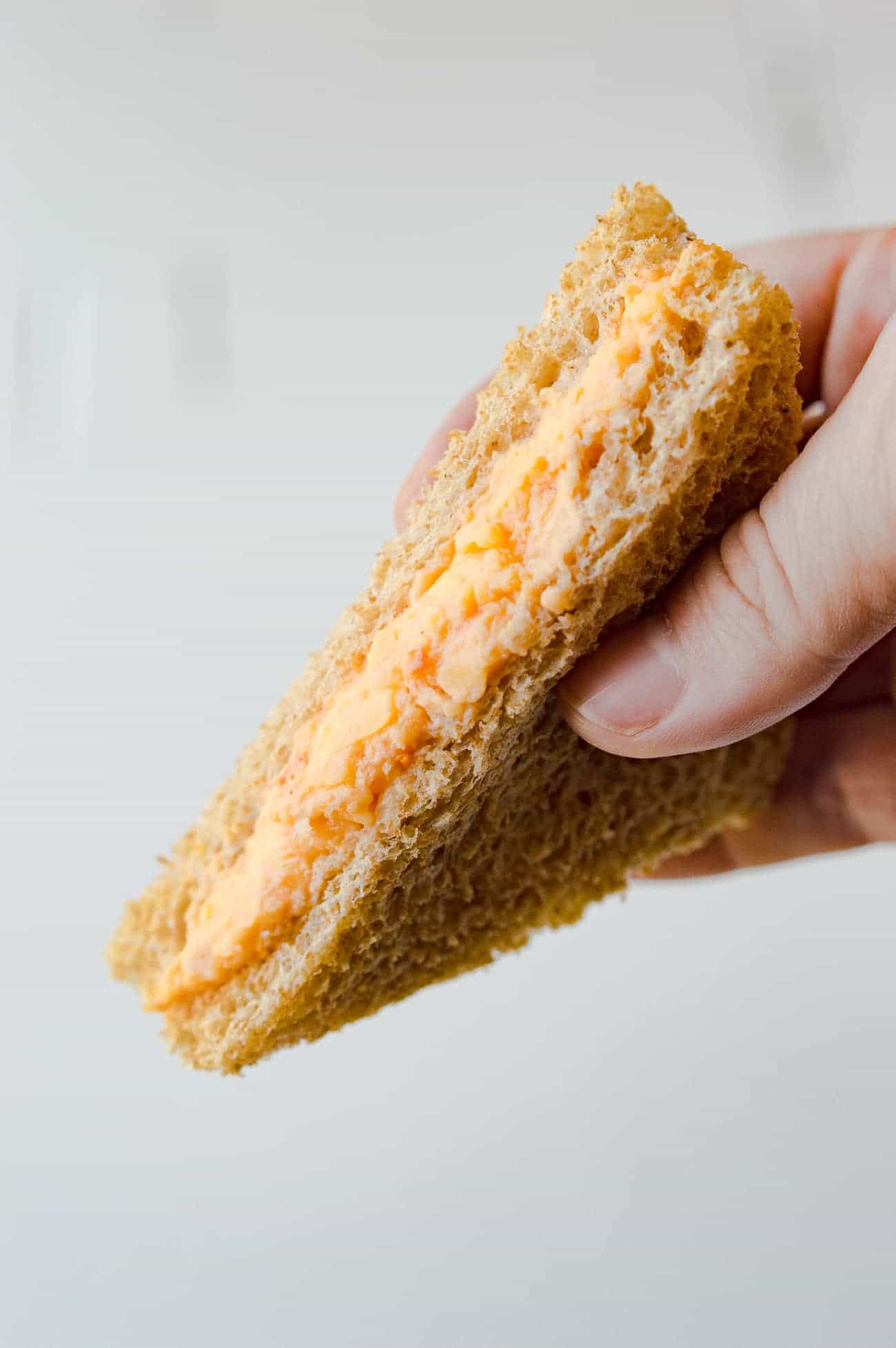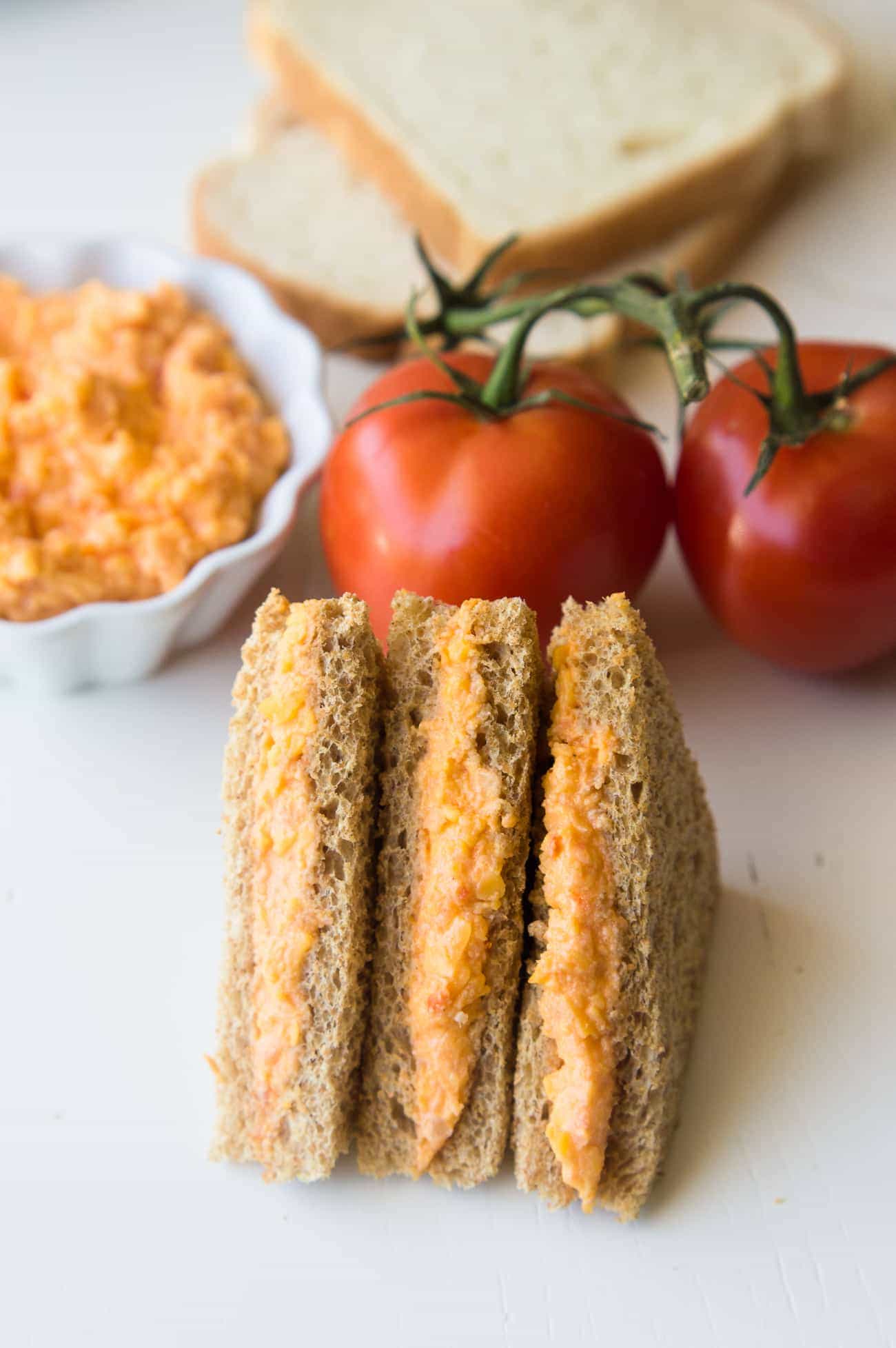 I hope you enjoy the recipe!  You can follow along with me and never miss a recipe by signing up for my newsletter.  Follow me on Instagram and tag #houseofyumm so I can see all the recipes you make.  Plus follow me on snapchat! @houseofyumm 💜
Serene @ House of Yumm
Serves 5 sandwiches
Tomato Twiddle (Tea Party Sandwiches)
This Tomato Twiddle recipe is perfect as a tea party sandwich. Easy to make, only 3 ingredients, and so flavorful! Get ready to meet your new favorite sandwich!
10 minPrep Time
10 minTotal Time
Ingredients
2 medium tomatoes (off the vine if possible)
1/2 pound of shredded sharp cheddar cheese
1/4 cup diced white onion
Instructions
Prepare the tomatoes by cutting an "X" on the bottom (not deep, just enough to pierce the skin of the tomato). Place in a pot of boiling water. Allow the tomato to boil for about 2-3 minutes. Once the skin is starting to curl up off the tomato, where you cut it, remove from the water. Allow to cool for about a minute. Then peel the skin off the tomatoes. Cut the tomatoes in half and remove all of the seeds.
Add the tomato, cheese, and onion into a food processor (start light on the onion and add as desired for flavor) Pulse until fully combined. Mixture will be spreadable. If too runny add more cheese to thicken.
Spread onto bread and serve on a sandwich. Store in refrigerator if not serving immediately.
7.6.4
486
https://houseofyumm.com/tomato-twiddle-tea-party-sandwiches/