These Pulled Pork Sliders are loaded up with tender, juicy BBQ pulled pork, bbq sauce, creamy coleslaw, and pickles. The perfect recipe to use up leftover pulled pork! These fun sandwiches are a great appetizer, snack food, or as a main dish that family and guests will love.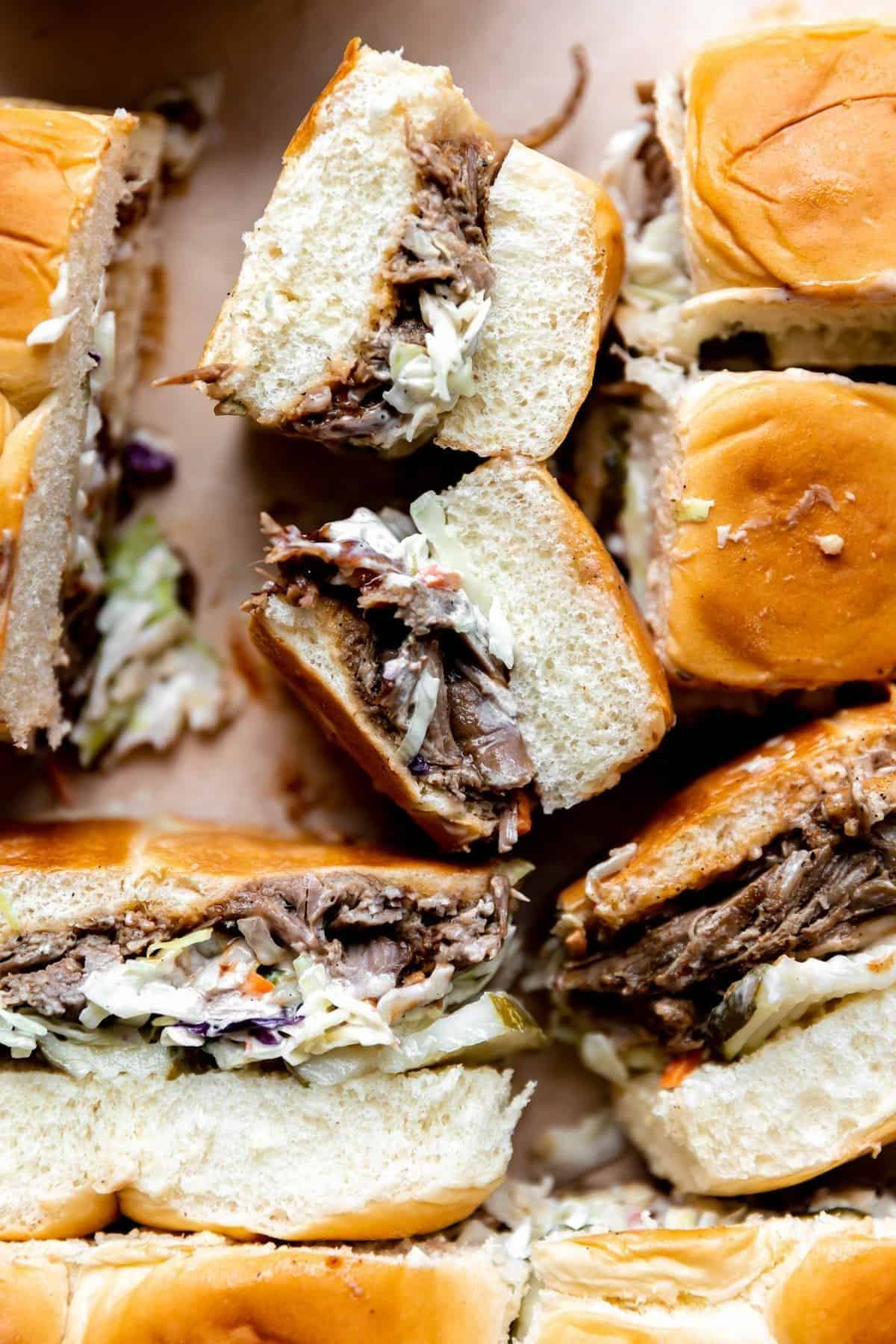 Whether hosting a backyard barbecue, attending a casual gathering, or simply craving a mouthwatering snack, these delectable mini sandwiches are the perfect choice. Tender and succulent pulled pork, adorned with tangy barbecue sauce and nestled between soft slider buns, creates an explosion of flavors in every bite.
Quick & easy: In just under 30 minutes, you can have a tasty snack, a perfect game-day appetizer, or even a quick weekday dinner.
Perfect for leftovers: Use store-bought, smoked pulled pork or our slow cooker pulled pork.
Great for Parties: These delicious pull-apart sliders are a hit with crowds and they're also easy to prepare. They're perfect for any gathering, whether it's a party, potluck, or a family movie night.
Ingredients You Need
Here's what is needed to make pulled pork sliders; the first section is if you want to make your own pulled pork; if you are using leftovers, you can skip over this part. The second part is how to make a classic Southern coleslaw.
Pulled Pork
Here's what you need to make a slow cooker pulled pork with a true Texas flair.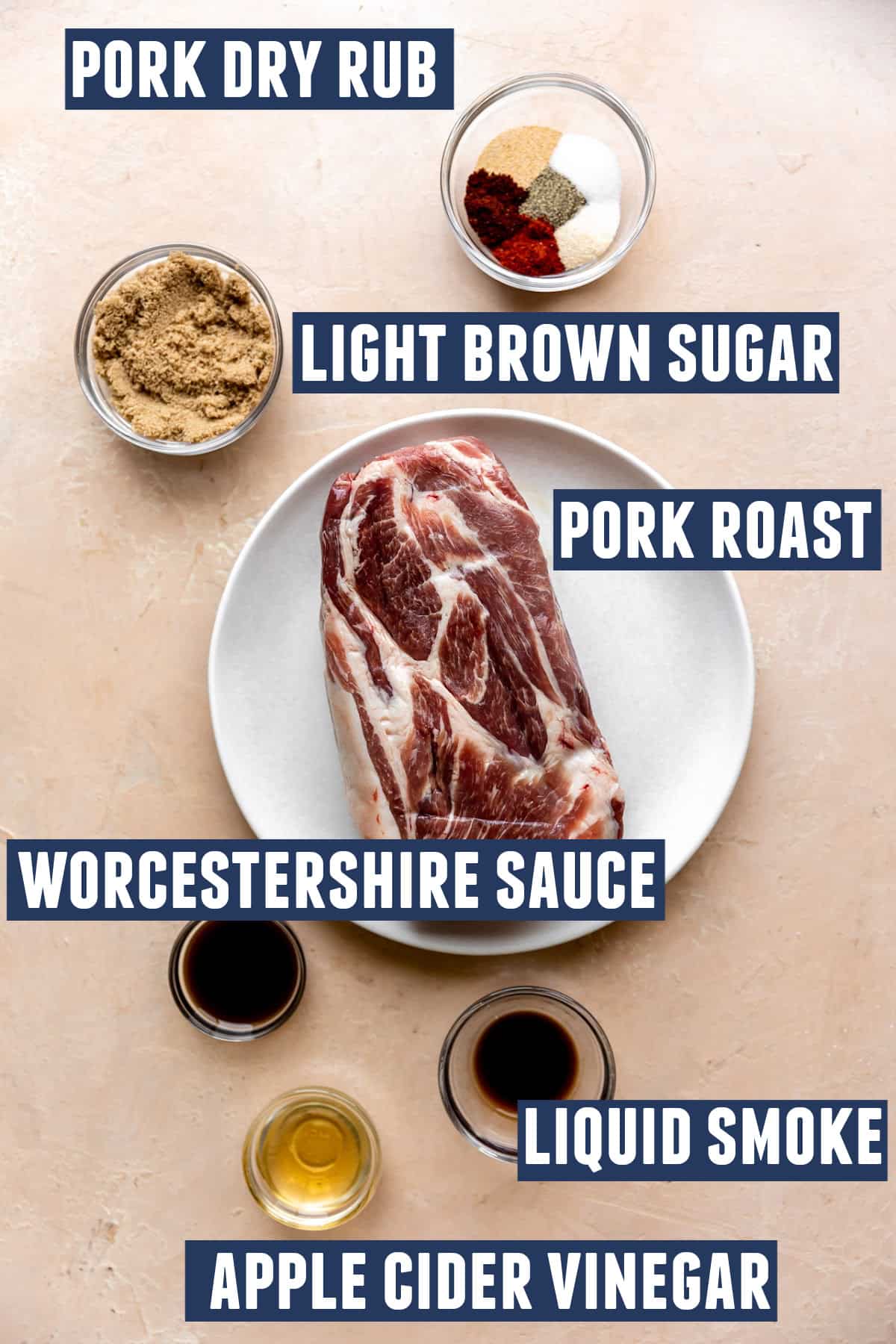 Pork Shoulder: this will be labeled as pork shoulder, pork butt or even Boston butt at the market.
Pork Dry Rub & Light Brown Sugar: the pork dry rub is a combination of light brown sugar, salt, pepper, onion powder, garlic powder, chili powder and paprika.
Worcestershire Sauce: adds a savory umami flavoring to the meat.
Liquid Smoke: since we're skipping the outside smoker for this recipe, we're adding a hint of smokiness with the liquid smoke.
Apple Cider Vinegar: adds a balanced flavoring.
Coleslaw
This classic southern coleslaw is creamy and tangy and the perfect accompaniment to the pork.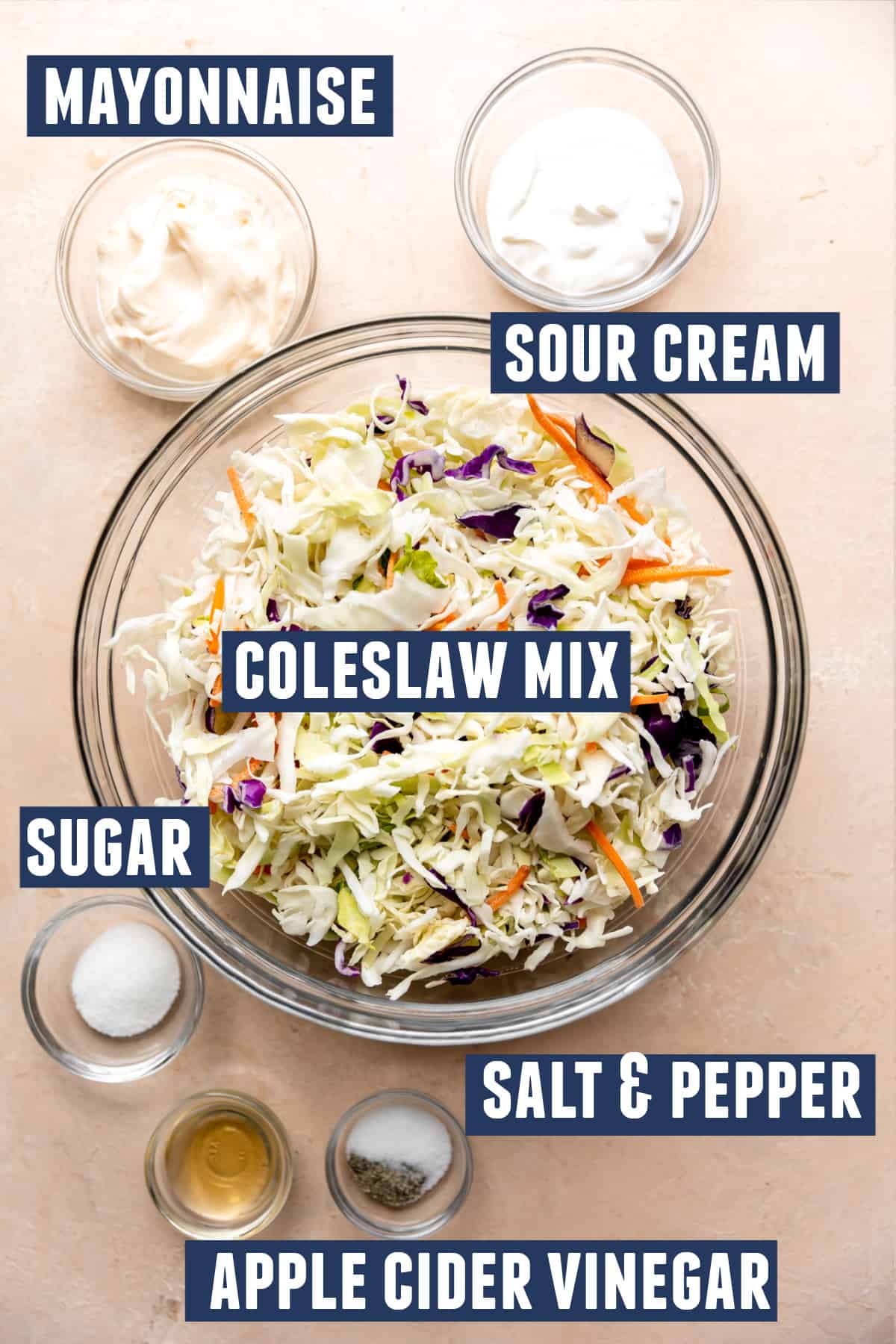 Coleslaw Mix: save time by purchasing a bag of pre-shredded coleslaw mix. These mixes typically contain red and green cabbage with shredded carrots. You can also shred your own cabbage.
Mayonnaise & Sour Cream: this is the base of the creamy coleslaw dressing.
Sugar: the slight sweetness balances the acid of the vinegar.
Salt & Pepper: used to season and flavor the dressing.
Apple Cider Vinegar: adds a bright, tangy flavor to the dressing.
---
How to Make Pulled Pork sliders
Slow Cooker Pulled Pork
This recipe is great for using leftover pulled pork, either slow-cooked or smoked pulled pork. Cooked pork is great for leftovers like this pulled pork pizza. Roasts come in sizes from 2 pounds to 5-7 pounds. So if you're cooking it up, make a large batch and save the leftovers for meals like this.
Pulled pork also freezes excellently for up to 3 months.
However, if you don't have any leftovers and want sliders, this slow cooker recipe is a great way to get some tender meat for your sliders.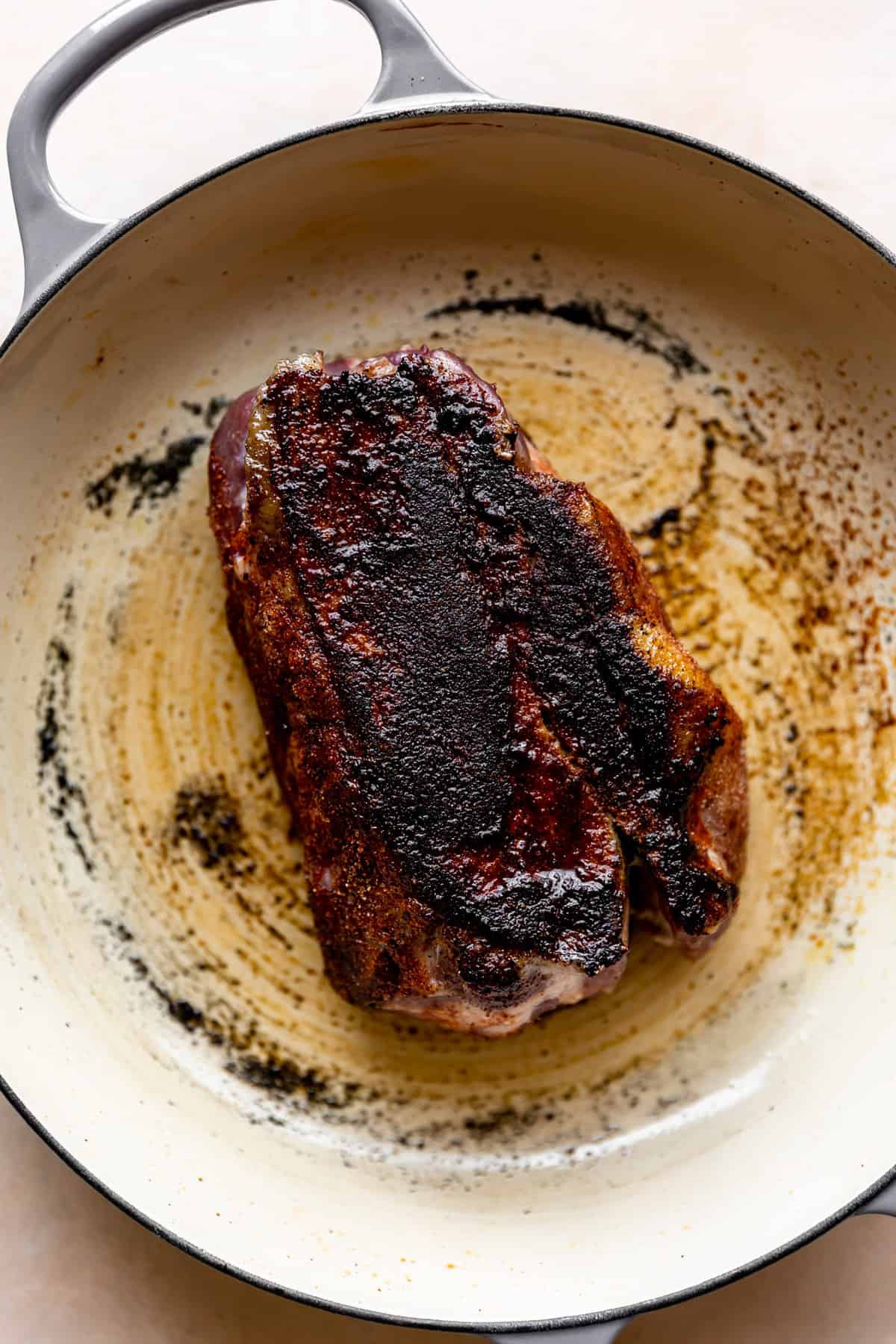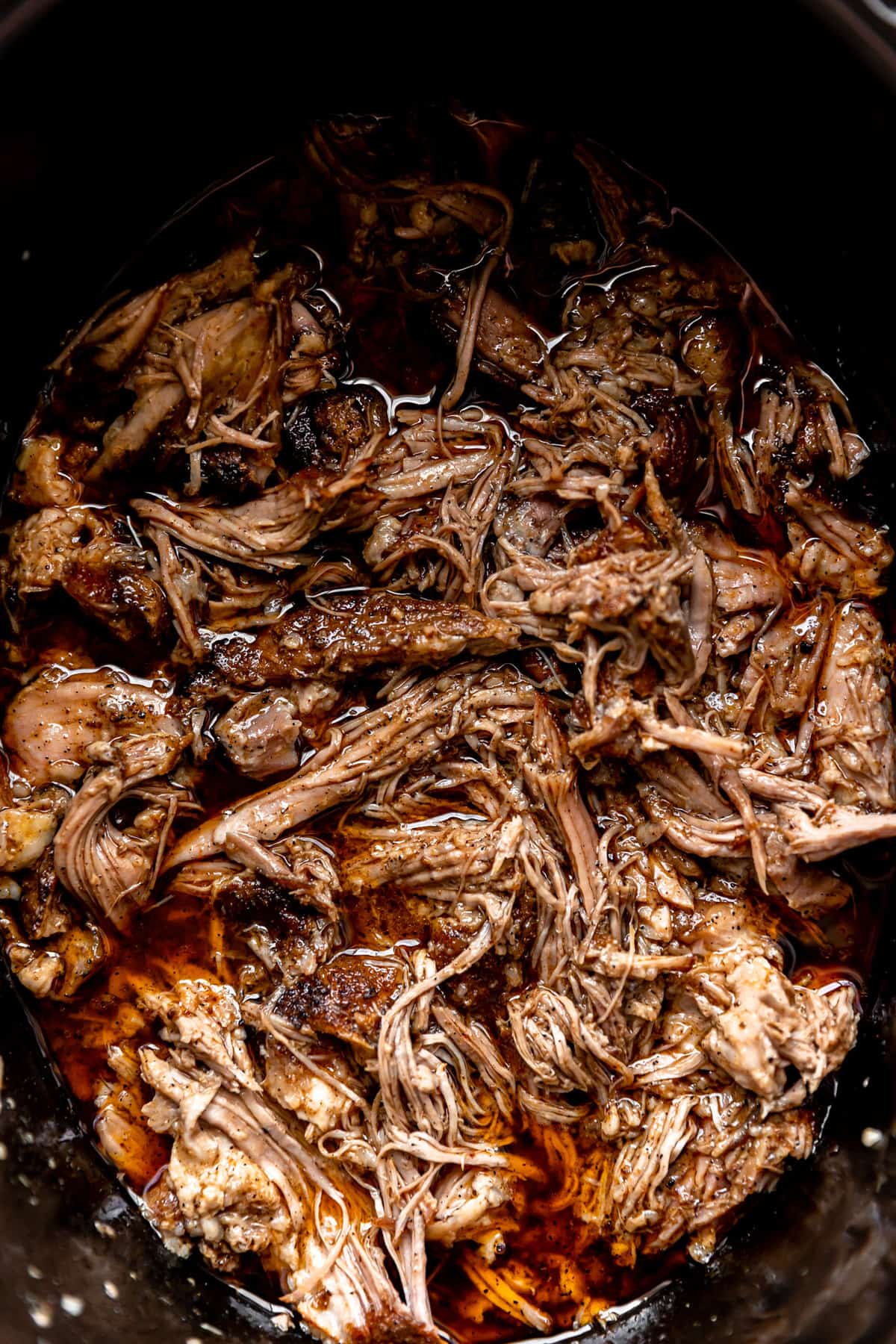 Season the pork roast with the dry rub by sprinkling evenly and patting into the meat.
Sear the roast in a skillet on the stovetop.
Add all the ingredients into a slow cooker and cook on LOW for 8 hours or until meat is tender and easily pulls apart.
Assembling the Sliders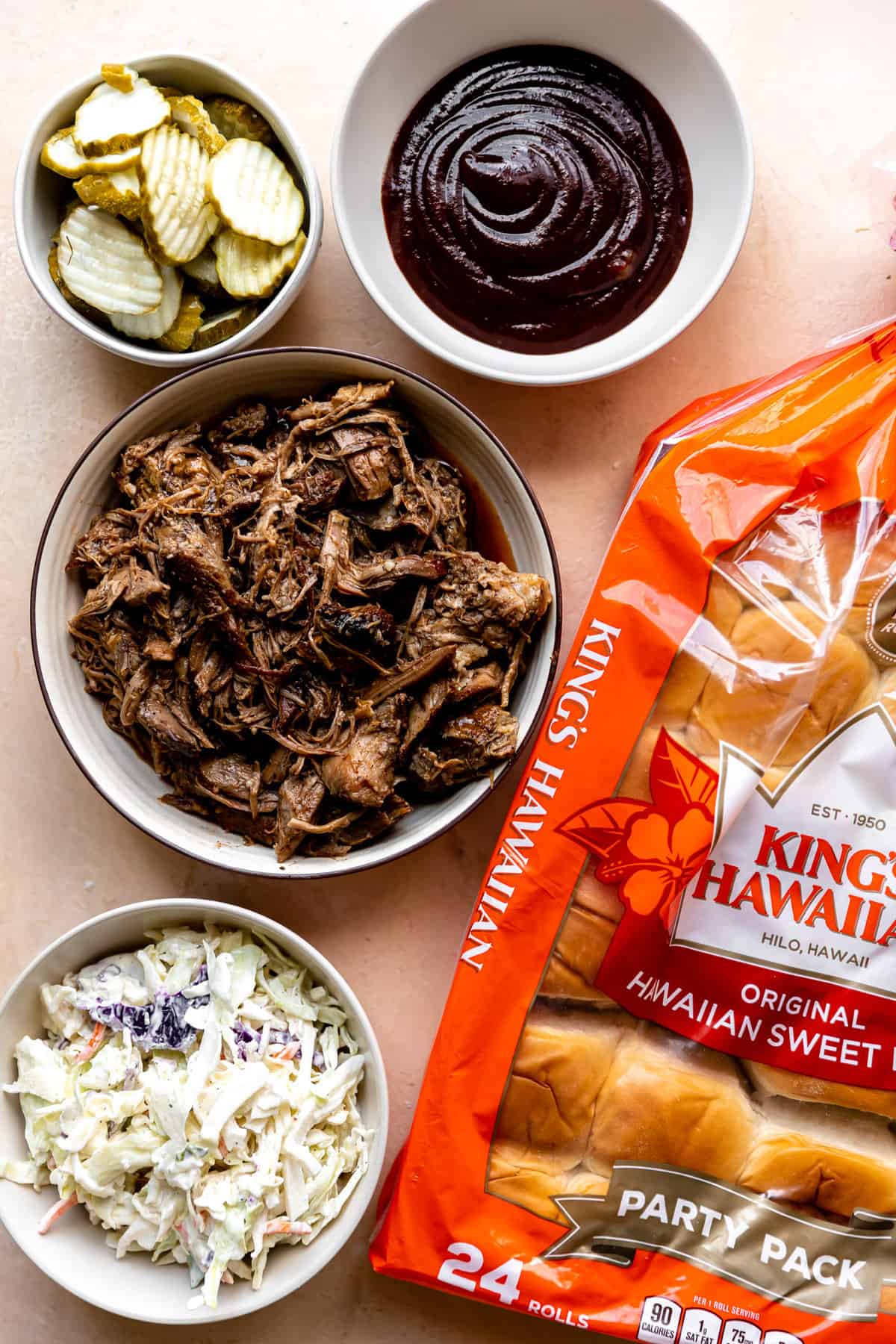 Gather all your ingredients needed, lay out the Hawaiian rolls and slice the entire sheet of rolls in half giving you a top and bottom bun.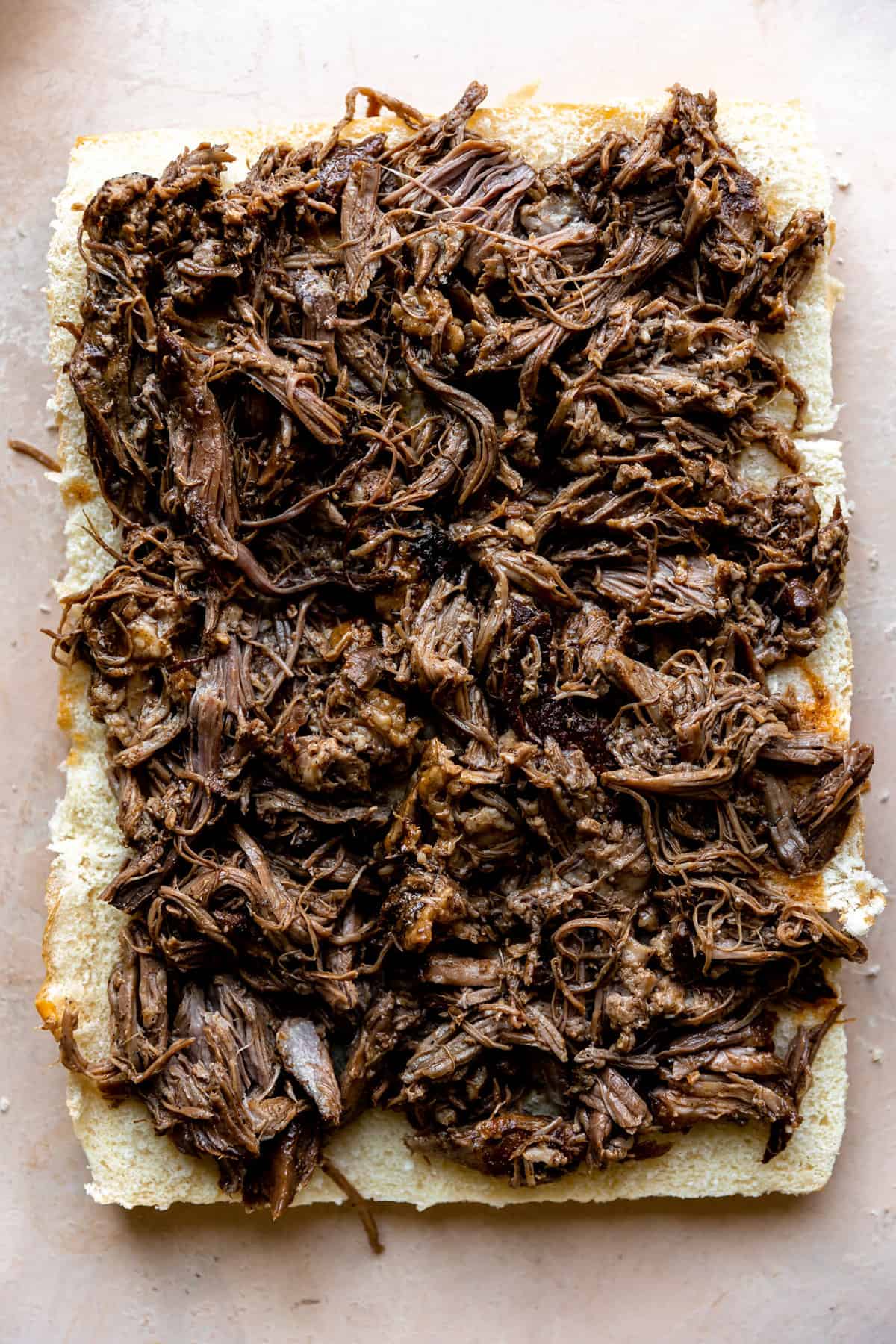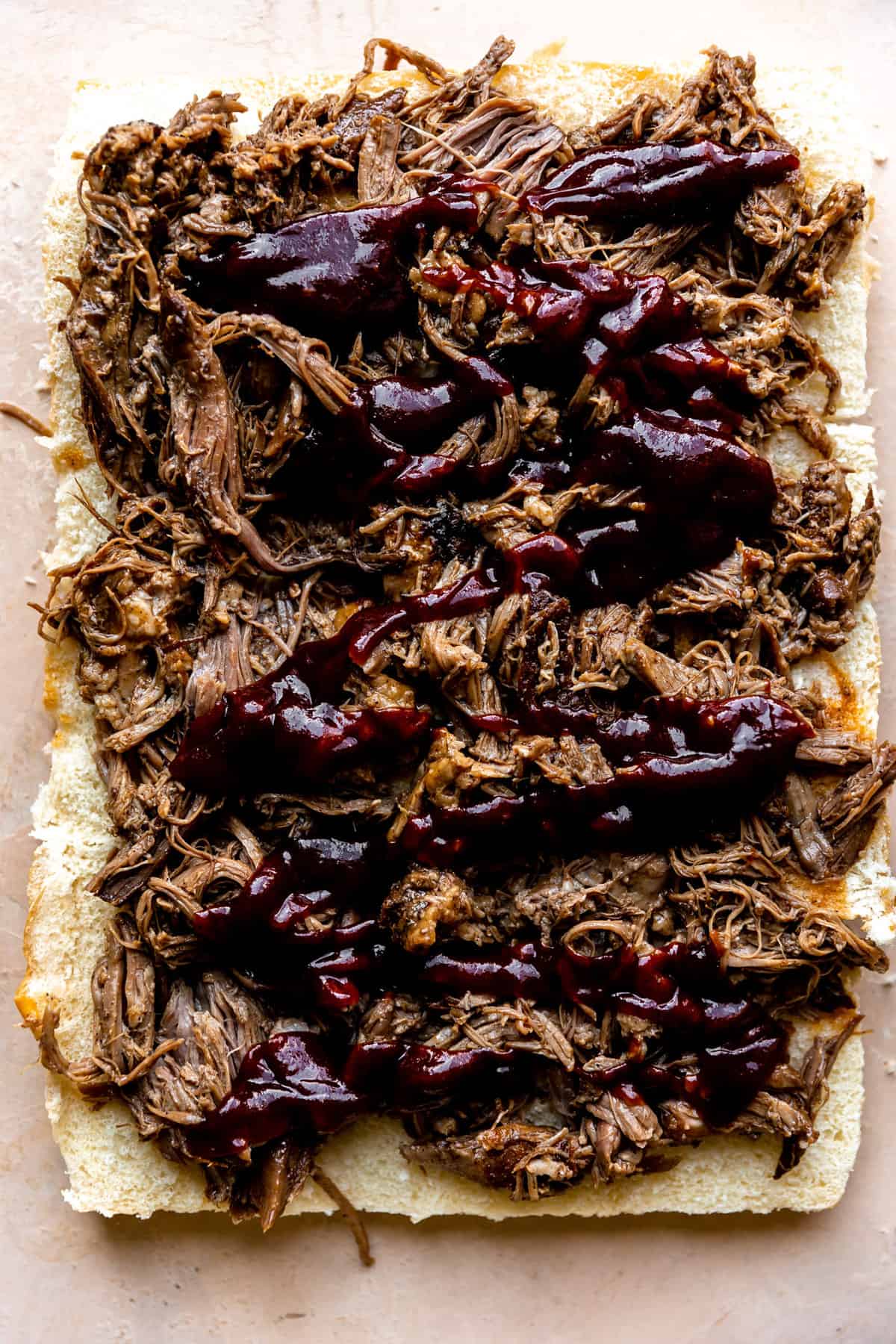 Add a layer of pulled pork on the bottom buns.
Drizzle with your favorite bbq sauce. Spread it around to give a nice even layering of sauce and flavor.
Spoon the coleslaw on top of the meat.
Add a layer of pickles.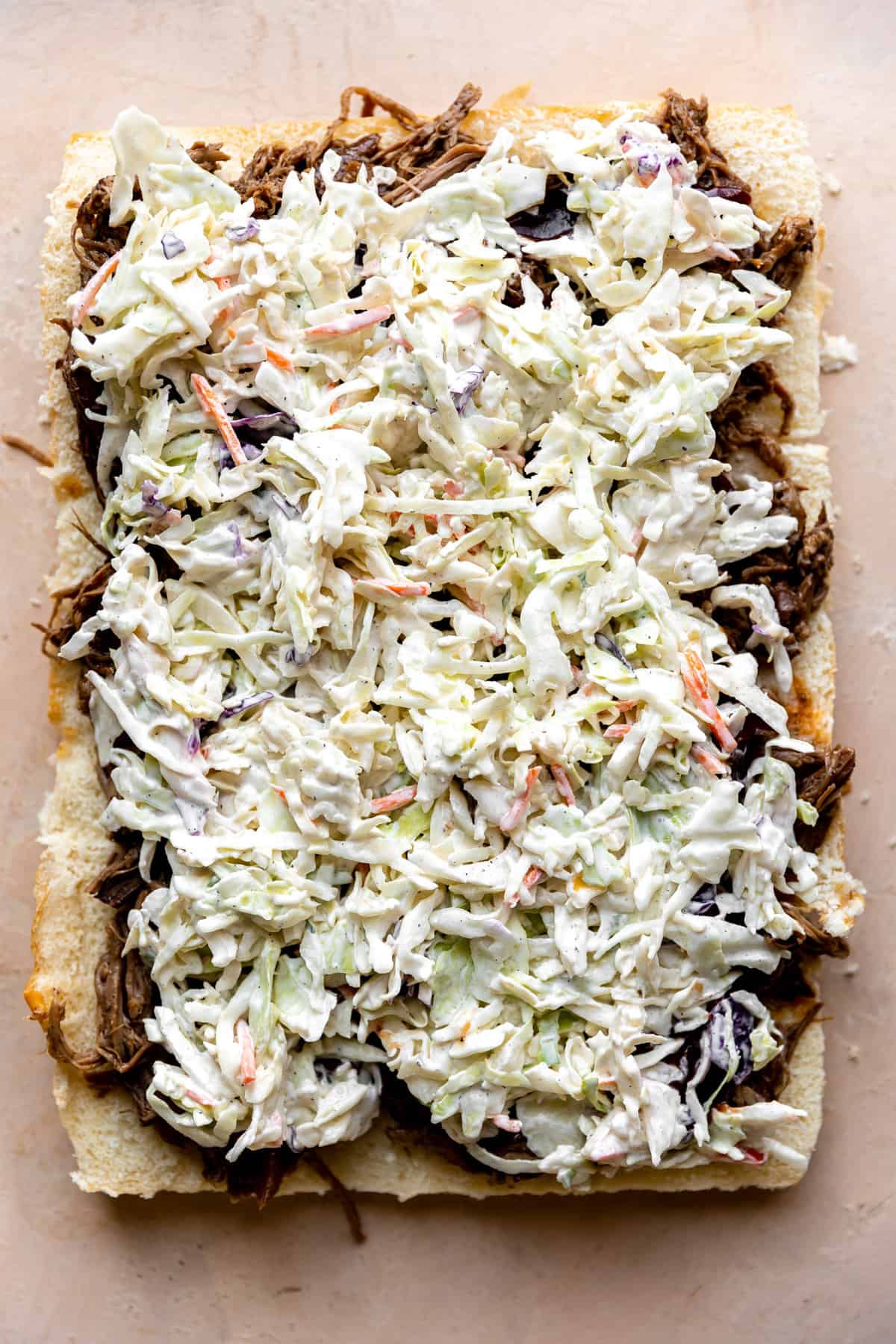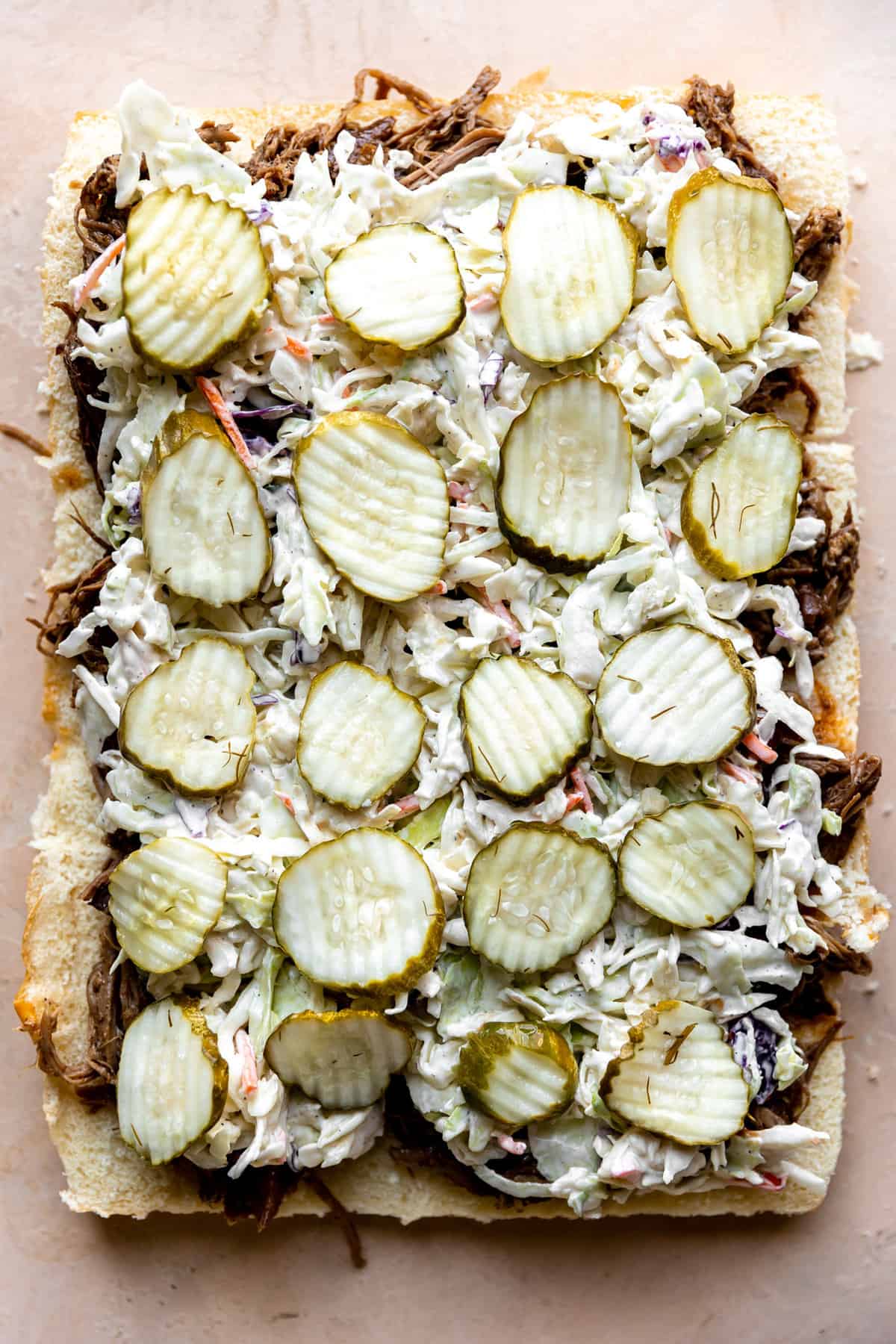 Pulled Pork Slider FAQs
What is the best cut of pork to use?
The recipe calls for pork shoulder, also known as pork butt. Typically you will see this cut sold in the market under either of those names or under the name of Boston butt.
How many sliders should I serve per person?
If the sliders are being served as an appetizer, or part of a table of snacks, plan on 1-2 per person. If you are serving these as a meal, plan on 3 per person.
What are the best toppings for pulled pork sliders?
Some of the most popular toppings include coleslaw, pickles, white onion, fried onions, jalapeños, and bacon.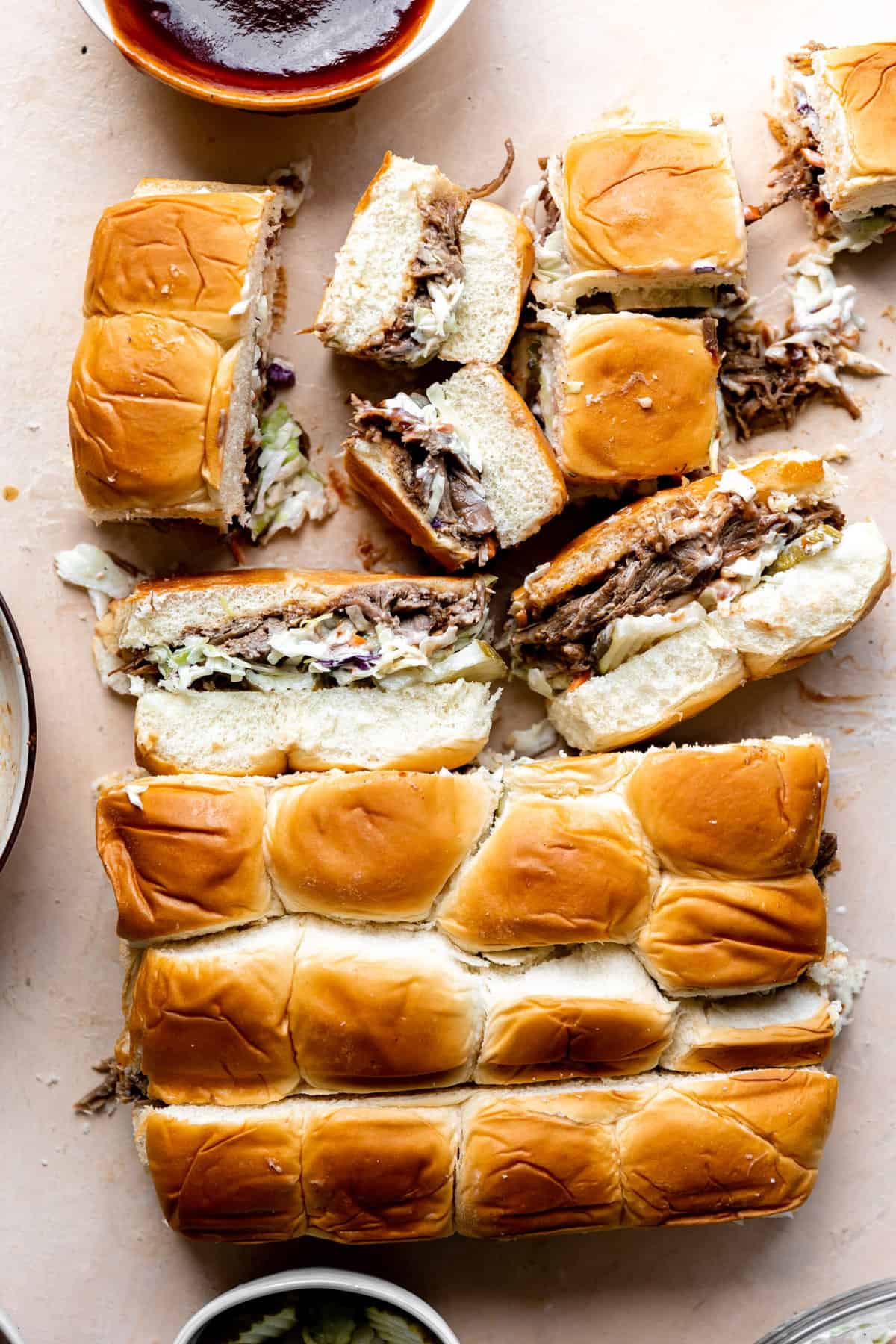 Storage Information
Refrigerator: Store the pork in the fridge for up to 5 days. It's better to store the meat separately from the rolls to avoid becoming soggy. If you have leftovers of assembled sliders, store them in the refrigerator for 1-2 days and eat them cold.
Freezer: We do not recommend freezing prepared sliders. Store pulled pork in the freezer for up to 3 months.
Reheating: We do not recommend reheating the sandwiches assembled as this will lead to soggy bread rolls. To reheat the pulled pork, place it in a skillet over medium heat for approximately 10 minutes or until warmed.
More Sandwich Recipes
Pulled Pork Sliders
These Pulled Pork Sliders are loaded up with tender, juicy BBQ pulled pork, bbq sauce, creamy coleslaw, and pickles. The perfect recipe to use up leftover pulled pork! These fun sandwiches are a great appetizer, snack food, or as a main dish that family and guests will love.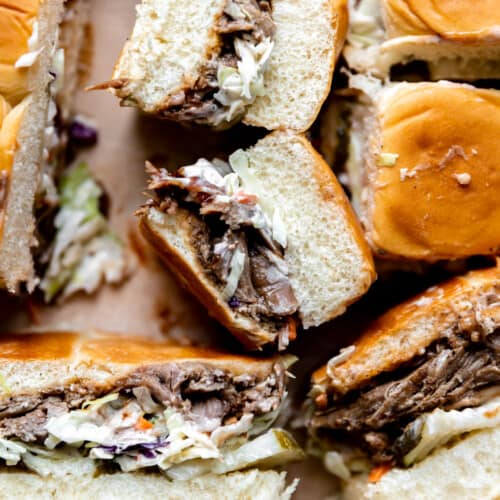 Ingredients
Coleslaw
16

ounces

coleslaw mix

or shredded cabbage

¼

cup

mayonnaise

¼

cup

sour cream

1

tablespoon

apple cider vinegar

2

teaspoons

sugar

can sub with honey

½

teaspoon

salt

⅛

teaspoon

black pepper
Sliders
24

pack

Hawaiian rolls

1

cup

bbq sauce

sliced dill pickles
Instructions
Slow Cooker Pulled Pork
Combine the light brown sugar, paprika, chili powder, salt, garlic and onion powders and black pepper together in a small bowl.

Remove the pork roast from the refrigerator and pat completely dry with a paper towel.

Evenly sprinkle with the seasoning mix. Press the seasoning into the pork to help it adhere.

If your slow cooker sears, then sear the meat on all sides briefly. If it doesn't have a sear setting, then sear the meat in a large skillet over medium high heat with a small amount of oil.

Place the seared pork roast into the slow cooker and add the vinegar, worcestershire and liquid smoke.

Cook on low for 8-10 hours until the meat is easily shredded.

Remove the meat from the slow cooker and shred using two forks or a knife.
Coleslaw
In a jar or bowl combine the ingredients needed for the dressing: mayonnaise, sour cream, apple cider vinegar, sugar, salt, and black pepper. Stir to combine.

Add the cabbage to a medium size bowl.

Pour the dressing over the top and mix to combine and coat the cabbage.
Sliders
Assemble the sliders by slicing the slider buns in half giving a top and bottom bun.

Layer the pulled pork on the bottom. Top with a drizzle of bbq sauce as desired.

Spoon the coleslaw on and add slices of dill pickles. Place the top bun on top of the sliders and serve immediately.
Nutrition
Calories:
192
kcal
|
Carbohydrates:
20
g
|
Protein:
10
g
|
Fat:
8
g
|
Saturated Fat:
2
g
|
Polyunsaturated Fat:
3
g
|
Monounsaturated Fat:
3
g
|
Trans Fat:
0.01
g
|
Cholesterol:
36
mg
|
Sodium:
660
mg
|
Potassium:
335
mg
|
Fiber:
1
g
|
Sugar:
15
g
|
Vitamin A:
465
IU
|
Vitamin C:
15
mg
|
Calcium:
45
mg
|
Iron:
1
mg
Nutrition information is automatically calculated, so should only be used as an approximation.
Like this? Leave a comment below!
Photography by the talented KJandCompany.co