Classic Meatball Recipe. This easy meatball recipe is my all time favorite! Tender, juicy meatballs loaded with flavor and simmered in a homemade marinara sauce. Perfect for topping spaghetti noodles, or just enjoying as an appetizer.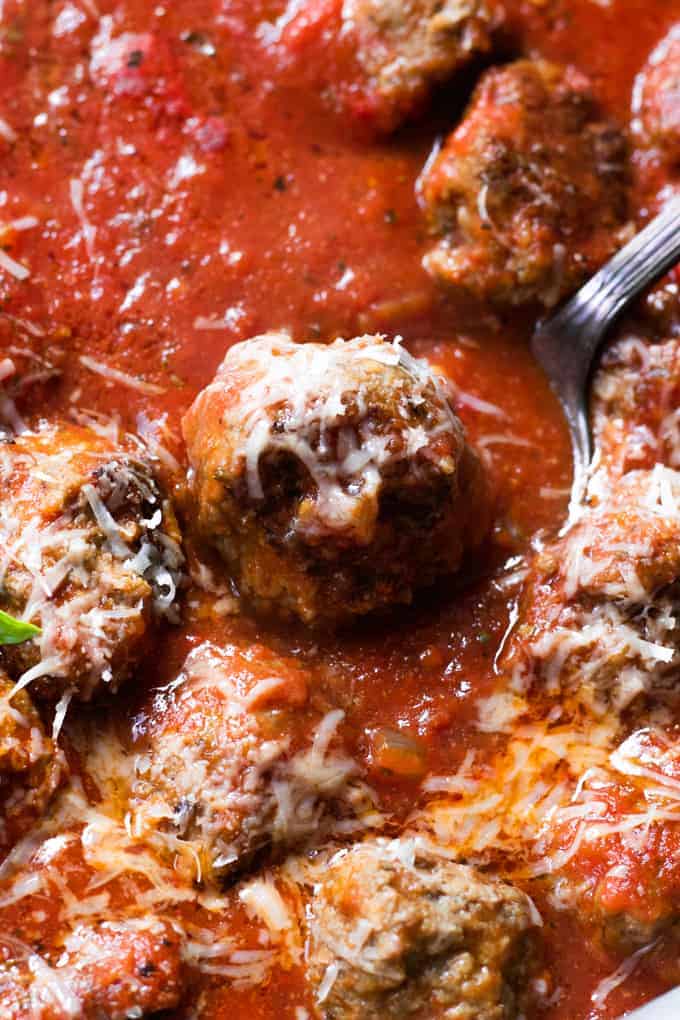 Sometimes, there's nothing better than a big plate full of juicy, tender meatballs simmered in a homemade marinara sauce. This also happens to be my daughter's absolute favorite meal! With some prep ahead of time, this can be a perfect easy weeknight meal. Simply follow the instructions for prepping the meatballs ahead of time, and then make the sauce when ready to serve!
How to make Meatballs:
Flavor: These meatballs are flavored with fresh grated parmesan, finely minced onion and minced garlic. A lot of recipes call for sautéd onion, but I find mincing it finely and keeping it raw makes for a great flavor and the onion bits are so small they blend in with the meat.
Season: A hefty helping of salt is needed for these meatballs. 1 tsp per 1 pound of meat. Other seasonings include ground black pepper. You can always add in fresh herbs also.
Mix: Mix the meat and other ingredients by hand. This allows you to ensure the ingredients are combined completely, and it doesn't overwork the mixture to give you tough meatballs.
Add the milk: Saving this as the last step helps you to control the texture. The meatball mixture should be wet. Add the milk slowly to help you get the right texture. If the mixture starts to feel wet before you get the full amount in, you can stop adding, or if you need a bit more you can increase the amount.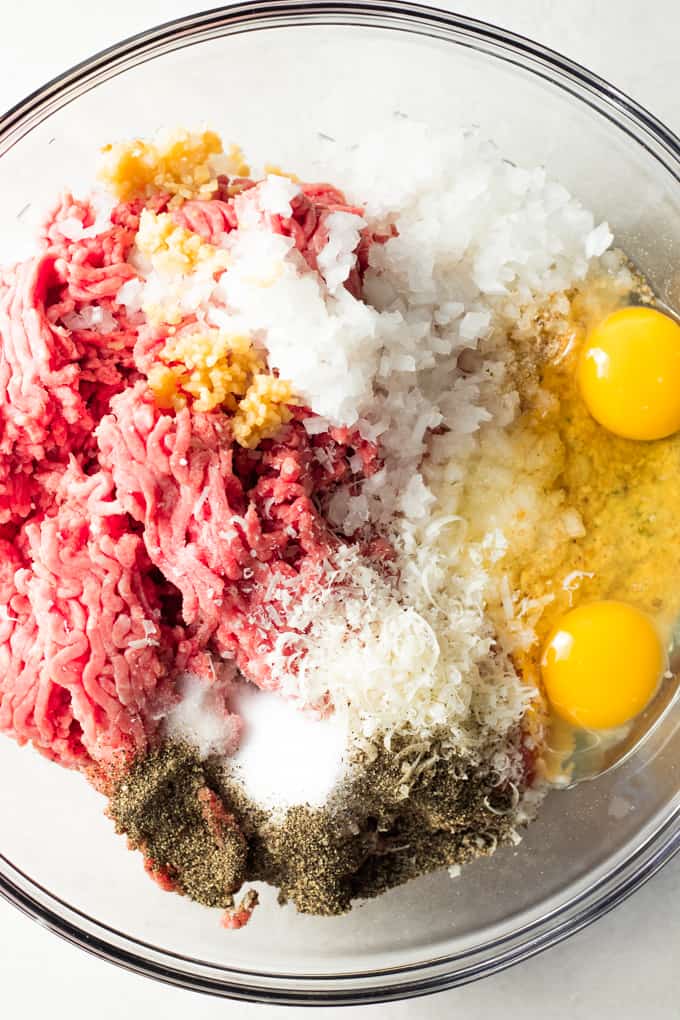 How to cook Meatballs:
Sear. Once you have things mixed and have formed the meatballs. At this point you have several options for cooking the meatballs
Cooking meatballs in sauce:
Pan Sear: sear the meatballs in a small amount of oil in a large skillet over medium heat. This method allows us to keep all the wonderful browned bits from searing and use them in our homemade sauce. This is why this is my preferred method when making a sauce for my meatballs.
Broil Sear: lay the meatballs on a large baking sheet and broil for about 7-8 minutes until browned on top. At this point the meatballs can be added to a sauce to continue cooking.
Poach the meatballs. Just add the raw meatballs directly to the sauce. But you will miss the wonderful sear on the outside.
Cooking meatballs with no sauce (Great option if making a large batch and freezing for later)
Oven Baked Meatballs: Lay the meatballs on a large baking sheet and broil for about 20 minutes and cook them thoroughly. They will be ready to save for later.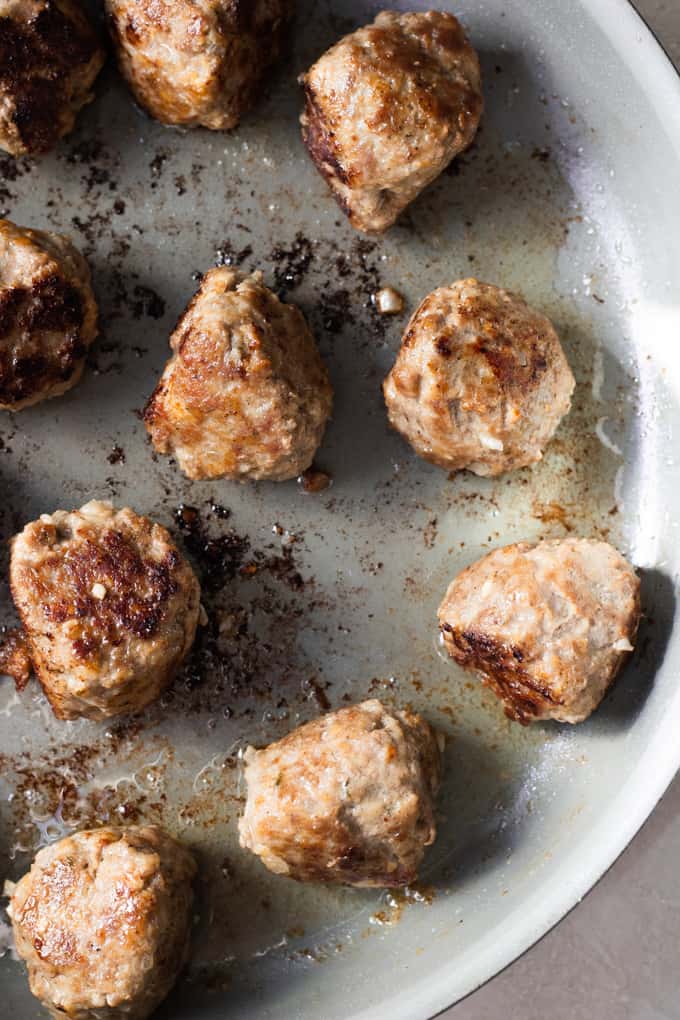 Tips for making the BEST Meatballs:
Meatballs can be made with a mixture of ground pork and ground beef, or just ground beef. I prefer to make mine with ground beef, which is what is in the recipe below. If you're wanting to make them out of a mixture, simply use a 1:1 ratio. Half ground beef and half ground pork.
Using Italian style breadcrumbs adds wonderful seasoning and also the texture of the breadcrumbs is so fine that it blends into the meat while they cook. You can always sub the Italian breadcrumbs for plain breadcrumbs and control the seasonings on your own.
Prepare one small patty of meat and cook it up to test the seasoning of the meat prior to preparing all of the meatballs. This way if you need to adjust and add anything you can do so and not be surprised when you go to enjoy your meatballs.
Frequently Asked Questions about this Meatball Recipe:
Why are my meatballs too tough? If your meatballs are turning out too tough, the usual culprit is over-mixing. This is why it's recommended to mix by hand. This can help to prevent tough meatballs.
How do I get my meatballs to stick together? Meatballs stick together with a binder. This recipe uses both eggs and breadcrumbs to bind the meatballs together. Too much or too few breadcrumbs can cause loose meatballs that will crumble.
Can I make these Crockpot Meatballs? These can become a crockpot meatball by adding the meatballs to a slow cooker after searing. Prepare the marinara sauce (or sauce of choice) and pour over the meatballs in the slow cooker. Cook on LOW for 3-4 hours to let simmer and let flavors infuse.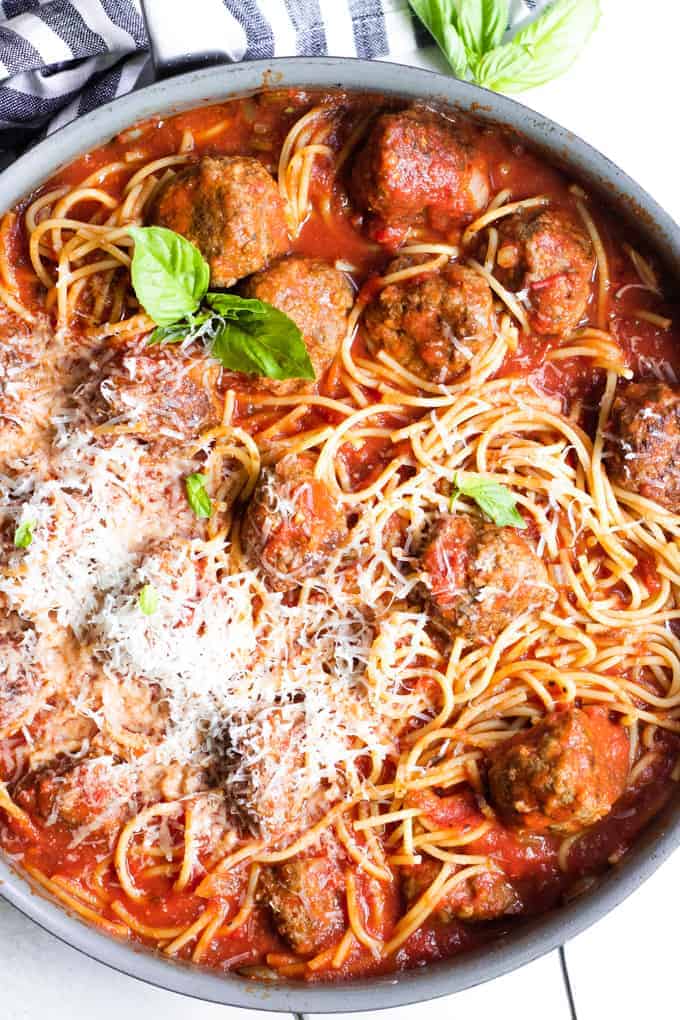 Can you freeze meatballs?
These meatballs can be frozen. To do this they will need to be cooked thoroughly. Whether you are cooking them in a pan or in the oven. Cook the meatballs completely through, let them cool to room temperature. Then add them to a large freezer size resealable bag, or in a large sealed container. Store in the freezer for 4-6 months.
To thaw the meatballs place them in the refrigerator overnight. To reheat place the meatballs in a simmering sauce and let them heat through.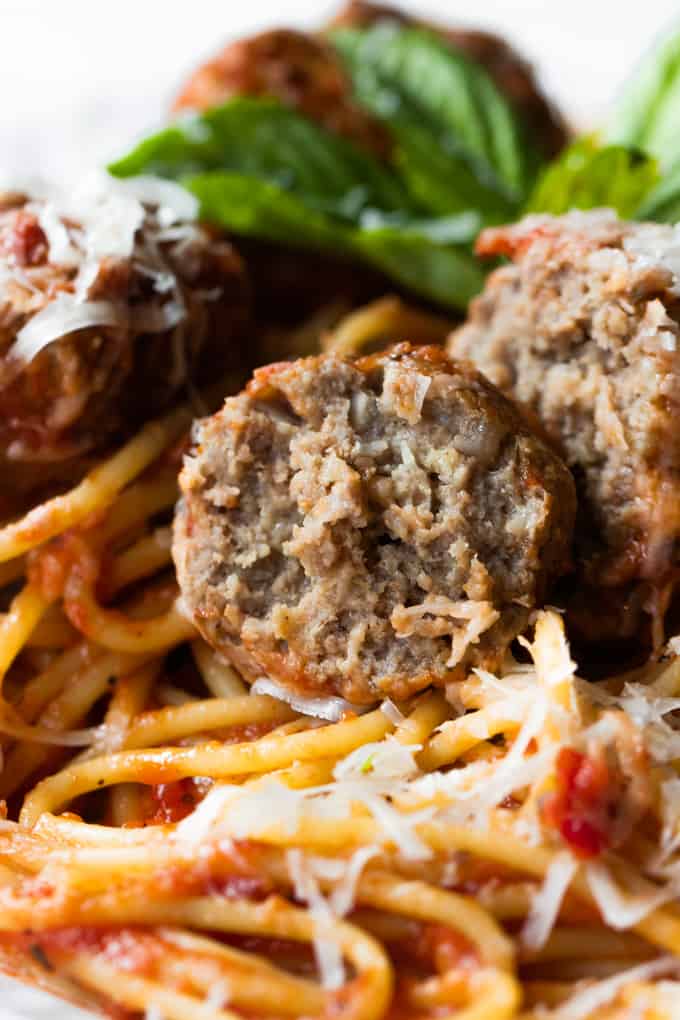 Other recipes you may enjoy: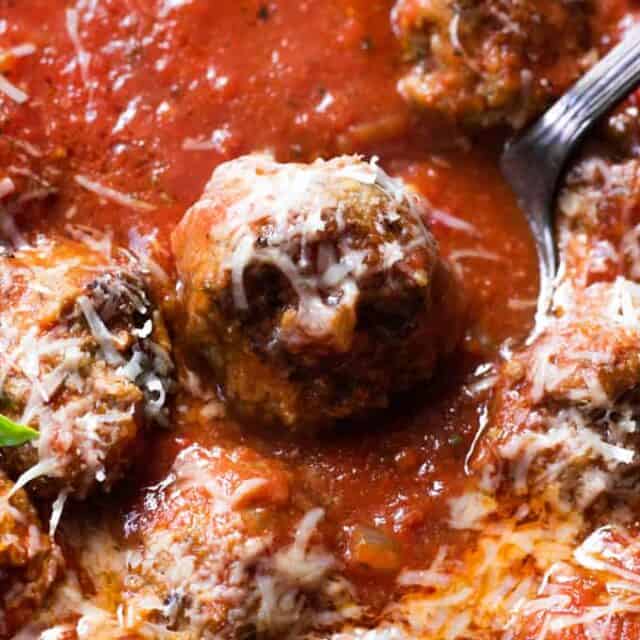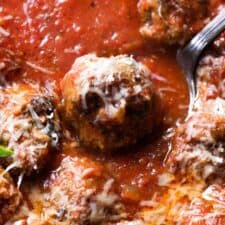 Classic Meatball Recipe
Classic Meatball Recipe.This easy meatball recipe is my all time favorite! Tender, juicy meatballs loaded with flavor and simmered in a homemade marinara sauce.
Ingredients
Meatballs
1 tablespoon Extra Virgin Olive Oil
2  pounds ground beef, 80% preferred
2  large eggs
1 cup  bread crumbs, Italian style
2 teaspoons salt
½ teaspoon  pepper
¼ cup  fresh parmesan, grated
¼ cup  minced onion
3  cloves garlic, minced
½ cup  milk
Sauce
1 tablespoon tomato paste
28 ounces tomato sauce
28 ounces crushed tomatoes
1/2  cup onion , diced
3  cloves garlic , minced
1 ½ teaspoon  oregano
1 ½ teaspoon dried basil
½ teaspoon  ground black pepper
1 teaspoon  salt, more to taste
1 tablespoon  light brown sugar
Instructions
Mix the ground beef, eggs, bread crumbs, salt, pepper, grated parmesan, minced onion and minced garlic together in medium sized mixing bowl. Slowly pour in the milk and mix using hands to ensure thoroughly mixed. Mixture will be wet.

Heat oil in a large pan or dutch oven over medium heat.

Using hands roll meatball mixture into small balls about 1 inch in diameter. Place in the pan coated with oil.

Cook the meatballs over medium heat, turning while they cook, until browned on all sides. Cook in batches if needed to avoid over-crowding. Once all meatballs are seared remove from the skillet and set aside. (do not worry if the meatballs are cooked through, they will finish cooking in the sauce)

Drain the grease from the pan, but leave all the blackened bits.

Return the pan to the stove at a low heat.  Add the onion and cook until softened. Add the garlic and cook for an additional 30 seconds.

Stir in the tomato paste.

Pour in the tomato sauce and crushed tomatoes. Add in the oregano, basil, salt, and black pepper. Stir to combine. Add in the light brown sugar and stir.

Return the meatballs to the pot. Gently mix into the sauce.

Bring sauce to a simmer. Cover and cook for 30 minutes.
Nutrition
Serving: 1g, Calories: 304kcal, Carbohydrates: 30g, Protein: 21g, Fat: 13g, Cholesterol: 86mg, Sugar: 16g
House of Yumm is a participant in the Amazon Services LLC Associates Program, an affiliate advertising program designed to provide a means for us to earn fees by linking to Amazon.com and affiliated sites.