These large wet burritos are stuffed with juicy ground beef, creamy refried beans, and lots of melty cheese! Then smothered in a red enchilada sauce. Hearty, savory, and comforting! These easy smothered burritos will quickly become a favorite dinner!
All about these wet burritos…
What is a wet burrito? A wet burrito is one that has been smothered and covered in a red enchilada sauce and melted cheese. It's also called a smothered burrito.
Completely customizable: this meal is a huge win when it comes to family dinner since you can make it your own. Swap out the fillings for you favorite meat/rice/beans and use your favorite red or green enchilada sauce.
Great option for leftovers! If you have leftover meat from a meal this is a great easy dinner idea.
Restaurant Quality: this meal comes together simply, but it is flavorful and filling, plus it always looks impressive just like a meal you would be served at your favorite Tex Mex restaurant.
Ingredients: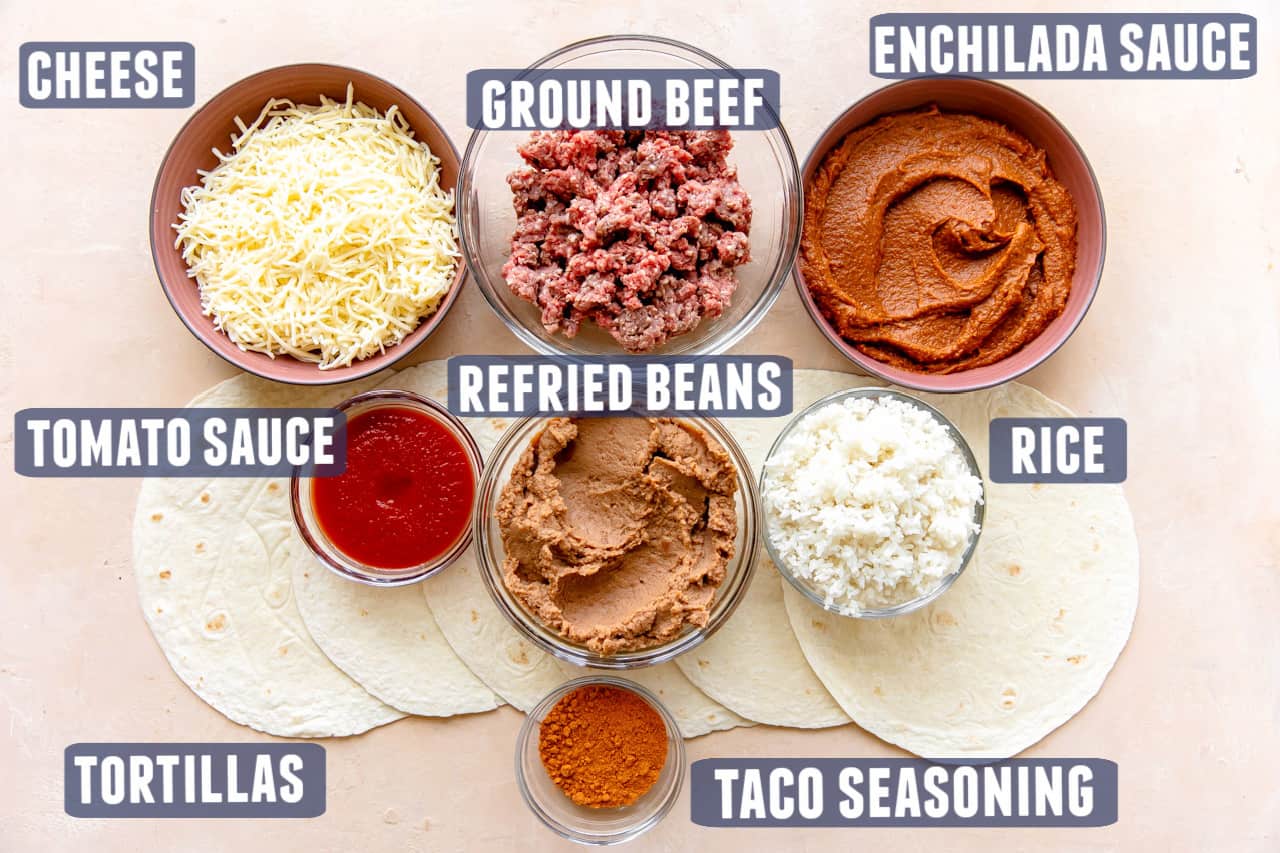 Notes on some ingredients..
How to make (step-by-step):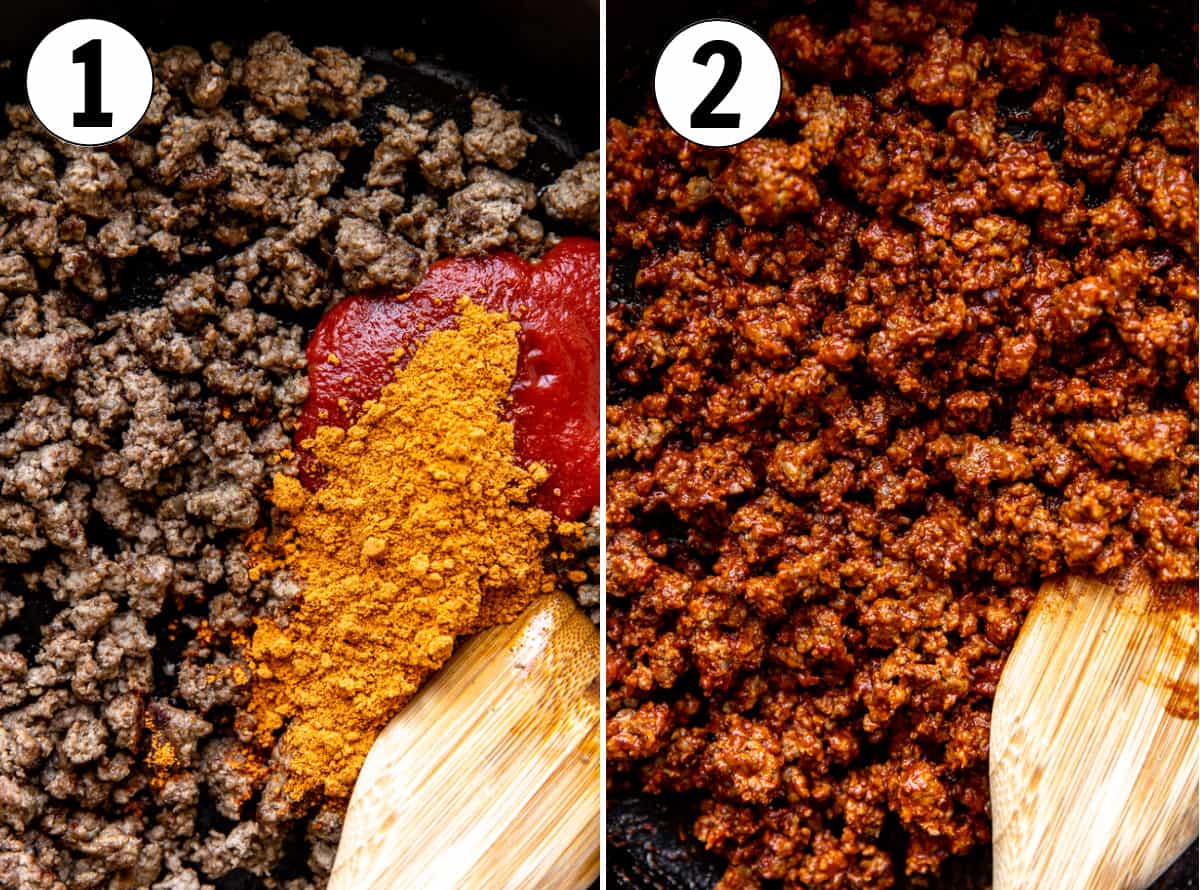 Step 1 & 2: Prepare fillings, the ground beef is cooked and then mixed with a homemade taco seasoning and some tomato sauce. Prepare the rice and refried beans. Have all of your filling ingredients warm, this helps with the baking time.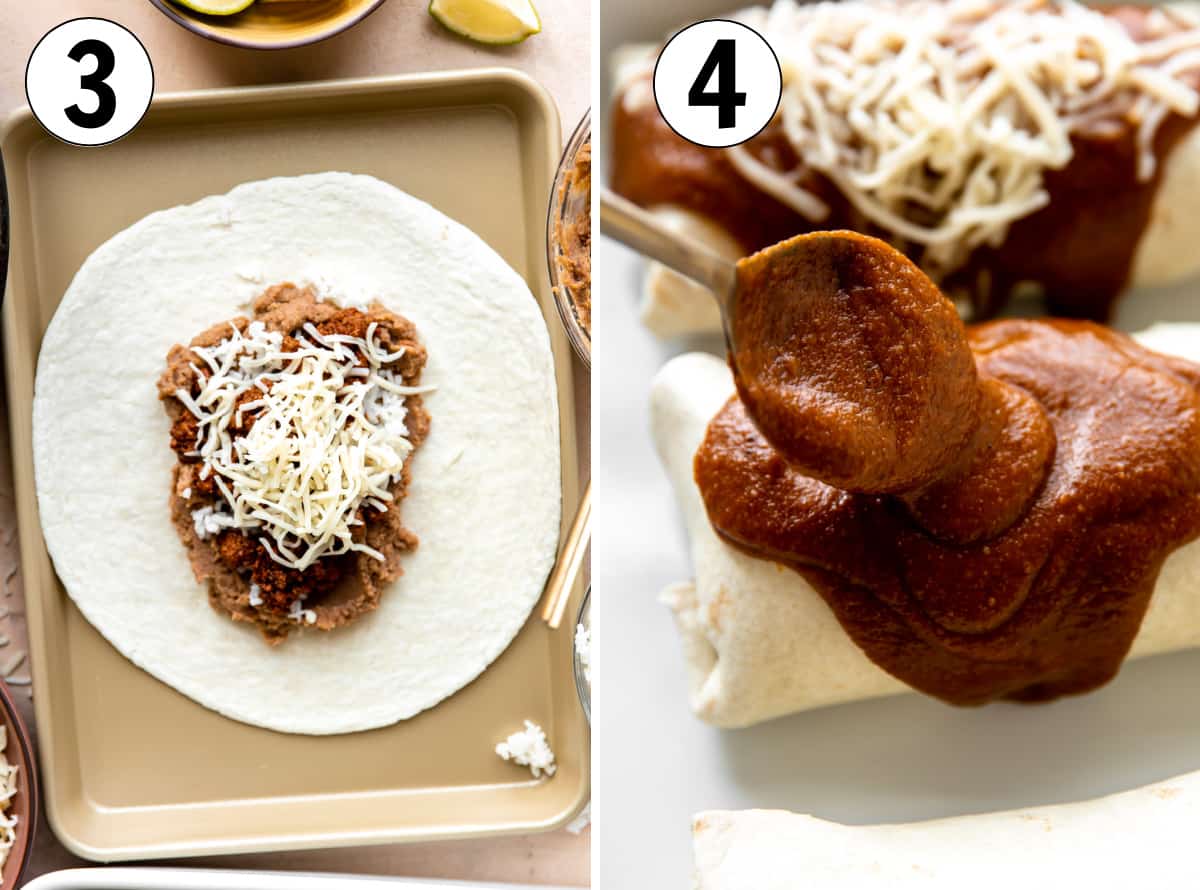 Step 3: Fill the tortillas, layer the refried beans, meat, rice and cheese. Then roll and fold up the tortillas to create a burrito. Lay the burritos in a baking dish.
Step 4: Smother the burritos with enchilada sauce, then top with shredded cheese.
Step 5: Bake the burritos until all the cheese is melted. Serve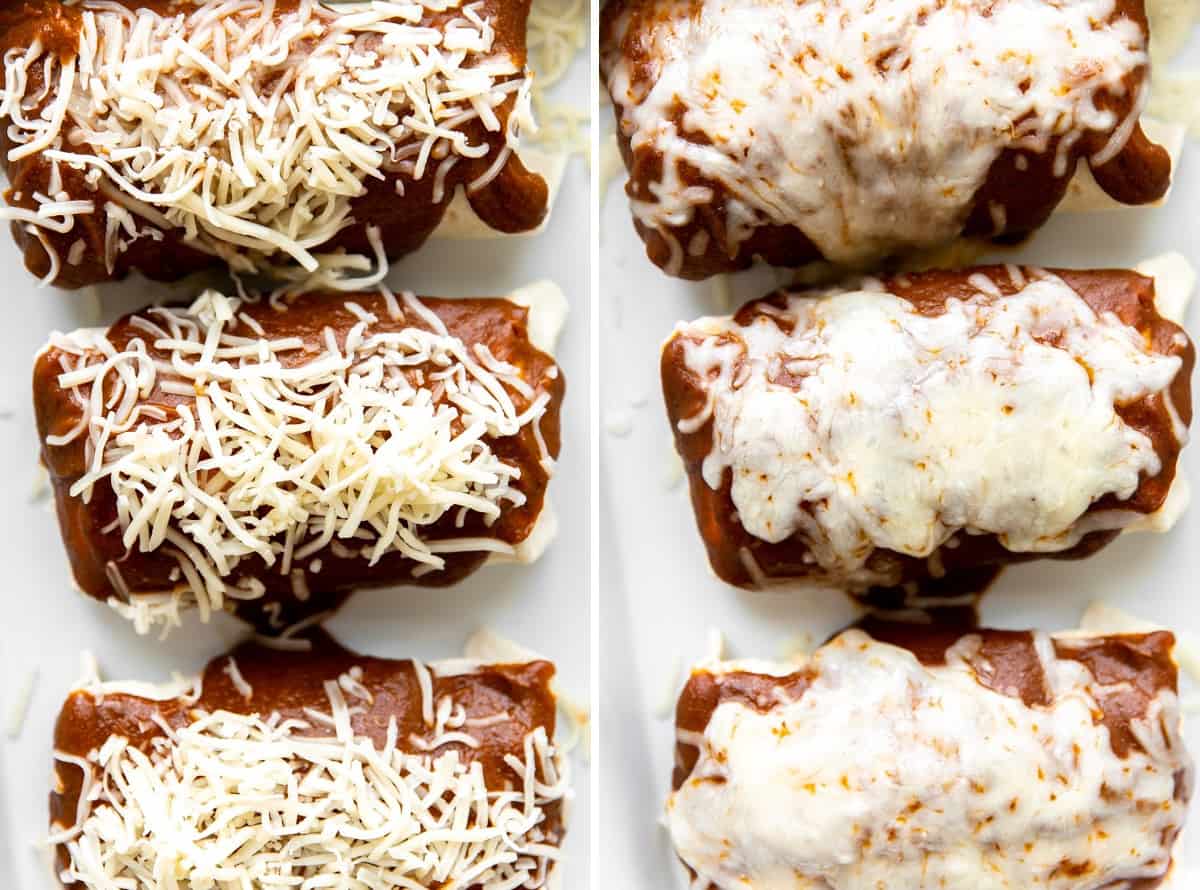 Expert Tips:
Have all of your fillings warm when filling the wet burritos, this cuts down on the baking time and helps ensure that everything is heated throughout.
Use a baking dish instead of a cookie sheet when baking, some enchilada sauces can be runny and this will prevent making a mess in your oven.
FAQ's:
Can these be frozen?
Yes, after filling and rolling the burritos wrap them in foil and place in a freezer safe container or bag. These can be frozen for 2-3 months.
Can I make this with a green enchilada sauce?
Yes, you can use any enchilada sauce of your choice. Green sauce pairs wonderfully with a chicken filling.
What is the best tortilla to use?
You will want to use large burrito size tortillas, which are about 10 inches in diameter. You can make your own homemade or use store bought. One of my favorite options when short on time is to purchase the raw tortillas from the markets that can be cooked at home in a skillet.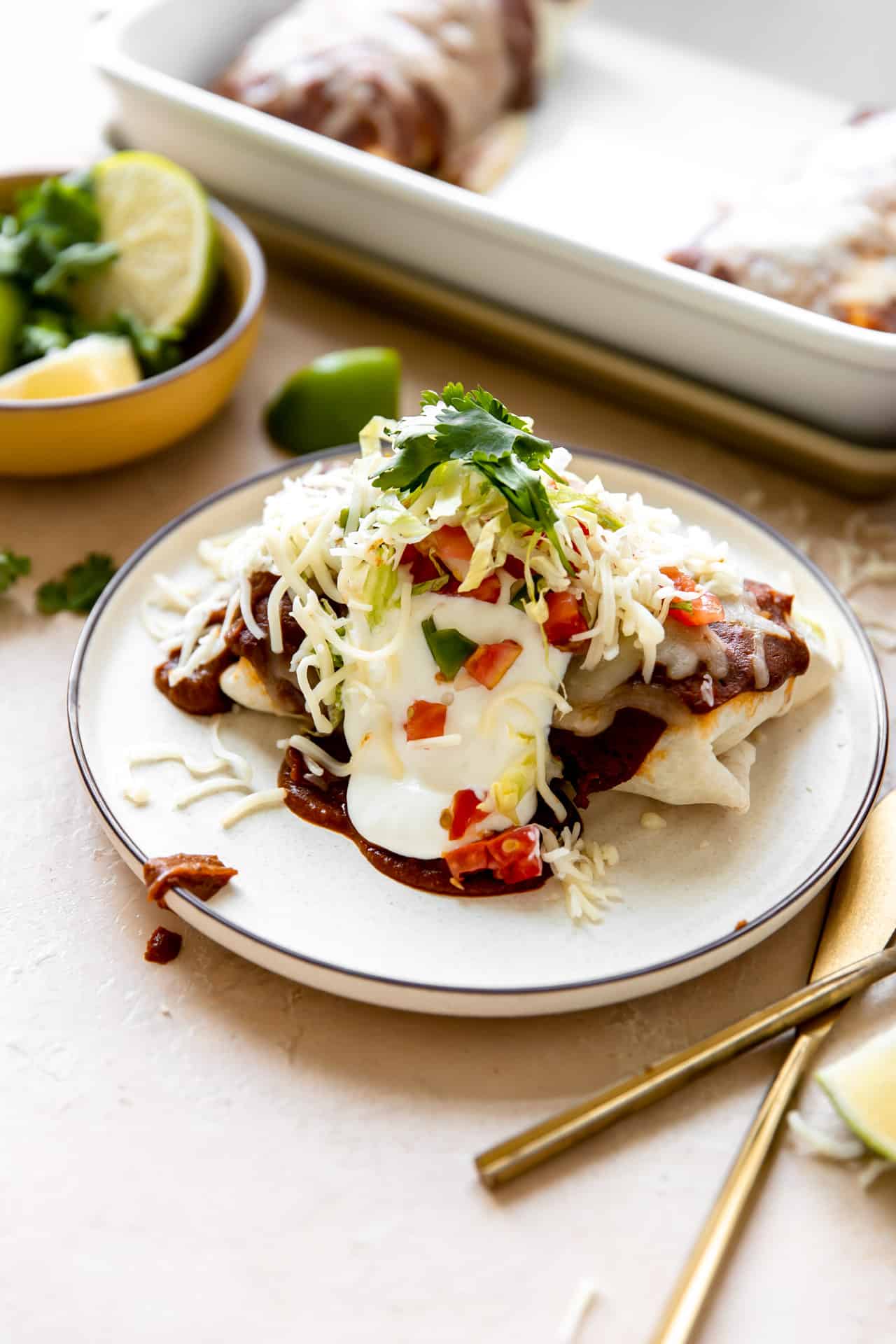 More Tex Mex recipes:
If you tried this recipe please leave a comment and a ⭐️⭐️⭐️⭐️⭐️ rating below! Thank you so much!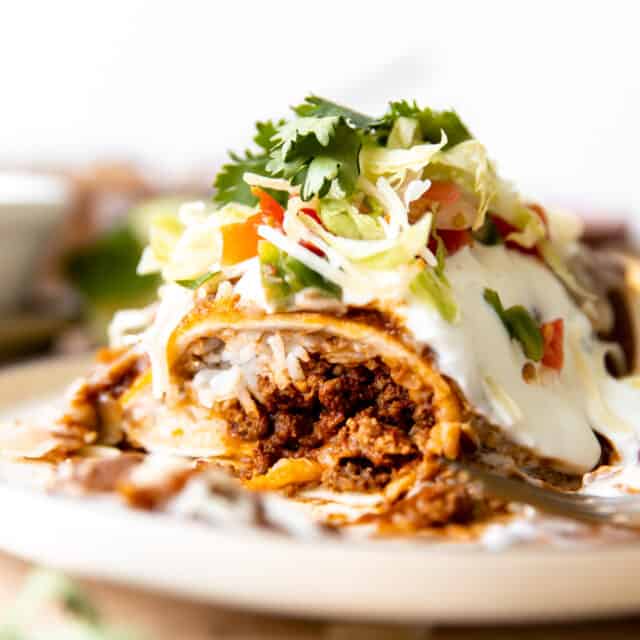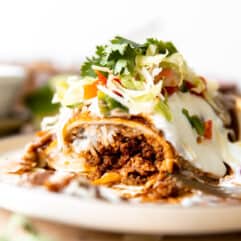 Wet Burrito
The KING of Burritos! This Wet Burrito is loaded up with juicy, tender meat, rice, beans, and cheese. All smothered in a red enchilada sauce, more cheese and baked until nice and melty. Top with some cooling sour cream and fresh lettuce and tomato for a fun, restaurant quality meal.
Ingredients
Optional Toppings
shredded lettuce
sour cream
Instructions
Preparation: Preheat oven to 350℉. Spray a large baking dish with non stick spray, set aside.

Cook Meat: Prepare the ground beef by cooking in a large skillet over medium heat until completely cooked through, no longer pink. Drain the grease and return to stove over low heat.

Season: Add the taco seasoning and tomato sauce. Stir to combine. Allow to cook over low heat for another 2-3 minutes then remove from heat and set aside.

Fold Burritos: Layer flour tortillas with ingredients slightly off center in the tortilla. Leave at least a 1 inch border to the edge of the tortilla. For each tortilla use 1/4 cup of meat, beans, rice, and sprinkle with cheese. Roll burrito tightly, folding the ends in, and place seam-side down in prepared baking dish. (leave space between the burritos, they shouldn't be touching)

Bake: Bake burritos for 15-20 minutes.

Heat Sauce: pour the enchilada sauce into a small saucepan and heat until warmed through over medium heat, until just starting to bubble along the edges of the pot. Remove from heat.

Sauce: Spoon the warm sauce over the top of the burritos. Top with additional cheese.

Bake: Bake for an additional 5 minutes or until cheese is completely melted.

Top burrito with shredded lettuce, sour cream and pico de gallo.
Notes
Freezing: follow directions through step 4 of forming the burritos. Then wrap in foil and place in a large freezer safe bag. Store in freezer for 2-3 months. To thaw, remove from the freezer and place in refrigerator overnight. Then bake according to instructions (bake time may need to be increased before adding sauce to ensure burrito is heated throughout)
Nutrition
Serving: 1, Calories: 407kcal, Carbohydrates: 21g, Protein: 23g, Fat: 25g, Saturated Fat: 9g, Polyunsaturated Fat: 1g, Monounsaturated Fat: 11g, Trans Fat: 1g, Cholesterol: 81mg, Sodium: 902mg, Potassium: 403mg, Fiber: 2g, Sugar: 6g, Vitamin A: 490IU, Vitamin C: 2mg, Calcium: 54mg, Iron: 4mg
Recipe first published on November 28, 2016. Updated August 6, 2021 with new images and information. Recipe remains unchanged.
Photography done by the talented @KJandCompany.co
SaveSave
House of Yumm is a participant in the Amazon Services LLC Associates Program, an affiliate advertising program designed to provide a means for us to earn fees by linking to Amazon.com and affiliated sites.