Best Ever Cheese Enchiladas. This simple enchilada recipe is easy to put together, bold and authentic in taste, and sure to impress all who get to enjoy them!
Cheese Enchiladas
This cheese enchilada recipe is my favorite go to recipe! Whenever I know someone who is in need of a meal, or my own family needs a quick meal, these cheese enchiladas are what I make. The red enchilada sauce is homemade and gives this simple dish a bold, authentic flavor. Pair that with all the melted cheese and this dish is pure comfort. Pair this dish with some refried beans, cilantro lime cauliflower rice, or follow it up with some tres leches cake for a complete meal!
How to Make Cheese Enchiladas
Prepare the enchilada sauce. My all time favorite red enchilada sauce recipe. It's quick and easy to put together, and has a classic authentic Tex Mex flavor. Bold, authentic, and perfect!
Cook the tortillas. More on this later as to why. Just give the tortillas a quick fry in some hot oil in a skillet on the stovetop.
Dip the tortillas into enchilada sauce. I actually find it easier to use a brush and paint the sauce on the tortillas on my cutting board, just because I always end up ripping my tortillas when I dip them. So the less handling of the tortillas for me, the better.
Fill with cheese and roll. My cheese of preference is Monterey Jack cheese. Pour a small amount of sauce into the bottom of the baking dish, then lay the enchiladas side by side into the dish.
Pour remaining enchilada sauce over the enchiladas.
Bake for 10 minutes. Sprinkle with additional shredded cheese and continue baking until the cheese is completely melted.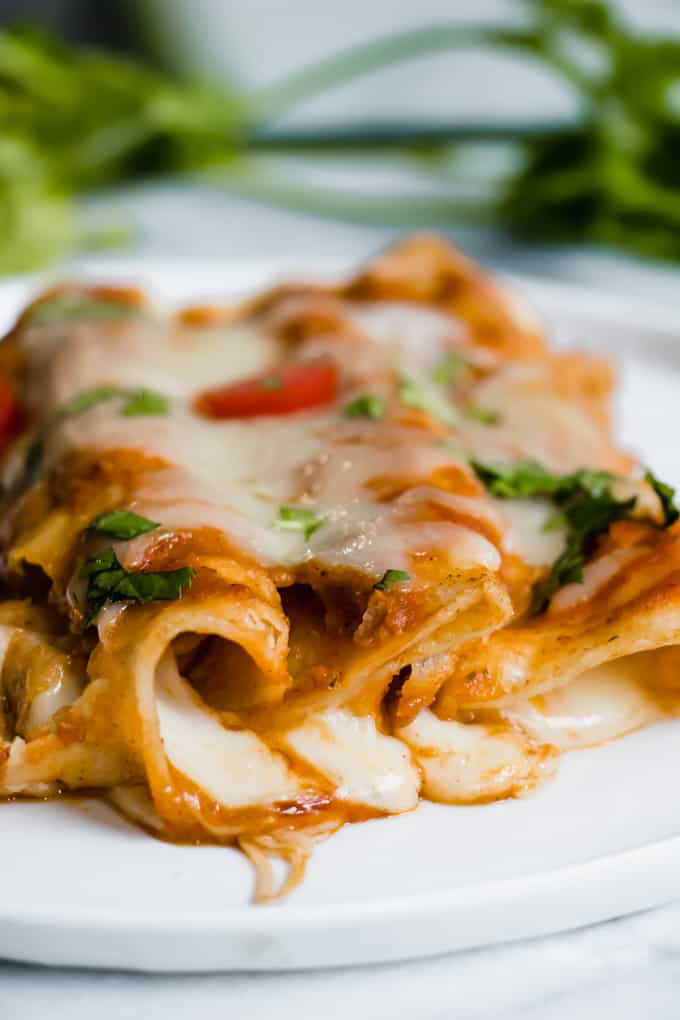 What kind of cheese is used in Cheese Enchiladas?
Seeing as how this is a Tex Mex recipe, we are going for Monterey Jack cheese! If you're looking for a more authentic Mexican style enchilada you could use a manchengo cheese, which grates and melts nicely for enchiladas.
Do you cook tortillas before making enchiladas?
YES!! Absolutely. This not only softens the tortillas, which makes them easier to fill and roll without tearing. It also helps to bring out the flavor of the corn tortillas in the final dish.
What's the best way to heat corn tortillas for enchiladas?
Heat some oil, corn or vegetable, in a large skillet. Once the oil is heated, gently dip the tortillas one by one in the oil to cook. Once the tortillas start to turn a golden color remove them from the oil and place on a plate, wrap them in paper towels or a clean towel to help keep warm.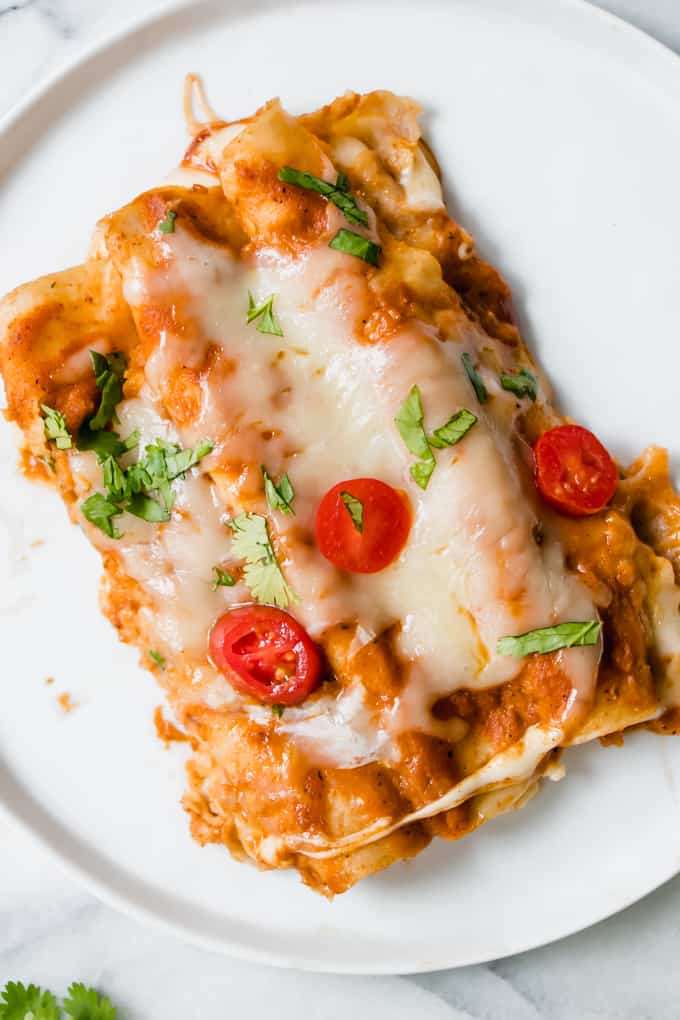 Some Kitchen Tools to help make this recipe (affiliate links):
More Recipes to try:
WANT TO TRY THIS CHEESE ENCHILADA RECIPE?
PIN IT NOW!
FIND ME ON PINTEREST FOR MORE GREAT RECIPES!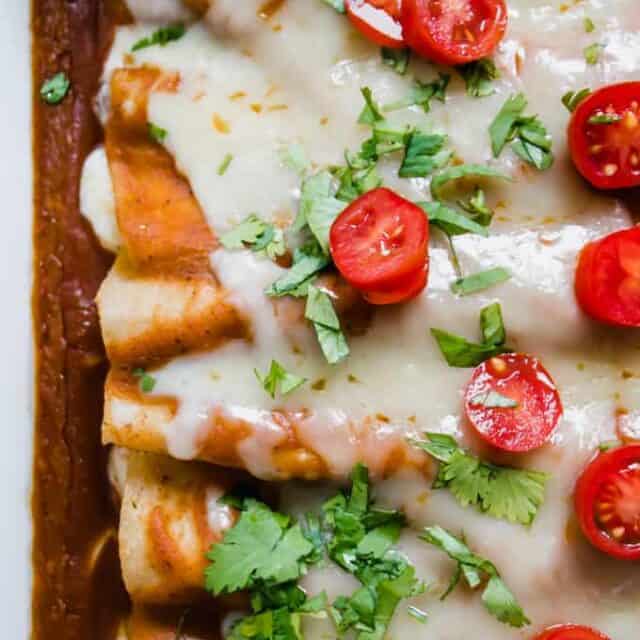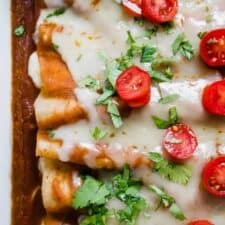 Best Ever Cheese Enchiladas
Best Ever Cheese Enchiladas. This simple enchilada recipe is easy to put together, bold and authentic in taste, and sure to impress all who get to enjoy them!
Ingredients
Enchiladas
½ cup corn or vegetable oil
15-20 white corn tortillas, (6 inch)
2 cups monterey jack cheese, shredded
½ cup diced onion, optional
Toppings
Tomato, diced
Cilantro, diced
Sour Cream
Avocado, sliced
Instructions
Enchilada Sauce
Heat the oil or butter in a medium size skillet over medium heat.

Add in the flour and stir to mix. Will be a thick mixture. Allow this to cook for just 1-2 minutes.

Add in the spices. Stir to form a thick paste.

Stir in the broth and tomato paste. Stir until smooth. Bring the mixture to a simmer then reduce the heat to low. Stir occasionally. Cook about 5 minutes.
Enchiladas
Preheat oven to 350℉.

While the sauce is simmering assemble the enchiladas.

Heat the oil in a large skillet over medium heat. Add the tortillas one at a time carefully to the oil to cook. Cook for about 30 seconds on each side, until the tortillas turn golden in color. Then remove from the oil and place on a plate, cover with a paper towel or a clean towel to retain the heat.

Pour a small amount of the enchilada sauce into a casserole dish, spread around so the bottom of the dish is covered in sauce.

One by one dip each tortilla into the enchilada sauce, or brush the enchilada sauce onto each tortilla, then sprinkle a small handful of monterey jack cheese onto a tortilla, sprinkle with diced onion if desired, roll it up and place in casserole dish with the seam side down. Continue until the casserole dish is full.

Pour the remaining sauce over the top of the enchiladas.

Bake in the oven at 350℉ degrees for about 10 minutes or until the cheese is completely melted. Sprinkle with additional cheese and bake for an additional 5 minutes.

Top with any optional toppings of choice: green onion, tomato, cilantro, sour cream.

Serve warm and enjoy!
Nutrition
Serving: 1, Calories: 137kcal, Carbohydrates: 16g, Protein: 5g, Fat: 6g, Cholesterol: 12mg, Sodium: 226mg
SaveSave
House of Yumm is a participant in the Amazon Services LLC Associates Program, an affiliate advertising program designed to provide a means for us to earn fees by linking to Amazon.com and affiliated sites.