Chiles Rellenos are a staple in Tex Mex restaurants. This classic Mexican dish is made from roasting poblano peppers and stuffing them with cheese, or a combination of cheese and ground beef or other meat. Dip the stuffed peppers into a fluffy egg batter and fry until golden and the cheese inside is melted and gooey.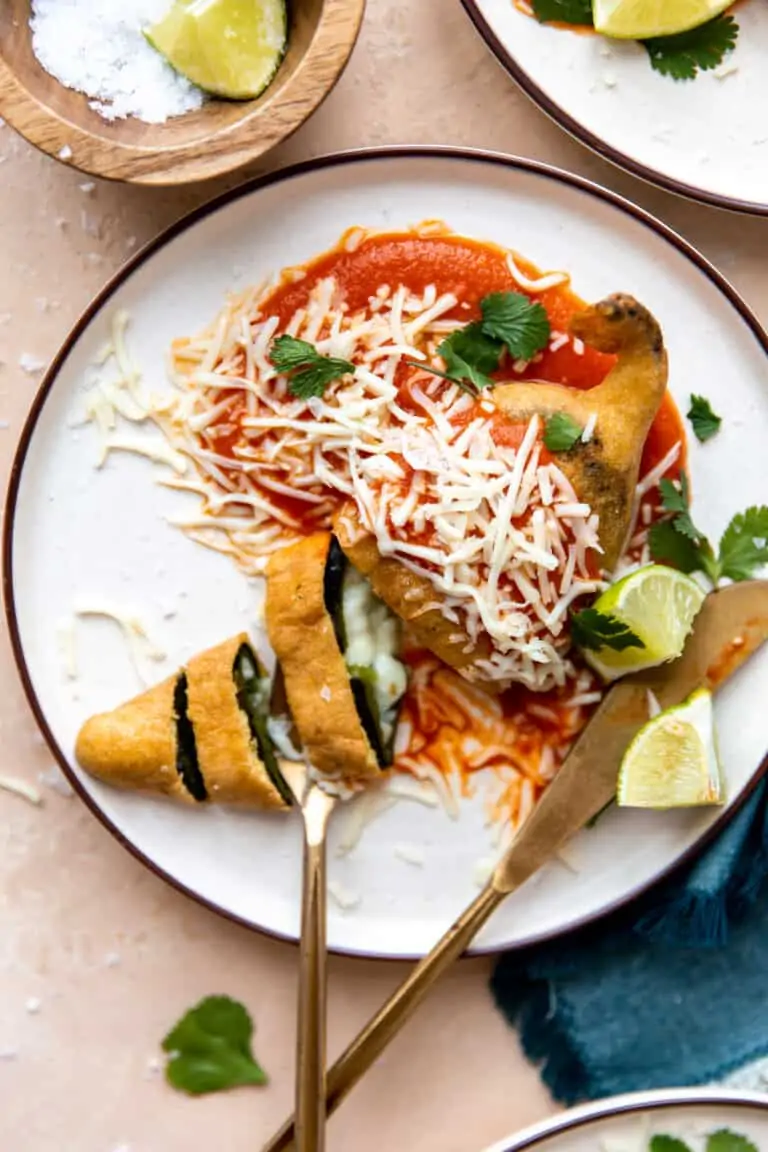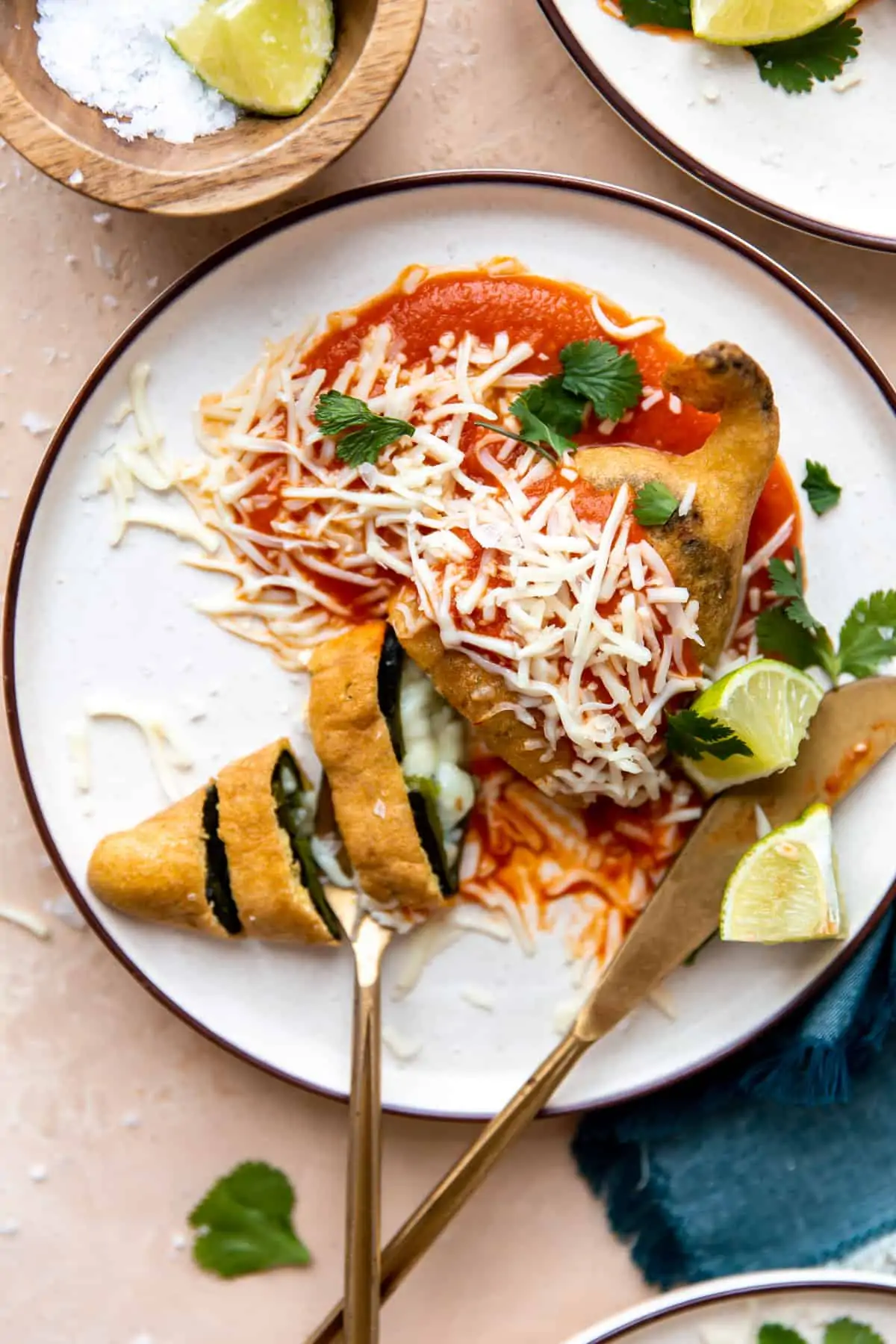 Chile Relleno Recipe Details:
Flavor: Roasting the peppers before filling and frying them adds to the smoky flavor of the finished dish.
Texture: Create a fluffy batter by beating the egg whites until stiff peaks form. This creates a stability to our batter and helps it stick to the peppers and fry up fluffy and golden.
Ease: This restaurant quality recipe is fairly easy to make at home, the hardest part will be peeling the skins off of the roasted peppers. Patience is key.
Ingredients Needed: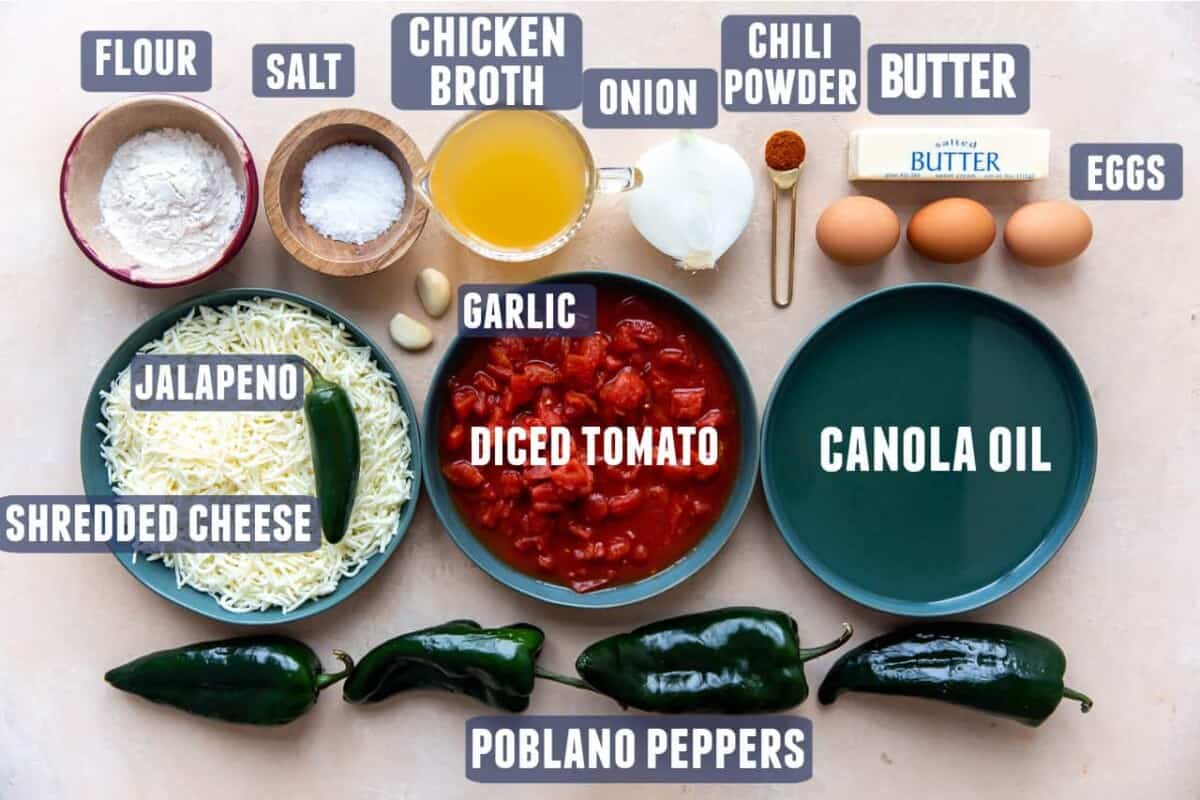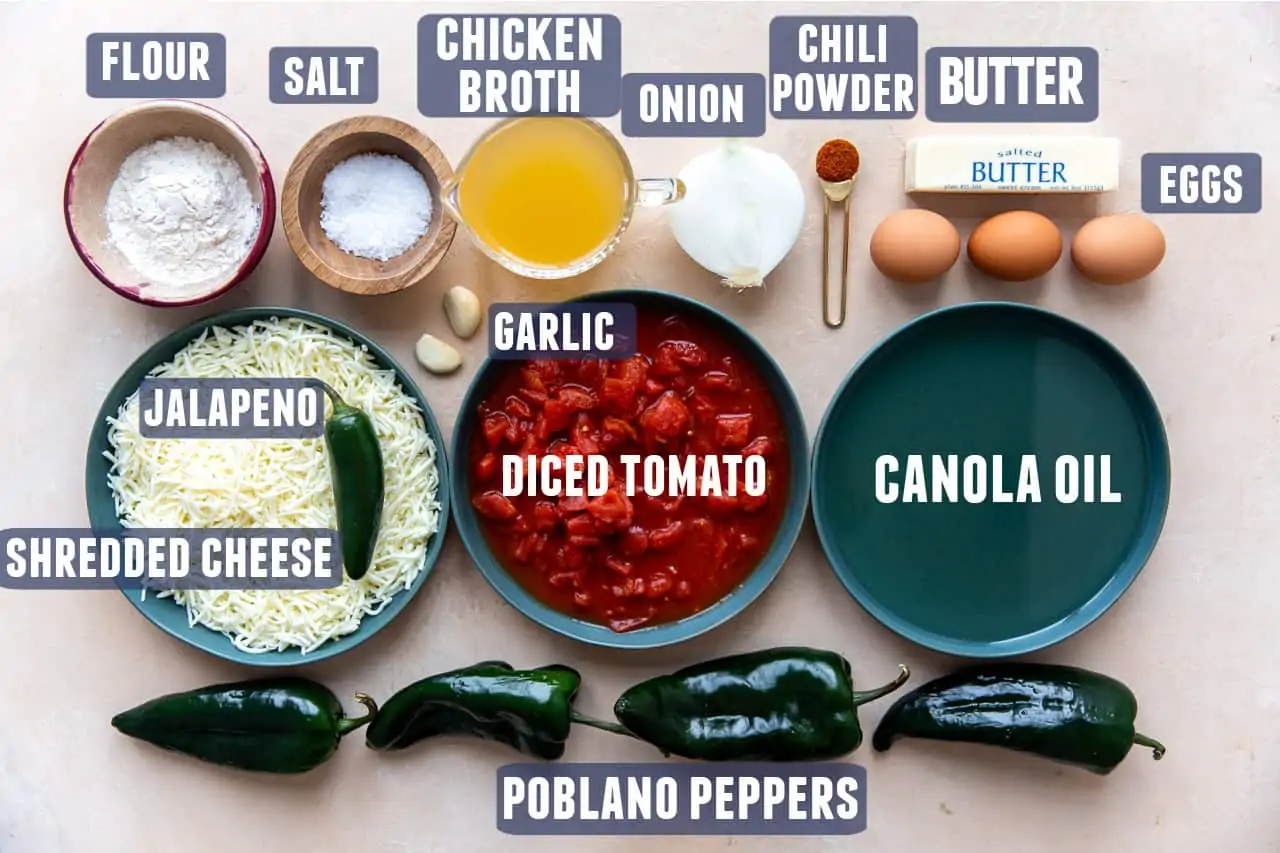 Notes on Ingredients:
Poblano Peppers: these are a mild pepper (1,000-1,500 SHU).

Cheese: use a good melting cheese, the recipe calls for Monterey Jack. Another options would be Oaxaca.
How to Make (Step by Step Photos)
Roast the Poblano Peppers: lay the peppers on a foil lined large baking sheet. Broil in the oven for about 10 minutes, or until the skin blackens. Then carefully flip the peppers to blacken the other side.
Remove Skins: take your time and work carefully and slowly with a paring knife. Some spots will stick and that's ok, as long as you get the majority of the skin off.
Slice Peppers: do a small slice down the center of the pepper.
Remove Seeds & Membranes: at this point you can remove the seeds and membranes, however, since this is a mild pepper, it's not required.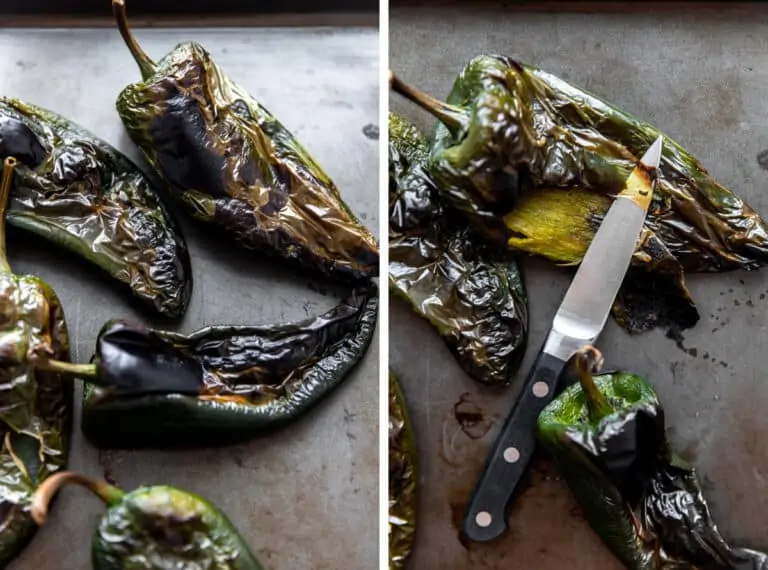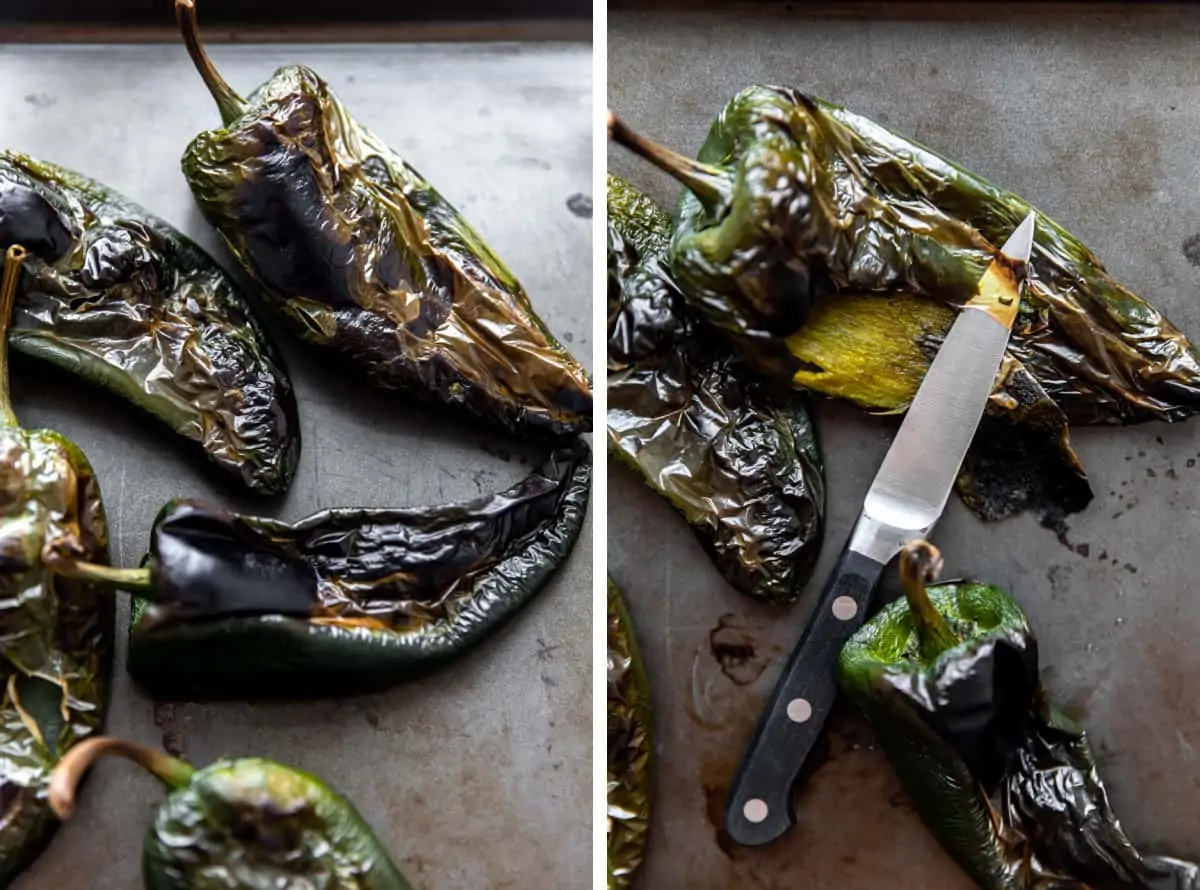 Stuff the Peppers: stuff the peppers with the cheese and meat if desired. Use toothpicks to help close the pepper and hold it closed during frying.
Preheat Oil: heat the oil in a large dutch oven to 375℉.
Prepare Batter: beat egg whites until stiff peaks form (this creates the fluffy batter) add in flour, salt and egg yolks mixing until combined.
Coat Peppers with Batter: Dip the chiles into the batter, coating the entire pepper. Carefully dip into the hot oil for frying.
Fry the Peppers: Fry the peppers for 4-5 minutes per side until the chiles are coated in a golden brown batter.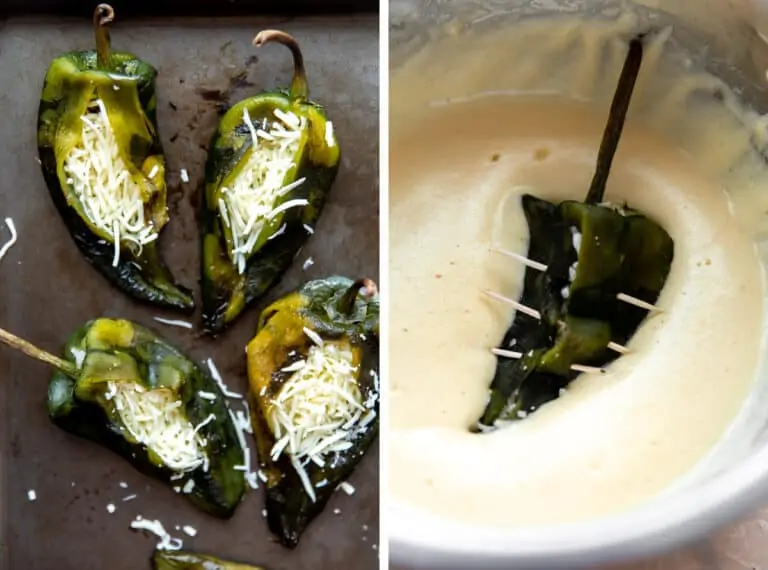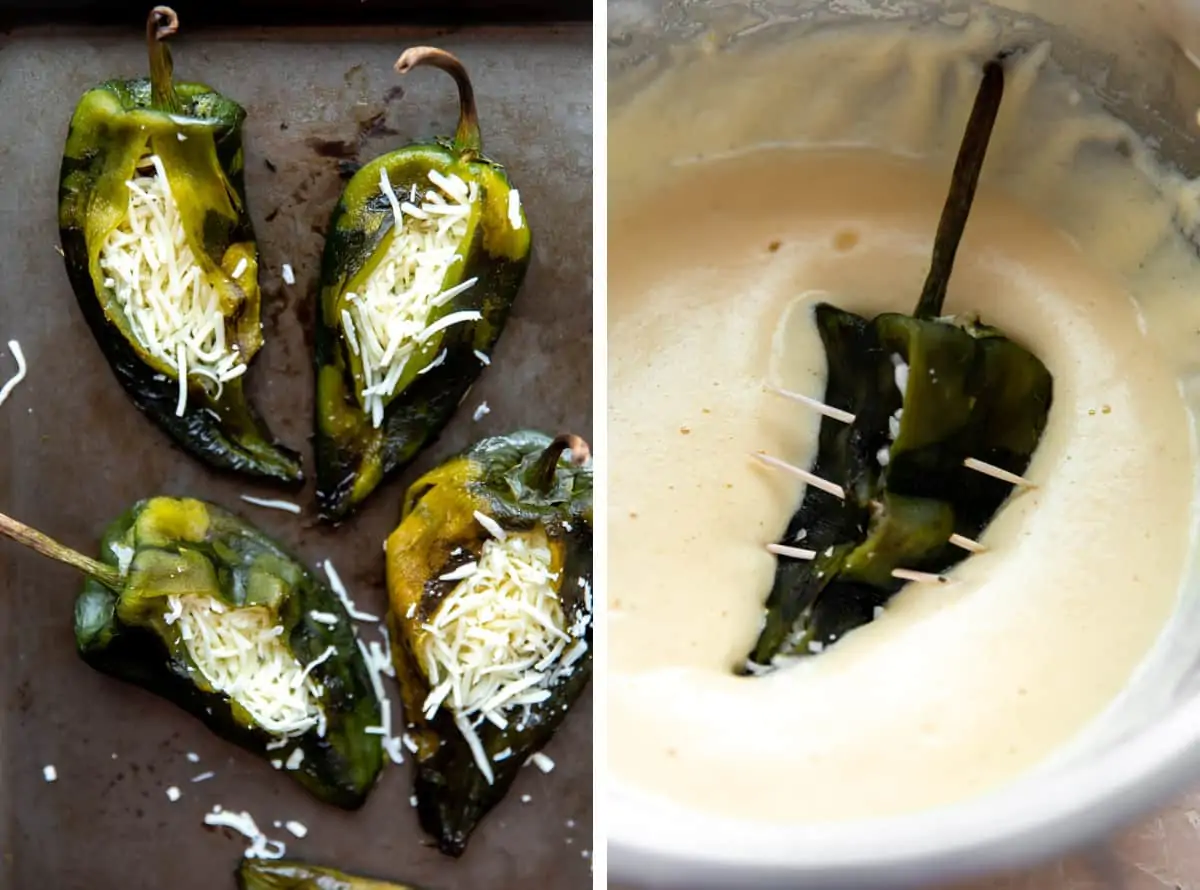 Pro Tip: Only fry 2 chiles at a time, this prevents over crowding and ensures even cooking. Let the oil come back to heat again before adding the second round of chiles.
Prepare the Sauce
Melt Butter & Saute Veggies: cook the onion and jalapeno until softened, add the garlic and sauté an additional 30 seconds.
Add Flour: this makes the sauce nice and thick.
Add Tomatoes & seasoning: use canned diced tomatoes or chopped Roma tomatoes if preferred.
Simmer: Bring the sauce to a simmer
Blend: use a high powered blender or a food processor to get the sauce nice and smooth. Be careful transferring hot liquids. If you have an immersion blender you can use that as a safer option.
Serve: serve the Chile Rellenos with the red sauce and extra cheese sprinkled on top.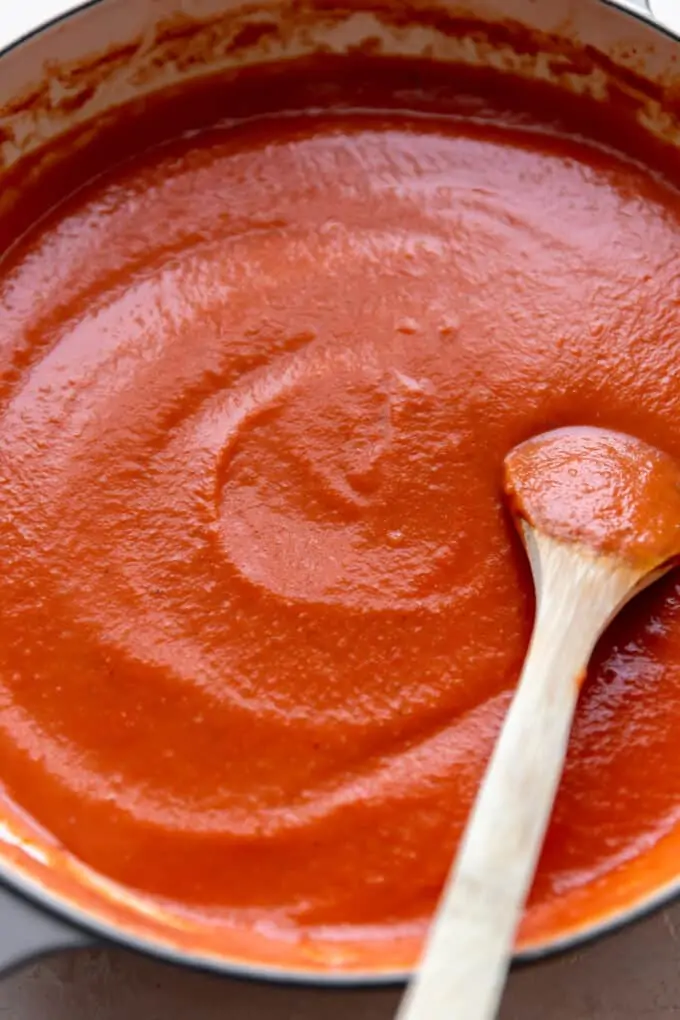 Pro Tip: When blending hot liquids, let the liquid cool briefly before putting the lid on the blender. Otherwise pressure can build and pop the lid off while blending.
Chile Rellenos even though fried, maintain a fluffy, slightly greasy exterior, which is what makes them perfect for soaking in the sauce. This also means that they reheat nicely if you have leftovers. To reheat: bake them in the oven on a wire rack placed over a large baking sheet, they will crisp up a slight bit more and will get the cheese in the middle melted again.
Expert Tips:
Poblano Peppers: Grab the largest peppers you can find, this makes it easier to add the filling and fry.
Use toothpicks. Inserting a couple of toothpicks will help the stuffing stay inside of the pepper while it Frys.
Don't overcrowd the pan. Fry 1-2 at a time, depending on how large a pan you are using.
Substitutions: use any cheese you would prefer. You can also add in a protein if desired, some ground beef, or pork is a great option!
More Tex Mex Main Dishes:
Chile Rellenos
A Step by Step walkthrough on how to make the BEST Chile Rellenos! A fried chile stuffed with cheese and smothered in a simple red sauce.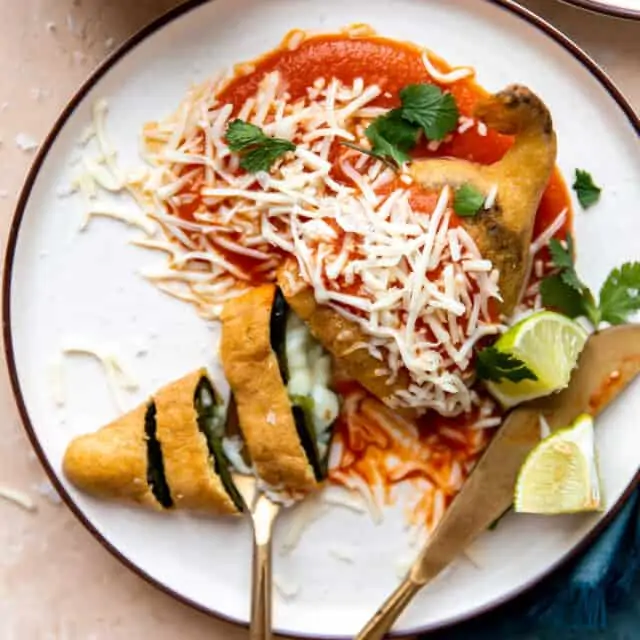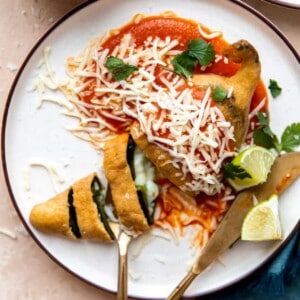 Ingredients
4

poblano peppers

3

large eggs

divided

3

tbsp

all purpose flour

½

tsp

salt

2

cups

Monterey Jack Cheese

shredded

4

cups

vegetable or canola oil

for frying
Red Sauce
2

tbsp

unsalted butter

2

(14.5 oz cans)

diced tomatoes

½

yellow onion

diced

1

jalapeno

seeds and membranes removed, diced

2

cloves

garlic

minced

½

tsp

salt

½

tsp

Chili Powder

2

tbsp

all purpose flour

1

cup

chicken broth
Instructions
Preheat: set oven to broil for 5 minutes.

Line a baking sheet with foil or a silicone baking mat or foil.

Roast the Peppers: Lay the peppers on the baking sheet and place under broiler for about 5-7 minutes until the skins blacken. Carefully turn the peppers and continue to cook the other side for an additional 5-7 minutes until the skin blackens.

Place the roasted peppers in a plastic bag or tupperware and seal so that the steam is captured. Allow these to sit for about 10 minutes before moving onto the next step.

Remove Skins: Using a paring knife, scrape the skin off of the roasted peppers. Get as much of the blackened skin off as possible.

Slice Peppers: Carefully slice into the peppers to open them, just a small slit in the middle of the pepper, leave the tops and only slice enough to open them, don't slice them completely in half.

Remove Seeds: Scrape out the membranes and seeds if desired. Poblanos aren't very spicy and this step can be skipped.

Stuff the peppers with cheese and fold the peppers closed again. Use toothpicks if needed to close them. (Just remember they are there so you remove them!!)

Prepare for Frying: Pour the oil to a large dutch oven and heat over high heat until the oil is hot enough that a drop of batter will sizzle when dropped in. Prepare a large baking sheet lined with paper towels or a cooling wire rack.

Prepare the batter: divide the eggs placing the egg yolks into a small bowl and the egg whites into a mixing bowl. Beat the egg whites until stiff peaks form.

Add in the flour, salt and the egg yolks and mix until combined. Batter will be light, smooth and fluffy.

Coat the Peppers: Dip the chiles into the batter and coat both sides. Gently place the peppers into the hot oil. Be careful not to splatter.

Fry the Peppers: Allow the chiles to fry for about 4-5 minutes, until the batter is a dark golden-brown color, then carefully flip and continue frying the other side an additional 3-5 minutes. Depeding on the size of your pan you can fry 1-2 chiles at a time, be careful not to overcrowd the pan.

Remove from the oil and set onto the prepared baking sheet. Remove the toothpicks after cooling for a couple minutes.
Red Sauce
Melt Butter: Heat butter in a medium size skillet.

Saute Vegetables: Add the diced onion and pepper. Cook until softened. Add in garlic and cook an additional 30 seconds.

Add the flour and stir to coat the cooked vegetables. Cook 2-3 minutes.

Simmer Sauce: Add the diced tomatoes, salt, chili powder and broth. Bring to a simmer stirring occasionally while it cooks until the sauce is thickened.

Blend the Sauce: Place the ingredients for the sauce into a food processor or blender. Blend until smooth. OR use an immersion blender. Taste and adjust seasonings if needed.

Serve the Chile Rellenos: warm with the freshly made red sauce. Top with additional cheese and fresh diced cilantro if desired.
Notes
Make Ahead and Storage: the poblanos can be roasted and peeled and stored in the refrigerator up to 3 days. To prepare, simply stuff, batter and fry when ready.
The red sauce can be made ahead and stored in a sealed container in the refrigerator for up to 3 days.
Leftover fried Chile Rellenos: can be stored in a sealed container in the refrigerator for up to 3 days, without sauce. To reheat, line a baking sheet with a wire rack and bake in the oven at 375℉ until warmed through and cheese is melted inside, about 10 minutes.
Freezing: these Chile Rellenos freeze wonderfully, without sauce. Store them in a freezer safe container, for up to 2 months. Thaw in the refrigerator overnight and proceed with instructions to reheat.
Cheese: use a good melting cheese. Besides Monterey Jack, other options include: Oaxaca, cheddar, or mozarella.
Meat: meat can be added to the filling if desired. Options include chorizo, ground beef, shredded chicken, carnitas, or even some shredded Mexican brisket.
Poblano Peppers: get large peppers to make it easier to stuff them.
Nutrition
Serving:
1
Chile
|
Calories:
121
kcal
|
Carbohydrates:
17
g
|
Protein:
7
g
|
Fat:
4
g
|
Saturated Fat:
1
g
|
Cholesterol:
123
mg
|
Sodium:
643
mg
|
Potassium:
543
mg
|
Fiber:
4
g
|
Sugar:
7
g
|
Vitamin A:
1675
IU
|
Vitamin C:
117
mg
|
Calcium:
48
mg
|
Iron:
2
mg
Nutrition information is automatically calculated, so should only be used as an approximation.
Like this? Leave a comment below!
Recipe first published on December 12, 2017. Updated February 5, 2021 with new images and information.
Photography done by KJandCompany.co