Chile Rellenos. A Step by Step walkthrough on how to make the BEST Chile Rellenos! A fried chile stuffed with cheese and smothered in a red spanish style sauce.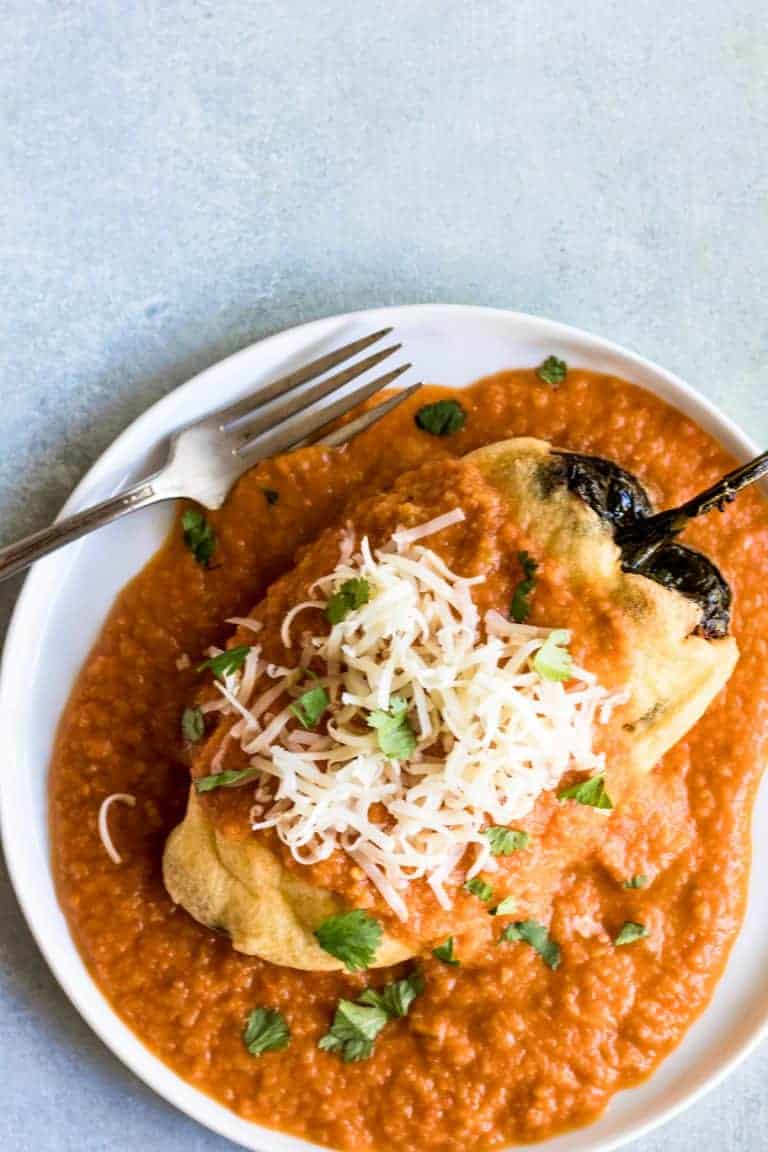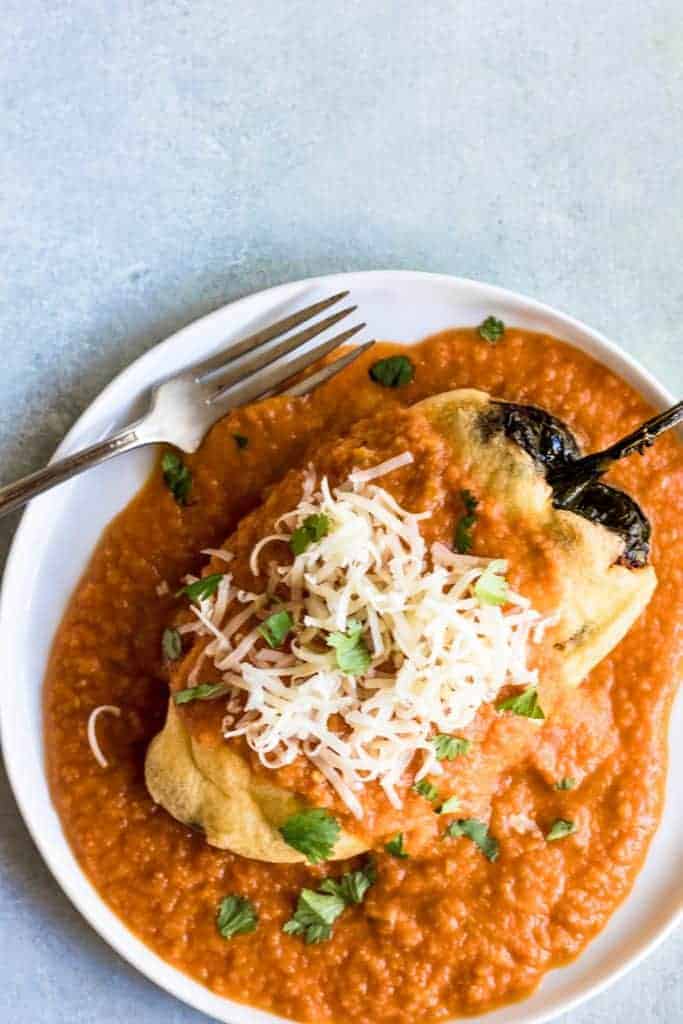 Chile Rellenos are one of my husband's all time favorite Mexican dishes. And they have become a Christmas tradition for us thanks to some friends of ours who make some for us every year! It's basically a chile pepper that is filled with cheese, coated with batter and fried. I mean, where can we go wrong?
What peppers do I use for Chile Rellenos?
The peppers that I used for this dish are poblano chiles, which is fairly traditional. The reason? It has a wonderful large size to it and a mild flavor and heat.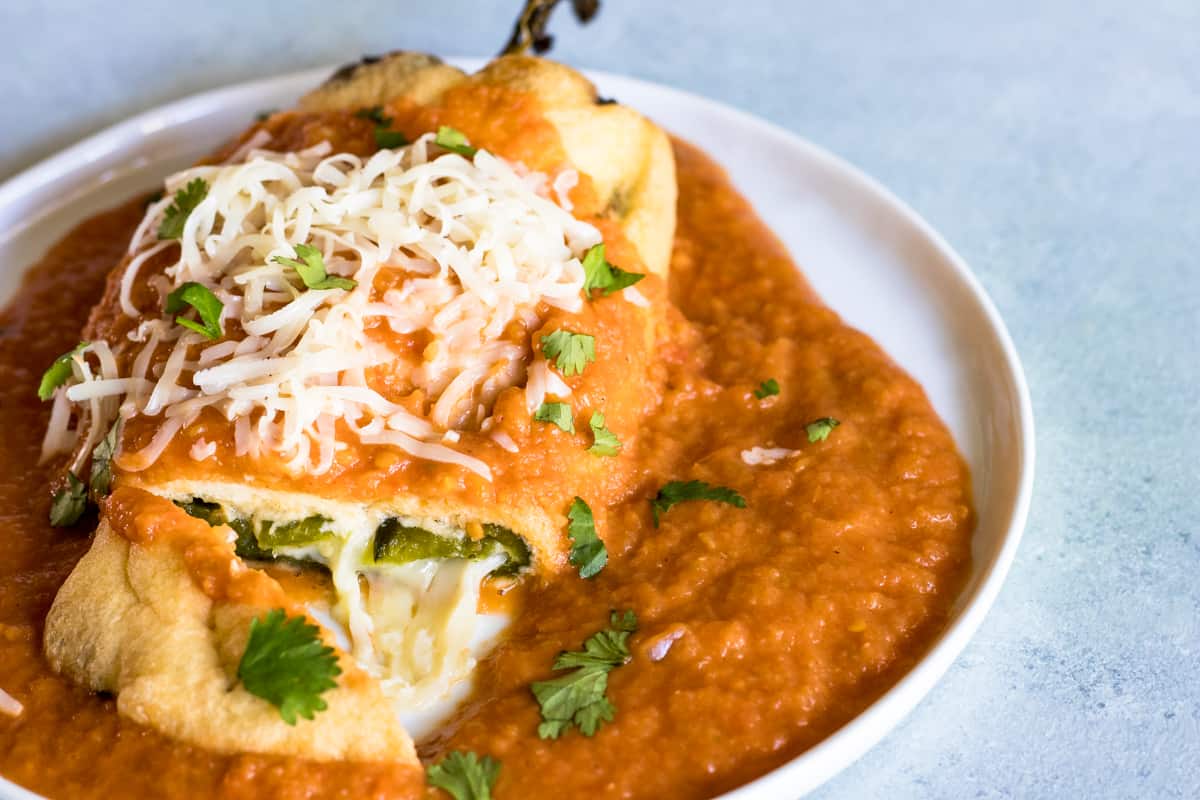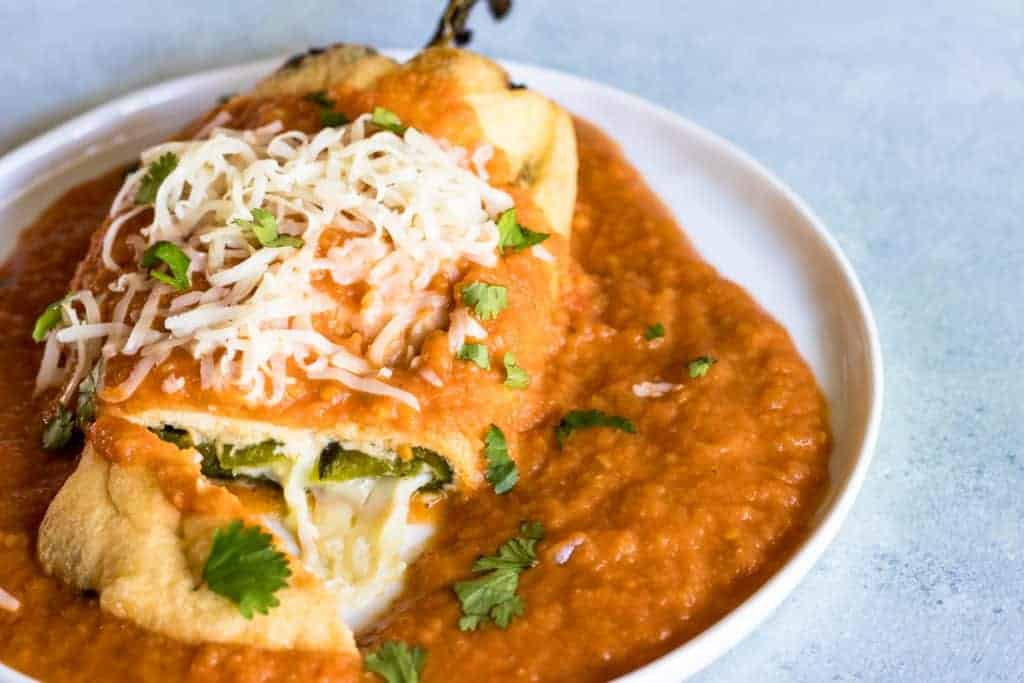 How do I make a Chile Relleno?
Roast the peppers prior to stuffing them this helps to give a charred flavor to the pepper and makes it easy to peel the skin off. The best way to get the skin off of the peppers is to stick them in a sealed plastic bag or a sealed tupperware after roasting.
This traps the steam and softens the skin making it easy to just grab and peel the skin off. I also find it easy to use a paring knife and scrape the skin off. To be honest, this is the most time consuming part of the process. Peel the skin off the pepper and then carefully slice them open, remove the membranes and seeds. This will help keep the dish from being too spicy.
What do I stuff Chile Rellenos with?
Once the peppers are prepared you can stuff them! These ones are stuffed with cheese, which is my husband's favorite way. You can also stuff them with some shredded chicken, or pork, or even some mexican style brisket if you wanted!
How do I make Chile Relleno batter?
For the batter it's just egg. Separate the eggs so that the egg whites can be beaten making it light and fluffy.
Dip the stuffed chiles into the flour to coat and then into the egg batter and fry. I've also seen people who fry up the batter, almost like an omelette and add the chile pepper to it and fold it all together. I haven't tried that method yet myself, some say it's easier though than frying.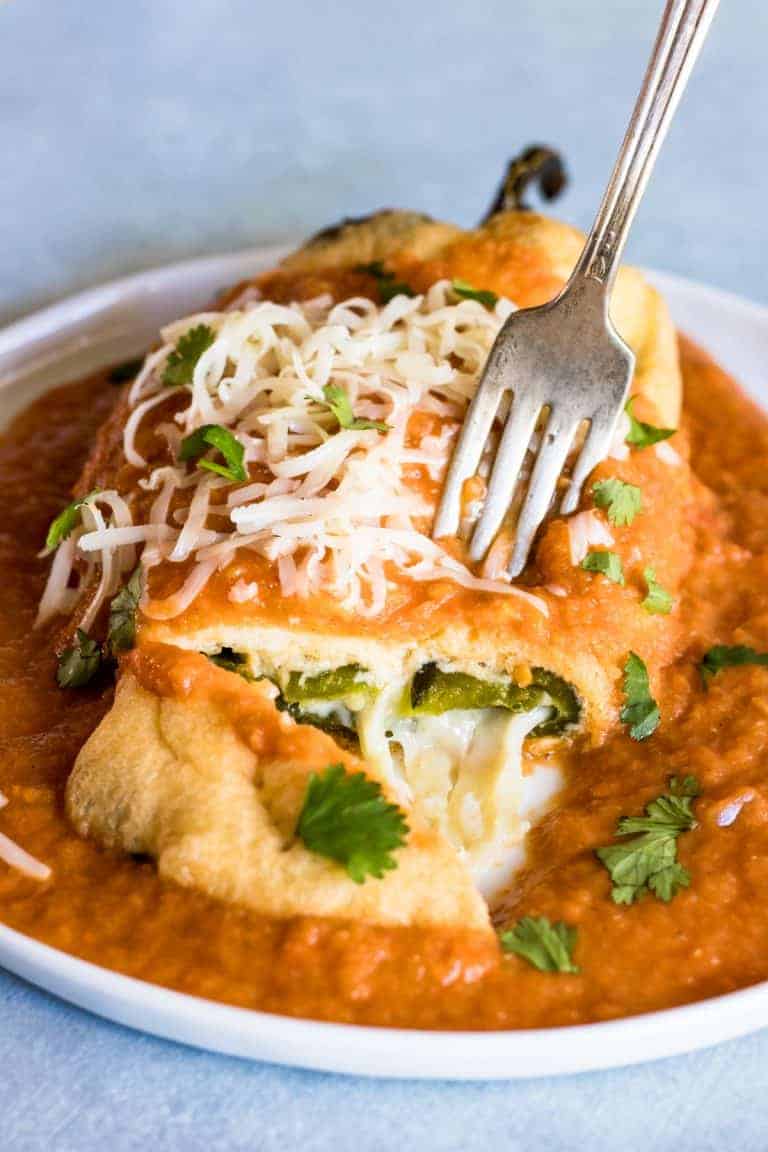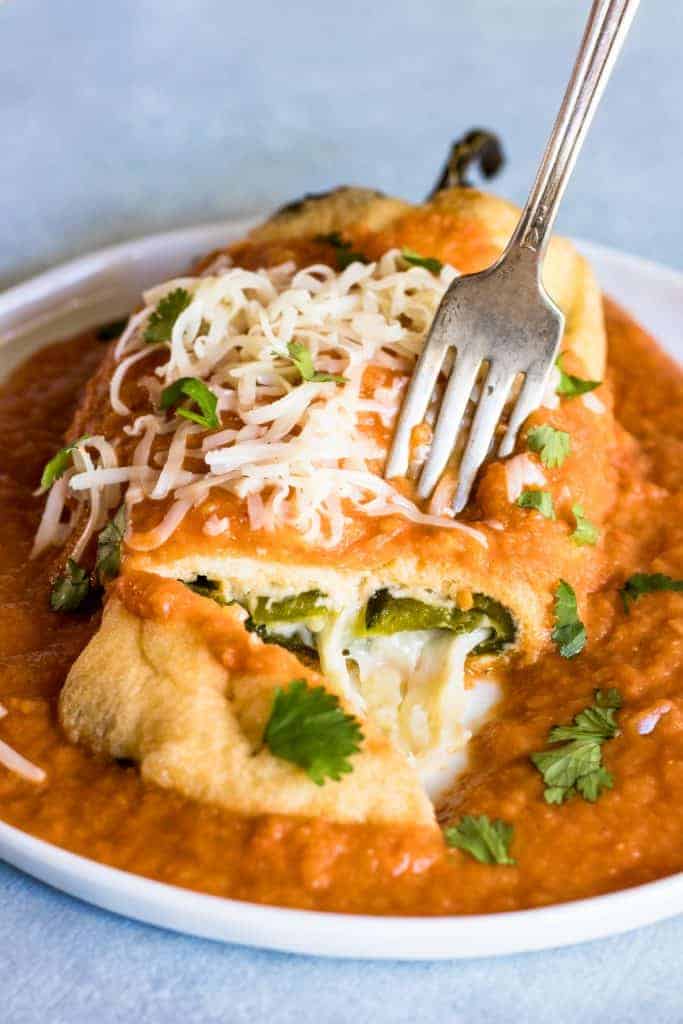 Chile Relleno Sauce:
The sauce it personally my all time favorite! It's a recipe that was originally printed by Gebhardt's in the 1930's. A classic name in Tex Mex cuisine.
They still make the BEST and ONLY chili powder I will buy. But the sauce is basic and so good. It's a combination of onion, bell pepper, garlic, tomatoes, and cooked up with a roux to make it thick. Send it through the processor to make it all smooth and creamy.
It's a mild sauce that is great for chile rellenos, and is pretty much perfect on all foods.
And if you have a love for chile rellenos, make sure you check out the Chile Relleno Soup recipe too!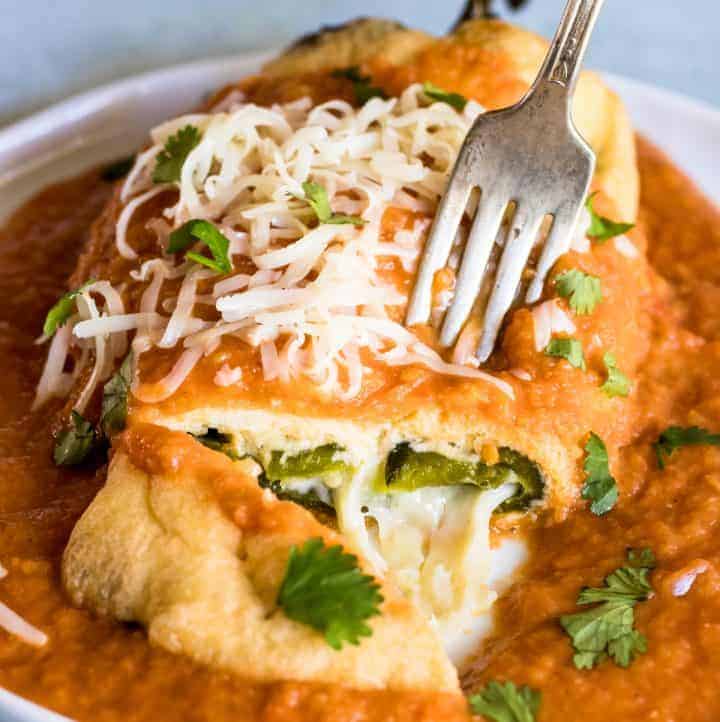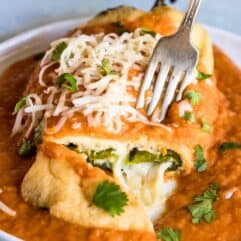 Chile Rellenos
Chile Rellenos. A Step by Step walkthrough on how to make the BEST Chile Rellenos! A fried chile stuffed with cheese and smothered in a red spanish style sauce. 
Ingredients
4 poblano peppers
3 large eggs, divided
3 tbsp all purpose flour
½ tsp salt
2 cups Monterey Jack Cheese, shredded
4 cups vegetable or canola oil, for frying
Red Sauce
2 tbsp butter
2 (14.5 oz cans) diced tomatoes
½ yellow onion, diced
1 jalapeno, seeds and membranes removed, diced
2 cloves garlic, minced
½ tsp salt
½ tsp Chili Powder
2 tbsp all purpose flour
1 cup chicken broth
Instructions
Preheat oven to broil for 5 minutes.

Line a baking sheet with foil or a silicone baking mat or foil.

Roast the Peppers: Lay the peppers on the baking sheet and place under broiler for about 5-7 minutes until the skins blacken. Carefully turn the peppers and continue to cook the other side for an additional 5-7 minutes until the skin blackens.

Place the roasted peppers in a plastic bag or tupperware and seal so that the steam is captured. Allow these to sit for about 10 minutes before moving onto the next step.

Remove Skins: Using a paring knife, scrape the skin off of the roasted peppers. Get as much of the blackened skin off as possible.

Stuff the Peppers: Carefully slice into the peppers to open them, just a small slit in the middle of the pepper, leave the tops and only slice enough to open them, don't slice them completely in half. 

Scrape out the membranes and seeds if desired. Poblanos aren't very spicy and this step can be skipped.

Stuff the peppers with cheese and fold the peppers closed again. Use toothpicks if needed to close them. (Just remember they are there so you remove them!!)

Prepare for Frying: Pour the oil to a large dutch oven and heat over high heat until the oil is hot enough that a drop of batter will sizzle when dropped in. Prepare a large baking sheet lined with paper towels or a cooling wire rack.

Prepare the batter: divide the eggs placing the egg yolks into a small bowl and the egg whites into a mixing bowl. Beat the egg whites until stiff peaks form.

Add in the flour, salt and the egg yolks and mix until combined. Batter will be light, smooth and fluffy.

Coat the Peppers: Dip the chiles into the batter and coat both sides. Gently place the peppers into the hot oil. Be careful not to splatter.

Fry the Peppers: Allow the chiles to fry for about 3-5 minutes, until the batter is a dark golden-brown color. Depeding on the size of your pan you can fry 1-2 chiles at a time, be careful not to overcrowd the pan.

Remove from the oil and set onto the prepared baking sheet. Remove the toothpicks after cooling for a couple minutes.
Red Sauce
Melt Butter: Heat butter in a medium size skillet.

Saute Vegetables: Add the diced onion and pepper. Cook until softened. Add in garlic and cook an additional 30 seconds.

Add the flour and stir to coat the cooked vegetables. Cook 2-3 minutes.

Simmer Sauce: Add the diced tomatoes, salt, chili powder and broth. Bring to a simmer stirring occasionally while it cooks until the sauce is thickened.

Blend the Sauce: Place the ingredients for the sauce into a food processor or blender. Blend until smooth. OR use an immersion blender. Taste and adjust seasonings if needed.

Serve the Chile Rellenos: warm with the freshly made red sauce. Top with additional cheese and fresh diced cilantro if desired.
Notes
Poblano Peppers: get large peppers to make it easier to stuff them.   
Nutrition
Serving: 1g, Calories: 121kcal, Carbohydrates: 17g, Protein: 7g, Fat: 4g, Saturated Fat: 1g, Cholesterol: 123mg, Sodium: 643mg, Potassium: 543mg, Fiber: 4g, Sugar: 7g, Vitamin A: 1675IU, Vitamin C: 117mg, Calcium: 48mg, Iron: 2mg
House of Yumm is a participant in the Amazon Services LLC Associates Program, an affiliate advertising program designed to provide a means for us to earn fees by linking to Amazon.com and affiliated sites.