Roasted Sweet Potatoes. This easy, fool proof method of roasting sweet potatoes ensures that you will have tender bits of sweet potato with a crisp caramelized exterior. Perfectly seasoned and completely addictive!
How do I roast sweet potatoes in the oven?
First thing to roasting these sweet potatoes in the oven is getting them prepped.
Peel the potatoes.
Cut into 1 inch cubes.
Drizzle with olive oil. Stir to make sure the potatoes are coated in the oil.
Sprinkle with salt and seasonings.
How do I make roasted sweet potatoes crispy?
Roast them at a high heat. To make the sweet potatoes crisp up we will be roasting them at 425 degrees. Roasting them at a high heat gives that almost caramelized coating to the potato.
Ensure that the sweet potatoes are coated in the olive oil.
And most importantly, stir the sweet potatoes halfway through the bake time to help all the sides get crispy.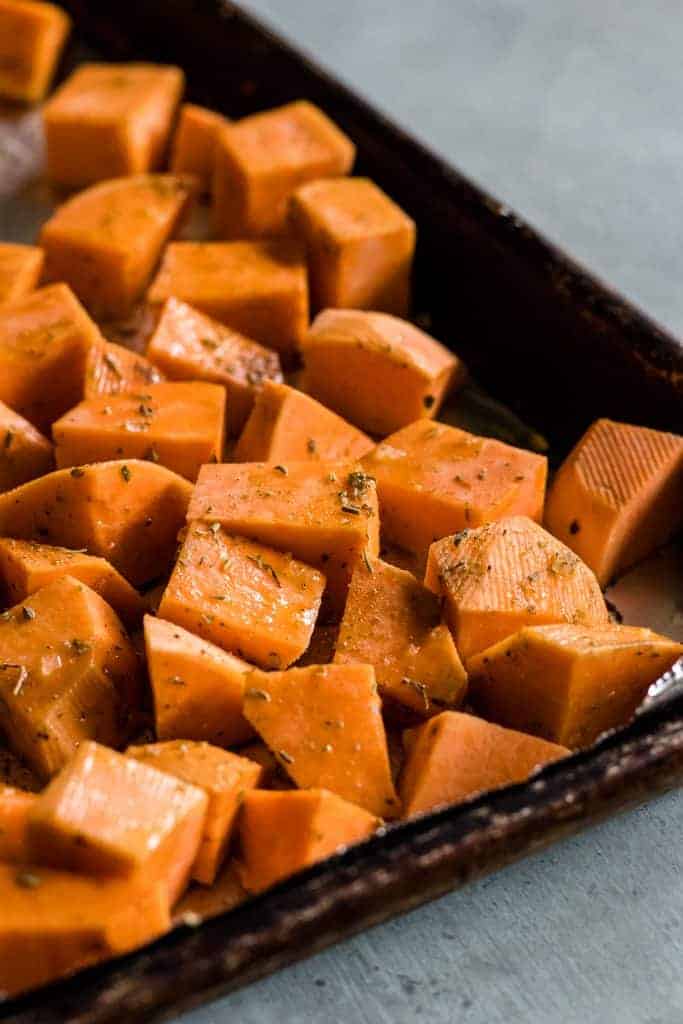 How to Season Roasted Sweet Potatoes:
My personal preference is the recipe shared below. A bit of salt and a spice mixture called Herbs de Provence. It's a mix of: thyme, marjoram, summer savoy, rosemary, mint, fennel seed, sage and lavender flowers. And it's basically magical on these roasted sweet potatoes.
Other options for Roasted Sweet Potatoes:
Honey or Maple and Cinnamon (drizzle with olive oil first then the honey or maple syrup and sprinkle with cinnamon and a pinch of salt)
Garlic Parmesan- drizzle with olive oil. Sprinkle with garlic powder, grated Parmesan (the dried kind that you would use on pizza) and salt. Top with fresh parsley after baking.
Classic Salt and Pepper.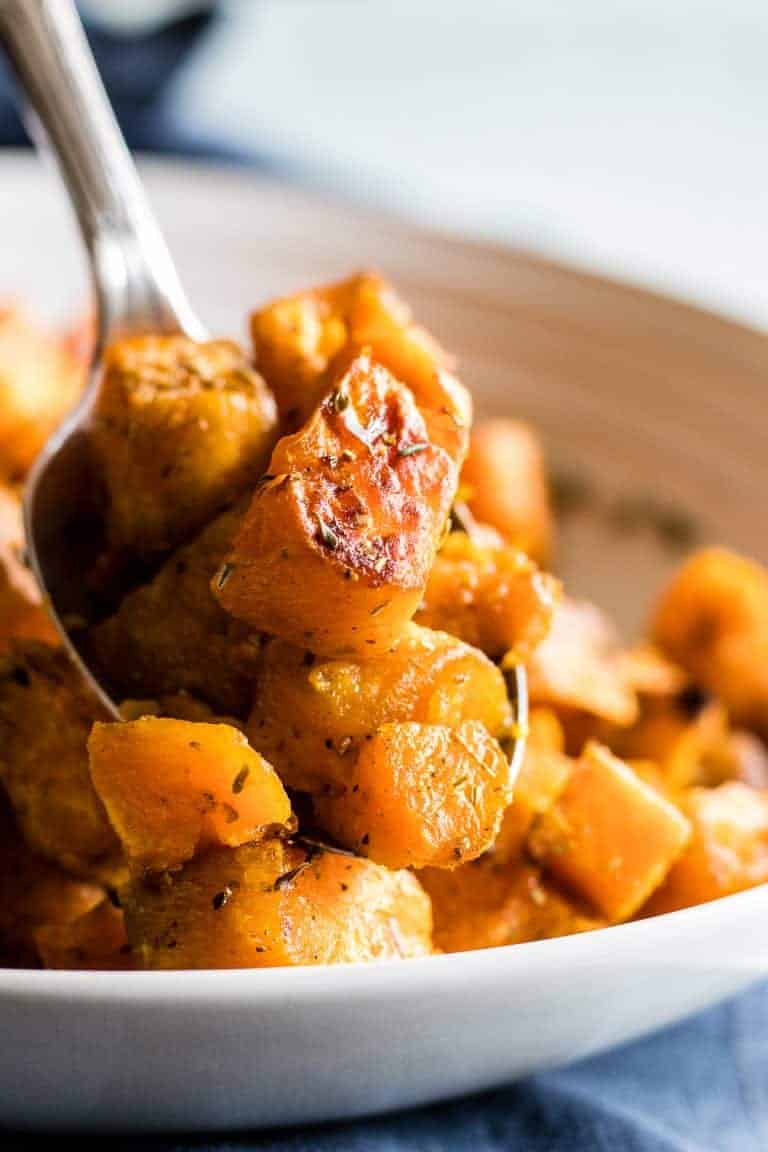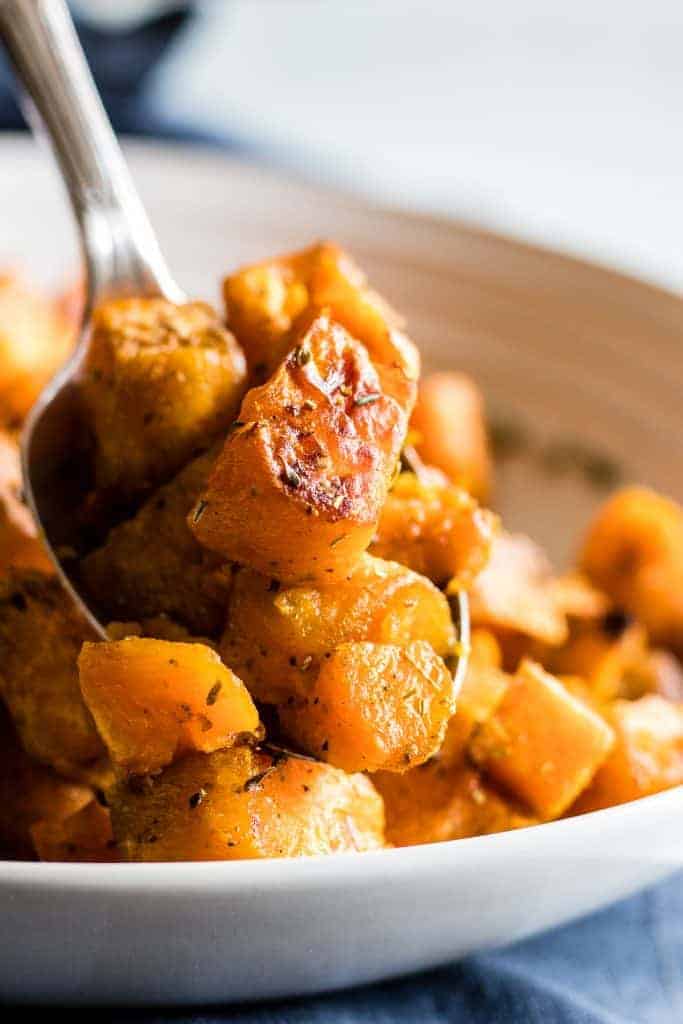 More Side Dish Recipes to Try:
Garlic Rosemary Butter Rolls
WANT TO TRY THESE ROASTED SWEET POTATOES?
PIN IT NOW!
FIND ME ON PINTEREST FOR MORE GREAT RECIPES!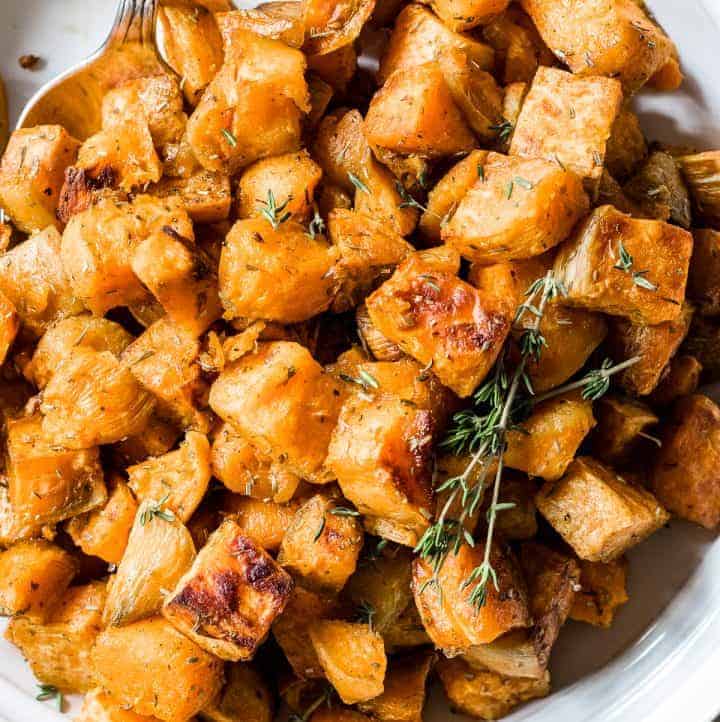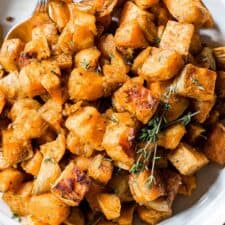 Roasted Sweet Potatoes
Tender, caramelized Roasted Sweet Potatoes made with olive oil, sea salt and a special blend of herbs.
Ingredients
3 lbs sweet potato , peeled and chopped to 1 inch cubes
1-2 tbsp extra virgin olive oil
1 tsp Sea salt
2 tsp herbs de provence
Instructions
Preheat oven to 425°F. Line a large baking sheet with foil and set aside.

Spread the chopped sweet potato onto the prepared baking sheet, try to get a single layer of potatoes, to ensure that they are able to crisp. Drizzle with the olive oil and sprinkle with salt and herbs. Stir around to fully coat the sweet potatoes with the oil and herbs.

Bake for a total of 35 minutes stirring the potatoes around half way through to ensure all sides get crispy.

Serve warm and enjoy!
Nutrition
Serving: 1, Calories: 224kcal, Carbohydrates: 46g, Protein: 3g, Fat: 4g, Saturated Fat: 1g, Sodium: 418mg, Fiber: 7g
SaveSave
SaveSave
House of Yumm is a participant in the Amazon Services LLC Associates Program, an affiliate advertising program designed to provide a means for us to earn fees by linking to Amazon.com and affiliated sites.