Southern Sweet Potato Pie. This sweet potato pie is made from scratch and loaded with warm spices. Serve topped with cold vanilla whipped cream for the ultimate southern dessert!
This pie is made from scratch, including roasting sweet potatoes to get a deep caramelized flavoring. This is the perfect pie to serve for the holidays. To complete your holiday meal from the South serve some Cornbread Dressing, Candied Sweet Potatoes, and Easy Creamed Corn.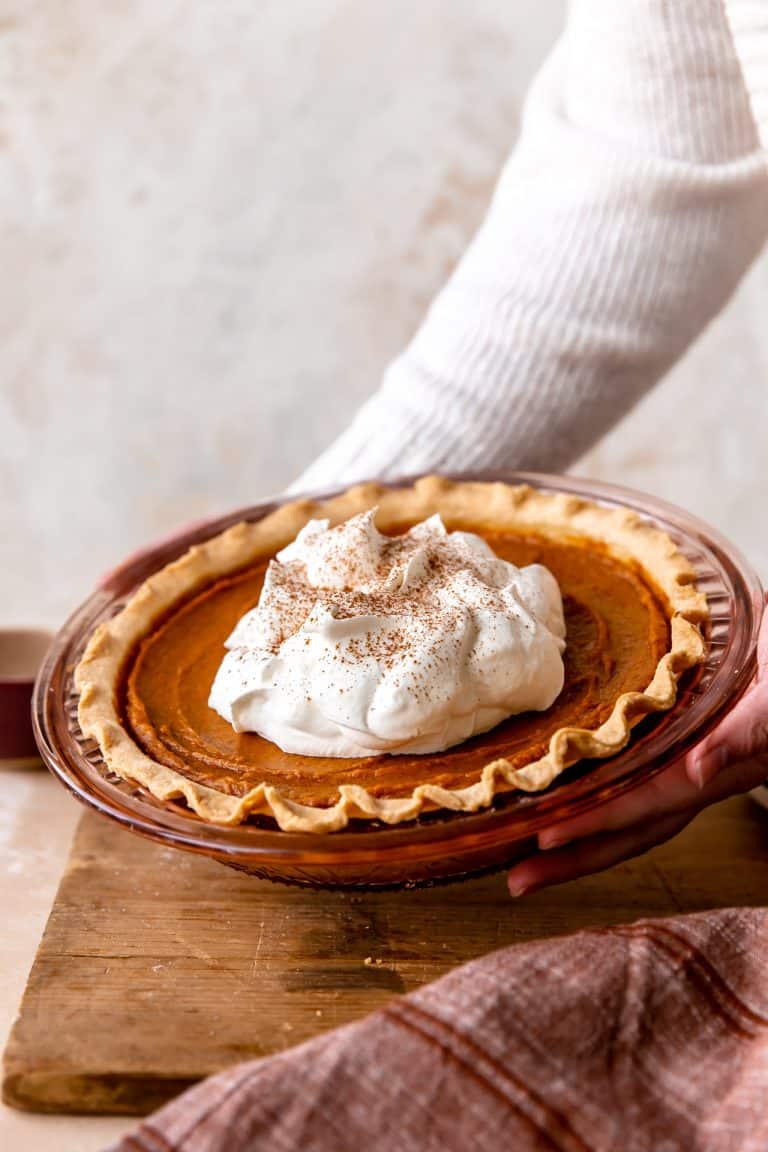 There is nothing better than a fresh homemade pie for the end of a perfect holiday meal. This homemade southern sweet potato pie has it all! The combination of roasted and caramelized sweet potatoes, warm spices, and brown sugar give a delightful deep flavoring to this pie.
Difference between Sweet Potato Pie and Pumpkin Pie..
Pumpkin: has a muted flavoring and lighter texture.
Sweet Potato: more pronounced flavor profile and denser texture.
Ingredients:
A quick review of the ingredients needed. Most will be in your pantry/spice cabinet and refrigerator already.
Sweet Potatoes: the star of the show. This recipe calls for 1 and 1/2 pounds of sweet potatoes.
Butter: mixing the sweet potato with butter makes for a smooth and creamy puree for the base of our pie recipe.
Light Brown Sugar: the warmth of the molasses in the sugar pairs perfectly with the sweet potato and definitely sets this pie apart!
Vanilla: a must for an extra pop of flavor.
Warm Spices: a combination of cinnamon, nutmeg and ginger adds a taste of fall and a warmth throughout the pie.
Eggs: provide the structure and custard texture to the pie filling.
Heavy Cream: guarantees a smooth and creamy texture.
How to Make Southern Sweet Potato Pie from Scratch:
There's no need to be intimidated by making this pie completely from scratch. The majority of the time is spent roasting the potatoes, a necessary step to getting the best flavor profile. This step is completely hands off while they roast in the oven until softened and caramelized.
Roast the sweet potatoes:
Roasting as opposed to boiling the potatoes gives a rich caramelized flavoring. It's definitely worth the time it takes to complete this step.
Peel the potatoes for puree:
After roasting the skins will just peel off easily using your fingers.
Make puree and filling:
Mix the sweet potato with a hand or stand mixer with some butter to create a smooth, rich, puree. Combine the other ingredients needed for the pie filling and mix together.
Prepare the pie crust:
My all butter pie crust is perfect for this recipe. Prepare the pie crust, roll out and place into the pie dish. Crimp the edges and you are all set. Preparing the pie filling first ensures that the pie crust is perfect temperature for baking right away.
Pour pie filling into pie crust:
The pie filling is slightly thicker than a pumpkin pie filling. If you are concerned that it has markings on the top from spreading the filling, give the pie dish a shake or a jiggle to help smooth it out on top.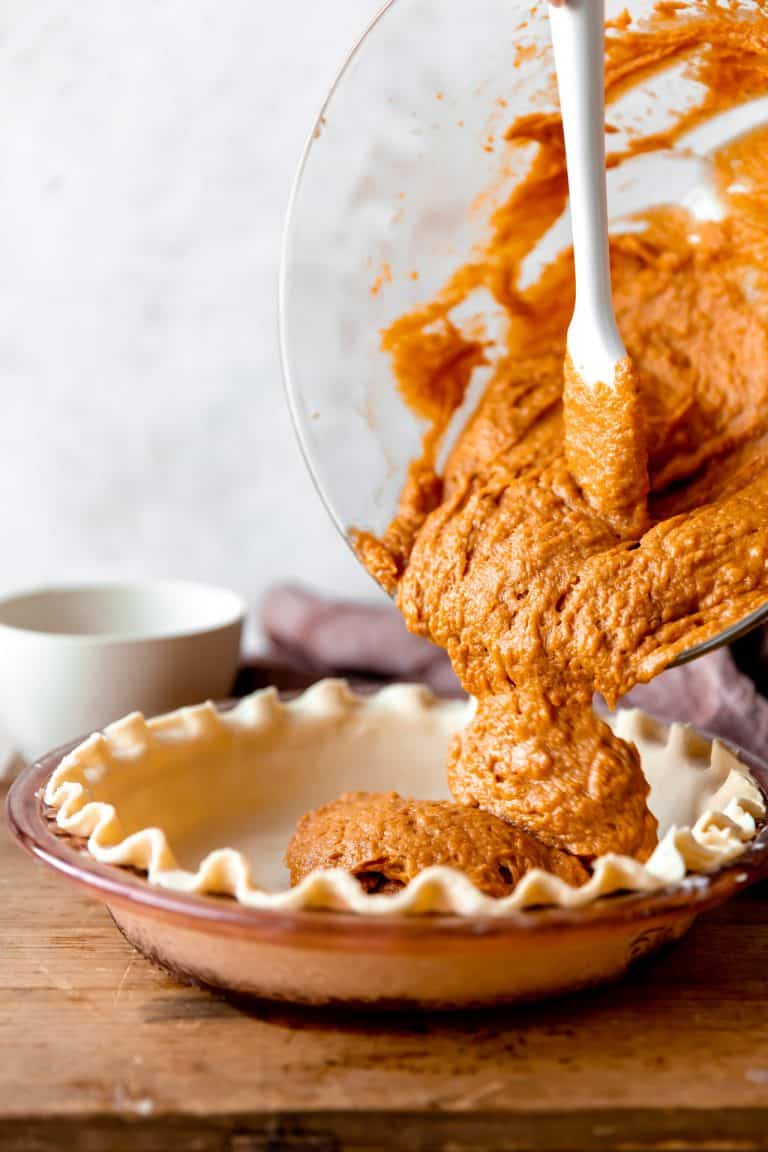 Bake:
Bake the pie for about an hour. The pie will still have a slight jiggle in the center when done. You can insert a butter knife into the center to check done-ness if desired. Then cover it up with whipped cream!
Cool:
Let the pie cool to room temperature (at least one hour) prior to slicing and serving.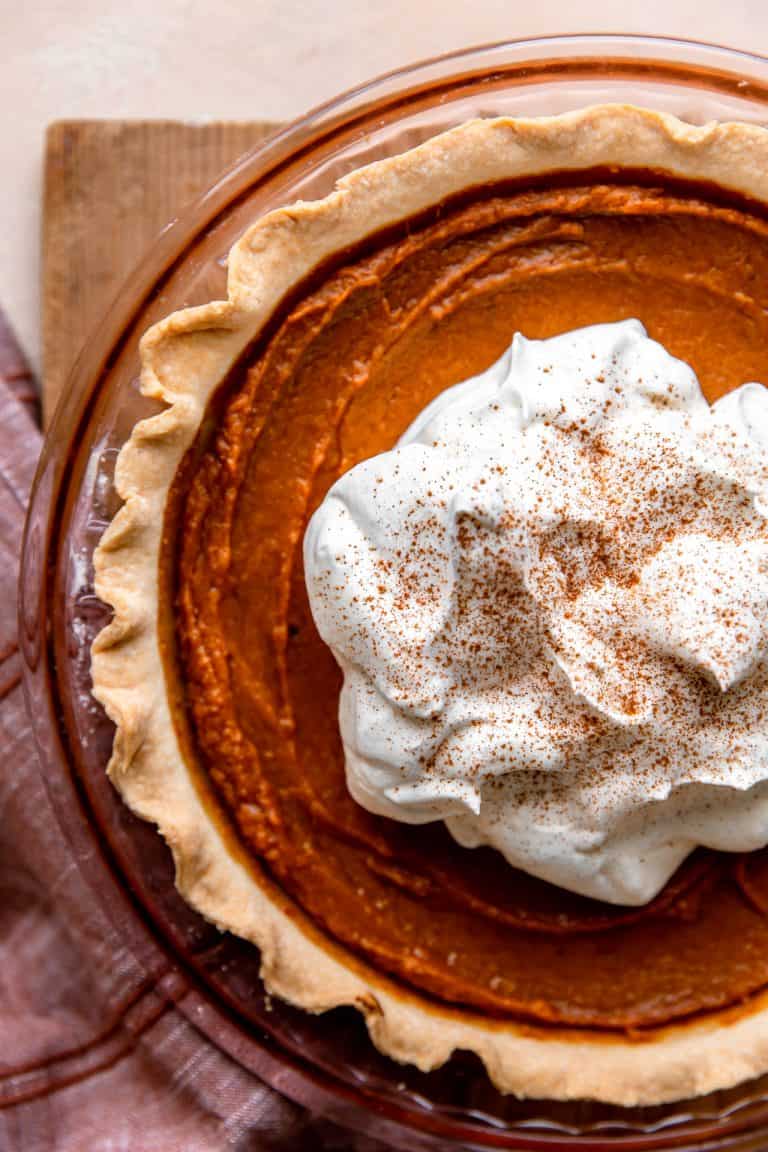 Make Ahead & Serving:
Make Ahead: this pie is great made ahead since it gives time for the flavors to deepen. If making 1 day ahead, cover and store at room temperature. If making 2 days ahead, cover and store in refrigerator. Bring to room temperature before serving.
Storage: cover and store leftovers in the refrigerator for up to 5 days.
Freezing: wrap and store in a freezer safe container for up to 3 months. Thaw by placing in the refrigerator overnight. Bring to room temperature before serving.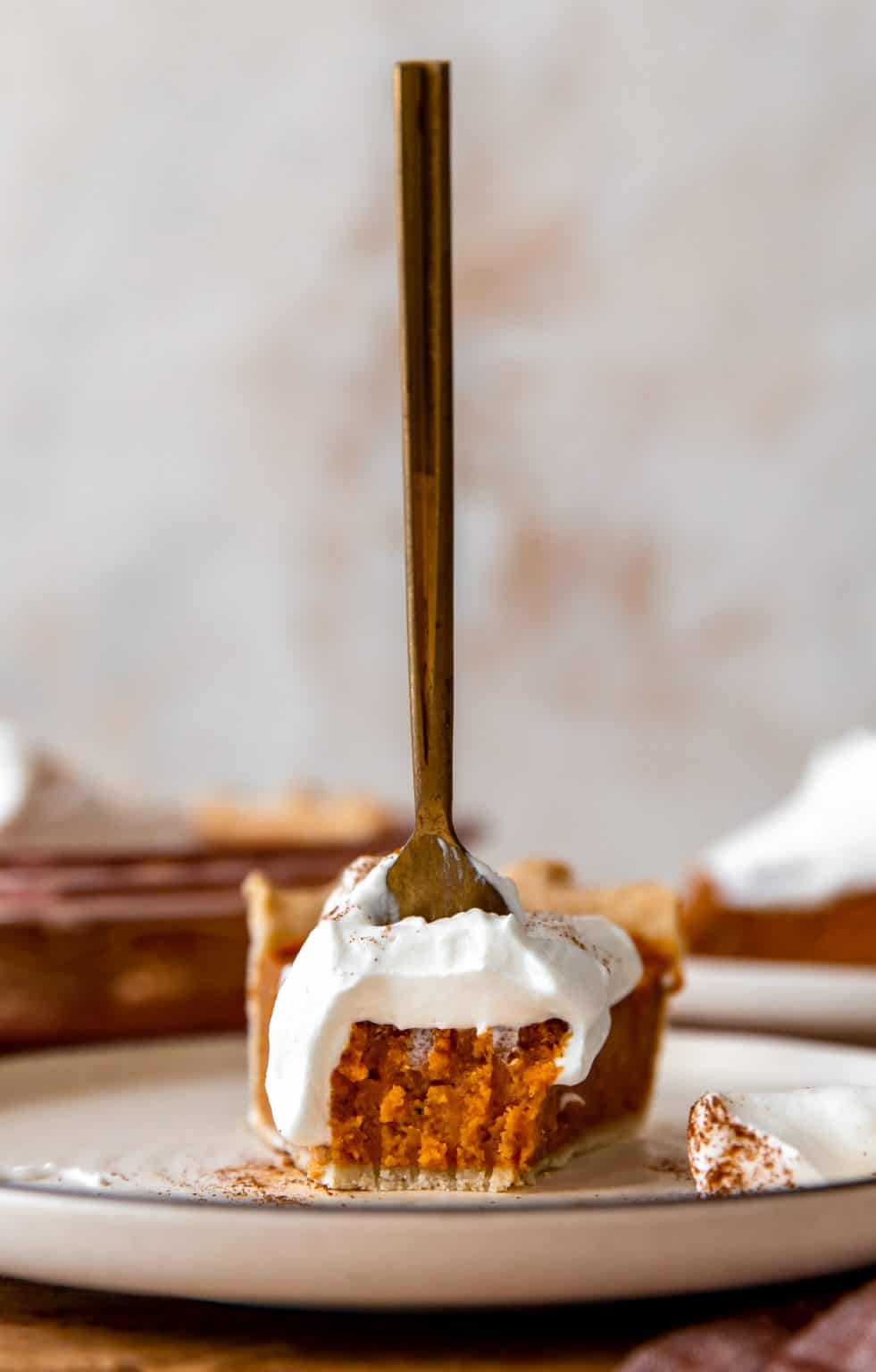 Some of my favorite Tips and Tricks for this pie recipe:
Sweet Potatoes: 1 lb of sweet potatoes is generally 2 medium size potatoes. Depending on the size of the potatoes I will use between 3 and 4 medium sized ones. After blending there will be about 2 cups of puree.
If making ahead of time, let the pie cool completely before covering, this helps prevent any condensation from appearing and dripping onto the pie.
Make the pie crust ahead of time and store in the refrigerator. Simply make the pie crust and form into a disk, wrap with plastic wrap and store in the refrigerator. When ready to use, let the crust warm just enough to roll out and place in the dish. Pie crust is best when baked from a cooler temperature.
More Pie Recipes: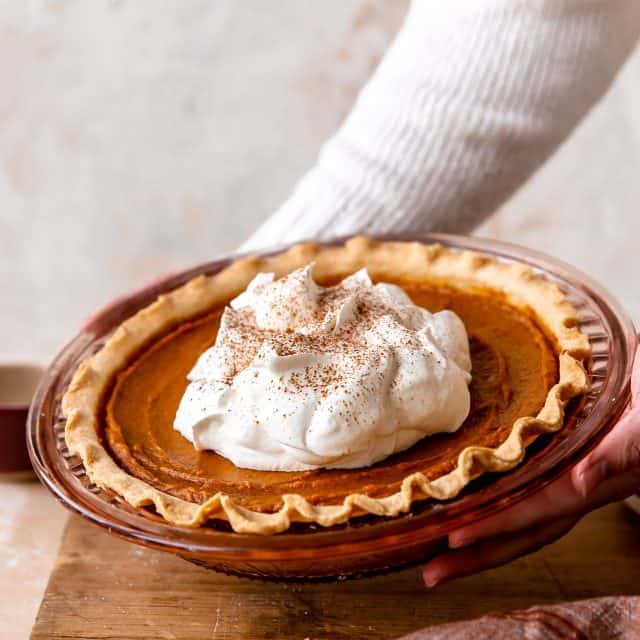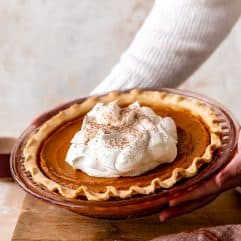 Southern Sweet Potato Pie
Southern Sweet Potato Pie. This sweet potato pie is made from scratch and loaded with warm spices. Serve topped with cold vanilla whipped cream for the ultimate southern dessert!
Ingredients
Instructions
Preheat oven to 375℉. Line a baking sheet with foil and set aside. 

Prepare the sweet potatoes by rinsing clean, then pierce with a fork several times. Place on the baking sheet. 

Bake the sweet potatoes 45-60 minutes until fork tender. 

Remove the potatoes from the oven. Let cool until you're able to touch with your hands. Then using your fingers peel the skins off, they will come off easily at this point. If needed use a paring knife to help. 

Chop the potatoes and add to a large mixing bowl. 

Using a hand mixer mash up the potatoes (using a mixer gives a creamier texture to the potatoes). 

Add the butter to the potatoes (which are still warm at this point) and using the hand mixer, mix into the potatoes until smooth and creamy.

Add in the light brown sugar, vanilla, cinnamon, ground nutmeg, ground ginger and salt. Mix together until well combined. At this point you can taste the mixture to adjust seasonings if needed. 

Add the eggs and heavy cream to the potato mixture. Mix until well combined. 

Lay pie crust into a 9 inch glass pie dish, crimp the edges. 

Pour the sweet potato pie filling into the pie crust. If you have any extra you can pour into a small ramekin and bake for an extra treat. 

Bake the pie for 15 minutes at 375℉. Then reduce the heat to 350℉ and continue baking for an additional 40-45 minutes until baked through, the center will be set. You can insert a butter knife into the center to check for doneness if needed. 

Remove pie from the oven and allow to cool to room temperature. 

Serve topped with whipped cream. 
Nutrition
Serving: 1slice, Calories: 399kcal, Carbohydrates: 55g, Protein: 4g, Fat: 18g, Saturated Fat: 9g, Cholesterol: 77mg, Sodium: 286mg, Potassium: 370mg, Fiber: 3g, Sugar: 31g, Vitamin A: 12521IU, Vitamin C: 2mg, Calcium: 73mg, Iron: 1mg
Photography by KJandCompany.co
House of Yumm is a participant in the Amazon Services LLC Associates Program, an affiliate advertising program designed to provide a means for us to earn fees by linking to Amazon.com and affiliated sites.