This easy Candied Sweet Potato recipe is perfect for a Thanksgiving side dish! Buttery, caramelized sweet potatoes swimming in a thick brown sugar syrup. This dish only requires a few ingredients but makes a big impact!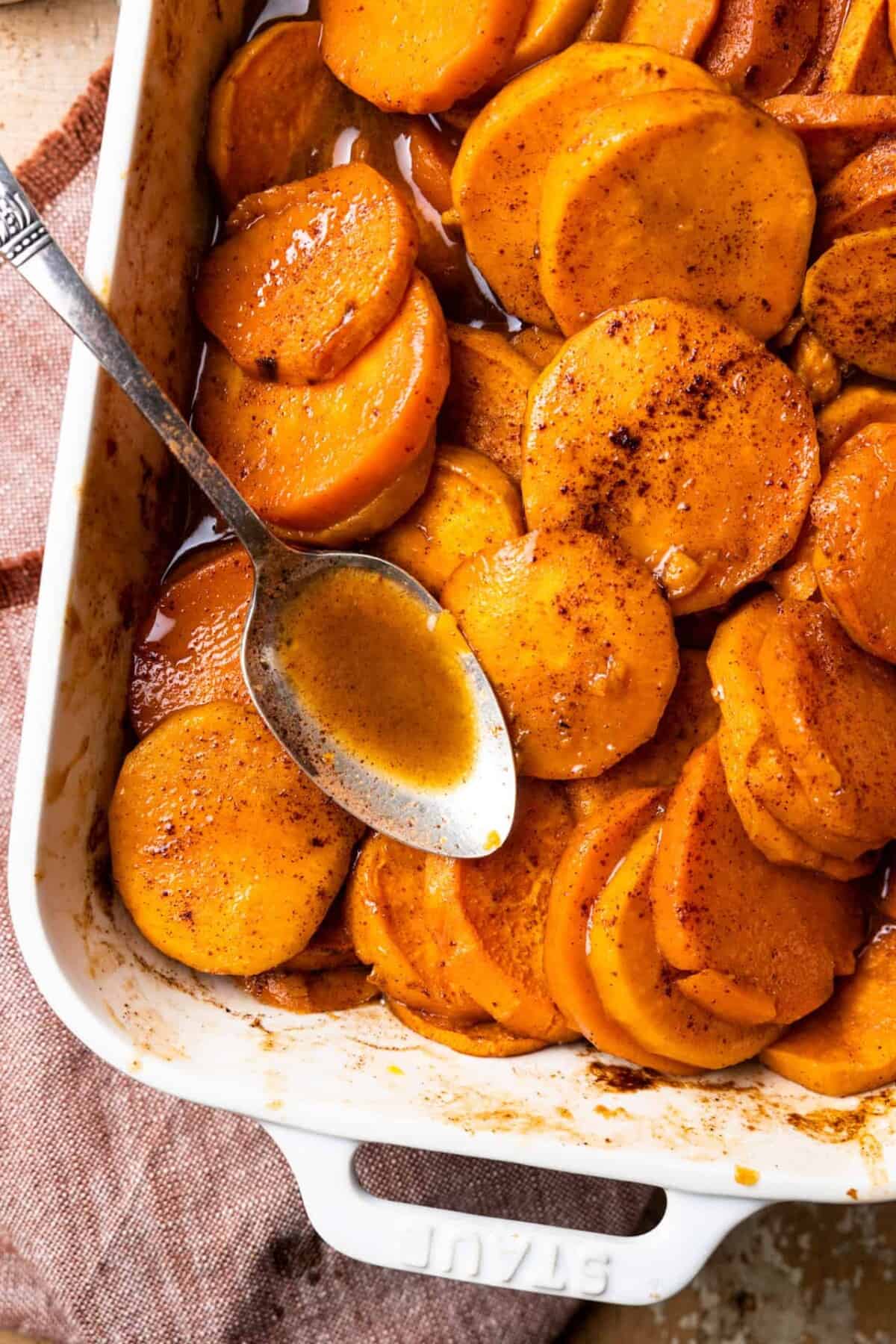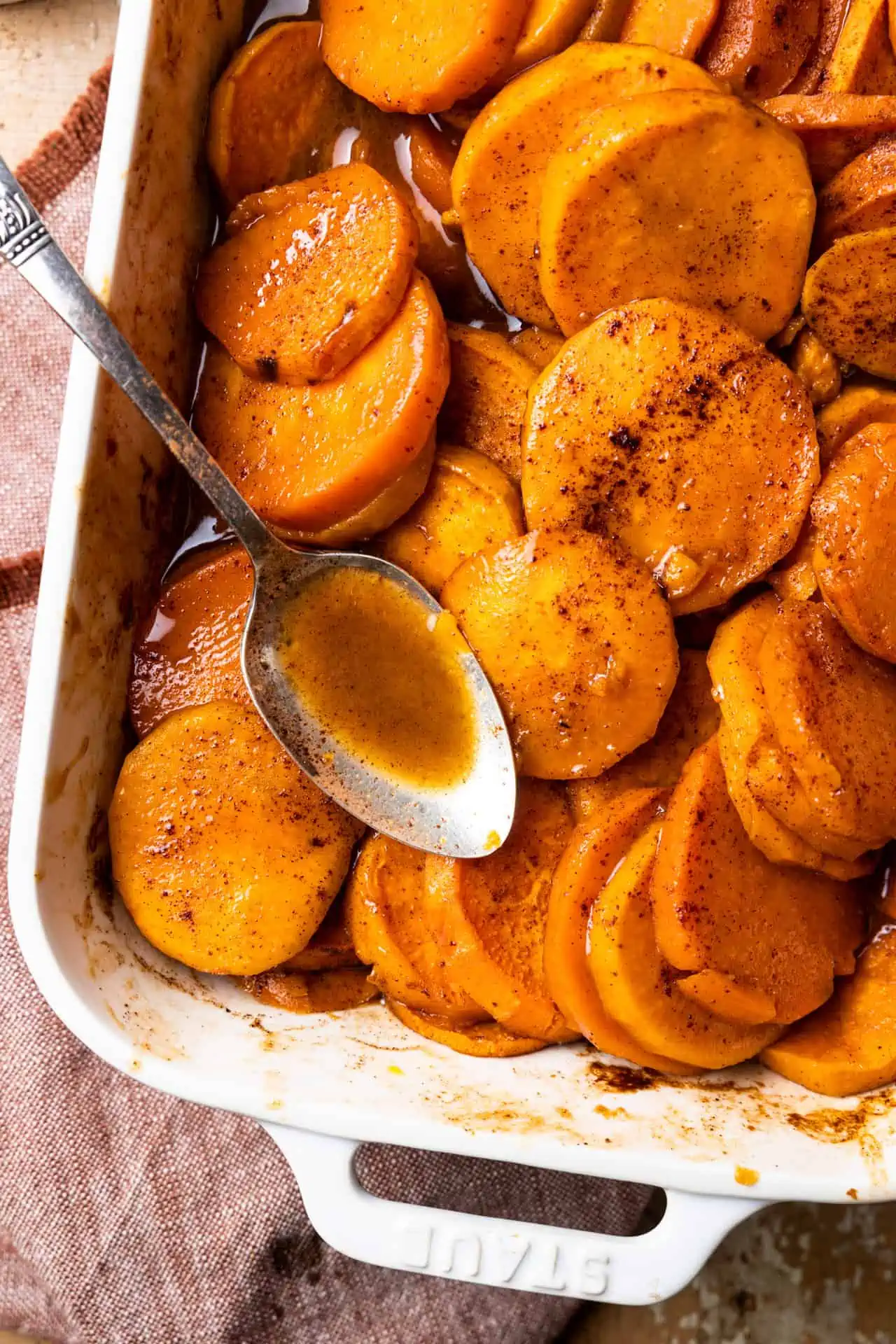 These candied sweet potatoes are tender, sweet and buttery. Plus theres a wonderful caramelized crust that forms on the top of the sweet potatoes during the last bit of baking.
Reasons why we love this recipe:
Quick and Easy: the only prep needed is slicing up the potatoes.
Make Ahead: this is an easy side dish that can be made ahead of time and saves time and sanity when preparing a large meal.
Few Ingredients: most ingredients are things we have on hand and we only need to make sure we have sweet potatoes.
Ingredients Needed: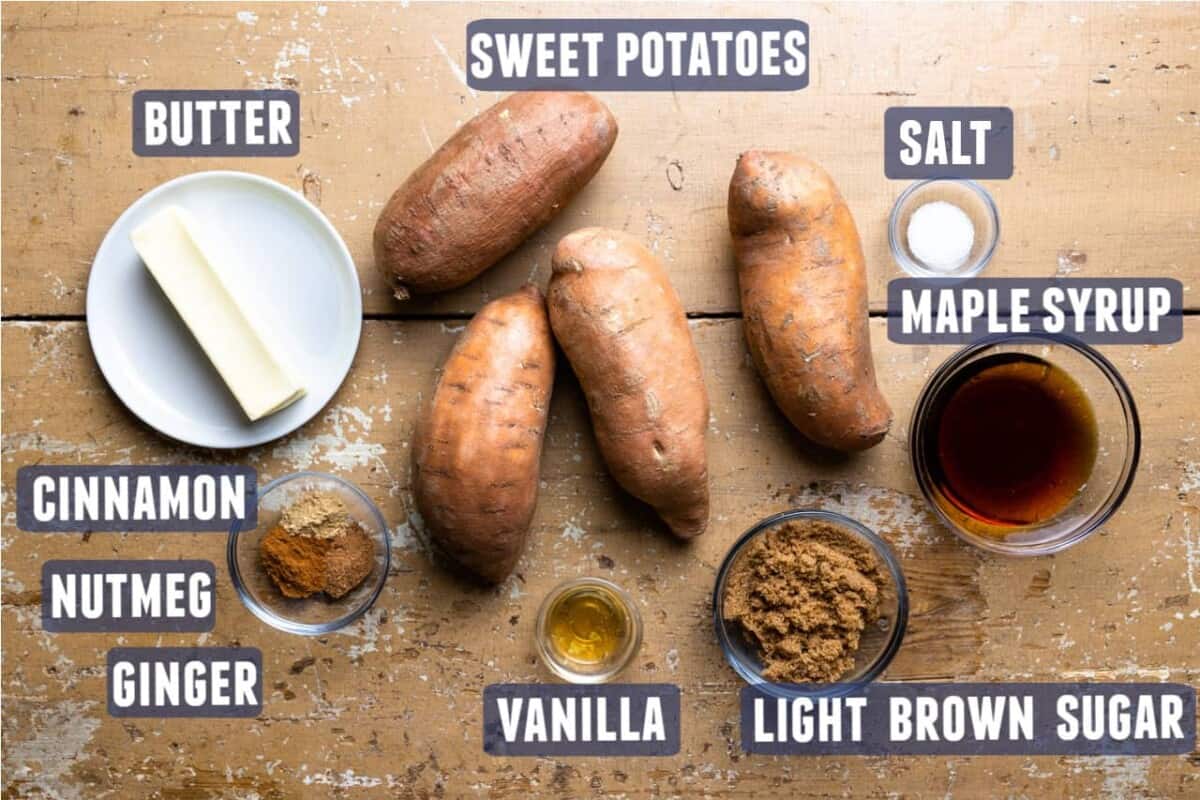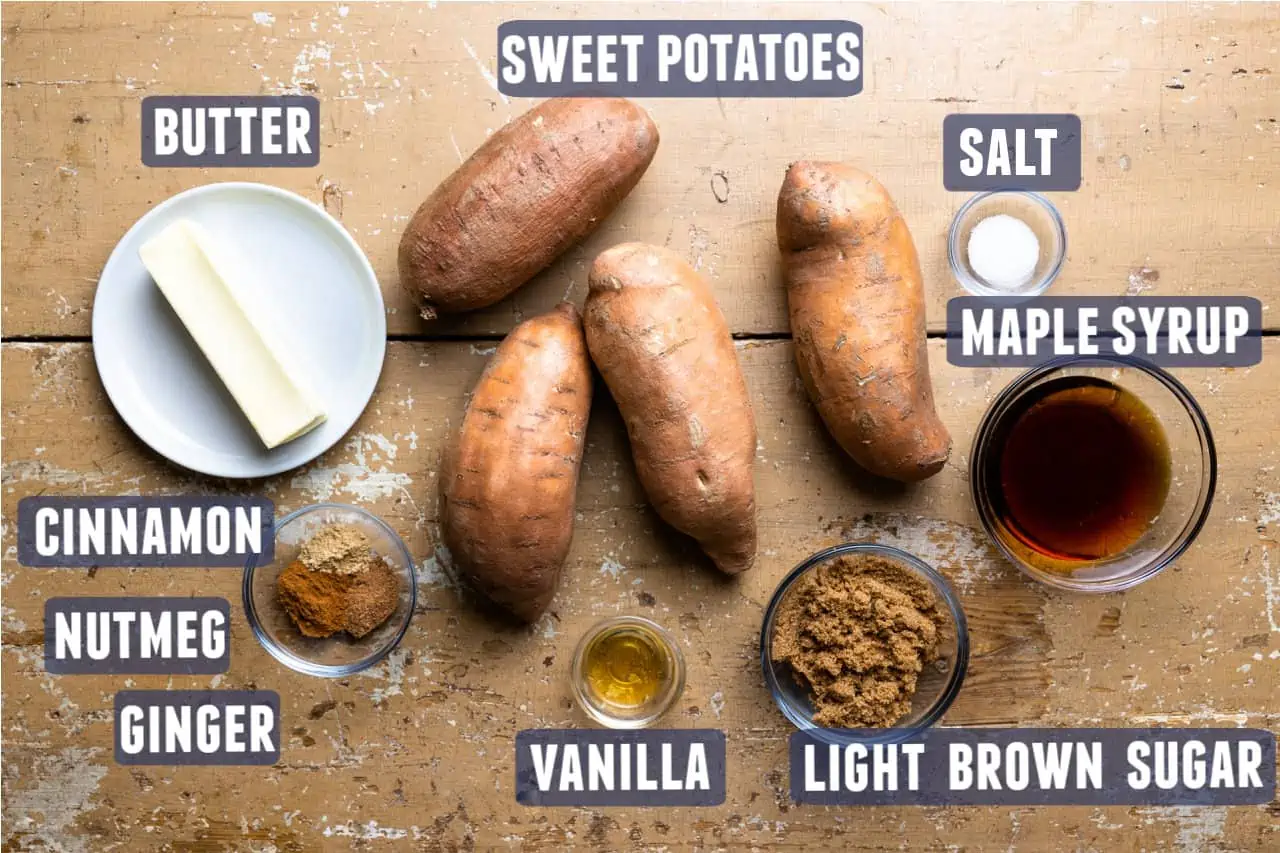 Sweet Potatoes: pick nice skinny potatoes for this recipe to help with slicing into nice even slices.
Cinnamon, nutmeg, ginger: add flavor and spice to the finished dish.
Light Brown Sugar & Maple Syrup: add flavor and sweetness to the dish, can substitute for any other sweetener of choice.
Vanilla: adds a nice extra flavoring to the potatoes.
Salt: helps balance the sweetness and brings out the flavoring.
How to make (step-by-step):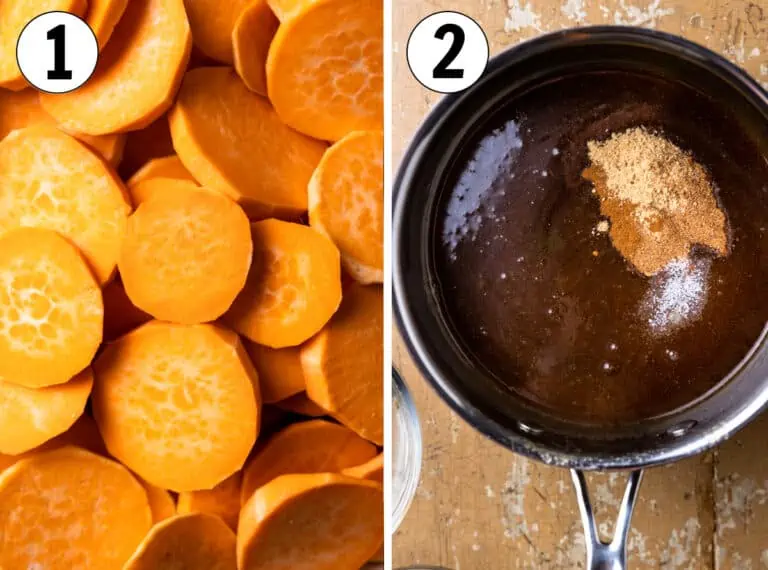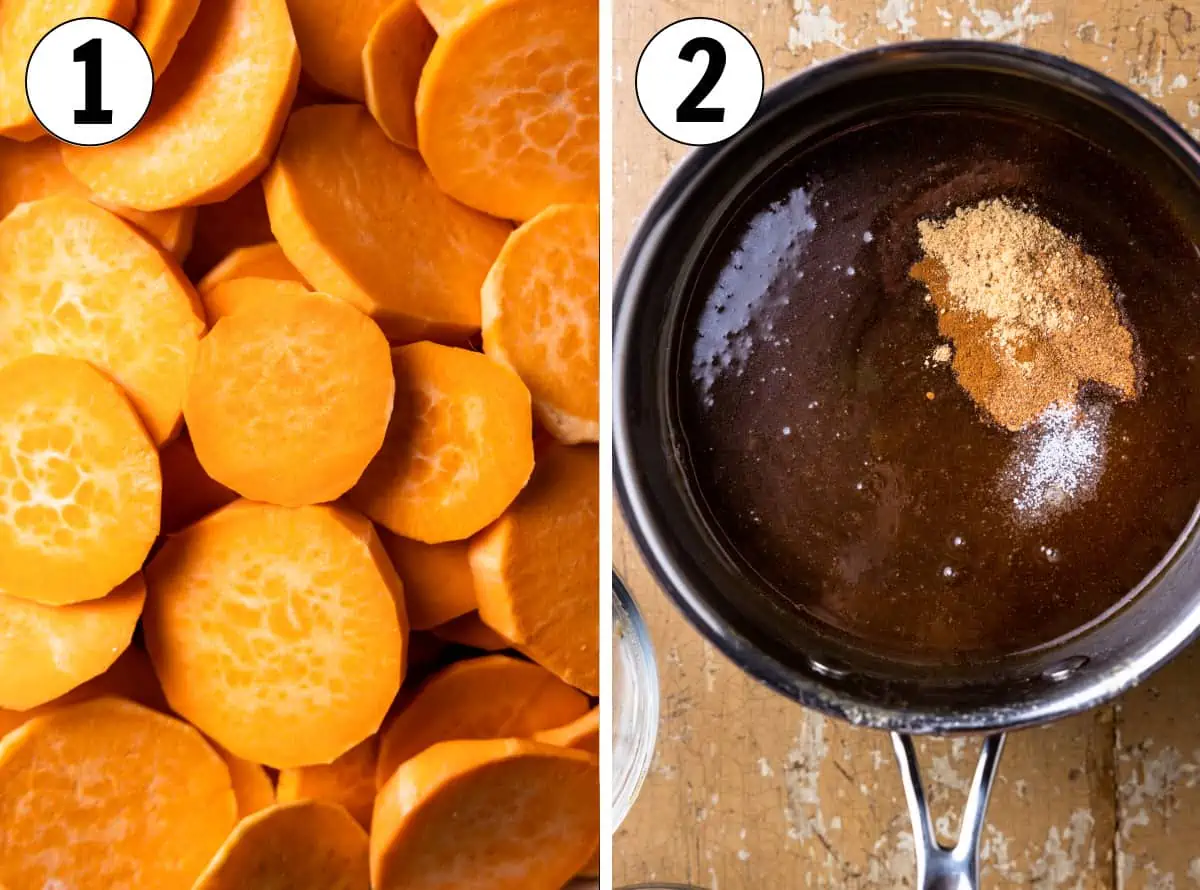 Prepare the sweet potatoes: wash and dry the sweet potatoes prior to peeling. Slice the sweet potatoes into rounds that are approximately 1/2 inch thick. This helps to ensure the potatoes will hold their shape while baking. We don't want our sweet potatoes to turn into mush.
Make the Brown Sugar Butter Sauce: in a small sauce pan add the butter and heat over a low heat until the butter is melted. Add in the remaining ingredients and stir together. Make sure you are using real maple syrup, not a regular pancake syrup.
Pour the sauce over the Potatoes: Pour the sauce all over the sweet potatoes and gently stir them around to ensure they are coated.
Cover and Bake: cover the dish with foil and bake at 400℉ for 30 minutes.
Remove cover and bake an additional 15-30 minutes: This is where we will get that crispy caramelized crust on the tops of the potatoes.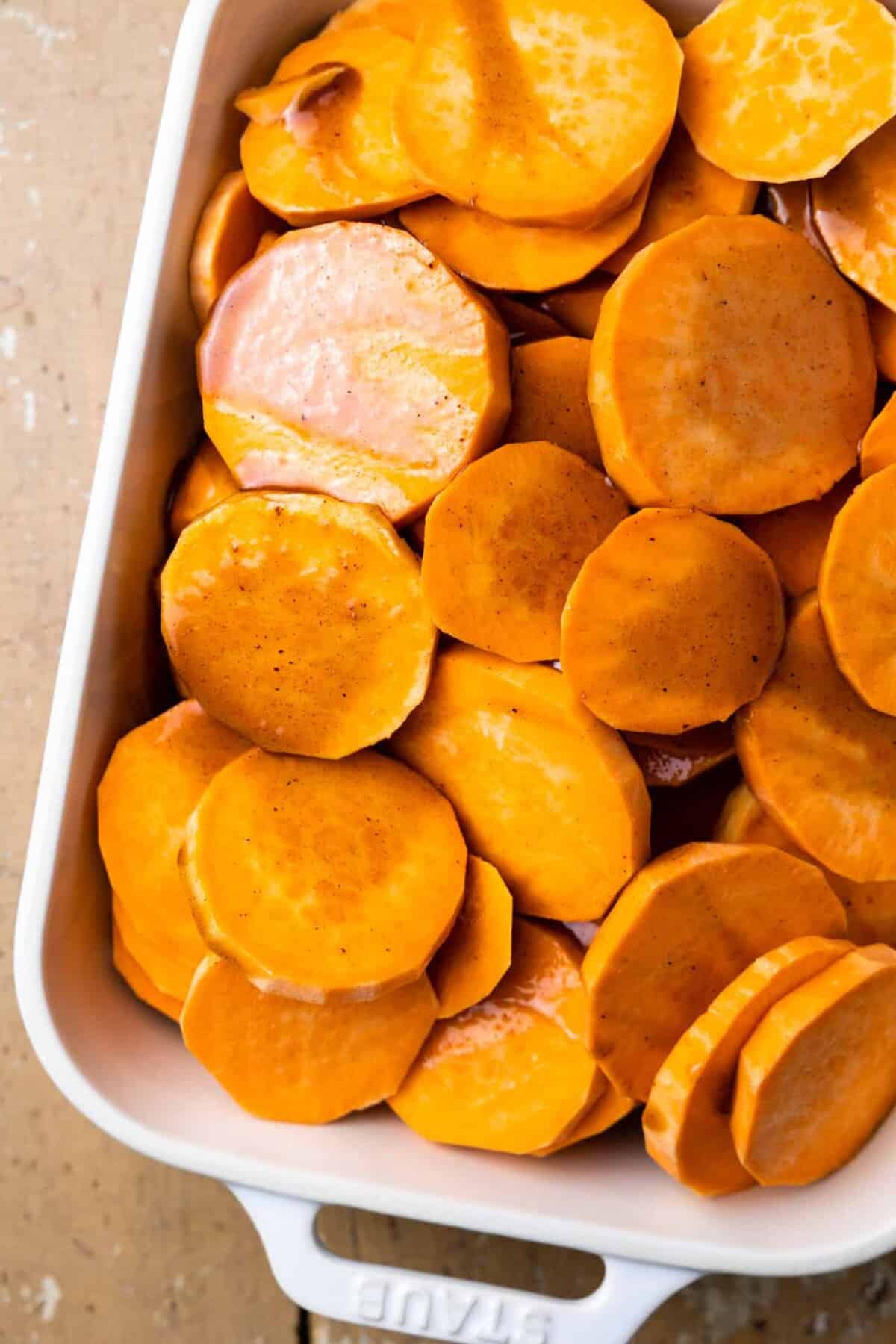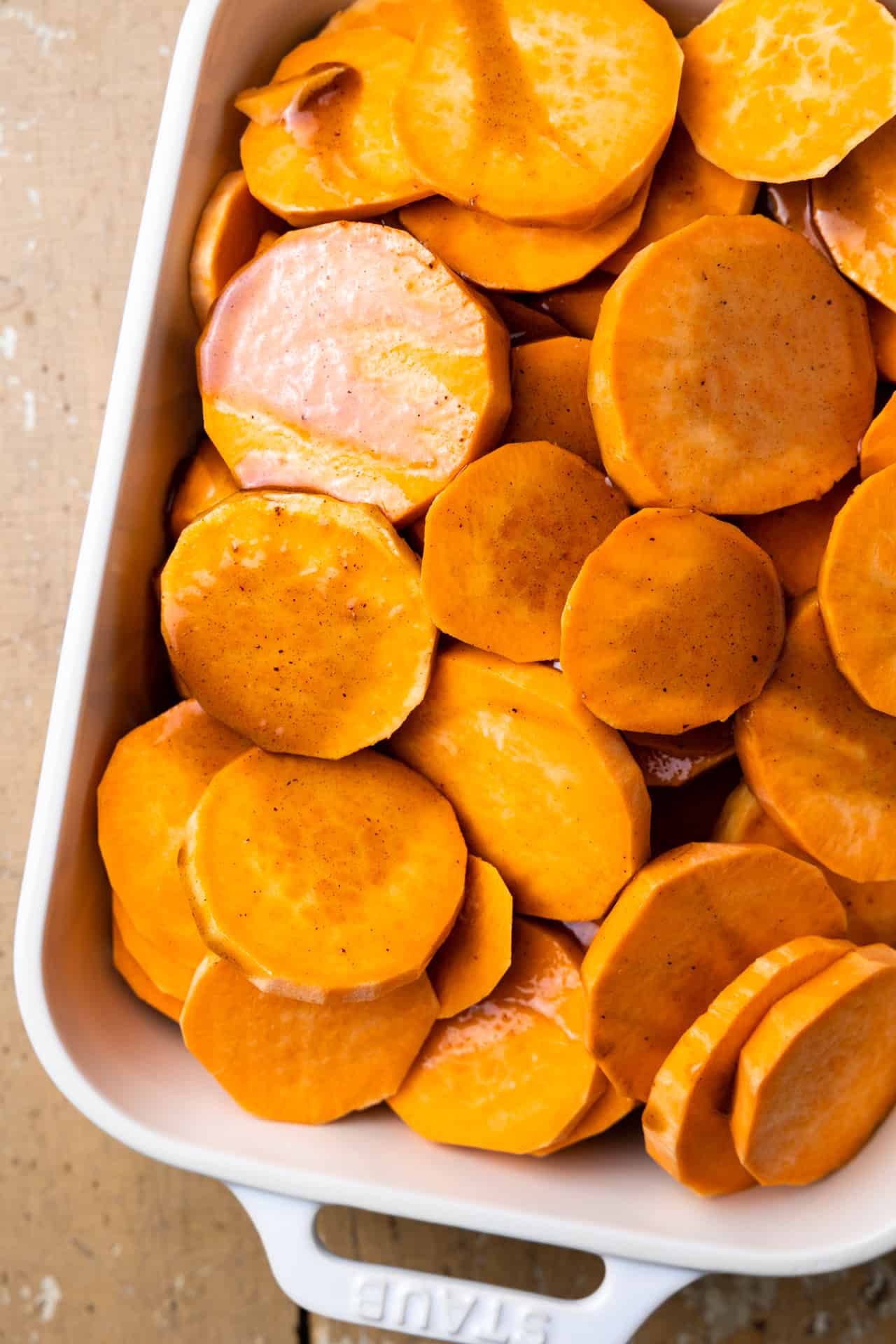 Expert Tips:
Picking your potato: when shopping look for long, thin potatoes as opposed to thick, fat ones. The skinnier potatoes are going to be easier to slice up for this recipe.
Potato Skin: this recipe can be made with the potato skins on if preferred. Keeping the skins on will retain some extra nutrients of the potato itself and the skins will bake soft and tender also and are easily eaten. If leaving the skins on, be sure to scrub your potatoes nice and clean before slicing up.
Baking: ensure that all sweet potatoes are covered in the syrup before baking, otherwise those potato slices will not bake up soft and tender.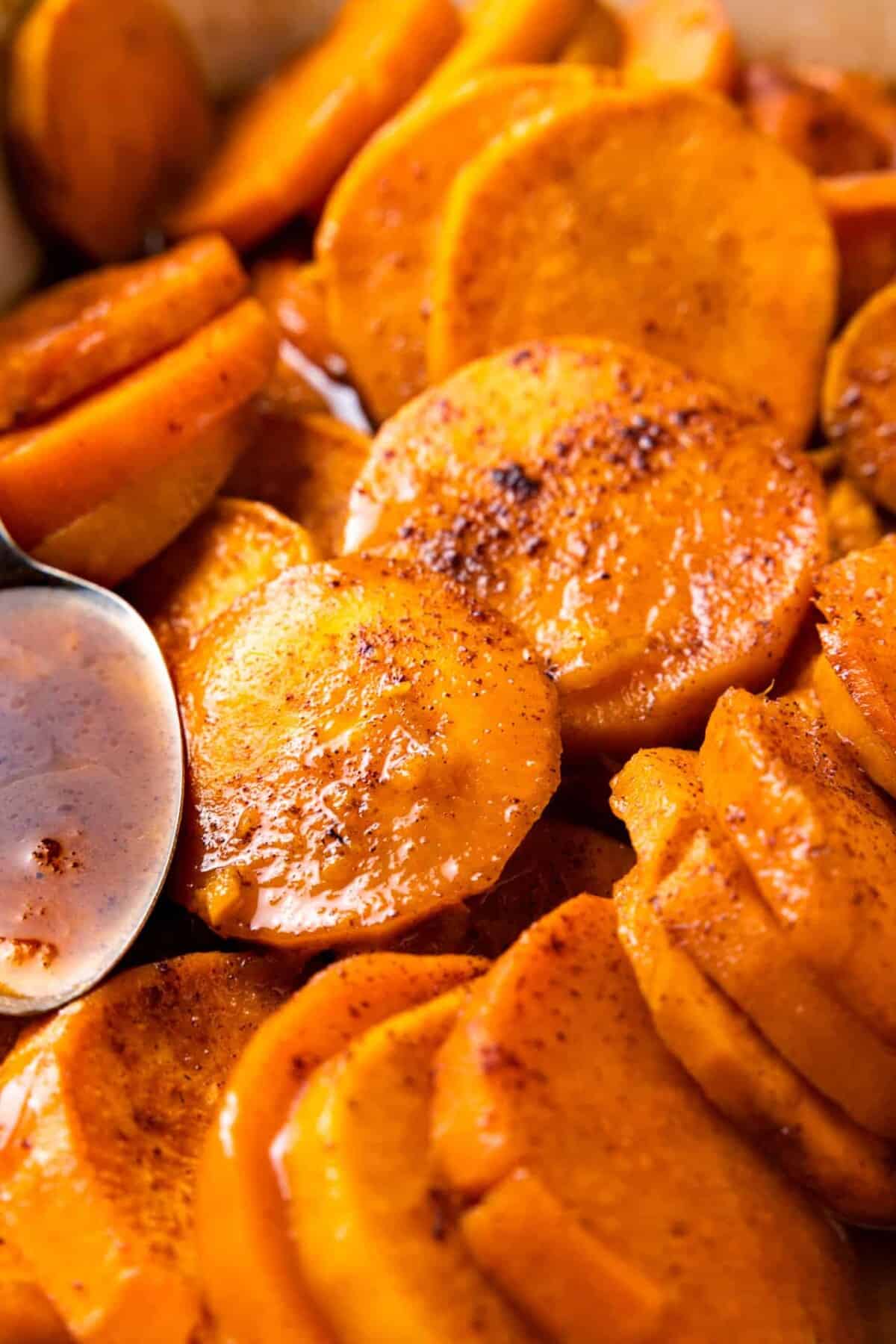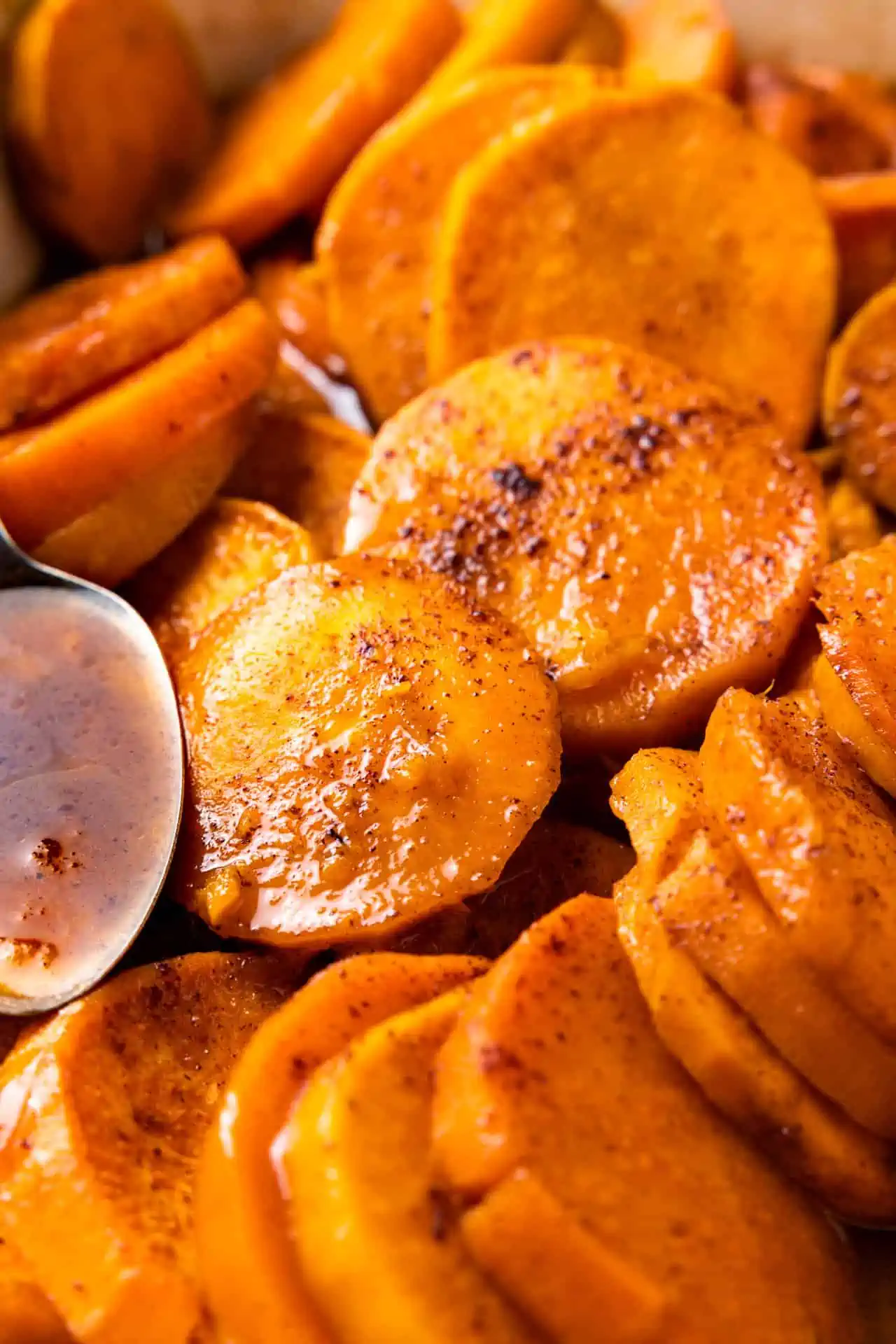 Candied Sweet Potatoes: FAQS
Are candied yams and sweet potatoes the same thing?
No, they are actually different vegetables. What we have in the markets in the US are typically sweet potatoes. They cook and taste different also, with yams being more starchy and less sweet, more like a white potato when cooked.
Do sweet potatoes need parboiling before roasting?
No, the sweet potatoes will get tender through the baking process, there is no need to parboil them.
How do you thicken candied yams?
As the sauce cools after baking, it will thicken on it's own thanks to the starch from the sweet potatoes.
More Side Dish Recipes:
Candied Sweet Potatoes
Buttery, sweet, caramelized Candied Sweet Potatoes are an easy to make side dish that always impresses. This recipe only requires a few ingredients but makes a big impact!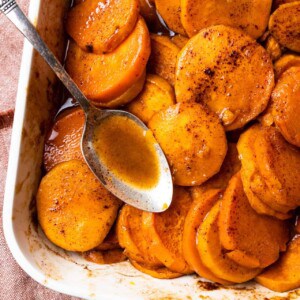 Ingredients
4-5

sweet potatoes

approximately 3 pounds

1/2

cup

unsalted butter

1/3

cup

light brown sugar

1/3

cup

maple syrup

1

teaspoon

ground cinnamon

1/2

teaspoon

ground nutmeg

1/2

teaspoon

ground ginger

pinch

salt

1

teaspoon

vanilla extract

Optional Topping: fresh herbs, flakey sea salt
Instructions
Peel and slice the sweet potatoes into 1/4 inch rounds. Add to a baking dish.

In a small saucepan add the butter. Heat over low heat until the butter is melted. Remove from heat.

Stir in the brown sugar and maple syrup.

Add in the spices, salt and vanilla extract, stirring to combine.

Carefully pour the brown sugar butter sauce over the sliced sweet potatoes. Gently stir the sweet potatoes around to coat in the butter mixture.

Cover the baking dish with foil and bake for 30 minutes. Stirring halfway through to ensure even baking.

Remove the foil and continue baking for an additional 15-30 minutes until the sweet potatoes are fork tender. Stir every 15 minutes.

Remove from oven and let cool at least 10 minutes to allow sauce to thicken before serving.
Notes
Make Ahead Tips: Peel and slice the sweet potatoes the day prior. Cover and store the sliced sweet potatoes in the refrigerator overnight. The brown sugar butter sauce can also be prepared the day before and stored in a sealed container. Do not combine the potatoes with the sauce until the day you are needing to bake and serve the dish. Freezing this dish is not recommended.
Nutrition
Serving:
1
|
Calories:
315
kcal
|
Carbohydrates:
52
g
|
Protein:
3
g
|
Fat:
12
g
|
Sugar:
24
g
Nutrition information is automatically calculated, so should only be used as an approximation.
Like this? Leave a comment below!
Recipe first published November 13, 2019. Updated November 11, 2022 with new images and information.
Photography by the talented @ModernFarmhouseEats