This creamy avocado salsa only takes 5 minutes to make!!  The perfect green sauce for tacos, nachos, burritos, salads, or just for dipping chips into!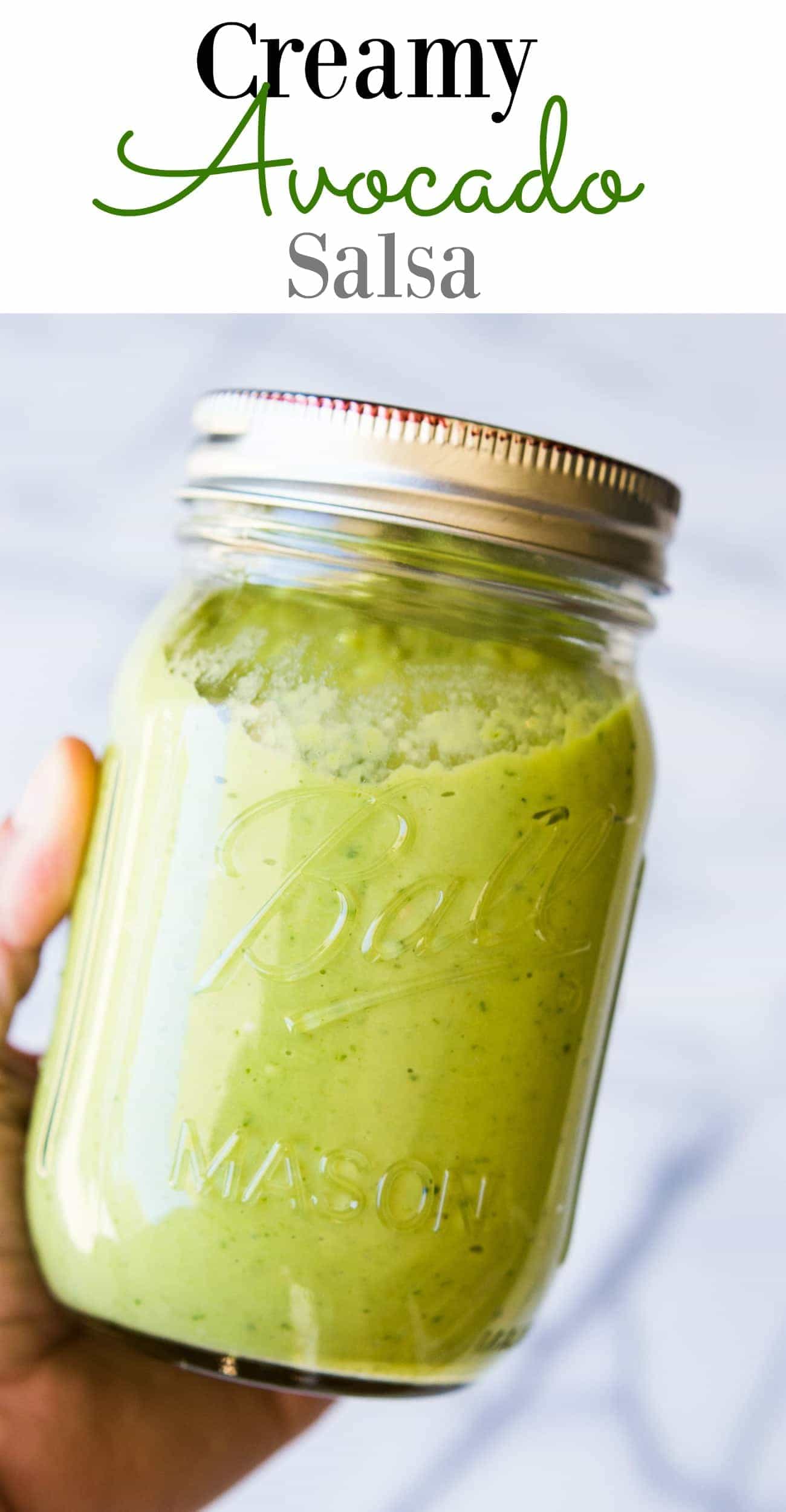 Creamy Avocado Salsa.  Or maybe I should call this sauce.  A green sauce.  Or avocado sauce?  I'm not sure what exactly to call it.  But whatever you want to call it, just know that it is pure magic.  This is the perfect creamy green sauce to drizzle on tacos, nachos, burritos, quesadillas, corndogs ( wait..whaaat?).  It's also an amazing salad dressing. If you're like me you may feel conflicted about salad dressing on a taco salad.  Well..here is the solution to that dilemma! Plus, to my children's dismay and my amazement, it's wonderful smothered all over zoodles! So many uses.  So much amazing flavor.  Best part?  It can be made in about 5 minutes.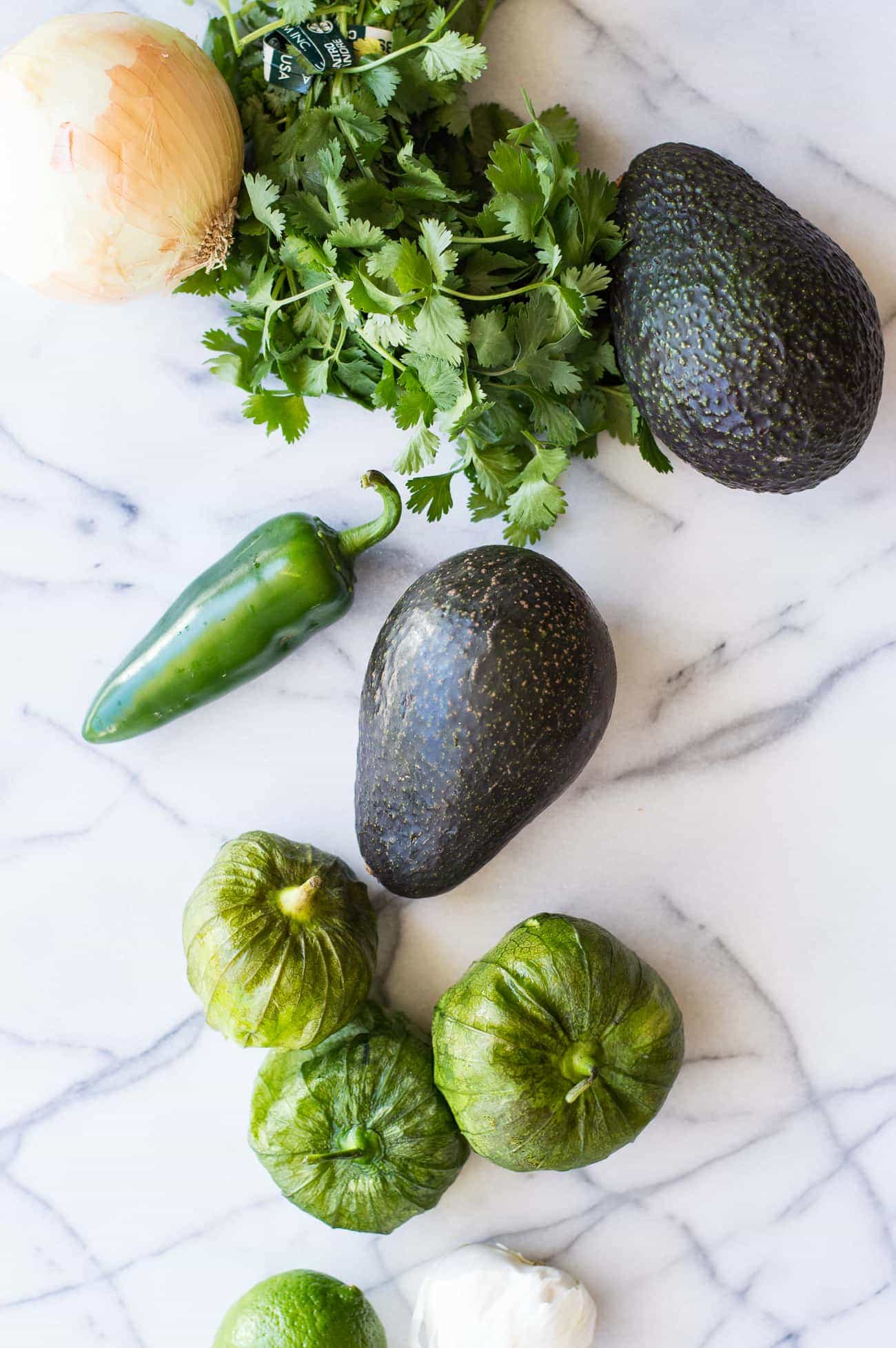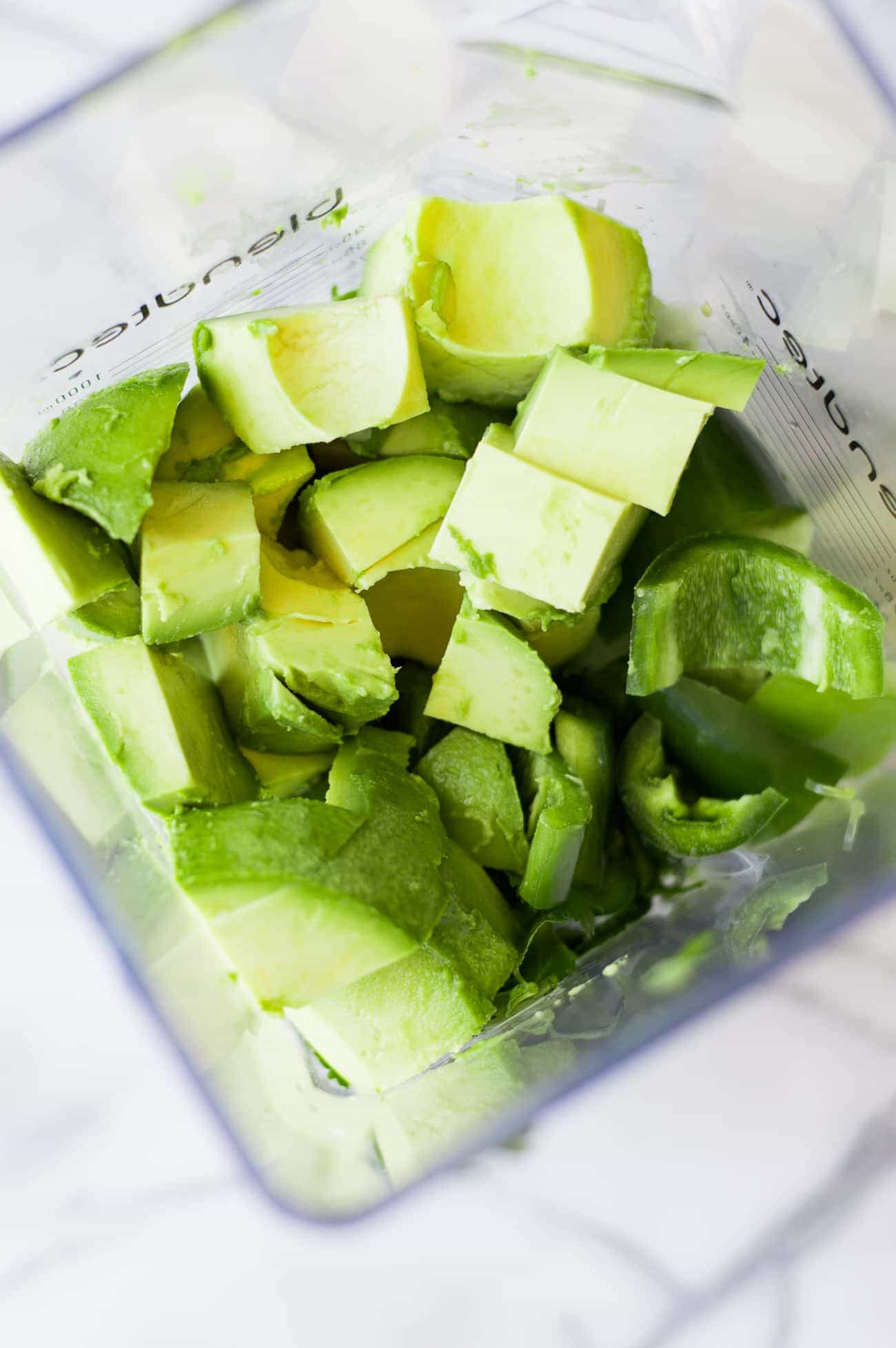 Can we just take a moment to marvel at all of that green?  So what all is in here?  Well only the green things got the invite.  There's tomatillos.  Which if you haven't used them before, they look like green tomatoes, but they're covered in a husk, kind of a leafy covering.  Usually I find them in the produce section next to the jalapeños and other peppers.  They have a tart taste to them.  And they are what green salsas are usually made out of.  🤓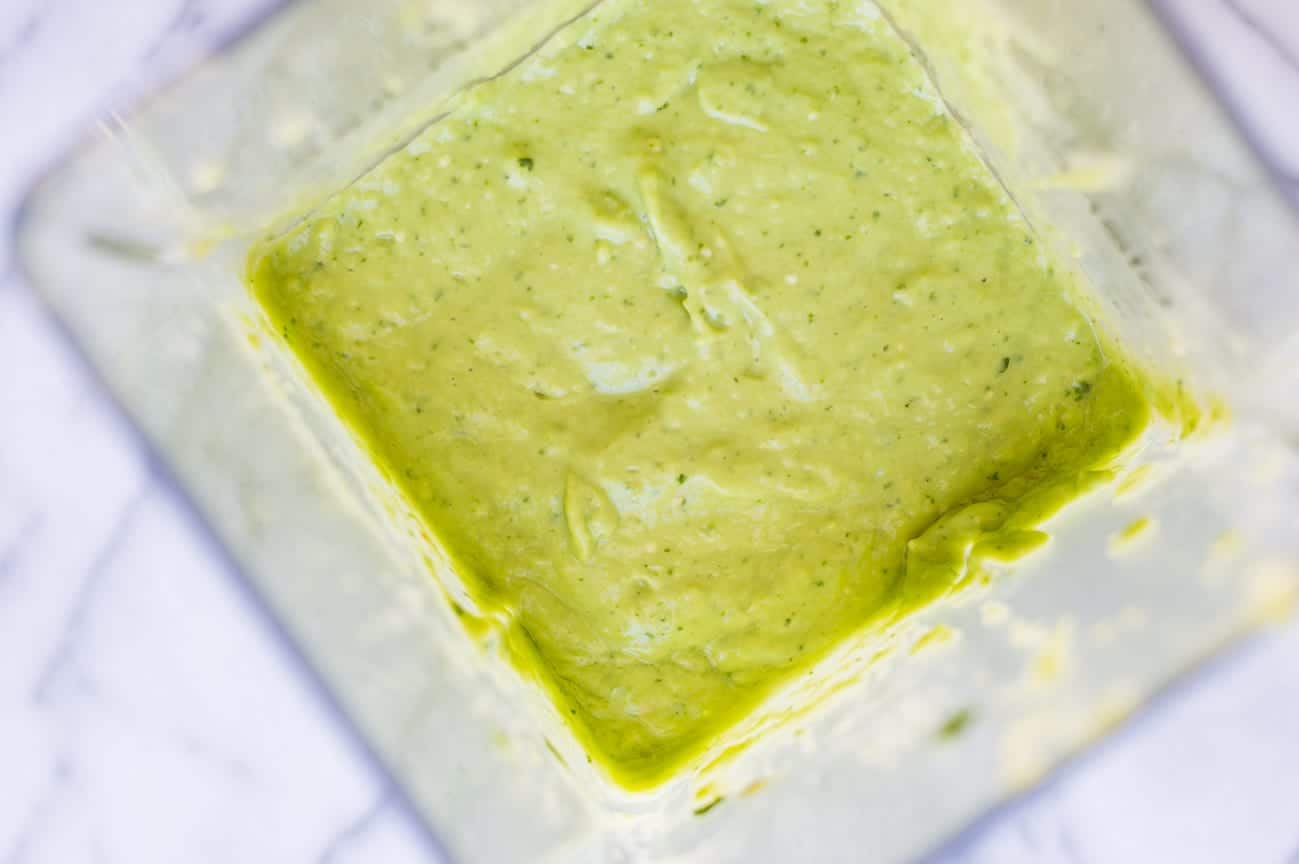 The tomatillos are what is going to make this salsa more or less runny.  If you're feeling like it's kind of thick we can add another tomatillo.  You can also add a little water about 1/4 to 1/2 a cup of water to thin it out.  Why is this so thick?  Because we're adding an avocado to it.  Yum!  Avocados make this salsa super creamy.  Which is why it's perfect for drizzling.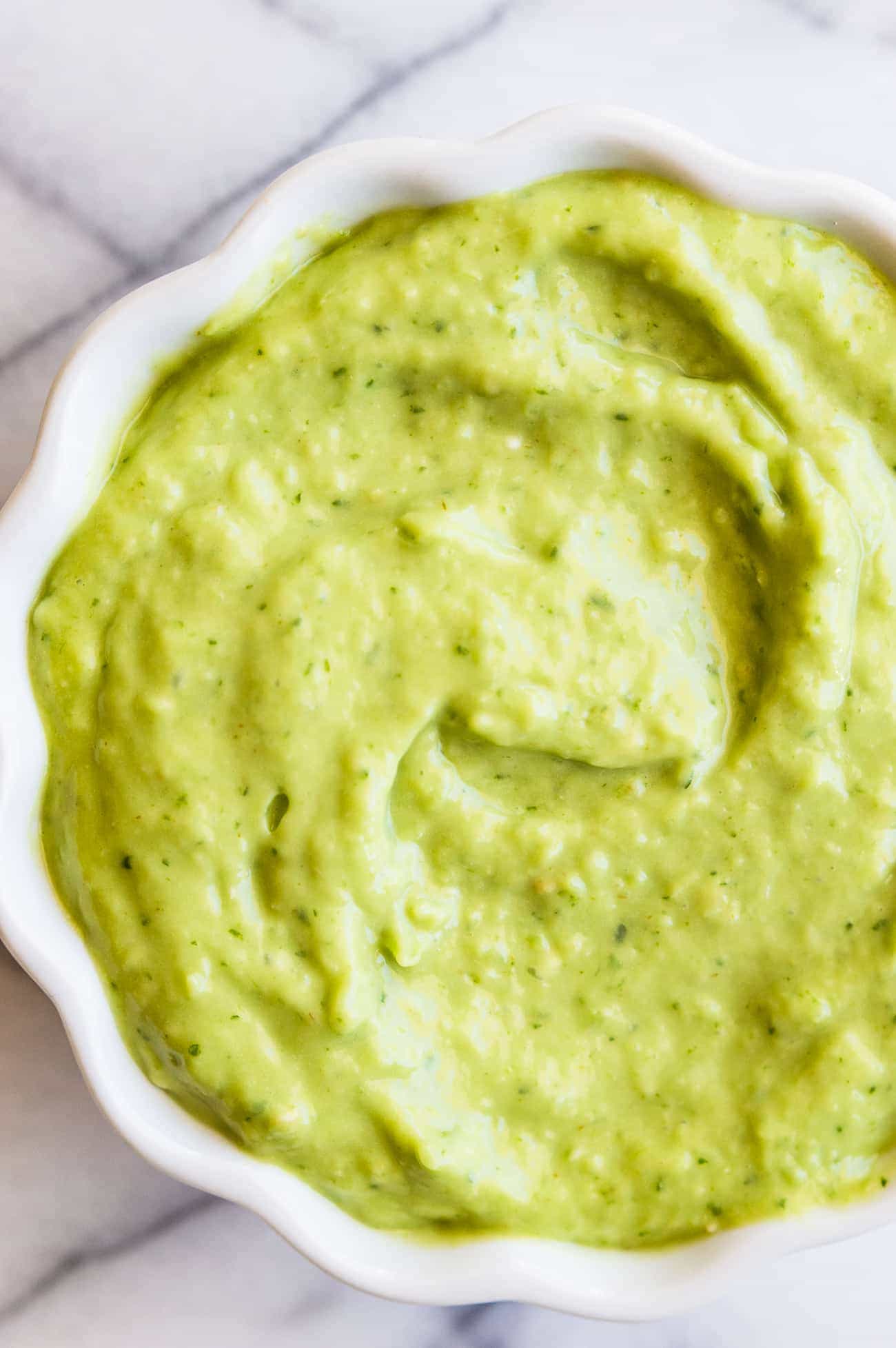 The other star attractions are cilantro, of course.  Jalapeño.  Which gives just a tiny amount of heat.  Feel free to leave some seeds in if you're wanting a little heat.  Lime juice.  Then a little cumin for flavor.  I add cumin to pretty much everything.  Onion, garlic and salt.  The usual suspects for most salsas.  This creamy avocado salsa is perfect for dipping chips into.  And trust me you will be amazed at how many things this green sauce is really good with!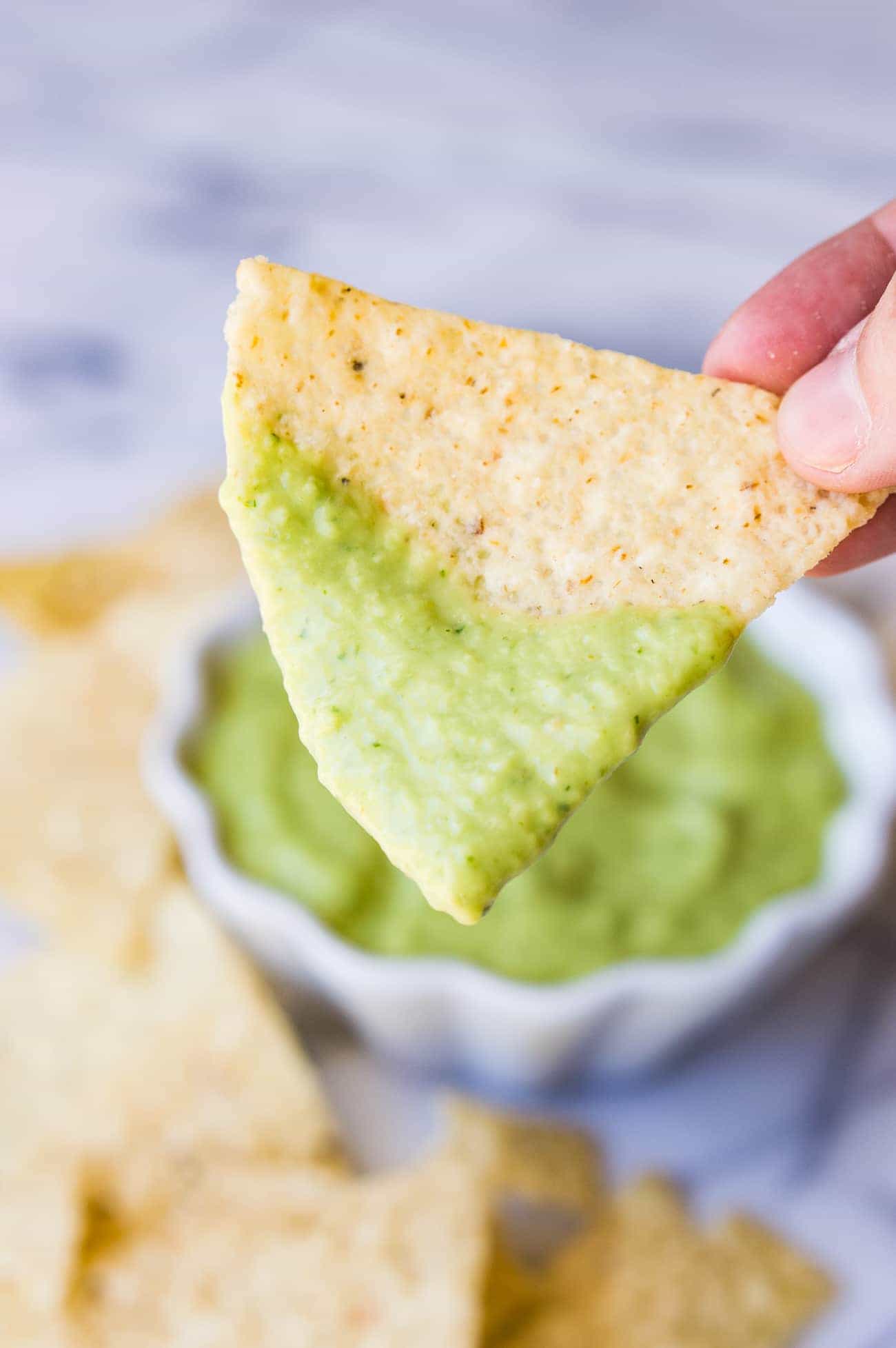 I hope you enjoy the recipe!  You can follow along with me and never miss a recipe by signing up for my newsletter.  Follow me on Instagram and tag #houseofyumm so I can see all the recipes you make.  Plus follow me on snapchat! @houseofyumm 💜
Serene @ House of Yumm
Serves 2 cups
Creamy Avocado Salsa
This creamy avocado salsa only takes 5 minutes to make!! The perfect green sauce for tacos, nachos, burritos, salads, or just for dipping chips into!
5 minPrep Time
5 minTotal Time
Ingredients
1 Large Ripe Avocado
1 Jalapeño de-seeded
3 tomatillos with the husks removed
2 cloves garlic
1/4 cup chopped onion
1/4 cup cilantro ~ 1/2 a bunch
juice from 1/2 a lime
1/4 teaspoon salt
1/2 teaspoon cumin
Instructions
Add all the ingredients to a blender or food processor. Blend until completely combined, will be a creamy smooth texture.
7.6.4
483
https://houseofyumm.com/creamy-avocado-salsa/
Need a Classic Restaurant Style Salsa? Try this one out!! It's my go to!  I always have some in my fridge.