This smooth, spicy made from scratch Butternut Squash Pie tastes even better than the traditional pumpkin pie!! Make this one for Thanksgiving dessert and EVERYONE will be asking for the recipe and wanting to know what your secret is!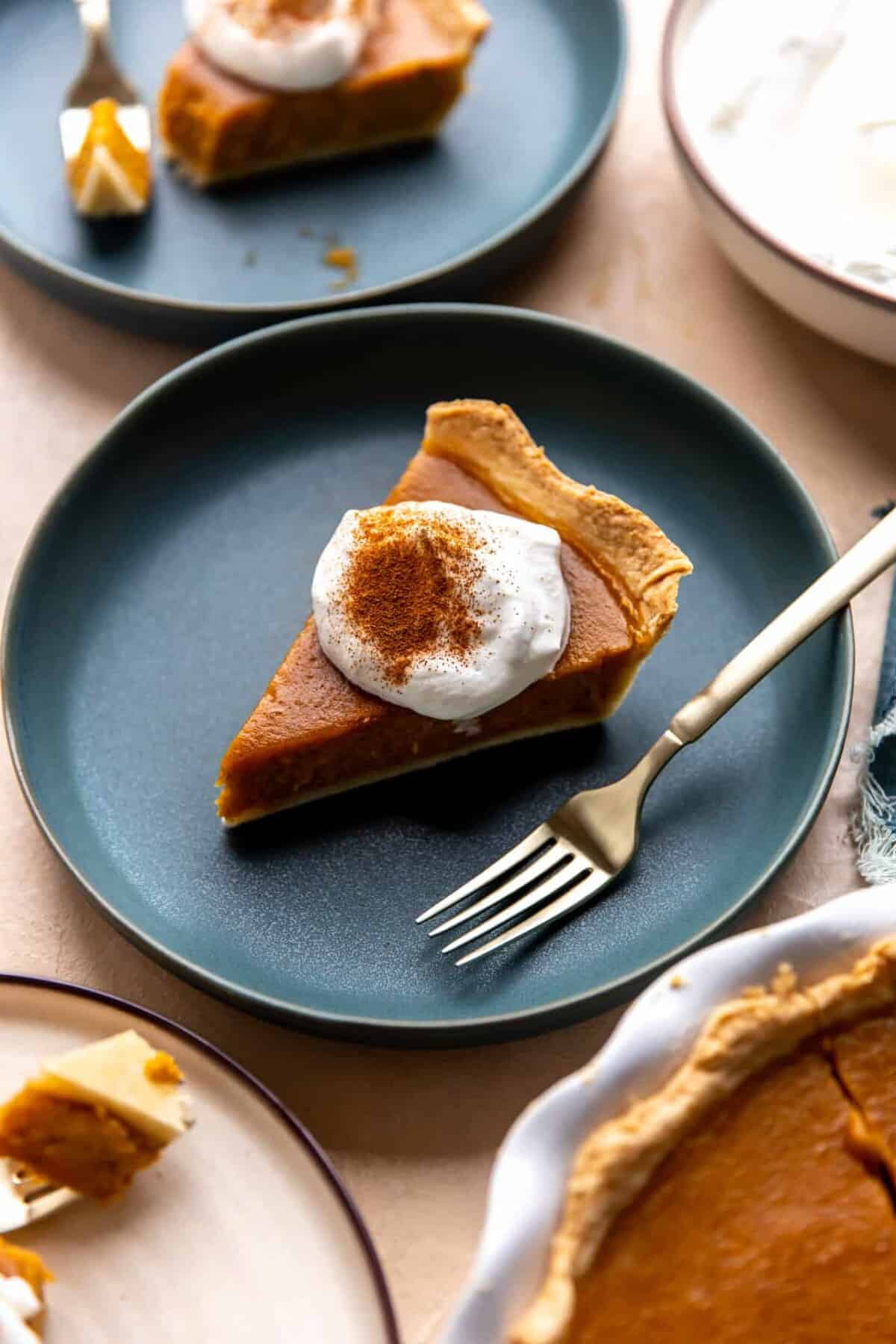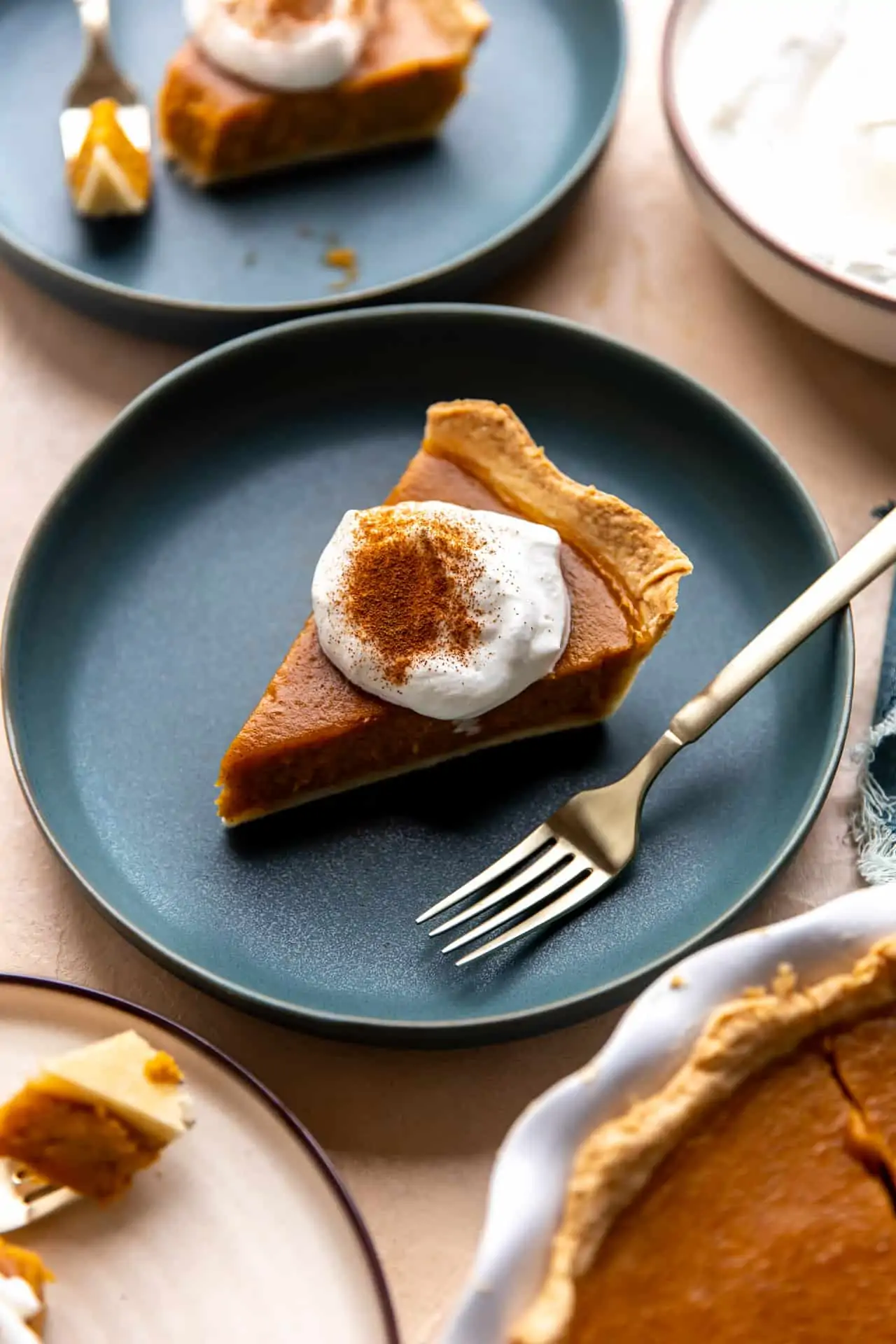 All about this Butternut Squash pie…
I am a HUGE lover of pumpkin pie. BUT! I think I may give it up in favor of this Butternut Squash Pie.
Flavor: Sweet and spicy thanks to the combination of brown sugar, cinnamon, nutmeg and ginger.
Texture: smooth and silky, the resulting texture is similar to what we have come to expect from a pumpkin pie. Adding a small amount of butter to the roasted squash ensures and silky finishing.
Taste: slightly more multi-dimensional than using canned pumpkin.
Ingredients Needed: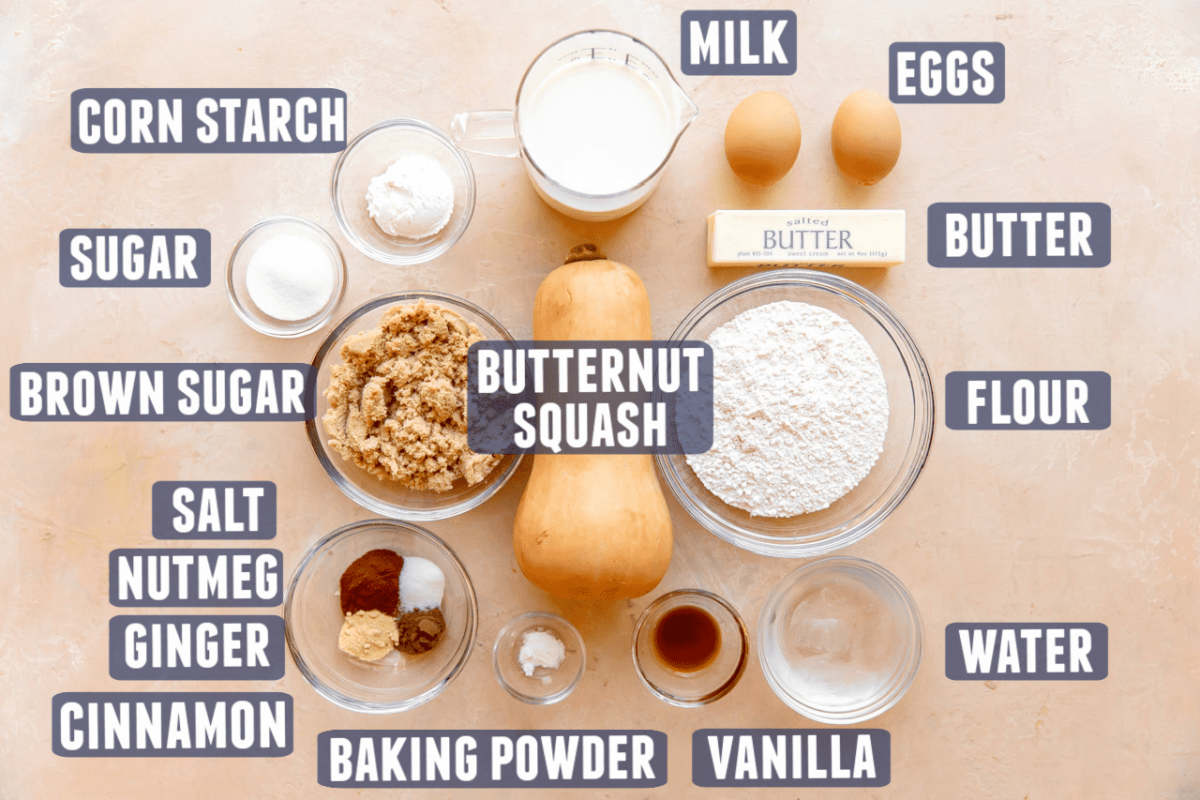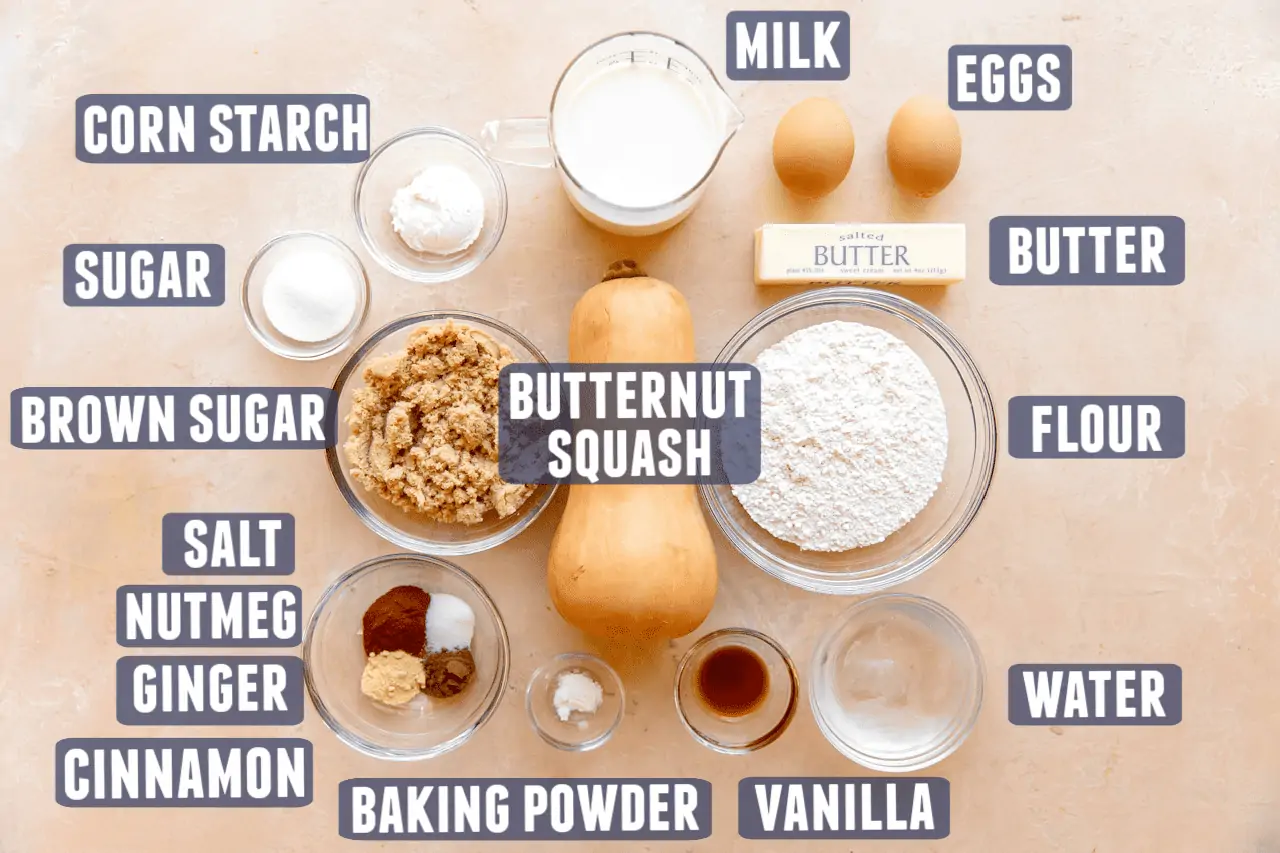 Notes on some ingredients:
Butternut Squash: this recipe can be made starting with a squash and roasting it, or to save time you can buy already cubed squash from the market, or you can find cans of butternut squash puree at some markets (Whole Foods) by where they keep the canned pumpkin.
Milk: use milk of preference.
Eggs: can't be substituted in this recipe, it's required for making the custard like texture of the pie filling.
Pie Crust: included are ingredients and instruction to make my all time favorite All Butter Pie Crust. If needed you can use a pre-made pie crust or use your own preferred recipe.
How to Make (step-by-step):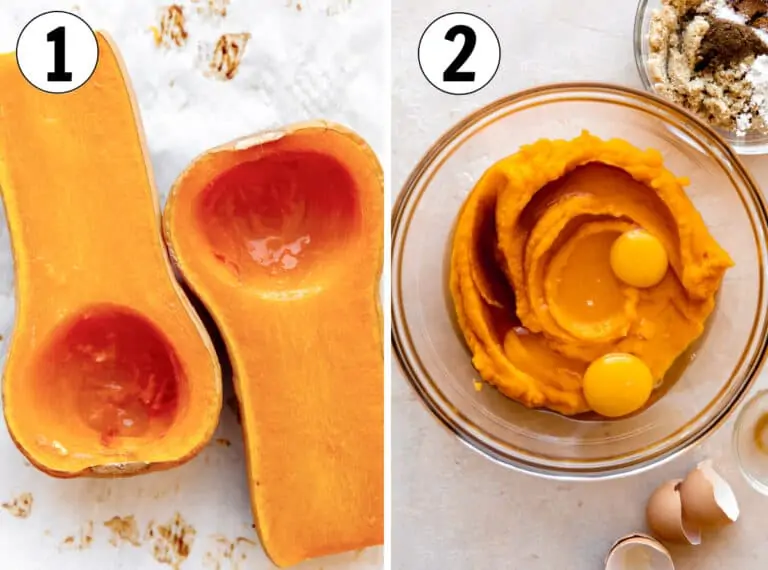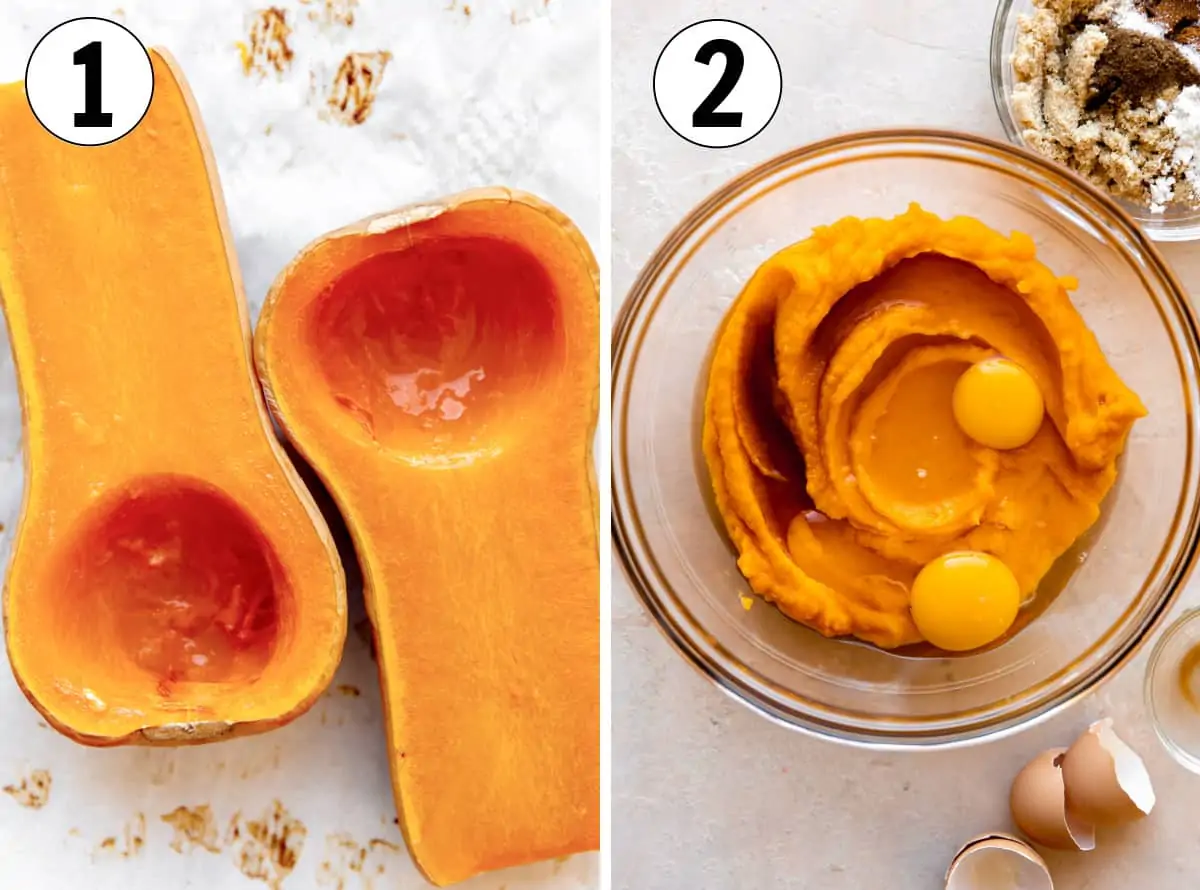 Step 1: Prepare the Squash, notes are included below on making this recipe using pre-cut or canned squash. To make from a whole squash, peel and slice the squash in half, remove the seeds and roast in the oven for 30-40 minutes until softened. Scoop out the squash and blend with butter until smooth.
Step 2: Add eggs and vanilla to the squash mixture.
Step 3: Add sugars, spices and cornstarch to the pie filling. Stir to combine until smooth.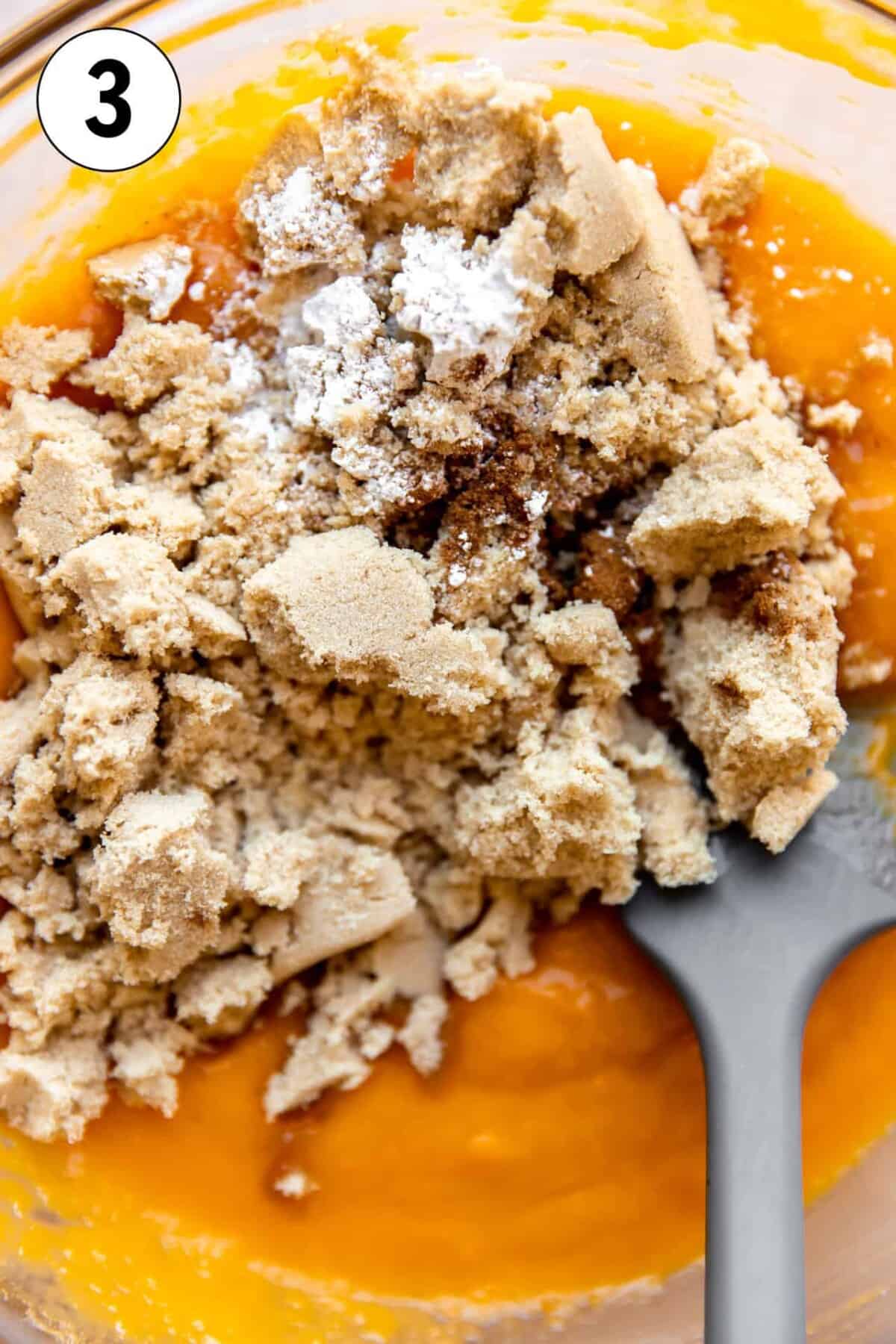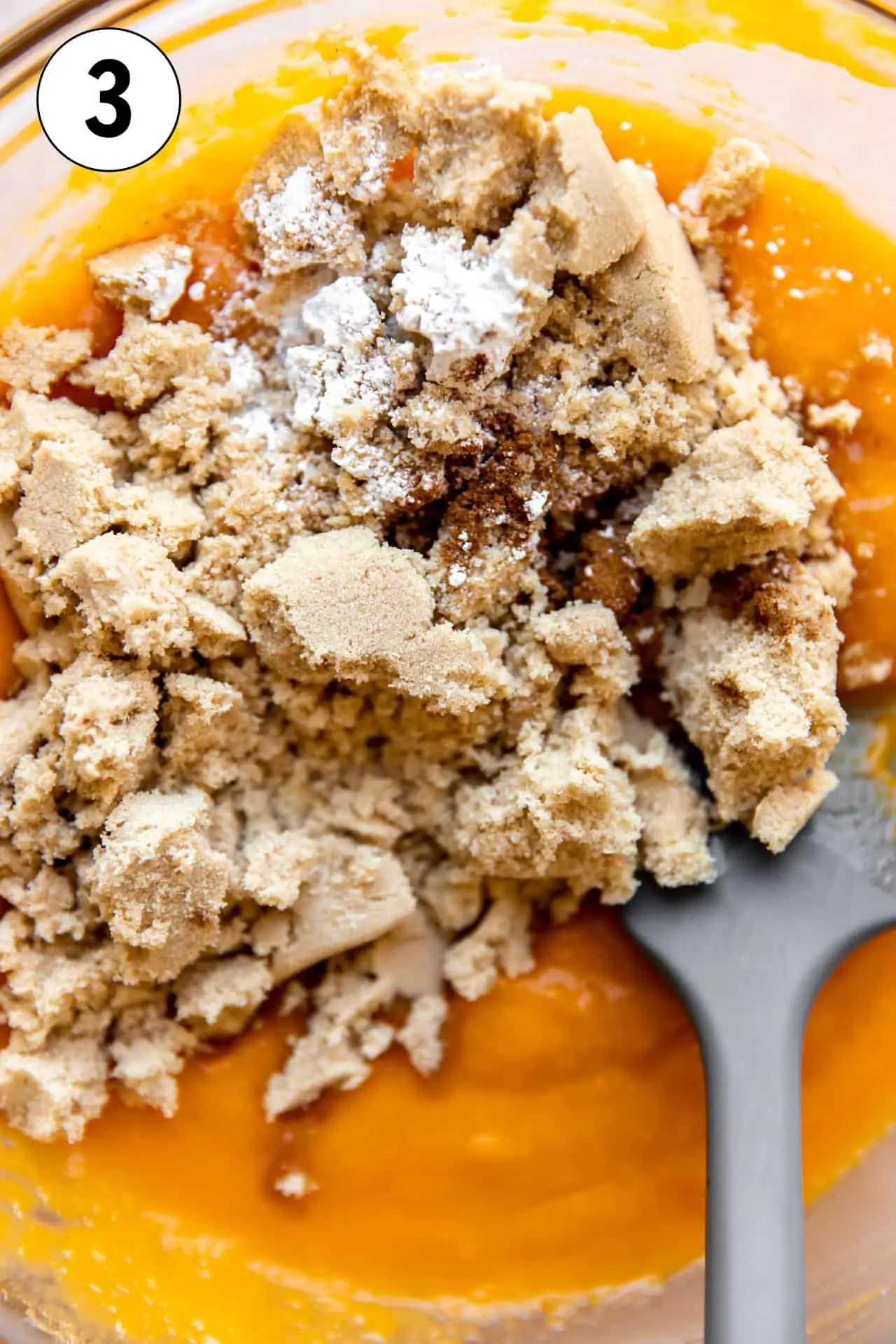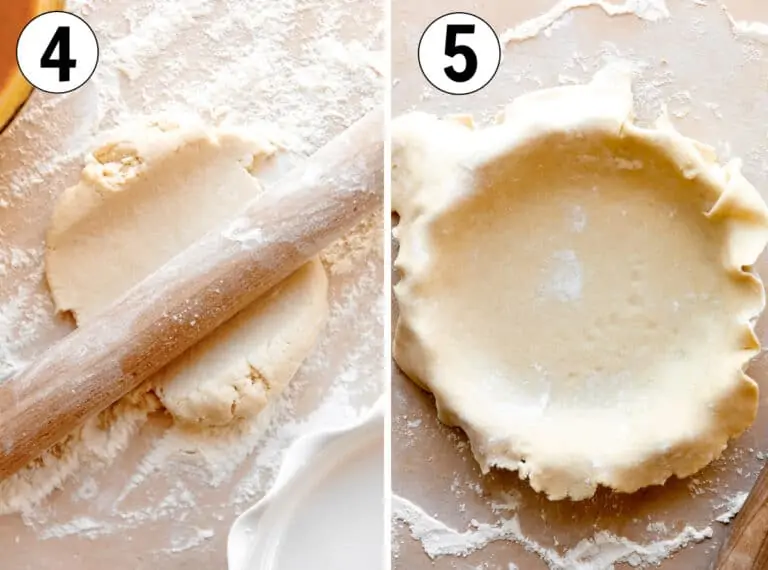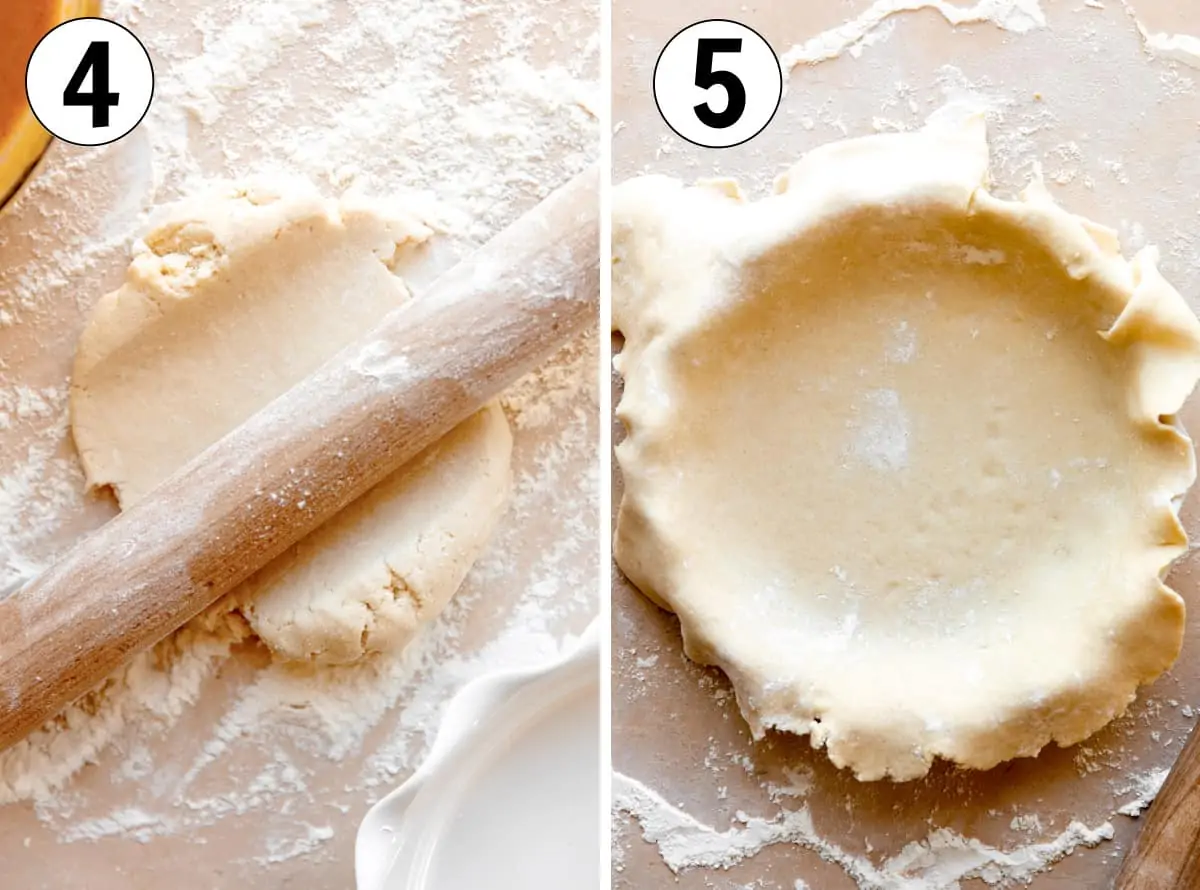 Step 4 & 5: Prepare the pie crust, if making your own my all time favorite All Butter Pie Crust recipe is included below. Roll out the dough and place in your pie dish. Flute the edges in your preferred method.
Step 6: Pour the filling into the prepared pie dish and bake for 1 hour 15-20 mins until filling is set and no longer wobbly in the center.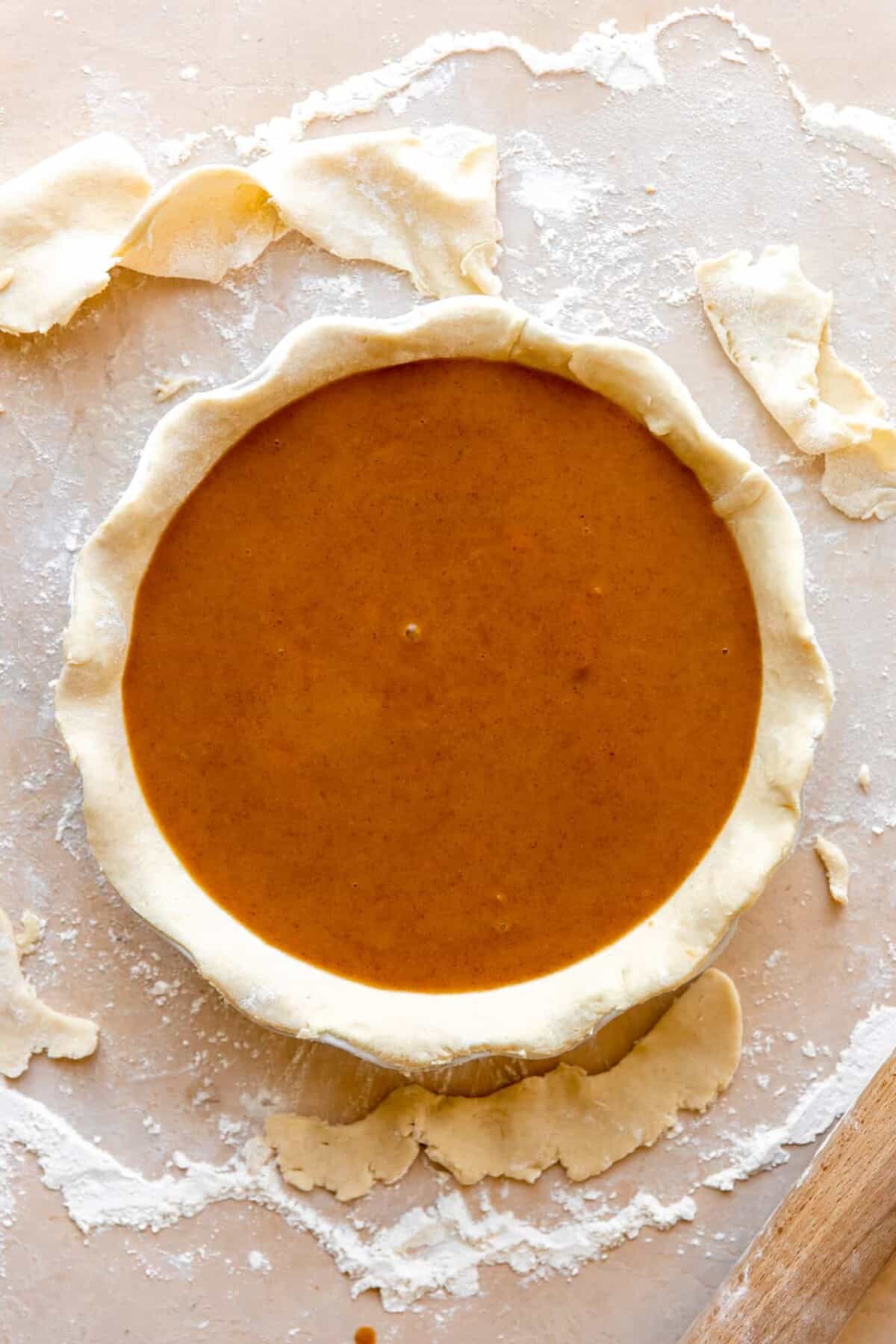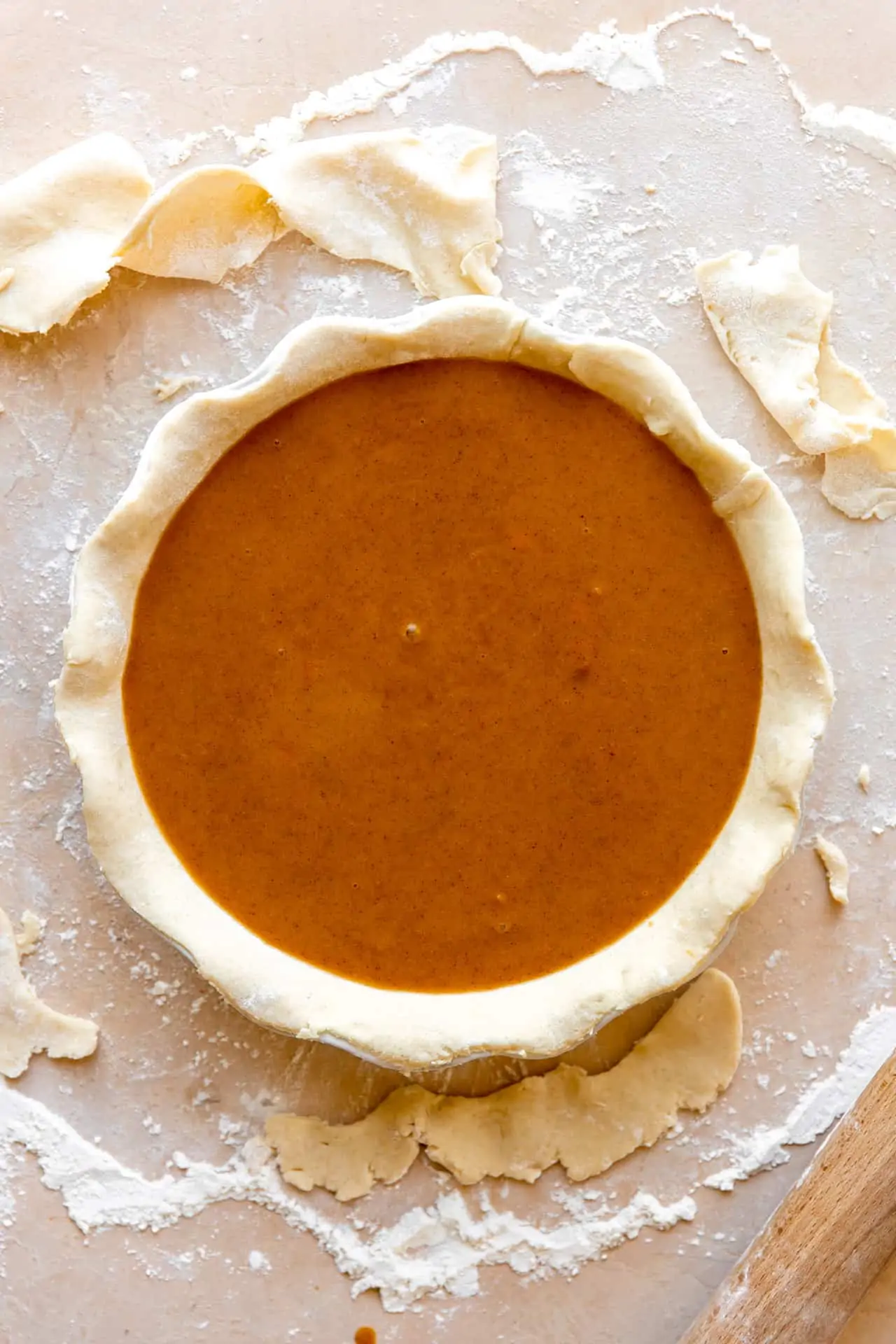 Expert Tips:
Give your pie time to rest: let the pie cool on the counter at room temperature until completely cool before slicing in and serving. If needed prepare the pie the day before you plan on serving it. Especially if making for a holiday meal, this way the pie will be ready to serve when you need it.
Want to decorate the pie? Save the scraps from the pie crust and cut out some small shapes using cookie cutters, and place on top of the pie. Be sure to do an egg wash on the shapes before baking.
If you notice your pie crust browning too much during baking you can use a pie shield to protect the edge of the crust from the heat to ensure a pretty pie with a fully cooked filling.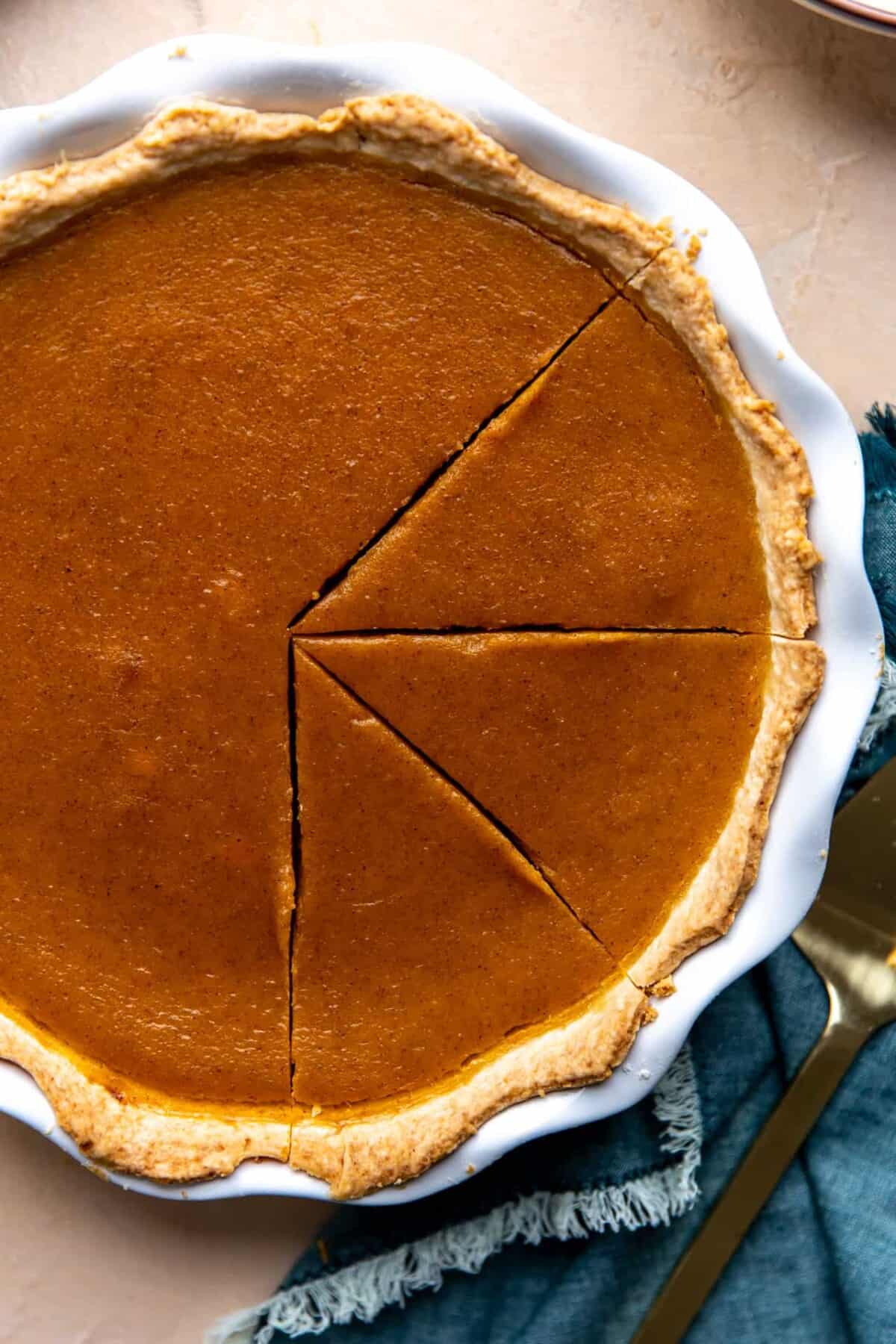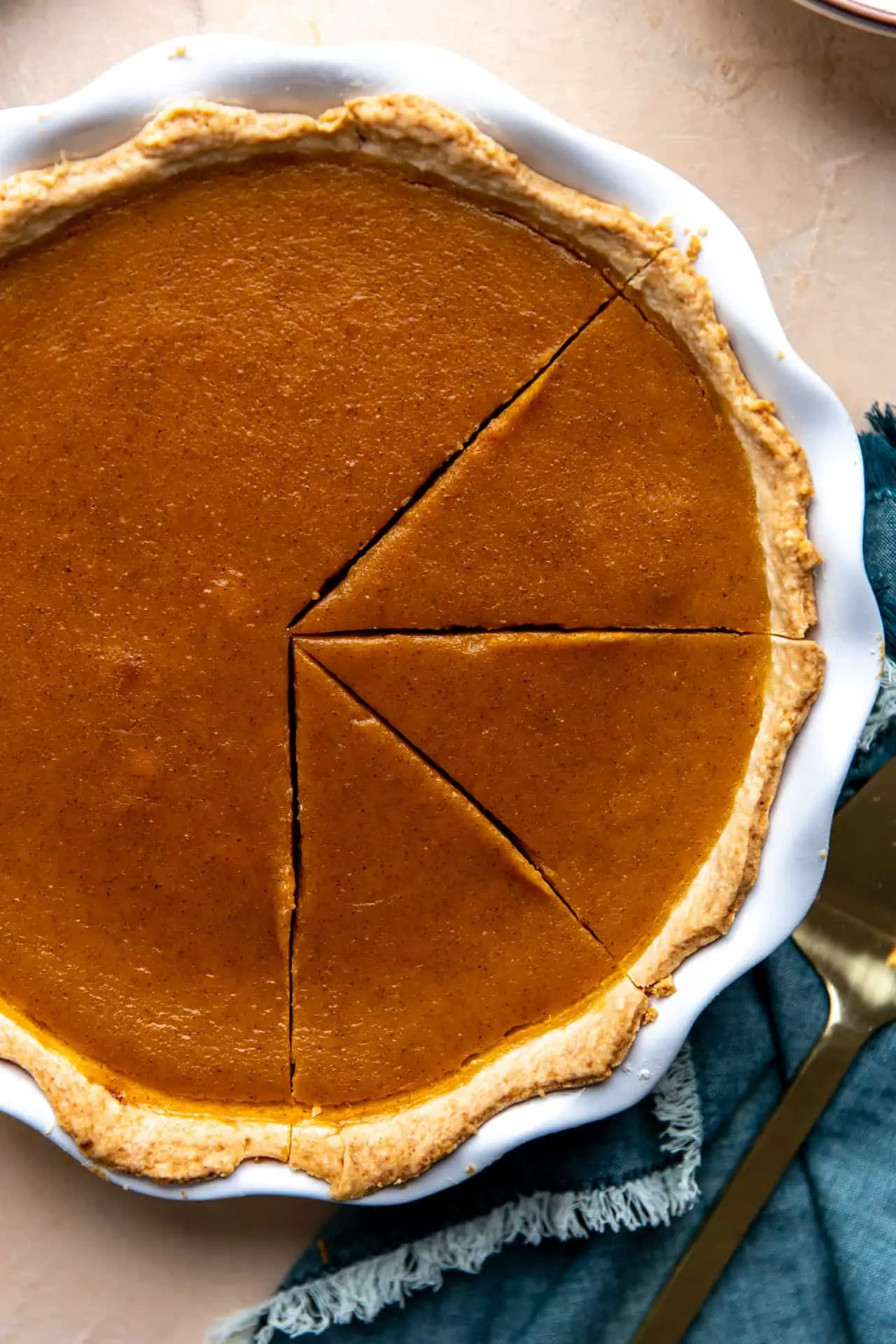 FAQ's:
What spices do I use to make a squash pie?
Some cinnamon, nutmeg and ginger. The ginger is what is going to make this pie pop with flavor.
What is the difference between classic pumpkin pie and squash pie?
America's favorite canned pumpkin is actually made of squash, a variety made specifically for the most popular brand name of canned pumpkin. Which is very similar to the butternut squash itself. The texture of this pie made of squash is very similar to what you may be used to with a pumpkin pie, but the flavoring is more layered.
Why is my pie "weeping"?
If you notice moisture coming out of the top of the pie after baking, this is can happen if the pie is placed in the fridge to cool instead of cooling at room temperature. It can also happen if the pie was overbaked. To fix, simply blot the moisture with a paper towel to remove.
What do I do if my pie cracks?
This can happen due to overbaking, or cooling too quickly in the refrigerator. Simply cover the cracks with whipped cream when serving.
More Holiday Dessert Recipes:
Butternut Squash Pie
Smooth and silky, this Butternut Squash Pie can be made completely from scratch! This pie is sure to the highlight of any Holiday meal, or can be enjoyed anytime throughout the year.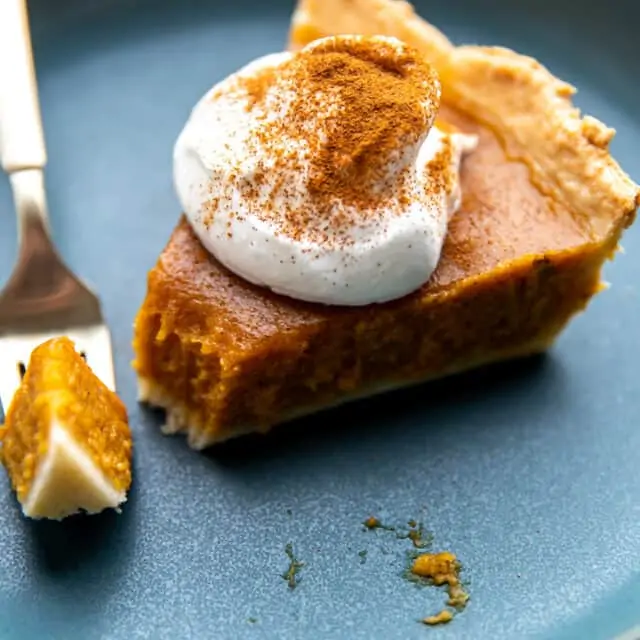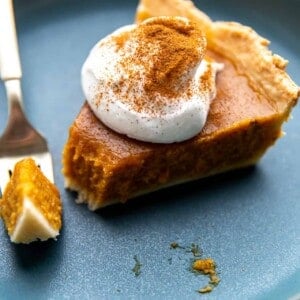 Ingredients
Butternut Squash Puree
1

butternut squash

approx 3 lbs OR 2 lbs diced squash OR 2 cups canned squash puree

1

tbsp

unsalted butter

omit if using canned puree
Pie Filling
2

cups

butternut squash puree

1½

cup

whole milk

2

large eggs

¾

cup

light brown sugar

1

tbsp

cornstarch

1¼

tsp

ground cinnamon

½

tsp

ground nutmeg

¾

tsp

ground ginger

½

tsp

vanilla extract

½

tsp

salt
Instructions
Butternut Squash Puree
If using a whole squash, peel the squash, slice in half, and scoop out the seeds. Bake for about 30-40 minutes at 350 degrees. If using the bags of prepared squash you can heat according to directions on the package.

Once the squash is softened, place in blender or food processor and blend with the butter until smooth and silky.
Pie Filling
Add the 2 cups of butternut squash puree to a large mixing bowl.

In a medium size mixing bowl combine the brown sugar, cornstarch, cinnamon, ginger, nutmeg and salt. Stir to combine.

Add the eggs and vanilla extract to the butternut squash. Stir to mix.

Add the sugar mixture to the butternut squash mixture. Stir to combine.

Slowly add in the milk while stirring. Set aside to prepare the pie crust.
Pie Crust
Preheat oven to 350 degrees

Add the flour, salt, baking powder, and sugar to a food processor. Pulse briefly to combine.

Cut the butter into tablespoon size pieces and add to the dry ingredients in processor. Pulse until combined, will look like a coarse meal.

Add the water one tablespoon at a time, pulsing in between. Stop adding water when the pie dough starts to clump together. Pulse until you have a ball of dough.

Spread flour onto a clean, flat work surface. Remove the dough from the processor and place in the flour. Carefully work the dough until it is a smooth ball. Flatten gently to form a disc shape.

Spread flour on a rolling pin and roll the dough out into a circle shape to fit into a pie dish.

Carefully fold the dough over your rolling pin and lift off the counter, place in the pie dish. Flute the edge as desired and remove any excess pie crust.

Bake for about 1 hour 15-20 minutes until the center is no longer wobbling, and a knife inserted in the center comes out clean.

Serve with fresh whipped cream on top and enjoy!
Notes
Butternut Squash:
Whole Butternut Squash: For this recipe you will want a butternut squash that is approximately 3 pounds.
Pre-Cut Butternut Squash: this can typically be found in most markets, in the produce section. This squash has already been peeled and chopped saving time. Simply spread this squash out on a baking sheet and bake to roast. Or you can toss into a steamer or large pot with a little water until warm and soft and then you're done.
Canned Butternut Squash Puree: I know I have seen canned butternut squash puree in Whole Foods, right next to the canned pumpkin.
Storage & Freezing:
Storage: After baking, let the pie cool down to room temperature. If you are going to be enjoying it that same day you can leave it on the counter. If storing the pie, cover loosely and place in the refrigerator. This pie can be kept in the refrigerator for 3-4 days.
Freezing: After baking, allow the pie to cool completely. Wrap in plastic wrap to ensure a nice tight seal. Then wrap a layer of foil to protect against freezer burn. Store in the freezer for 1 month. To thaw, remove the pie to the refrigerator overnight before serving.
Nutrition
Serving:
1
|
Calories:
428
kcal
|
Carbohydrates:
76
g
|
Protein:
5
g
|
Fat:
13
g
|
Cholesterol:
78
mg
|
Sugar:
58
g
Nutrition information is automatically calculated, so should only be used as an approximation.
Like this? Leave a comment below!
Recipe first published November 4, 2016. Updated November 5, 2021 with new images and information. Recipe remains unchanged.
Photography by the talented @KJandCompany.co