Easy Butter Pie Crust. This is the ONE and ONLY pie crust recipe you need. This crust mixes together quick and easy, rolls out perfectly, and bakes up tender and flaky. Once you try a homemade butter pie crust you will never want another kind!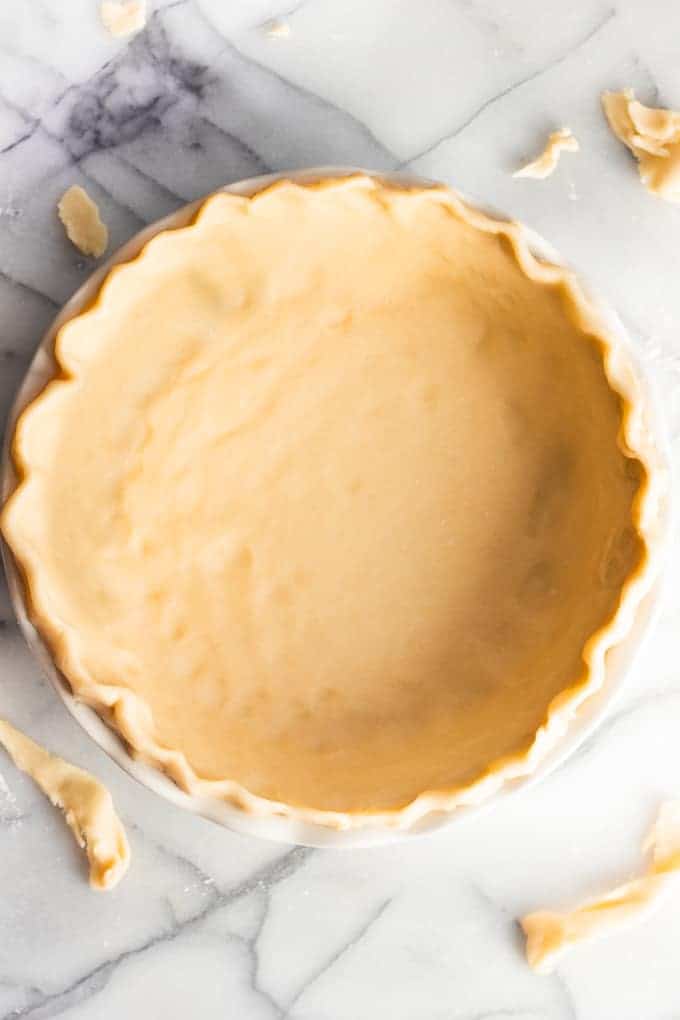 This is the pie crust that I grew up eating. This is the same recipe that my mom always used. This is one of those recipes that is classic and unchanged because it's simply perfect. I will admit to enjoying some modern technology in my method of mixing up the pie dough though. Which is something else my mom taught me.
To be honest, pie crust was always one of those recipes that intimidated me. One that never turned out when I attempted it on my own. Once I had my mom make it with me though, I feel I have mastered it! And I can't wait to share it with y'all.
How to Make Flaky Butter Pie Crust:
Combine the flour, salt and baking powder in a food processor. Give it one to two pulses to mix the dry ingredients.

Add in COLD butter that has been cut into small squares. Pulse the food processor until the butter is incorporated into the flour. It will look as though it's just flour in the processor.

(Image below is how it will look!)
Slowly add in the ICE WATER. Start with 2 tablespoons, pulse until mixed. Add in the 3rd tablespoon and mix. Once the dough comes together and forms a ball in the food processor then stop, the pie crust dough is done.

Sprinkle clean countertop with a small amount of flour. Then rub your floured hands up and down the rolling pin. Place the pie crust dough on the floured countertop and roll out the crust to about a 1/4 inch thickness.
Gently roll the pie crust around the rolling pin and lay the crust in a pie dish.
Cut off the excess pie crust dough and flute the edges. Here's some instructions on fluting, and making other decorative edges.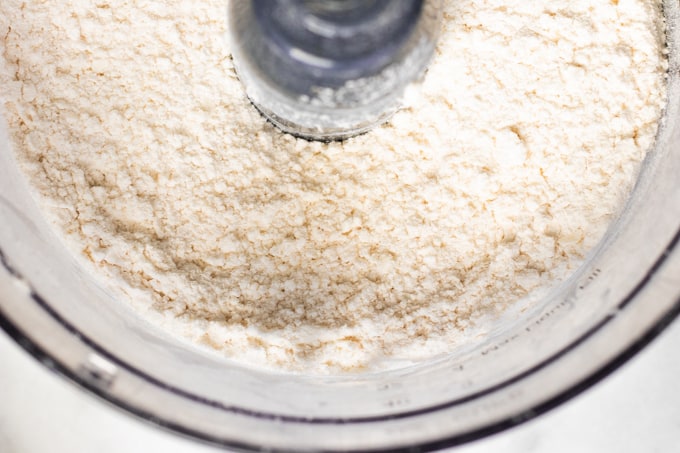 Why Use Cold Ingredients for the Pie Crust?
There is a reason that the ingredients and instructions for this pie crust recipe state COLD. We want to keep our fat, in this case the butter, cold so that the crust is cold when it goes into the oven. As the butter warms in the oven it will create steam, separating the crust into flaky layers.
If we use warm butter or use warm water that warms the butter before baking, our crust will end up hard and crunchy.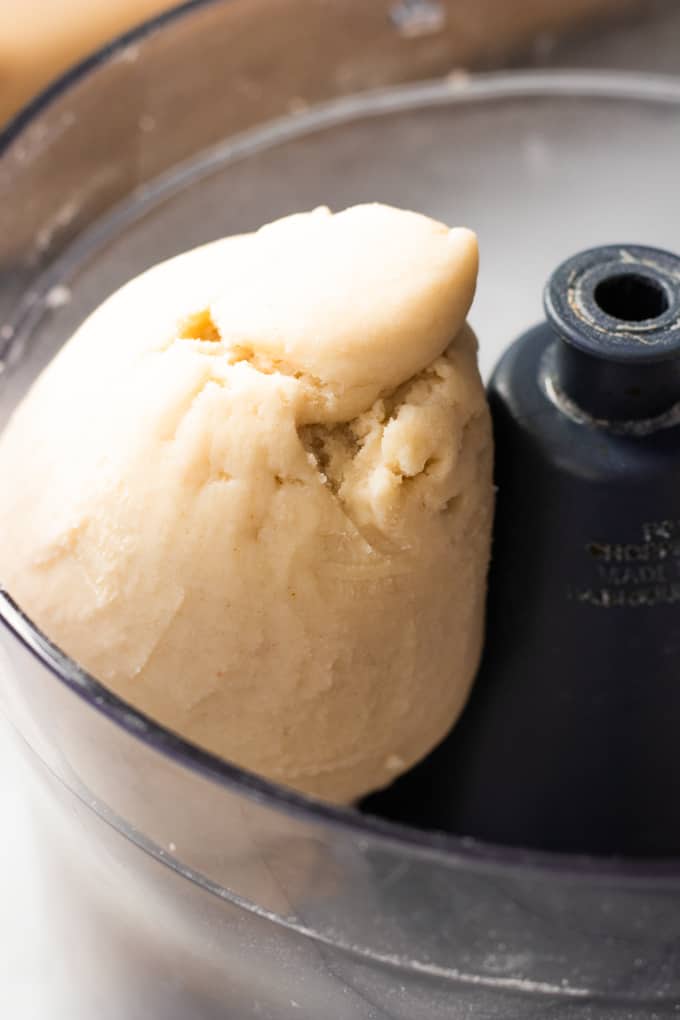 Vodka in pie crust?
If you have been researching how to make a pie crust I'm sure you've come across this tip at some point in time.
This is a tip that comes from the cooking geniuses at Cook's Illustrated. Their instructions state that 40% of a pie crusts moisture should come from cold vodka. The claim being that this ingredient will help the crust bake up flaky and tender.
Personally I have no issues with this recipe and these instructions not producing that on it's own. But if you want to give it a try as extra insurance, you would want to to 1 and 1/2 tablespoons ice cold water and 1 and 1/2 tablespoons cold vodka.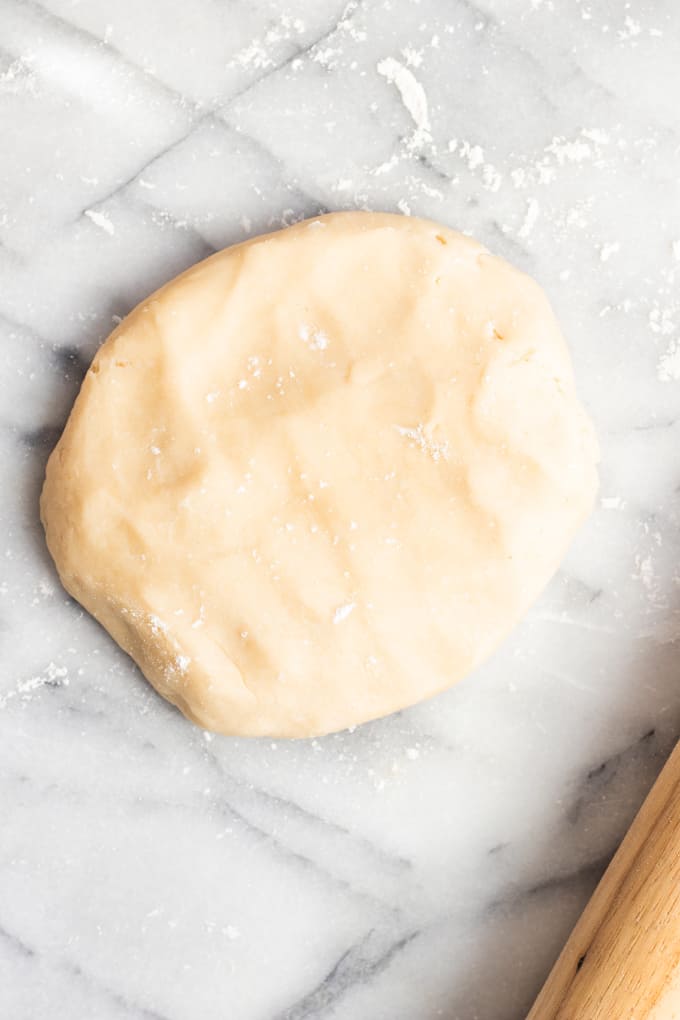 Chilling Pie Crust before baking?
Again, this is something I have seen in other recipes and tutorials. I bake this pie crust immediately after I make it. I will prepare my pie filling first. Then the pie crust so that my pie crust is fresh. Or if I make my crust first I will simply stick the dish with the pie crust in it, in the refrigerator while I make my filling.
Chilling the crust is not a necessary step unless you are not planning on baking the pie right away.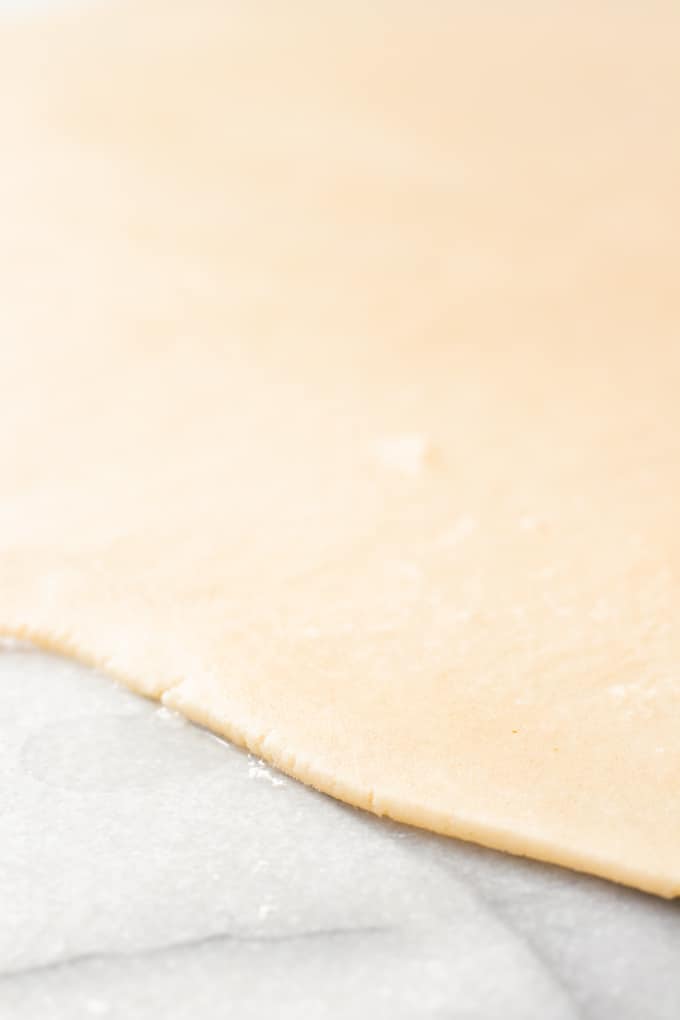 What size pie dish is this pie crust recipe for?
This pie crust recipe makes the perfect amount for a 9 inch pie dish (affiliate link) I do also have a deep pie dish that this crust recipe works with.
If you want to be a rockstar, you could always make a double batch of the pie crust recipe. Then once the pie is made and you have leftover pie crust. Simply cut it up, placing the crust pieces on a large baking sheet, sprinkle with white sugar and bake. Then you have crust cookies!! My mom always did this so I could have a sweet snack while she made her pies. The pies would be saved for later in the day, but the cookies were fair game to enjoy fresh from the oven! The buttery, flaky cookies topped with sugar are a simple, easy treat that I looked forward to every holiday.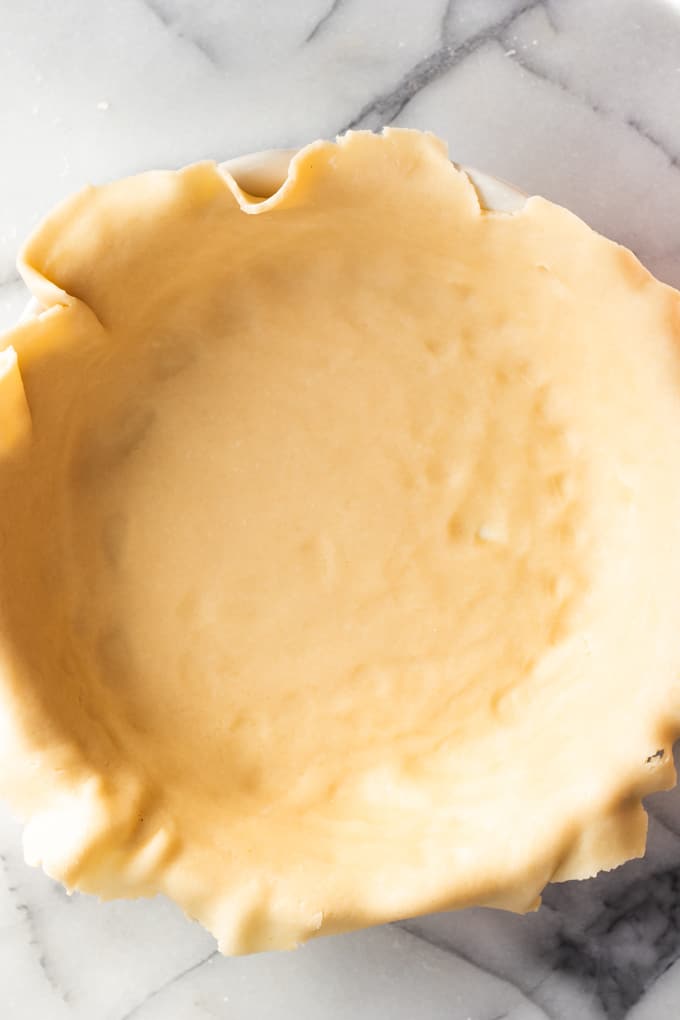 Blind Baking a Pie Crust:
Sometimes you will come across a recipe that needs a pre-baked pie crust, like my quiches. To do this we need to fill the pie with something. Either pie weights (affiliate) or you can use dried beans. Just make sure you set the beans aside and store for future blind baking, since you won't be able to cook and eat them after this. The weight is to help the pie crust hold it's shape while baking.
To blind bake, preheat the oven to 350 degrees. Prepare the pie crust. Line with parchment paper, fill with weights or beans. Bake the pie crust for 20 minutes, then remove the parchment paper and the weights and bake for another 10 minutes. Then the pie crust will be baked and you can use for whatever recipe you are making.
Personally I do not poke holes in my pie crust when I do this because I usually use this method when I make quiche, and the runny filling goes right through those holes and makes a mess. I don't find that holes are necessary as long as the weight is in the pie crust for baking.
What happens if my pie crust is getting too dark and my pie isn't done?!
This is a common problem that can occur if you have a pie that needs to bake a long time, like a pecan pie. The pie crust can brown and look like it might burn before the pie is done.
To prevent this you can use a pie shield (affiliate link). This is designed to go around the pie crust leaving the center of the dish open so that the pie continues baking. Or you can do your best to cut strips of foil out and carefully place them along the edge of the pie to cover the crust. This can be tricky though and having a pie shield on hand if needed is very helpful.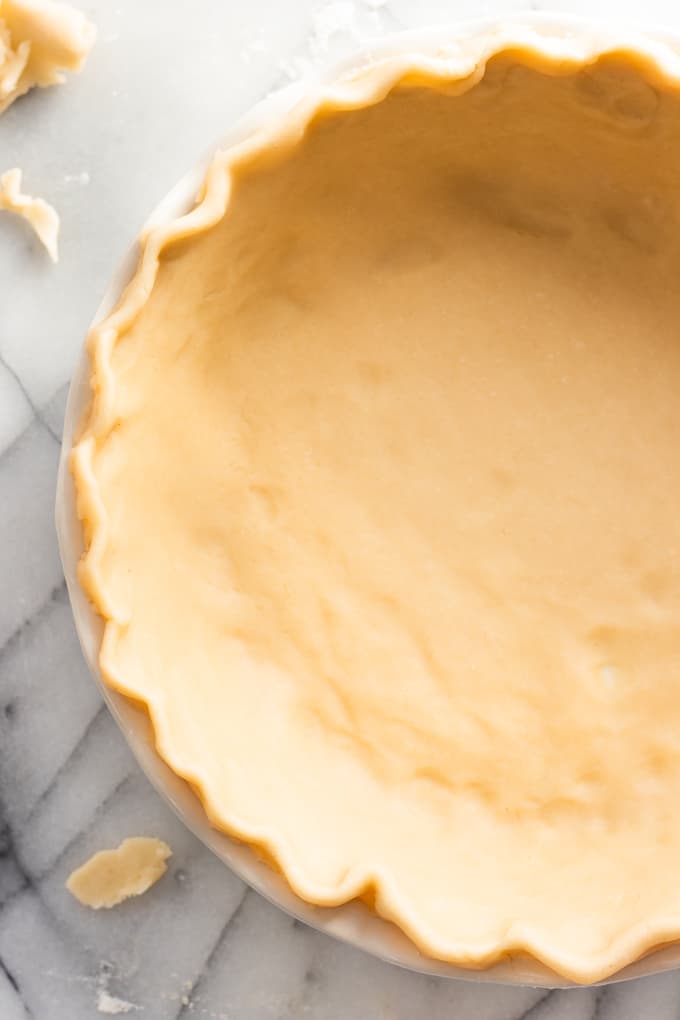 Recipes that use Pie Crust:
Easy Butter Pie Crust
Easy Butter Pie Crust
. This is the ONE and ONLY pie crust recipe you need. This crust mixes together quick and easy, rolls out perfectly, and bakes up tender and flaky. Once you try a homemade butter pie crust you will never want another kind!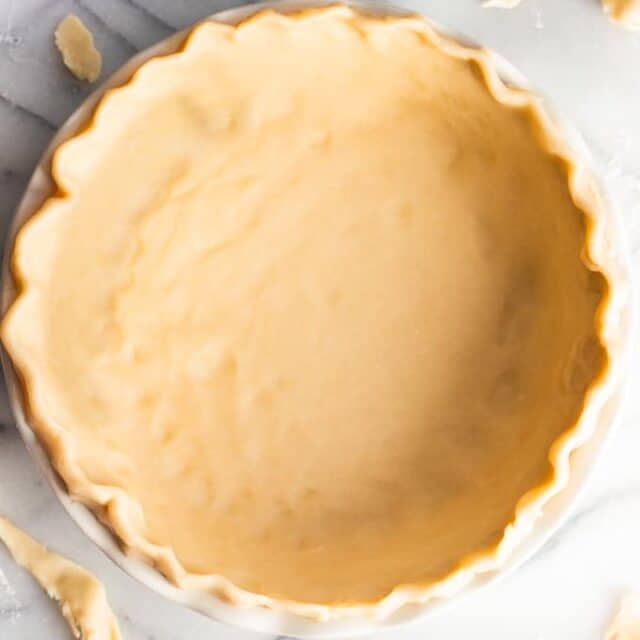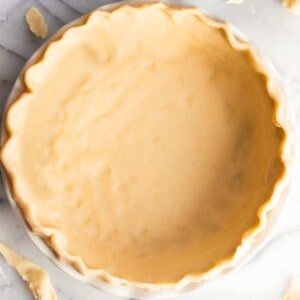 Instructions
In a food processor add the flour, baking powder, and salt. Pulse just to mix.

Slice the cold butter into tablespoon size slices, add to the food processor. Pulse until combined together.

Add in two tablespoons of cold ice water, pulse and check consistency. Add water slowly and pulsing the food processor until the dough clumps together. (check pictures above to see what it looks like).

Sprinkle a small amount of flour on a clean, flat work surface. Remove the dough from the processor and place on the counter. Gently shape the dough into a circular disk

Using a rolling pin lightly sprinkled in flour roll out the dough into a large circle shape, about 1/4 inch thick.

Carefully lift the pie crust and place in a glass 9 inch pie dish. Cut off the excess crust and crimp or flute the edge of the crust using your fingers.

Either blind bake or fill with pie filling and bake according to recipe.
Notes
Make Ahead Instructions: this pie crust can be made ahead of time, formed into a disk shape and wrapped in plastic. Place this in a freezer bag and store in the freezer for up to 3 months. You could roll the pie crust and place in a pie dish and freeze this way also, it just takes up more space in the freezer. NOTE: This recipe is for 1 pie crust. IF you are making a pie requiring a crust on the top also, you will need to double this recipe.
Nutrition
Serving:
1
|
Calories:
159
kcal
|
Carbohydrates:
12
g
|
Protein:
2
g
|
Fat:
12
g
|
Cholesterol:
31
mg
Nutrition information is automatically calculated, so should only be used as an approximation.
Like this? Leave a comment below!