Baked Macaroni and Cheese. This classic recipe is creamy, cheesy, and baked to get that crispy cheese coating on the top. This dish is sure to be a highlight! Serve as an easy family dinner, or as a side dish for a holiday meal, or with BBQ! Macaroni and Cheese is one of those classic comfort foods. And this easy to make dish is as uncomplicated as it gets. Basic ingredients, easy steps. This macaroni and cheese recipe is sure to please the whole family, even the pickiest of eaters. This baked macaroni and cheese is the real deal. Made with real cheese. Real ingredients.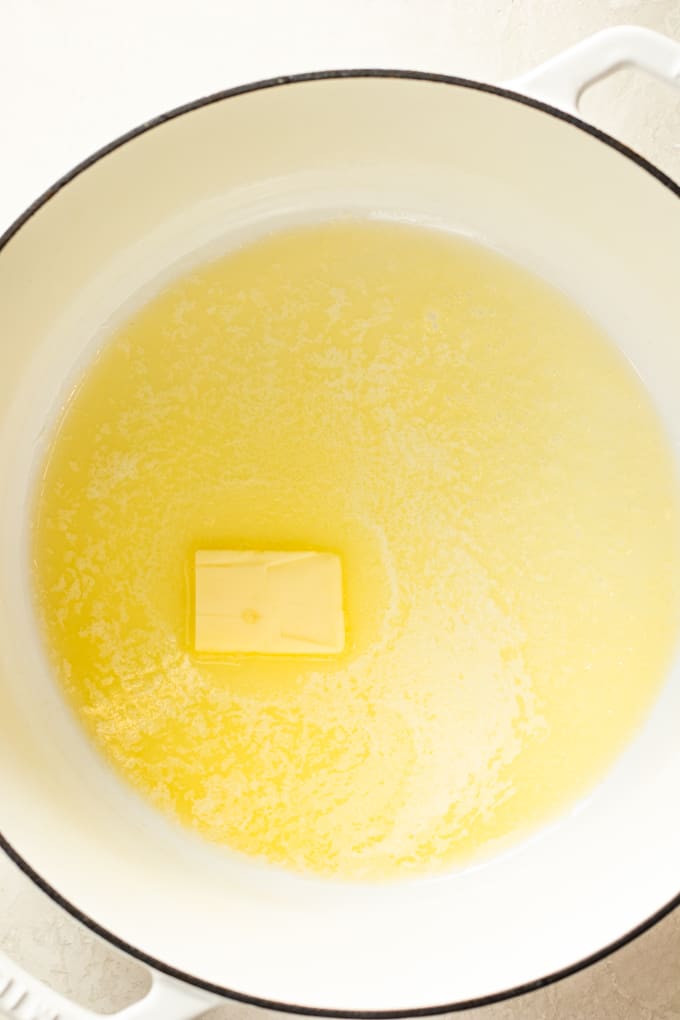 How to Make Homemade Macaroni and Cheese:
Boil the noodles. Bring a large pot of water to a boil. Salt the water really well. Add the noodles and cook until just before al dente. The noodles need to have some bite so they don't turn to mush while baking in the sauce later.
Make the cheese sauce. The cheese sauce is made by mixing flour and seasonings into melted butter. Whisk in some milk and cook until nice and thick. Once removed from the heat, add in the cheese and cream cheese.
Bake. This helps the cheese bake into the macaroni noodles. A couple minutes under the broiler gives a nice crisp cheese topping.

Homemade Macaroni and Cheese Ingredients:
Butter
Flour
Milk (I recommend using whole milk, but you can use any milk you prefer. You can also use some half and half or cream to make it even more creamy.)
Cheese (Traditionally Sharp Cheddar is used. But can use any type of cheese you prefer that melts nicely.)
Cream Cheese: I use this to help make the cheese sauce a bit creamier and a little more stable, not as likely to break when reheated and the macaroni and cheese reheats nicer, it's not as greasy.
Seasoning: garlic powder, onion powder, ground mustard, salt and pepper.
Elbow Noodles: I typically use small elbow noodles, but you can use large also.

Why Bake Macaroni and Cheese? And Do I Have To?
No. You don't have to bake your macaroni and cheese.
The reason why I love to bake macaroni and cheese is to get that crisp baked cheese layer on top. It's my favorite part!
Do you have to bake your macaroni and cheese? No. But you would need to adapt this recipe slightly so that you don't have as much sauce.
We're making this macaroni and cheese VERY saucy, since it will be baked, which makes the noodles absorb more of the sauce than a typical stovetop recipe.
Or you could simply add more noodles. This amount of sauce works perfect for 12 ounces of macaroni noodles if you're interested. Otherwise, your macaroni will drown in all that cheese sauce.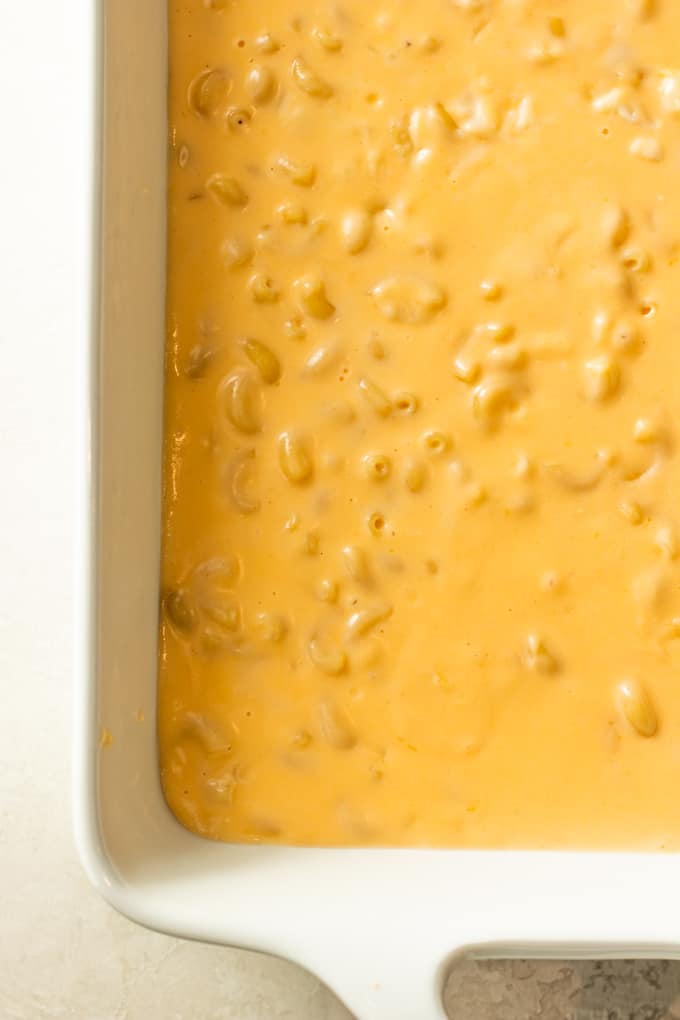 Can I make this Macaroni and Cheese Recipe Ahead of Time?
Yes! To make this baked macaroni and cheese recipe ahead of time, simply follow the directions up until baking!
Instead of placing in the oven to bake, let the dish cool to room temperature, cover the dish and place in the refrigerator.
This macaroni and cheese dish can be stored in the refrigerator 24 hours before baking. After that I find that the noodles absorb too much of the cheese sauce and the dish comes out dry after baking.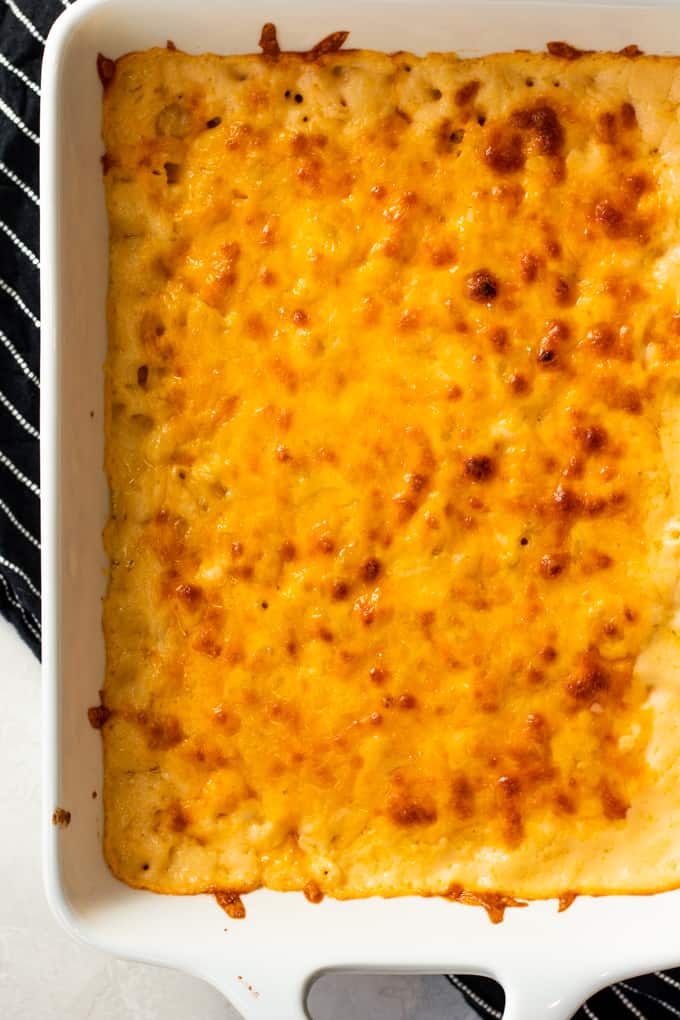 How to Store Macaroni and Cheese:
After baking, this baked macaroni and cheese can be stored in the refrigerator covered for 3-4 days.
When reheating, the best option is to heat in the oven. Preheat the oven to 375. Bake in a buttered or lightly oiled baking dish, covered with foil, for about 15-20 minutes until heated through.
I do not recommend freezing this dish since the sauce can separate and be temperamental when trying to reheat.

Tips for making the BEST Homemade Macaroni and Cheese:
Pick a noodle that has plenty of shape to hold in all the cheesy sauce! My favorite options include elbow macaroni and shells.
Salt the water when boiling the noodles. This helps give some more flavor to the pasta dish. I once heard that your pasta water should be as salty as the ocean. So put a generous helping in there.
Don't overcook the pasta! We don't want mushy noodles. Typically pasta would be cooked to al dente, where there's still a small amount of bite left in the noodle. But since we are baking this macaroni in a cheese sauce as our last step, we want to stop cooking just before al dente, so they will have more bite to them than you would typically want in your pasta noodles. Once the noodles have cooked to where you want them, strain and pour cold water over the pasta to stop them from continuing to cook.
Don't use pre-shredded cheese. Pre-shredded cheeses are not my favorite for making cheese sauces. Most of those cheeses will have a powder on them that can affect the way it melts and the texture of the sauce at the end. Take the time and grate your own cheese.
Use the cheese you prefer, or even a blend of cheeses! I love going with a traditional sharp cheddar in my macaroni and cheese. But you can easily do a blend of cheeses. Just make sure they melt nicely. Some options would include: Gouda, Gruyere, Monterey Jack or Parmesan.
Add your own favorites! Want to add to your Macaroni and Cheese? You absolutely can make this dish your own. Some great options for adding in would be: bacon, ham, broccoli, mushrooms, jalapenos, caramelized onion. To add anything, simply cook it before hand, or saute the veggies. Pat them dry to remove any excess moisture. And stir into the macaroni before baking.
Serve this Baked Macaroni and Cheese with:
BBQ: (Brisket, Smoked turkey, Grilled Tri Tip, Blue Cheese Coleslaw)
Holiday Meals: (Smoked Turkey, Julia Child's Deconstructed Turkey, Stuffing, Mashed Potatoes, Green Bean Casserole, Brussels sprouts Salad)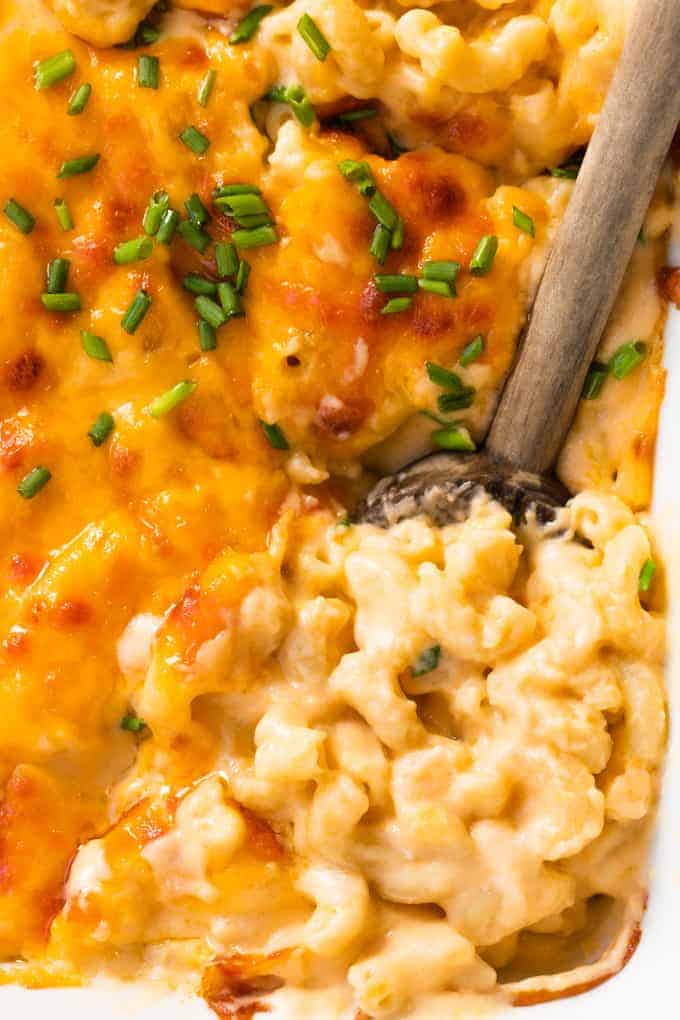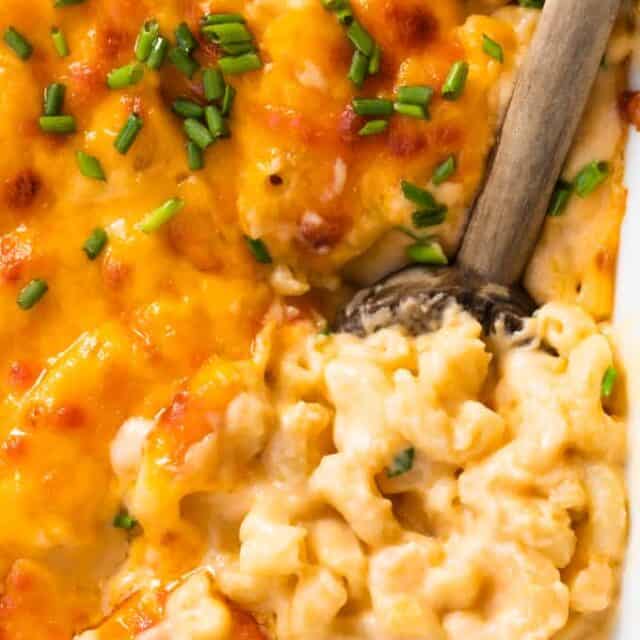 Baked Macaroni and Cheese (The Easiest Recipe!)
Baked Macaroni and Cheese. This classic recipe is creamy, cheesy, and baked to get that crispy cheese coating on the top. This dish is sure to be a highlight! Serve as an easy family dinner, or as a side dish for a holiday meal, or with BBQ!
Ingredients
3 tablespoons unsalted butter
1/4 cup all purpose flour
1 teaspoon salt
1/4 teaspoon ground white pepper
1/4 teaspoon ground mustard
1/2 teaspoon garlic powder
1/2 teaspoon onion powder
3 cups milk, whole milk or milk of preference
3 cups sharp cheddar cheese, shredded (divided)
2 ounces cream cheese
8 ounces elbow noodles
Instructions
Preheat oven to 350℉ degrees.

Bring a large pot of water to a boil. Once boiling add about 1 tablespoon of salt. Stir. Pour in the elbow noodles. Let cook for several minutes, stirring occasionally. Cook until the noodles are just before al dente.

Pour the noodles into a strainer in the sink, run cold water over the noodles to stop further cooking. Pour noodles back into the pot and set aside. If noodles start sticking you can drizzle a small amount of olive oil.

In a large skillet or pot, melt the butter over medium heat.

Whisk in the flour and seasonings (salt, pepper, ground mustard, garlic powder and onion powder.)

Let cook for 2-3 minutes to cook the flour.

Whisk in the milk. Continue stirring while cooking over medium heat until the mixture is thick. (5-7 minutes)

Remove from heat and add in 2 cups of shredded cheese and the cream cheese.

Stir while the cheeses melt.

Add the macaroni noodles to the sauce. Stir to combine.

Pour into a baking dish. Top with remaining 1 cup of cheese.

Bake at 350 for 10 minutes, until sauce is bubbling.

Turn on broiler and broil the macaroni and cheese for another 2-3 minutes until the top is golden brown and crispy.

Remove from the oven. Let cool briefly before serving.

Serve warm and enjoy!
Nutrition
Serving: 1, Calories: 263kcal, Carbohydrates: 8g, Protein: 9g, Fat: 13g, Cholesterol: 39mg, Fiber: 1g, Sugar: 5g
House of Yumm is a participant in the Amazon Services LLC Associates Program, an affiliate advertising program designed to provide a means for us to earn fees by linking to Amazon.com and affiliated sites.