Texas Kolaches! A hearty breakfast pastry made with a fluffy, sweet breading around a cheese filled sausage. Skip the donut shop and make your own at home!
Kolaches:
Texas Kolaches are a hearty breakfast pastry found at most donut shops around the great state of Texas. They are made with a light, fluffy yeast dough that surrounds a sausage. Typically cheese and jalapeno are included.
These pastries came to Texas by way of Czech immigrants. And while most Texans will call one of these a KOLACHE (Kol-ah-chee), Czech Texans will be quick to point out that this name refers to the sweet pastry, filled with fruit jellies. While the sausage variety is technically called a Klobasnek. The donut shops still list these as Kolaches, and if you order a Sausage Kolache, this is exactly what you will get
How to make:
Make the dough: this recipe involves yeast, so it will need time to proof and rise. Place the dough in a draft free place to double in size before moving on to the next step.
Separate the dough and press out to the size of the sausages being used.
Roll the sausage. Then place on the baking sheet making sure to leave space between the rolls. Let these rise again before baking.
Brush with an egg wash before baking to help give a golden, flavorful crust on the top.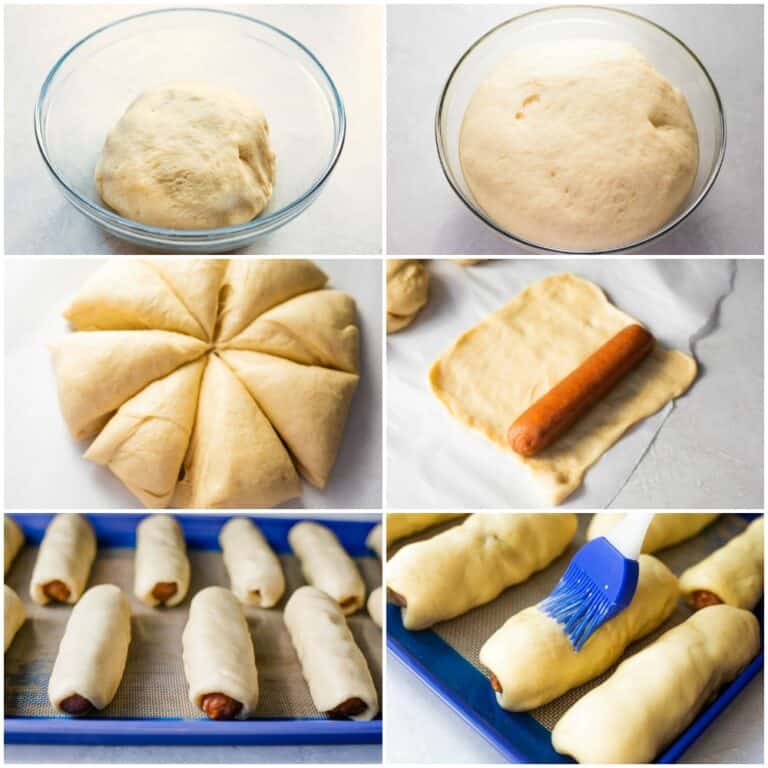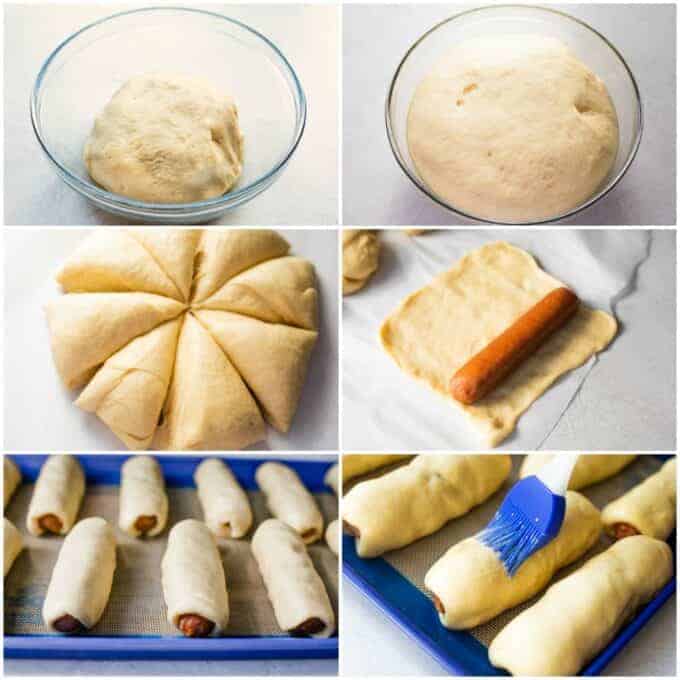 Important Notes:
This recipe uses full sized sausages, the size of hot dogs. The images show cheese filled sausages. You can use any kind of sausage you prefer. Cheese filled, or cheese and jalapeno are very popular options.
Other popular additions would be to place sliced jalapeno on the top of the dough before baking.
Best served fresh, although they can easily be reheated.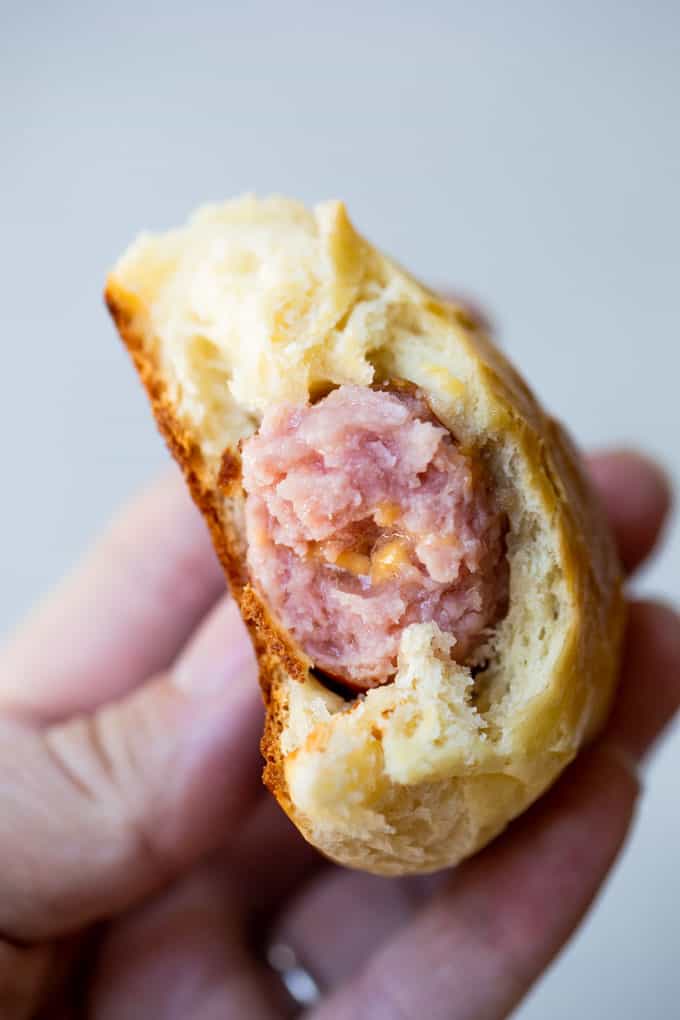 Other Breakfast Recipes: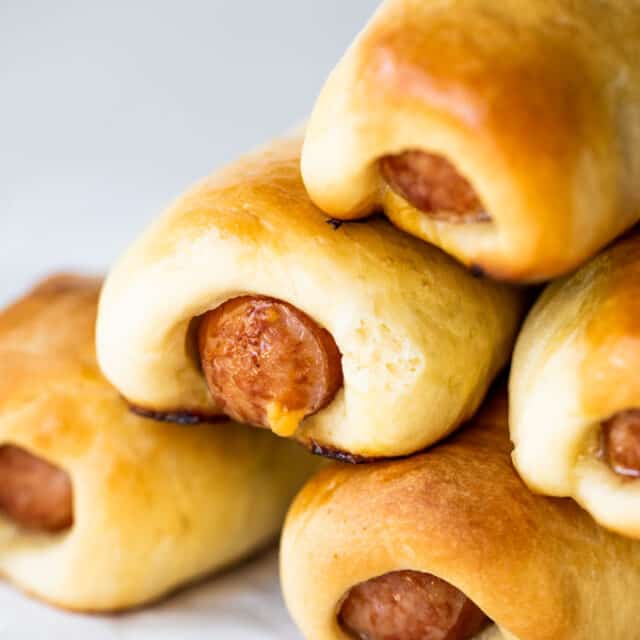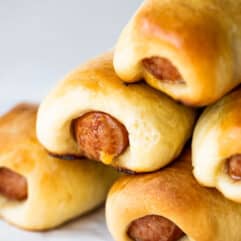 Texas Sausage Kolaches (Klobasnek)
Texas Kolaches! A hearty breakfast pastry made with fluffy breading around a cheesy, sausage. Skip the donut shop and make your own at home!
Ingredients
⅔ cup milk
¼ cup sugar
1 package (2 ¼ tsp) active dry yeast
2 large eggs, beaten
6 tbsp unsalted butter, melted and cooled
1 tsp salt
4 cups all purpose flour
12 sausages , (full hot dog size)
Egg Wash
1 large egg
1 tsp milk or cream
Instructions
Heat the milk (either briefly in the microwave or in a saucepan on the stovetop) to 110-115℉.

Pour the warm milk into a large mixing bowl for stand mixer (or bowl you will use to mix the dough). Stir in the sugar and yeast. Let this sit for 5-10 minutes until foamy.

Stir in the beaten eggs, melted butter and salt. Mix to combine.

Add 2 cups of flour and mix using a dough hook, until combined. Add in the remaining 2 cups of flour. Continue to mix, kneading the dough for 5-7 minutes. The dough should be smooth and no longer stick to the sides of the bowl. If needed add additional flour 1 tbsp at a time until dough is no longer sticking to the sides of the bowl.

Once a ball of dough can be formed, remove dough from the mixing bowl. Coat a clean bowl with a small amount of oil (any kind) place the ball of dough in the bowl and turn to coat the dough in the oil also. Cover with a clean kitchen towel. Place the bowl in a draft free spot in the kitchen, an oven or microwave (that are turned off!) are good places. Let the dough sit and rise for about an hour until doubled in size.

Cook the sausages in a large skillet on the stovetop until browned. Remove from the skillet and set aside.

Once dough has risen, punch down, then remove the dough from the bowl and divide the dough into 12 equal pieces.

Working one at a time, using your fingers press out a piece of dough into a rectangular shape that is the same width as the sausages. Place the sausage on top and roll, then pinch where the dough meets. Place this seam side down onto a large baking sheet. Place kolaches about 1 inch apart from each other. Continue until all dough and sausages have been rolled.

Cover the baking sheet with a clean towel, and let rise again for another 45 minutes.

Preheat oven to 400℉.

In a small bowl combine the egg and milk or cream for the egg wash. Whisk together.

Brush the egg wash onto the tops of the kolaches.

Bake for 15-17 minutes until the tops of the kolaches are a golden brown color.

Remove from oven and let cool briefly before serving.
Nutrition
Serving: 1, Calories: 502kcal, Carbohydrates: 37g, Protein: 19g, Fat: 30g, Saturated Fat: 12g, Cholesterol: 119mg, Sodium: 758mg, Potassium: 288mg, Fiber: 1g, Sugar: 5g, Vitamin A: 323IU, Vitamin C: 1mg, Calcium: 37mg, Iron: 3mg
House of Yumm is a participant in the Amazon Services LLC Associates Program, an affiliate advertising program designed to provide a means for us to earn fees by linking to Amazon.com and affiliated sites.