Super moist Cranberry Orange Bread drizzled with an orange zest glaze, bursting with tart cranberries.  Made using fresh orange juice and greek yogurt!  This bread is always a hit!!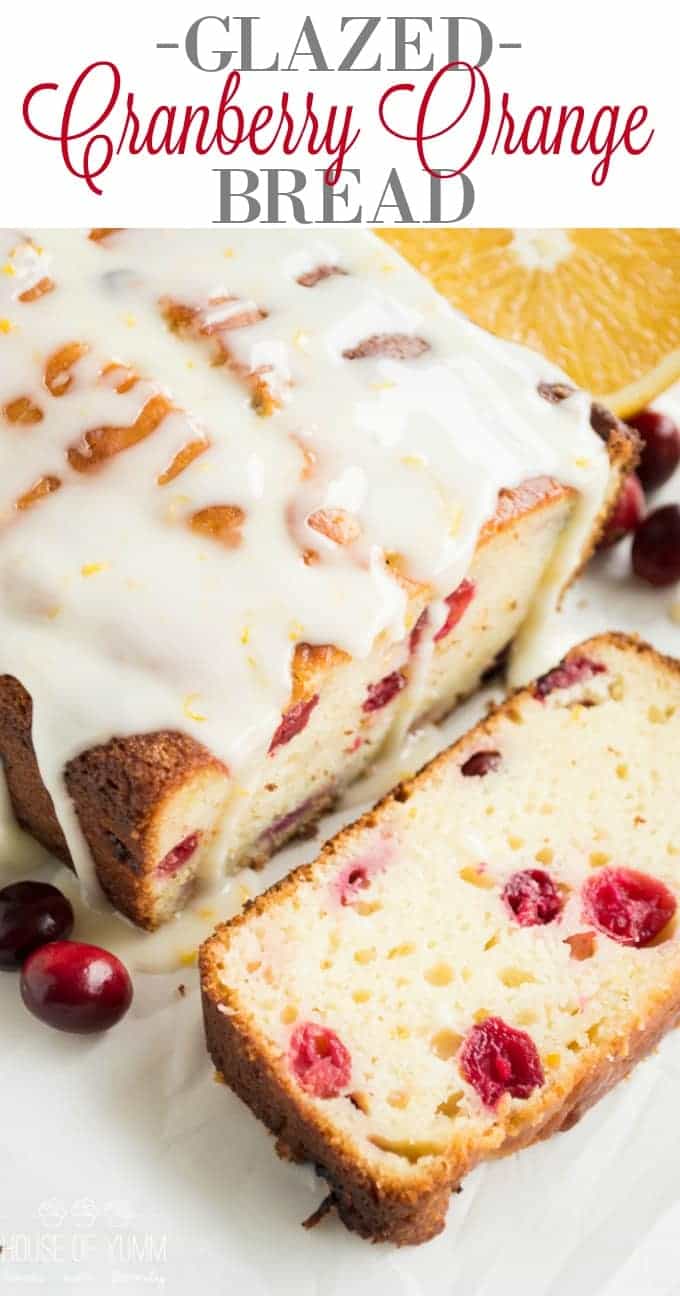 This Glazed Cranberry Orange Bread is almost like a pound cake. It's so tender and moist thanks to the combination of cooking with oil and Greek yogurt. I also added both fresh orange juice and zest making this bread burst with citrus flavors. Using both the zest and juice just gives an extra buzz of orange throughout the bread to mingle with the juicy, tart cranberries.  And of course, that orange zest glaze that is drizzled over the bread that seeps in and adds just a bit more sweetness, orange-ness, and moisture.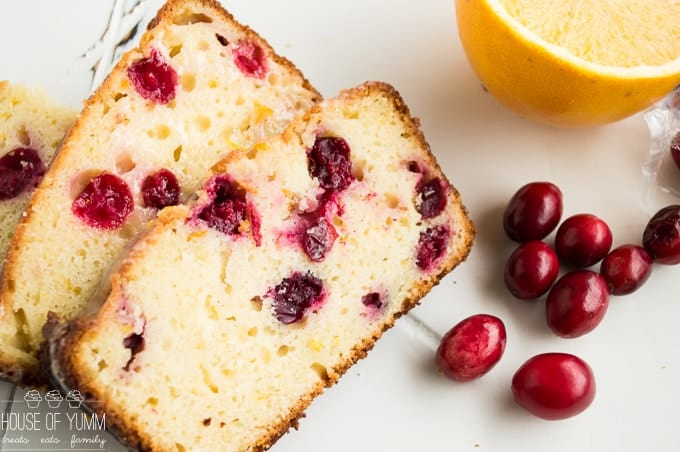 Alright y'all..it's my first post since Thanksgiving so I have to say that I hope you had a wonderful holiday weekend. Lots of food. Relaxing. And shopping!
Ours was wonderful. We relaxed, spent time together, played with the little ones, the hubs painted our little 2 year old's nails which she of couse loved ??? she's our little princess ??
And it's possible we did a little online shopping. And it's completely possible that we did it online because when we tried to take the little ones to a store for something one child who shall not be named had a complete 2 year old moment ??????? <—–absolutely what happened.
And it's also possible that after last week I ended up with some leftover cranberries. Which if you've ever had fresh cranberries you know you can't enjoy them by themselves. They're really tart and bitter. Which means that you need to sweeten things up a bit to really enjoy them. And if you haven't heard..cranberries and oranges, are like, best friends. One bite of this bread and you will see why.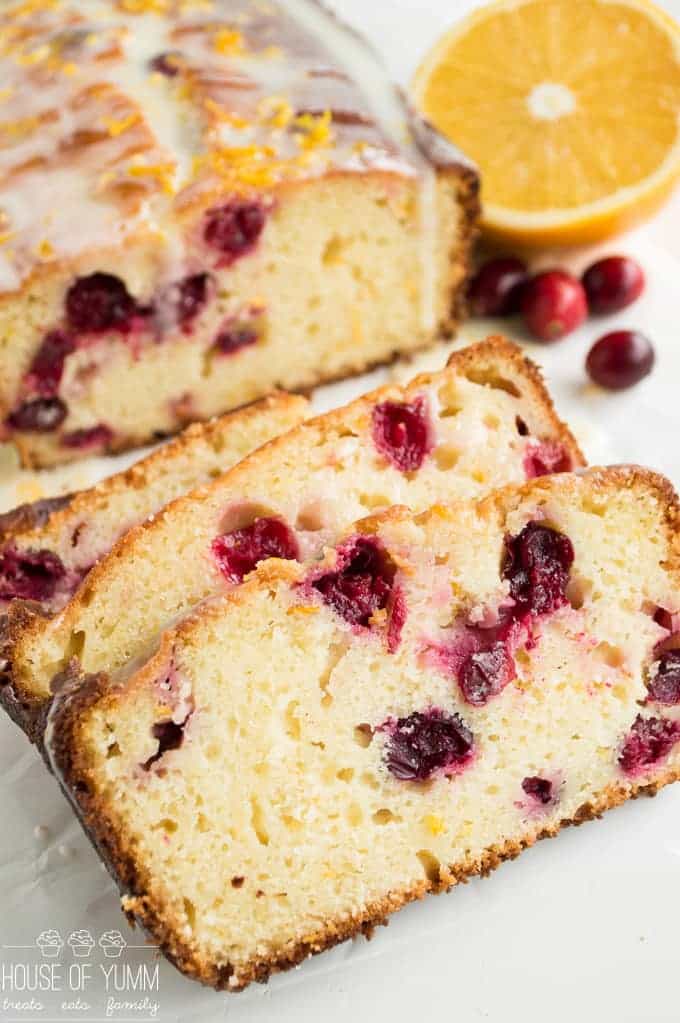 This Glazed Cranberry Orange Bread is perfect for enjoying with an afternoon coffee, or for breakfast, or even for dessert. Love multipurpose recipes.
One last note about that glaze… ???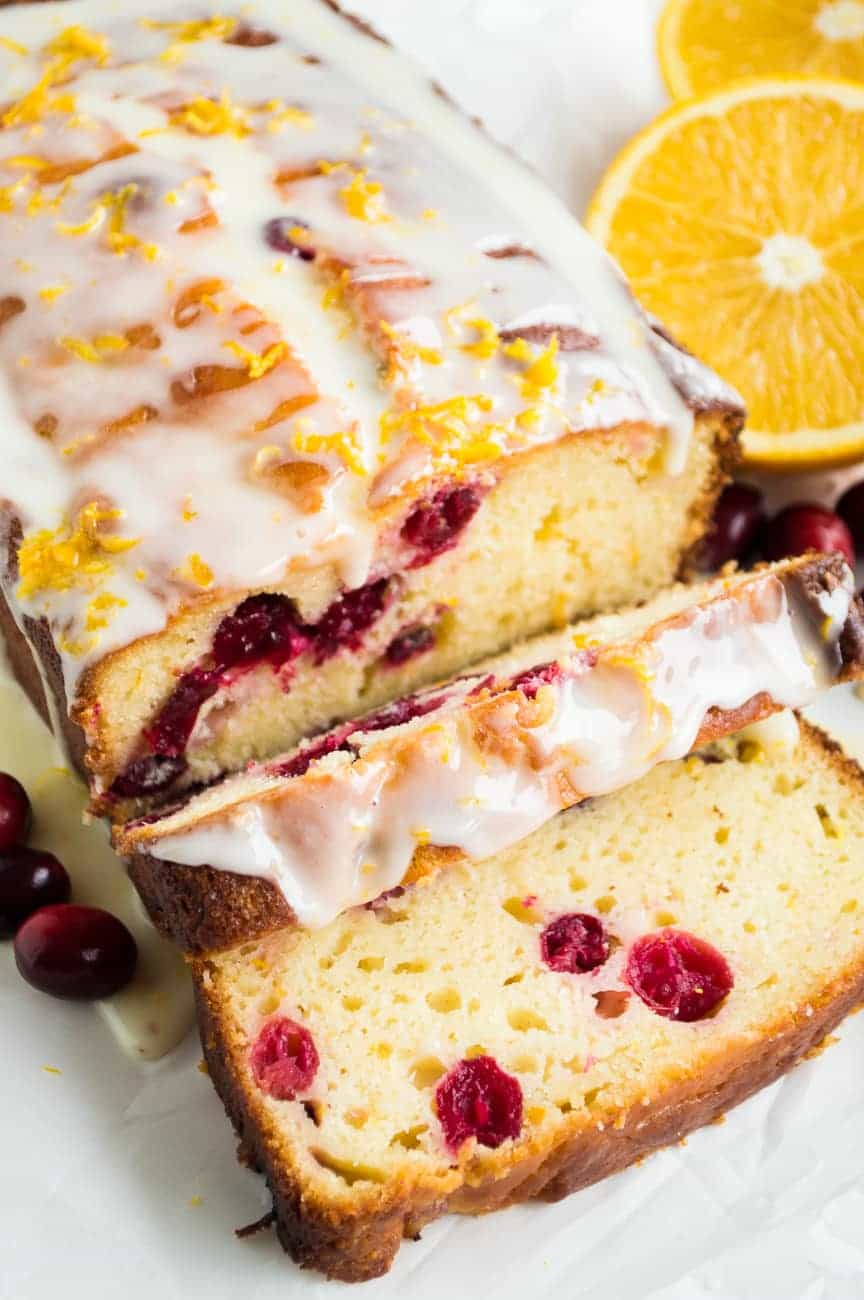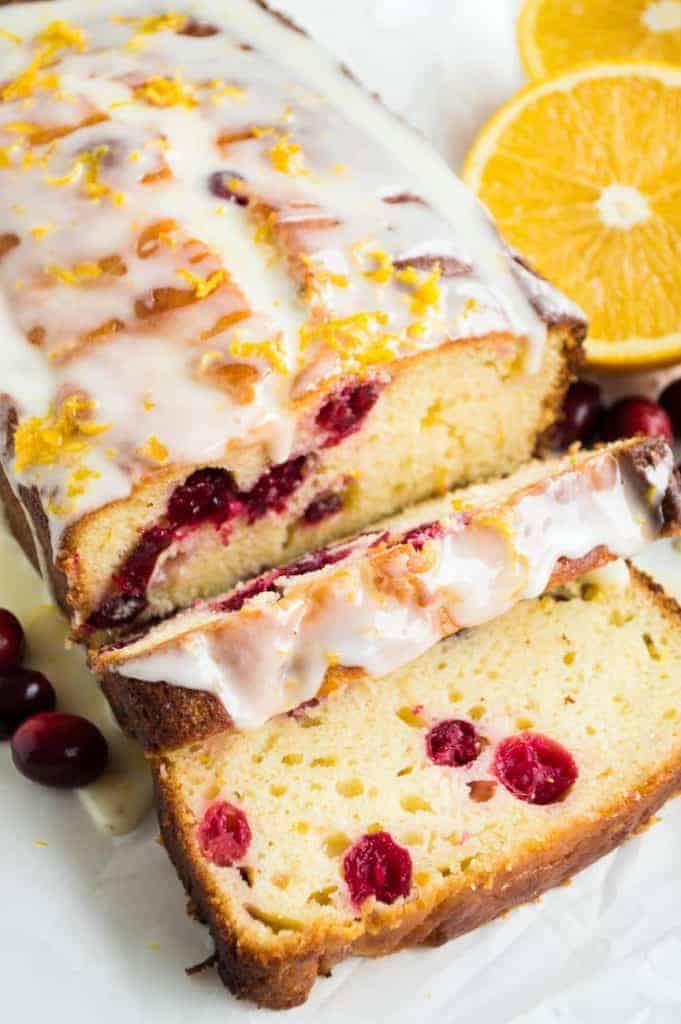 That is all.
I hope you enjoy the recipe!  You can follow along with me and never miss a recipe by signing up for my newsletter.  Follow me on Instagram and tag #houseofyumm so I can see all the HOY recipes you make.  And  if you want to follow along in my everyday life on snapchat (username: houseofyumm) ?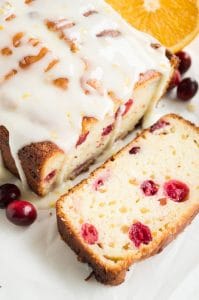 Glazed Cranberry Orange Bread
Super moist Cranberry Orange Bread drizzled with an orange zest glaze, bursting with tart cranberries. Made using fresh orange juice and greek yogurt! This bread is always a hit!!
Ingredients
1 cup sugar
1 tbsp orange zest
1½ cup all purpose flour
¼ tsp salt
2 tsp baking powder
1 cup greek yogurt, vanilla or plain
½ tsp vanilla extract
3 large eggs
1 tbsp orange juice, freshly squeezed
½ cup canola oil, or vegetable oil
1 cup fresh cranberries
Glaze
zest of 1 orange
1 cup powdered sugar
2 tbsp orange juice, freshly squeezed
Instructions
Preheat oven to 350°F. Spray loaf pan with baking spray and set aside.

In small bowl combine the orange zest and sugar. Mix together with your fingers until zest is coated with sugar and mixture is fragrant (will smell like oranges!)

In large bowl mix together the flour, salt, baking powder, and sugar zest mixture. Whisk together to combine.

In another medium bowl beat the eggs, add in the greek yogurt, vanilla extract, orange juice, canola oil, stir until combined.

Pour the wet ingredients into the dry and stir gently to mix. Once batter is mostly mixed, gently fold in the cranberries.

Pour the batter into the loaf pan. Using the back of the spoon evenly spread the batter.

Bake for approximately 60 minutes. Top will be browned and a toothpick inserted into the middle will come out clean once done. Allow to cool in pan for about 10 minutes then turn the pan upside down to remove the bread from the pan. Move loaf to wire rack to continue cooling.

While bread is cooling you can prepare the glaze. In small bowl add the powdered sugar, then the orange zest. Pour in the orange juice and stir. The glaze will be smooth. Stir until there are no clumps of sugar remaining. Add more sugar or more juice to obtain desired consistency.

Pour the glaze over the cooled bread.

Serve immediately or store bread in sealed container. I wrap mine in foil. Store at room temperature for 3-4 days.
Nutrition
Calories: 407kcal, Carbohydrates: 60g, Protein: 7g, Fat: 16g, Saturated Fat: 2g, Cholesterol: 63mg, Sodium: 228mg, Potassium: 92mg, Fiber: 1g, Sugar: 41g, Vitamin A: 98IU, Vitamin C: 4mg, Calcium: 108mg, Iron: 2mg
House of Yumm is a participant in the Amazon Services LLC Associates Program, an affiliate advertising program designed to provide a means for us to earn fees by linking to Amazon.com and affiliated sites.