Overnight Bacon and Cheese Strata. This prep ahead breakfast is loaded with eggs, bacon and cheese.
Overnight bacon and cheese strata. Because mornings are enough work without having to prep a big meal. This strata can be made the day before and left to soak and set in the fridge overnight, then all that's left is to pop it in the oven and bake.
If you are wanting to cook it immediately you can do that too, and even skip the step of baking the bread.
Either way, this dish is perfect for feeding a large family or if you're having company over.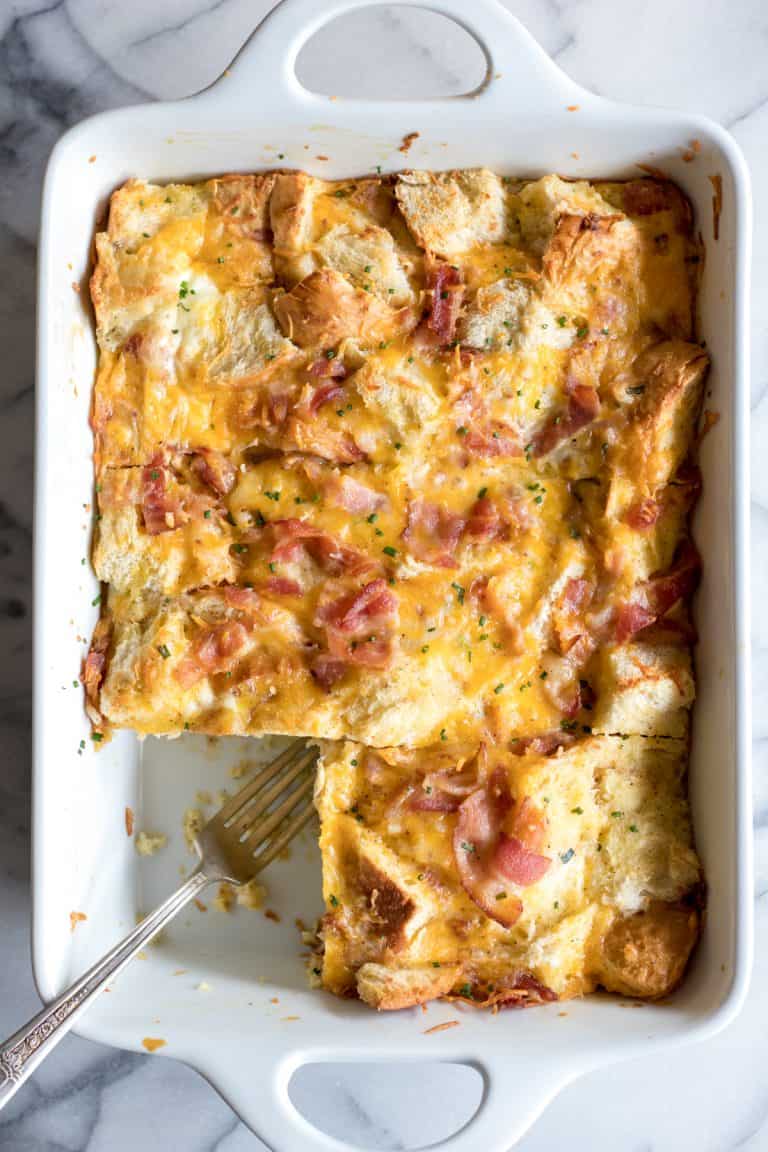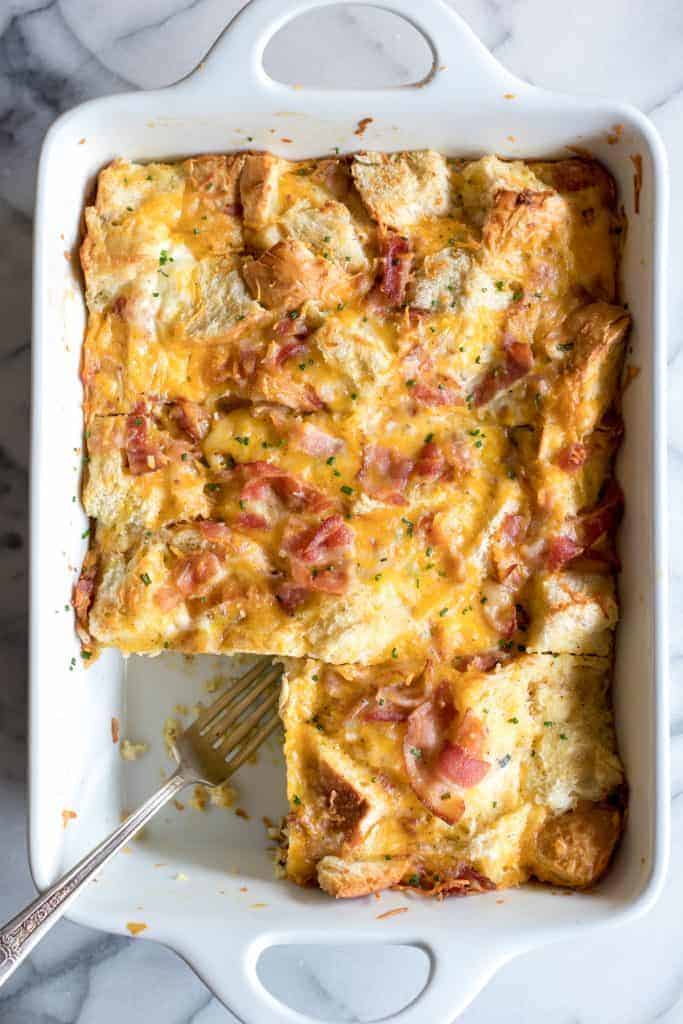 Overnight Bacon and Cheese Strata
Can be prepped the night before, just bake the bread for 10 minutes to dry it out and mix with desired additions. This version has bacon, cheese and chives. Can add whatever else you want such as spinach, bell peppers, mushrooms..
Pour an egg, milk or cream mixture over the top. It's basically the same as making a quiche. Create a custard mixture with the eggs and milk that will bake into the bread and create almost a savory bread pudding. Use the ratio of 1:1. In this recipe we have 2 cups of eggs which is about 8 eggs and then 2 cups of milk or cream.
If not needing to prep this the night before, this can be baked right after prepping, and you can skip out on baking the bread, just toss it into the casserole dish without baking to dry it out.
If you prefer a slow cooker version this Overnight Slow Cooker Breakfast Casserole may work for you!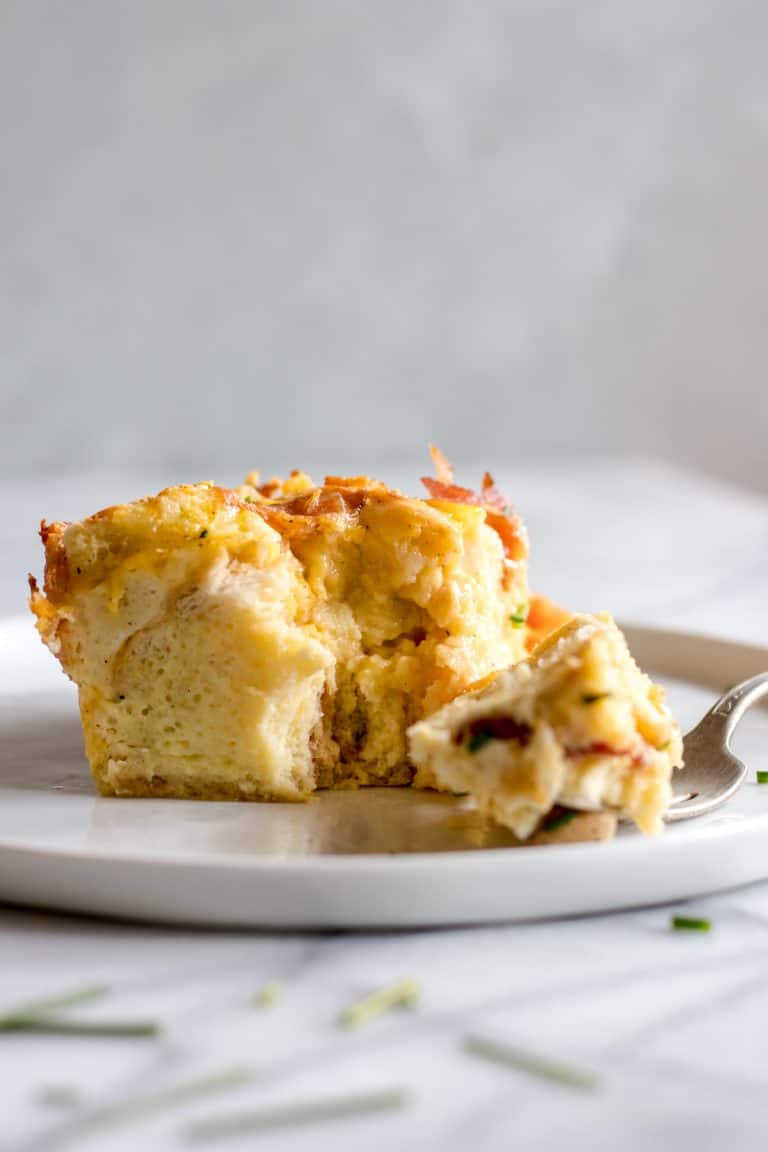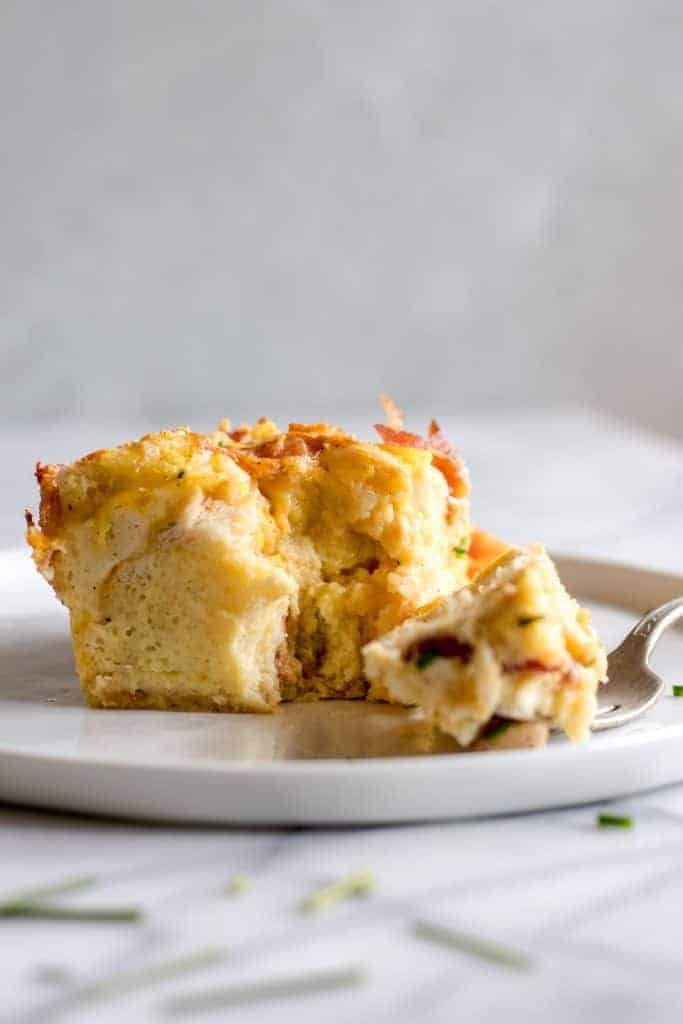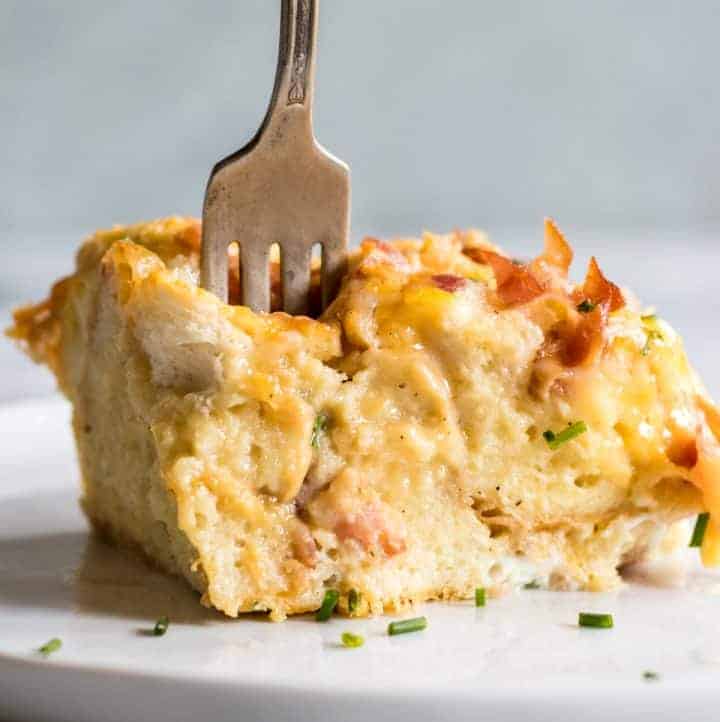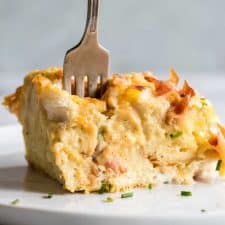 Overnight Bacon and Cheese Strata
Overnight Bacon and Cheese Strata. This prep ahead breakfast is loaded with eggs, bacon and cheese.
Ingredients
1 Italian loaf chopped into 1 inch cubes, about 7 cups
1 lb bacon , cooked and chopped
2 cups mild cheddar cheese, shredded
8 eggs
2 cups milk or half and half
1/2 teaspoon salt
1/2 teaspoon ground pepper
1 tablespoon chives diced
Instructions
Preheat oven to 250℉. Line a large baking sheet with a silicone mat or foil.

Spread the bread cubes out in a single layer on the baking sheet and bake for about 5-10 minutes, until dried out.

Spray a 3 quart baking dish with non stick spray.

Add the dried bread cubes, crumbled bacon, shredded cheese, and chives. Carefully stir to combine and mix up.

In a large measuring cup add the 8 eggs. Then add milk or cream to equal out 4 cups of liquid. Will come to about 2 cups of eggs and 2 cups of milk. Mix together.

Stir in the salt and pepper to the egg mixture.

Pour the egg mixture over the bread mixture. Press down the bread to soak in the egg.

Cover with foil and let sit overnight in the fridge.

In the morning before baking, preheat oven to 350. Bake covered for 20 minutes. Then remove the foil and bake another 20-30 minutes. Serve warm.
Notes
If overnight is not needed, you can bake after prep. And you don't need to bake the bread to dry it out. Just use the bread as is.
Nutrition
Serving: 1, Calories: 518kcal, Carbohydrates: 25g, Protein: 24g, Fat: 35g, Saturated Fat: 15g, Cholesterol: 211mg, Sodium: 924mg, Potassium: 329mg, Fiber: 2g, Sugar: 6g, Vitamin A: 569IU, Calcium: 327mg, Iron: 3mg
SaveSave
House of Yumm is a participant in the Amazon Services LLC Associates Program, an affiliate advertising program designed to provide a means for us to earn fees by linking to Amazon.com and affiliated sites.