Cinnamon Tortilla Chips
Cinnamon Tortilla Chips. These homemade chips are sweetened with a cinnamon sugar mixture and perfect for dipping into some fruit salsa, chocolate, or some cream cheese glaze!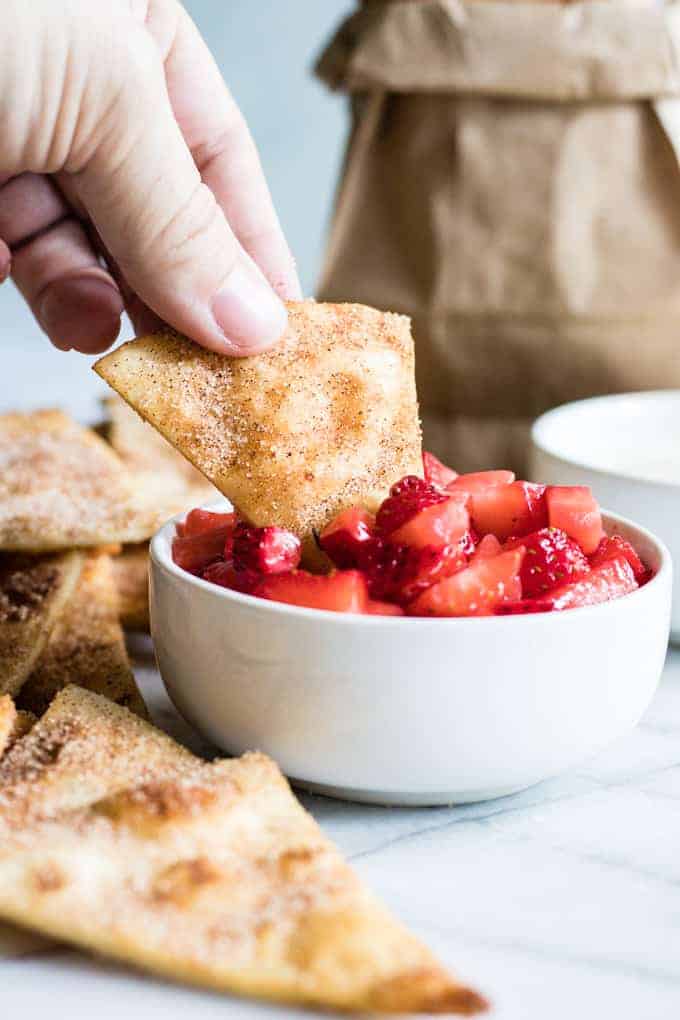 Cinnamon Tortilla Chips
What are cinnamon tortilla chips? Pretty much what they sound like.
Homemade tortilla chips sprinkled with a cinnamon sugar mixture. These are crispy, flakey, loaded with a spicy sweetness, perfect for dessert or a sweet snack.
Plus I have all the details for you on how to make these the BEST way possible.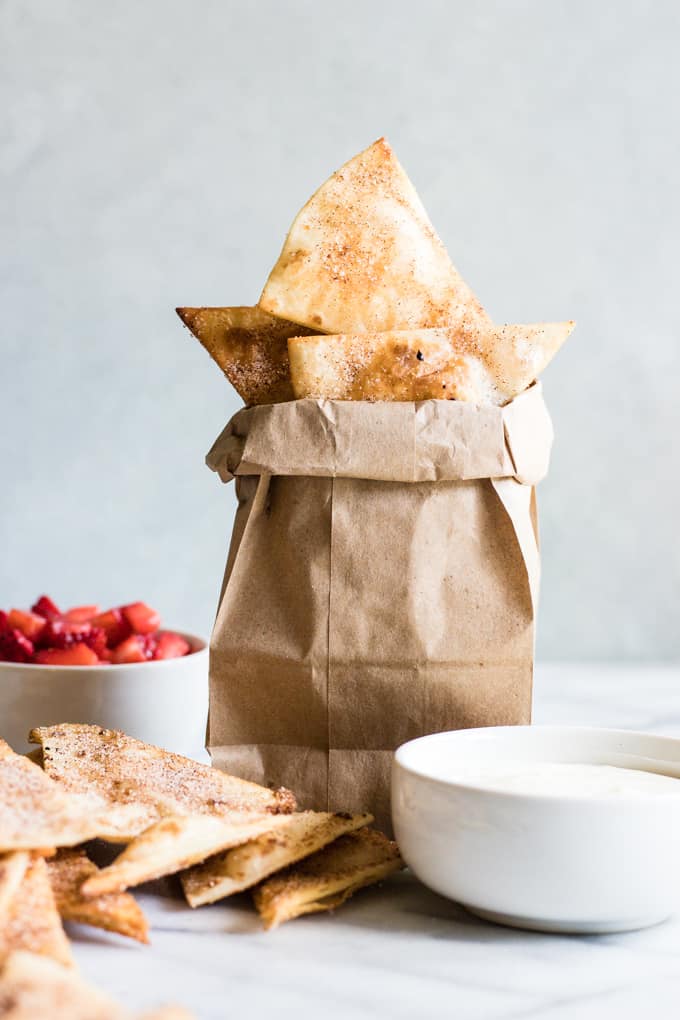 Best way to make cinnamon tortilla chips:
There's two methods for making homemade tortilla chips. Frying and baking.
Personally, I prefer frying. Whenever I bake chips they come out with a chewy texture. For me baked chips won't crisp up the same as when fried.
So the method I'm sharing today involves frying the tortillas. The chips can be fried in vegetable oil, canola oil, or olive oil. Just a small amount of oil is needed to give about a ¼ inch coating of oil in a skillet or pan.
Fry the tortillas for about 30 seconds to a minute on each side, just until they start to turn golden brown.
Frying the tortillas first and then sprinkling them immediately after removed from the oil with the cinnamon sugar mixture ensures that the cinnamon sugar will stick to the chips. If you wait too long to sprinkle them and the oil has dried up, then the cinnamon sugar will fall right off the chips.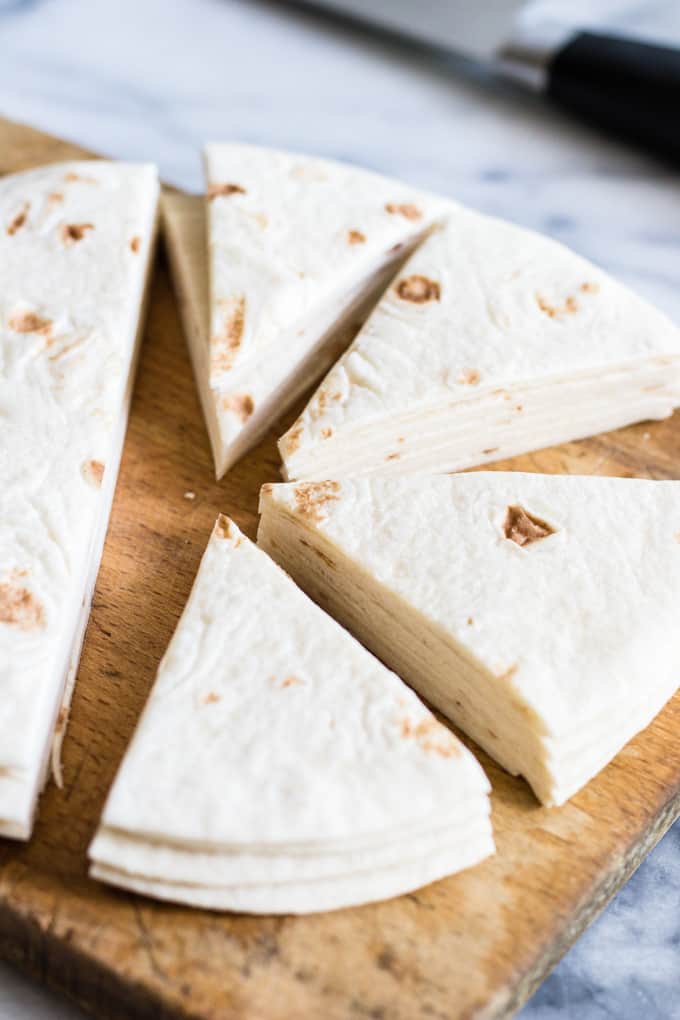 Best tortillas to make homemade chips:
For these cinnamon tortilla chips I prefer to use flour tortillas! For regular tortilla chips I love using corn tortillas. But for these dessert tortilla chips the flour gives a wonderful crispy, flakey texture.
Plus the flour tortillas have a more mild taste than corn tortillas. The corn flavor still comes through the cinnamon sugar coating. Which gives a slightly savory, sweet combination.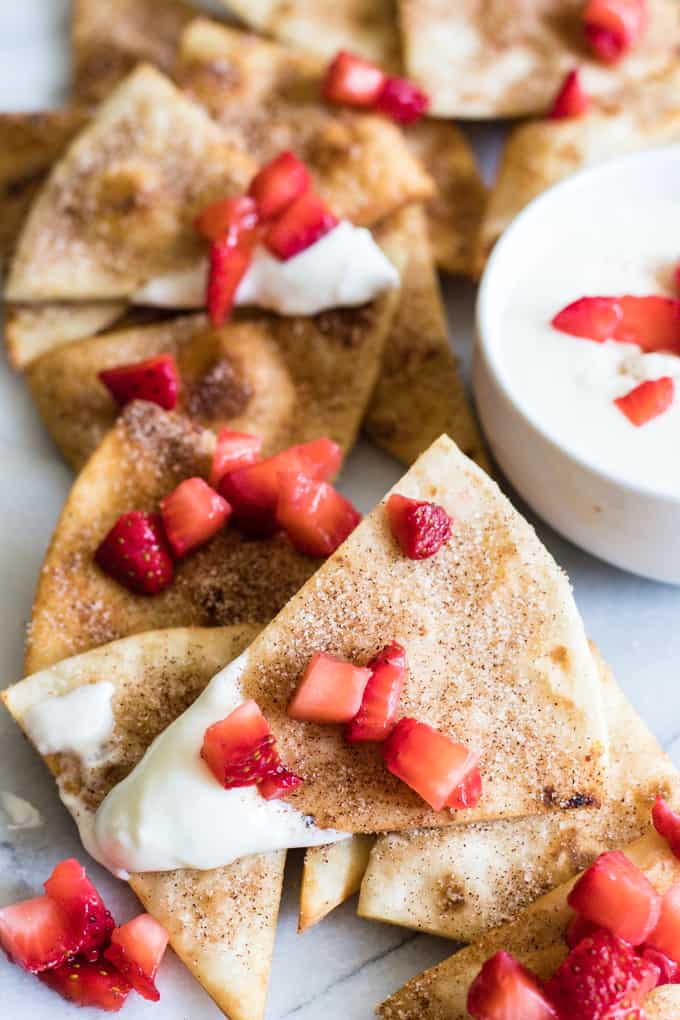 What to serve these Cinnamon Tortilla Chips with:
Due to being sprinkled with cinnamon and sugar, these chips definitely have a dessert type taste to them. Which makes them perfectly paired with other sweet toppings. You could use any kind of dessert dip.
My personal favorites are to have them with a fruit salsa, like this strawberry mango salsa. Or a simple mixture of chopped up fruit. Other options include some chocolate sauce, a fruit sauce (like this homemade strawberry sauce) or a cream cheese glaze.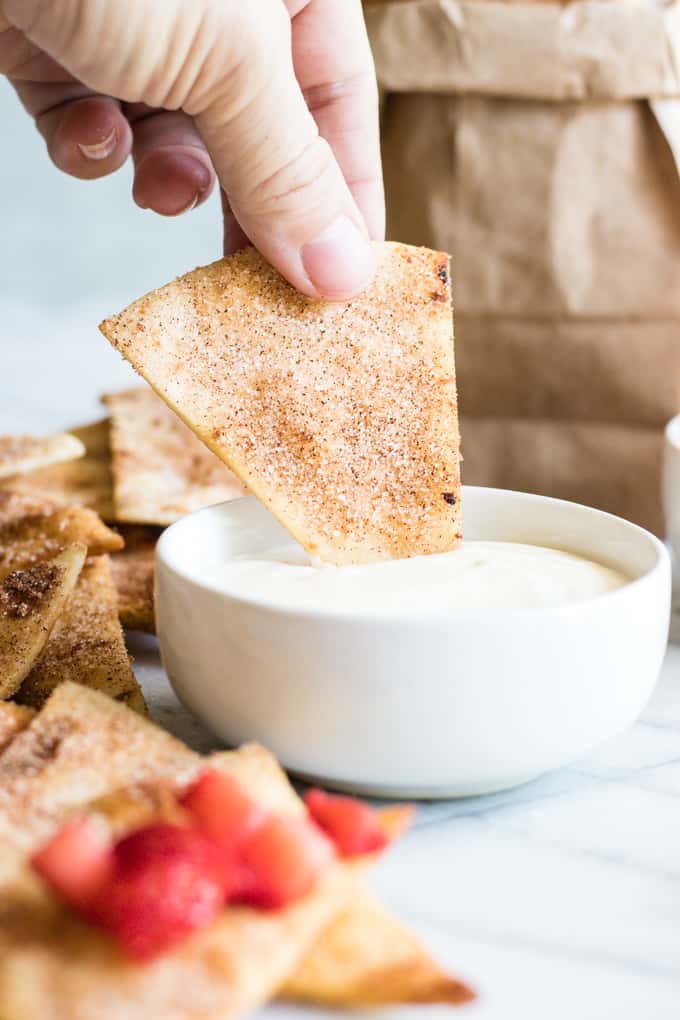 More dessert recipes to try:
WANT TO TRY THESE CINNAMON TORTILLA CHIPS?
FIND ME ON PINTEREST FOR MORE GREAT RECIPES!

For the Cream Cheese Glaze:
4 ounces cream cheese softened
1 cup powdered sugar
1 teaspoon vanilla
4 tablespoons milk
Combine all ingredients together and stir until smooth and creamy.
The recipe for Cinnamon Tortilla Chips first appeared on Food Fanatic.
House of Yumm is a participant in the Amazon Services LLC Associates Program, an affiliate advertising program designed to provide a means for us to earn fees by linking to Amazon.com and affiliated sites.