These easy authentic homemade Mexican churros are truly the best! Crispy crunchy edges coated in a sweet cinnamon sugar mixture surround a soft, buttery inside. Step by step instructions and a quick how to video show you just how simple these are to make at home!
Looking for more Mexican dessert recipes? You'll love our Buñuelos, Sopapillas, and Tres Leches Cake.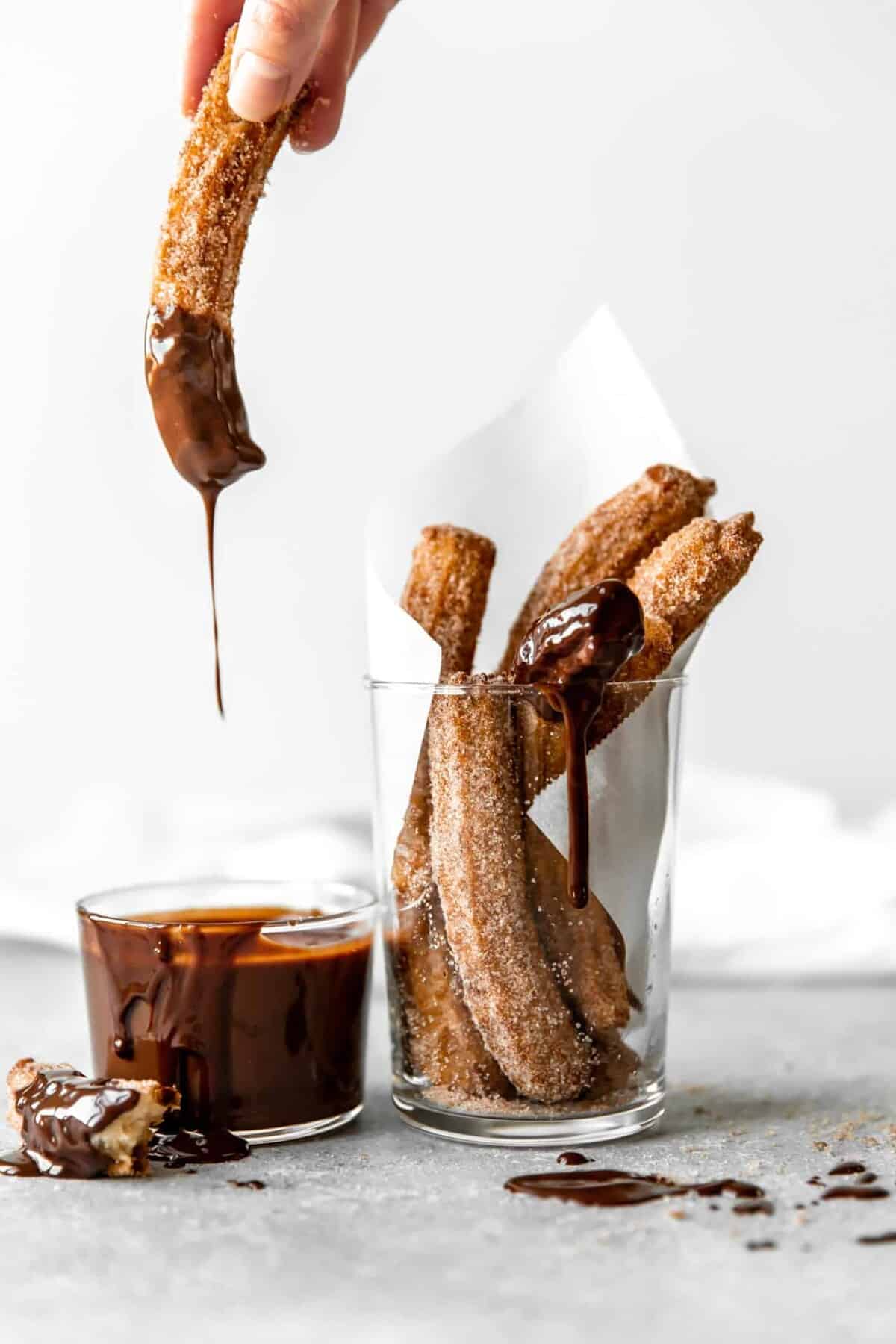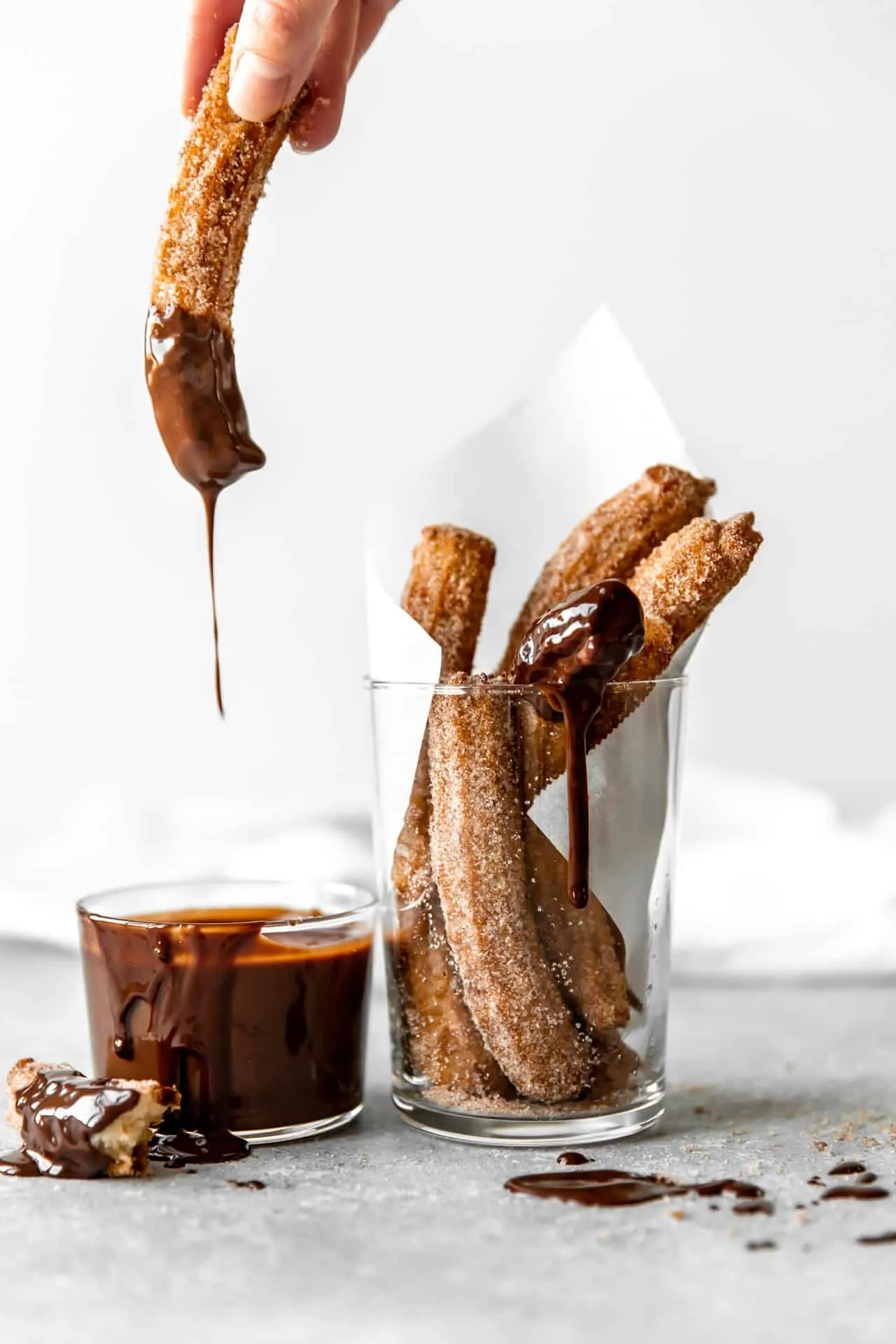 The Perfect Authentic Homemade Mexican Churro Recipe…
Fresh: most churros you purchase elsewhere have been fried, then frozen and reheated. These are homemade and fresh! The outside is crisp and the outside is soft and tender.
Cinnamon & sugar in the dough: this recipe adds a hint of sweetness and cinnamon to the actual dough itself, creating a more flavorful churro! Making this truly the BEST churro recipe out there.
Ingredients Needed:
The dough comes together with simple pantry ingredients:
Water: doesn't need to be filtered since we will be bringing to a boil.
Butter: unsalted butter is used, if using salted butter then adjust the amount of salt called for in the recipe.
Sugar: granulated white sugar
Vanilla extract
Salt
Cinnamon: a bit of cinnamon in the dough gives more flavor to the churro itself.
Flour: all purpose
Egg: one large egg is all that is needed for the dough.
Oil for frying: use vegetable or canola oil.
How to Make: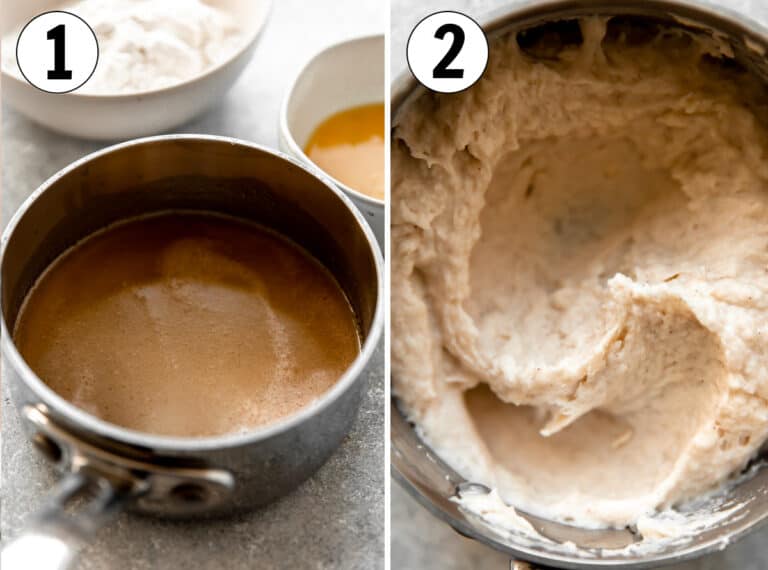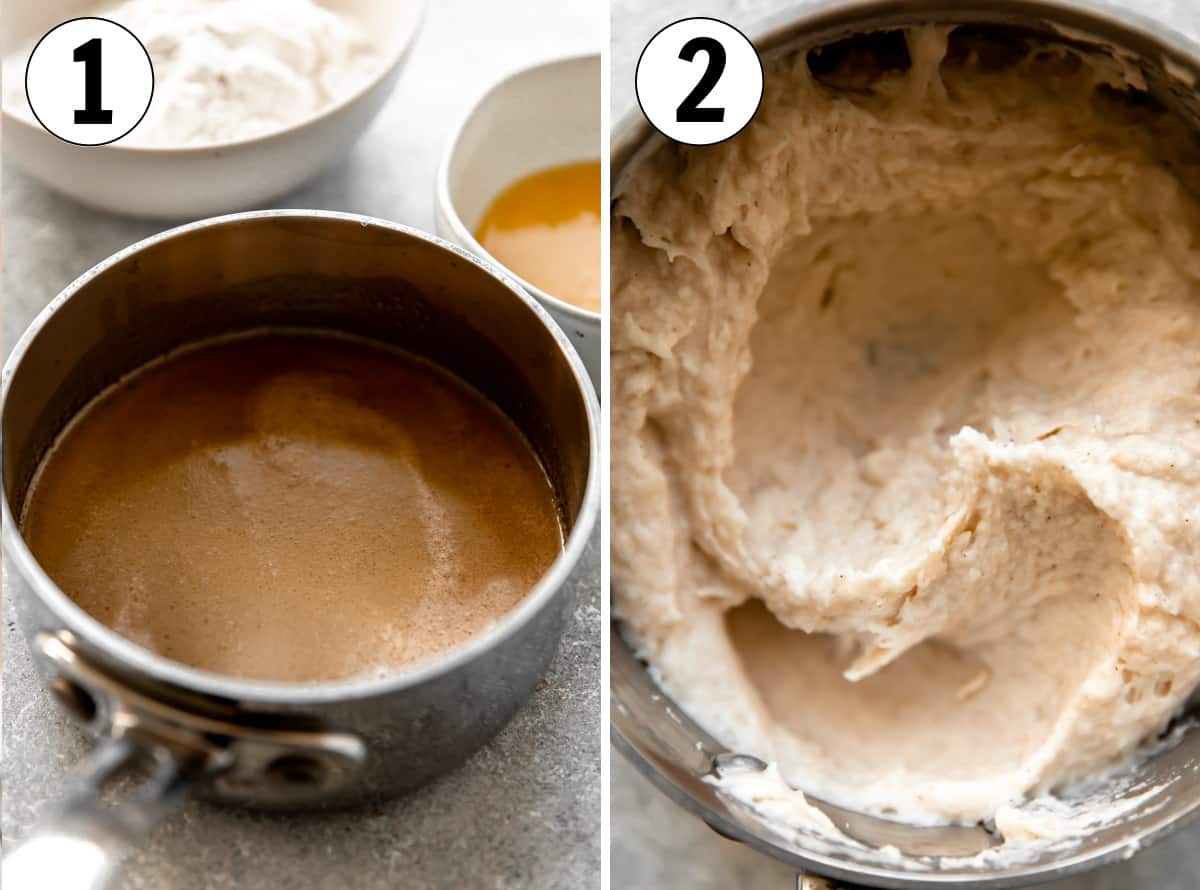 Boil Ingredients: In a medium size saucepan combine the water, butter, sugar, vanilla extract, salt and cinnamon. Bring this to a boil, the butter will be melted and the water will start to bubble along the edge of the pot.
Add flour: Remove the pot from the heat and add the flour. Stir this together until well combined. Then add this dough to the bowl of a stand mixer and add in the beaten egg.
Add dough to piping bag: the dough will be thick and sticky once completely mixed. This is what we want! The dough needs to be able to hold it's form when being piped into the oil. If needed spray the inside of your pastry bag with cooking spray. I use a large 1M piping tip (amazon affiliate link) to get the star shape.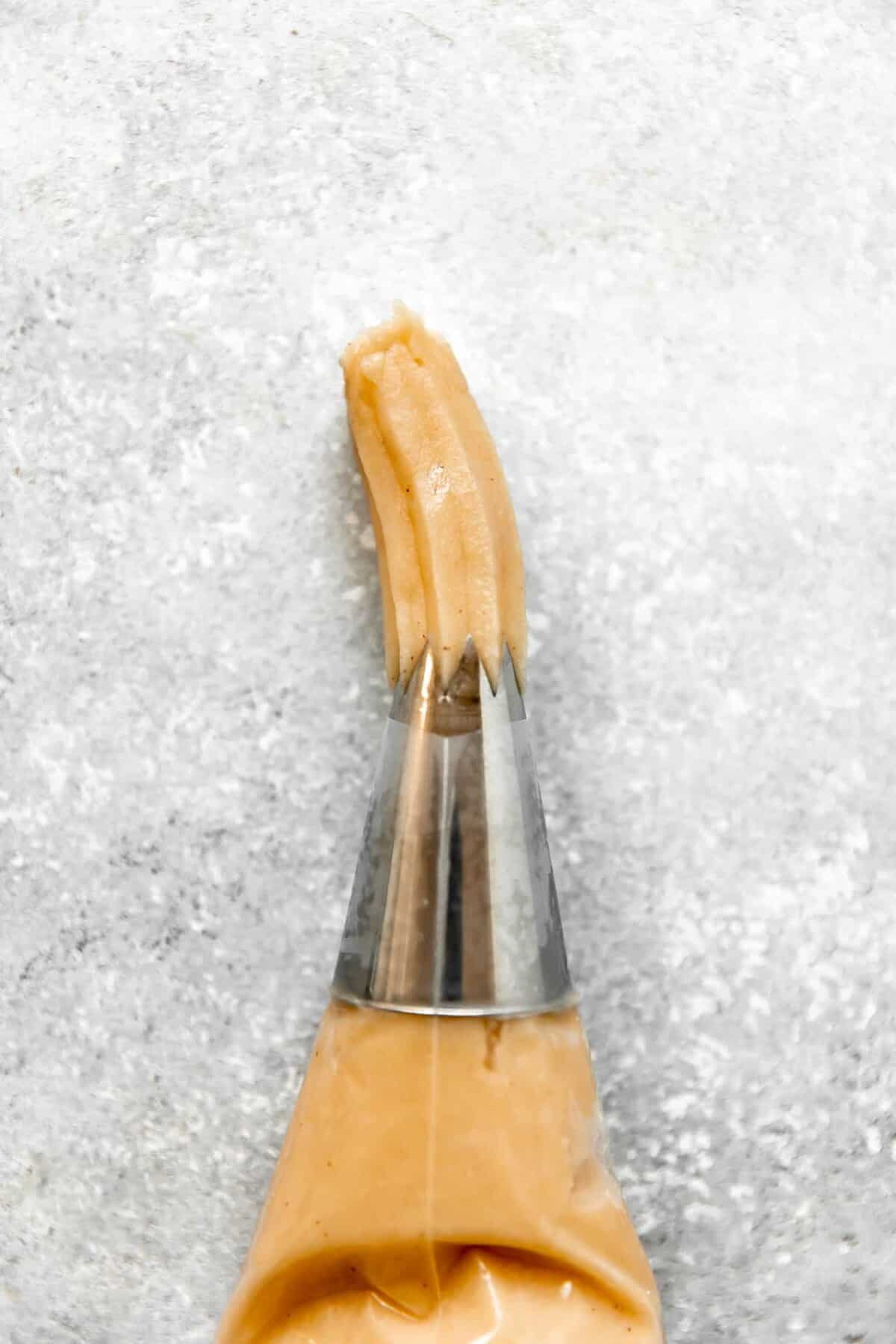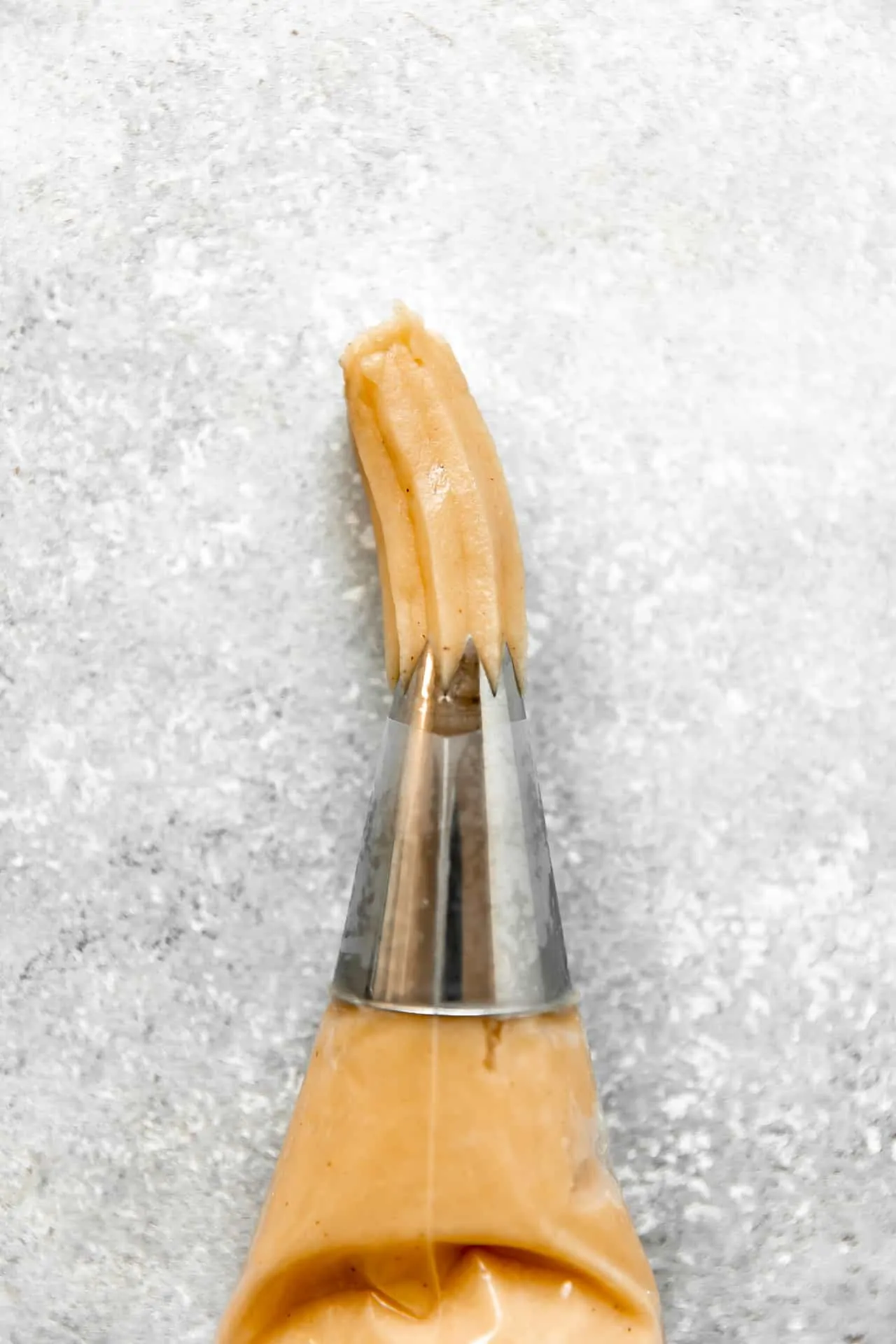 Fry: Squeeze out strips of dough into the hot oil (375℉) 2 1/2-3 inches long. Use scissors to cut the dough. Fry 3-4 strips of dough at a time to prevent crowding. Fry the dough for 2-3 minutes until golden brown on the outside and crispy.
Coat in Cinnamon Sugar: remove the fried churros to a baking sheet lined with a cooling wire rack, this helps remove any excess oil. Pipe in the next batch of dough for frying and then carefully dip the fried churros into the cinnamon sugar mixture.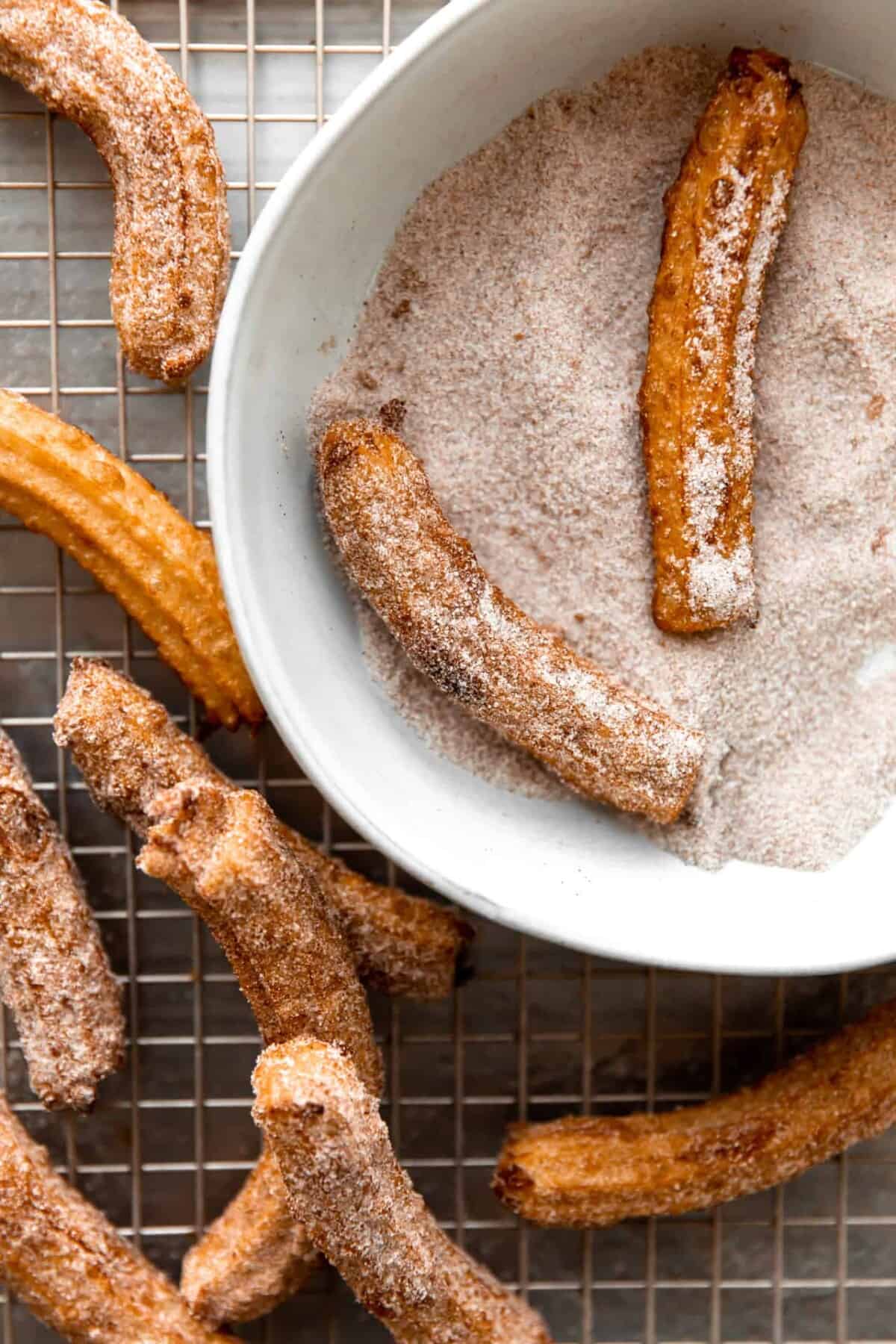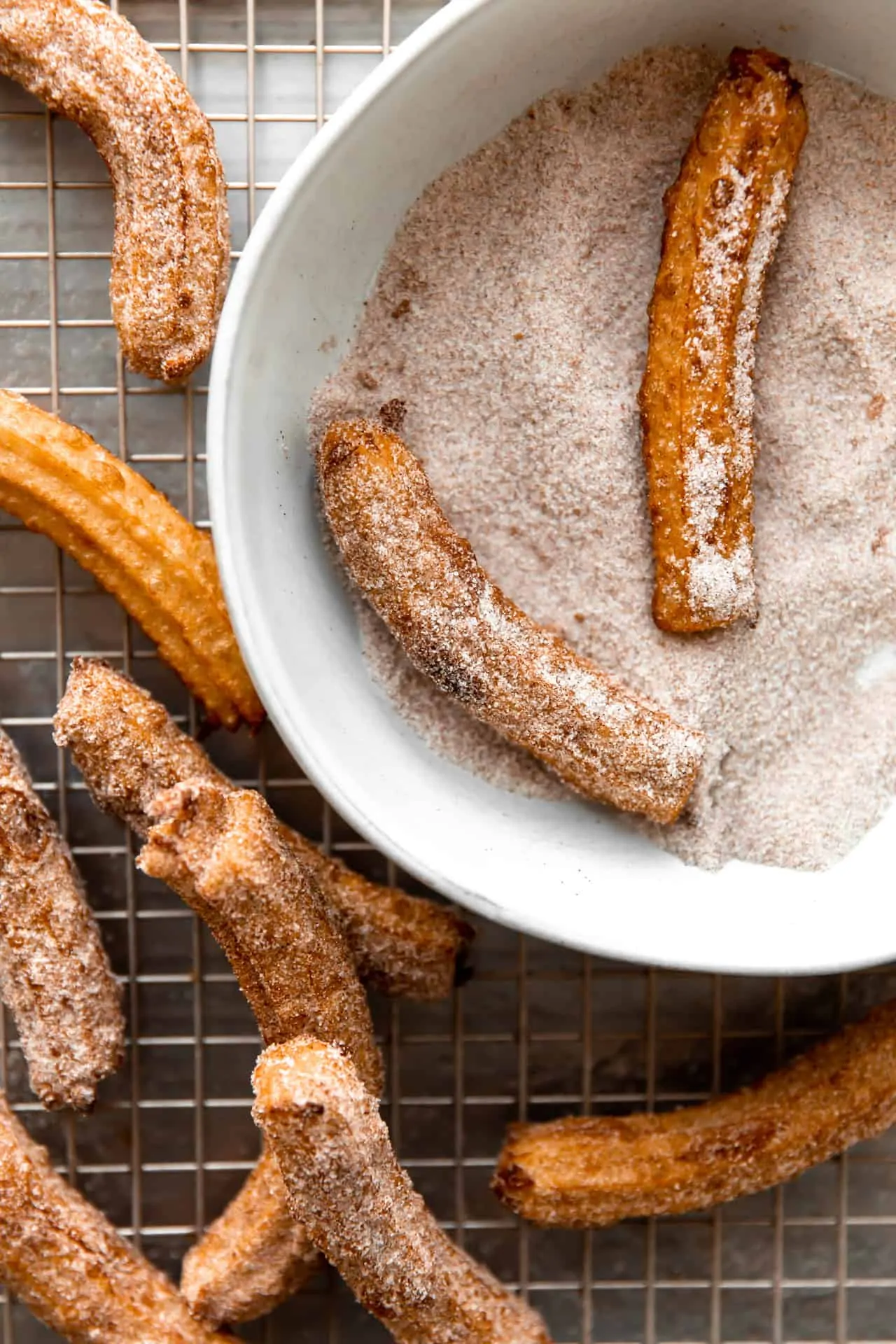 Pro Tips:
Oil Temperature: it's important to maintain a consistent temperature for proper cooking. If the oil isn't hot enough then the dough won't cook through or get a crispy exterior. If the oil is too hot the outside will cook too much and create a blackened exterior.
Maintaining Temperature: adding dough to the oil will lower the temperature. It's important to let the oil come back up to temperature before adding another batch of dough.
Cooking Thoroughly: let the exterior get a nice dark golden coloring to help ensure that the inside of the dough cooks completely through.
Keep warm: churros are best served warm. If needed you can place on a baking sheet and place in a 275℉ preheated oven for 30-45 minutes before serving.
Making ahead of time: Store the churros at room temperature. If needed place into an oven at 350℉ for 7-9 minutes to reheat and help the exterior crisp back up. As churros sit out they soften as they cool.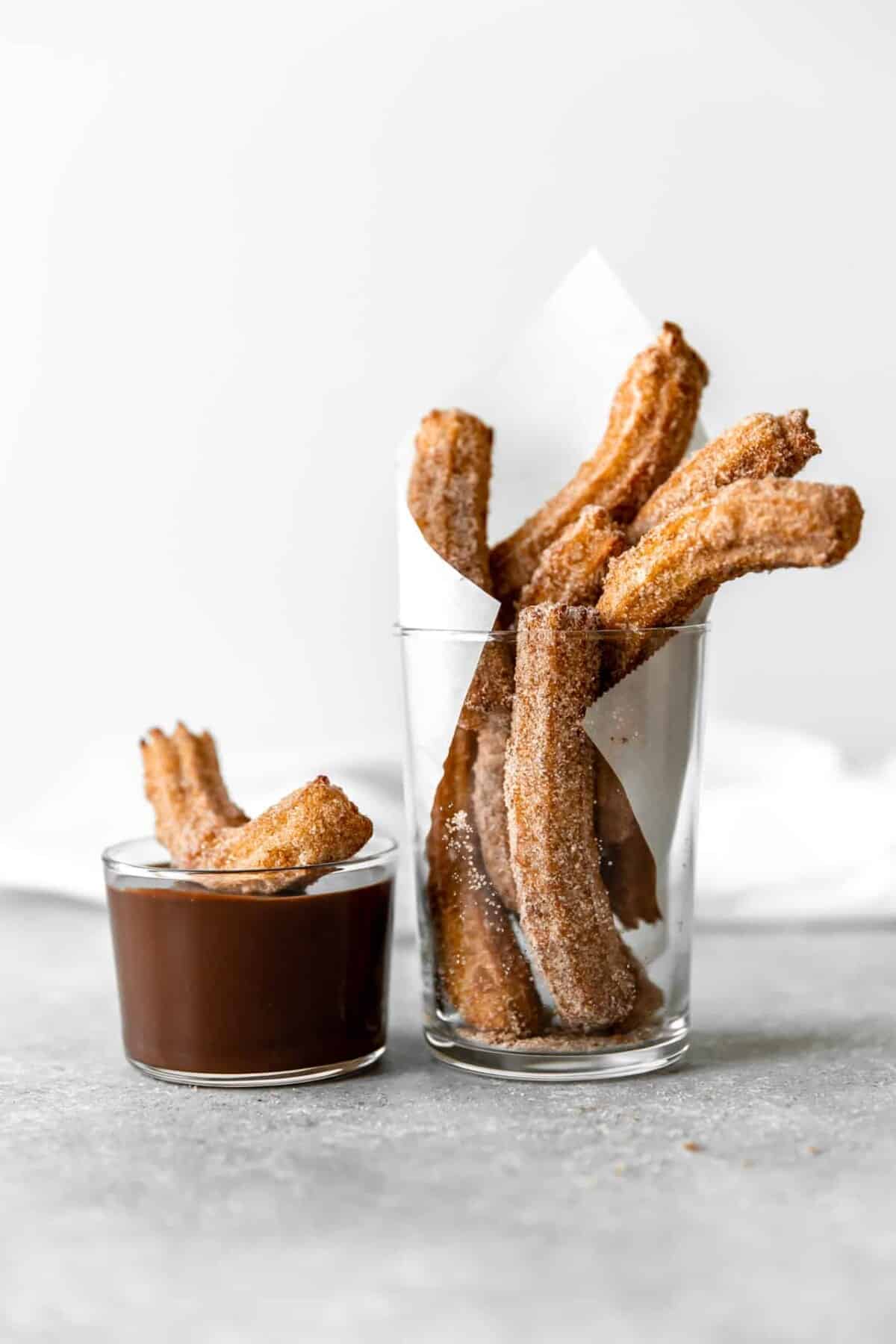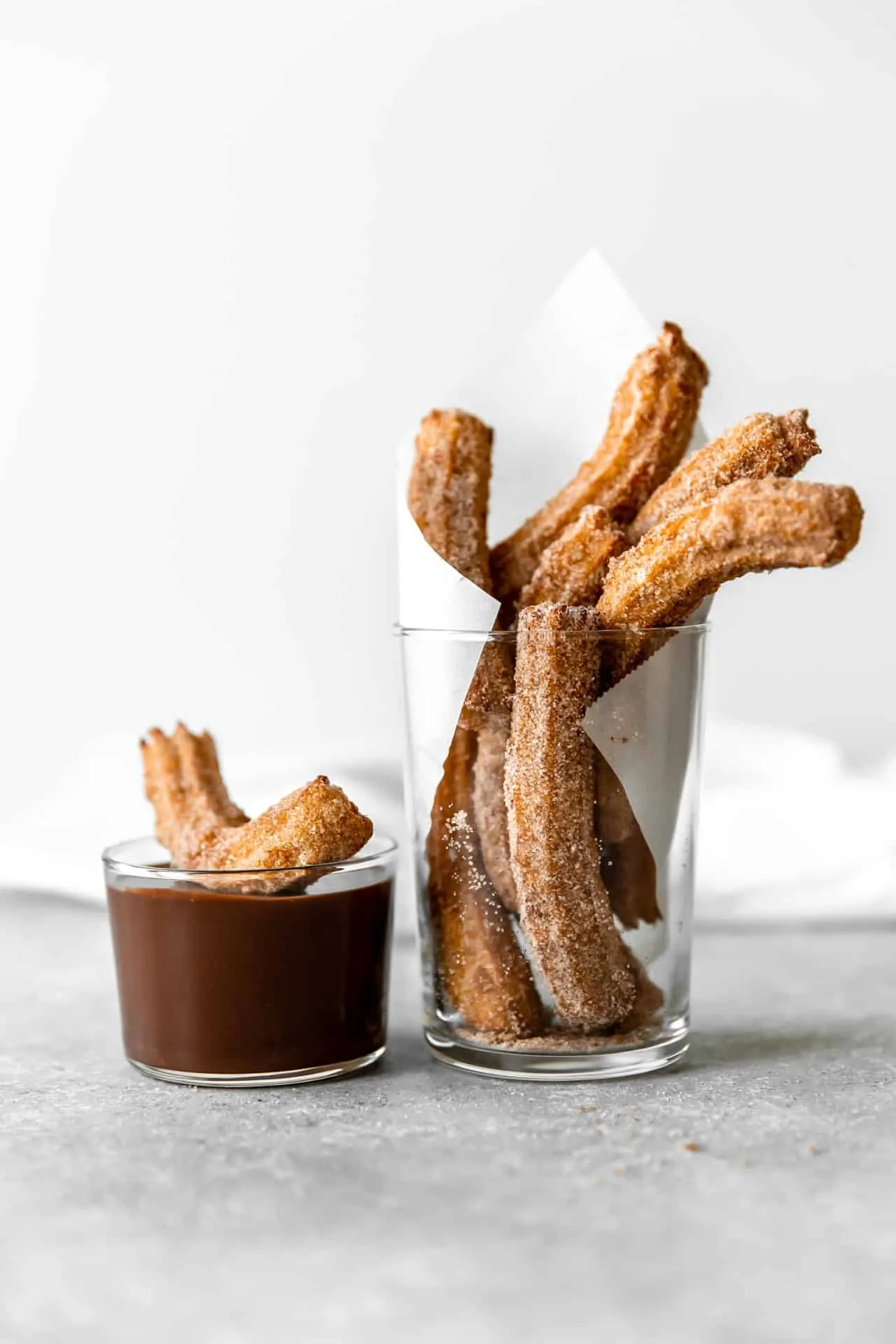 Churros: FAQs
What can I use instead of a piping bag?
If you don't have any piping bags on hand you can use a large plastic freezer bag, simply put the dough inside the bag and cut off the corner to squeeze the dough.
How to serve churros?
The combination of churros with a rich and luscious fudge sauce is wonderful! Other options would include serving with a small bowl of dulce de leches, or maybe a fruit sauce like this Homemade Strawberry Sauce.
What do Churros taste like?
Churros are made from fried dough coated in a cinnamon sugar mixture, so they have a very similar taste to fried doughnuts.
More Churro Inspired Recipes:
Homemade Churros (Step by Step Instructions)
These simple, homemade churros are the best. Sweet, cinnamon fried dough with crispy edges and buttery soft insides all coated in a cinnamon sugar.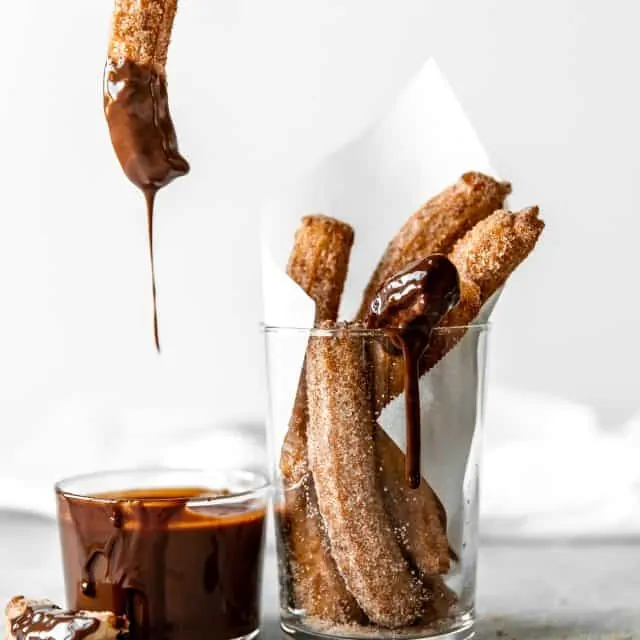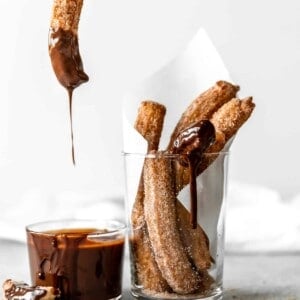 Ingredients
1

cup

water

2

tbsp

butter

unsalted

1

tbsp

sugar

1

tsp

vanilla extract

¼

tsp

salt

¼

tsp

ground cinnamon

1

cup

all purpose flour

1

large egg

beaten

2

cups

cooking oil for frying

canola or vegetable oil
Cinnamon Sugar Coating
½

cup

sugar

1

tbsp

ground cinnamon
Optional
½

cup

chocolate fudge sauce

for serving
Instructions
Preheat 2 inches of cooking oil in a large pot or dutch oven to 375℉.

In a medium size saucepan add the water, butter, sugar, vanilla, salt and cinnamon, stir to combine. Bring to a boil, water will start bubbling around the sides of the pan. Sugar will be completely dissolved in the water.

Remove from heat and add the flour. Stir to combine.

Add this dough to the bowl of a stand mixer.

Add in beaten egg. Mix completely using paddle attachment of mixer. It will take 2-3 minutes for the egg to combine with the dough, wait for dough to pull away from the edge of the bowl. Dough will be firm, and still slightly sticky, it will stick to the bottom of the mixing bowl.

Add dough to pastry bag (spray inside of pastry bag with cooking spray) fitted with star tip (Atecco 1M tip is my favorite!)

Squeeze out strips of dough 2 1/2 – 3 inches long into the hot oil, use scissors to cut the dough. Fry 3-4 strips of dough at a time to prevent crowding.

Fry in oil for 2-2.5 minutes, turn then continue frying. Fry churros for approximately 4 minutes, until golden on all sides.

Remove from oil, place on large baking tray lined with a wire cooling rack, allow to cool briefly, (I add the next batch of batter to the oil) then dip into the cinnamon sugar topping while still warm.

Serve warm with warm chocolate fudge sauce.
Notes
Make Ahead Instructions: Churros are best made fresh and served warm. If needed prepare them for a dinner ahead of time and leave at room temperature. Simply cover loosely with foil for storage.
To Reheat Churros: as the churros sit they will cool and soften. To help them warm and crisp back up, preheat oven to 350℉ and bake for about 7-9 minutes until warmed through and slightly crisp on the outside.
Dough is runny? This can occur if the dough is allowed to cool in temperature too much before adding the egg. Working with the dough while it is still warm helps the dough come together and makes it easier to pipe.
Dough Sticky: the churro dough will be sticky and thick, this helps it to keep it's shape when piped into the hot oil.
Oil Temperature: Keep the oil temperature between 350-375℉ for optimal cooking. This helps the dough cook completely, getting a crispy outside and not overcooking. After removing a batch of cooked churros let the oil come back to temperature before adding the next batch. Check the temperature using an instant read thermometer.
No Stand Mixer: If you don't have a stand mixer you can use a hand mixer or do this mixing by hand. Be sure to mix for at least 2-3 minutes because the egg will want to separate from the dough.
Nutrition
Serving:
1
serving
|
Calories:
198
kcal
|
Carbohydrates:
36
g
|
Protein:
3
g
|
Fat:
5
g
|
Saturated Fat:
3
g
|
Cholesterol:
37
mg
|
Sodium:
144
mg
|
Potassium:
32
mg
|
Fiber:
1
g
|
Sugar:
19
g
|
Vitamin A:
158
IU
|
Calcium:
20
mg
|
Iron:
1
mg
Nutrition information is automatically calculated, so should only be used as an approximation.
Like this? Leave a comment below!
Recipe first published January 1, 2021. Updated December 12, 2022 with new information, recipe is unchanged.
Photography done by KJandCompany.co