7 layer dip! This easy to put together Mexican layered dip has seven layers of flavors perfect for setting out at a party or for having as an appetizer at home. This is sure to become a favorite!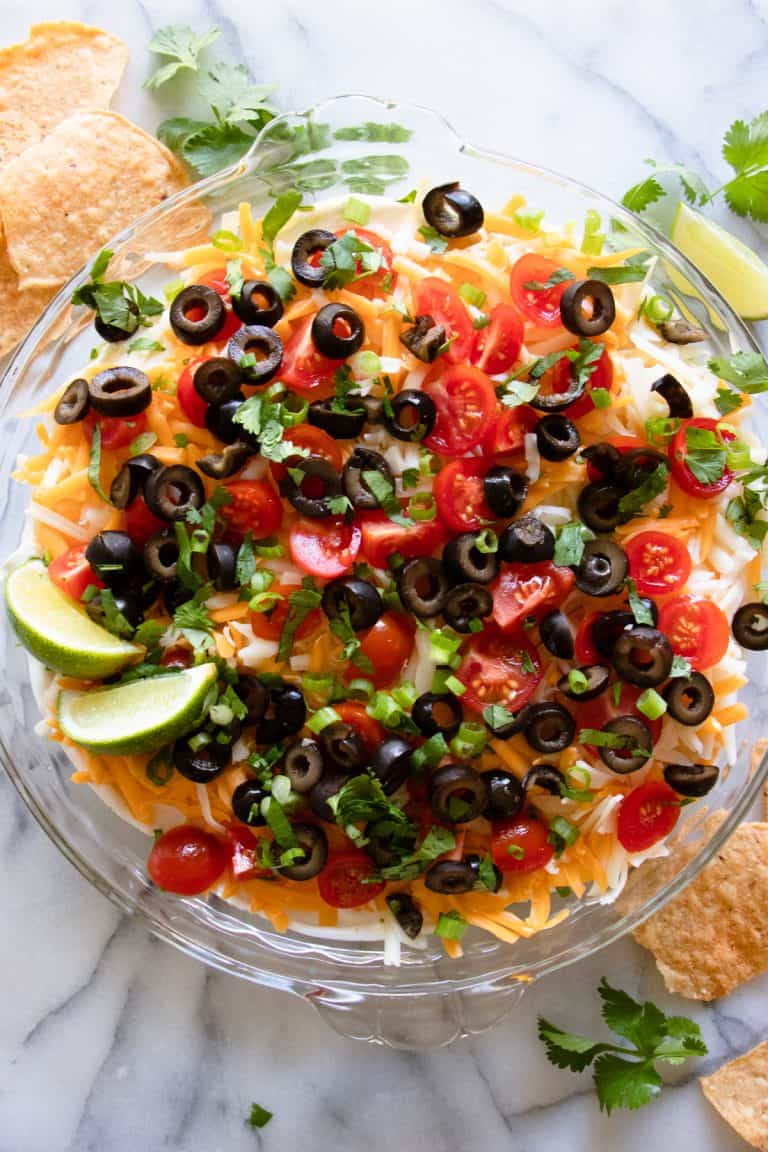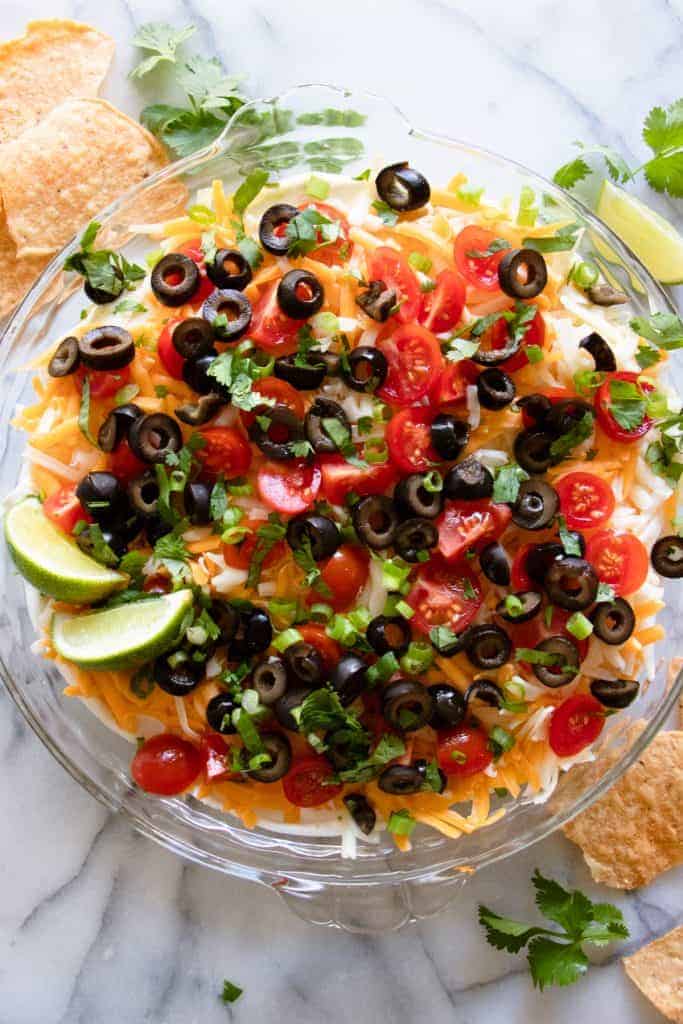 What is 7 layer dip? 
Seven layer dip, also referred to as Mexican layered dip, or 7 layer bean dip, is pretty much what it sounds like! A dip made of seven layers. 
There's several varieties of this recipe around, and it's one I'm sure everyone makes a little bit differently. The most common layers are the first three which include refried beans (or bean dip), guacamole and sour cream. The remaining layers are easy to change up. My favorites include: shredded cheese, diced tomatoes, green onion, and sliced black olives. 
I prefer using grape tomatoes or Roma tomatoes because they don't release as much juice. And this is also the reason I prefer to use tomatoes over a pico or a salsa. As the dip sits the juices can affect the rest of the dip.
Some other options include:
diced jalapeños or green chilies.
Unlike traditional bean dip, this dip is chilled and served cold.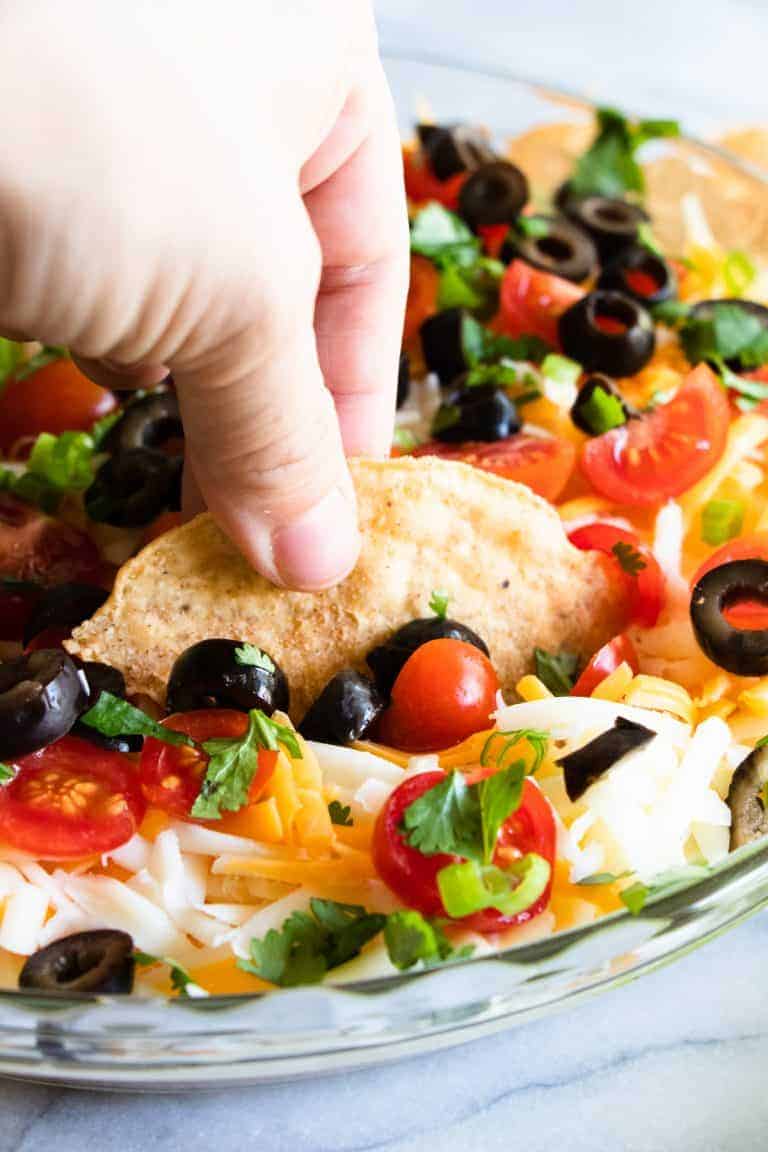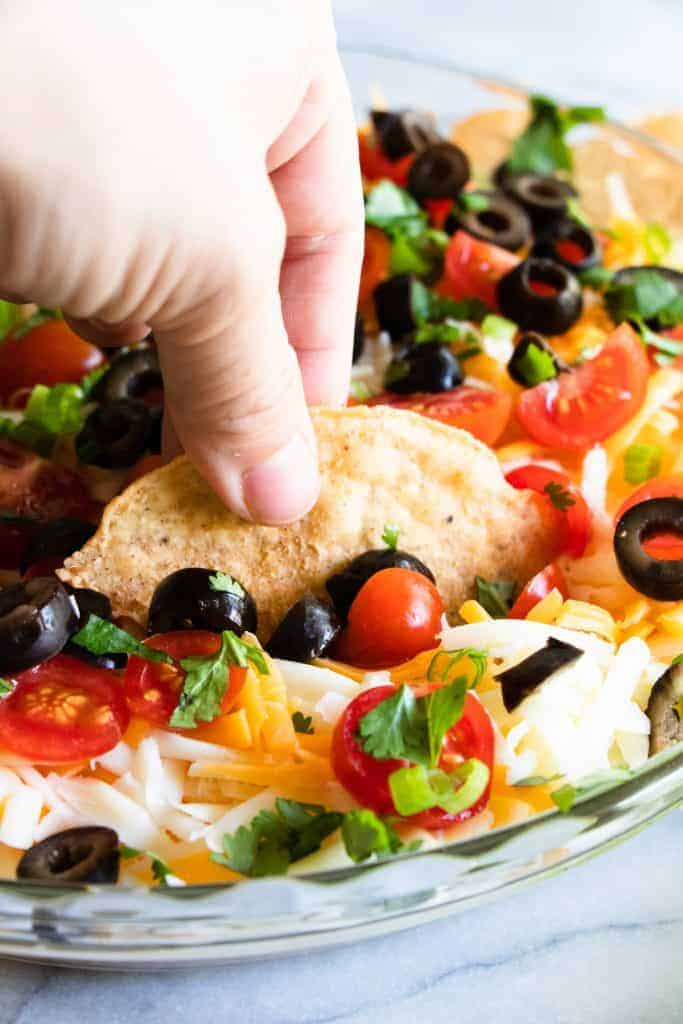 How do you make 7 layer dip?
This 7 layer dip comes together fairly easy, especially if you're using store bought ingredients. If I have homemade refried beans on hand I will use those, but typically when I make this dip I just use canned refried beans. I do mix mine with some homemade taco seasoning and a bit of sour cream to make it more of a bean dip, it's easier to scoop with chips and is more flavorful. I do always make homemade guacamole though, because it's so quick and easy to put together and tastes a thousand times better than any store bought guacamole I've ever had.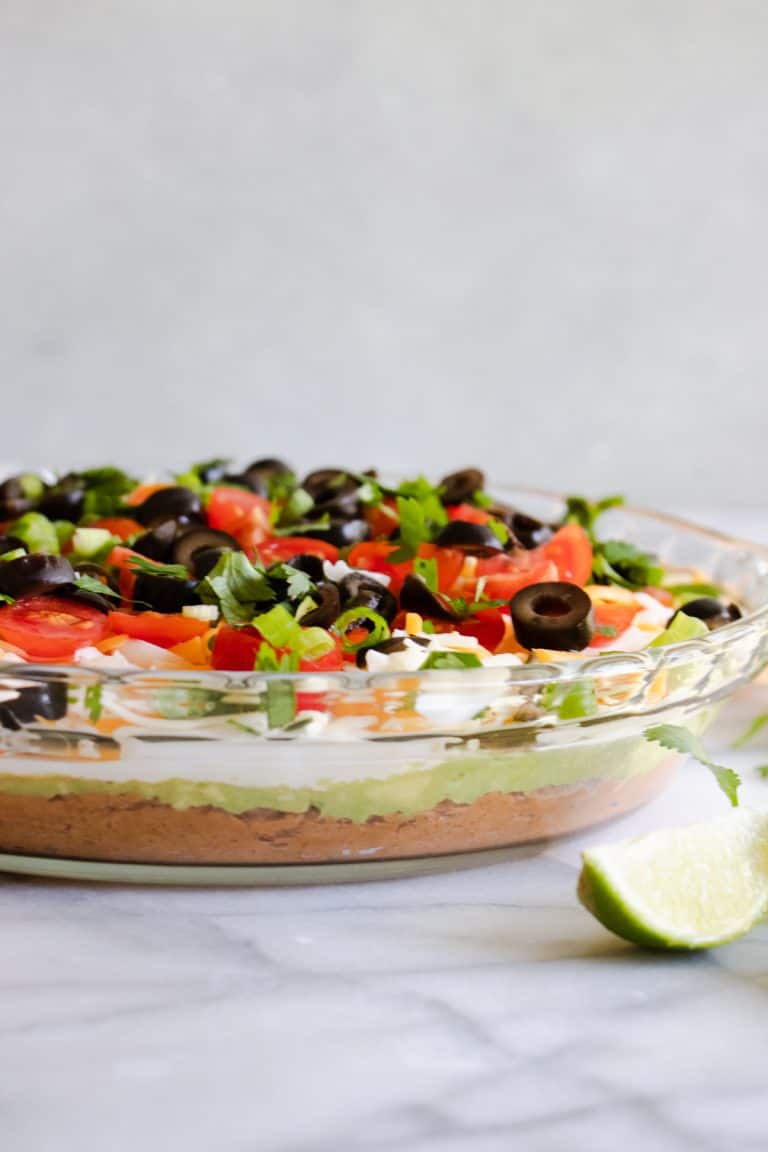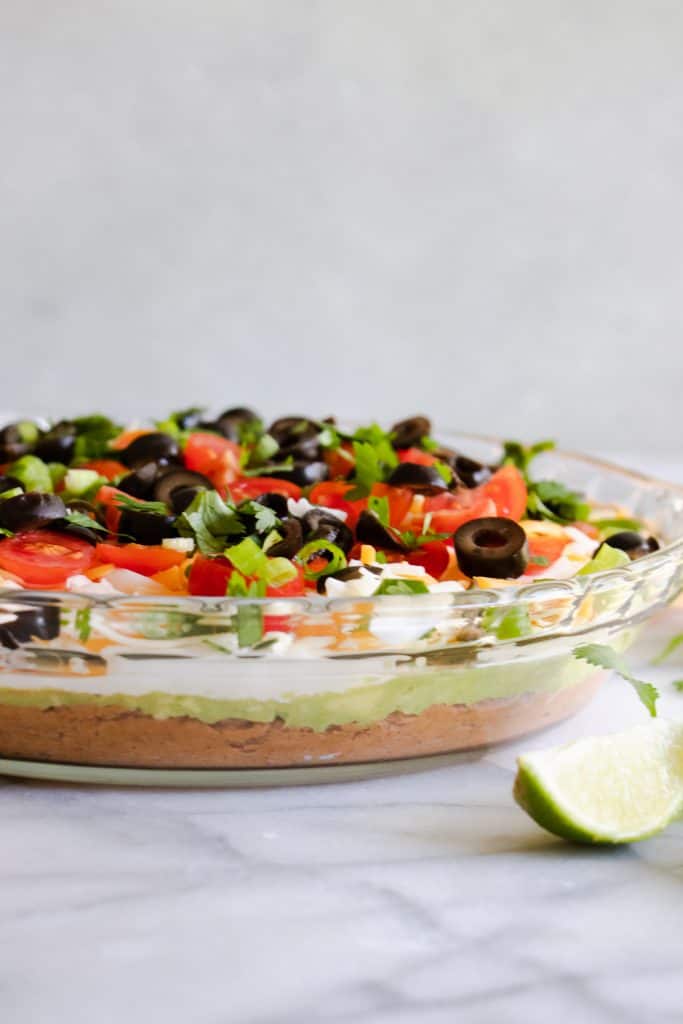 To assemble the dip, grab a glass dish. An 8×8 or a pie dish works great. And you want to use glass because then you can see the layers! 
Spread each layer of the beans, guacamole and sour cream one at a time. Use the back of a spoon to smooth out the top of a layer before adding the next one. This makes it look pretty in the glass dish. 
Sprinkle on the cheese, tomatoes, green onion and olives. Cover the dip with plastic wrap and place in the fridge to chill for at least 30 minutes before setting out to serve. Serve the layered dip cold with tortilla chips.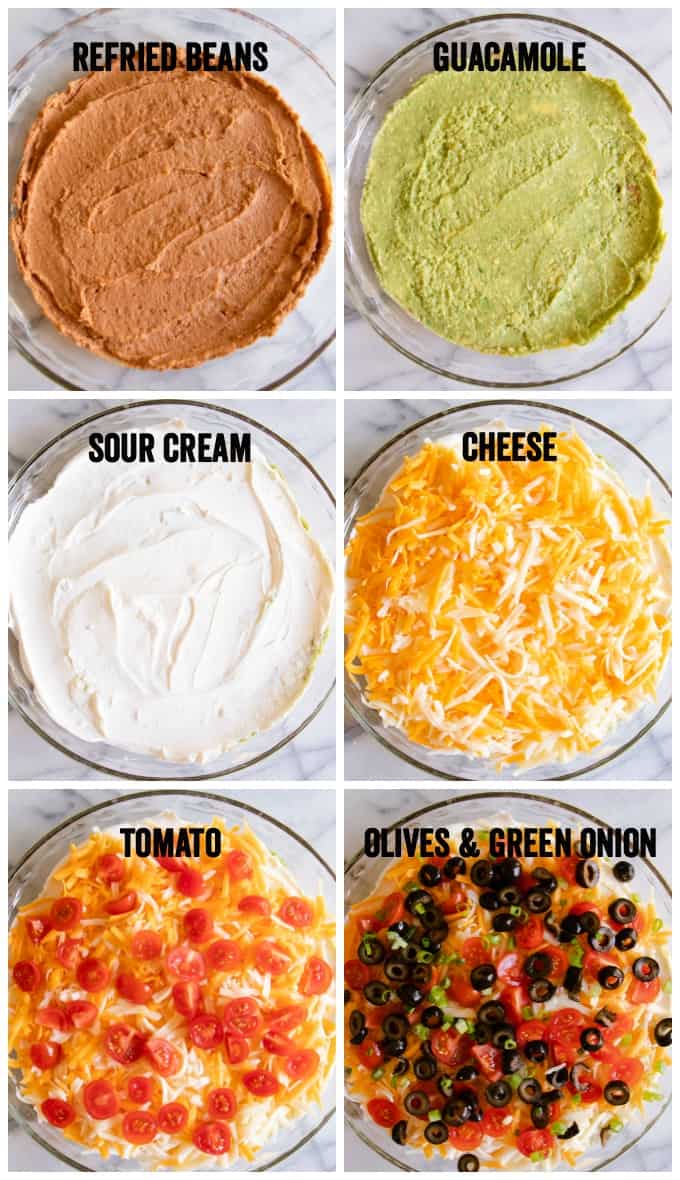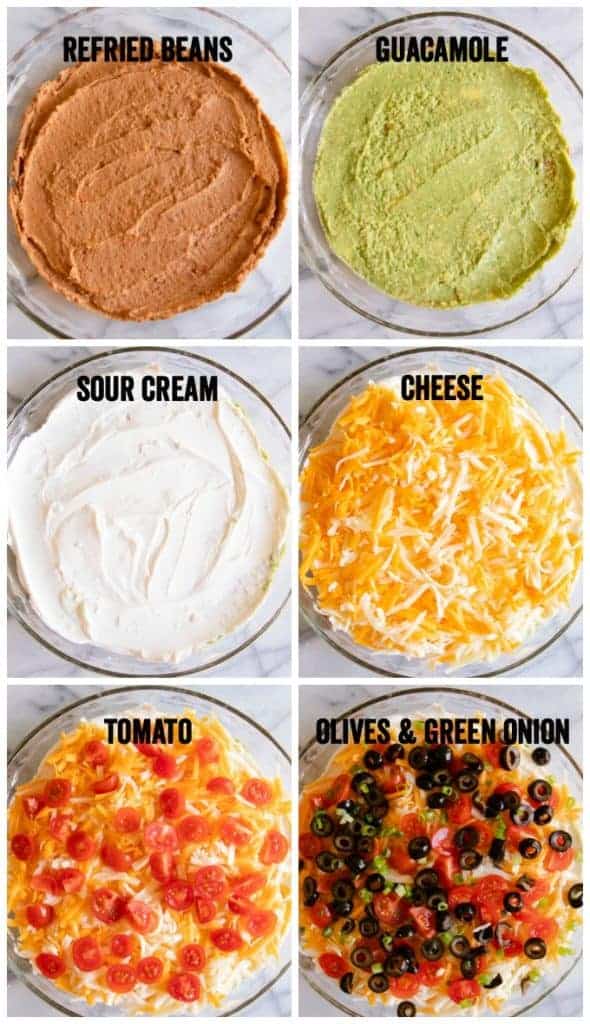 More Dip recipes to try:
WANT TO TRY THIS 7 LAYER DIP?
PIN IT NOW! 
FIND ME ON PINTEREST FOR MORE GREAT RECIPES!
The recipe 7 layer dip first appeared on Food Fanatic.
House of Yumm is a participant in the Amazon Services LLC Associates Program, an affiliate advertising program designed to provide a means for us to earn fees by linking to Amazon.com and affiliated sites.