Apple Spice Latte. This creamy, slightly spicy apple spice latte is the perfect comforting drink to sip on. Easy enough to make for your morning coffee OR an afternoon pick me up!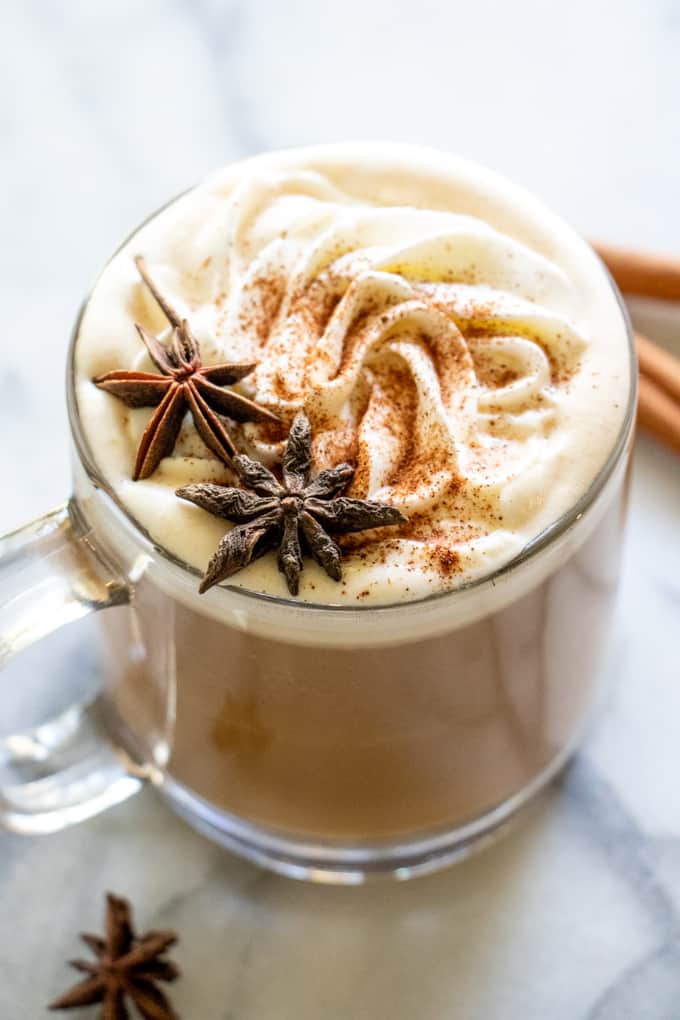 This easy to make, homemade latte is SO easy to make! Made with a homemade apple spice syrup that has a hint of apple, sweetened with brown sugar, and spiced with cinnamon, nutmeg, and a hint of ginger.
How to Make a Homemade Latte:
First of all, what is a latte? A latte refers to a coffee drink made with espresso, steamed milk and foam. So how are we going to do that at home with no fancy equipment? I share a bit more about that in my Snickerdoodle Latte post, along with a video showing an easy method done with nothing but a jar.
For this particular recipe, I used a dark roast K Cup, because that's what I typically make at home since I have a Keurig. Not a fancy espresso machine. I will make the small cup sometimes, to get a more concentrated coffee flavor. But usually I just use the middle size and am perfectly happy. If you are using a lighter roast coffee you may need to adjust the amount of syrup you are adding to your coffee.
Add in the apple spice syrup, if it's coming out of the fridge where it's being stored, I would recommend heating it slightly with the milk or cream you will be using. This just helps to keep your coffee hot for drinking.
If you want foam, you can try the jar trick I share with the Snickerdoodle Latte recipe, or I also have this Milk Frother (affiliate link) which works great for heating milk and getting foam to add to your coffee to create a more authentic homemade latte.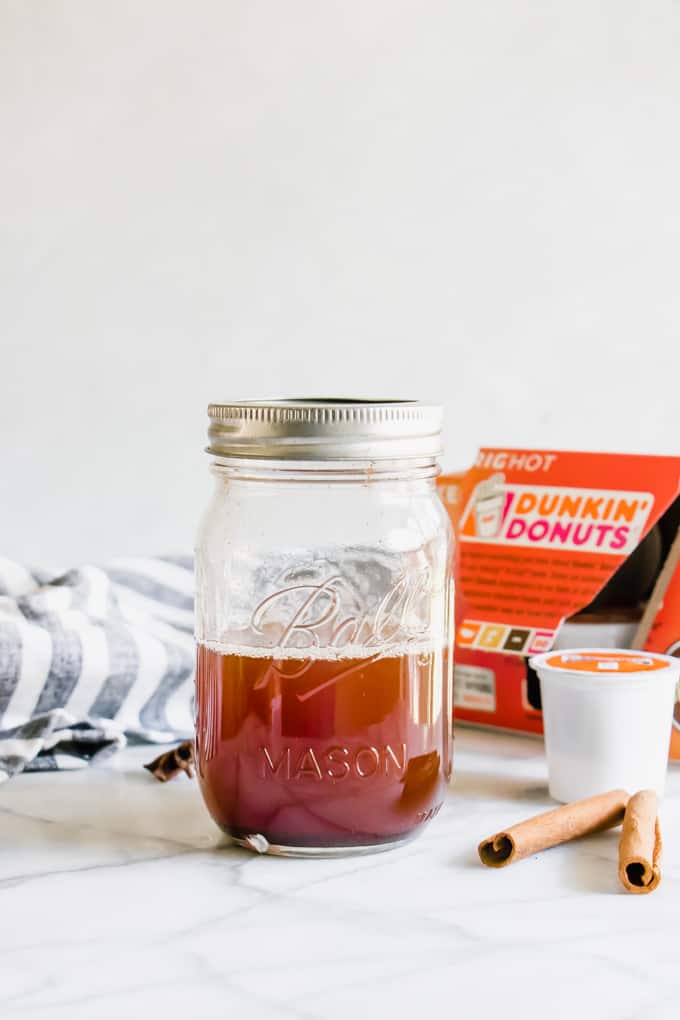 How to Make Homemade Apple Spice Syrup:
This syrup is how we're going to get flavor into our coffee. It took me several tries to get it just right, and I can honestly say that I'm really happy with how it came out. The flavor, when added to the coffee is mellow, not overpowering, and it definitely carries a hint of spice and apple. It's perfectly balanced.
Basically we will be making a simple syrup.
Combine the apple juice and water.
Add in the light brown sugar and apple pie spice (if you don't have any in your cabinet no worries I share how to make your own in the recipe card below).
Whisk together while heating. Bring to a simmer.
Allow the mixture to simmer and cook while stirring occasionally. The amount of liquid will reduce, meaning that the flavor is becoming more concentrated and the texture will change to a more syrup like consistency.
The resulting apple spice syrup is easily stored in a jar or other air tight container in the refrigerator for about 3-4 weeks. You will need to give the syrup a shake or stir before using to mix it up and disperse the spices, since the remaining bits will settle to the bottom as it sits.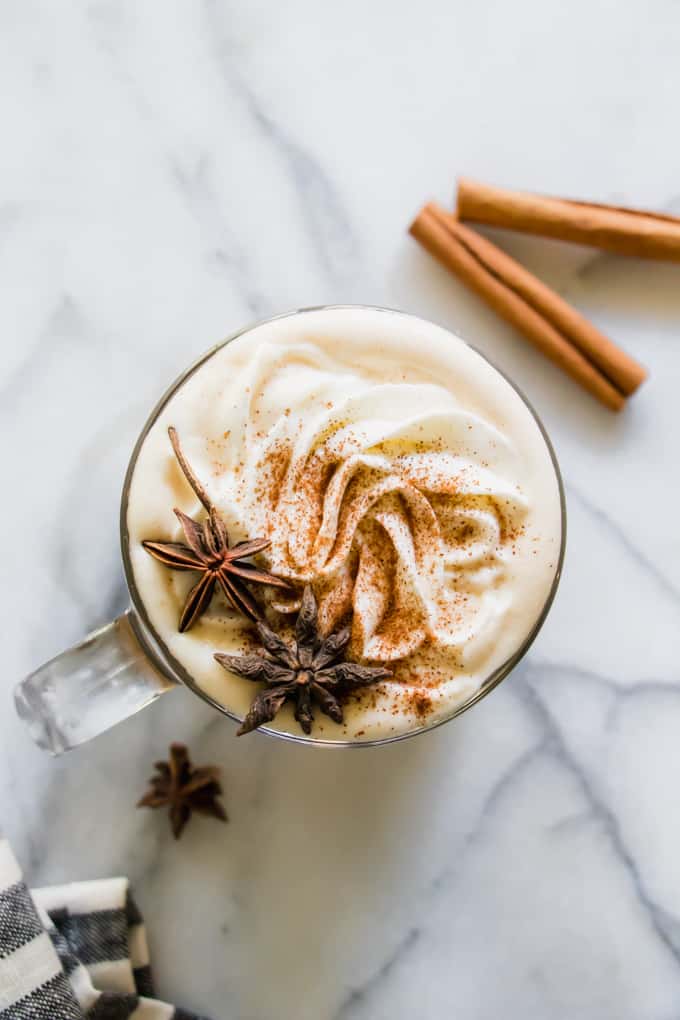 More Coffee Drinks to Make:
WANT TO TRY THIS APPLE SPICE LATTE?
PIN IT NOW!
FIND ME ON PINTEREST FOR MORE GREAT RECIPES!
Apple Spice Latte
Apple Spice Latte. This creamy, slightly spicy apple spice latte is the perfect comforting drink to sip on while enjoying all that the Fall Season has to offer.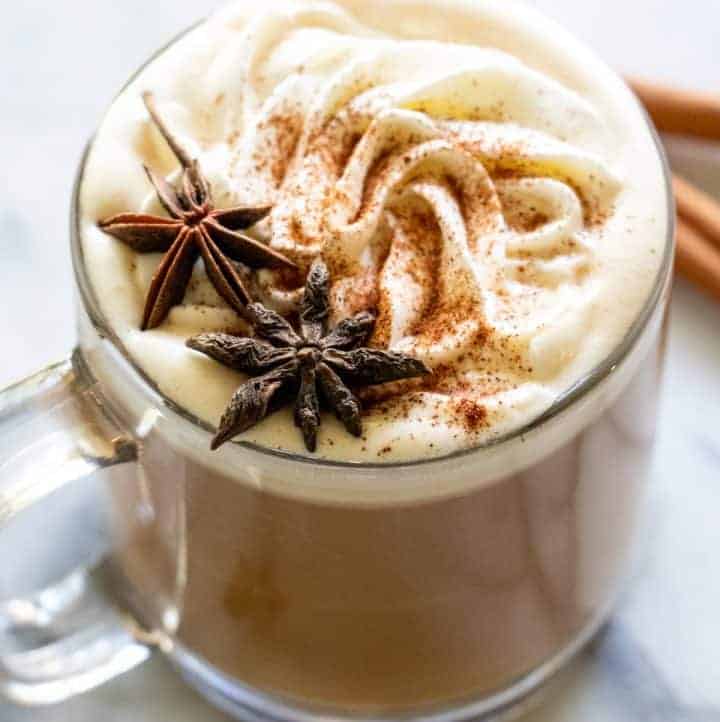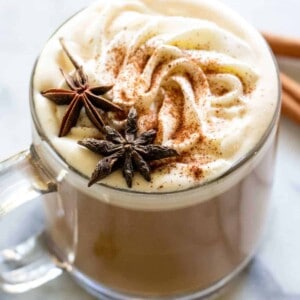 Ingredients
Apple Spice Syrup
1

cup

apple juice

1

cup

water

1/2

cup

light brown sugar

3/4

teaspoon

apple pie spice*
Apple Spice Latte
1

cup

coffee

4

tablespoons

apple spice syrup

1/4

cup

milk/cream/half n half
Optional toppings
Whipped cream

Additional apple pie spice
Instructions
In a small saucepan add the apple juice, water, light brown sugar and apple pie spice. Whisk to combine.

Bring mixture to a simmer while stirring occasionally. Allow to simmer about 5-7 minutes until the amount has reduced to about half. The syrup will be thicker and will thicken more as it cools.

Once the syrup is cooled slightly you can pour into a jar for storage. Can store in air tight container in the refrigerator for 3-4 weeks. Just shake before use. Can also re-heat before adding to the coffee.

Prepare your coffee.

Pour the 4 tablespoons of apple spice syrup and the milk or cream into the hot coffee. Stir to combine. Serve warm.
Notes
If you don't have apple pie spice on hand you can substitute 1/2 teaspoon ground cinnamon plus 1/8 teaspoon ground nutmeg, 1/8 teaspoon ground allspice, and dash ground cloves or ginger.
The apple spice syrup recipe makes about 1-1 and 1/4 cup of syrup. Store in the refrigerator in a jar or other air tight container. I prefer my lattes with 4 tablespoons of the syrup if you want a bolder spice flavor to your coffee you can increase the amount that you use.
You can also sub apple cider in the recipe, but the spice flavor is much more pronounced than when using apple juice.
Nutrition
Serving:
1
cup
|
Calories:
210
kcal
|
Protein:
2
g
|
Fat:
1
g
|
Cholesterol:
2
mg
|
Sugar:
25
g
Nutrition information is automatically calculated, so should only be used as an approximation.
Like this? Leave a comment below!