Chorizo Enchiladas
Chorizo Enchiladas. Bold and flavorful, these chorizo enchiladas will soon become a favorite! Corn tortillas filled with a combination of spicy chorizo and ground beef smothered with a homemade enchilada sauce and topped with melty cheese.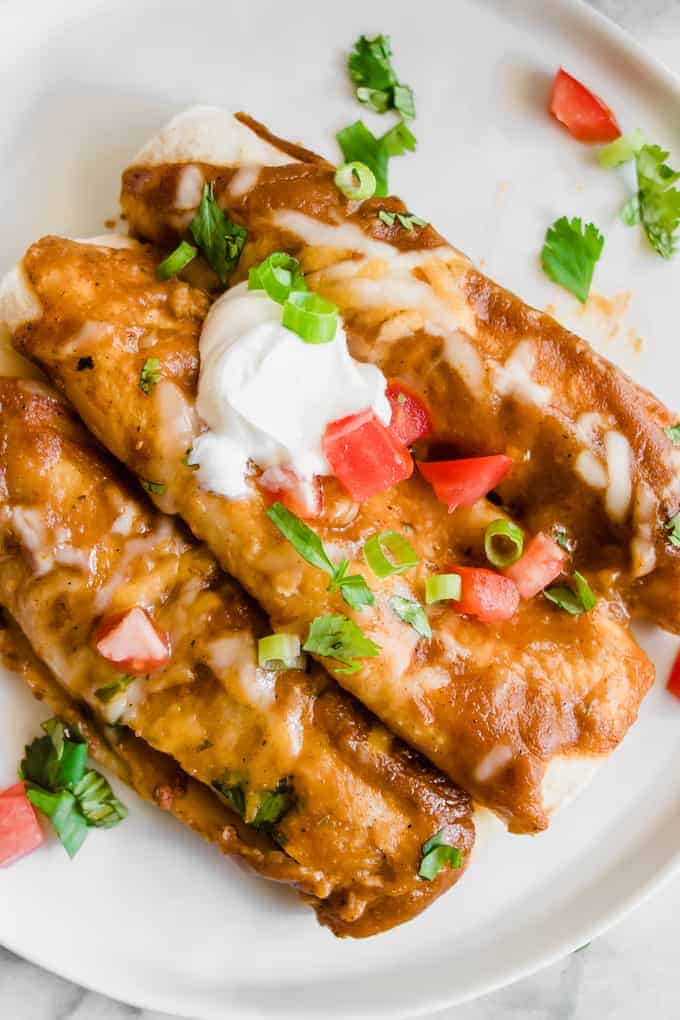 Chorizo Enchiladas
These chorizo enchiladas are bold, and flavorful. Using both ground beef and fresh chorizo in them adds a pop of spice and a bit of heat. Using a combination of both the meats keeps these enchiladas from being too soggy or greasy with just chorizo alone. The ground beef, adds stability to the filling. While the chorizo adds the spice.
These enchiladas came about while I was working on my Enchilada Meatball recipe. My first attempt was an epic fail that left me with just a pile of meat (ground beef and chorizo) that wouldn't form into meatballs, but the meat was so good, I had to do something with it. So I tossed them in some tortillas to make enchiladas. And they were a big hit.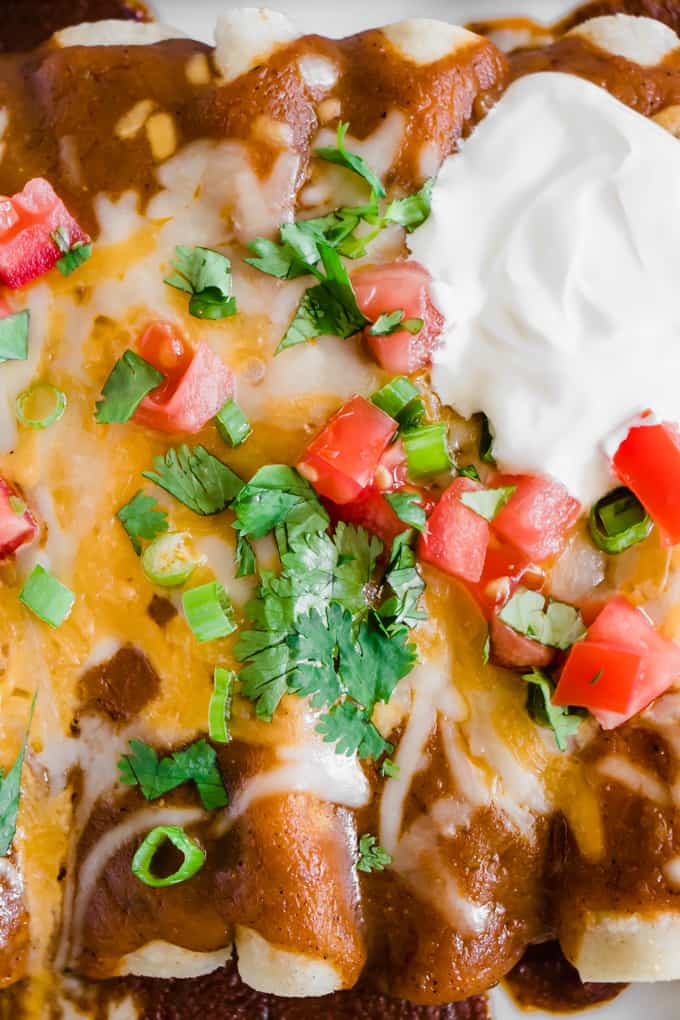 How to prepare your tortillas to make enchiladas:
This method of preparing the tortillas is a newer one for me. But I've had excellent results and plan on continuing with it. It does take a little more time than my previous method of just sticking the tortillas in the microwave to heat up, which makes them easier to bend and keeps them from breaking while you roll them. This method I'm sharing with you today involves frying the tortillas and then you can dip them in the sauce if you want to also.
First of all, frying the tortillas. Fry the tortillas briefly in oil, just enough for the tortillas to crisp slightly and get a bit of color. This gives flavor to the tortilla, both from the tortilla itself and from the oil. But it also creates a barrier on the tortilla, so that it absorbs some of the enchilada sauce, but not enough to make them a soggy mess.
Dipping the tortillas. To ensure that your entire enchilada has sauce, you can dip the quick fried tortilla into the enchilada sauce to coat both sides. At this point you are set to roll up the enchiladas.
Again, it does take a little extra time, but it is worth it in my opinion.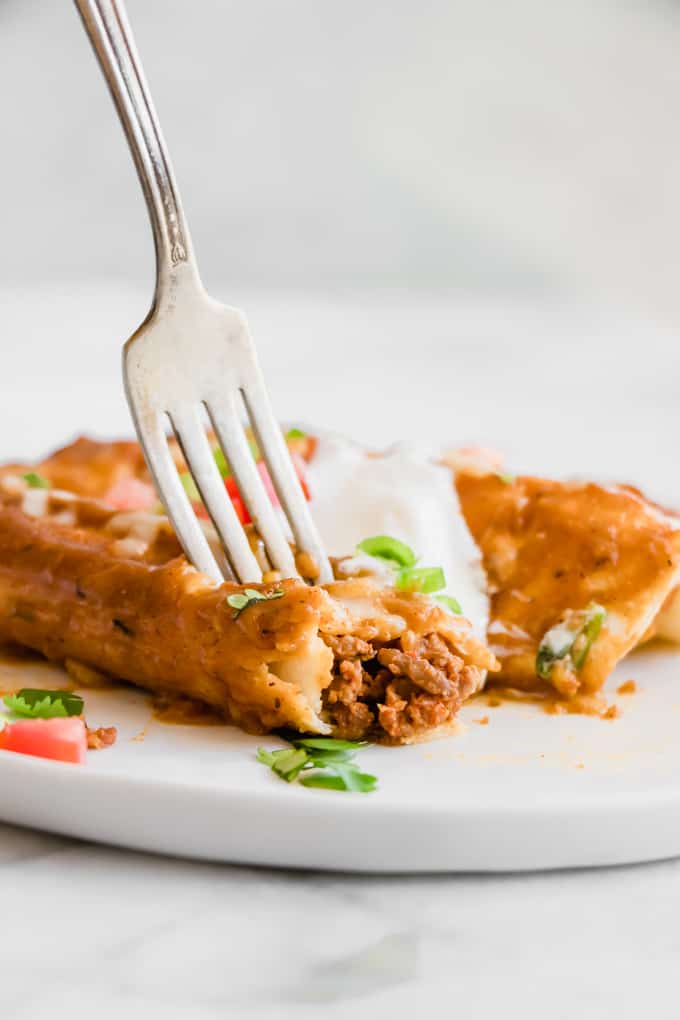 Other Tex Mex Recipes:
WANT TO TRY THESE CHORIZO ENCHILADAS?
PIN THEM NOW! 
FIND ME ON PINTEREST FOR MORE GREAT RECIPES!
Print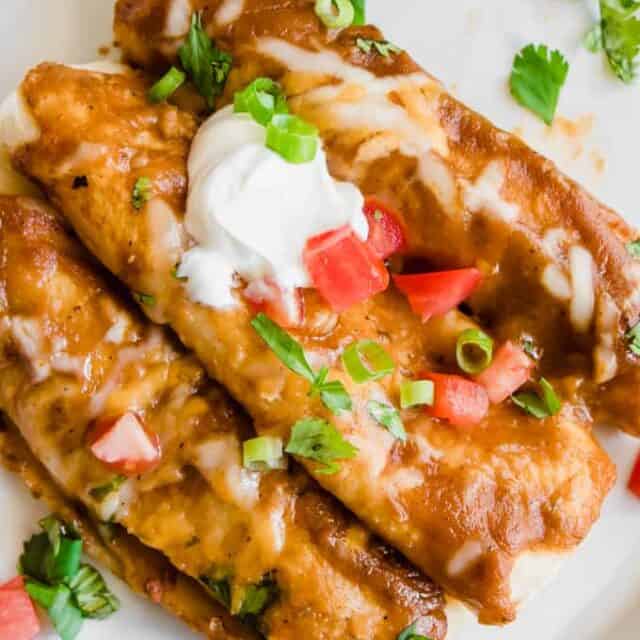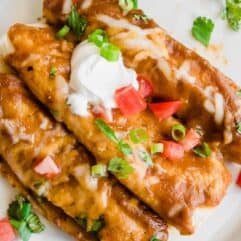 Chorizo Enchiladas
---
Author:
Prep Time: 20 mins
Cook Time: 30 mins
Total Time: 50 minutes
Yield: 20 enchiladas 1x
Scale
Ingredients
1 pound ground beef
9 ounces fresh chorizo
1/2 teaspoon dried oregano
1/4 teaspoon salt
1/2 teaspoon garlic powder
1/2 teaspoon onion powder
1 recipe Homemade Enchilada Sauce
20 white corn tortillas
2 cups shredded monterey jack cheese
---
Instructions
Preheat oven to 350.
In a large skillet over medium heat, brown the ground beef and chorizo together. Once cooked through pour the meat through a strainer to get rid of all the grease. Return the meat to the skillet.
Add all of the seasonings to the meat (dried oregano, salt, garlic powder, onion powder). Stir to combine.
Prepare the tortillas for filling by heating a cast iron skillet with about 1/2 cup oil (canola or vegetable oil). Once the oil is hot enough that it sizzles when you dip in the tortilla then gently place one tortilla at a time into the oil. Allow the tortilla to fry in the oil for about 10 seconds, just long enough to get a slight coloring. Then flip the tortilla and fry the other side. Remove the tortilla, wrap it in a towel to retain the heat and continue with the remaining tortillas.
If you want to dip each tortilla into the enchilada sauce this is the time to do it, then add the fillings.
Spoon about 1/4 cup of the beef and chorizo mixture onto the tortillas, then roll and place in a baking dish, seam side down. Continue until all the tortillas are filled.
Pour enchilada sauce over the top of the enchiladas.
Bake at 350 for about 15 minutes, then open the oven, sprinkle cheese on the top of the enchiladas and continue baking for another 5 minutes.
---
Category: enchilada
Method: baked
Cuisine: tex mex, Mexican
Nutrition
Serving Size: 1
Calories: 194
Sugar: 3 g
Sodium: 379 mg
Fat: 8 g
Carbohydrates: 22 g
Protein: 11 g
Keywords: enchiladas, dinner, chorizo,
House of Yumm is a participant in the Amazon Services LLC Associates Program, an affiliate advertising program designed to provide a means for us to earn fees by linking to Amazon.com and affiliated sites.