Easy to make Zucchini Boat Chicken Enchiladas!  A tasty way to eat more veggies that the whole family will love!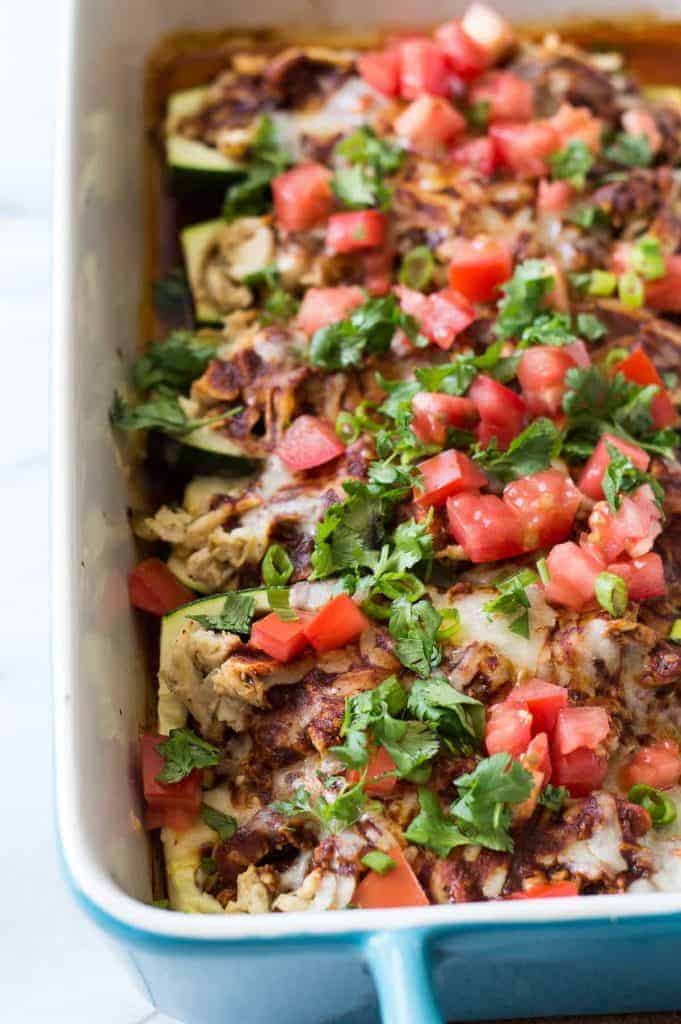 Zucchini Boat Chicken Enchiladas! Maybe my new favorite way to eat zucchini.  I know it's nearing the end of zucchini season.  But this is the perfect recipe to use up any lingering zucchini you may have on hand or that you can snag from the market.  These zucchini boats are loaded with shredded chicken and cheese.  Topped with enchilada sauce and all the favorite toppings!
A fun alternative to a traditional enchilada with tortillas, making this a gluten free dish if you're concerned about such things, and a tasty way to ensure we're eating more veggies!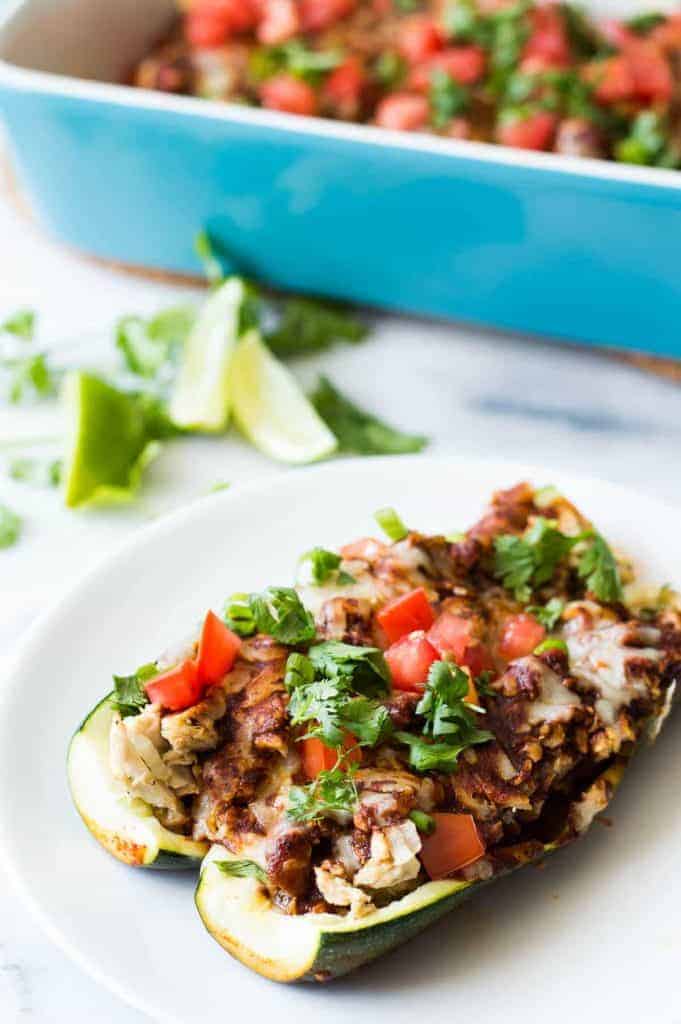 Have you had zucchini boats before?  Really easy to make.  We cut the zucchini lengthwise and then using a spoon scrape out all the seeds and create a boat shape in the middle.  This makes it easy to stuff the zucchini with whatever deliciousness you want.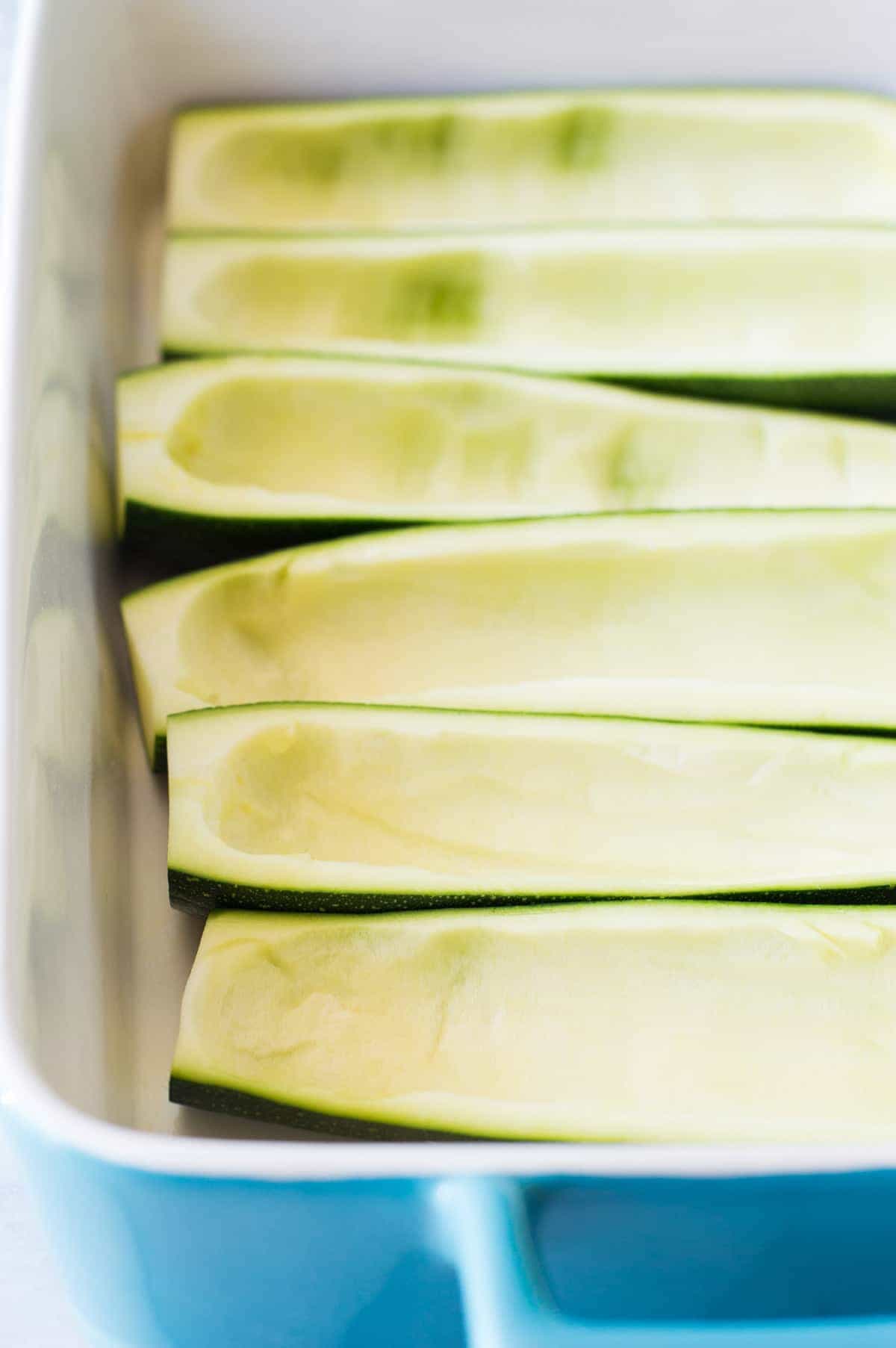 Make sure you save the zucchini you scrape out too.  Just toss that in a frying pan with a tiny amount of olive oil, some salt and pepper and you have a tasty snack!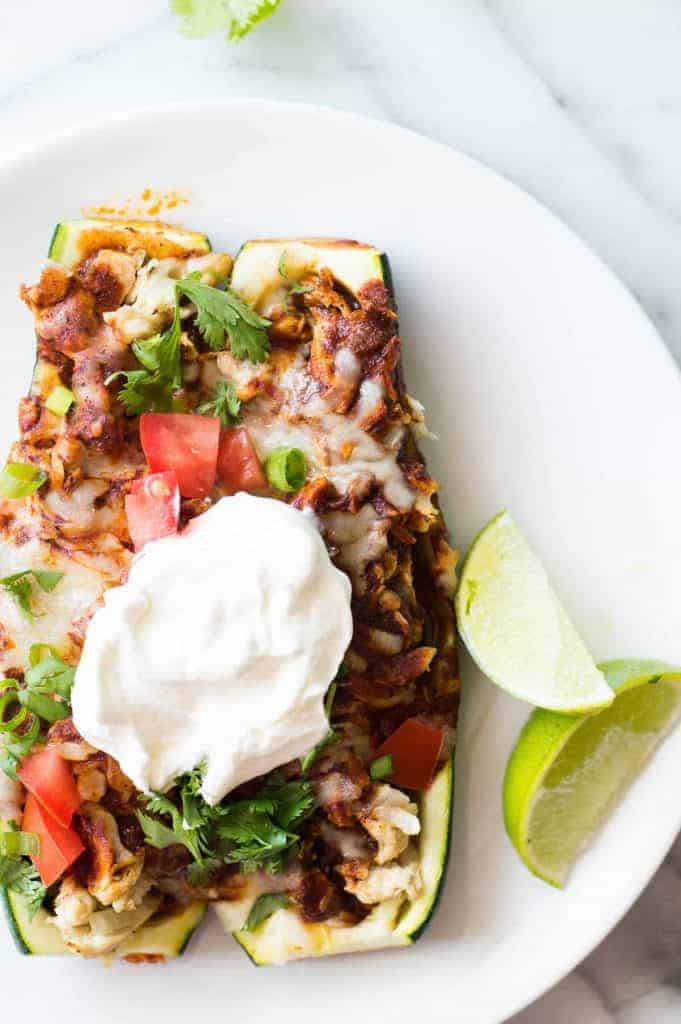 Not feeling the chicken?  You can always substitute another meat in here.  Or even just stuff the zucchini with cheese and some green chiles to make this meatless if you want.  Or leave out the cheese and just have meat.  Enchiladas are such an easy thing to change up.
The most important part?  The sauce.  I love making the Texas Chili Gravy, which I share the recipe for with these Cheese Enchiladas. Or if you're short on time you can always grab a can of enchilada sauce from the market also.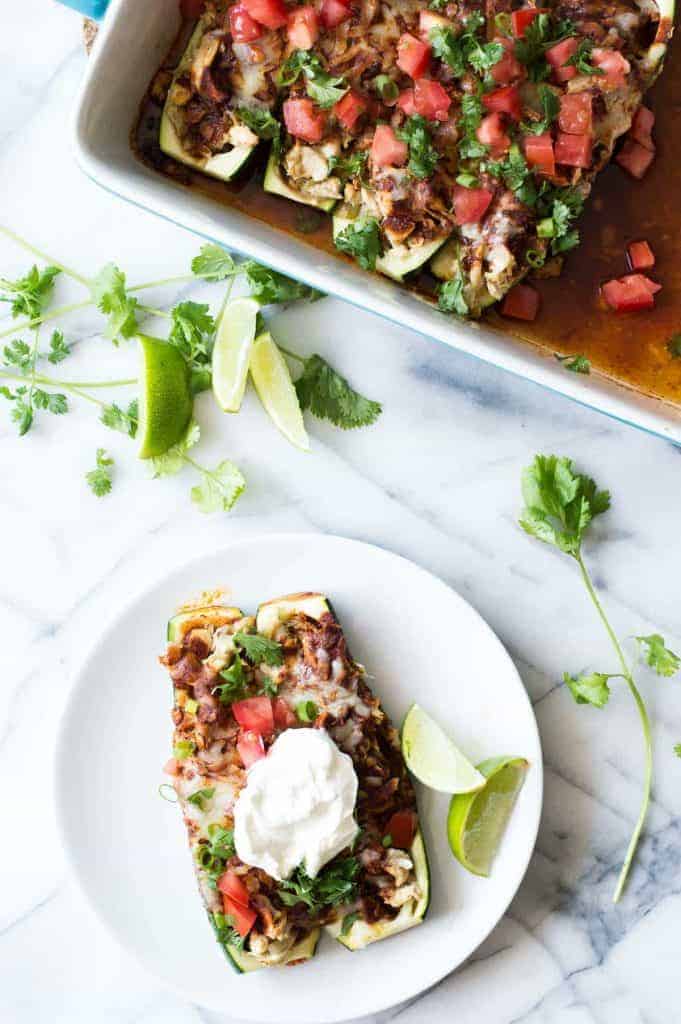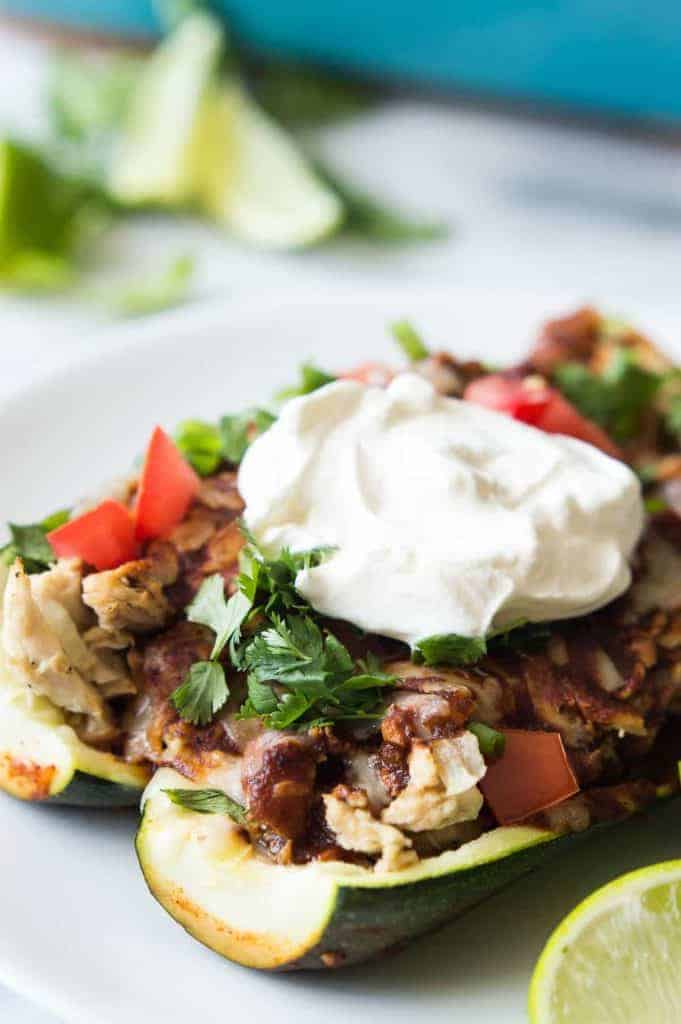 And of course theres the toppings.  That's probably my favorite part of any mexican style dish.  I can toss some cilantro, tomatoes, green onions, sour cream.  You could add olives if you want.  Pretty much whatever you would put on your tacos you can toss on top of enchiladas.
Make a batch of some Mexican Rice and Homemade Refried Beans and you're all set!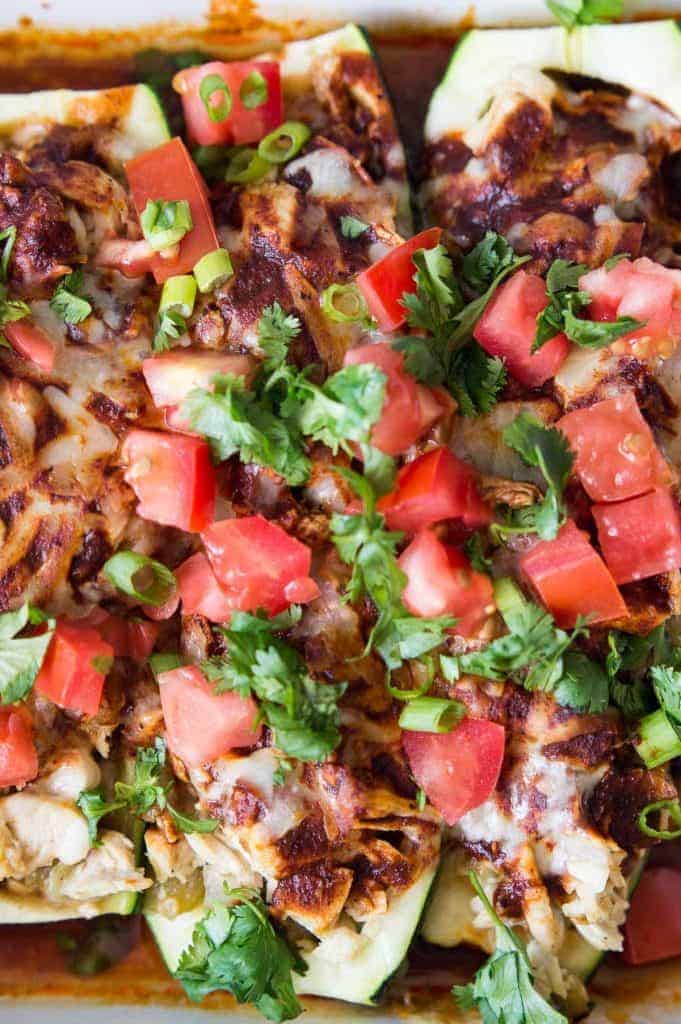 Need some more dinner inspiration?!
Treat Yourself! Subscribe today and receive a FREE E-Cookbook and weekly recipes to your inbox! Sign up here!  Follow me on Facebook and Instagram too!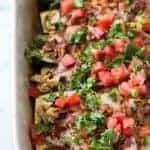 Zucchini Boat Chicken Enchiladas
Author:

Prep Time:

15 minutes

Cook Time:

50 minutes

Total Time:

1 hour 5 minutes

Yield:

6-8
---
Description
Easy to make Zucchini Boat Chicken Enchiladas! A tasty way to eat more veggies that the whole family will love!
---
Ingredients
1 and 1/2 pounds of chicken breast
1 tablespoon olive oil
1/2 teaspoon salt
1/4 teaspoon black pepper
1/4 teaspoon garlic powder
1/4 teaspoon ground cumin
1/2 cup chopped yellow onion (approximately half a small onion)
4 ounces diced green chiles
2 cups jack cheese (divided)
4-6 medium size zucchinis
Optional Toppings
diced tomato
diced green onion
sour cream
olives
cilantro
---
Instructions
Preheat oven to 425 degrees.
In a large skillet heat the olive oil. Add the chicken. Sprinkle with the salt and pepper. Cook about 7 minutes on each side until chicken is fully cooked. Remove from the skillet and place on cutting board.
Add the chopped onion to the skillet and allow to cook for a few minutes until the onion is softened and translucent. Remove from heat.
Shred the chicken and place in a bowl. Add the garlic powder, cumin, cooked onion, green chiles, and 1 cup of the jack cheese. Stir to combine. Set aside.
Cut the zucchini lengthwise and using a spoon scoop out the center of the zucchini leaving about a 1/4 inch barrier around the edge forming a boat shape.
Spray a casserole dish with cooking spray. Line the zucchini in the casserole dish with the boat part facing up. Spoon the chicken and cheese mixture into the zucchinis.
Pour enchilada sauce over the top. Cover the casserole dish with foil and bake at 425 degrees for 20 minutes. Remove the foil, sprinkle with the remaining 1 cup of jack cheese and continue to bake for an additional 10 minutes.
Remove from the oven allow to cool for about 5 minutes, serve warm and enjoy!
---
Products I Recommend for this Recipe:
**This post may contain affiliate links, but I only recommend products that I actually use and <3. Thanks for supporting House of Yumm!
7