Banana split cookies. Soft, chewy banana pudding cookies loaded with chocolate chips, sprinkles and maraschino cherries.
Chocolate, sprinkles, and cherries, OH MY!! Not to mention an incredibly soft banana pudding cookie to put it all in.
Before I get to that though, I feel like I owe you an apology for not posting these sooner this week! It's Wednesday already! Where have I been? Ever feel like things just get away from you?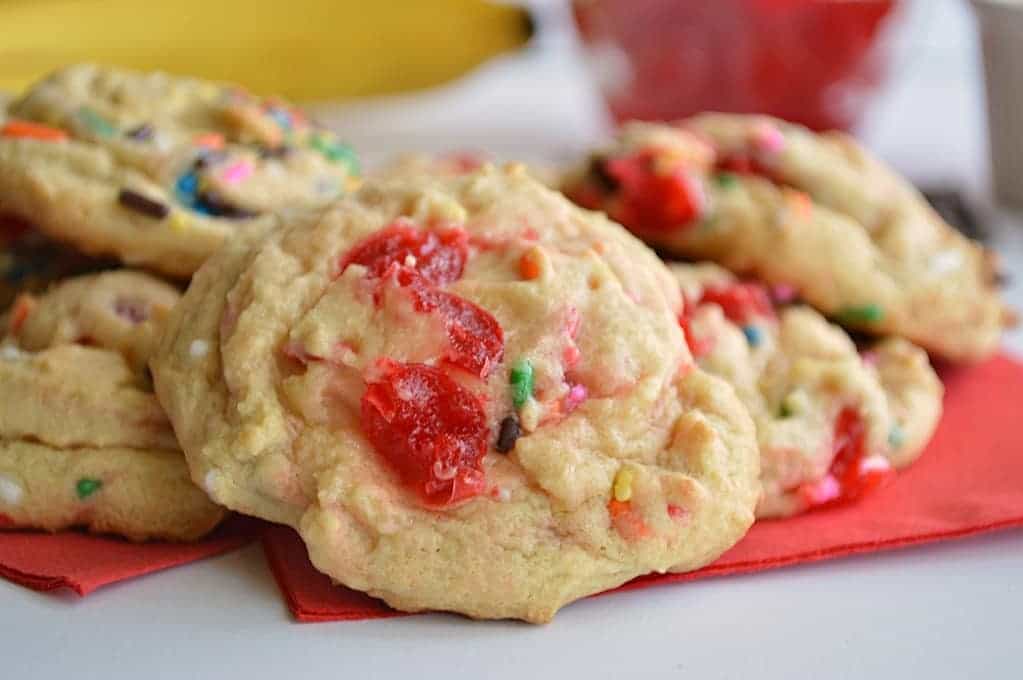 I'll just blame it all on an upcoming move, children's school projects, and life itself.
I'm sure everyone can relate? Right?
So now that I apologized, lets get on to possibly the best cookie ever invented!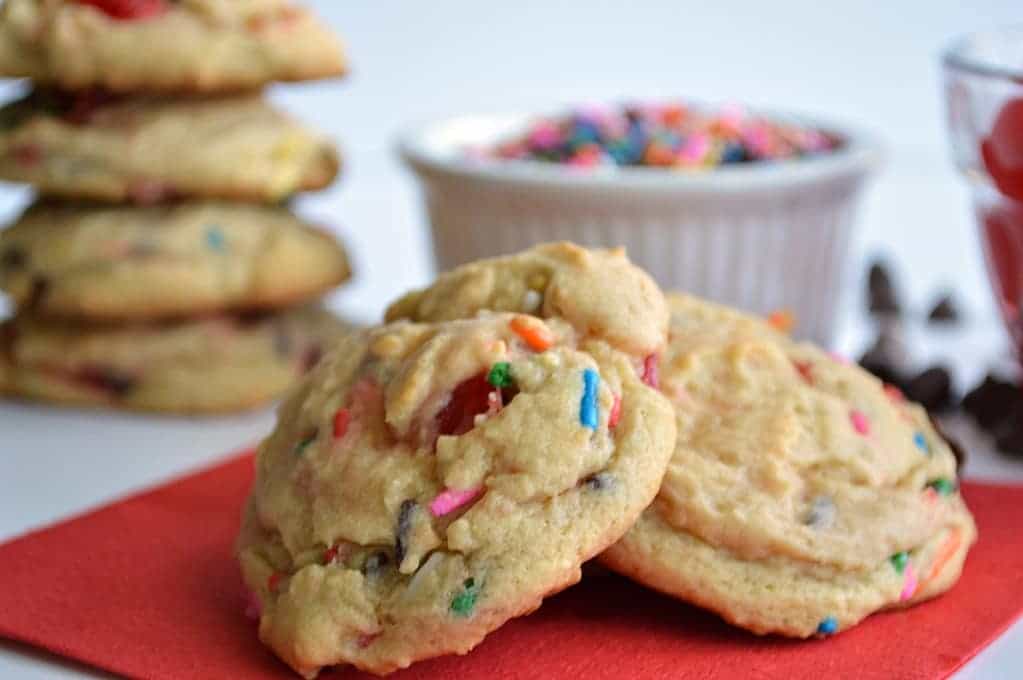 I've made three batches of these already, just in the last week. No single batch has survived past the day it's been made. So sadly, I am unable to tell you how long these can be stored for. But honestly, I don't think anyone is going to have the problem of them going bad!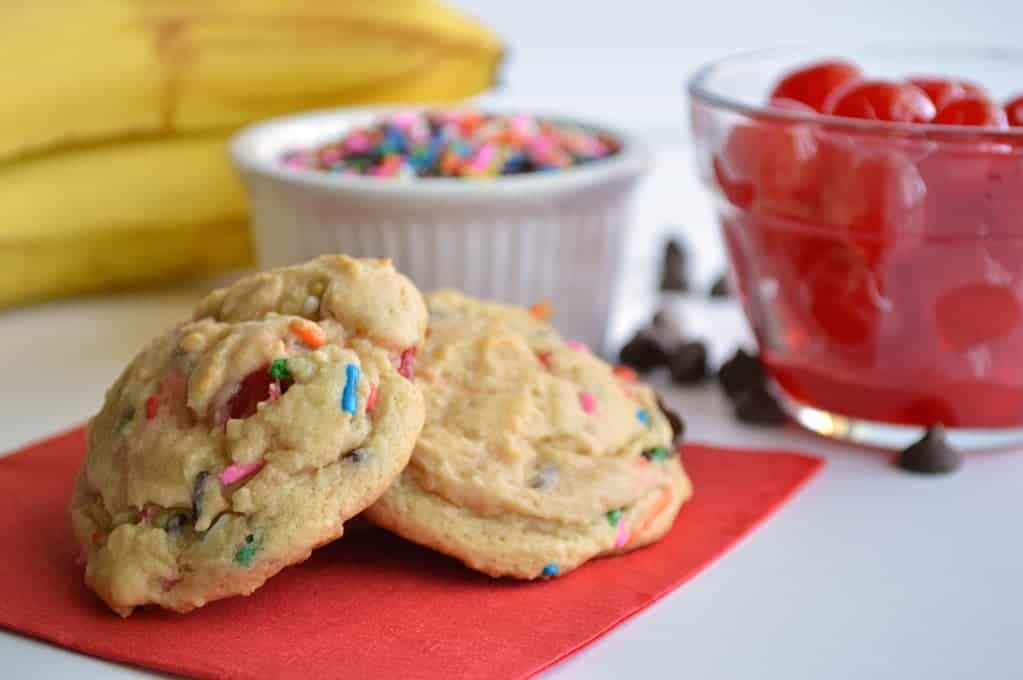 These cookies are made with a simple cookie recipe that involves a package of banana cream pudding. Have you had cookies with pudding before? If not, I highly recommend giving it a try. They are the softest cookies imaginable. So soft, that if I didn't eat them all I probably could have fashioned a pillow out of them to sleep on. Hmmm…that would be awkward. Moving on..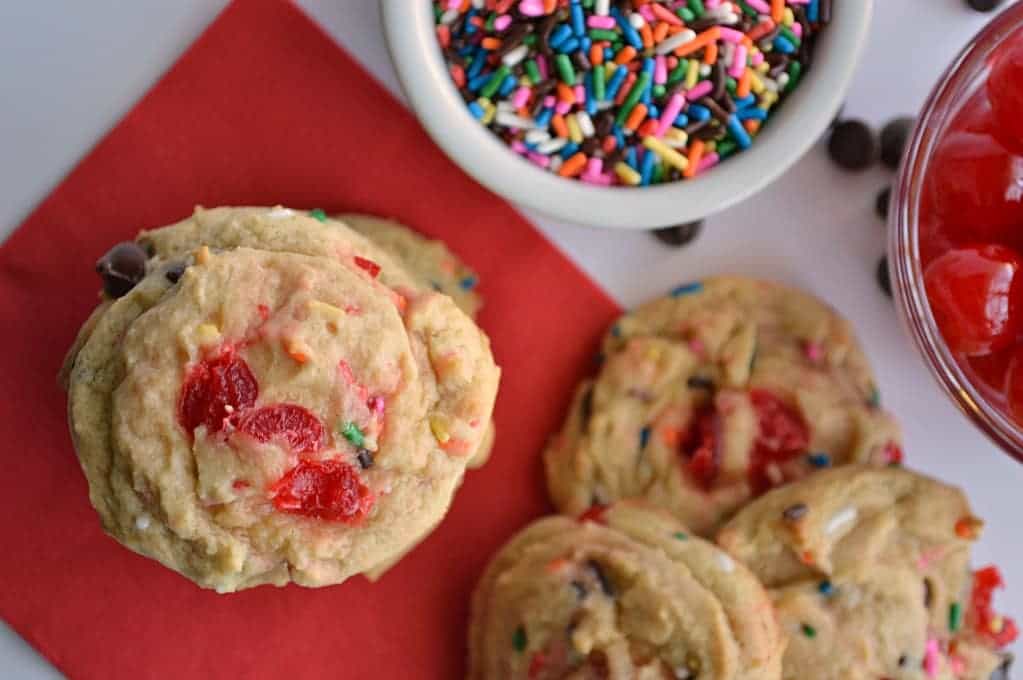 Maraschino cherries. As I think about these little delightful balls of sweet red stickiness I can't help but smile. Who doesn't love these cherries?! Ever make anything that you just want to have stand out and be AWESOME? All you have to do is add a cherry to it! When I'm at a restaurant and I get a drink with a cherry on top, I get so excited! And of course I try to take my time and enjoy my drink with that little red treat on it, but I can't do it! I must eat the cherry!!!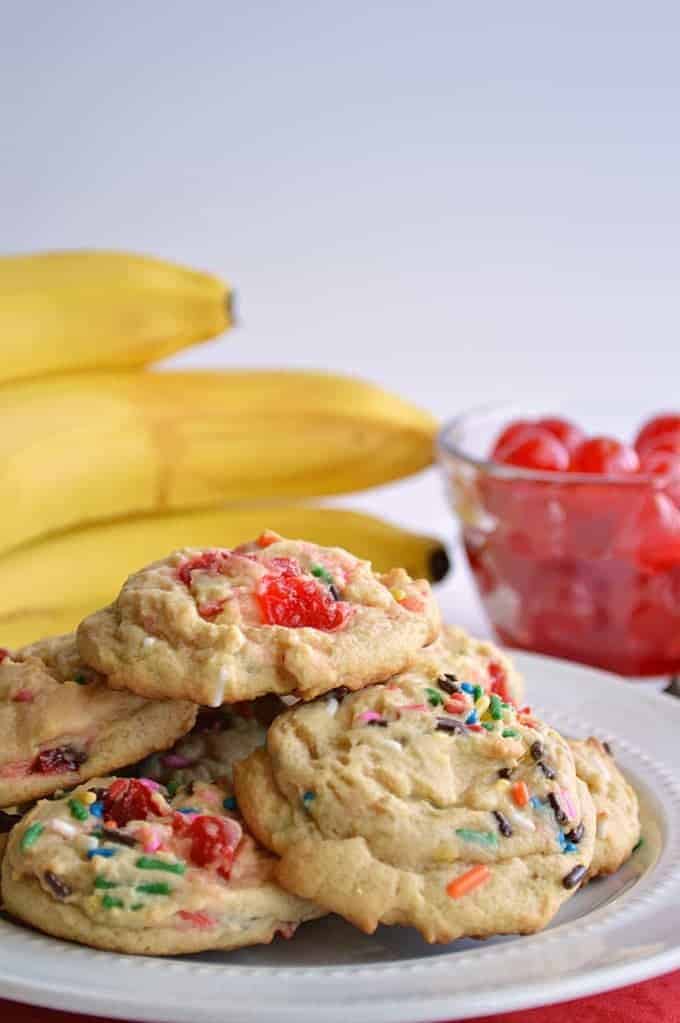 I was worried about how these would bake in the cookies, but they did great! I took the stems off and cut each one into about four pieces. Then the important part thing is to grab a paper towel and pat them dry so that all that sticky sweet red juice doesn't ruin your cookies. And yes by the end of this process your fingers will be dyed red. Then when you add them to the cookie dough, just gently fold it in so that they don't become mashed up, and you're not spreading any of the remaining juices around staining the cookie.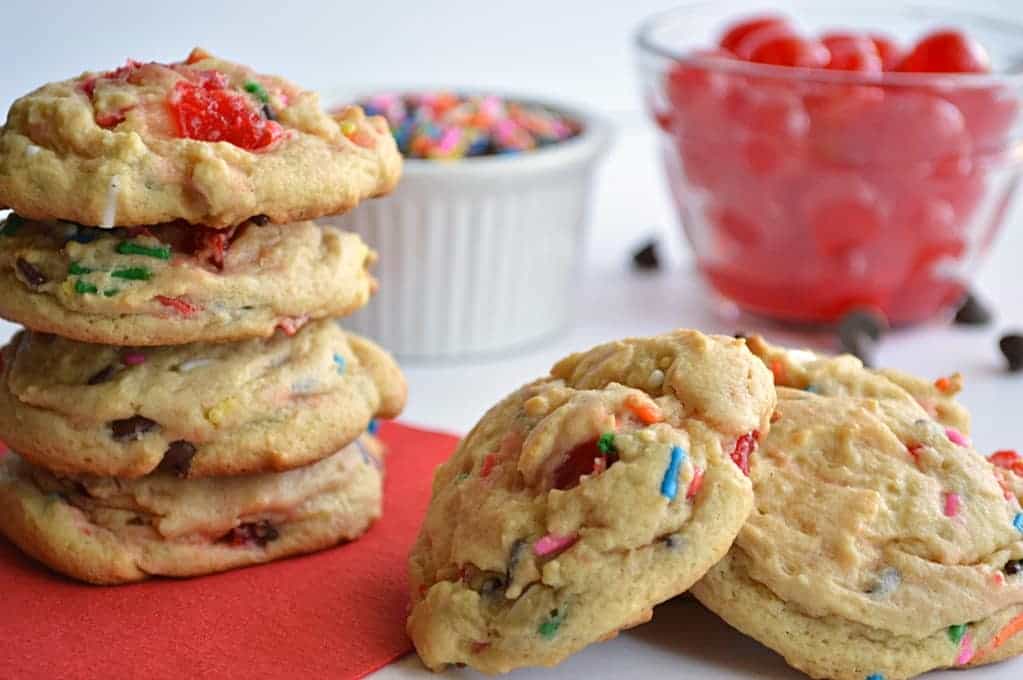 You are going to LOVE these cookies because of how simple they are to make, and how incredibly they taste.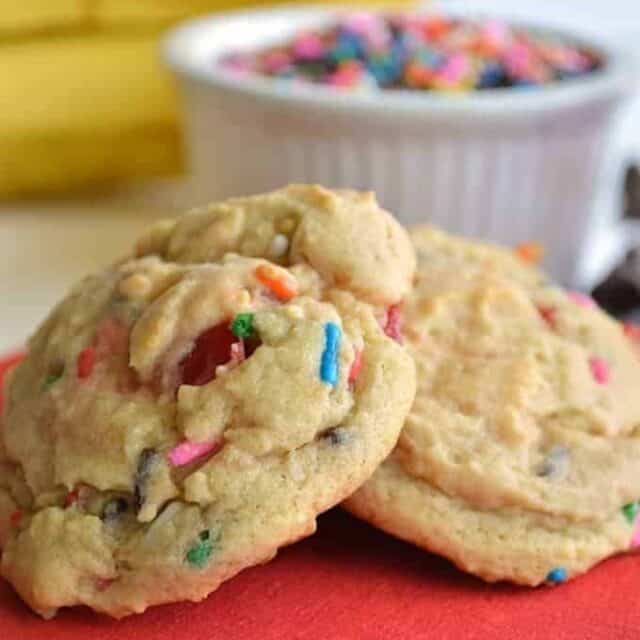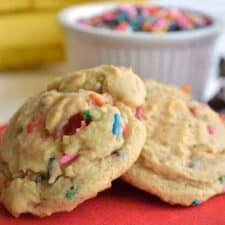 Banana Split Cookies
Banana split cookies. Banana pudding cookies loaded with chocolate chips, sprinkles, and maraschino cherries.
Ingredients
Instructions
Preheat oven to 350 degrees

Mix together the flour and the baking powder together and set aside

In mixing bowl cream together the butter and sugars. Add in the pudding mix, vanilla and the eggs. Mix on low speed until combined.

Slowly add in the flour mixture and continue to mix on low speed until fully combined.

Fold in the chocolate chips and sprinkles.

Make sure the cherries have been patted and dried with a paper towel and fold them into the dough. Stir as little as possible at this point.

Roll dough into 1 inch balls and place on greased or parchment lined cookie sheet. Press the cookies down so they are slightly flattened discs.

Bake for about 11 minutes, just until the edges start to turn golden. Leave the cookies on the pan for an additional 5 minutes to cool. Then remove to a cooling rack to continue cooling. Store in an air tight container.

Makes 20 cookies
Nutrition
Calories: 139kcal, Carbohydrates: 20g, Protein: 2g, Fat: 6g, Saturated Fat: 3g, Trans Fat: 1g, Cholesterol: 29mg, Sodium: 75mg, Potassium: 29mg, Fiber: 1g, Sugar: 10g, Vitamin A: 171IU, Vitamin C: 1mg, Calcium: 26mg, Iron: 1mg
PS I think you may also like these!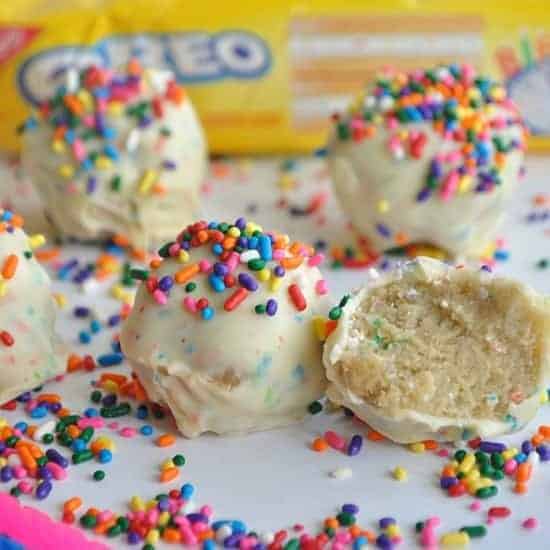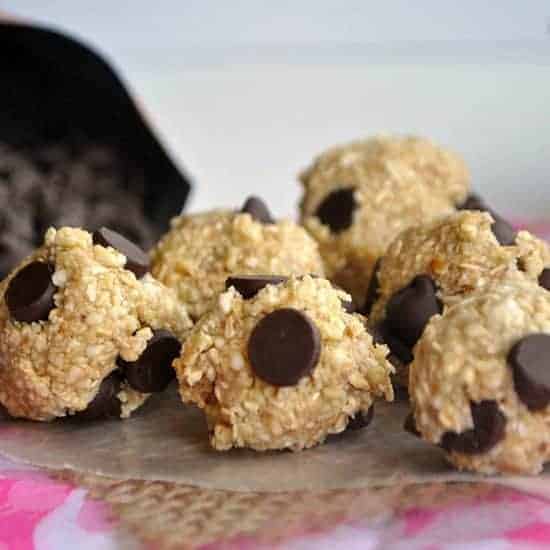 SaveSave
House of Yumm is a participant in the Amazon Services LLC Associates Program, an affiliate advertising program designed to provide a means for us to earn fees by linking to Amazon.com and affiliated sites.