Soft bakery style Lemon Cookies with a lemon zest glaze.
These Lemon Cookies have the perfect texture and citrus flavor.  They remind me of those thick bakery soft cookies.  But these Lemon Cookies are infused with a lemon flavor and topped with a lemon juice and zest glaze that brings out the citrus even more.
I'm sure many of you have heard the story of Cinderella and her fairy Godmother?  Well..let me tell you a little story about my Fairy Cookie Man.
When we lived in an apartment last year we would take an elevator up from the parking garage to our second floor apartment.  How lazy am I??  Well at the time I would have a baby in the stroller (I used to babysit), a baby on the hip, and two other girls running and bouncing around.  So an elevator was basically a necessity!  Anyway.  Back to the story.  We would get home from school pickups at the same time every day.  One day there happened to be this gentleman who got into the elevator with us headed to the same floor.  We casually chatted as otherwise elevator rides can be painfully awkward..right?  He asked if we would be heading to the apartment social potluck later that evening.  I hadn't heard of it at all, so I said we wouldn't.  He was disappointed, stating we would be missing out on his Lemon Cookies.  Best cookies ever he said.
We said our goodbyes as we exited the elevator, our apartment was basically right next to it, so he saw which apartment I headed into.  About 5 minutes later there was a knock at the door, and it's the cookie man, with a huge sealed bag of lemon cookies.  He handed them over, saying that when he bakes..he bakes a lot!  And away he went.
When the hubs came home he saw the bag of cookies, and after telling me maybe the cookie man was attempting to kill me with cookies, he tried one.  And determined, that if they were poisoned, they were worth it.  That bag of cookies was quickly devoured.  We determined that we needed the recipe.
Weeks went by..months.. No sign of the Fairy Cookie Man.  We thought maybe he had just been part of my imagination.  But the memory of the cookies lingered.
Then one day months later, my oldest saw the mysterious Cookie Man! "Where did he go?!?" we asked.
She shrugged her shoulders in typical  9 year old fashion and replied "I don't know…but I saw him."
Foiled again.  More weeks go by.  No sign of the mythical Cookie Man.  Then one day as we're headed to the elevator after school pick up I spotted him!!  I told him how amazing the cookies from months ago had been.  And I begged him for the recipe.  He smiled and said of course he would give it to me, just to give him time to write it up.
About an hour later the hubs came home from work, and on our door was taped a piece of paper.  On the paper, was the elusive lemon cookie recipe.  We never saw the cookie man again.  He is known in our home as the Fairy Cookie Man.  He came into our lives for a brief moment, just to bring us these delightful, delicious, perfectly made lemon cookies.
And now, I am so excited to share the recipe with you!  I wish I knew more of the cookie man so that I could credit him properly.  I have no idea where he got the recipe from.  But I hope you enjoy them just as much as we have!
 I hope you enjoy the recipe and will follow along on my cooking adventures:
 FACEBOOK | PINTEREST | GOOGLE+ | TWITTER | INSTAGRAM | BLOGLOVIN
Serene
Serves 20
Lemon Cookies
Soft bakery style lemon cookies with a lemon zest glaze
10 minPrep Time
14 minCook Time
24 minTotal Time
Ingredients
2 cups flour
1/2 teaspoon baking soda
1/2 teaspoon salt
1 tablespoon lemon zest
1/2 cup unsalted butter (room temperature)
1 cup sugar
1 egg
1 teaspoon vanilla
2 tablespoons lemon juice

Glaze

2 cups powdered sugar
2 tablespoons lemon zest
1/3 cup lemon juice
Instructions
Preheat oven to 350 degrees
Prepare a cookie sheet with a non-stick spray, or parchment paper, set aside
In a medium bowl whisk the flour, baking soda, salt, and lemon zest.
In large mixing bowl beat the butter for a few seconds, add the sugar and mix until light and fluffy. Add in the egg, vanilla, and lemon juice. Mix until fully combined.
Continue mixing while you add in the dry ingredients. Mix until fully combined.
Drop cookie dough by the spoonful onto the prepared cookie sheet. Bake until light golden on edges, approximately 14 minutes. Remove from oven, let cool on the cookie sheet about 5 minutes and then remove to continue cooling on a wire rack.
Once cooled prepare the glaze by whisking the powdered sugar, lemon juice, and lemon zest together until well combined. Spoon onto the top of the cookies. Allow to sit and dry, glaze will harden.
Store cookies in airtight container at room temperature. Enjoy!
7.6.4
362
https://houseofyumm.com/lemon-cookies/
Love Lemon?? You absolutely need these Lemon Crumble Bars in your life also!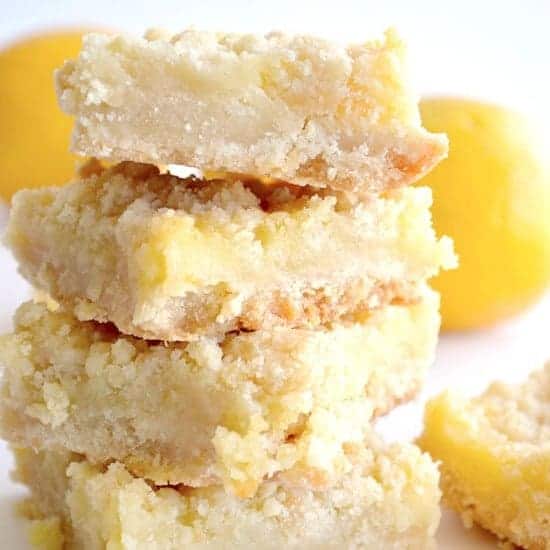 More Lemon Recipes to Enjoy: