Tostilocos are an irresistible and mouthwatering street food sensation popular in Mexico. Load up Tostito tortilla chips with fresh mango, jicama, cucumber, Japanese-style peanuts, hot sauce, chamoy, and tajin for an explosive flavor combination. Brace yourself for the sheer indulgence that makes Tostilocos an absolute must-try for any culinary adventurer.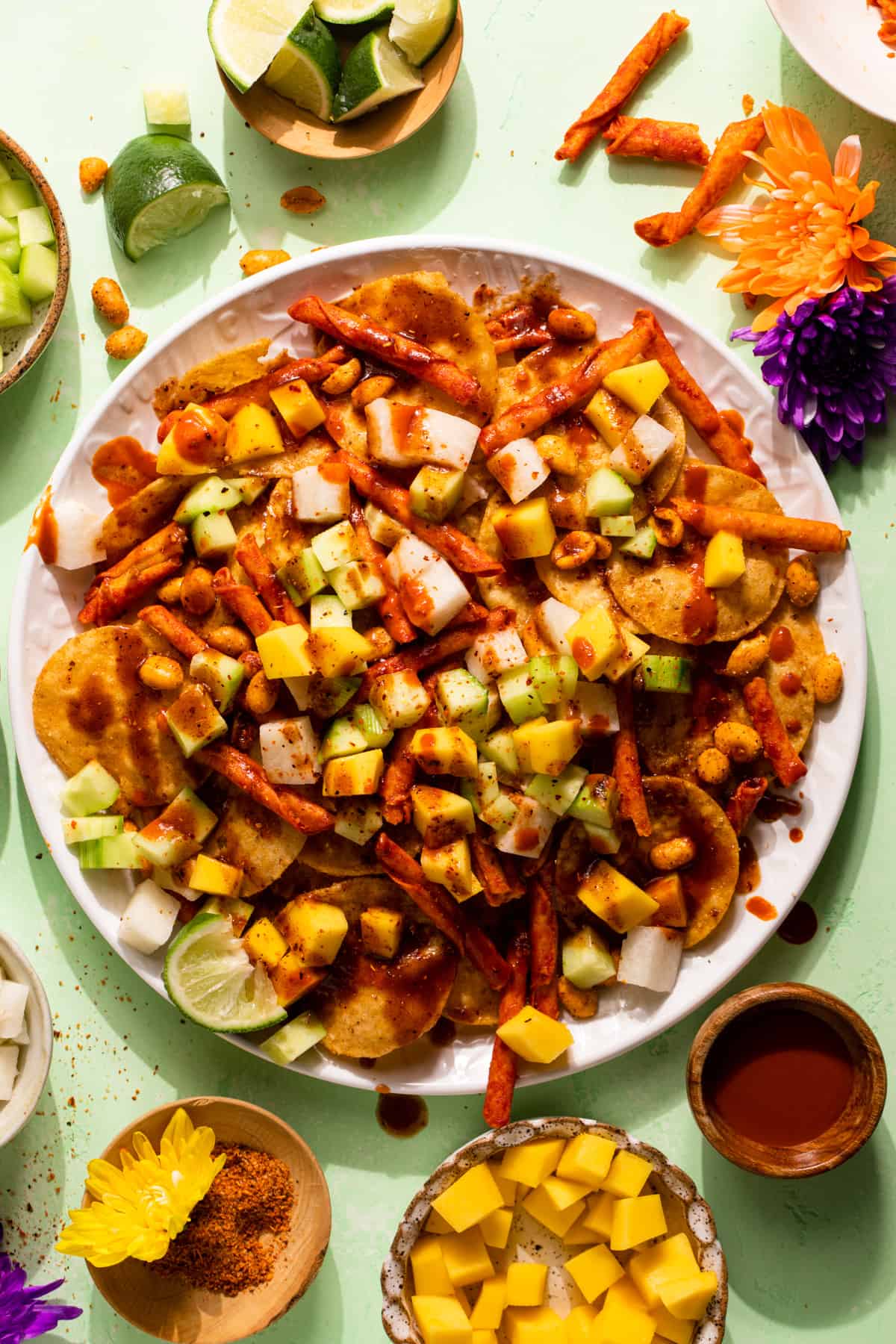 Join the Tostilocos Craze
Tostitos (tosti) + locos (crazy) = Tostilocos or Crazy Chips
As the name implies, this tempting treat starts with a layer of Tostitos tortilla chips. Most vendors will use plain or Salsa Verde Tostitos for the chips.
There is also a version using Doritos chips that are called "Dorilocos."
When it comes to the toppings, there are no rules to follow, making it a truly unique treat.
At first, the burst of various flavors may seem overwhelming, but once you bite into it, you'll find it irresistible!
A Little History
Mexican street food is known for its ability to turn simple ingredients into delicious snacks! Adding layers of unimaginable flavors is the key, which is how Tostilocos began.
Tostilocos originated in Tijuana during the late 1990s. Javier Rodriguez, the creator, developed a tostada recipe using ingredients he had on hand, including jicama, cueritos, cacahuates japonés (japanese peanuts), and chamoy.
These days, you can easily find this tasty snack at most Mexican restaurants and from street vendors.
Ingredients to Make Tostilocos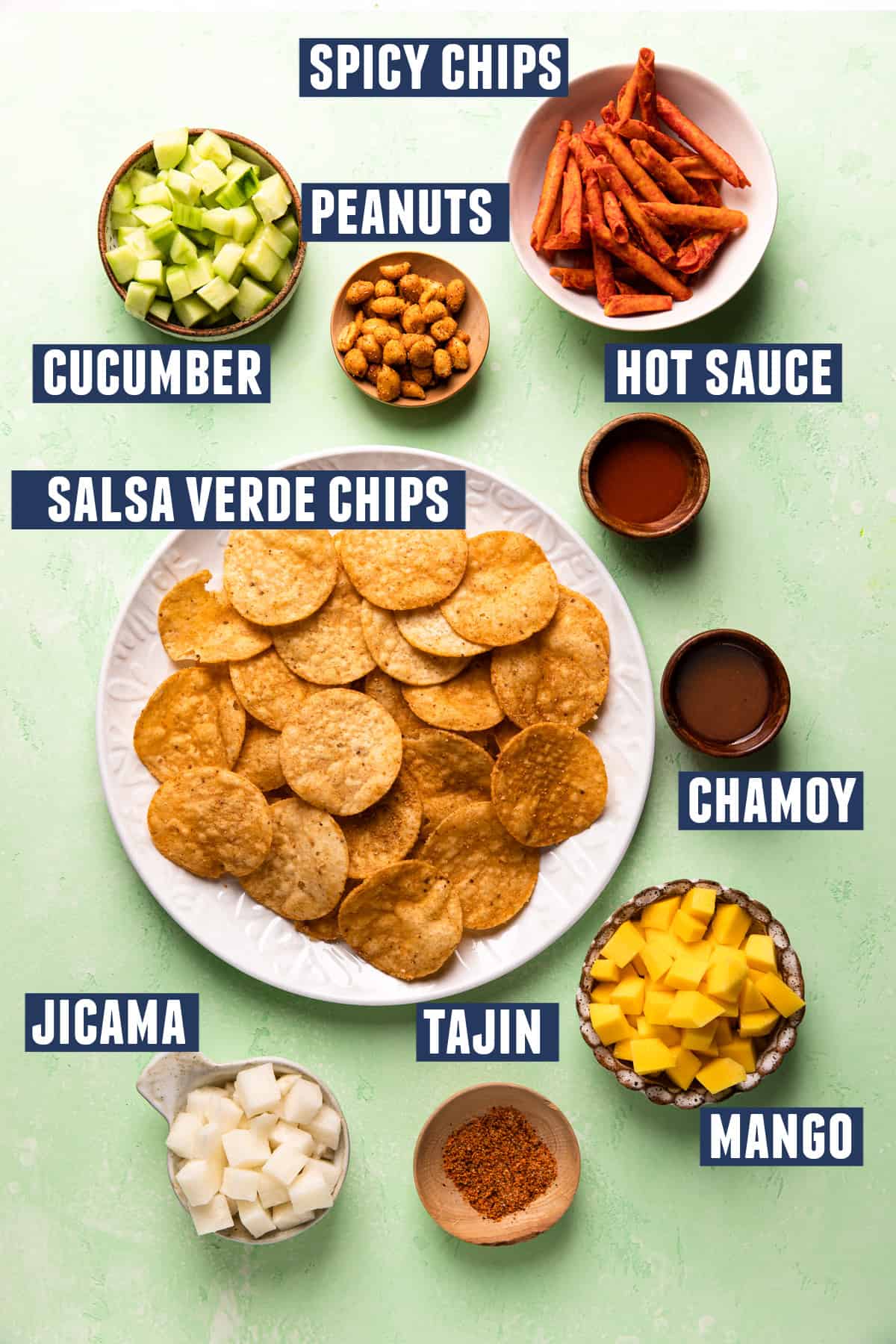 Tortilla chips: the name of the dish says it all, Tostitos is the brand used for this snack food. However, you can choose if you want to use plain chips or the salsa verde flavor.
Spicy Chips: we opted to add some Takis Fuego chips to ours for a bit of heat.
Peanuts: the traditional option would be Japanese peanuts, which are peanuts coated in a wheat batter and fried. These peanuts are sold plain or flavored. Or if you're unable to find those at your local market, or a local Mexican market you can use regular peanuts or a Tajin spiced peanut.
Cucumber, Jicama & Mango: a classic combination of fruit and vegetables with a fresh flavoring and cooling sensation.
Sauces & Seasonings: use your favorite hot sauce to add more heat to the dish. You can use a store bought or homemade chamoy sauce for a fruity, spicy flavor. And a sprinkle (or more) of Tajin or a homemade Chili lime seasoning finishes it off.
Other Ingredients Not Shown
There are so many options that you can choose from to make this dish your own. Some other popular toppings that aren't shown in these images would include:
Cueritos: pickled pork rind, can be found at most Mexican markets or in the Mexican aisle of your local market.
Churritos: a Mexican corn chip that is coated in a chili lime seasoning, very similar to the Takis. In our area, Takis are much easier to find in the markets.
Tamarind candy: these are candies made from tamarind pulp, sugar and chili powder. It has a sweet, tart, mild spicy flavoring.
How to Make Tostilocos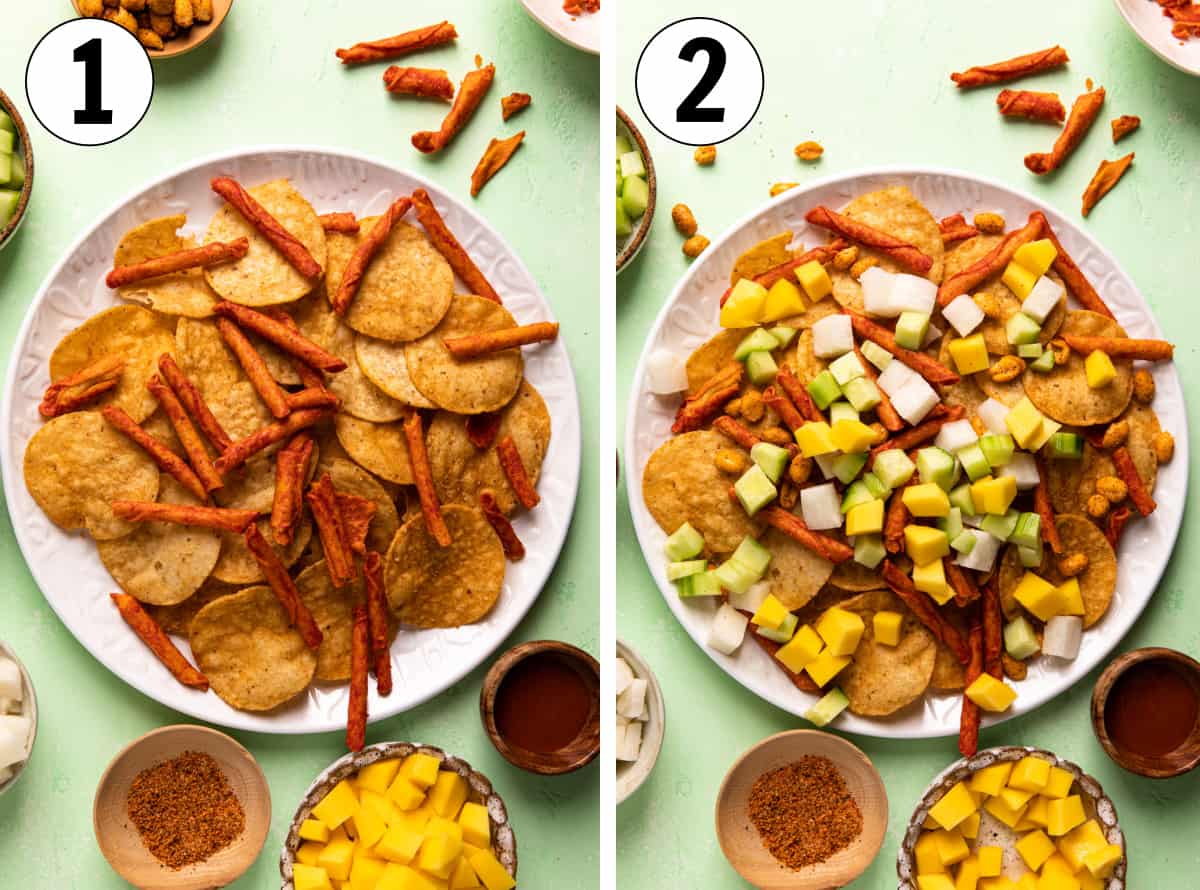 Serve on a plate
Start the layers with the chips.
Top with fresh-cut fruits, vegetables, and peanuts.
Drizzle it all with hot sauce and chamoy. Top with a sprinkling of Tajin.
"Walking" Tostilocos
Prepare this street food right in the chip bag!
Grab a single-serving bag of tortilla chips and slice it open down the side lengthwise, keeping the chips inside.
Add the toppings inside the bag on top of the chips.
Drizzle with hot sauce and chamoy. Top with Tajin and enjoy.
Party Setup
Prepare all the fruits and vegetables and store them in sealed containers ready to set up when needed.
Arrange a table with plates for your guests. Place bowls of chips and peanuts, then set out the fruits and veggies as guests arrive.
Have spoons to help guests layer their plates of Tostilocos! And remember to set out the hot sauce, chamoy, and tajin at the end of the assembly line.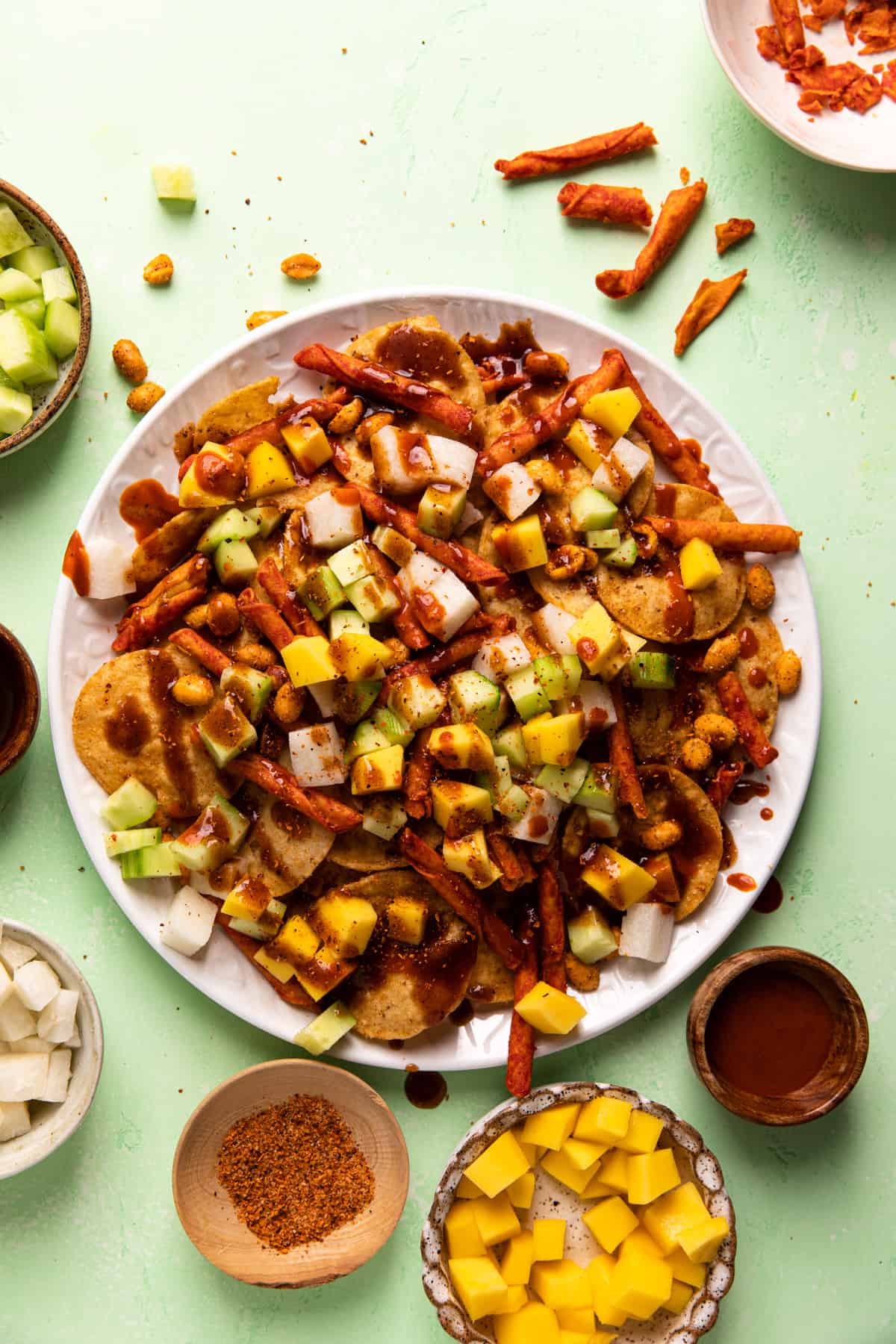 Serving Ideas
These Tostilocos are loaded up with toppings including fresh fruits and vegetables, making it a filling snack/appetizer/lunch meal.
But one of the best things to serve alongside them are cold, frosty drinks. Try some of our favorite Mexican drinks.
Storage
This is one of those meals that is best served fresh once it's assembled. Due to the sauces and fresh fruits and veggies, the chips will become soggy if stored.
All of the ingredients can be prepped and stored separately until you're ready to assemble.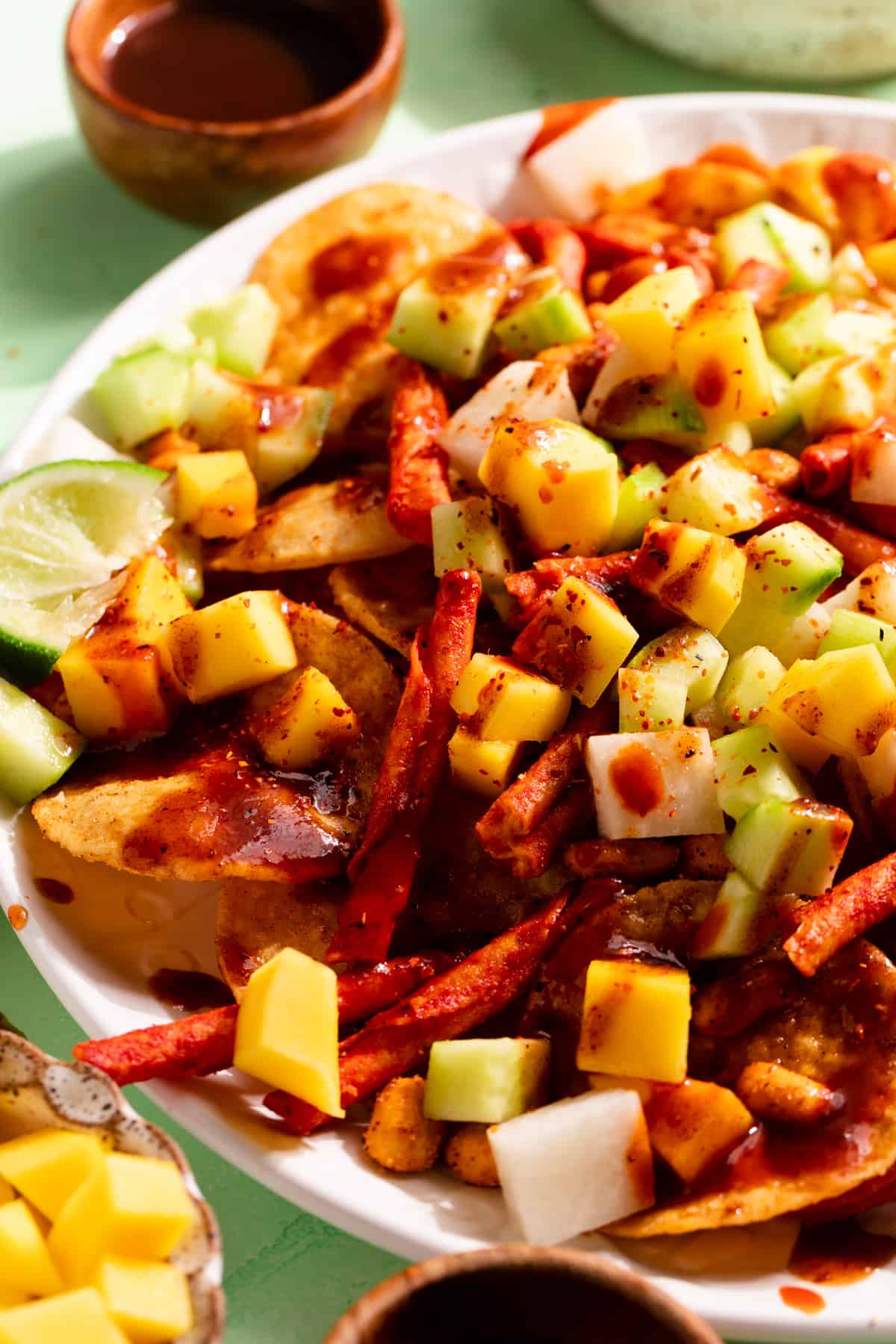 Variations
Want to spice things up even more? Here are some fun variations of this popular dish
Tostilocos
Tostilocos are an irresistible and mouthwatering street food sensation popular in Mexico. Load up Tostito tortilla chips fruits, vegetables, hot sauce, chamoy and more for an explosive flavor combination.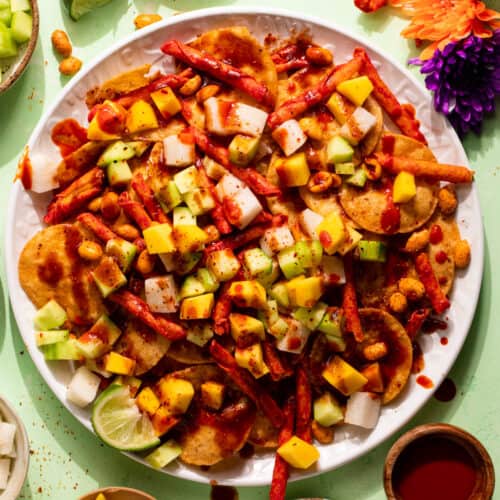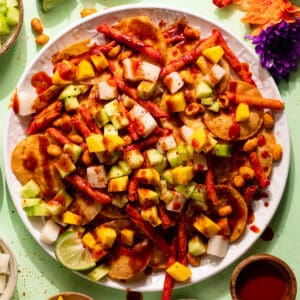 Ingredients
1

(7 ounce bag)

Tostitos tortilla chips

salsa verde flavored

1

cup

Takis fuego chips

½

cup

cucumber

peeled and cubed

1

mango

peeled and cubed

½

jicama

peeled and cubed

⅓

cup

Japanese peanuts

or peanuts of choice

2

tablespoons

chamoy

2

tablespoons

hot sauce

1

teaspoon

tajin

or homemade chili lime seasoning

1

lime wedge
Instructions
Spread the Tostitos tortilla chips evenly on a plate.

Add the Taki chips and peanuts on top.

Top with fresh fruits and vegetables, cucumber, jicama, and mango.

Drizzle with hot sauce and chamoy.

Sprinkle with tajin as desired and serve immediately.
Nutrition
Calories:
258
kcal
|
Carbohydrates:
42
g
|
Protein:
7
g
|
Fat:
8
g
|
Saturated Fat:
1
g
|
Polyunsaturated Fat:
2
g
|
Monounsaturated Fat:
4
g
|
Sodium:
298
mg
|
Potassium:
403
mg
|
Fiber:
8
g
|
Sugar:
10
g
|
Vitamin A:
632
IU
|
Vitamin C:
42
mg
|
Calcium:
73
mg
|
Iron:
1
mg
Nutrition information is automatically calculated, so should only be used as an approximation.
Like this? Leave a comment below!