This simple, Texas style smoked Turkey Breast is made flavorful thanks to a brine, and a basic dry rub. Be prepared to fall in love with this tender, moist, flavorful turkey!

After years of having turkeys that were prepared in the oven, I don't think I will ever go back after enjoying Smoked Turkey. This Texas style smoked turkey is simple, and flavorful. Thanks to a brine that is sweetened with apple juice, lemons and spiced with whole peppercorns. A basic dry rub of the classic salt, pepper and garlic is used. Cooked low and slow surrounded by sweet, mild smoke. This turkey is the BEST ever.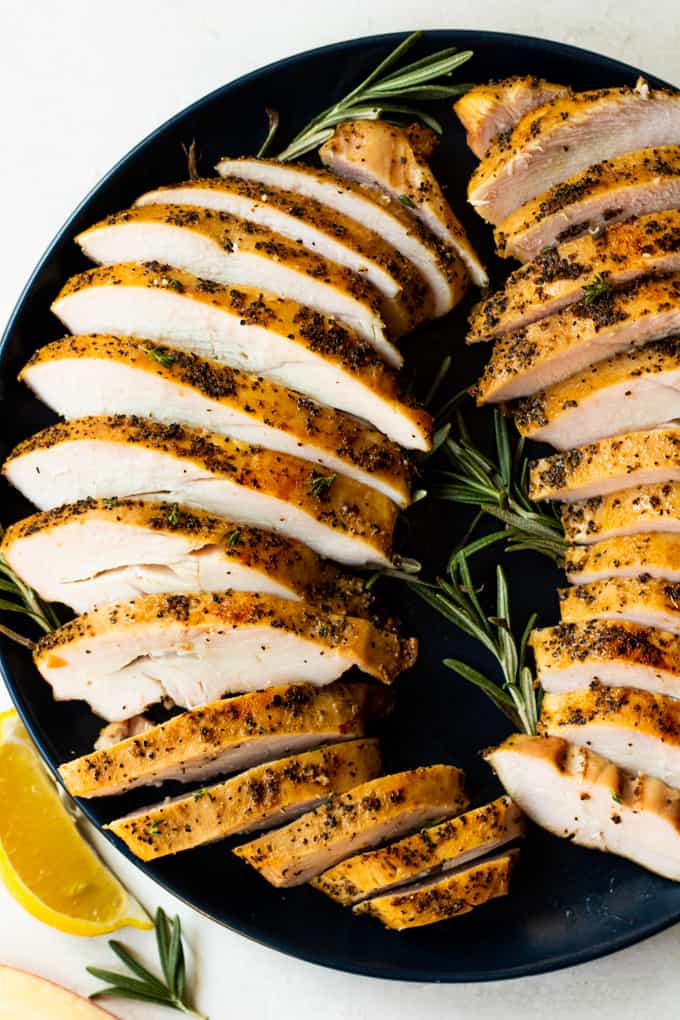 How to Smoke a Turkey Breast:
A turkey can be smoked in any kind of grill you happen to have. My preference is to use my pellet grill, because it's easy to maintain the temperature and smoke. But again, you can use whatever you have. Just make sure you can cook over indirect heat and maintain constant temperatures.
Gas Grill: Preheat the grill by turning on one side to high, leave the other side off. Place the wood chips on the hot side. When they begin to smoke, turn the burners to low. Then place the turkey breasts on the side where the burners are off. Cooking the meat over indirect heat. We want the temperature to maintain around 275.
Charcoal Grill: If you have a charcoal grill, just a basic kettle grill, this is actually perfect for smoking. Kingsford has an article that provides detailed information on turning your kettle grill into a smoker: https://www.kingsford.com/how-to/smoking/. Just add some wood chips to the briquettes as they describe. And the water pan. I actually like also adding just a bit of apple juice to the water pan. My husband and I have a kettle grill and you would be amazed at how many things you can do with this inexpensive option!
Wood/Pellet Grill: Prepare your grill according to the manufacturer's directions. Preheat to 275.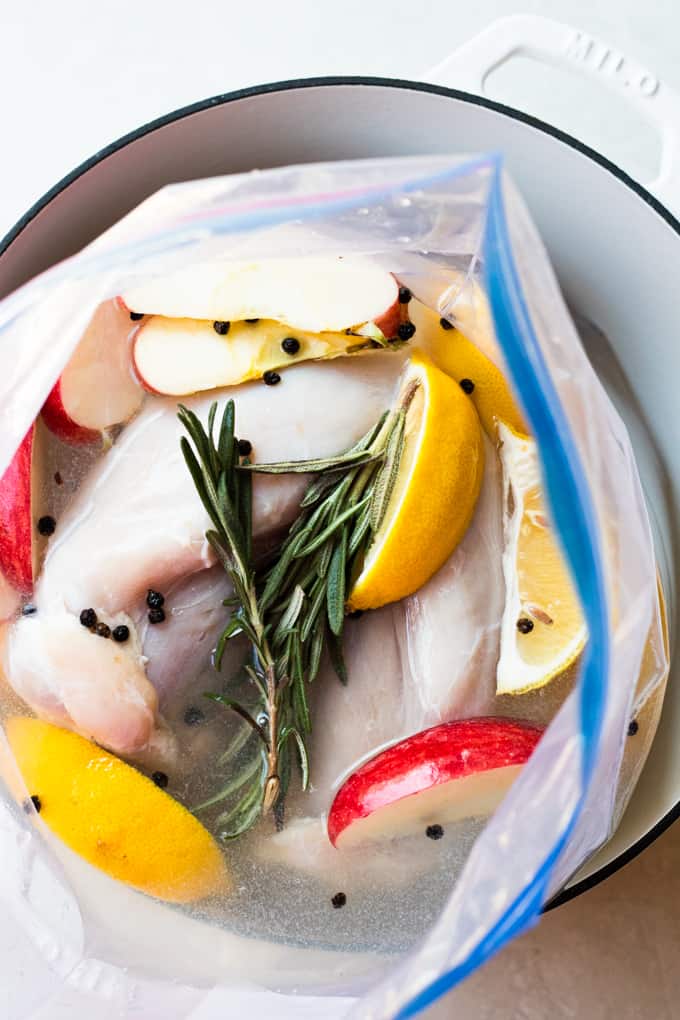 How long to smoke a turkey breast?
Plan on averaging 20-25 minutes per pound for turkey if smoking at 275. Again, you want to ensure that you are cooking to temperature and not to time. I use this ThermoPro Wireless Remote Digital Thermometer (affiliate) to help monitor the temperature of the meat while smoking. I also have an Instant Read Thermometer (affiliate link) to double check the temperature when it's almost done.
The turkey can be removed from the smoker when it registers 160 degrees Fahrenheit in the thickest part. After the turkey is removed it will continue to cook and hit an internal temperature of 165 degrees Fahrenheit.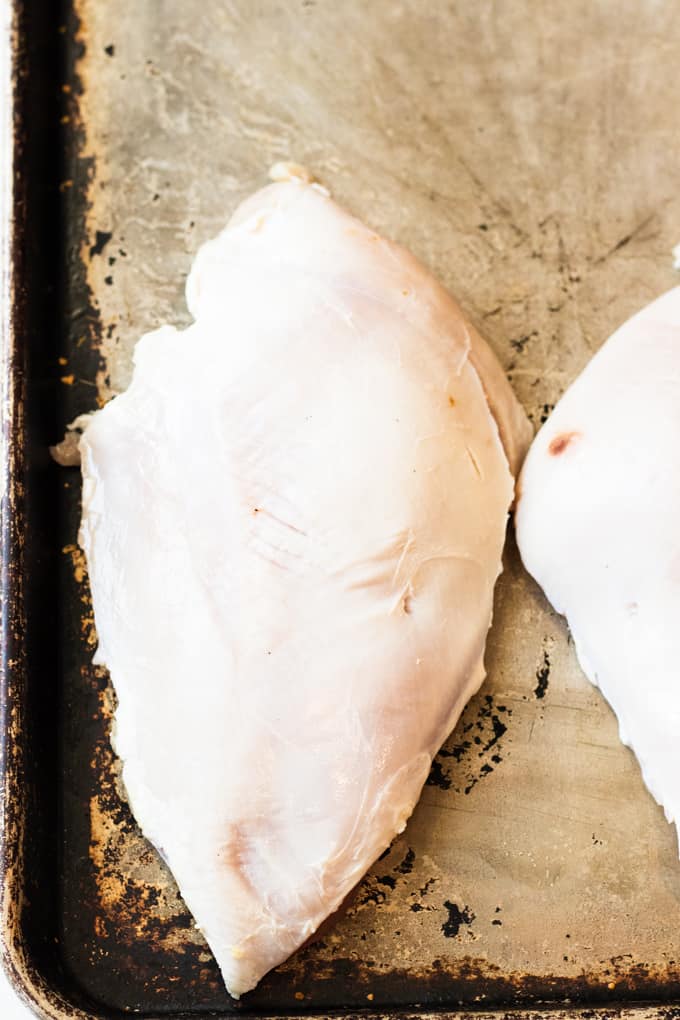 Preparing a Turkey to Smoke:
Picking a turkey: always go for a turkey that has not been pre-brined or injected. You want to be the one in control of the ingredients used on your turkey. Also keep in mind the size, you will want one pound of turkey per person. This is why I love turkey breasts, I can get just the right amount I need for my family.
Defrost the turkey: plan on letting the turkey defrost for one day (24 hours). It's best to set it in a roasting pan or a large bowl, pot, or inside a sealed plastic bag. You want to make sure that as it defrosts you don't end up with all the juice leaking inside your refrigerator.
Brine the turkey: this helps the turkey soak in the salt which helps it stay moist and juicy while cooking, and it seasons the meat. A recipe for the brine is included in this recipe. Brine the turkey for 12-24 hours. I also recommend removing the skin of the turkey before adding to the brine. We won't be cooking the skin anyway.
Pat dry: when ready to start cooking, remove the turkey from the brine, pat it dry and to ensure it's nice and dry, place it on a baking sheet, and place back in the refrigerator for another hour. This helps all of the excess moisture dry off the skin.
Separate the breasts from the turkey. This is how I like to smoke the meat, it helps with even cooking, and makes it go a little quicker. To remove the breasts, plus its easy to cut the meat once done. Start at the tail end of the turkey, cutting along one side of the breast bone with a sharp boning knife. Feel your way along the breast bone with the tip of the knife while cutting your way toward the neck end of the bird. It's so easy, just make sure you follow along the bone as close as you can to get all the meat possible.
Dry Rub: Rub the turkey down with some melted butter. I use a silicone brush (affiliate link) for this step. Then apply the spice mixture. A simple mixture of salt, pepper and garlic is all we need. You can add some chili powder if you want a bit of heat.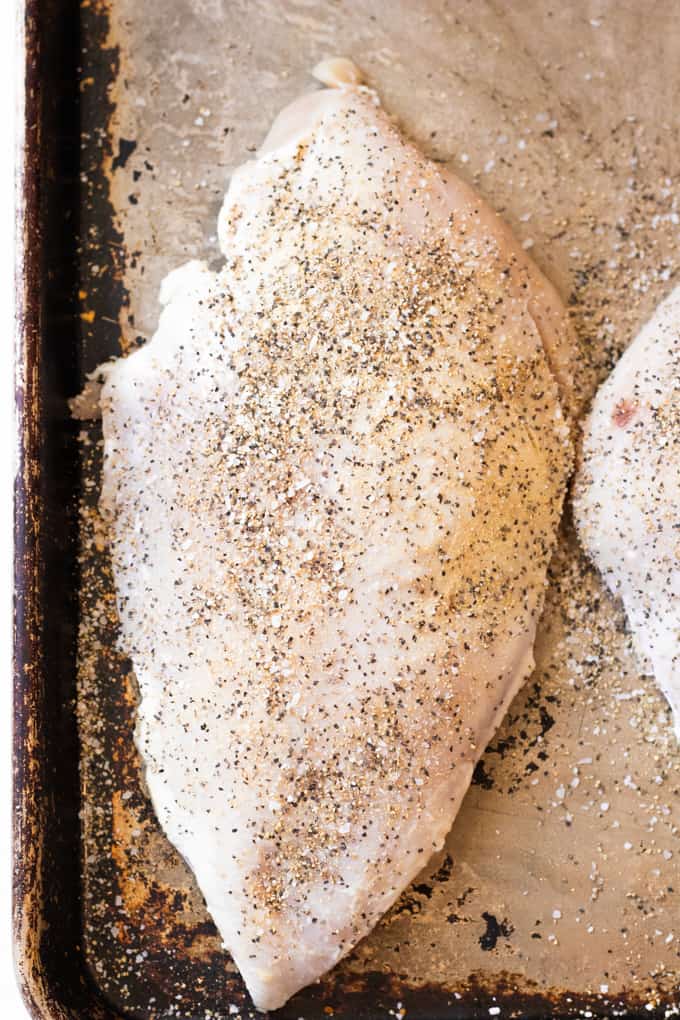 What kind of wood is used to smoke Turkey?
Best options are going to be a sweeter, mild wood. Cherry, Apple, Maple, Pecan are all good choices.
Smoked Turkey Breast Brine
You can brine the turkey in basically any mixture you want. The turkey will take on the flavoring of what you add to the brine. The most important part is that you are creating a salt water mixture that the turkey sits in overnight. This is what is going to help hold moisture in the meat while it cooks.
How I make my brine:
Water (heat, but not to boiling, just enough to help dissolve the salt)
Apple Juice or Cider
Salt
Whole Black Peppercorns
Lemon
Apple
Rosemary
Other flavor options:
Sugar can be added or some Maple Syrup for extra sweetness
Oranges
Garlic
Onion
Fresh Herbs: rosemary, sage, thyme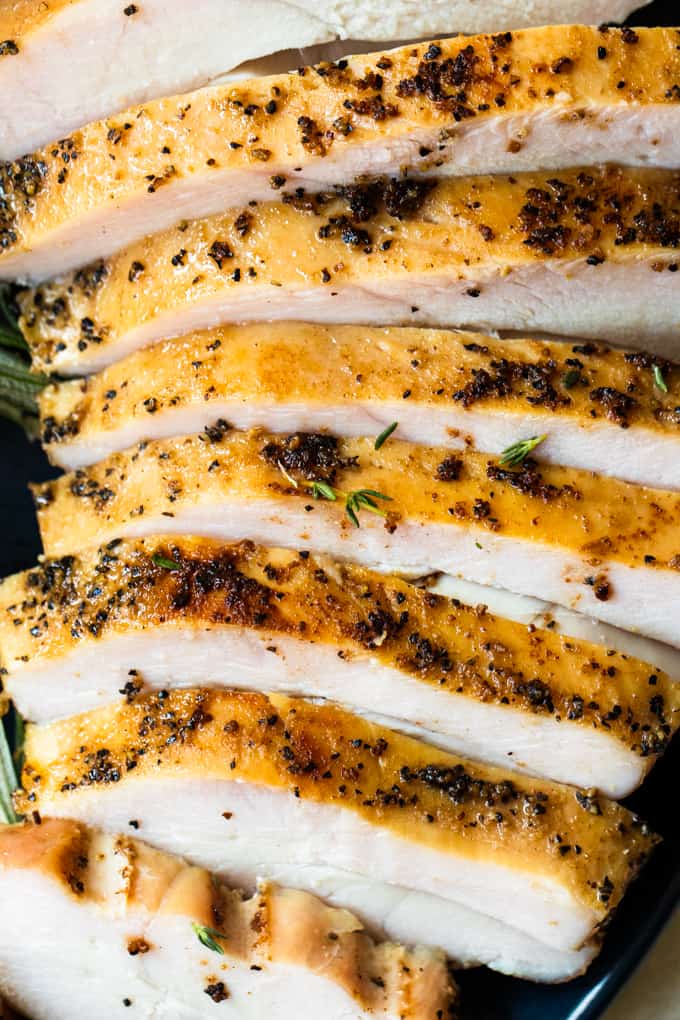 Other Recipes you may enjoy:
Smoked Turkey Breast
Smoked Turkey Breast.
This simple, Texas style smoked Turkey Breast is made flavorful thanks to a brine, and a basic dry rub. Be prepared to fall in love with this tender, moist, flavorful turkey!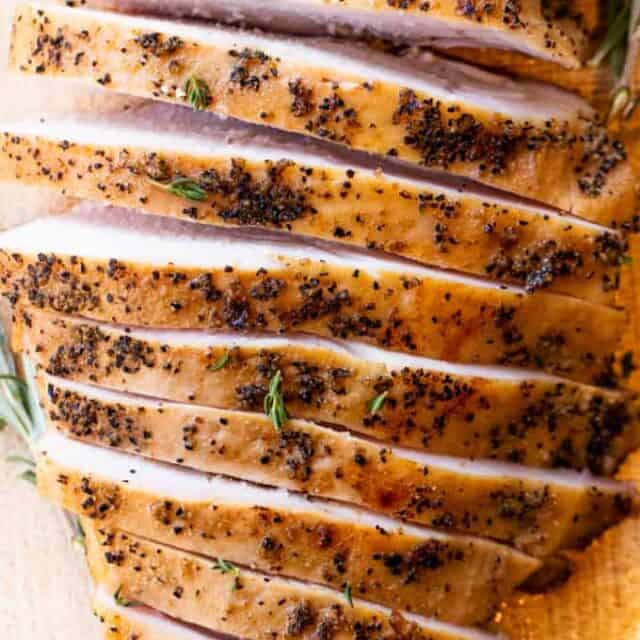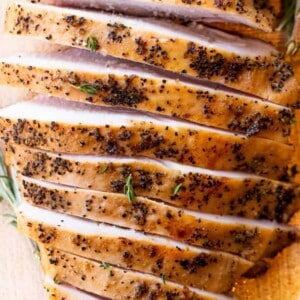 Ingredients
6

pound

bone in turkey breast

1/4

cup

kosher salt

3

cups

water

divided

1

cup

apple juice or cider

1/2

apple

sliced

1

lemon

sliced

2

rosemary sprigs

2

tablespoons

whole black peppercorns

3

tablespoons

unsalted butter

melted
Dry Rub
1

tablespoon

kosher salt

2

tablespoons

ground black pepper

1

teaspoon

garlic powder
Instructions
Remove the skin of the thawed turkey. Should be able to just peel off. May need to cut some portions off.

Place the turkey in a large resealable plastic bag. Place this in a large pot. This will help keep the turkey and brine from spilling.

In a small saucepan add one cup of water and the salt. Stir while heating until the salt has completely dissolved. You do not need to heat to boiling, just until salt is dissolved.

Pour the warm salt water over the turkey, into the bag. Add in the rest of the water, apple juice, sliced apples, lemons, rosemary sprigs, and whole black peppercorns.

Seal the bag and place the turkey, in the pot, into refrigerator and let sit overnight.

Next day, prepare grill/smoker according to directions. Preheat to 275.

Remove the turkey from the brine. Pat dry. Make sure you do this step to remove any excess salt from the brining process.

Cut the turkey breasts from the bones. Cut as close to the bones as possible to get the most meat possible.

Brush the turkey breasts with the melted butter. Sprinkle with the dry rub. Press into the butter to have as much rub adhere to the turkey as possible.

Place the turkey breasts, skin side (where the skin was) up.

Cook at 275℉ until turkey reaches 160℉ degrees.

Remove from the smoker. Allow the turkey to rest for about 15 minutes before cutting.

Slice and serve warm.
Notes
Tips to ensure Turkey isn't Salty from Brining:
Use Fresh turkey, not frozen. Frozen turkeys are usually injected with sodium. IF you are using a turkey that has been injected with sodium, reduce the amount of salt in the brine recipe, or decrease the brining time.
Nutrition
Serving:
1
|
Calories:
546
kcal
|
Carbohydrates:
11
g
|
Protein:
70
g
|
Fat:
24
g
|
Saturated Fat:
8
g
|
Cholesterol:
247
mg
|
Sodium:
1534
mg
|
Potassium:
854
mg
|
Fiber:
2
g
|
Sugar:
6
g
|
Vitamin A:
374
IU
|
Vitamin C:
11
mg
|
Calcium:
64
mg
|
Iron:
3
mg
Nutrition information is automatically calculated, so should only be used as an approximation.
Like this? Leave a comment below!