Jalapeño Bacon Hominy is ULTIMATE comfort food. This easy to make super creamy white cheddar hominy is loaded with bacon and jalapeño for extra flavor and heat. Perfect side dish!
Jalapeño Bacon Hominy. Hominy. I love it. Have you had it? Do you know what it is? Most likely you've seen it in the grocery stores in the Hispanic food aisle. Or have had it in a Mexican dish. It's usually found in Menudo, but if you're unsure about hominy chances are you most definitely are unsure about menudo. We shall save that one for another day. So back to hominy! It's basically dried maize that is rehydrated with a fun lime bath. If you google it you'll see lots of scientific terms used to describe this process. But I'm giving you the easy version. This whole process means it's going to look like puffed up corn kernels. I love it, and I know if you haven't tried it yet you will love it too ? especially jazzed up like with this Jalapeño Bacon Hominy recipe. I also have a Blue Cheese Hominy recipe from when I first started blogging too. Along with the story of how these types of recipes came to be.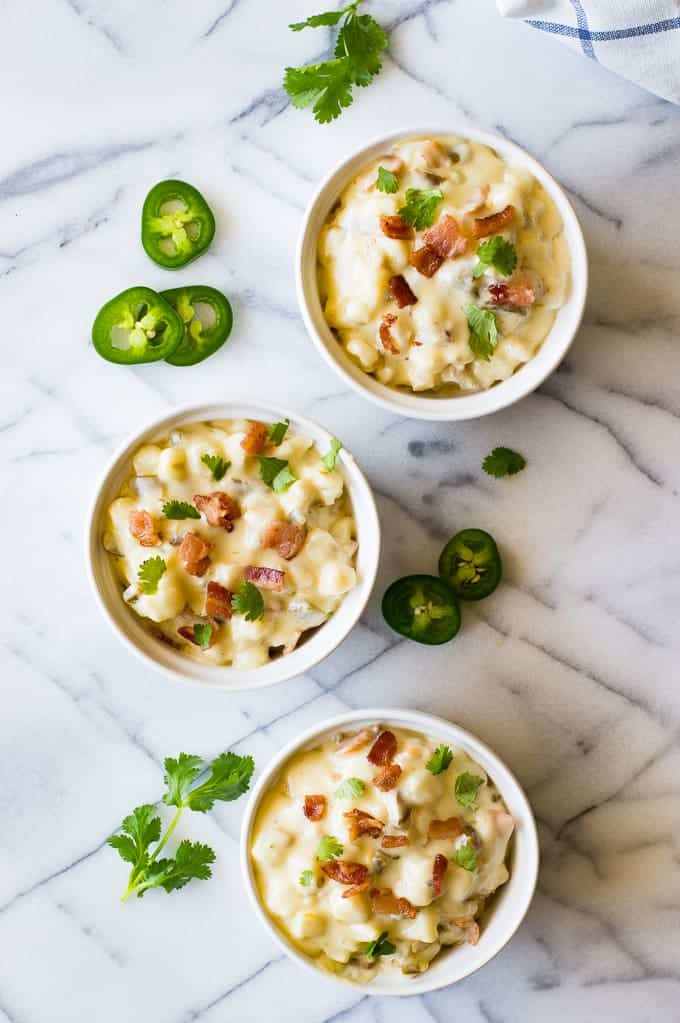 Let me give you the run down. This dish is basically like Mac and cheese. But there's no noodles. Which makes this a wonderful substitute for those who can't have gluten! Yaaaay! Plus when you're surrounded by little ones who love Mac and cheese sometimes it's nice to spice things up a little bit. Am I right? Otherwise I could get lost in the blue box abyss of raising children.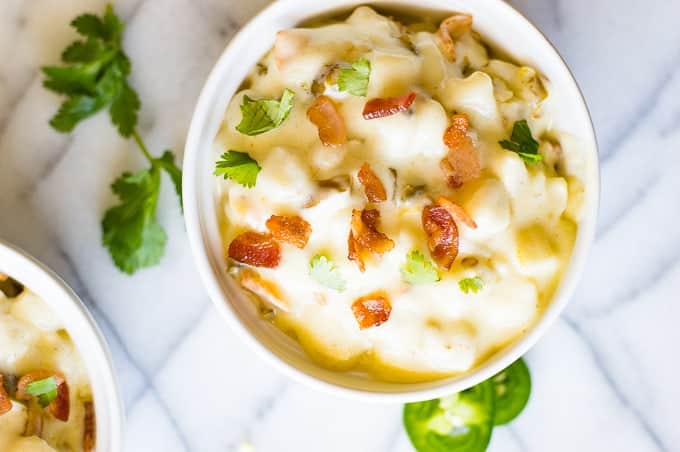 Before we continue further though let me warn you, this recipe is loaded with jalapenos. Which I love. And the hubs loves. The kids. Ehhhh..not so much. They get weirded out when their lips start tingling. So if you're sensitive to heat in your food feel free to leave out the jalapenos. You can leave out the bacon too.. Although then I'm not sure we can continue our friendship we're developing here. I mean, maybe we could if you confessed an undying love for chocolate. Then I could overlook the aversion to bacon. We need to have something in common that we can talk about right?
Reasons you need this jalapeño bacon hominy in your life:
Easy to make
A break from Mac and cheese with all the same comforts
Gluten free
So delicious you will want to run through the streets yelling how much you love it to anyone who will listen.
Bacon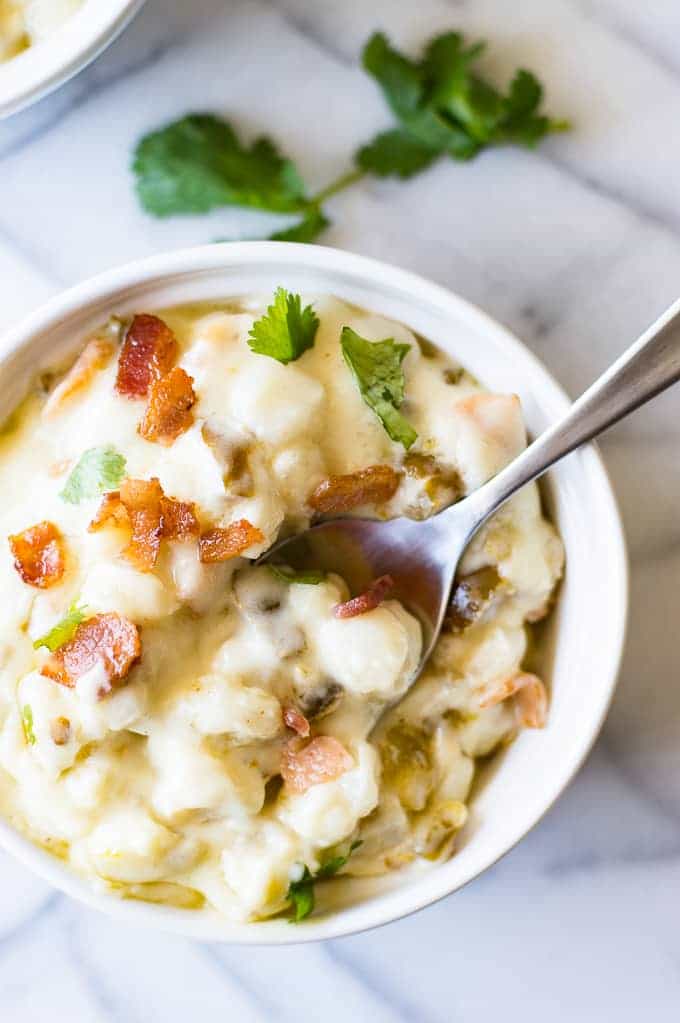 I hope you enjoy the recipe! You can follow along with me and never miss a recipe by signing up for my newsletter. Follow me on Instagram and tag #houseofyumm so I can see all the recipes you make. Plus follow me on snapchat! @houseofyumm ?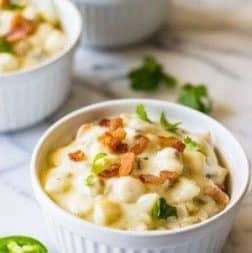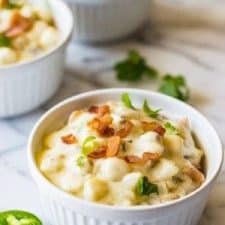 Jalapeno Bacon Hominy
Jalapeño Bacon Hominy is ULTIMATE comfort food. This easy to make super creamy white cheddar hominy is loaded with bacon and jalapeño for extra flavor and heat. Perfect side dish!
Ingredients
2 tbsp butter
2 cloves garlic, minced
2 tbsp flour
1 cup milk, can use heavy cream for thicker sauce
8 ounces white cheddar cheese, shredded
4 slices bacon , cooked and crumbled
4 ounces jalapeños, seeds and membranes removed, diced
1 pound hominy
Instructions
Preheat oven to 350℉.

In medium size saucepan melt the butter. Add the minced garlic and cook for about 30 seconds.

Stir in the flour stirring constantly until combined keeping the burner on low heat. This will create a thick paste. Continue stirring for 3 minutes.

Add in the milk or cream, whisking to combine, increase to medium heat. Stir frequently for 4-5 minutes until thick.

Add in the cheese slowly while stirring. Reduce to low heat. Stir until the cheese is melted.

Add the hominy into the saucepan to mix with the sauce. Add in the diced jalapeño and diced cooked bacon. Transfer to quart size baking dish. Cover with foil and bake at 350 for 30 minutes. Remove the foil and continue baking for an additional 10 minutes.
Nutrition
Calories: 334kcal, Carbohydrates: 15g, Protein: 14g, Fat: 24g, Saturated Fat: 13g, Cholesterol: 64mg, Sodium: 645mg, Potassium: 173mg, Fiber: 2g, Sugar: 4g, Vitamin A: 767IU, Vitamin C: 23mg, Calcium: 330mg, Iron: 1mg
House of Yumm is a participant in the Amazon Services LLC Associates Program, an affiliate advertising program designed to provide a means for us to earn fees by linking to Amazon.com and affiliated sites.