Blue Cheese Hominy is the ultimate in comfort food! Creamy, cheesy hominy makes the perfect side dish to any meal!
Saying that this dish is a better comfort food than macaroni and cheese is quite a statement. I'm aware of this. And for you fellow die hard macaroni fans out there shaking your heads at me right now, you're just going to have to take my word for it. And then make this recipe, and tell me thank you for inviting this dish into your lives. You're welcome!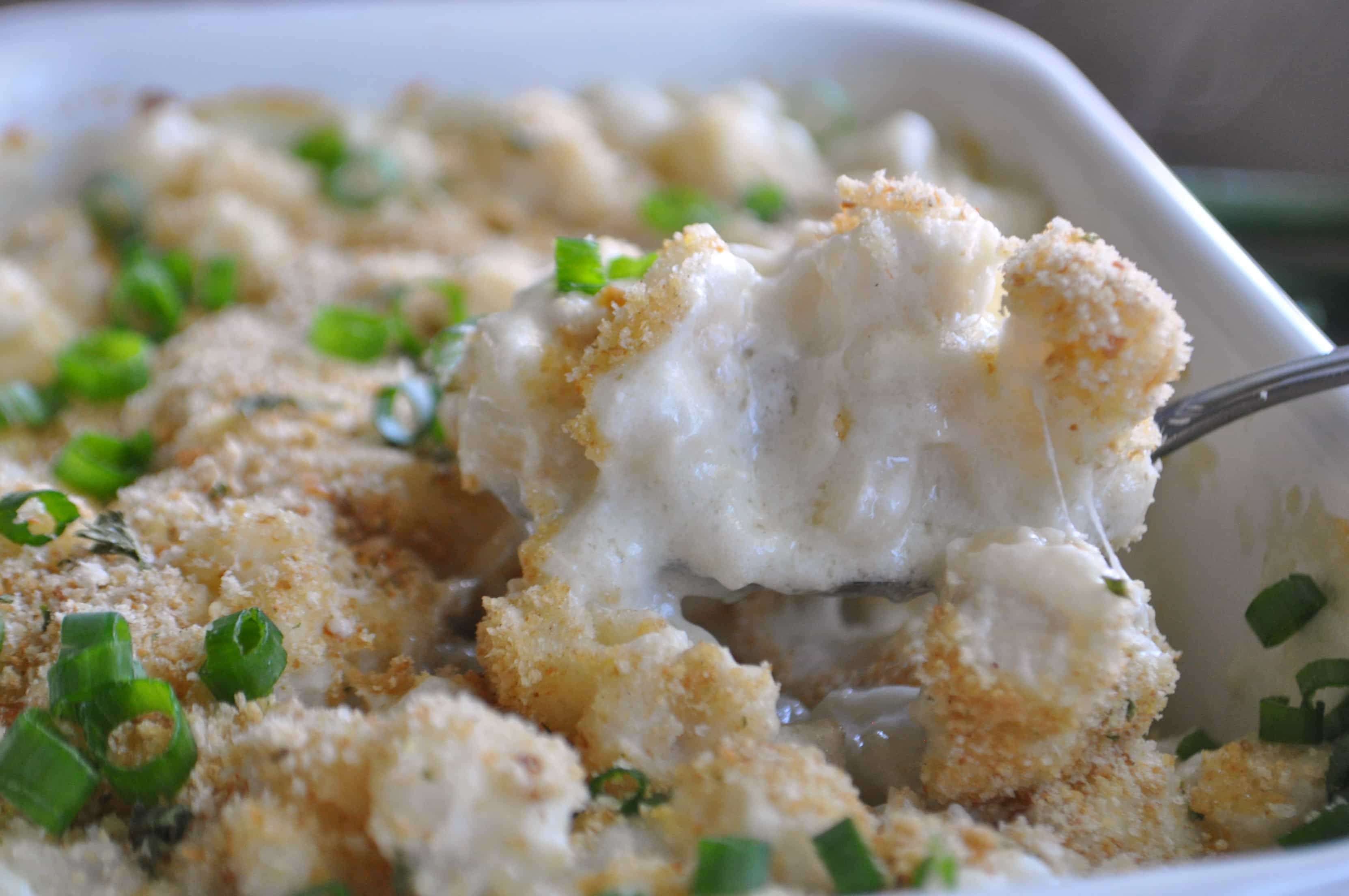 The idea for this recipe comes from a perfectly smokey BBQ place in Dallas, Texas. Texas may just have the BEST BBQ ever. You order your slab of meat directly from the butcher, you watch as he slices it and wraps it in paper before handing it over. No sauce needed. The meat is so tender and juicy and cooked to perfection.
The meat certainly does take center stage at these places. But they have no shortage of sides. Macaroni and potato salad, coleslaw, beans, macaroni and cheese, and blue cheese hominy.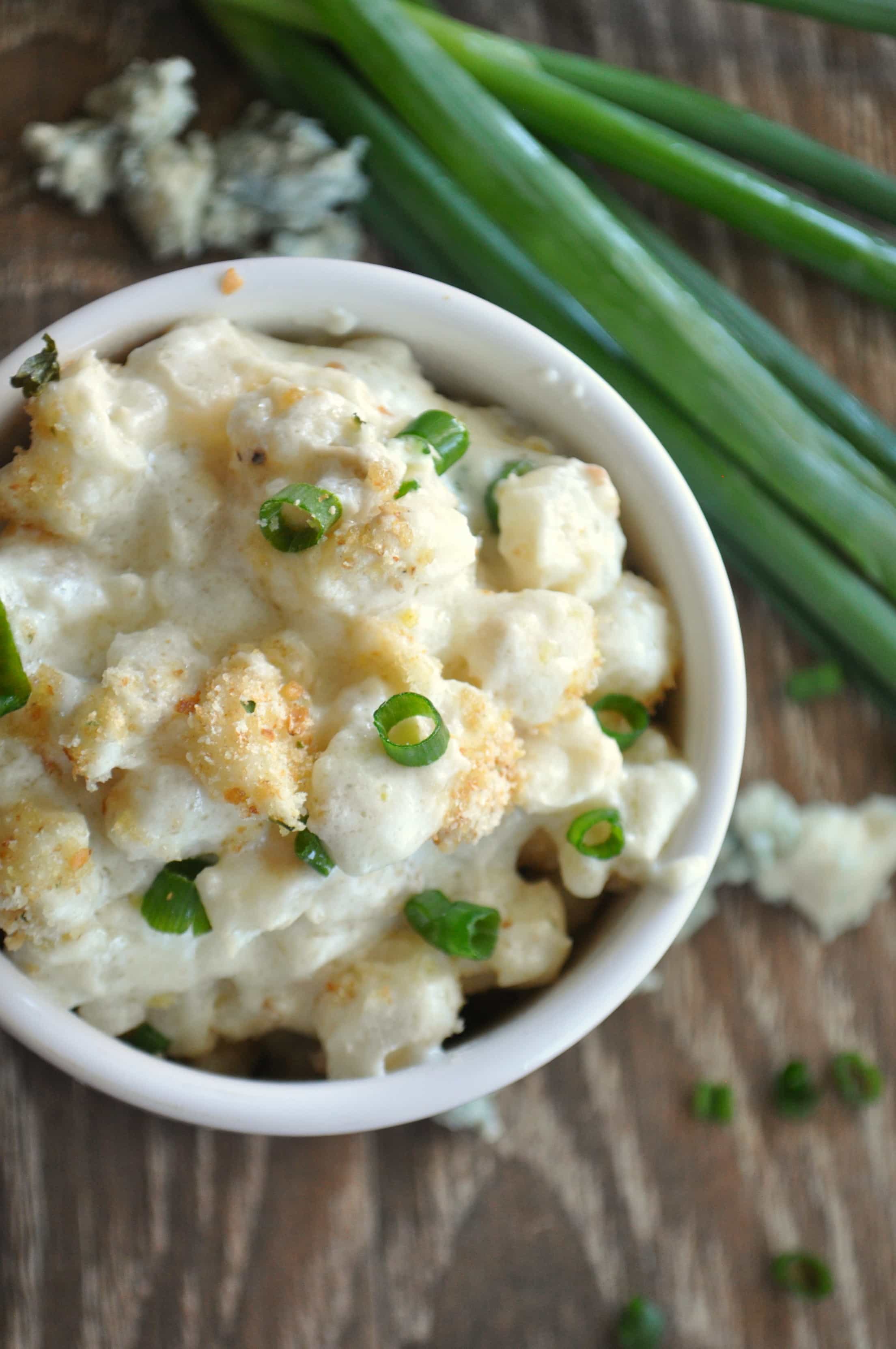 This side dish is unexpected and oh so tasty. The blue cheese flavor isn't too strong. The hominy is the perfect substitute to macaroni noodles.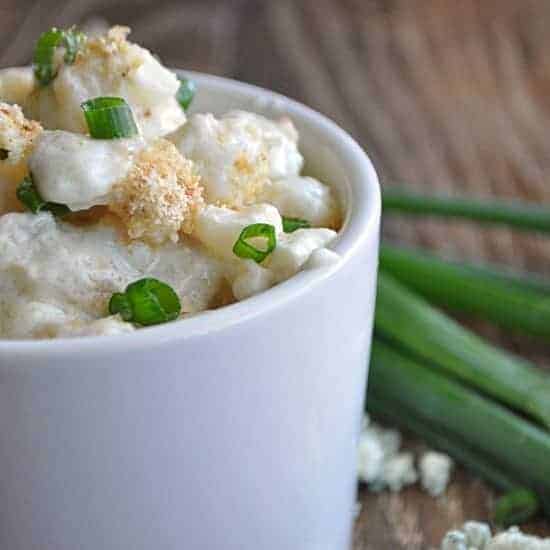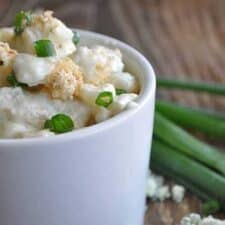 Blue Cheese Hominy Casserole
Creamy and cheesy, this Blue Cheese Hominy Casserole is the perfect side dish!
Ingredients
¼ cup butter
4 cloves garlic, minced
¼ cup all purpose flour
1 cup milk
½ tsp salt
¼ tsp ground black pepper
¼ tsp smoked paprika
¼ tsp ground mustard
1 cup white cheddar cheese, shredded
½ cup blue cheese crumbles
2 (1 lb can) white hominy, drained and rinsed
Toppings
white cheddar cheese , shredded
crumbled blue cheese
Instructions
Preheat oven to 350 degrees

Melt Butter: In medium size saucepan melt the butter and cook the minced garlic over low heat for 30 seconds.

Make Roux: Stir in the flour until smooth. Cook for an additional 2-3 minutes.

Milk: Whisk in the milk, cook over medium heat whisking occasionally until sauce is thickened.

Cheese: Add in the cheeses and stir while the cheese melts into the sauce. Taste and adjust salt/seasonings as desired.

Pour over hominy: Add the hominy into the 2 qt baking dish. Pour the cheese sauce over the top. Stir so that the hominy is coated in the sauce.

Bake: Top with additional shredded white cheddar cheese, cover with foil and bake for 45 minutes. Remove the foil and continue baking an additional 15 minutes until bubbly and golden on the top.

Topping: Remove from the oven and allow to cool a couple minutes, then sprinkle with additional blue cheese crumbles before serving.
Notes
Hominy: you could use a combination of golden and white if desired.
Storage: store leftovers in a sealed container in the refrigerator for 3-4 days.
Make Ahead: prepare the casserole by following the instructions to step 6, where the sauce is poured over the hominy in the baking dish. Cover this with foil and store in the refrigerator. To bake, remove from the refrigerator while preheating the oven to 350℉. Keep covered with foil and bake for 1 hour, then remove the foil and continue baking for an additional 15 minutes until the top is golden and bubbly.
Nutrition
Serving: 1serving, Calories: 347kcal, Carbohydrates: 11g, Protein: 14g, Fat: 28g, Saturated Fat: 18g, Polyunsaturated Fat: 1g, Monounsaturated Fat: 7g, Trans Fat: 1g, Cholesterol: 79mg, Sodium: 830mg, Potassium: 181mg, Fiber: 1g, Sugar: 3g, Vitamin A: 928IU, Vitamin C: 1mg, Calcium: 373mg, Iron: 1mg
House of Yumm is a participant in the Amazon Services LLC Associates Program, an affiliate advertising program designed to provide a means for us to earn fees by linking to Amazon.com and affiliated sites.