The PERFECT soft sugar cookie. Plus How to Ice your cookies the EASY way! You definitely need to know this method, anyone can do it!! No complicated ingredients, no raw eggs, this icing is only three ingredients that you probably already have on hand!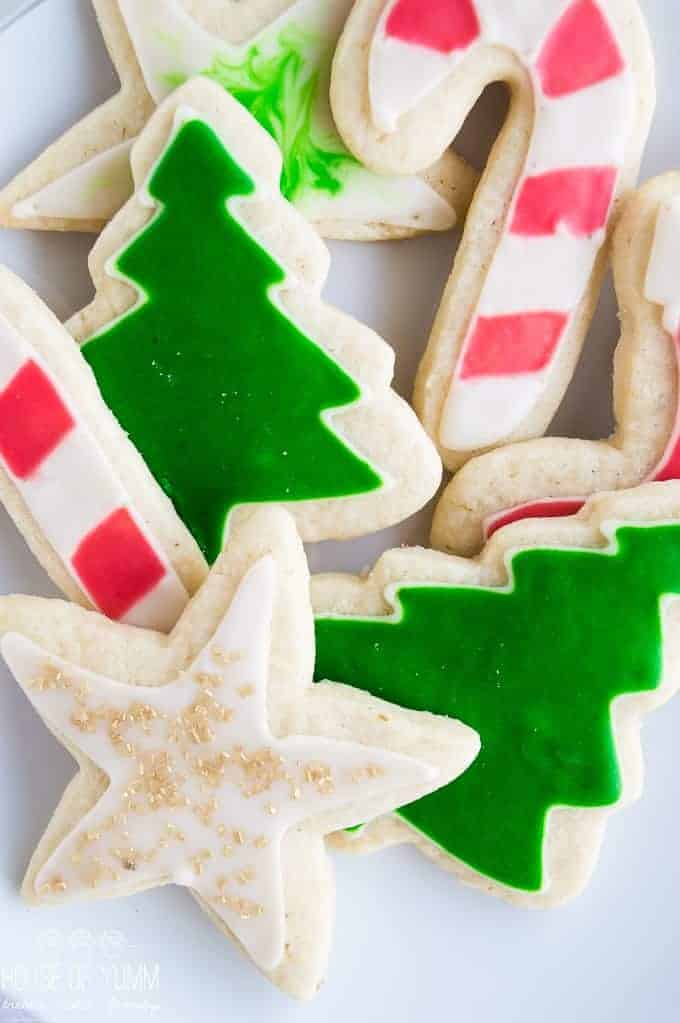 My favorite memories of Christmas involve Sugar Cookies. Christmas Eve morning my mom would always make her homemade sugar cookie dough. Chill it. Then she would let me cut out the shapes with our cookie cutters. Then I got to go to town with the sprinkles. There's nothing better to a child than sprinkles.
This is a tradition I have continued with my own kids. We always make sugar cookies together. Although I will admit that I am more known for making my cookies from the package ? I know I know.
I want my kids to have the same fond memories of sugar cookies that I have. So of course I had to master sugar cookies.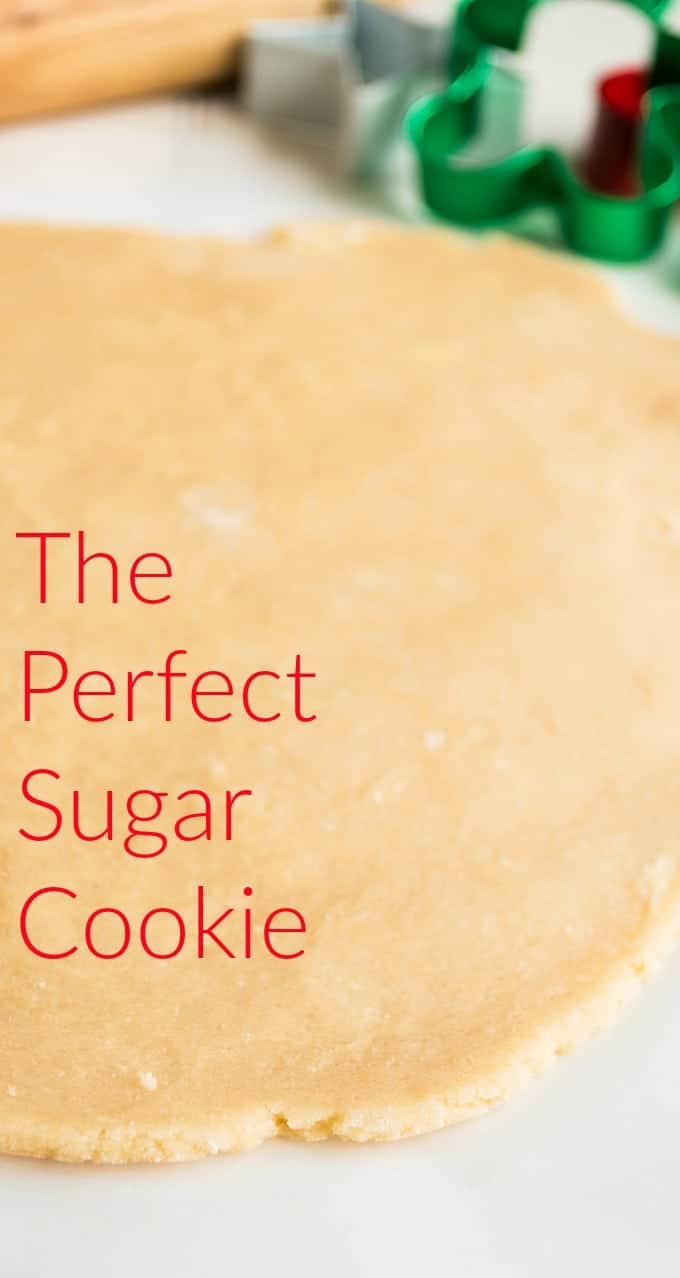 Lucky for all of us, my mom came through with the recipe. Actually to be honest I've had the recipe. I tried to make them from scratch before and not had much success. Another follow the recipe blindly failure. Mostly due to me just having a list of ingredients and no instructions to go with them. Baking is all about the instructions.
So much research and several batches of cookies later I am here to impart some wisdom to help you.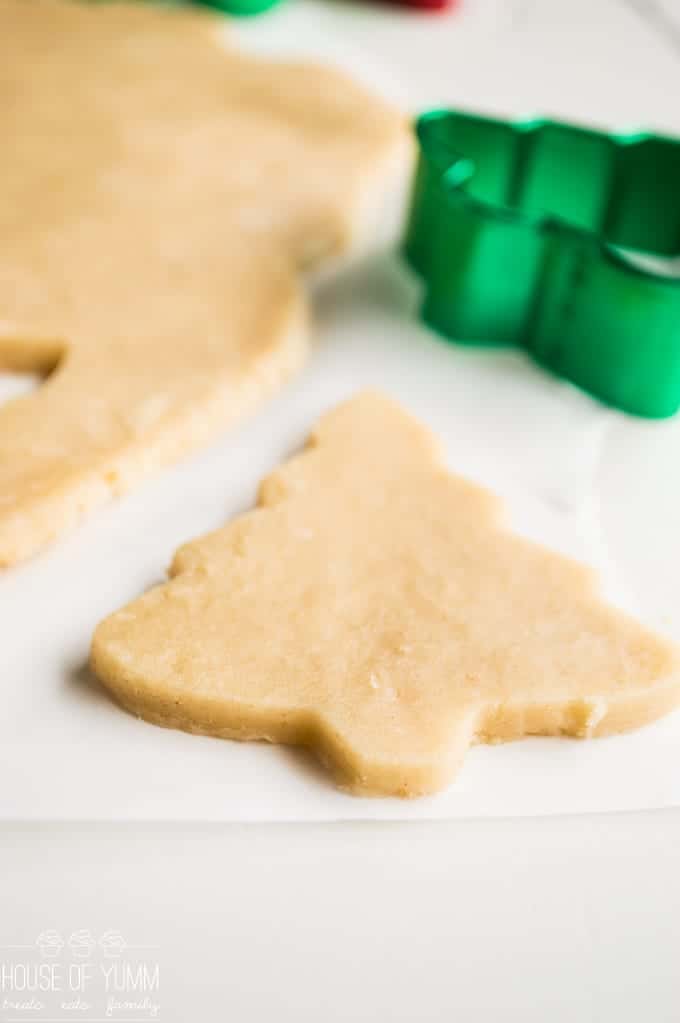 First let me tell you about these cookies.. These cookies truly are the best. They are soft, but still firm enough to hold up to frosting and tons of sprinkles. They are slightly sweet, which is perfect since they will be loaded up with sprinkles or frosting to sweeten them up even more. We don't want to overdo it. They have a wonderful buttery taste. C'mon. Butter makes the world go round. And these cookies hold their shape perfectly! They truly are the perfect sugar cookie.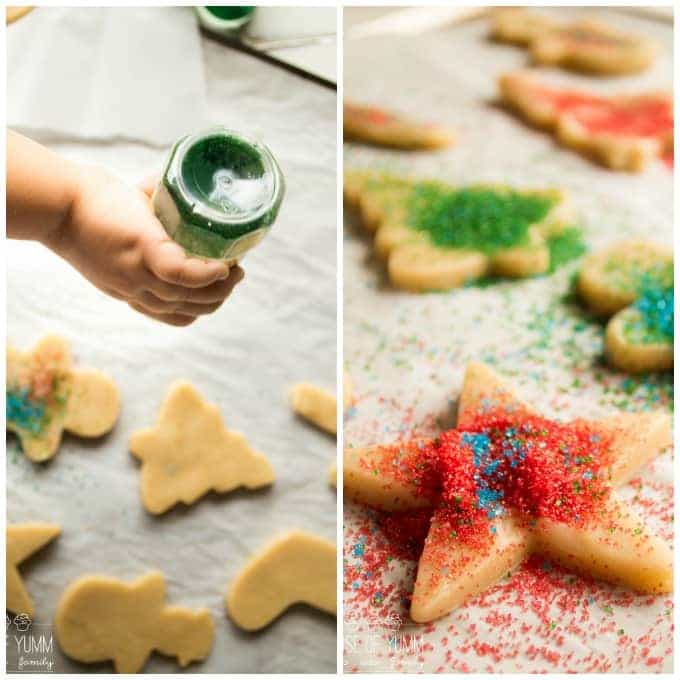 See what happens when you let the 2 year old get her hands on the sprinkles?! Fun happens!!!! She was so excited, especially with the snowman and kept saying "I color Hoo-Laf!!" Followed by "Let It Go Song". Not the actual song, that's just what she says, "Let It Go Song". And of course you can see where her little finger swiped the sprinkles in the middle of the star cookie, which of course went into her mouth which led to an excited, "I liiiike it!"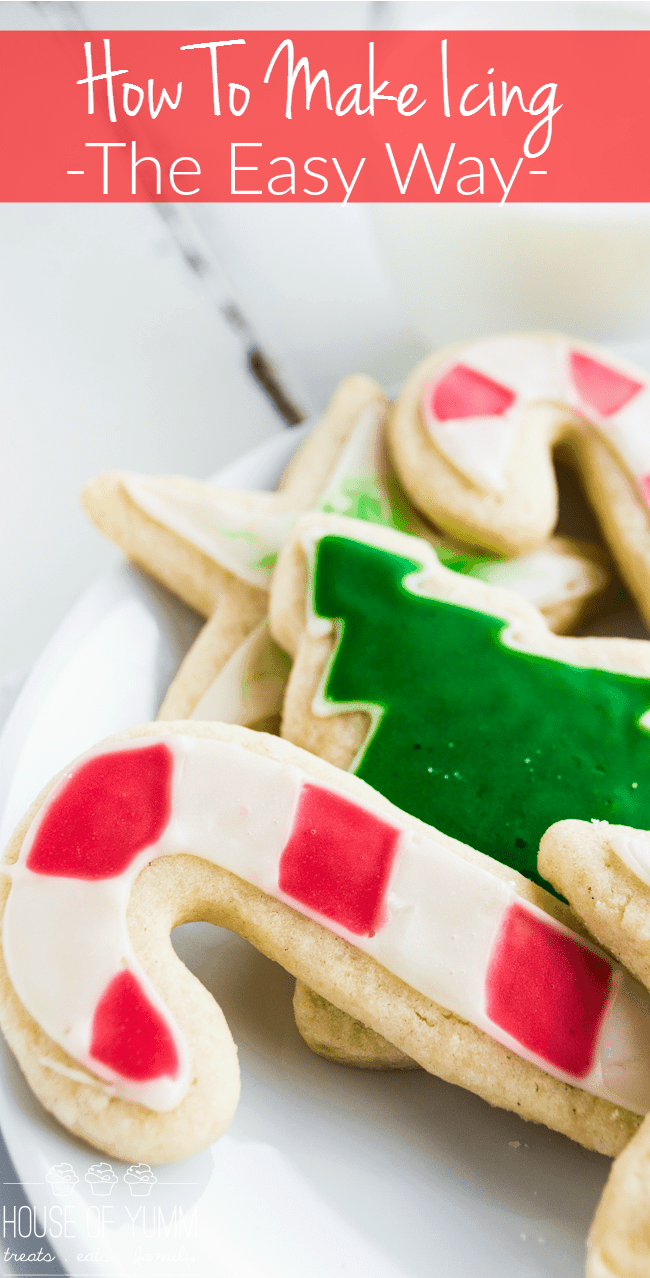 Now onto some more goodness. Icing the cookies!! For the longest time I have been wanting to decorate cookies with icing. I always see those videos on Facebook, you know the ones. Just watching those videos make me feel like I could totally do that..in my dreams.. And while my decorated cookies are NO WHERE near that amazing, I had so much fun making these. However, when I first looked into decorating cookies, the icing that most cookie decorators use contains either meringue powder (who has that on their shelves??? Not me!!) or raw eggs (who wants Salmonella?!? Not me!!!)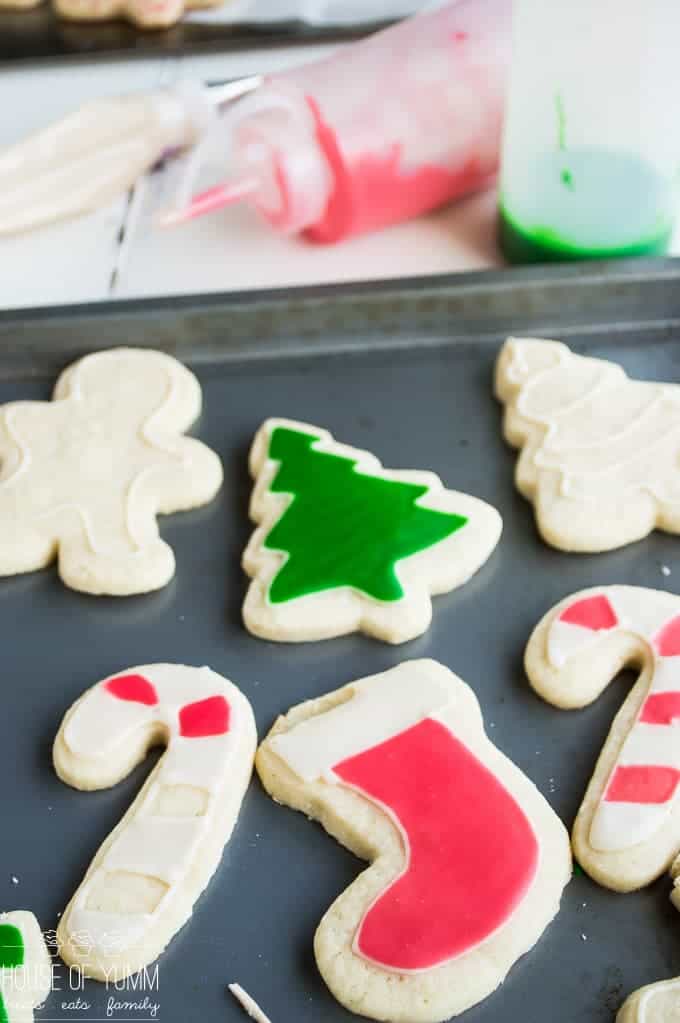 So I found another solution. Powdered sugar, milk, and a little vanilla. Because seriously, who needs anything more than that? I made two different consistencies. A thicker one, which we just use a little less milk, to do the outline. And then a flood icing, which is thinner and is used to fill in our outline. It kind of pools there on the cookie and just use a toothpick to push it around to the edges of the outline. It's really so easy! I made a white outline color. And red, white, and green flood icings. I put the flood icing into two plastic bottles I have. The third one I just left in the bowl and used a baby spoon to spoon it onto the cookie. Classy I know. Then a toothpick to spread it around.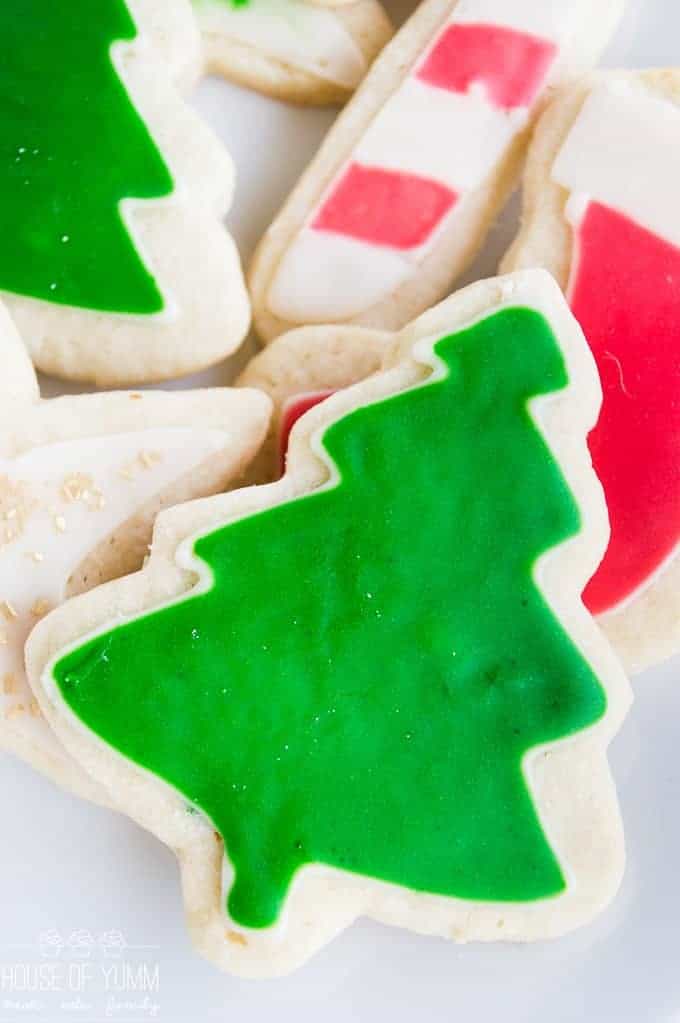 Tips & Tricks
Don't Overdo It– Giving the dough a workout by kneading it will make it strong and tough! And not in a good way! Keep the dough out of the gym to keep the cookies nice and soft. Do your best to knead and mix the dough as little as possible once the flour is added.
Chill Yo Roll– chilling the dough works magic and helps to ensure our cookies will hold their shape. I found it easiest to roll it out before chilling. Warm dough=easier to roll. Cold dough= better cookies. So roll first, then chill.
Thickness– I like thick cookies and I cannot lie ???Seriously tho, if our dough is too thin our cookies will be hard, brittle, and sad ??? Keep the dough about 1/4 inch thick. This makes for fluffy, soft, and happy cookies.
Baking time is KEY– if the edges are turning golden brown then it's already been too long! This was a shocking revelation for me, I always used to bake them til the edges were slightly golden. You guys!!!!! They are so much better when baked correctly! Who would have thought huh.
I hope you enjoy the recipe! You can follow along with me and never miss a recipe by signing up for my newsletter. Follow me on Instagram and tag #houseofyumm so I can see all the HOY recipes you make. And if you want to follow along in my everyday life on snapchat (username: houseofyumm) ?
Easy Iced Sugar Cookies
The PERFECT soft sugar cookie. Plus How to Ice your cookies the EASY way! You definitely need to know this method anyone can do it!!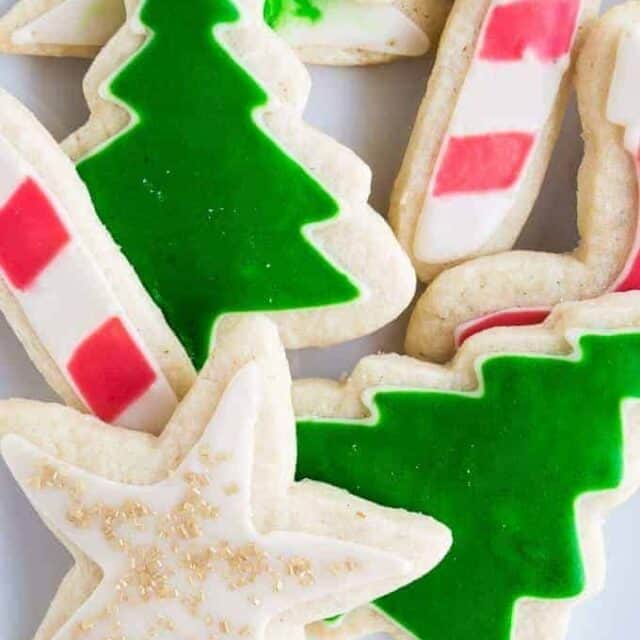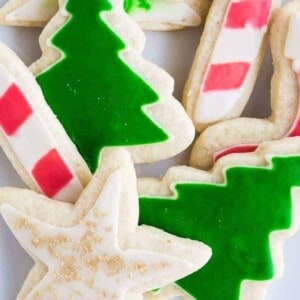 Ingredients
Sugar Cookies
5½

cups

all purpose flour

2

tsp

baking powder

2

tsp

salt

1½

cup

unsalted butter

softened to room temperature

2

cups

granulated sugar

4

large eggs

1

tbsp

vanilla extract
Outline Icing
1

cup

powdered sugar

½

tsp

vanilla extract

2

tbsp

milk

I used 2%

Food coloring-optional
Flood Icing
1

cup

powdered sugar

½

tsp

vanilla extract

3

tbsp

milk or water

Food coloring-optional
Instructions
Sugar Cookies
In large bowl whisk together the flour, baking powder, and salt.

In large mixing bowl with paddle attachment cream the butter, add the sugar cream together until light and fluffy.

Add in the eggs one at a time mixing in between. Mix in the vanilla extract.

Slowly add in the dry ingredients, mix on low until dough is mostly formed. Remove the dough from the bowl and place on floured counter or non stick surface. Work dough together with hands. Be sure not to over work the dough.

Separate the dough into three equal amounts. Using a rolling pin covered in flour roll the dough out until it is 1/4 inches thick. Place the dough onto a sheet of parchment paper and onto a cookie sheet.

Continue with the next amount of dough. Place the parchment sheet on top of the previous rolled out dough. Once all three sections of dough have been rolled and are on parchment paper, set the cookie sheet with all of the dough in the refrigerator to allow the dough to chill for at least 2 hours.

Once the dough has chilled remove one section at a time, cut with cookie cutters and place onto a cookie sheet lined with parchment paper or a silicone baking sheet.

Bake for 9 minutes. Remove from oven prior to any edges turning golden.

Allow the cookies to set for about 2-3 minutes then remove from the baking sheet to allow to cool on wire cooling rack.
Outline Icing
In small bowl stir together the powdered sugar, milk, and vanilla extract. Should be thick! Add to piping bag with a small tip. I used a Wilton 2 tip. Outline the shape for the cookie. Allow this outline to dry for about an hour, it will harden.
Flood Icing
In small bowl stir together the powdered sugar, milk, and vanilla extract. This will be thinner! Add to plastic squeeze bottles and pour into shape you want iced. Spread icing with toothpick until entire area is covered in icing.

Allow the flood icing to dry at least 24 hours before stacking cookies or giving as gifts.
Nutrition
Calories:
323
kcal
|
Carbohydrates:
49
g
|
Protein:
4
g
|
Fat:
13
g
|
Saturated Fat:
8
g
|
Cholesterol:
58
mg
|
Sodium:
248
mg
|
Potassium:
46
mg
|
Fiber:
1
g
|
Sugar:
27
g
|
Vitamin A:
394
IU
|
Calcium:
36
mg
|
Iron:
2
mg
Nutrition information is automatically calculated, so should only be used as an approximation.
Like this? Leave a comment below!
Q: What are you most excited for this Holiday Season?
Q: What are your favorite treats to make and share as gifts to others?
Leave a comment below and let me know!