Mexican Bunuelos. These bunuelos are light, crispy and fried to a beautiful golden brown. Serve coated with cinnamon sugar and drizzled with homemade piloncillo syrup. these treats are the perfect Christmas dessert, or great for pairing with a mug of coffee!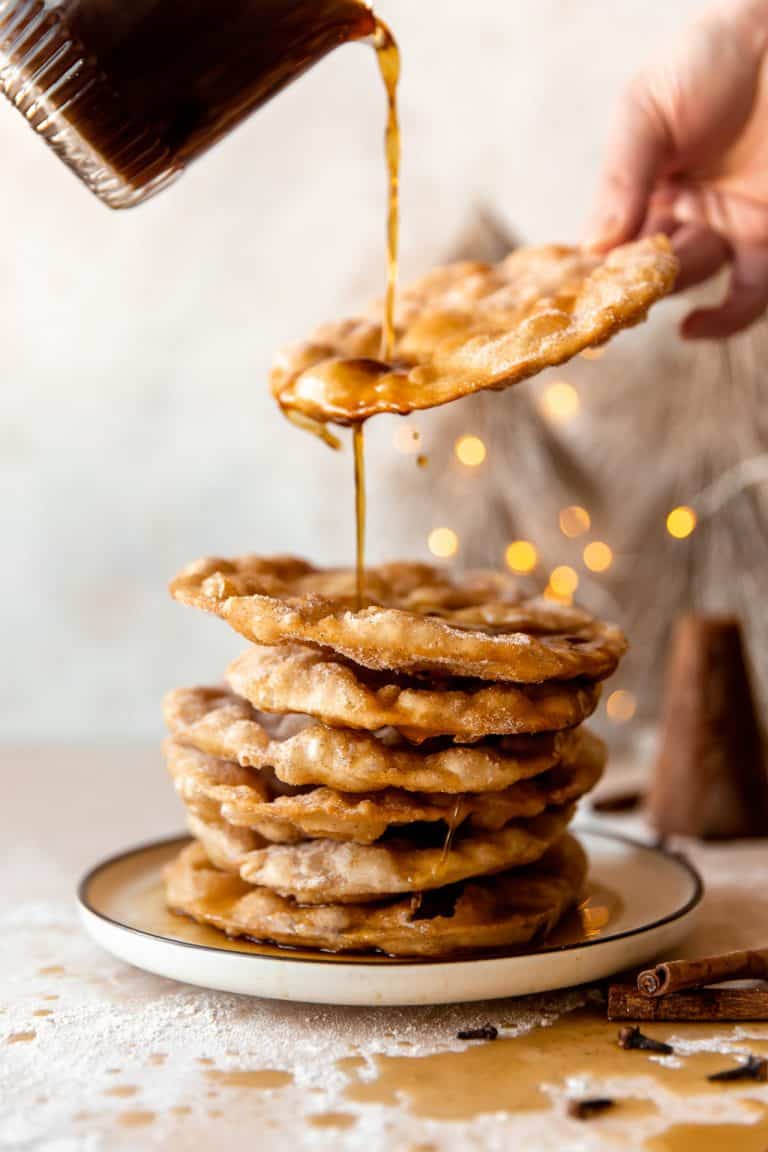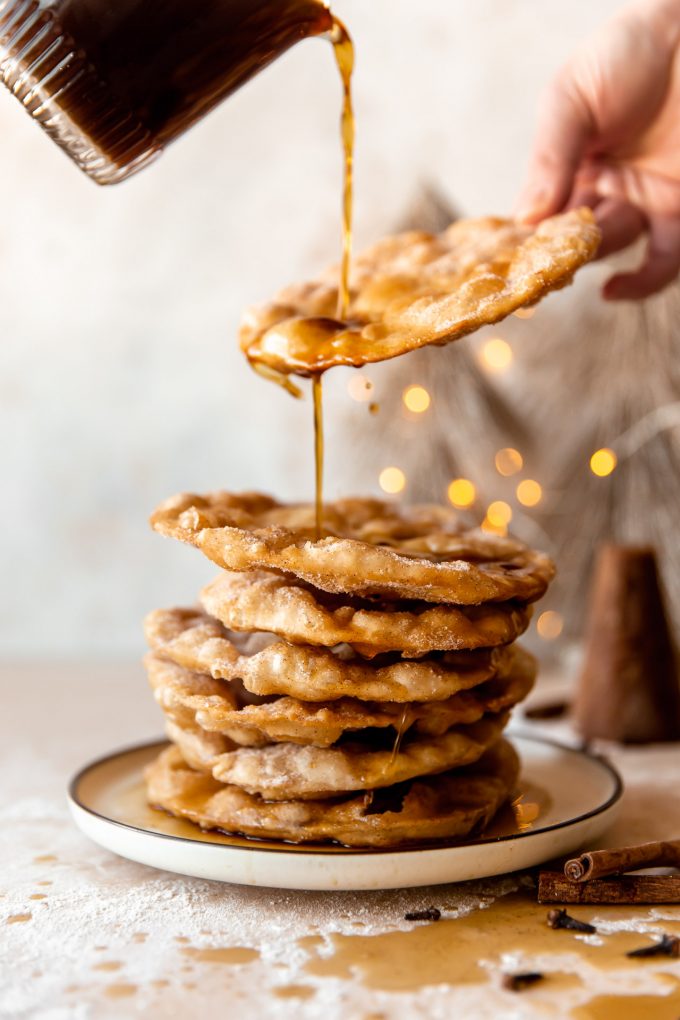 Christmas is a time rich in tradition for many people. One way of celebrating for many families lies in the foods that they make. These Buñuelos are one of those recipes!
What are Buñuelos?
A buñuelo (pronounced: bun-whale-oh) is a fried dough fritter that is common in parts of Africa, Asia, Latin America and in the Southwestern United States. This particular recipe is how you will find them prepared in parts of Mexico and Texas, where they are also served with homemade piloncillo syrup.
What is the difference between Buñuelos and Sopapillas?
The dough is similar to flour tortillas and sopapillas. This particular dough has less baking powder than sopapillas. Sopapillas have more baking powder to assist in puffing up and are only fried briefly leaving them soft pillows.
Instead of cutting the dough into small squares like a sopapilla, the dough is rolled out like a tortilla. And it is fried on both sides until golden and crispy.
Tip: Hold the dough in the oil and press down as it fries to help prevent too much rising in the dough. Otherwise the dough may completely puff up when fried. You want a bubbly exterior, but not for the bubbles to grow so big the entire dough is puffed up like a sopapilla.
Ingredients Needed:
All purpose flour: the base of the recipe, I haven't tried this recipe with other flours.
Sugar: I like to add a bit of sweetness to the dough itself.
Ground Cinnamon: a bit of cinnamon in the dough enhances the flavor of the dough. You can leave out the cinnamon if you desire.
Salt: balances out the flavors and the sweetness.
Baking Powder: gives a little rise and softness to the dough.
Oil: you can use any oil in the dough or these can also be made with lard like tortillas. Avocado oil is called for in this recipe but can easily be swapped with vegetable oil. I don't recommend olive oil since that will affect the taste.
Tip: Instead of using water in the dough, steep some anise seeds in hot water, then remove the seeds and use the tea in the dough. This infuses a warm flavor through the buñuelos.
Tell me how to make Buñuelos:
Prepare the dough, use a stand mixer to make this step quick and easy. If you don't have a stand mixer, you can knead this dough by hand!
Let the dough rest, then divide into 13 equal portions. Let this dough rest again, this helps with rolling out the dough.
Dip the dough into flour and then press out and roll into circles.
Fry in hot oil until golden and crispy.
Prepare the Piloncillo syrup.
Serve the Bunuelos warm sprinkled with cinnamon sugar and drizzled with the homemade piloncillo syrup.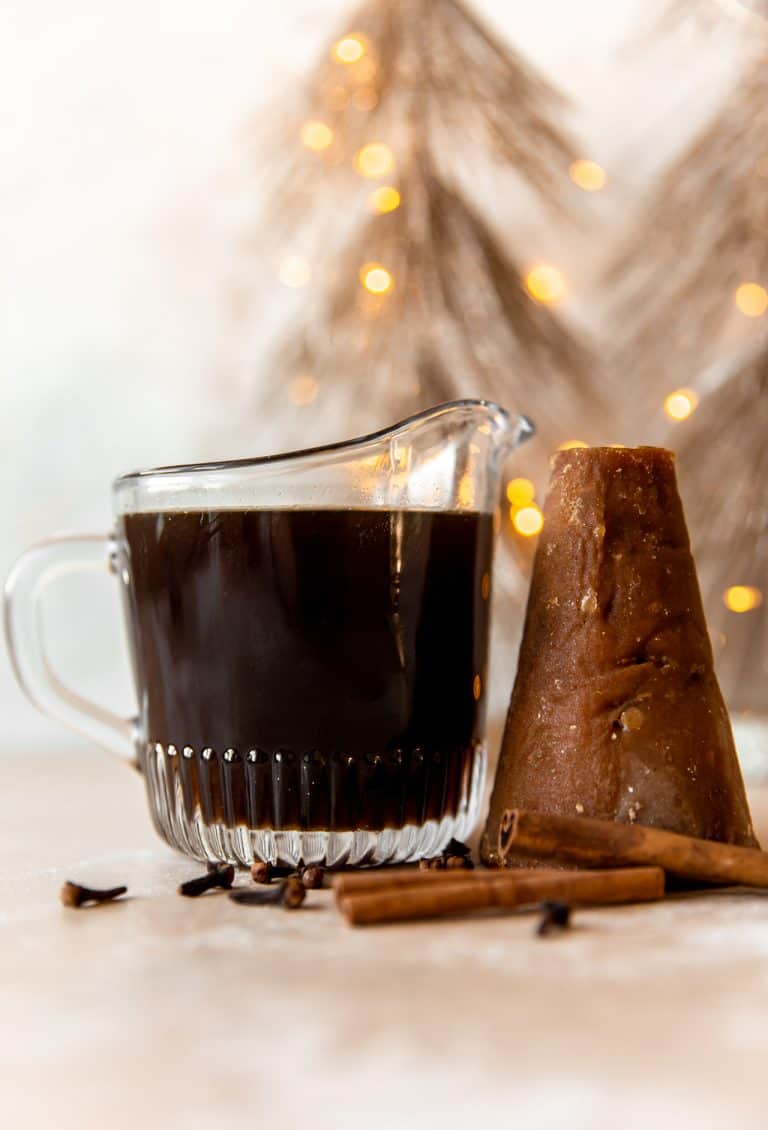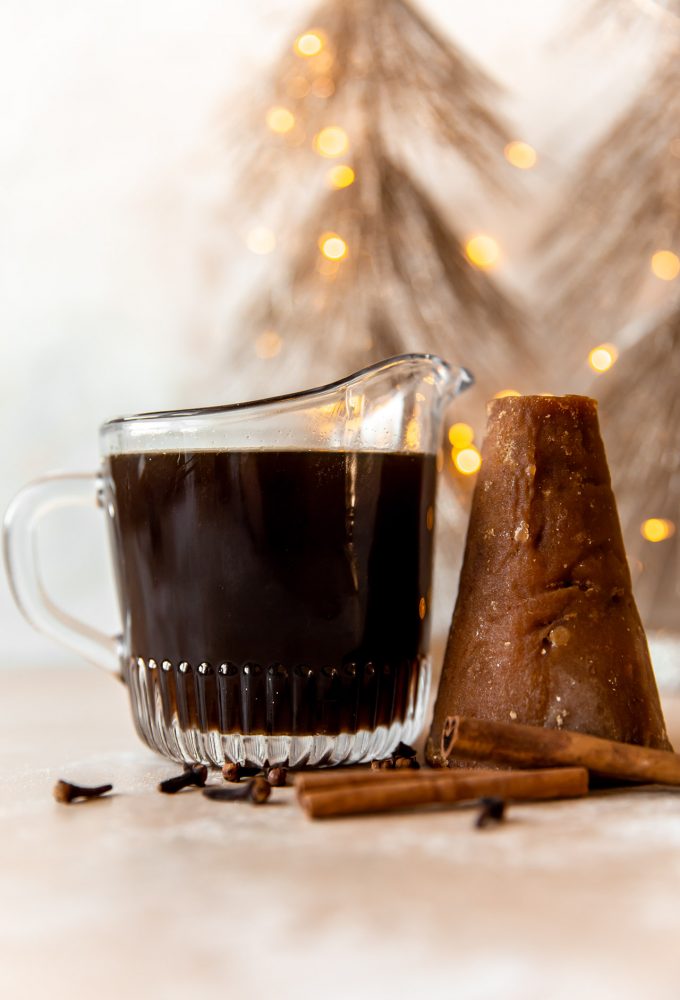 Tell me about Piloncillo Syrup:
Make this homemade syrup by boiling a piloncillo cone with cinnamon, cloves, and vanilla. This is a traditional way of serving the bunuelos in Mexico.
What is Piloncillo?
Piloncillo is unrefined pure cane sugar. It is made by crushing the sugar cane, boiling it, and then pouring into a mold where it hardens. This is why you will usually find the piloncillo is shapes like the cone in the image above.
Find this cone of sugar in the Hispanic food aisle of most markets next to the other Goya products. There are two varieties, a lighter and a darker. Grab the darker one since this will give more flavor.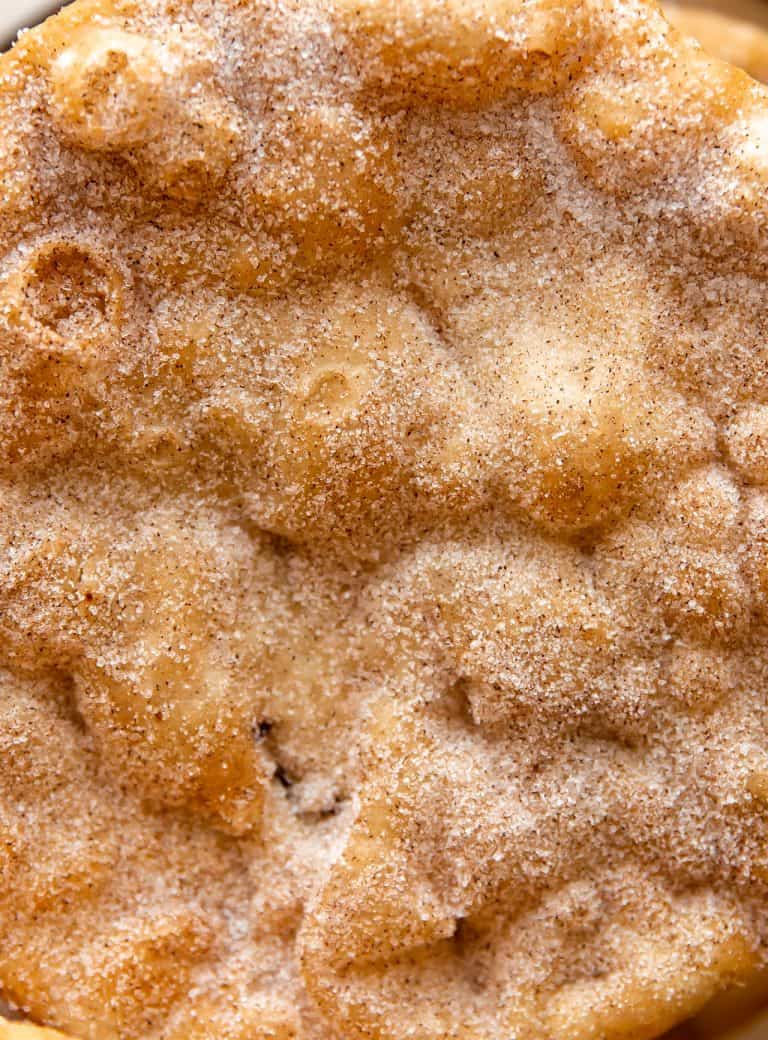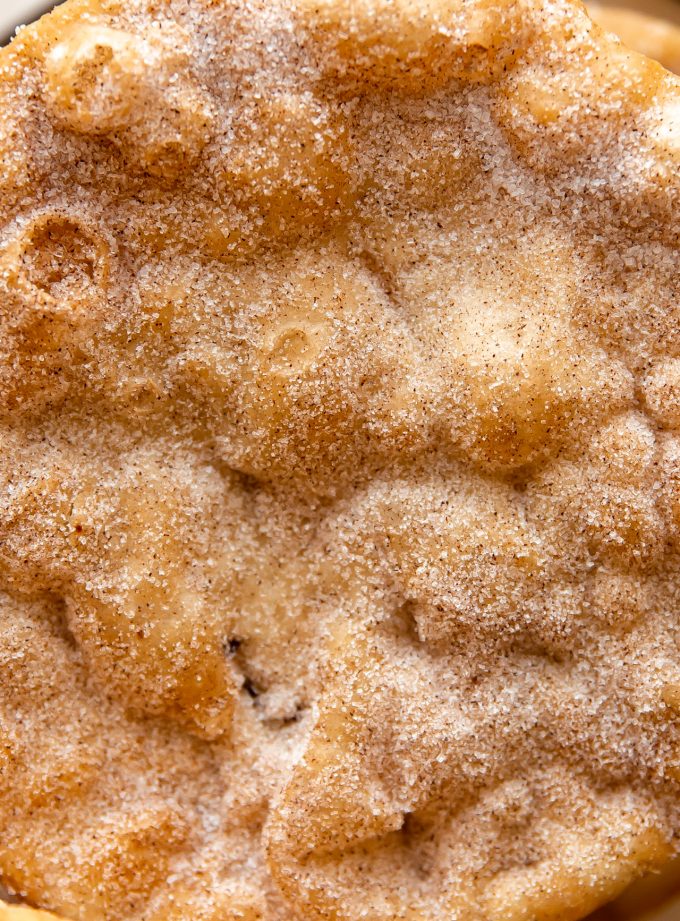 More Mexican Dessert Recipes: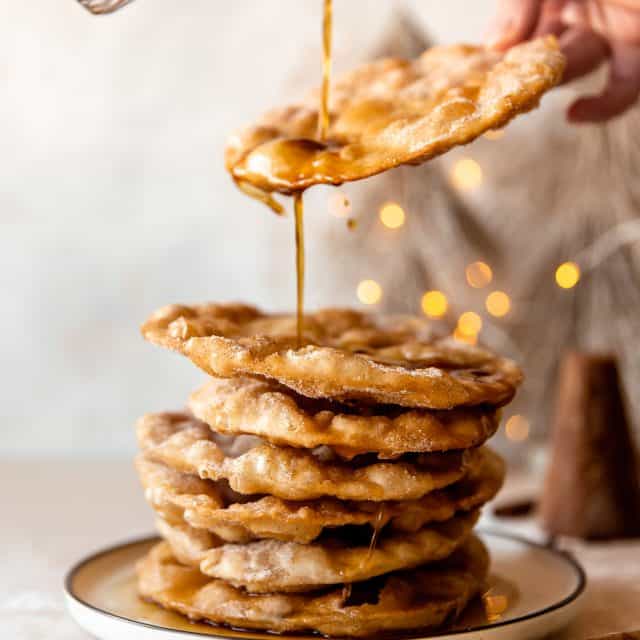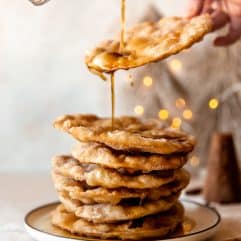 Buñuelos (An Authentic Mexican Recipe)
Mexican Bunuelos. These bunuelos are light, crispy and fried to a beautiful golden brown. Serve coated with cinnamon sugar and drizzled with homemade piloncillo syrup. these treats are the perfect Christmas dessert, or great for pairing with a mug of coffee!
Ingredients
Piloncillo Syrup
3 cups warm water
1 piloncillo cone, dark brown
1 cinnamon stick
1 clove
1 tsp vanilla
Instructions
In the bowl of a stand mixer, with a dough hook attachment, add the flour, sugar, baking powder, salt, and cinnamon. Mix together. 

Pour the oil into the warm water, then pour this into the dry ingredients. 

Mix together with the dough hook for 3-4 minutes until the dough has formed into a ball. 

Prepare a clean work surface, sprinkle with a small amount of flour, remove the dough from the bowl, and place in the flour. Continue to knead the dough for 1-2 minutes until dough is soft and no longer sticky. Add flour as needed in small amounts to achieve this. 

Cover the dough and let sit 30 mins. (I always just place a small bowl over the dough while it's on the counter.)

Divide dough into smaller portions about 40-45 grams each, then pinch and roll the dough into small ball shapes. This will make about 13 dough balls. Cover with a clean towel, let sit for 20 minutes. 

Preheat oil to 350-375℉ while dough is resting. 

Prepare the Piloncillo Syrup (instructions below).

Pour the extra 1/2 cup of flour for rolling dough into a small bowl and set aside.

Prepare Cinnamon Sugar by combining the cinnamon and sugar in a small bowl. Set aside.

After letting the dough rest, working one dough ball at a time, dip the dough into the flour, coating all over. Using your fingers, flatten the dough ball out and gently press the dough out into a circle shape. Then roll into a 6 inch circle using a rolling pin. It should be fairly thin, this will help it fry easier without puffing up. 

Place one dough circle into the oil, and gently press down into the oil using a metal spatula, or tongs, to help prevent large bubbles from forming in the bunuelos. Small bubbles are expected, but don't allow the entire top to bubble up in one bubble. Continue frying for about 1-2 minutes, once the bottom is crisp and golden, flip and continue to fry the other side. Will be crisp and golden when done. 

Remove the Bunuelos from the oil, place on a large baking sheet lined with a wire cooling rack. Sprinkle with cinnamon sugar while still hot. Be careful not to burn your fingers flipping it over to get both sides. 

Serve warm with a cup of piloncillo syrup on the side for dipping. OR you can pour the piloncillo syrup over the top. 
Piloncillo Syrup
In a small saucepan add the 3 cups of water, piloncillo cone, vanilla, cinnamon stick, and clove. 

Bring this mixture to a boil, stirring occasionally to help break up the piloncillo cone.

Turn heat to low and let simmer while frying the bunuelos.
Notes
Store in a sealed container at room temperature for up to 1 week. 
Syrup can be stored in a sealed container at room temperature for 1 week. 
Nutrition
Serving: 1, Calories: 233kcal, Carbohydrates: 45g, Protein: 4g, Fat: 4g, Saturated Fat: 1g, Sodium: 207mg, Potassium: 42mg, Fiber: 2g, Sugar: 14g, Calcium: 54mg, Iron: 2mg
Photography by KJandCompany.co
House of Yumm is a participant in the Amazon Services LLC Associates Program, an affiliate advertising program designed to provide a means for us to earn fees by linking to Amazon.com and affiliated sites.