Mexican Wedding Cookies. Tender, crumbly, and buttery. These cookies are loaded up with bits of pecans and dipped in powdered sugar for a fun snowball appearance!
These delightful little cookies go by so many names. Mexican Wedding cookies. Snowballs. Russian Tea Cakes, Polvorones, Butterballs, Pecan Sandies. Whatever you want to call these little cookies, these soft, buttery, crumbly cookies are rolled in powder sugar making them beautiful as they are tasty!
Why so many names? There's plenty of theories and conspiracies. But…regardless what you want to call them. They are always a huge hit at cookie parties, holiday parties, weddings, or a regular Wednesday.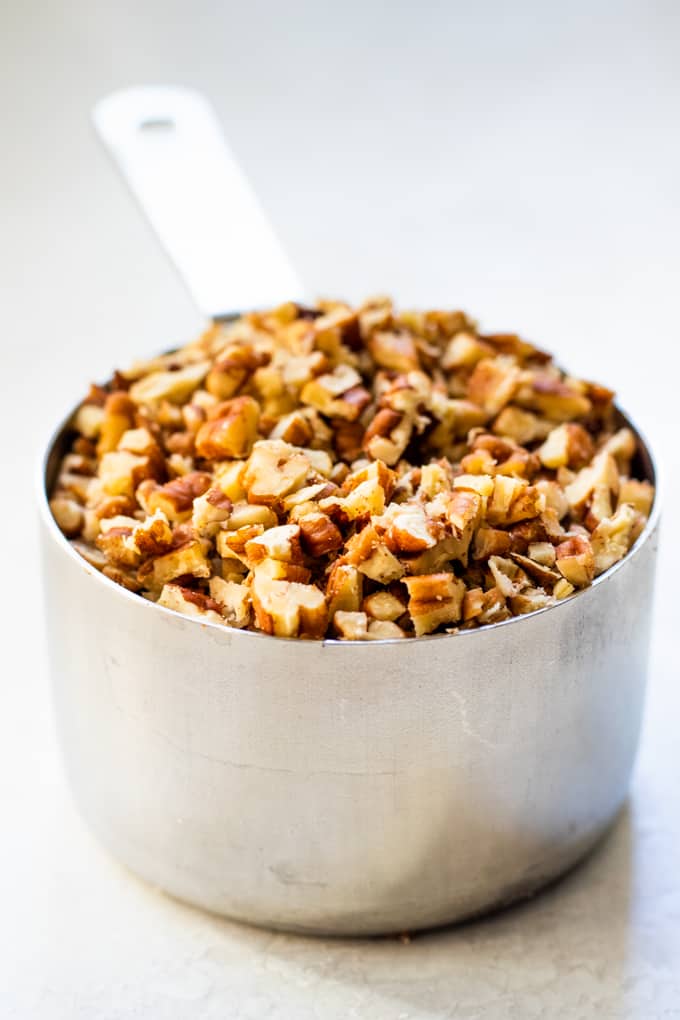 Ingredients
Flour: All purpose flour is used in this recipe. I would not recommend substituting with self rising flour if that is what you have on hand, this recipe does not call for any baking powder. We don't want this cookie dough to fluff and rise. The texture of the cookie would be altered.
Butter: I always use unsalted butter when I bake so that I can control the amount of salt in my recipes. If you are using salted butter, then adjust the amount of salt called for in this recipe. This recipe calls for room temperature butter, which makes it easy to mix and cream. But we do then need to chill the cookie dough to harden the butter back up and get the correct texture of cookie.
Powdered Sugar: the amount called for is used in the cookie dough, be sure to sift to avoid clumps. The cookies are also dipped and rolled in the powdered sugar once baked to give a coating. Which really makes them look like snowballs!
Pecans: I am a huge fan of pecans, so of course I'm using pecans in my cookie recipe. I have seen recipes that call for walnuts. You can absolutely use walnuts if you prefer. But we want the nuts to be chopped up nice and small. This helps them to blend into the dough and contribute to the crumbliness of the cookie.
How to make Mexican Wedding Cookies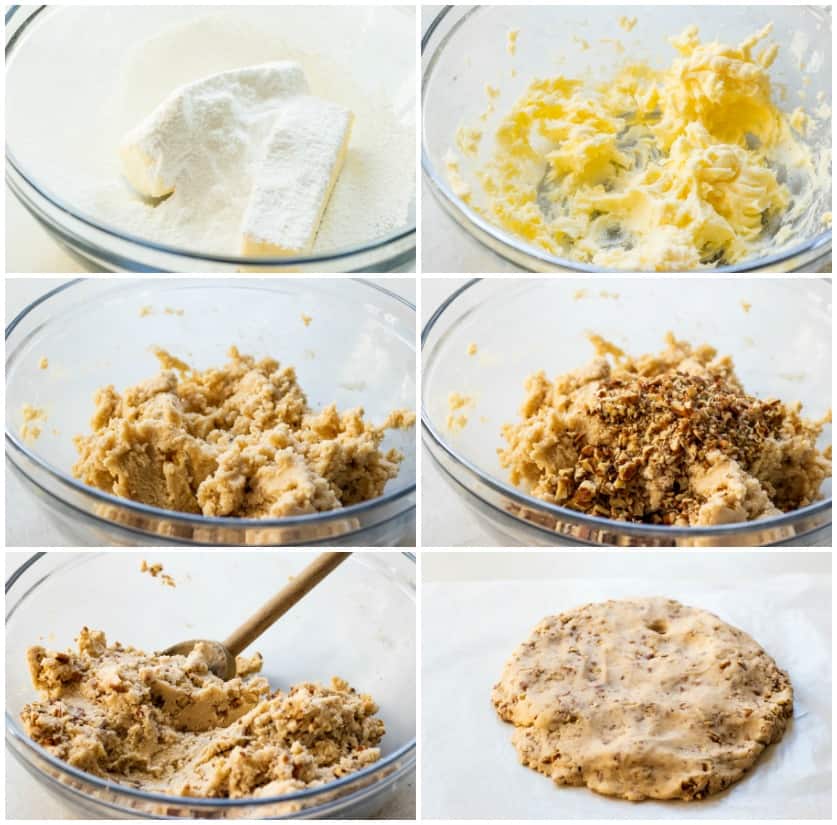 Cream the butter and powdered sugar together.
Add in flour, salt, vanilla extract.
Mix in the pecans.
The dough will seem crumbly at first. Keep mixing until the dough comes together.
Press the dough out on a piece of wax or parchment paper.
Chill the dough for at least 30 minutes. This helps to prevent spreading.
Once the dough has been chilled.. cut into equal sections. (image shows a general guideline, to help divide dough. Recipe makes about 30 cookies)
Roll each section into a 1 inch ball. You will be able to make about 30 cookies with this recipe.
Bake 15-17 mins, until slightly golden on outside and along bottom of cookie.
Allow cookies to cool, then dip into powdered sugar. Set on wire rack to continue cooling and to set, then dip the cookies a second time.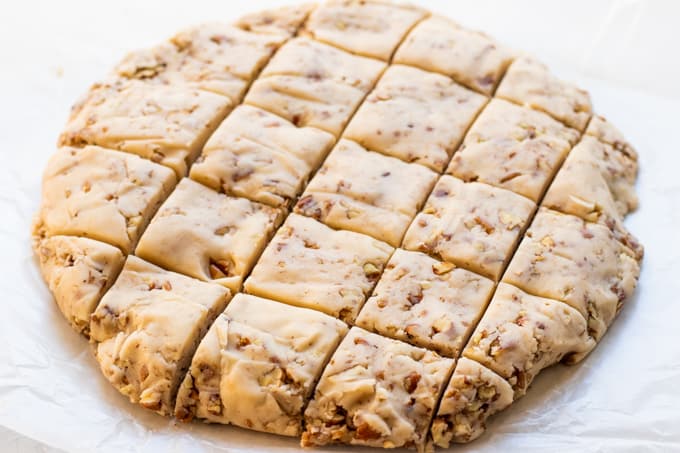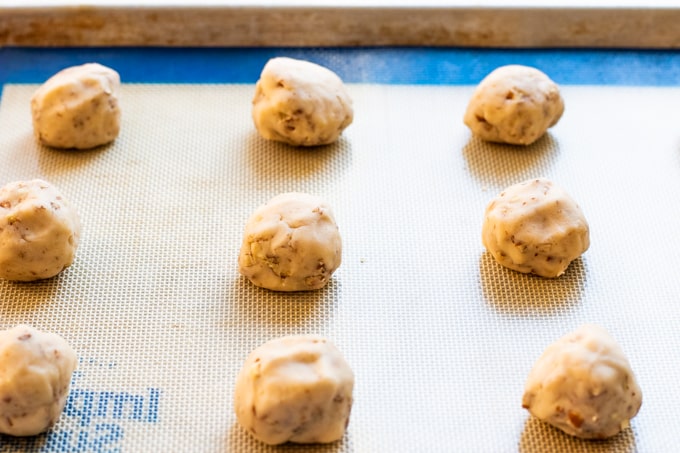 Storage and Freezing:
How to Freeze Mexican Wedding Cookies:
Allow the cookies to cool to room temperature after baking. Dip in powdered sugar. Place the cookies in layers separated by wax or parchment paper in a freezer safe container. Can be frozen for up to 3 months. Will most likely need to roll the cookies in a fresh layer of powdered sugar once defrosted.
How to Freeze Mexican Wedding Cookie dough:
Roll the dough into the 1 inch balls, layer the cookie dough balls separated by wax or parchment paper in a freezer safe container. Freeze for up to 3 months. To thaw, move the dough to the refrigerator overnight. Then bake according to directions.
How to Store baked Cookies:
Store the baked cookies in an airtight container at room temperature for 4-5 days.
Important Tips For This Recipe:
Chop the nuts finely. If you use a processor be careful not to pulse too much to make nut butter.
Chill the dough to get the butter cold to prevent spreading.
Use silicone baking mats or parchment paper instead of a greased cookie sheet to prevent spreading.
Roll the cookies twice in the powdered sugar, the sugar almost melts onto the cookie making it sticky with just one roll.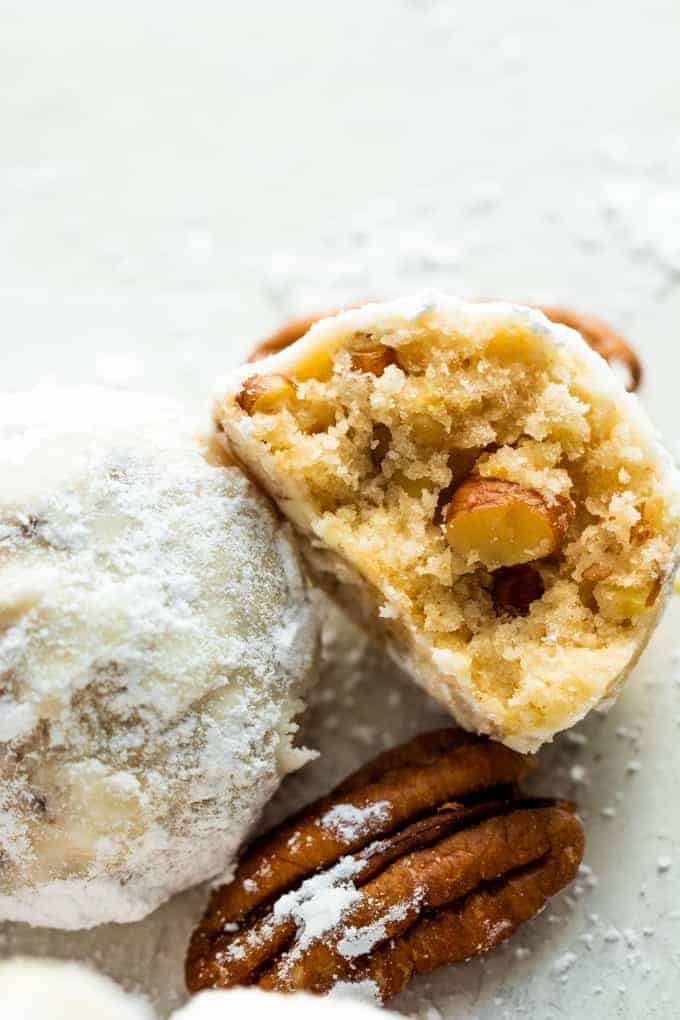 More Cookie Recipes to Enjoy: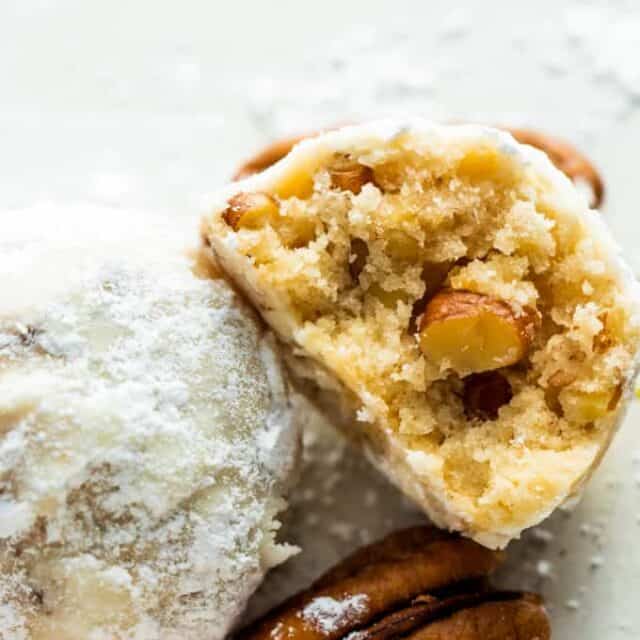 Mexican Wedding Cookies
Mexican Wedding Cookies. Tender, crumbly, and buttery. These cookies are loaded up with bits of pecans and dipped in powdered sugar for a fun snowball appearance!
Ingredients
1 cup unsalted butter, room temperature
1 and 1/2 cup powdered sugar, divided
2 teaspoons vanilla extract
2 cups all purpose flour
1/4 teaspoon salt
1 cup pecans, finely chopped
Instructions
Cream butter and 1/2 cup powdered sugar in a large mixing bowl.

Add in the vanilla extract, flour, and salt. Mix until dough comes together. Will start off crumbly, but keep mixing.

Stir in the chopped pecans.

Press the dough together on a piece of wax paper or plastic wrap. Chill the dough in the refrigerator for at least 30 minutes.

Preheat oven to 350 degrees Fahrenheit.

Divide the dough, and roll each portion of the dough into 1 inch balls.

Place on baking sheet lined with silicone baking mat. If using one baking sheet, place remaining dough in the refrigerator until ready to be baked.

Bake for 15-17 minutes until the cookies start to turn golden along the bottom edge.

Remove from oven and allow too cool.

In a small bowl add the remaining 1 cup of powdered sugar. Dip the baked cookies into the powdered sugar, placing on a wire rack once done. For best results dip the cookies twice.
Nutrition
Serving: 1, Calories: 108kcal, Carbohydrates: 12g, Protein: 1g, Fat: 9g, Cholesterol: 16mg
House of Yumm is a participant in the Amazon Services LLC Associates Program, an affiliate advertising program designed to provide a means for us to earn fees by linking to Amazon.com and affiliated sites.