This strawberry cobbler is juicy and sweet! Plus it's topped with a patriotic display of pie crust. Perfect for celebrating the 4th of July!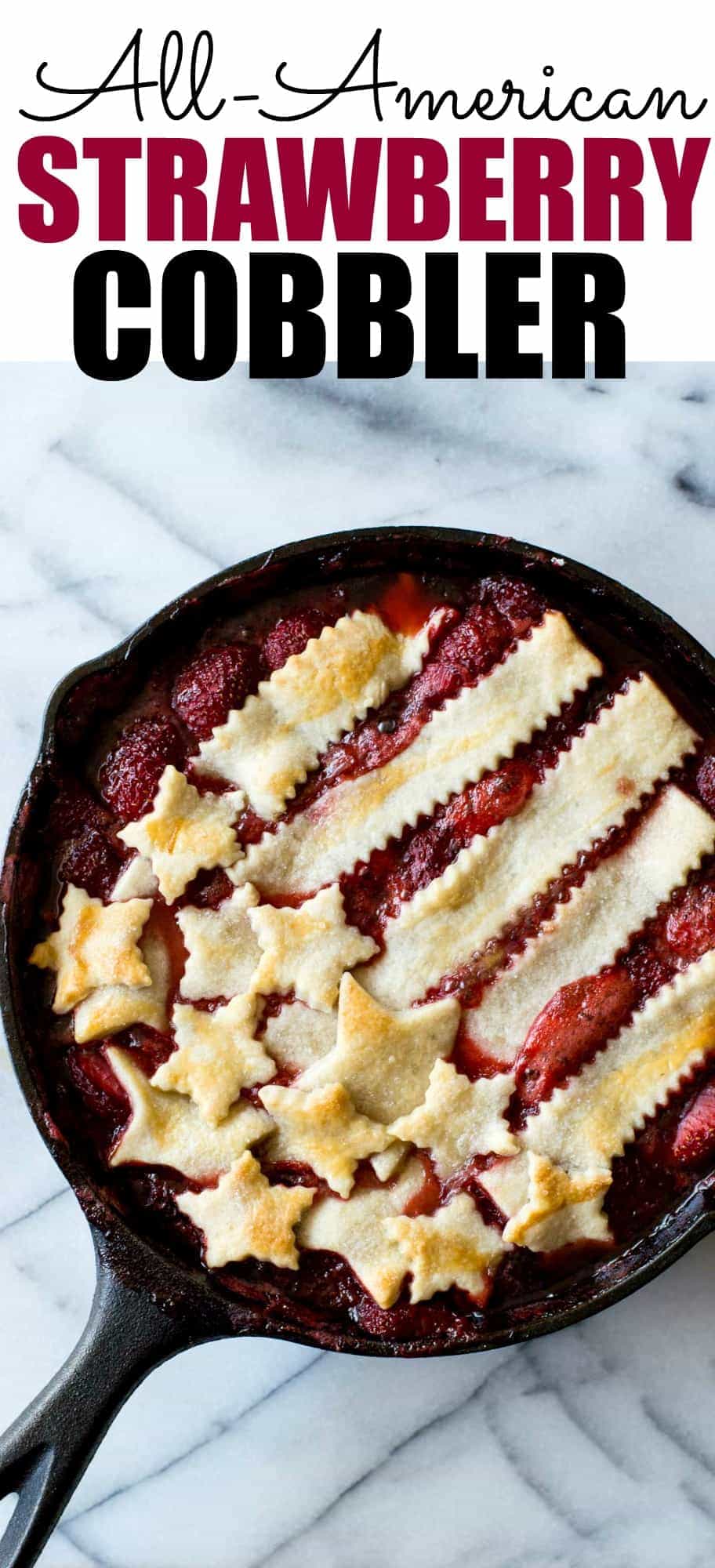 All-American Strawberry Cobbler. Why? Because.. America. That and the fact that the markets are bursting to the brim with fresh berries and peaches. And they all seemed to magically appear in my cart. Which has left me with finding ways to enjoy these gorgeous strawberries. And there's nothing better in life than strawberry cobbler. There just isn't.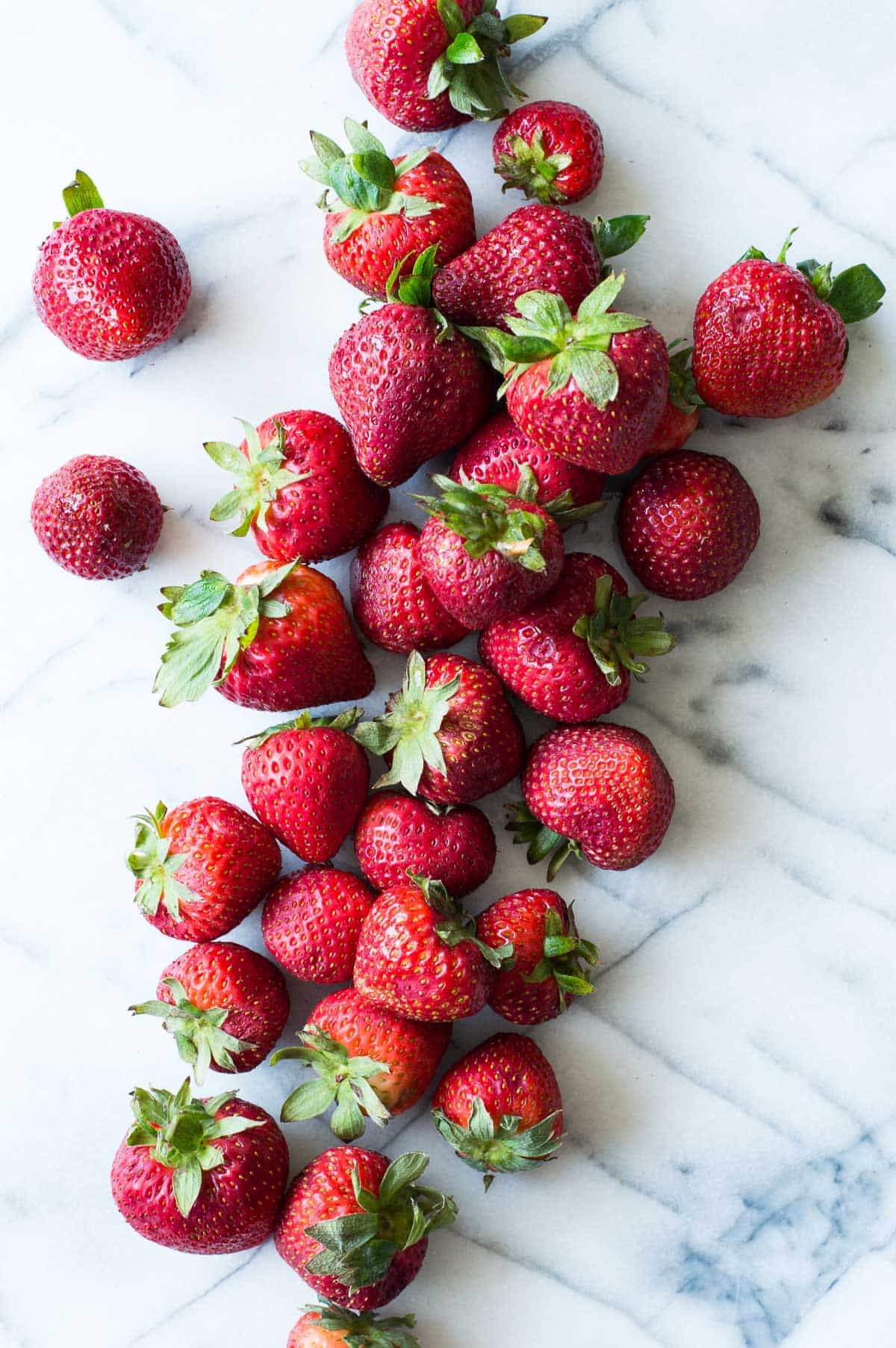 I was feeling pretty ambitious when I took on this recipe this last week. It was a busy week. I photographed seven recipes this week. That's a lot of work. To be honest I'm feeling slightly drained today. But. I know that I can have some time to play and have fun this weekend, because… America. It's the 4th of July! Which is possibly one of my favorite holidays. It involves food, friends, and fireworks.
And this year Lil Miss is 3 and is super excited about fireworks. At least she loves watching them at the beginning of Disney movies. It's one of her favorite things about putting on a movie. Usually we just have to watch that part over and over and never actually watch the movie. But that's another story.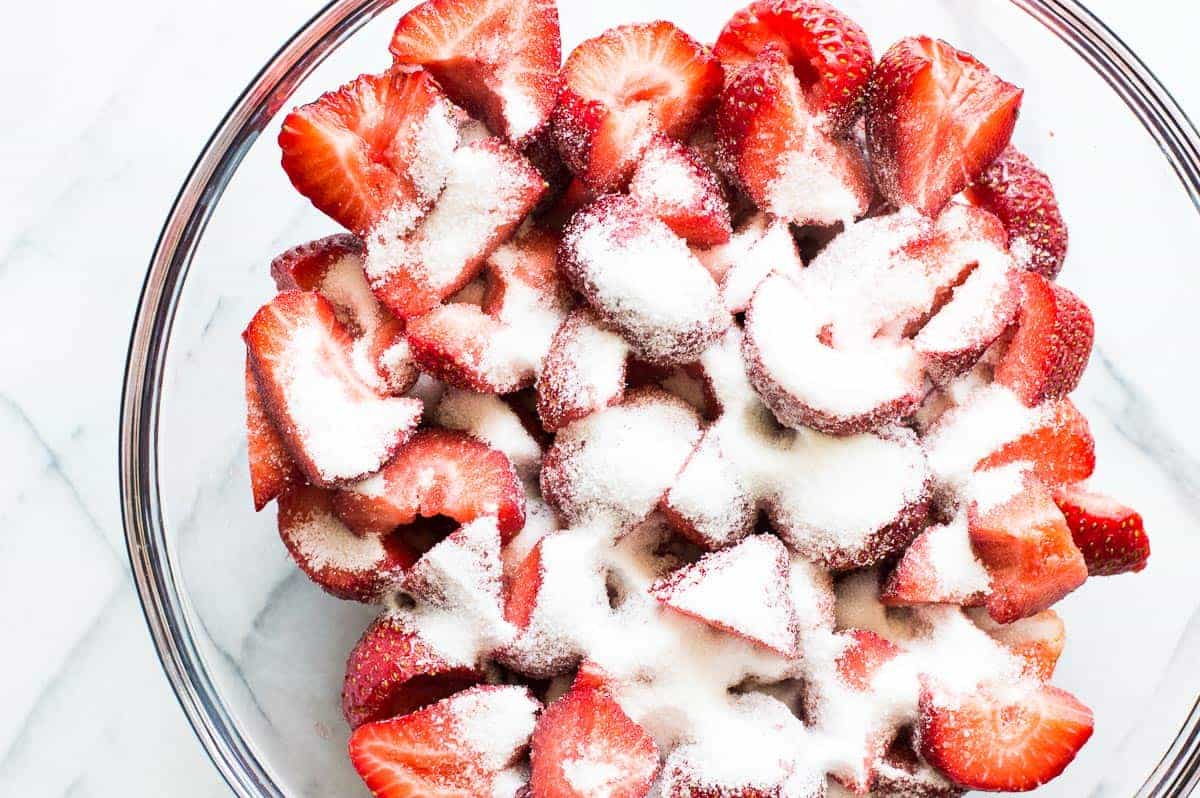 Since I was busy with things this week, and I really wanted to share this idea with y'all I did some research and found a strawberry cobbler recipe to try out instead of creating one of my own from scratch. And the pie crust recipe I got from my mom. She is a master of pie crust. I am starting to feel a little more confident in it. Finally right? I've only been trying to conquer pie crust for the last year..or two..or more.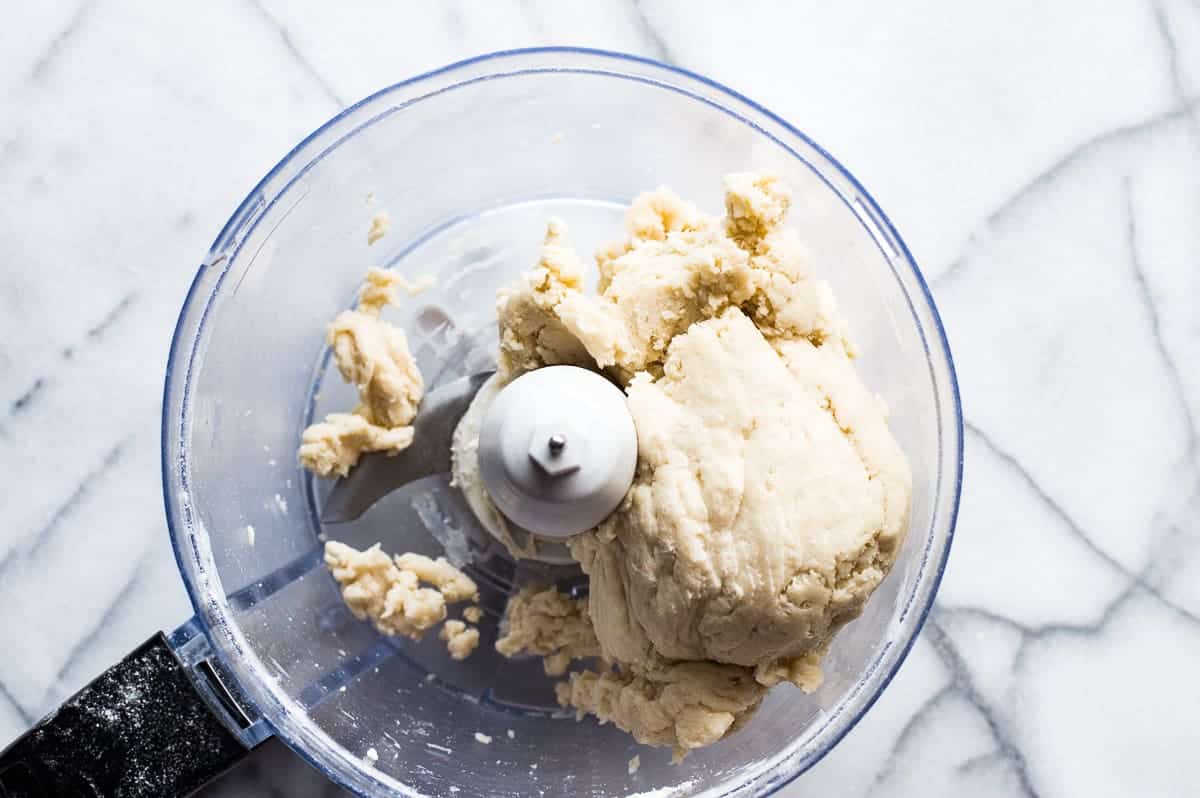 The easiest way is to make it in a food processor, if you don't have one you can use a pastry cutter and your hands.
Important Tips for Pie Crust:
Use cold butter. Warm butter will make for gooey pie crust. Nobody wants that. Cold butter will help our pie crust turn out perfect and flakey.
Use ice water. Again, we want to keep our dough cold. So make sure the water you add is cold.
Take it slow. The pie crust is all about the consistency and texture. So when adding the water we want to add it slowly, that way when we get to the right consistency we can stop and not end up with soggy crust. As you add the water you will notice the dough starts to clump together and that is when we stop. Check out the picture above, this is what the crust will look like once we've added enough water.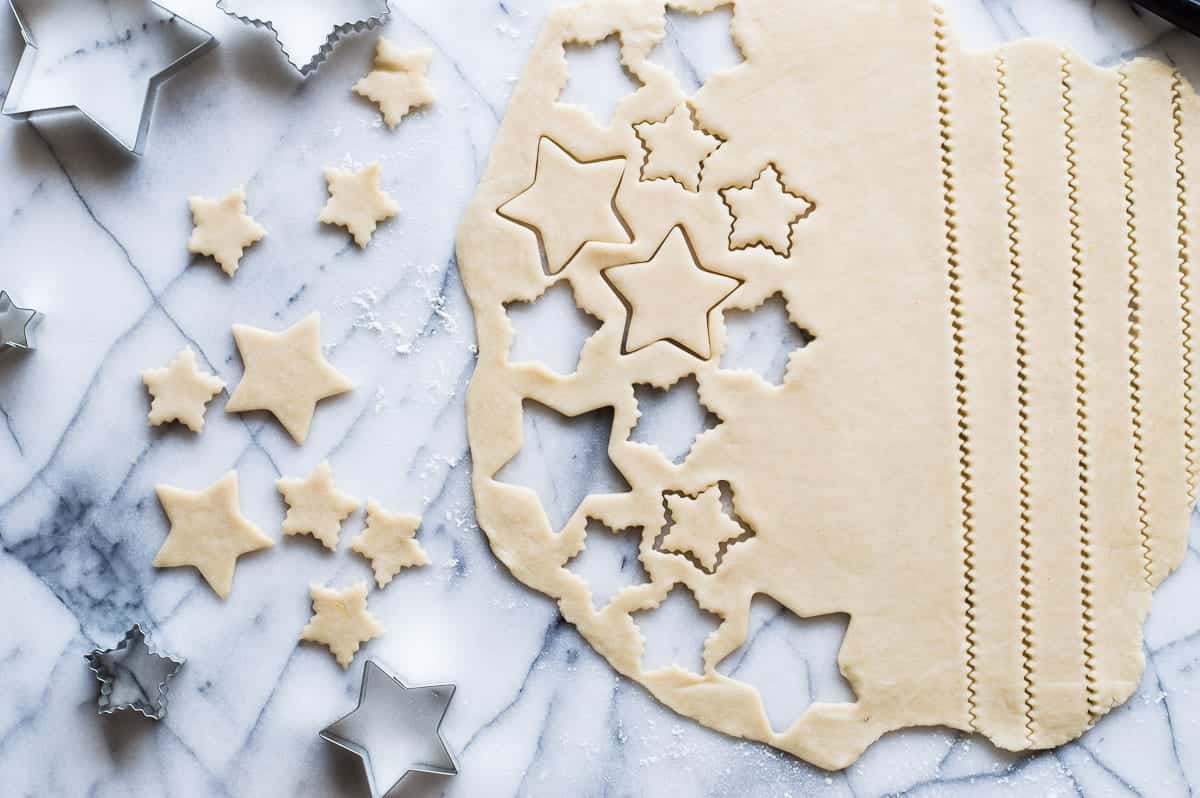 The fun part comes in decorating this cobbler! I found the cutest star cookie cutters on Amazon. I love how they have the little ridges on some of them and not on others. And then used a pie crust cutter to create the ridges when I cut out the stripes too.
The pie crust recipe makes enough crust for one pie, so after cutting out the stars and stripes there will be some crust left over. Which is one of my favorite parts. Want to know what to do with it? Make some crust cookies. Roll the dough back out, cut out some shapes for fun. Sprinkle with a little cinnamon and sugar then bake! When they start turning slightly golden on the edges then they're done. The cookies are the best part of making any kind of pie. My mom would always make extra pie crust so that we could make cookies. It's a tradition.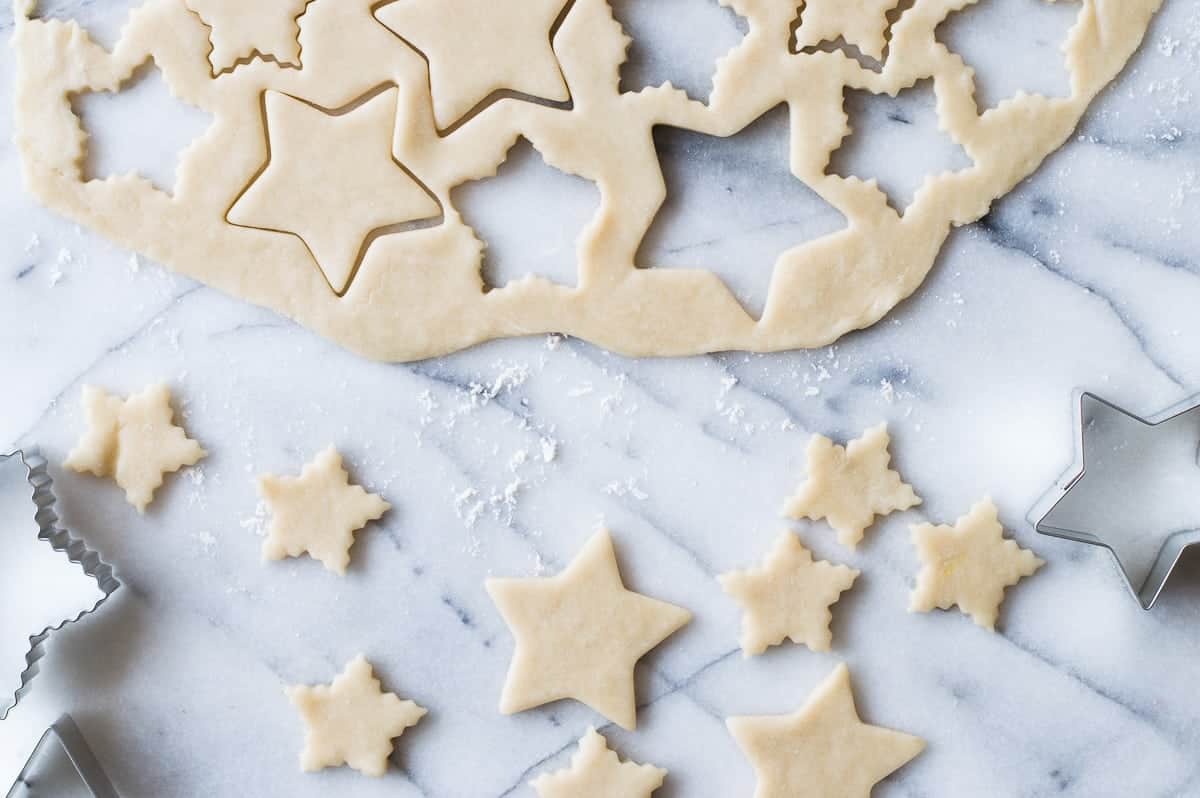 Now back to the strawberry cobbler itself. It's easy to make and I only modified it slightly based on some of the reviews the recipe had received. It does turn out slightly juicy. Which I actually enjoyed, it's perfect when served slightly warm with some cold vanilla ice cream.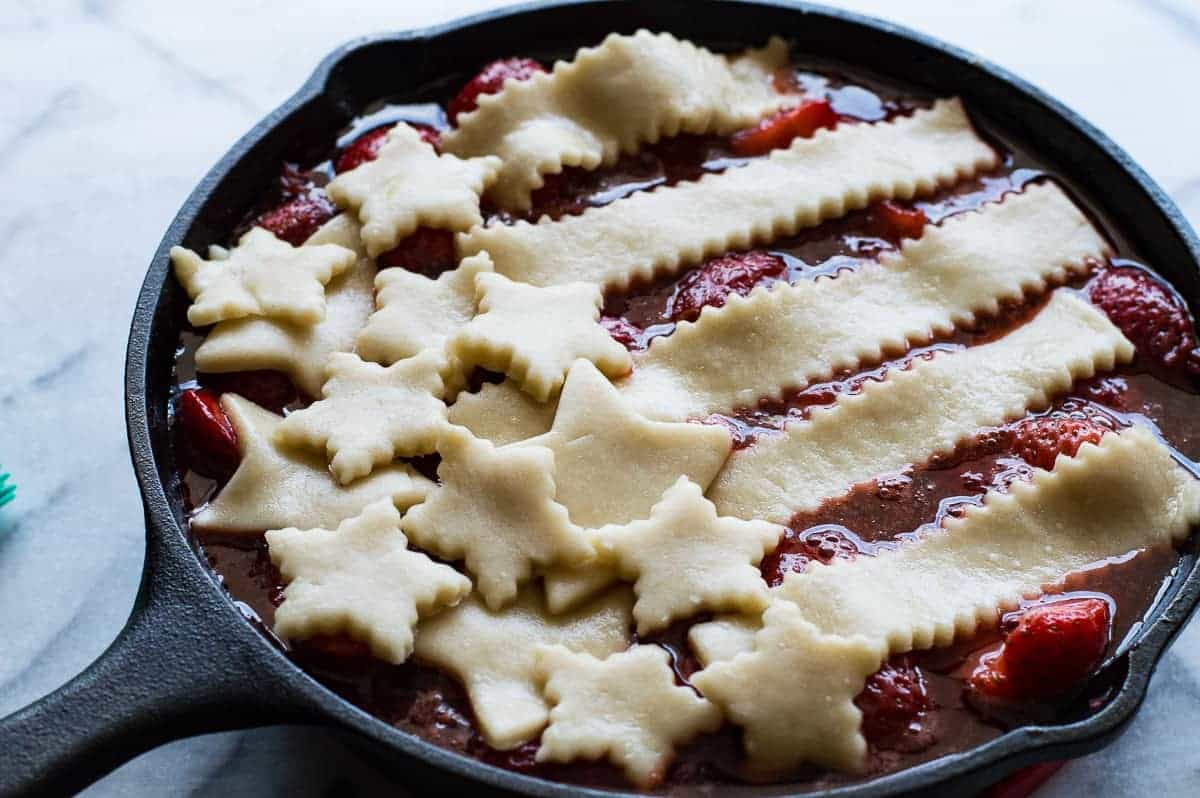 We're going to boil the strawberries first, then add the pie crust and bake in the oven. Once we add the pie crust to the top we need to give it an egg wash and sprinkle with some sugar. If you have coarse sugar, the big sugar crystals like you would find on giant blueberry muffins, that would be better, but I didn't have any on hand so I just used regular white granulated sugar. And now I'm going to leave you with some pictures. Just because 🙂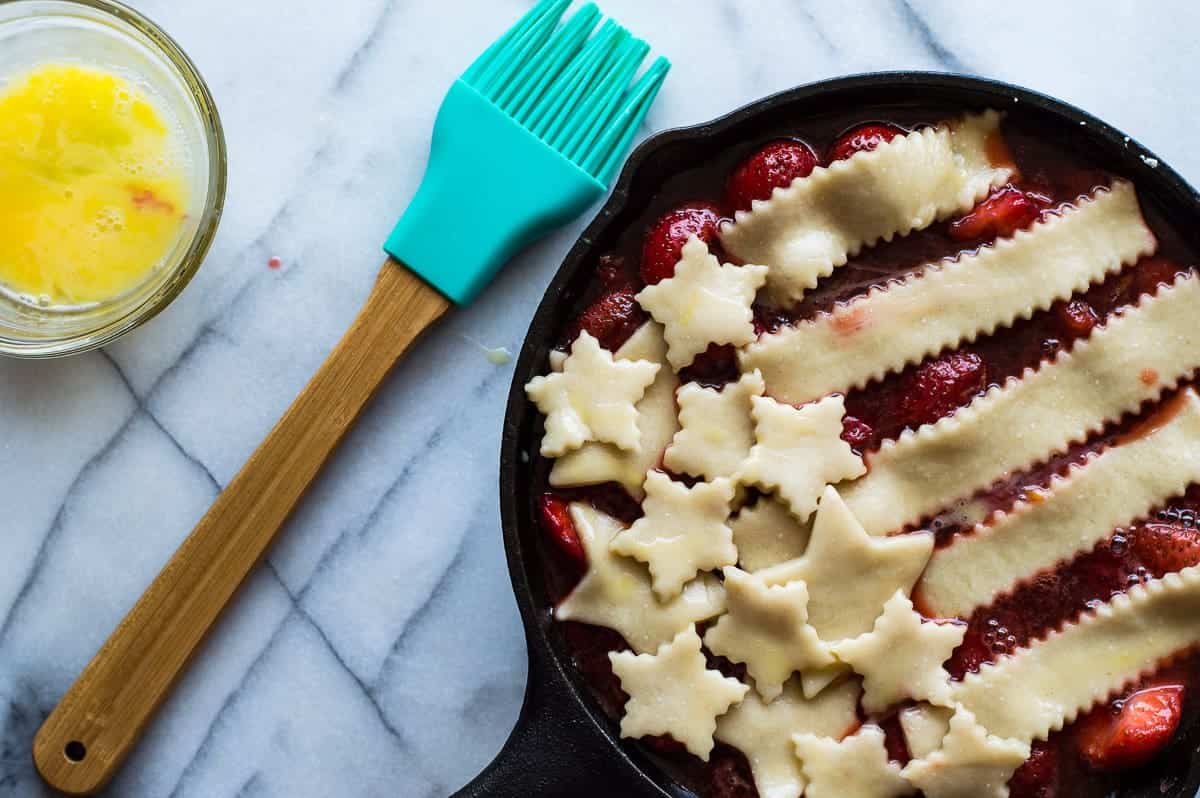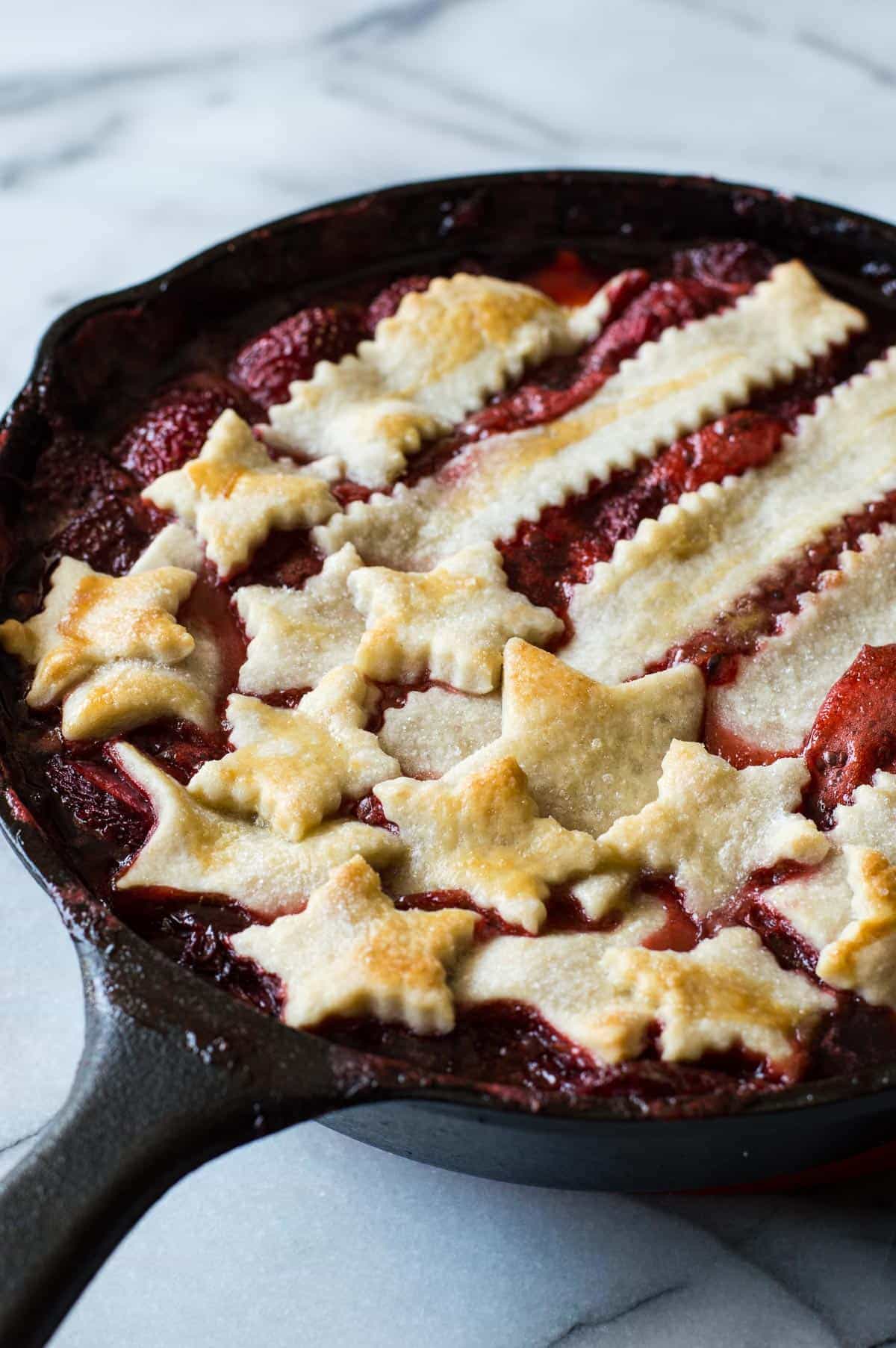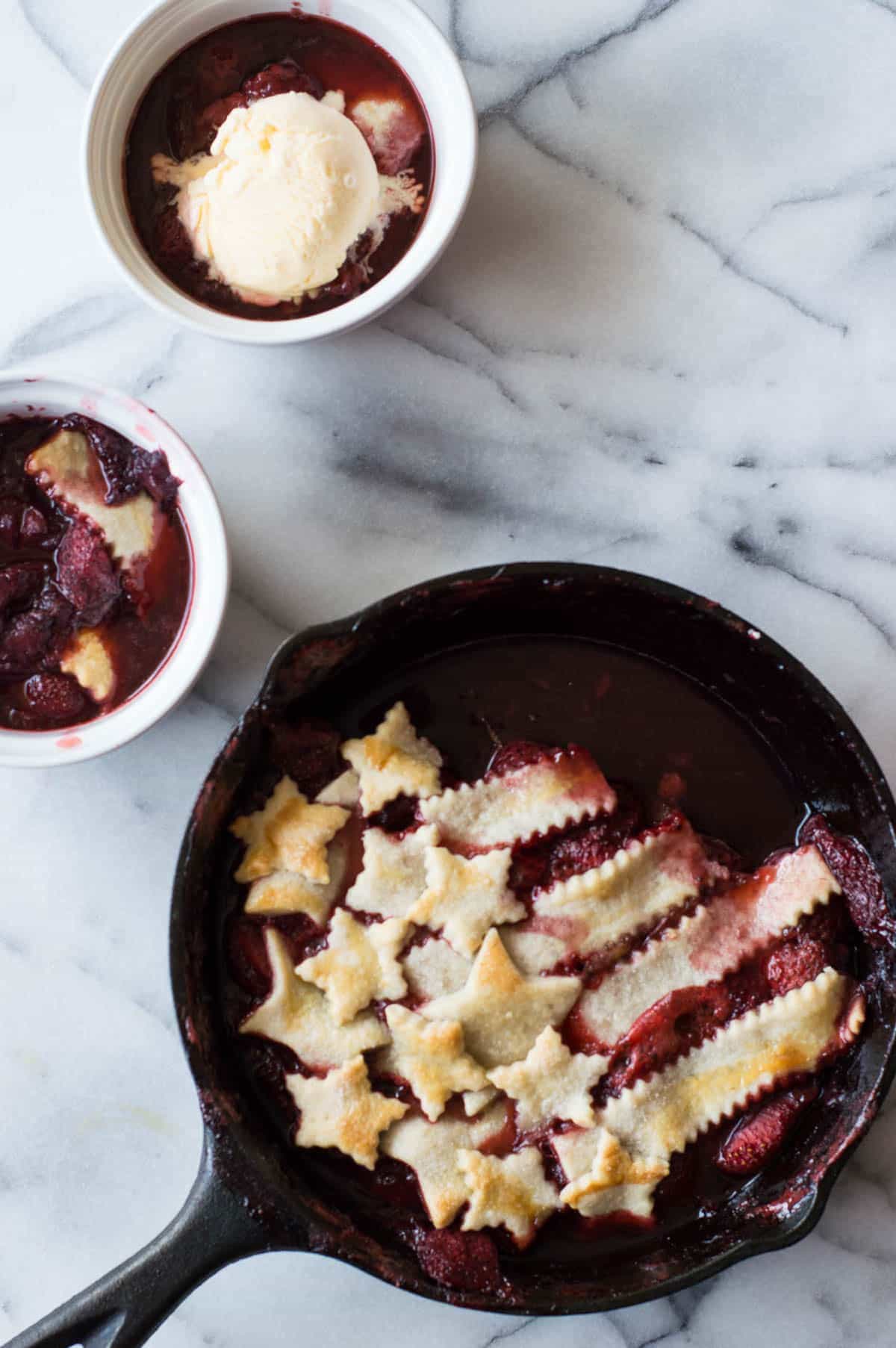 Love strawberries?! Check out these other strawberry recipes:
All-American Strawberry Cobbler
This strawberry cobbler is juicy and sweet! Plus it's topped with a patriotic display of pie crust. Perfect for celebrating the 4th of July!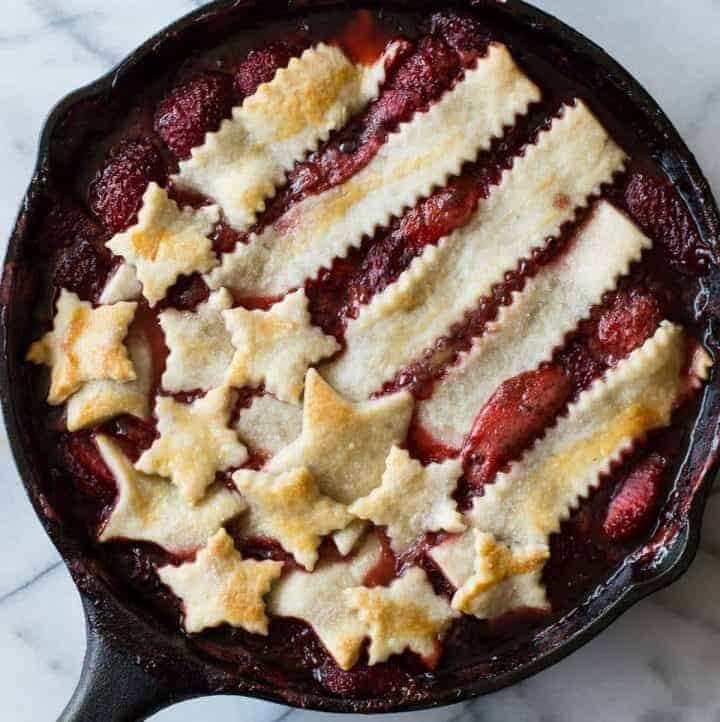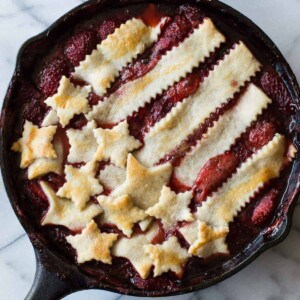 Ingredients
2

pounds

strawberries

½

cup

white granulated sugar

2

tsp

fresh lemon juice

1

tbsp

cornstarch

lemon zest from 1 medium lemon

1

large egg
Instructions
Quarter the strawberries and add to a medium size bowl. Add the sugar and stir to combine. Pour in the lemon juice. Set aside and allow to sit for about 30 minutes.

In the meantime prepare the pie crust.

In a food processor add the flour, baking powder, and salt. Pulse just to mix.

Slice the cold butter into tablespoon size slices, add to the food processor. Pulse until combined together.

Add in two tablespoons of cold ice water, pulse and check consistency. Add water slowly and pulsing the food processor until the dough clumps together. (check pictures above to see what it looks like).

Sprinkle a small amount of flour on a clean, flat work surface. Remove the dough from the processor and place on the counter. Gently shape the dough into a circular disk.

Using a rolling pin lightly sprinkled in flour roll out the dough into a large circle shape, about 1/4 inch thick.

Use star cookie cutters to make about 8 small stars and 5 larger stars. And use a pie crust cutter to create the zig-zag edge and cut inch wide strips for the stripes.

Place the pie crust pieces on a baking sheet and place in refrigerator to keep cold.

Add the cornstarch to the strawberries and stir to combine. Spoon the strawberries into a 6.5 inch cast iron skillet, pour in any juice also.

Cook over medium heat, juice will begin to boil and the strawberries will soften. Cook for about 10 minutes. Remove from heat and stir in the lemon zest.

Top with the pie crust. Beat the egg and brush onto the top of the pie crust. Sprinkle with a little bit of sugar.

Bake at 400 for about 25 minutes. Place a baking tray under the skillet to catch any juice that may bubble out.

Remove from oven and allow to cool. The juice will thicken as it cools.

Serve with vanilla ice cream and enjoy!
Nutrition
Calories:
359
kcal
|
Carbohydrates:
50
g
|
Protein:
5
g
|
Fat:
17
g
|
Saturated Fat:
10
g
|
Cholesterol:
68
mg
|
Sodium:
122
mg
|
Potassium:
269
mg
|
Fiber:
4
g
|
Sugar:
24
g
|
Vitamin A:
531
IU
|
Vitamin C:
90
mg
|
Calcium:
42
mg
|
Iron:
2
mg
Nutrition information is automatically calculated, so should only be used as an approximation.
Like this? Leave a comment below!
**This post may contain affiliate links, but I only recommend products that I actually use and <3. Thanks for supporting House of Yumm!

SaveSave