Classic Southern Pecan Pie. This nutty, sweet pie recipe is wonderfully rich and chock full of pecans. Baked in a flakey butter pie crust, this pecan pie is the highlight of the holidays!
Pecan Pie is a pie made of pecans mixed into a filling of eggs, butter and sugar. The way the pie bakes makes the pecans rise to the top leaving a sweet, golden filling between the pecans and the flakey pie crust. This pie is a specialty of the Southern United States and can be found on most Holiday tables!
This pie recipe also happens to be my husband's favorite, so it's possible it makes a couple appearances throughout the year. But luckily we live in Texas, where pecans are plentiful!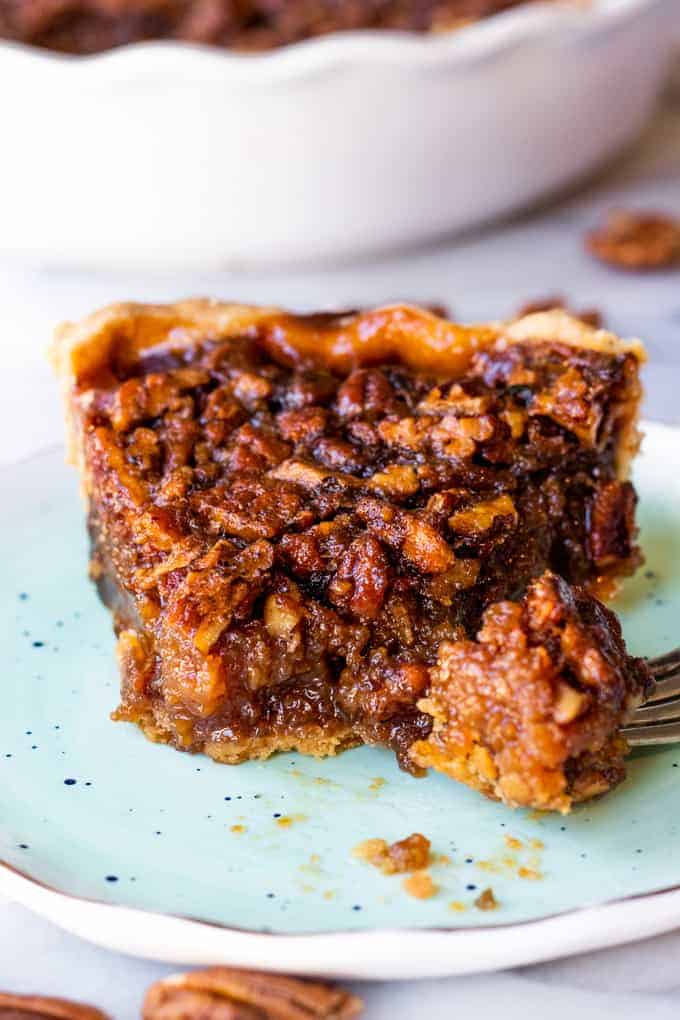 How to Make Pecan Pie:
Pecan pie is such an easy pie to make!
Prepare the pie crust in a 9 inch glass pie dish. Spread the chopped pecans in the pie.
In a mixing bowl combine the eggs, sugars, salt, corn syrup and melted butter.
Pour this mixture over the pecans. The pecans will float to the top during baking.
The pie can take 50-60 minutes to bake. Sometimes it can take a bit longer, just give the pie dish a little shake and when the center is no longer jiggly, then it's done!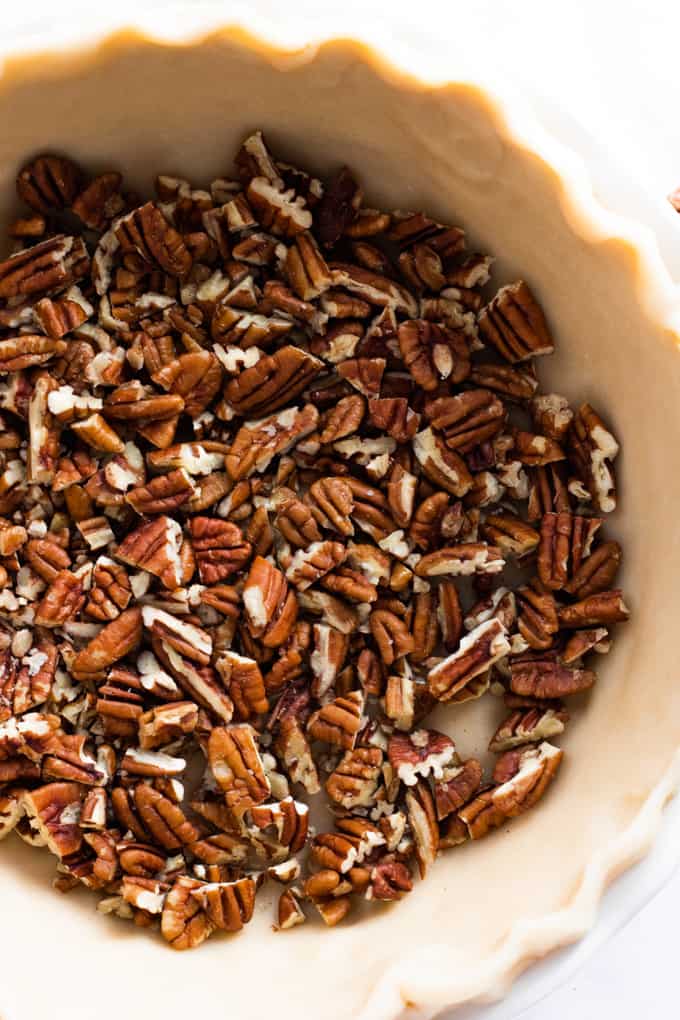 Pecan Pie Ingredients:
The basic ingredients include: eggs, salt, vanilla extract, melted butter, a mixture of white and light brown sugars and corn syrup.
The pecans are best chopped. You can buy pre-chopped pecans from the market, or you can buy pecan halves and chop your own. If you are lucky enough to have fresh pecans, they will need to be shelled.
My favorite pie crust is my all butter, flaky, pie crust recipe. I have all the tips and tricks you need to make the best pie crust!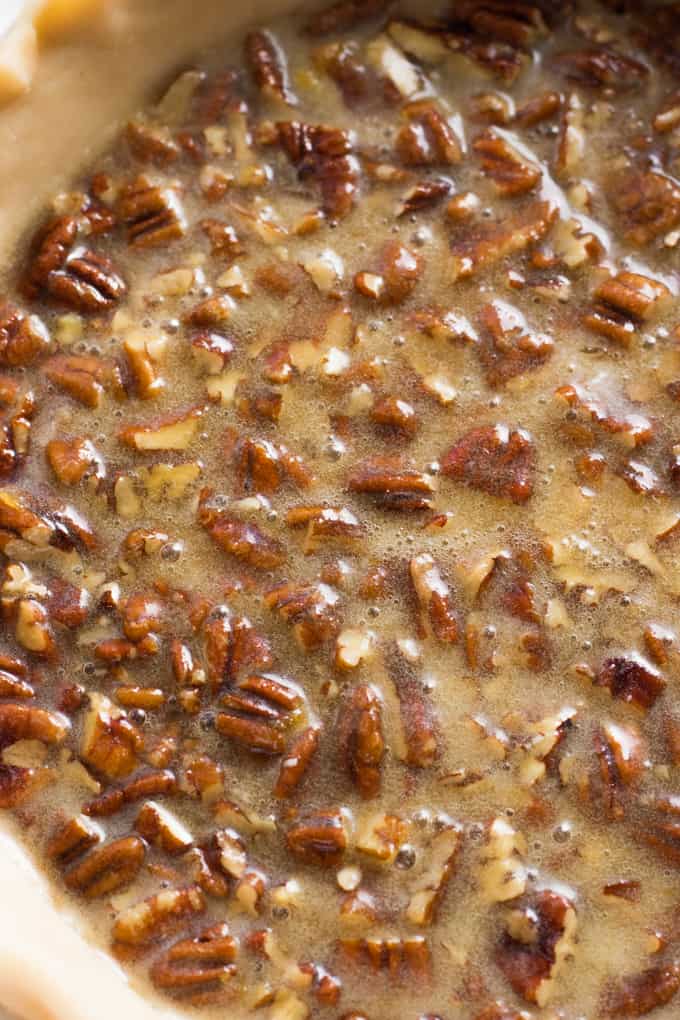 Can I make Pecan Pie without Corn Syrup?
Yes, pecan pie can be made without corn syrup!
Simply substitute the corn syrup for a mixture of brown sugar and maple syrup, use 1/2 cup of each. Maple syrup on it's own is too thin, but creating a thicker syrup mixture of brown sugar with the syrup gives a similar consistency.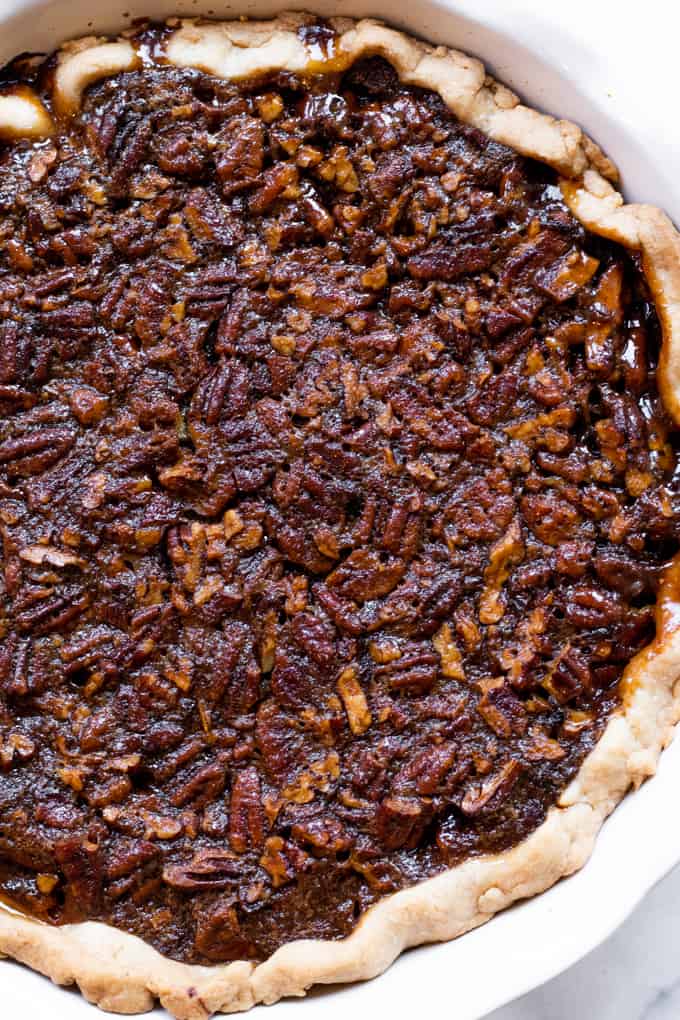 Make ahead tips and storage:
Pecan pie can be stored covered in the refrigerator for 3-4 days. If you are planning on eating the pie the same day it can be kept at room temperature after baking for 2 hours.
Pecan pie can be frozen for 1-2 months. Make sure you properly cover or seal the pie before placing in the freezer. To thaw, place the pie in the refrigerator overnight or reheat in the oven at 275℉ for about 20 minutes.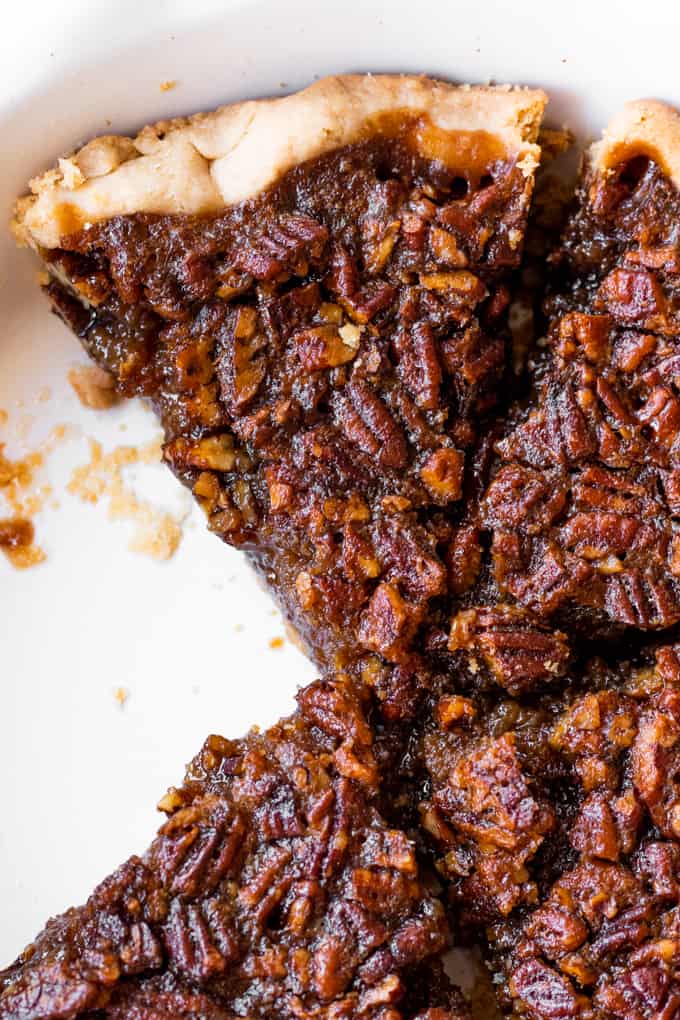 More Holiday Dessert Recipes: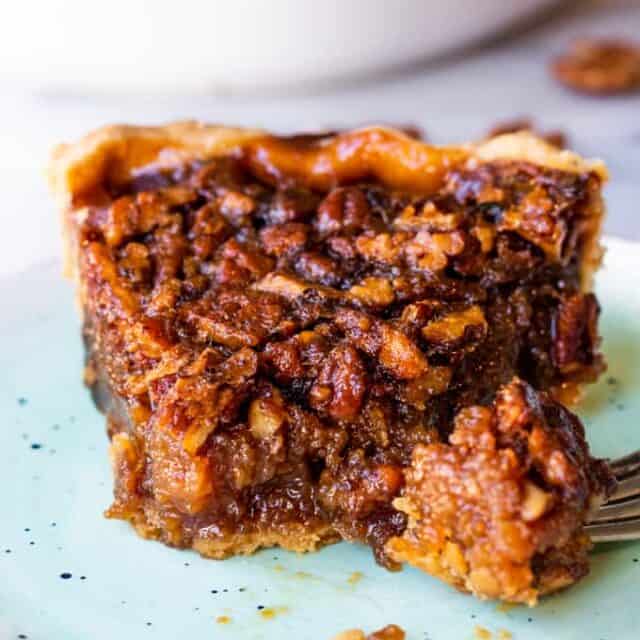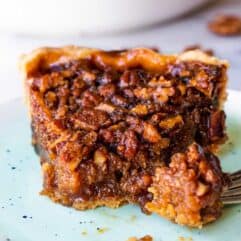 Classic Southern Pecan Pie
Classic Southern Pecan Pie. This nutty, sweet pie recipe is wonderfully rich and chock full of pecans. Baked in a flakey butter pie crust, this pecan pie is the highlight of the holidays!
Ingredients
Instructions
Preheat oven to 350℉.

In a medium size mixing bowl beat the eggs.

Stir in the white, brown sugar and salt until mixture is smooth.

Add the corn syrup and vanilla extract. Stir until completely mixed.

Stir in the melted butter.

Place pie crust in a 9 inch baking dish. Crimp or flute the edges.

Add chopped pecans to the empty pie dish. Pour pie filling into the dish over the chopped pecans.

Carefully place pie dish on middle grate in the oven.

Bake for 50-60 minutes until center of the pie is baked and no longer jiggles when moved.

Allow pie to cool to room temperature prior to serving.
Equipment
Notes
Corn Syrup Substitute: mix 1/2 cup light brown sugar with 1/2 cup maple syrup.
Storage: Store covered in refrigerator 3-4 days. Cover and freeze for 1-2 months.
Nutrition
Serving: 1, Calories: 471kcal, Carbohydrates: 64g, Protein: 5g, Fat: 24g, Saturated Fat: 8g, Cholesterol: 82mg, Sodium: 285mg, Potassium: 103mg, Fiber: 2g, Sugar: 52g, Vitamin A: 332IU, Vitamin C: 1mg, Calcium: 35mg, Iron: 1mg
House of Yumm is a participant in the Amazon Services LLC Associates Program, an affiliate advertising program designed to provide a means for us to earn fees by linking to Amazon.com and affiliated sites.