This Ultimate Cheesy Chicken Enchilada Dip is loaded up with juicy, tender bites of chicken seasoned with spices and enchilada sauce. All in a creamy, cheesy dip perfect for serving with tortilla chips! This easy to make dip is a definite crowd pleaser!
Why we Love this Chicken Enchilada Dip…
Ingredients You Need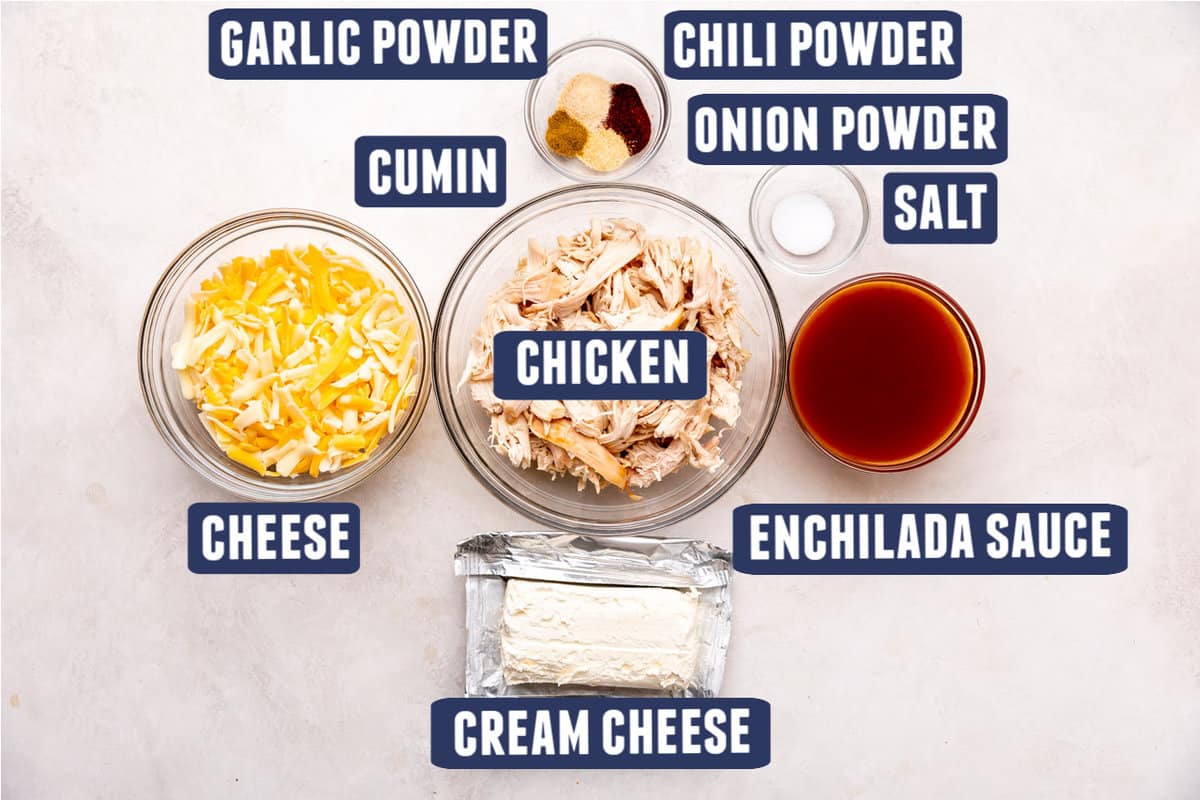 Notes on Some Ingredients
How to Make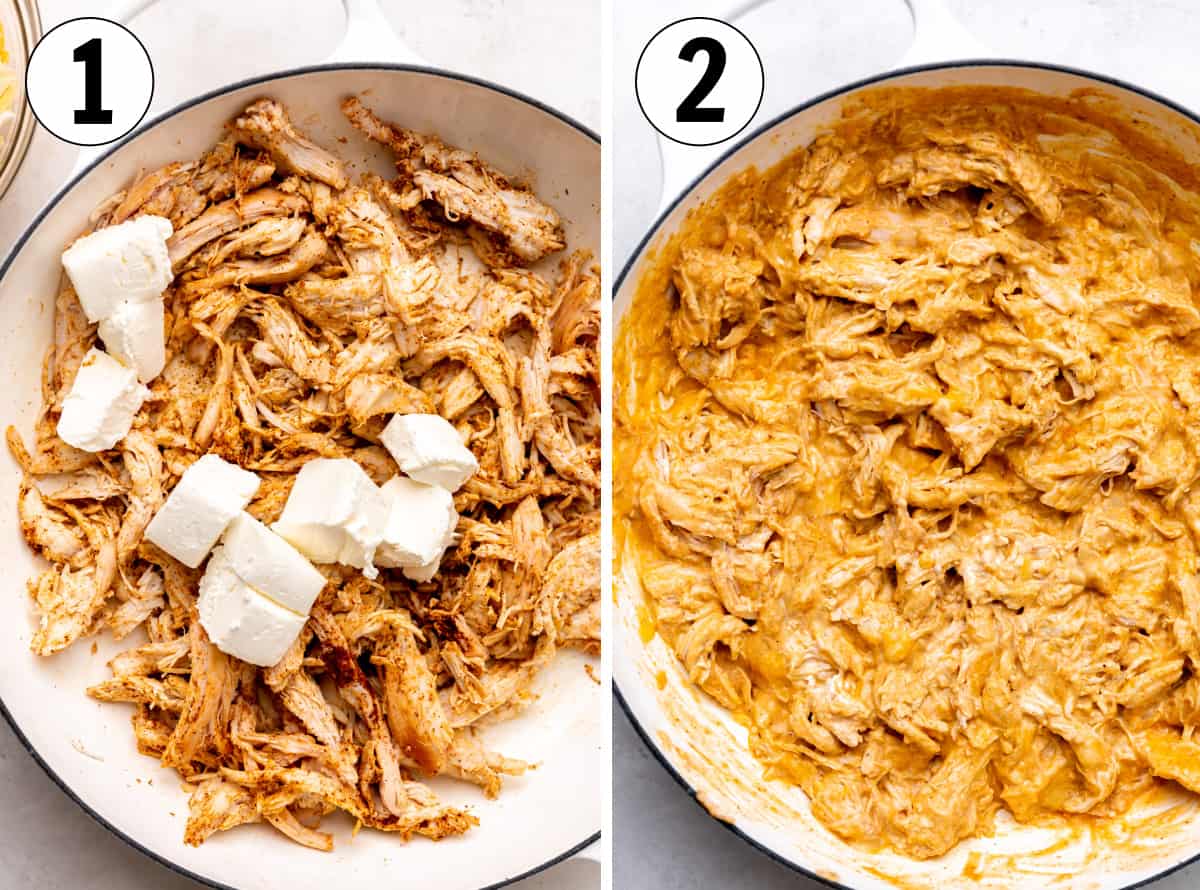 Heat the chicken in the skillet you will be using to serve the dip (this recipe can be made and served all in one skillet!). Season with the spices and stir together. Add in the cream cheese and stir together while the cream cheese melts.
Drizzle half of the enchilada sauce and add half of the shredded cheese to the chicken mixture, stir to combine.
Top the dip with the remaining cheese and sauce. Bake until cheese is melted and dip is bubbling along the edges of the skillet.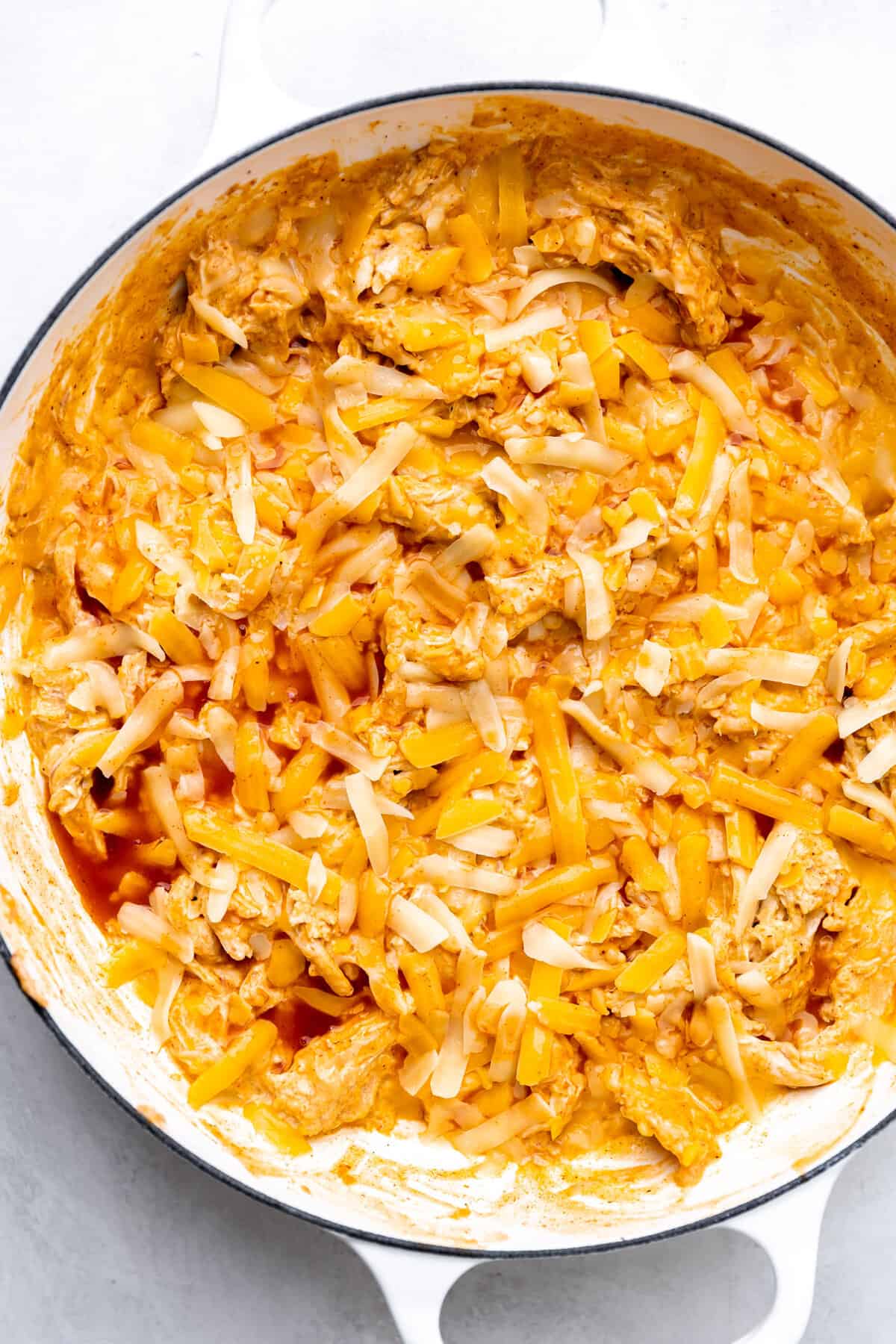 Tips
Slow Cooker Version
Want to make and keep this creamy chicken enchilada dip in a slow cooker to have set out during a party or potluck? This is an easy switch!
Combine the ingredients in the slow cooker.
Cook on low for 1 hour 30 minutes.
Stir to combine and switch to a keep warm setting.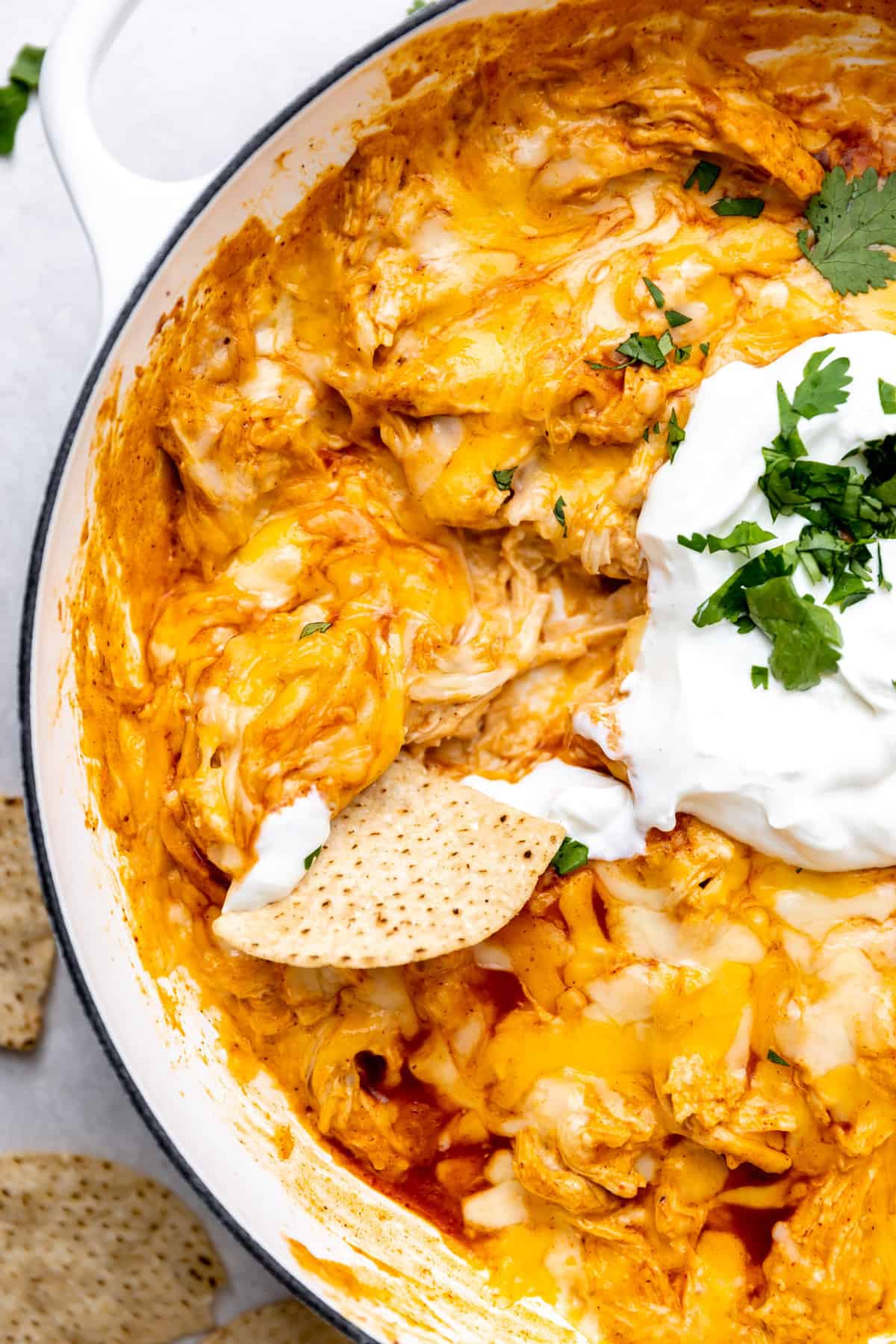 Commonly Asked Questions
Can you freeze enchilada dip?
This enchilada dip can be frozen, prepare according to the recipe, store in a sealed, freezer safe container. To thaw, remove to the refrigerator overnight. Reheat in the oven.
Can I make enchilada dip in advance?
Yes, this enchilada dip can easily be made in advance, stored in the refrigerator in a sealed container for up to 3 days and then reheated in the oven or in the slow cooker.
What can I do with leftover chicken enchilada dip?
This enchilada dip makes a wonderful filling for quesadillas or taquitos.
More Dip Recipes:
If you tried this recipe please leave a comment and a ⭐️⭐️⭐️⭐️⭐️ rating below! Thank you so much!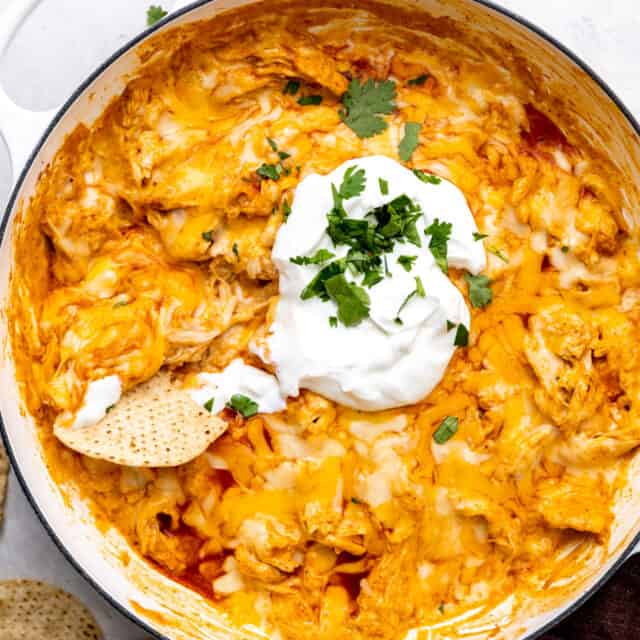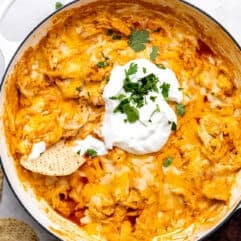 Cheesy Chicken Enchilada Dip
Cheese, spices, chicken, enchilada sauce and more! This Cheesy Enchilada Dip is quick and easy to put together, can be served out of the oven or in a slow cooker, making it perfect for game days or any type of party. Be prepared for this dip to be the favorite!
Ingredients
2 cups chicken, cooked and shredded
½ teaspoon salt
1 teaspoon ground cumin
½ teaspoon garlic powder
½ teaspoon onion powder
2 teaspoon chili powder
6 ounces cream cheese, cubed
1 (10 ounce can) mild red enchilada sauce
2 cups jack and cheddar cheese, shredded
Toppings
cilantro, diced
sour cream
tortilla chips
Instructions
Preheat oven to 375 degrees F.

Heat medium (10-12 inch) cast iron skillet over medium heat.

Add the chicken and spices. Stir together to coat the chicken. Continue heating until chicken is warmed through.

Add the cream cheese to the skillet and stir into the chicken as it melts from the heat.

Pour half of the enchilada sauce, and 1 cup of shredded cheese into the chicken mixture. Stir together to combine

Top the chicken mixture with the remaining 1 cup of shredded cheese and then drizzle with the remaining enchilada sauce.

Carefully place the skillet in the oven and bake 10-15 minutes until cheese is completely melted and edges of the skillet is bubbling.

Remove from oven.

Garnish with fresh cilantro and sour cream.

Serve warm with tortilla chips.
Nutrition
Calories: 296kcal, Carbohydrates: 3g, Protein: 14g, Fat: 25g, Saturated Fat: 14g, Polyunsaturated Fat: 2g, Monounsaturated Fat: 7g, Trans Fat: 0.02g, Cholesterol: 80mg, Sodium: 555mg, Potassium: 124mg, Fiber: 0.3g, Sugar: 1g, Vitamin A: 986IU, Vitamin C: 0.4mg, Calcium: 302mg, Iron: 1mg
Photography by the talented KJandCompany.co
House of Yumm is a participant in the Amazon Services LLC Associates Program, an affiliate advertising program designed to provide a means for us to earn fees by linking to Amazon.com and affiliated sites.