Classic Cornbread Dressing. Lightly sweetened, buttery cornbread dressing, loaded with herbs. Perfectly moist with a golden crust on the top. The perfect side dish for your family meals!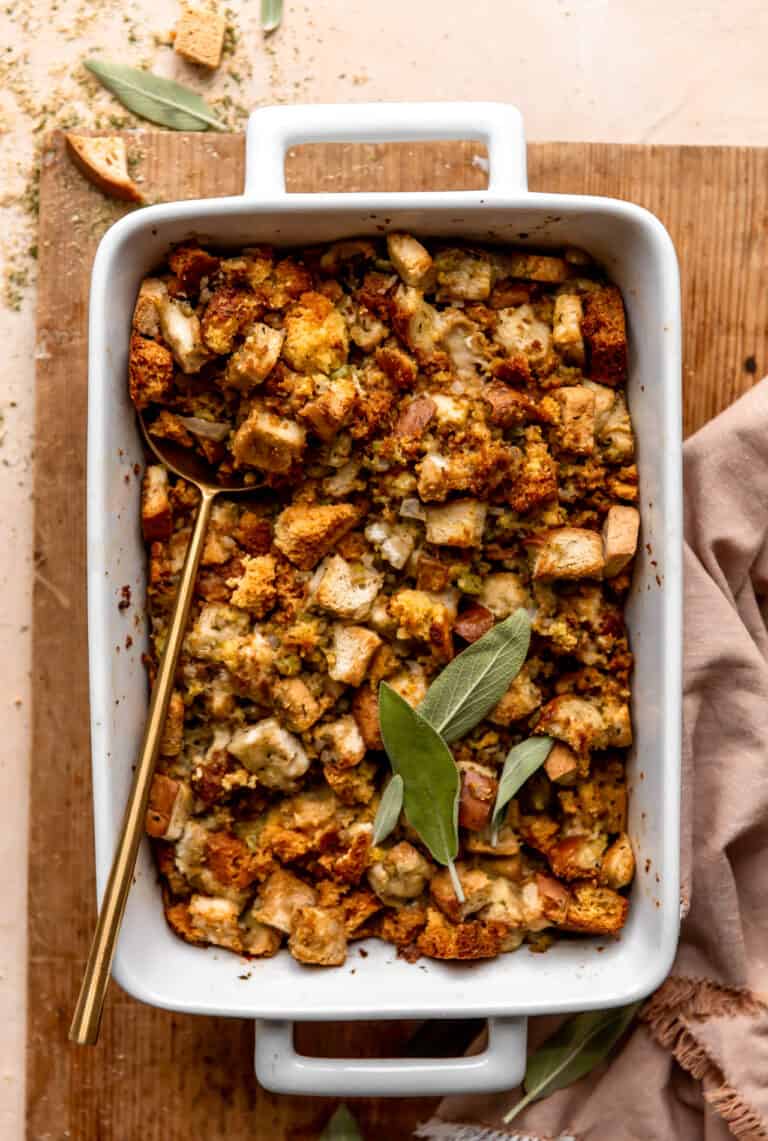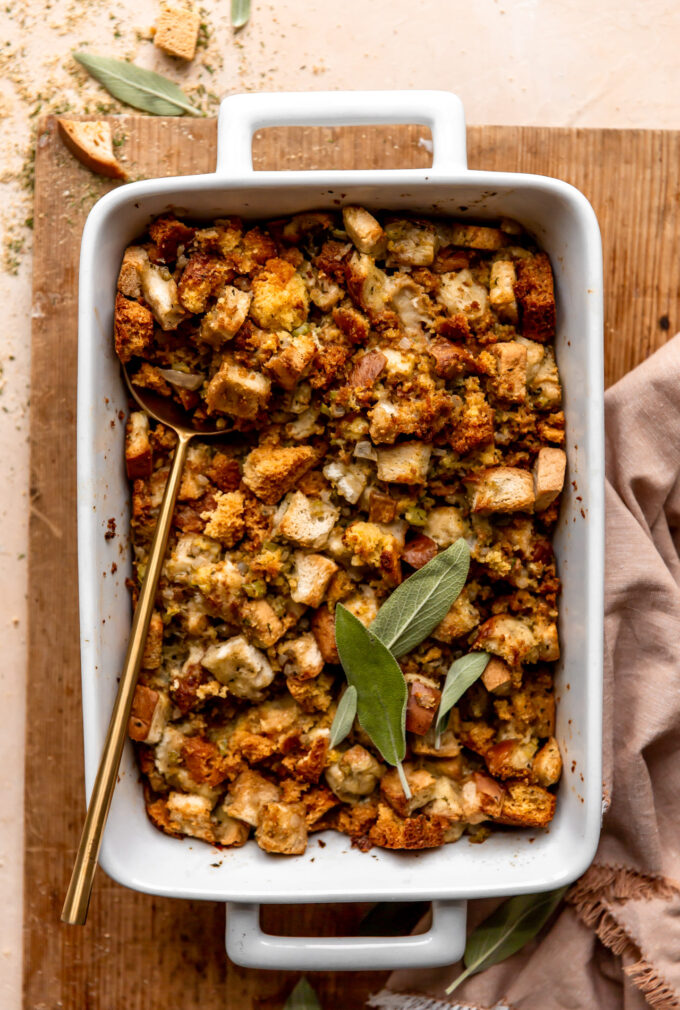 This Cornbread Dressing is a classic southern side dish perfect for Thanksgiving or any family meal. It's a great way to use up any stale or leftover cornbread. Use your favorite cornbread recipe or use mine if needed. Or you can always use a box mix or store-bought cornbread to save time.
Ingredients Needed for Cornbread Dressing:
Cornbread: My all time favorite cornbread recipe is perfect for this recipe. I recommend making it a day beforehand, this helps it dry out slightly overnight making it easier to cube and quicker to dry out in the oven.
White Bread: get a nice thick sliced bread from the market. Texas toast style is perfect for using to make homemade dressing!
Butter: adds moisture and flavor.
Onion & Celery: adds flavor and texture.
Seasonings & Herbs: this recipe is written using dried herbs for ease. You can use fresh herbs if you have them on hand, simply increase the amount to 1 tbsp instead of 1 tsp.
Chicken broth: adds extra flavor to the dressing.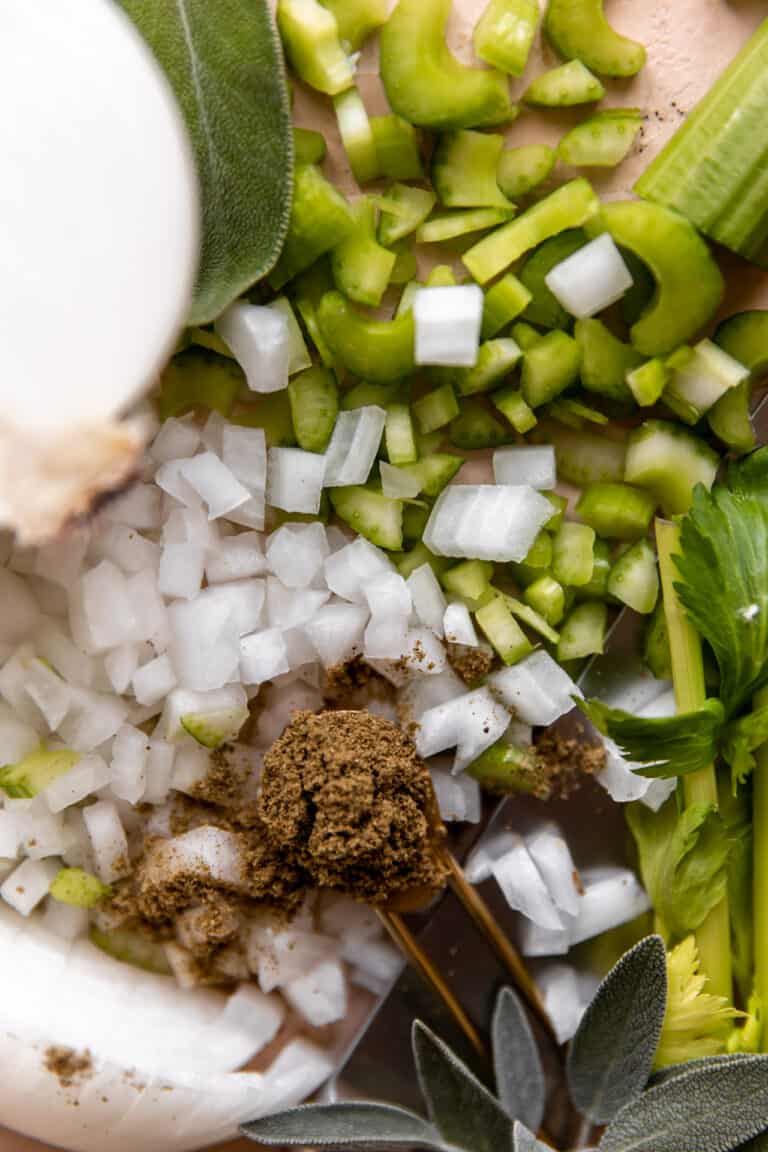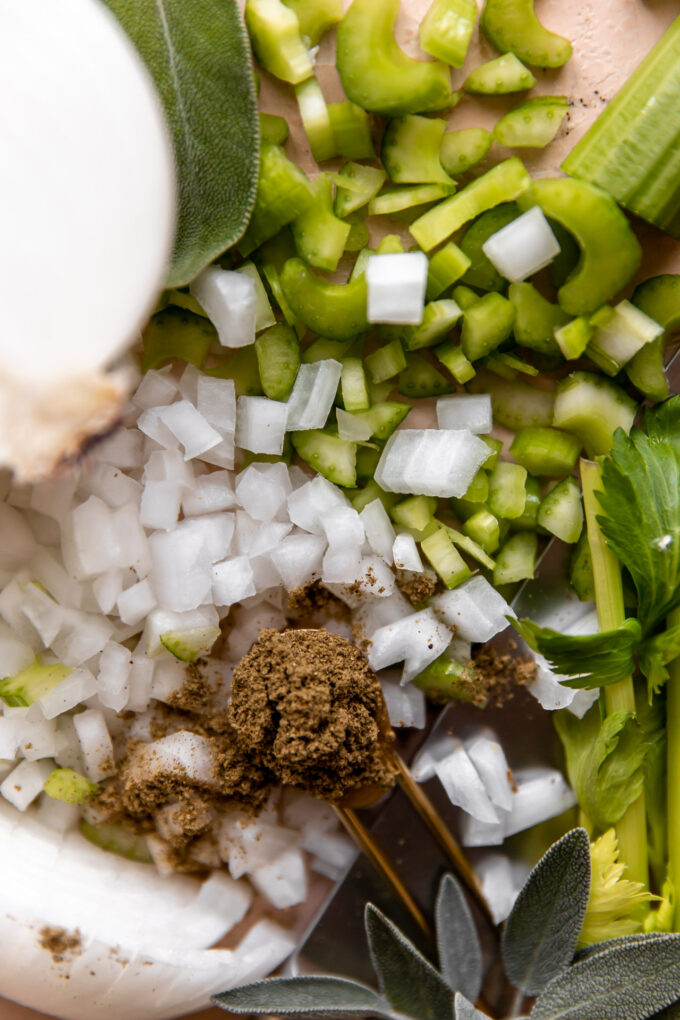 How to Make Homemade Cornbread Dressing:
Prepare the Cornbread. Recommended to make this the day before to assist with drying out.
Cube and bake the breads until dry. Should have the texture of croutons.
Prepare the liquid broth by melting butter, sautéing the veggies, then adding the herbs, seasonings, and chicken broth. Let this simmer.
Pour the broth over the dried breads, stir to combine.
Cover and bake. Then remove the foil and continue baking to get that beautiful golden crust on the top!
What is the difference between stuffing and dressing?
The difference in the name can be due to cooking method. Dressing is typically prepared outside of the bird and cooked in the oven or a slow cooker. Stuffing is prepared by stuffing it into the turkey and baking it in the bird.
However, in the South, the name dressing can be used for both!
Personally, I always bake my dressing outside of the turkey. The reason is that having the dressing cook inside the turkey increases the bake time and can lead to dry turkey. For more information on food safety on stuffing check the USDA website.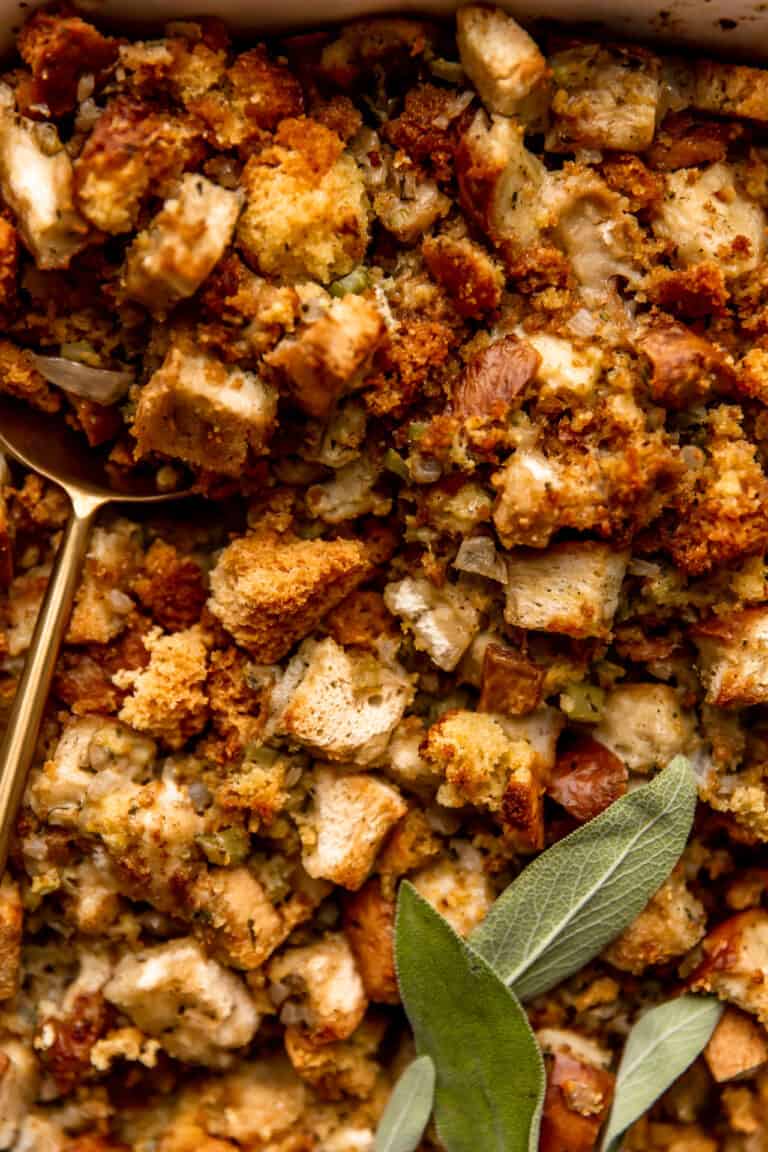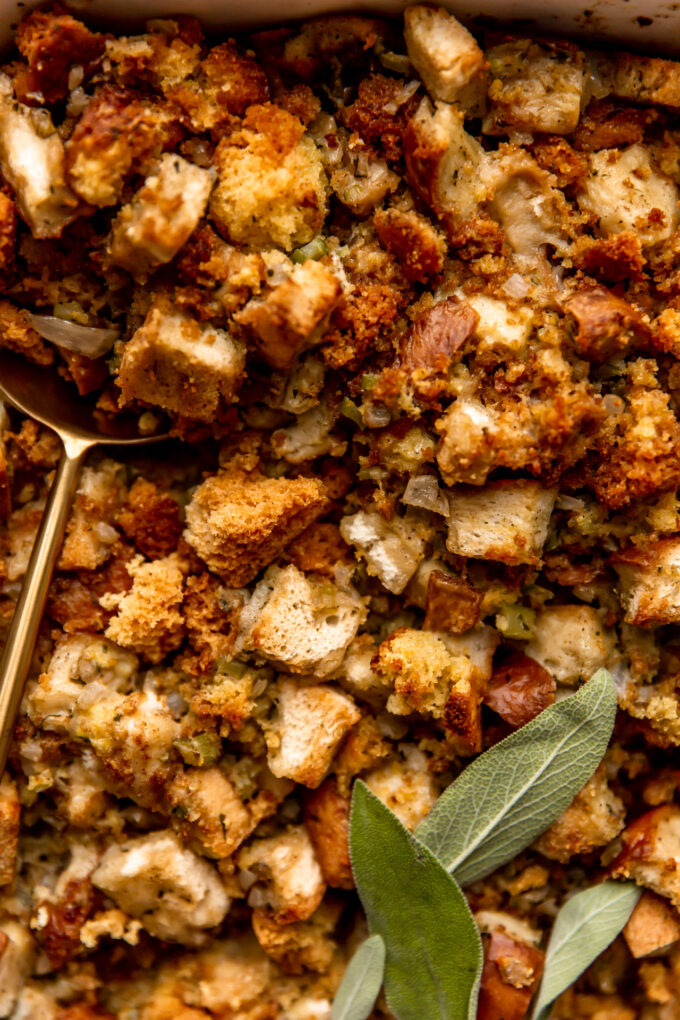 Variations & Substitutions:
Sausage: cook some sausage in a skillet and add to the dressing before baking.
Fresh Fruits: apples would be a great addition, chop up and add to the dressing. (If you're interested I have a Slow Cooker Apple Cranberry Stuffing Recipe that has amazing reviews!)
Fresh herbs: Rosemary, thyme, sage, parsley are all great options!
More Thanksgiving Side Dishes: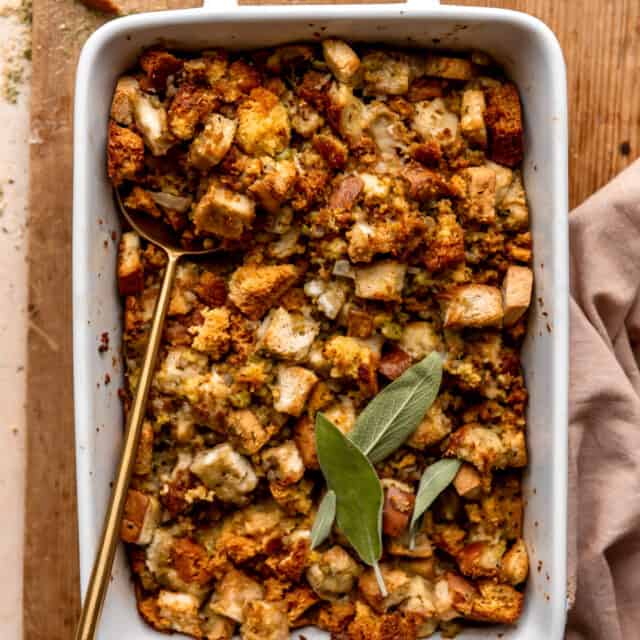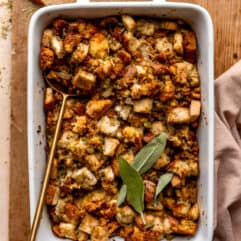 Cornbread Dressing
Classic Cornbread Dressing. Lightly sweetened, buttery cornbread dressing, loaded with herbs. Perfectly moist with a golden crust on the top. The perfect side dish for your family meals!
Ingredients
1 batch cornbread , (8×8 pan) approx 800g
4 slices thick sliced white bread
½ cup butter, unsalted
½ cup onion, finely diced
2 stalks celery, finely diced
2 tsp poultry seasoning
1 tsp salt
1 tsp ground sage
1 tsp dried parsley
½ tsp ground black pepper
3 cups chicken broth, low or no sodium
2 large eggs, beaten
Instructions
Preheat oven to 300℉.

Cut the cornbread and white bread into 3/4 inch cubes. (I find that the cornbread bakes up thick, so I slice the entire loaf into cubes, then lay each row over and slice in half lengthwise  again to get just the right size) 

Spread onto a large baking sheet in a single layer and bake at 300 for 30-60 minutes (usually takes about 45 mins) until dried out, gently shuffle the bread cubes about 20 minutes through baking. (Bread should be fairly dried out and crisp to the touch, like a crouton. If not dried out the dressing will be mushy. The cornbread will not be as crisp as the white bread, but should still be fairly dried)

Preheat oven to 375℉.

In a medium size saucepan melt the butter over medium heat. Add the onion and celery and cook until softened. 

Stir in the herbs, salt and pepper and pour in the chicken broth. Heat until mixture comes to a simmer. Taste and adjust seasonings/herbs as needed. 

Add the bread crumbs to a 2 1/2 qt baking dish, ladle broth mixture over the bread crumbs until entire mixture is moistened, not soggy.

Beat the eggs, pour over the dressing, gently stir the dressing to coat the bread crumbs (be gentle since the cornbread will easily crumble) 

Cover with foil and Bake for 20-25 at 375, remove foil and bake an additional 15 mins.
Notes
Prep Ahead: To prepare this dish ahead of time, prepare the dressing recipe and instead of baking, cover and store in the refrigerator. Can be stored overnight. Remove from the refrigerator at least 30 minutes before baking to allow the dish to come to room temperature before baking. Baking time might need to be increased an additional 10 minutes.   
Nutrition
Serving: 1serving, Calories: 171kcal, Carbohydrates: 33g, Protein: 5g, Fat: 13g, Saturated Fat: 1g, Cholesterol: 66mg, Sodium: 700mg, Potassium: 141mg, Fiber: 1g, Sugar: 1g, Vitamin A: 114IU, Vitamin C: 7mg, Calcium: 54mg, Iron: 1mg
Photography done by KJandCompany.co
House of Yumm is a participant in the Amazon Services LLC Associates Program, an affiliate advertising program designed to provide a means for us to earn fees by linking to Amazon.com and affiliated sites.