Skinny Strawberry Shortcake Bites. Gluten free and vegan. Perfect for snacking!
Did you know it was National Strawberry Shortcake Day the on the 14th? Which means I'm slightly late in getting this recipe up here for you to celebrate. Better late than never though right?! At least we'll be ahead of the game for next year. These Skinny Strawberry Shortcake Bites are the perfect way to celebrate too. These are healthy, gluten free, vegan, and pink! What's not to love?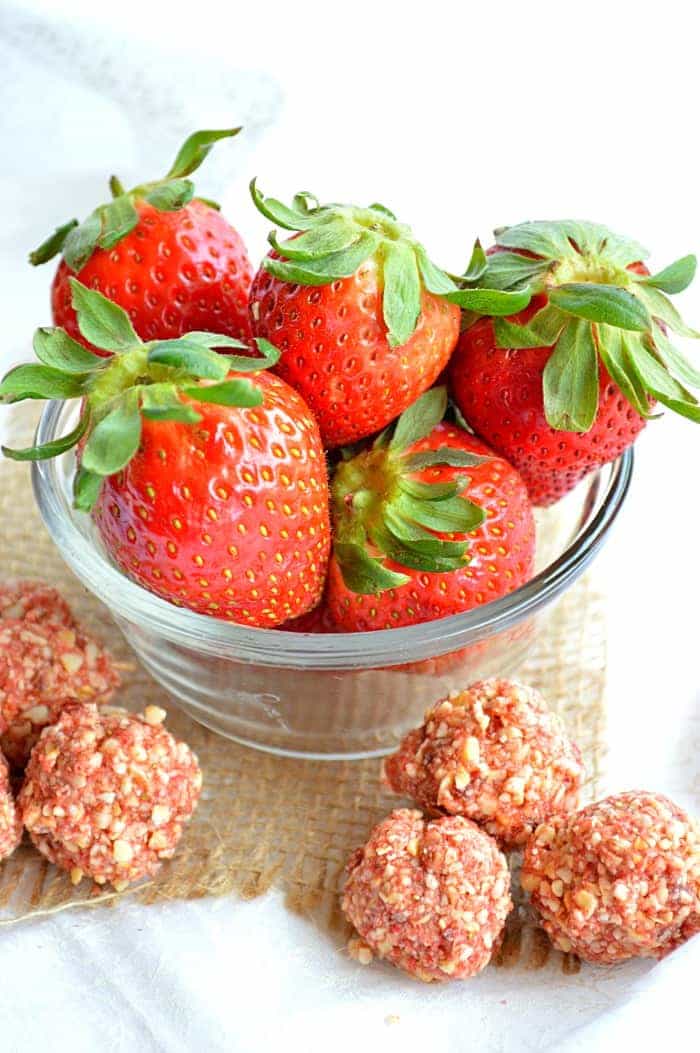 These little snacks are so fun, my youngest daughter loves them! Again, they're pink! Which might explain her love for them. And I can't really blame her. At least it's all good ingredients so I didn't mind her snacking on them all day long. Whenever I make a batch of these skinny bites, or any of the others that I have recipes for (skinny lemon bites, and skinny cookie dough bites) they never last long in the house.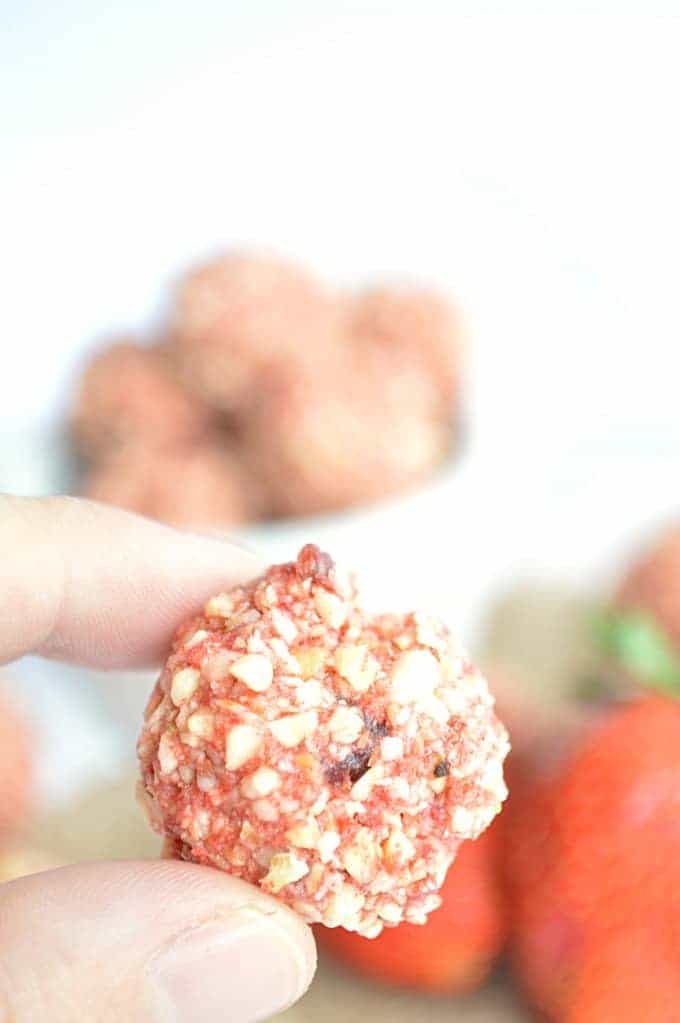 The basics of the recipe stays the same: cashews, oats, agave, and now some freeze dried strawberries. You'll want to make sure you get the freeze dried strawberries, the ones that are almost like a chip. These will grind up in the processor into a nice powder, which is what makes these bites that pretty pink color. If we use regular dried strawberries, which are the chewy ones, they won't grind up and you'll end up with big chunks of dried strawberries coated in oats and cashews. Trust me.
If you make this recipe make sure you take a picture and share it on Instagram with #houseofyumm ! I love seeing your creations! Follow me for more pictures of food, and the occasional child also. Click here!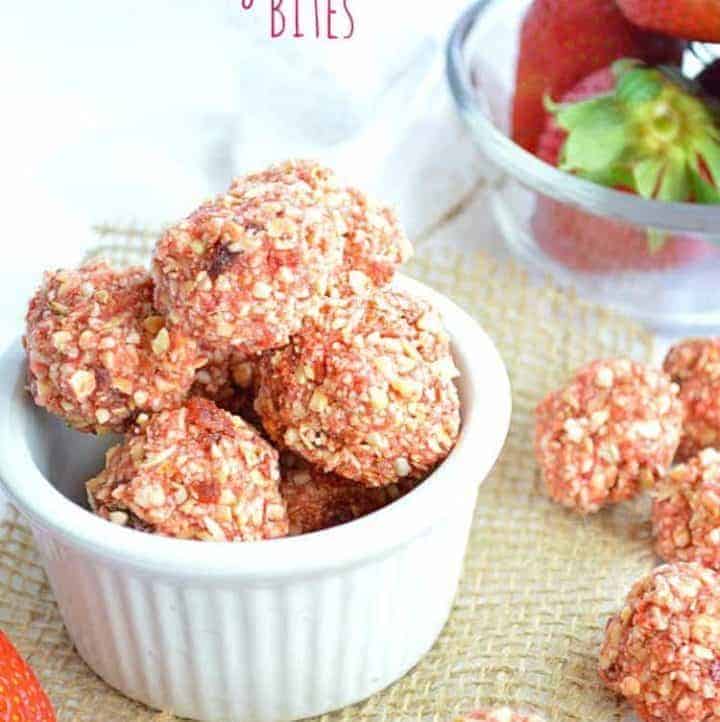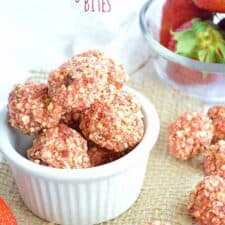 Skinny Strawberry Shortcake Bites
These skinny bites taste like strawberry shortcake! Gluten free, vegan, and absolutely delicious! Perfect for snacking.
Ingredients
¾ Cup Freeze Dried Strawberries
1 Cup Cashews, raw, unsalted
½ Cup Rolled Oats
4 tbsp Agave
½ tsp vanilla extract
Instructions
Add the cashews, freeze dried strawberries, and quick oats into a food processor or blender. Process for about 2 minutes, or until you are left with a fine powder. Don't over process or blend, this could cause you to end up with cashew butter.

Add in the vanilla extract and agave, stir until fully combined. Will be slightly sticky.

Scoop out about a tablespoon of mixture and press together with your hands.

Roll into a ball shape. Mixture will be sticky. Make sure you press it together firmly in your palms to get the mixture to form into a shape.

Recipe will make approximately 18 bites. Enjoy! Can be stored in an airtight container at room temperature for 3-4 days. Can also be kept in the refrigerator if you enjoy them cold
Nutrition
Calories: 101kcal, Carbohydrates: 16g, Protein: 2g, Fat: 3g, Saturated Fat: 1g, Sodium: 1mg, Potassium: 187mg, Fiber: 2g, Sugar: 10g, Vitamin C: 120mg, Calcium: 6mg, Iron: 3mg

More Healthy Snacks: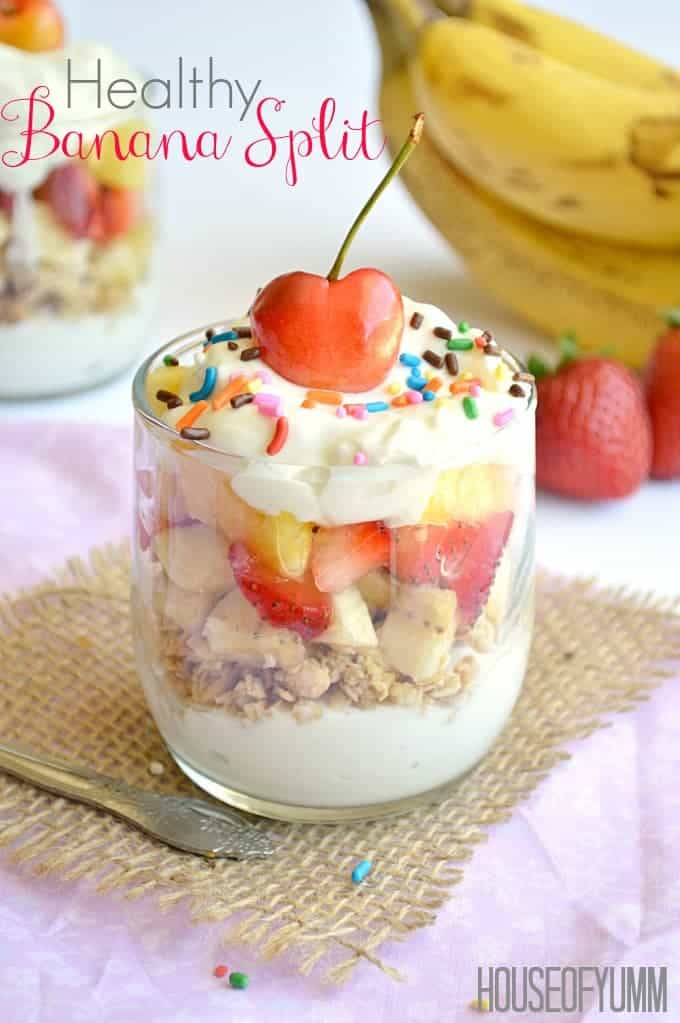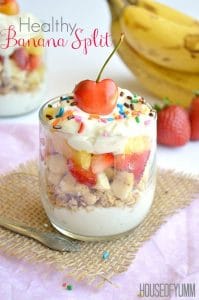 House of Yumm is a participant in the Amazon Services LLC Associates Program, an affiliate advertising program designed to provide a means for us to earn fees by linking to Amazon.com and affiliated sites.