Eggs Benedict Quiche!  This super easy to make quiche comes out with perfectly flakey crust, creamy egg and bites of canadian bacon.  Not to mention it's smothered in an easy to make blender hollandaise sauce.  Perfect for brunch and upcoming Mother's Day!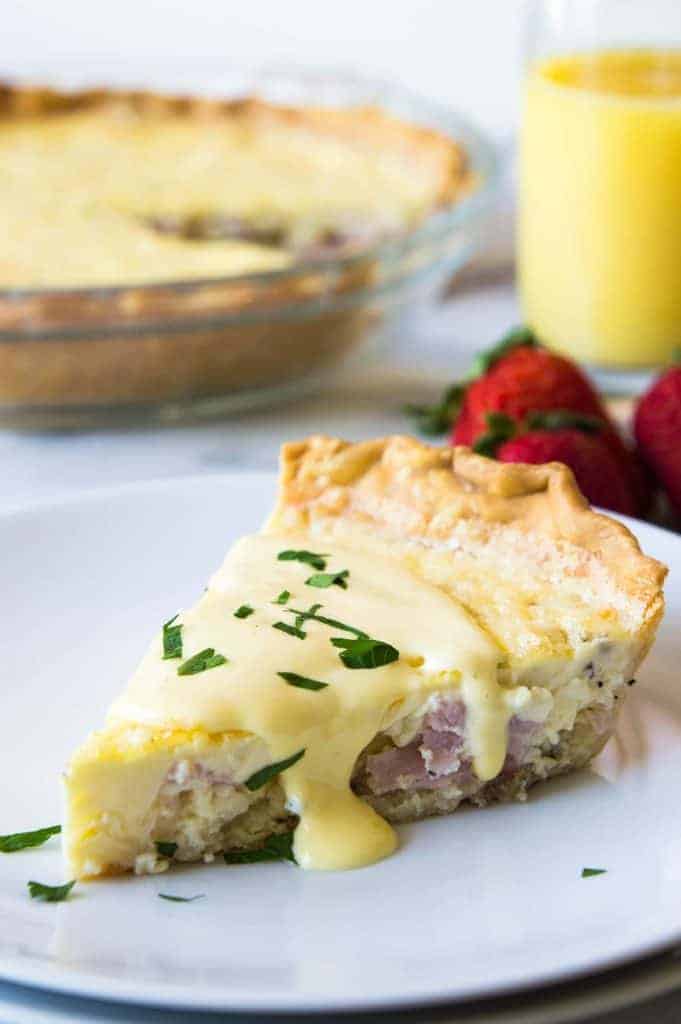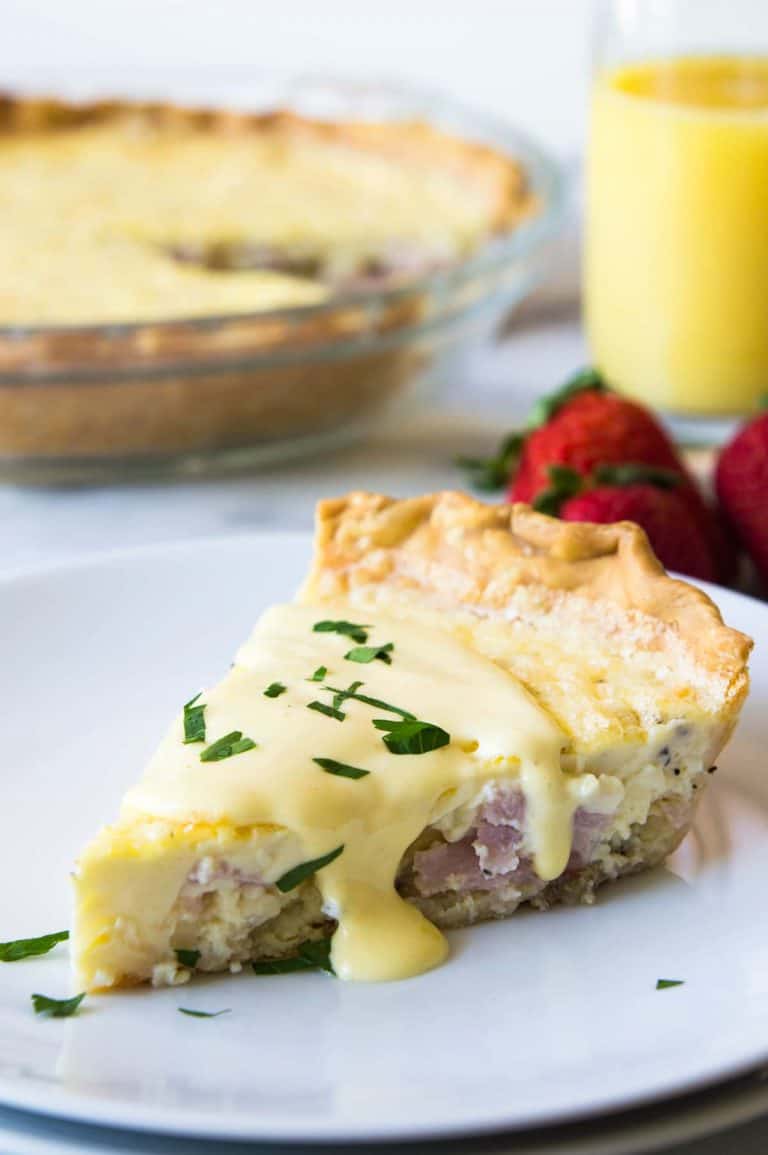 Hey hey!  Did you know that Mother's Day is coming up??  One of my favorite things about the day is that it's kind of become known for being the brunch holiday.  Everyone shares their favorite brunch recipes when it comes to Mother's Day.  Mine right now happens to be this Eggs Benedict Quiche!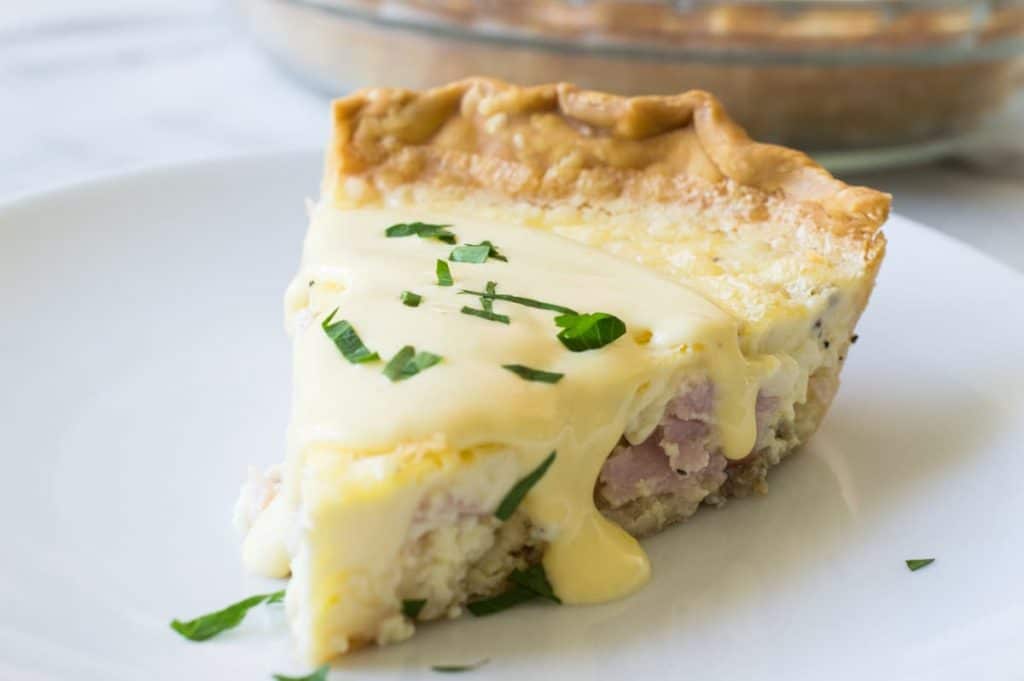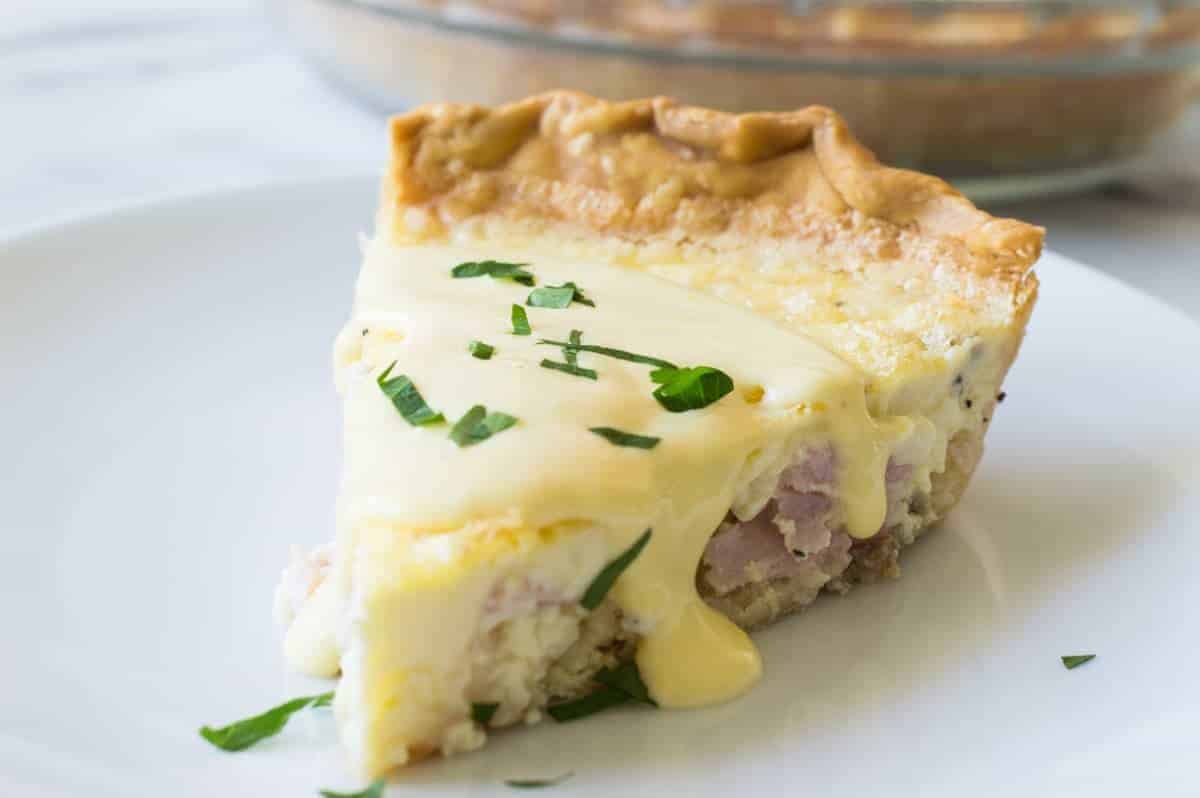 I happen to loooooove brunch.  The hubs and I used to go out for brunch at this wonderful little restaurant in Dallas, that would serve endless mimosas, fabulous Fettucini Alfreado, and the BEST eggs benedict I have ever had the pleasure of enjoying.  The entire experience was always so fun.  The place was always crowded, people walking the trail nearby stopping with their dogs, people hanging outside waiting for hours to get their tables while still being able to enjoy the endless mimosas.
The wonderful feeling of having nowhere else to be, nothing else to do, other than to hang out and wait for a table in the little restaurant.  Not to mention the delight of the bubbly mimosas.
Sigh.
Then we ended up with 4 almost 5 kids in the space of a couple of years and here we are.  Making Eggs Benedict Quiche at home to enjoy in the chaos of our own home.  Still just as crowded, however the feeling of having nothing to do has been replaced with a hectic feeling of there being so much to get done.  But there is still mimosas, or in our case, Bellini Margaritas, from time to time to help us cope 😉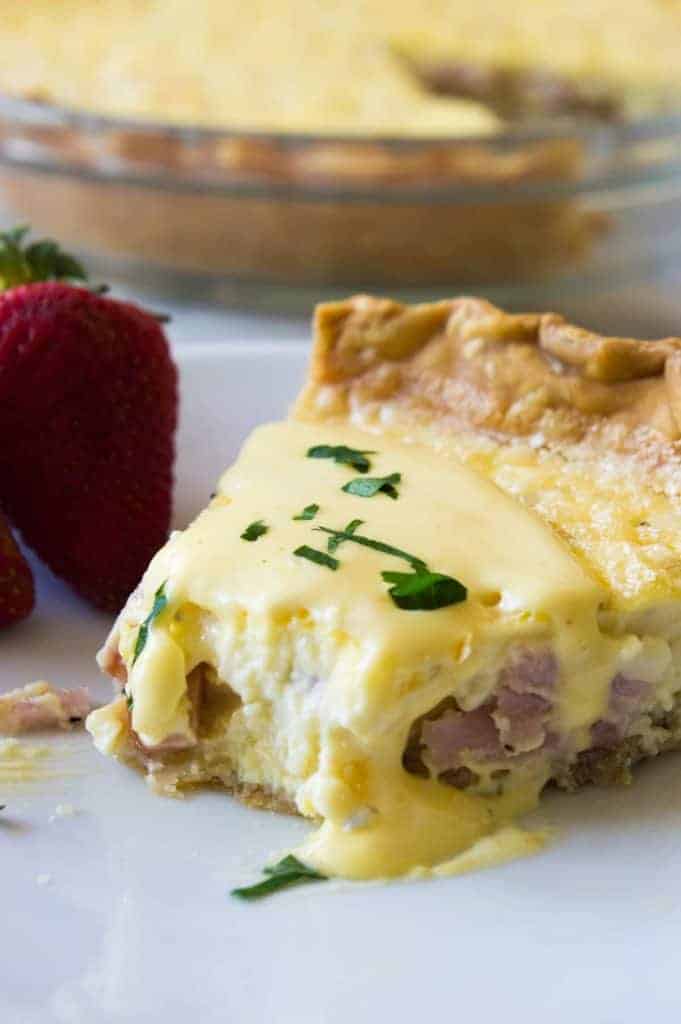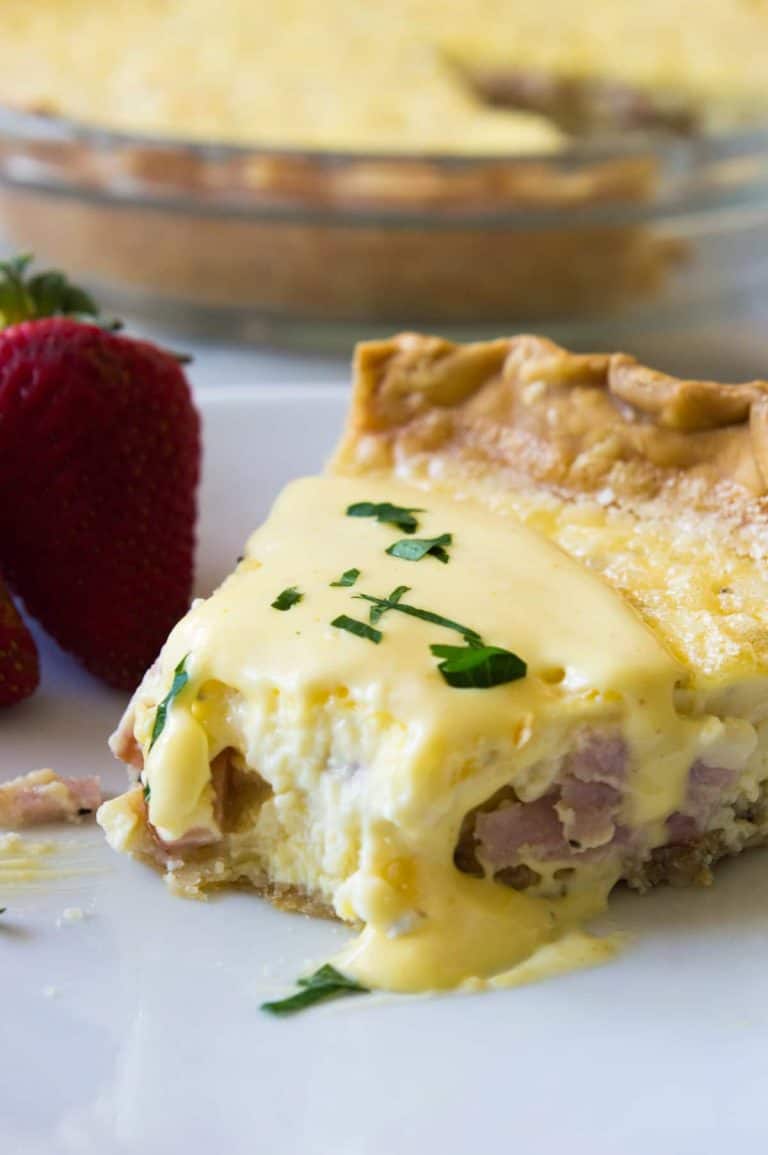 I do have to take a moment to tell you the most important tips about this quiche.  The ratio of the cream and milk to the eggs is definitely IMPORTANT.  Pay attention!  I learned this from Julia Child, and let's just say, this lady knew a thing or two in the kitchen.  You want your egg and cream combined to equal 1/2 a cup per egg.  Which is why if you watch the video you see me making the egg mixture in the measuring cup.  That's so when I add my 5 eggs I know that the total mixture needs to be 2 and 1/2 cup.  I share more on this in my post about the Mushroom Quiche if you're interested.  But if you follow the recipe you will nail it just fine!
More Brunch Recipes You May Enjoy: 
Serene @ House of Yumm
Serves 1 quiche (8 slices)
Eggs Benedict Quiche
Eggs Benedict Quiche! This super easy to make quiche comes out with perfectly flakey crust, creamy egg and bites of canadian bacon. Not to mention it's smothered in an easy to make blender hollandaise sauce. Perfect for brunch and upcoming Mother's Day!
10 minPrep Time
1 hr, 15 Cook Time
1 hr, 25 Total Time
Ingredients
Quiche

1 pie crust (store bought or favorite recipe..I share my recipe for pie crust here)
5 large eggs
3/4 cups heavy cream
Approximately 1/2 cup milk of choice (***read notes)
1/4 teaspoon salt
1/4 teaspoon pepper
6 ounces canadian bacon diced

Blender Hollandaise Sauce

1/2 cup unsalted butter
3 large egg yolks
1 tablespoon lemon juice
1/4 teaspoon salt
1/8 teaspoon cayenne pepper
Instructions
Preheat oven to 350 degrees. Roll pie crust out and fit into 9 inch pie dish. Trim any excess crust and flute the edges.
Line the inside of the pie crust with parchment paper and fill with pie weights or beans (I use pinto beans) make sure that they are up against the sides of the pie crust. Bake the crust for about 20 minutes. Remove the weights and then bake for another 10 minutes. Remove from the oven and allow to cool. The crust will be golden.
Prepare the egg mixture by adding the eggs to a large measuring cup. Add the heavy cream, then add the milk, the total measurement of the eggs, cream and milk should come to 2 and 1/2 cups. Add the salt and pepper.
Mix with a hand mixer to ensure the egg and cream mixture is light and frothy.
Spread the diced canadian bacon on the bottom of the pie crust. Pour the egg mixture on top. Bake at 350 degrees for about 45-50 minutes. The quiche will be slightly wobbly in just the center.
Allow to cool for about 20 minutes to room temperature. Quiche can be served warm, cold, or room temperature.

Blender Hollandaise

Add the butter to a small saucepan and heat over low to medium heat.
While the butter is melting add the egg yolks, lemon juice, salt and cayenne to blender (I found using the smaller jar for my blender worked better since the blades are able to get the small amounts easier).
Once the butter is just melted and starting to foam up remove from heat.
Blend the egg mixture in the blender for about 10-15 seconds then start to drizzle the hot butter into the blender while blending. Be careful!
Once the hot butter is all added to the blender continues to blend for an additional 10-15 seconds. You will have a thick sauce. If too thick you can thin out with a small amount of water. You can also adjust seasonings if you prefer more salt or pepper.
Use hollandaise sauce immediately. Serve spooned over slices of the quiche. Garnish with parsley if desired.
Notes
***Total measurement of eggs, cream, and milk should come to 2 and 1/2 cups. Follow this guideline over the amount that is shown in the ingredients list.
***Blind baking the pie crust ensures that the crust remains flakey and doesn't get soggy from the quiche. The extra time is well worth it!
7.6.4
607
https://houseofyumm.com/eggs-benedict-quiche-and-recipe-video/
WANT TO TRY THIS EGGS BENEDICT QUICHE?!
PIN IT to your BREAKFAST, or BRUNCH Board to SAVE FOR LATER!