Thick Chocolate Chip Cookies! These cookies are nice and golden on the outside and soft and gooey on the inside. Loaded up with tons of melted chocolate. The best part is the size. These cookies are thick and hearty!
My favorite thing about cookies, is possibly the dough. Which means these Texas sized cookies that remain soft and gooey in the center even when baked are my favorite thing ever! These cookies check all the boxes!
Thick!
Chewy
Buttery
Soft and gooey
Loaded with chocolate

How do you make thick cookies?
There's several tricks and tips involved in this recipe that help to create the ultimate thick chocolate chip cookie.
Use more Brown Sugar: We're using mostly brown sugar instead of white. The light brown sugar creates a thicker, softer, and chewier cookie than using mostly white sugar.
Baking Powder: We're also using baking powder in these cookies instead of baking soda. Baking soda can help create crisper cookies, but we're going for thick and soft.
How you handle the dough: After we make the chocolate chip cookie dough, we're also going to be careful about how we handle it. Don't squish the dough!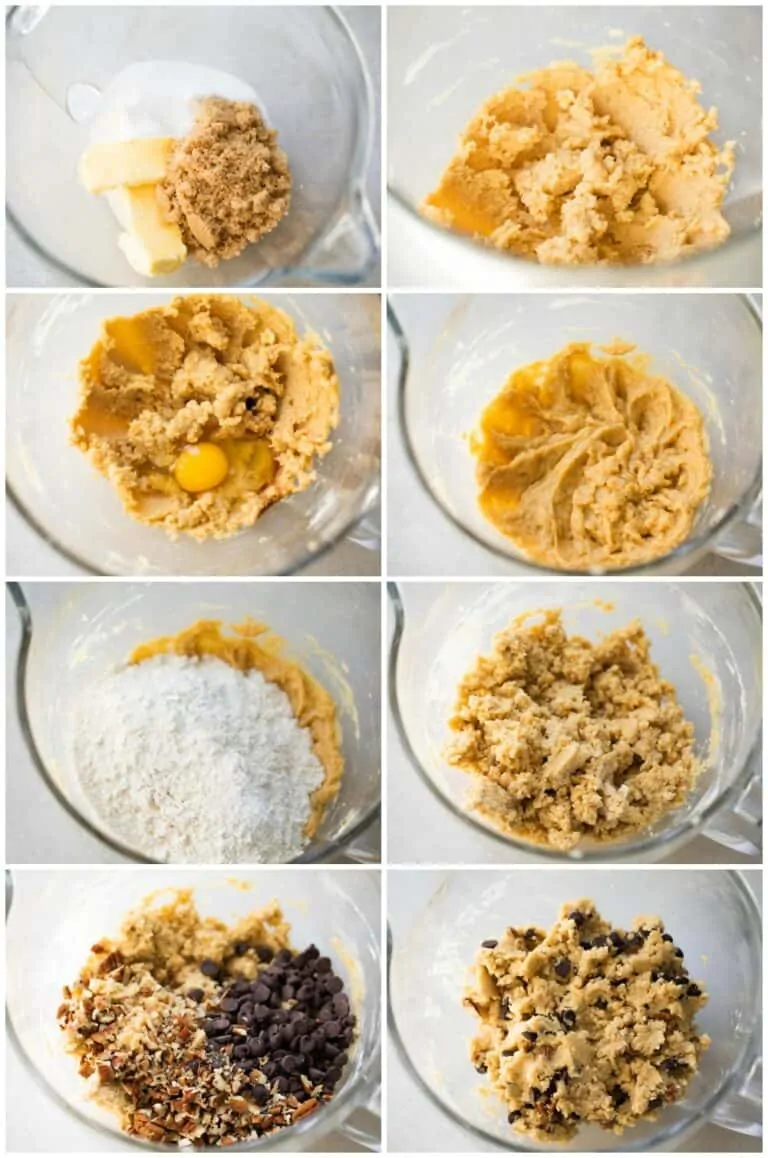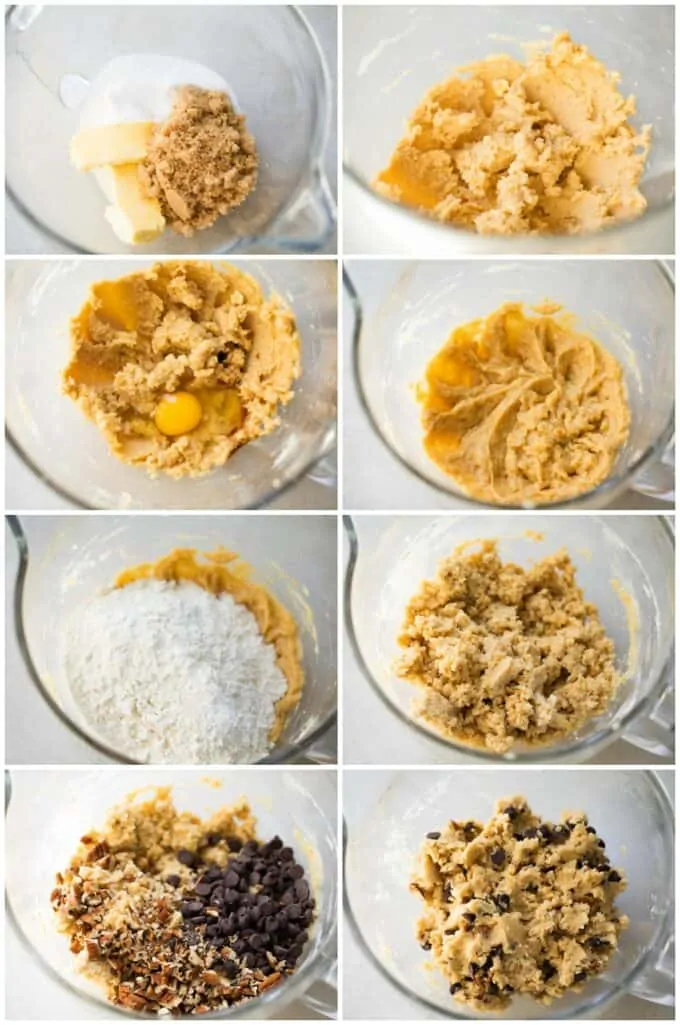 Handle the dough gently
To make the cookies, gently separate the dough into 6 pieces, but don't form the dough into a ball shape. Most cookie recipes have you compress the dough and form a ball, or form it higher to help with the shape while baking.
But with this dough, we want to loosely form it into a shape, but don't compress it. We want to keep the dough light and airy.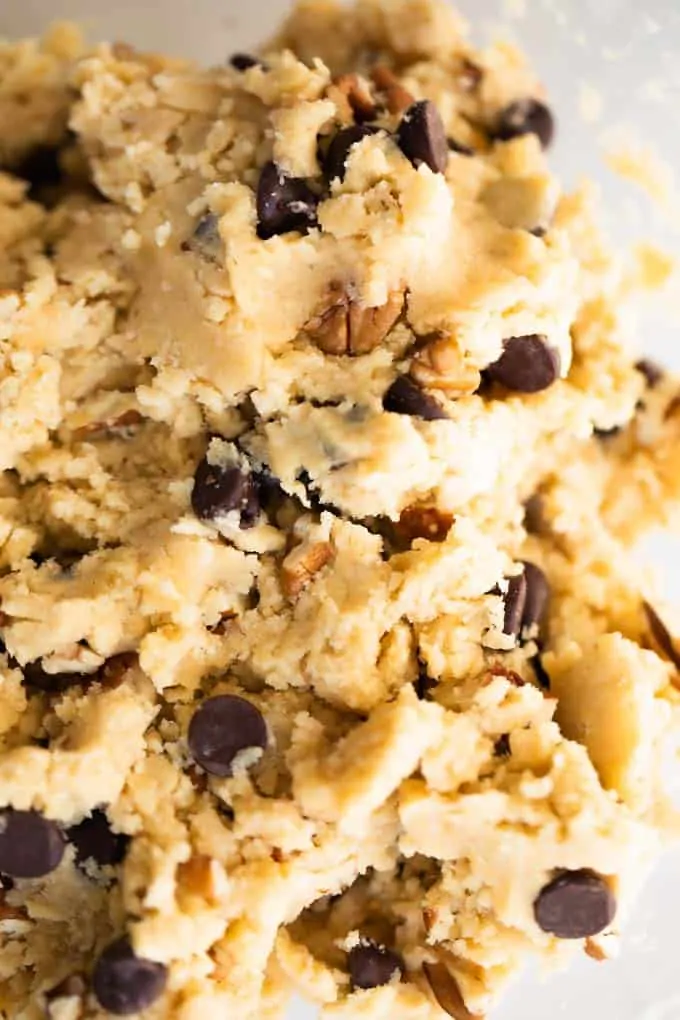 Important Tips
The best dough will form if you use a hand mixer or stand mixer. This will allow you to throughly cream the butter and sugars.
If using a mixer, the dough might seem a bit crumbly. Moist, but not completely sticking together in a solid mound. This is ok. It's due to the amount of flour in the recipe. This is another thing that makes the cookies so thick. Use your hands to mix the chocolate chips in all the way and you will see the dough come together.
Again, don't squish the dough together. Keep it nice and airy. Form it just enough to make the cookie shape.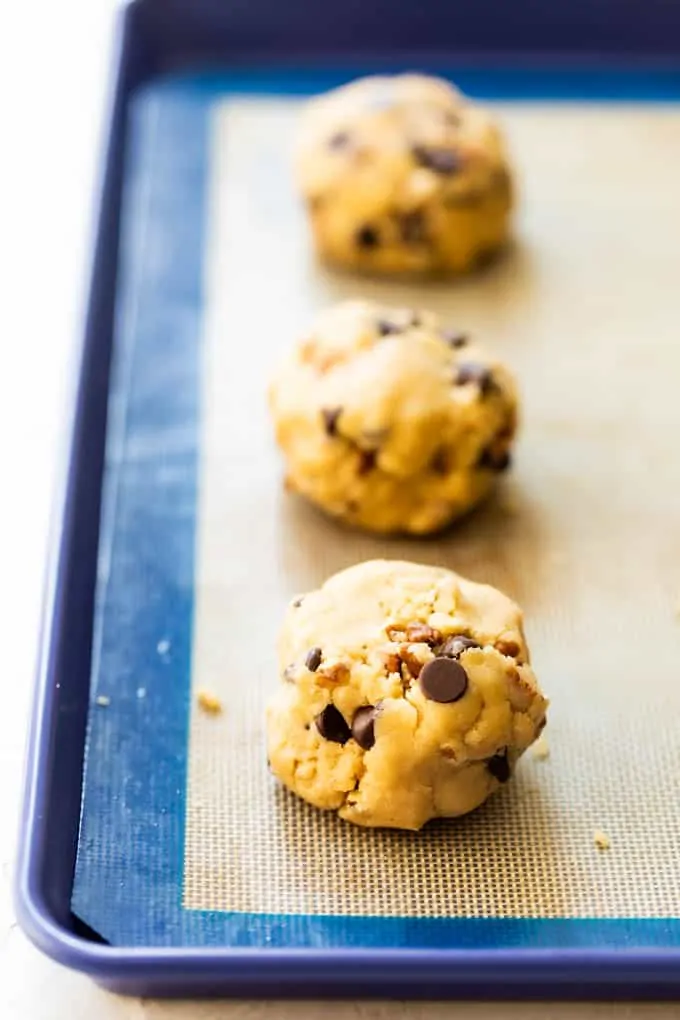 Can I make these cookies smaller?
This recipe is designed to create LARGE Thick Chocolate Chip Cookies. The best I can describe would be close to Levain Bakery. The recipe is designed to make 6 cookies.
However! This same dough can be used to make smaller size cookies, and they will still puff up thick when baking as long as you follow the instructions. Keep in mind that does change the serving size and nutrition information provided.
Other cookie recipes: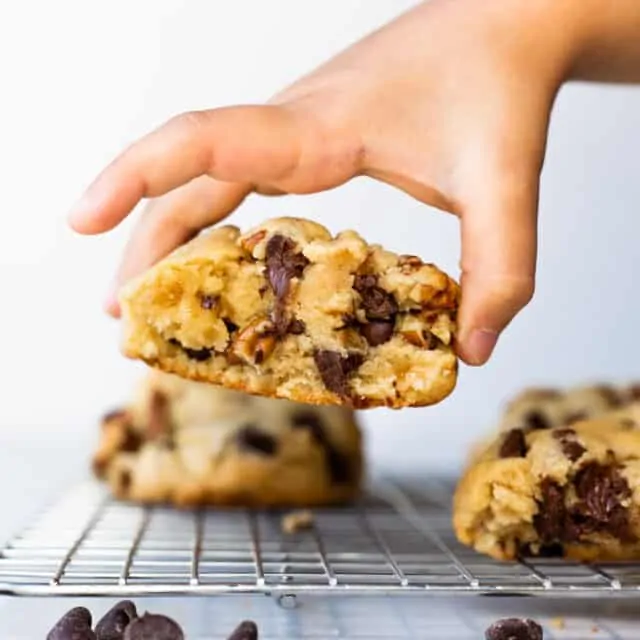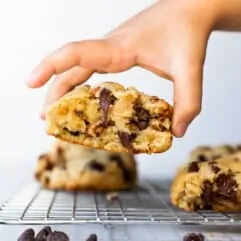 Thick Chocolate Chip Cookies
Thick Chocolate Chip Cookies! These cookies are nice and golden on the outside and soft and gooey on the inside. Loaded up with tons of melted chocolate. The best part is the size. These cookies are thick and hearty!
Ingredients
½ cup unsalted butter , room temperature
¾ cup light brown sugar
¼ cup white sugar
1 large egg
1 tsp vanilla extract
2 cups all purpose flour
½ tsp salt
½ tsp baking powder
¼ cup chopped pecans, can be omitted
Instructions
Line a large baking sheet with a silicone baking mat, set aside.

In a large mixing bowl add the butter and sugars. Using a hand or stand mixer cream the butter and sugars together until fluffy.

Add in the large egg, vanilla and mix until combined.

Add the flour, baking powder, and salt. Mix until combined. The dough might seem to be in crumbles as mentioned above.

Pour in the chocolate chips and pecans (if using) and use your hands to mix them in. This will bring the dough together. Be gentle though. We don't want to compact the dough too much. We want to keep it as airy as possible.

Divide the dough into 6 pieces. Gently form into cookie form. Place on the baking sheet.

Chill the cookie dough for at least 30 minutes. Preheat the oven to 375 during this time.

Bake the cookies for about 16-18 minutes. The outside will be golden brown.

Let the cookies cool on the baking sheet for at least 5 minutes, then remove to a wire rack to continue cooling. The cookies need to cool prior to serving. They are best at room temperature.
Notes
Make ahead tip: You can make the cookie dough and keep it chilled in the refrigerator for up to 4 days. Baked cookies freeze well for up to 3 months sealed in a freezer bag. Unbaked cookie dough balls freeze well for up to 3 months, freeze them on a baking sheet first for a few hours, then add to a freezer bag to store. Bake frozen cookie dough balls for an extra minute, no need to thaw
Nutrition
Serving: 1, Calories: 598kcal, Carbohydrates: 80g, Protein: 7g, Fat: 28g, Saturated Fat: 15g, Cholesterol: 69mg, Sodium: 253mg, Potassium: 237mg, Fiber: 3g, Sugar: 44g, Vitamin A: 524IU, Calcium: 74mg, Iron: 4mg
Recipe initially posted on May 23, 2018. Updated on March 6, 2020 with new images and new video. Only recipe change was a reduction in the amount of vanilla extract. Original photo of recipe below! My chocolate chips melted so much better in that batch!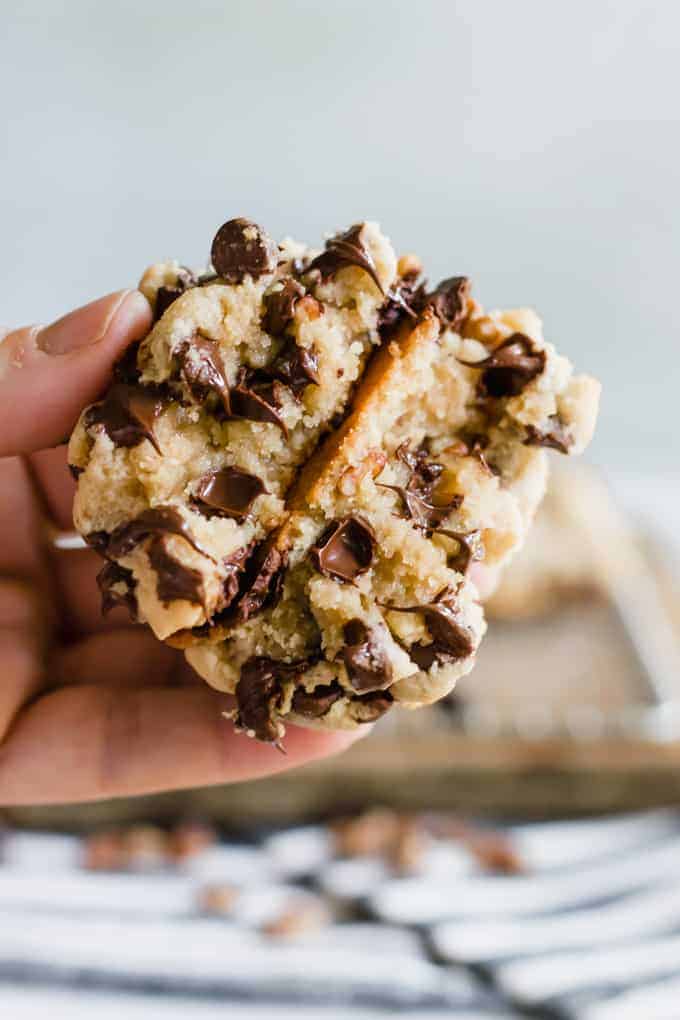 House of Yumm is a participant in the Amazon Services LLC Associates Program, an affiliate advertising program designed to provide a means for us to earn fees by linking to Amazon.com and affiliated sites.