Farmers Market Cornbread
This cornbread is loaded with fresh grilled corn, cheese, and topped with farmers market finds!  Tomato, jalapeño, red onion, fresh basil, and even more grilled corn!  Make it your own by adding your own toppings!
Farmers Market Cornbread!  But first… How was your 4th of July?!  I'm hoping you had a wonderful time.  Lot's of BBQs, fireworks, maybe a parade.  We did our usual.  Some yummy food, and then there's a fireworks show that happens right up the street from us that we walk to.  Little Miss is the perfect age to really enjoy this kind of stuff now.  She was so excited!  And kept talking about the fireworks the entire day.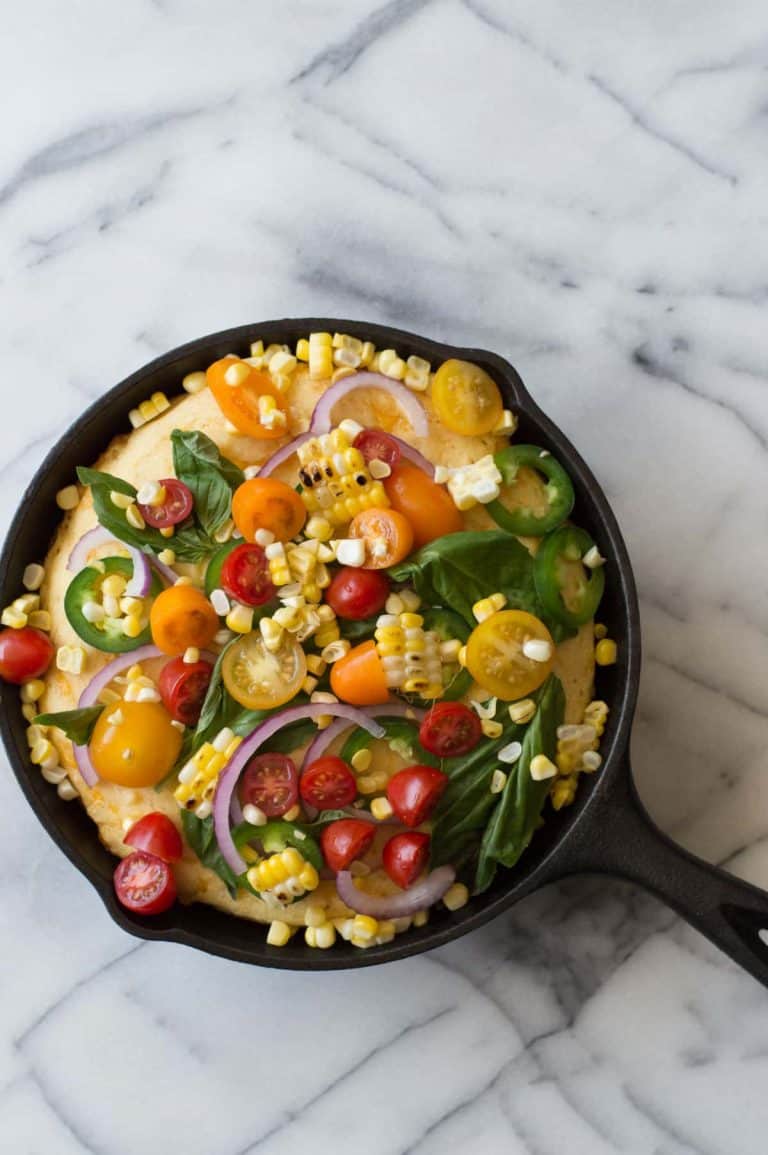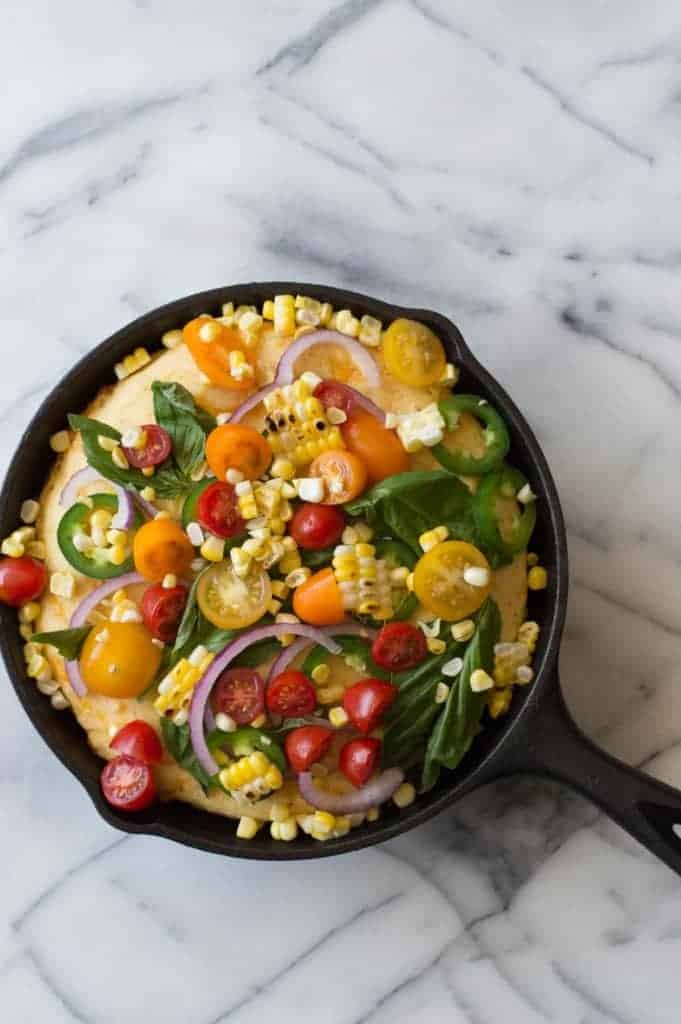 I always feel like the 4th of July is kind of the pinnacle of summer break.  And now I feel like we're on the downward slide back to the school year.  It will be here before we know it.  Along with cooler weather.  Which I'm kind of excited about. Although we still have a few more hot months until we get there.  In the meantime, we need to enjoy summer to it's fullest!!  Which includes farmers markets and fresh produce!  Which leads me to todays Farmers Market Cornbread.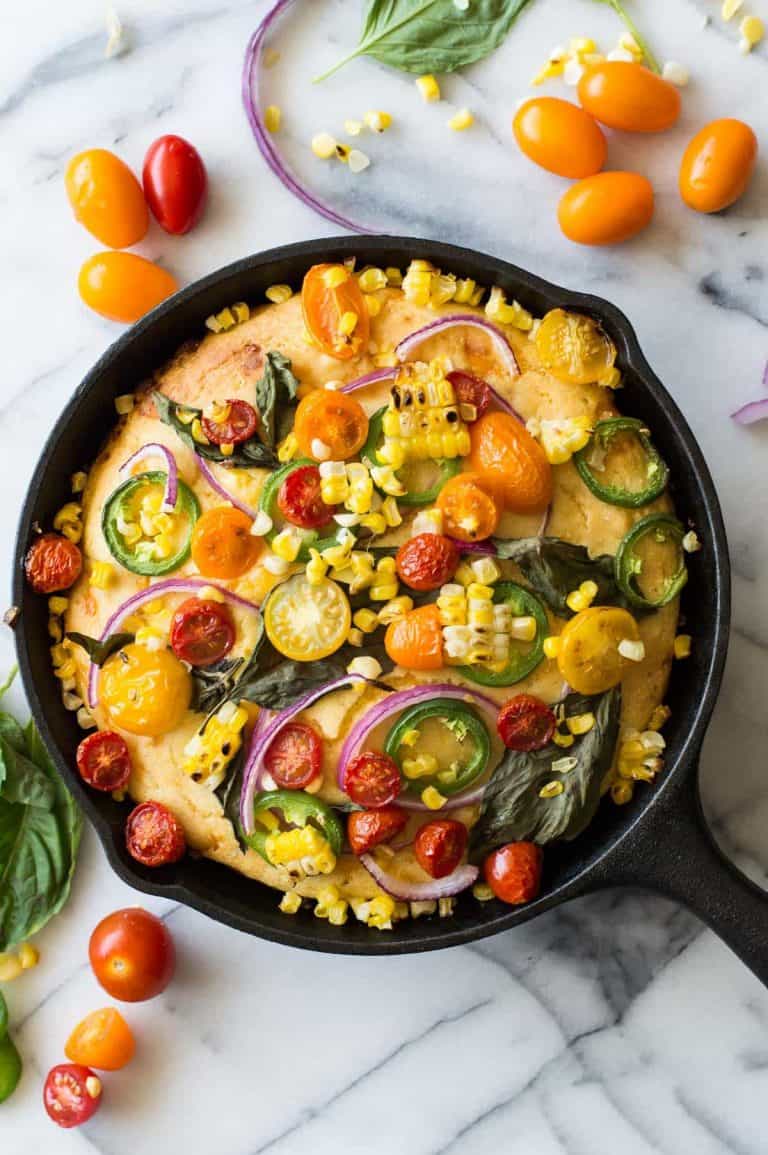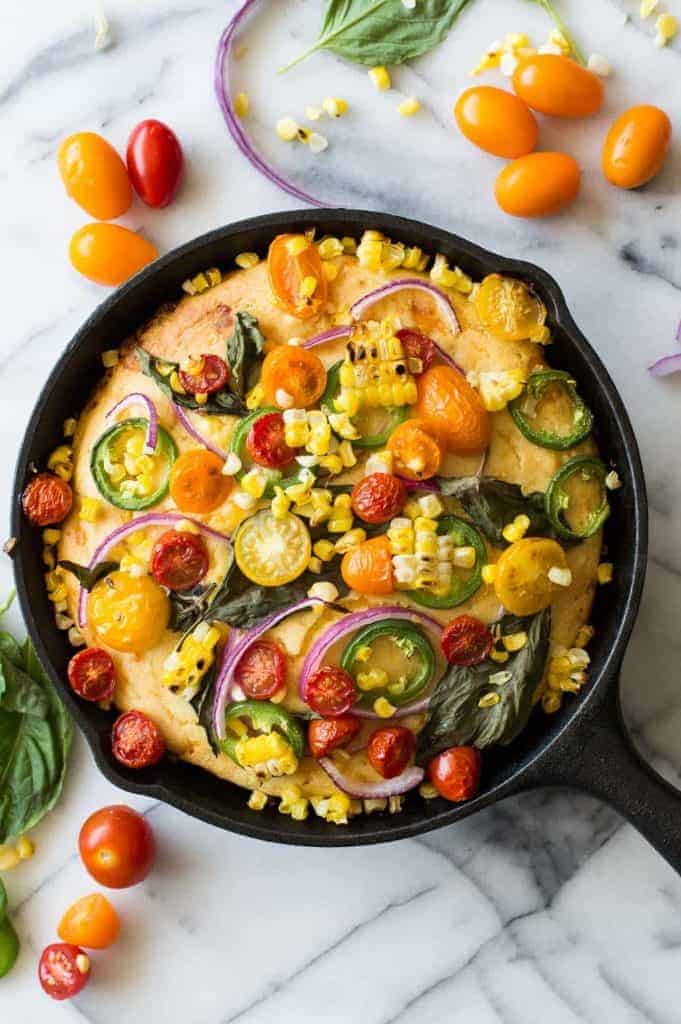 If you haven't noticed, I'm loving baking in my cast iron skillet lately.  Remember that All-American Strawberry Cobbler I just shared?  Plus I have some other recipes coming up that use the cast iron skillet too.  Which is making me wonder.. do you have a cast iron skillet?  I'm thinking of doing a post on how to care for a cast iron skillet.  I think some people may think they're difficult to care for, but they're really easy!  And if we care for them right, they will last for-ever.  Just shoot me a message or comment if this is something that you may be interested in learning more about.  Moving on!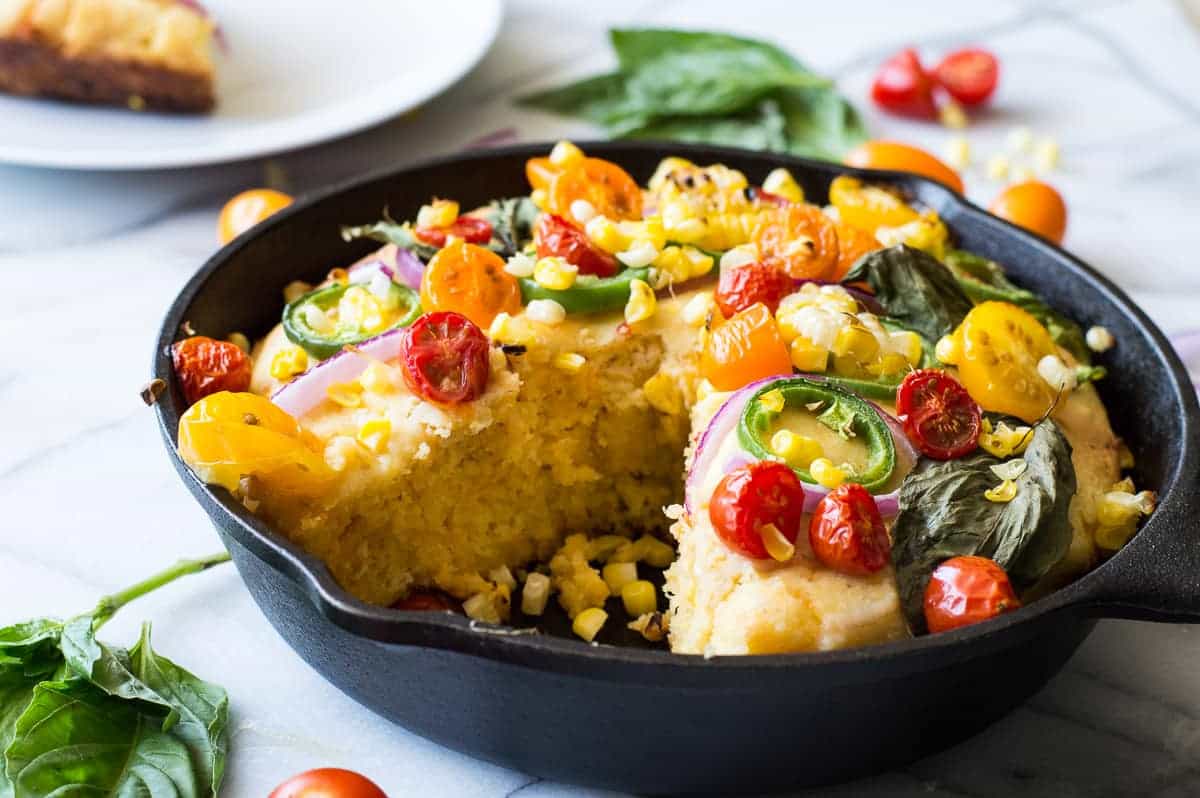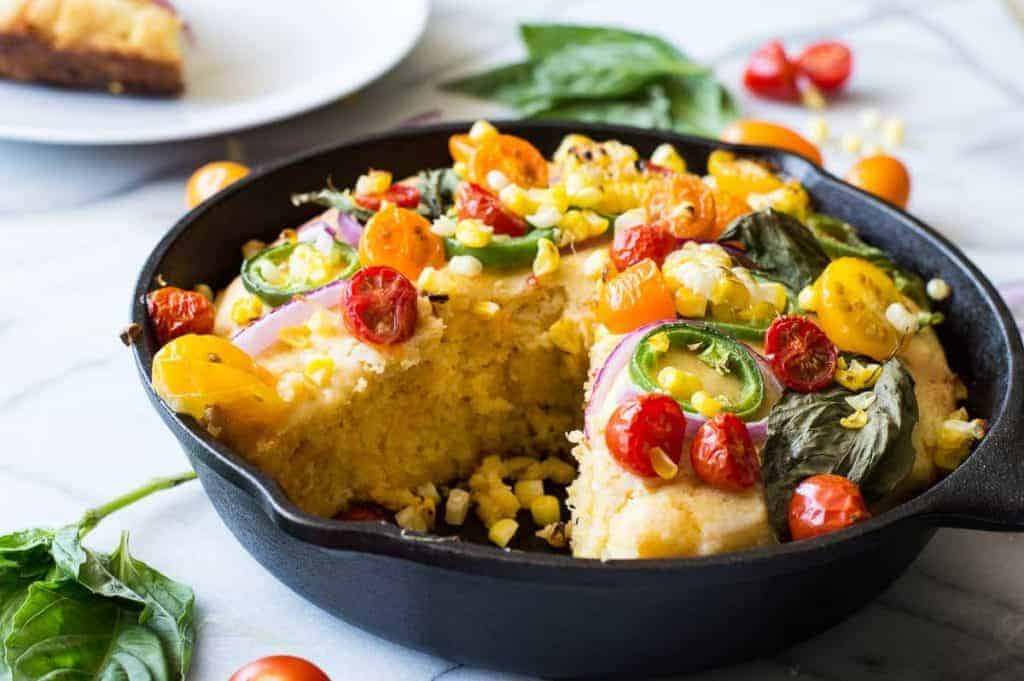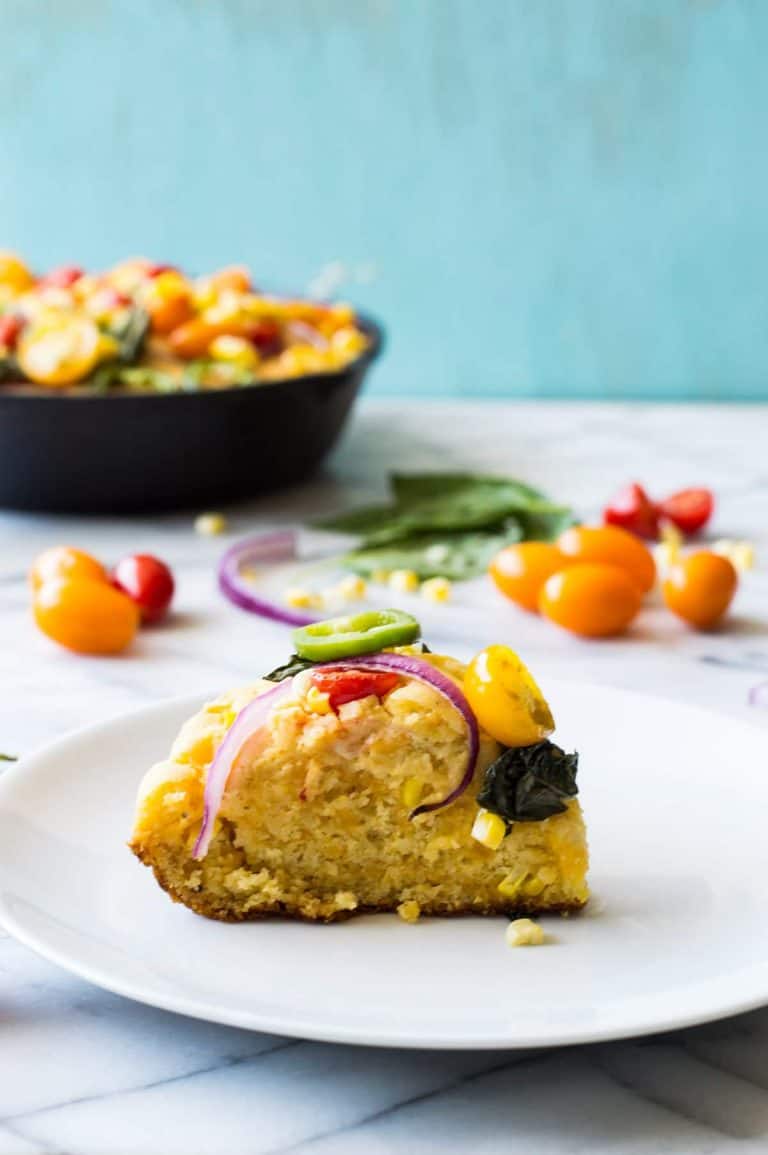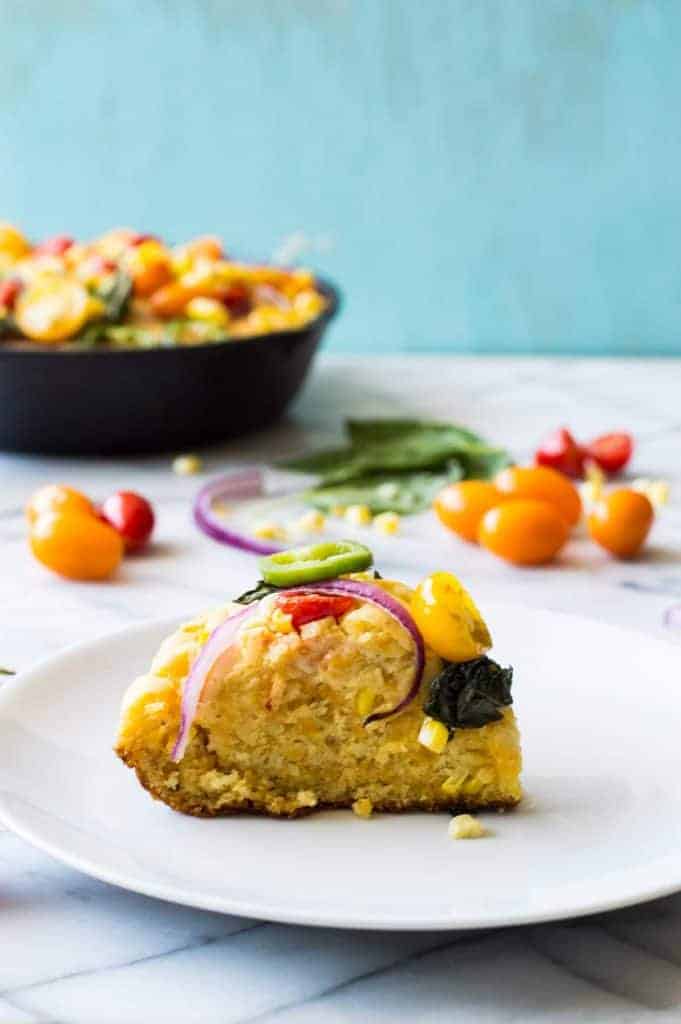 This cornbread is easy, cheesy, and bursting with flavor.  The best part?  You can really load this up with your own personal farmer market finds!  Or whatever you have in your own gardens!  I know my mom always has a ton of tomatoes and zucchini.  Zucchini would be a wonderful addition to this!  And of course I had to toss a little jalapeño on there.  If you're not into the heat, leave it off.  Don't want to add cheese?  Don't add cheese!  This is such a simple recipe based on a great cornbread.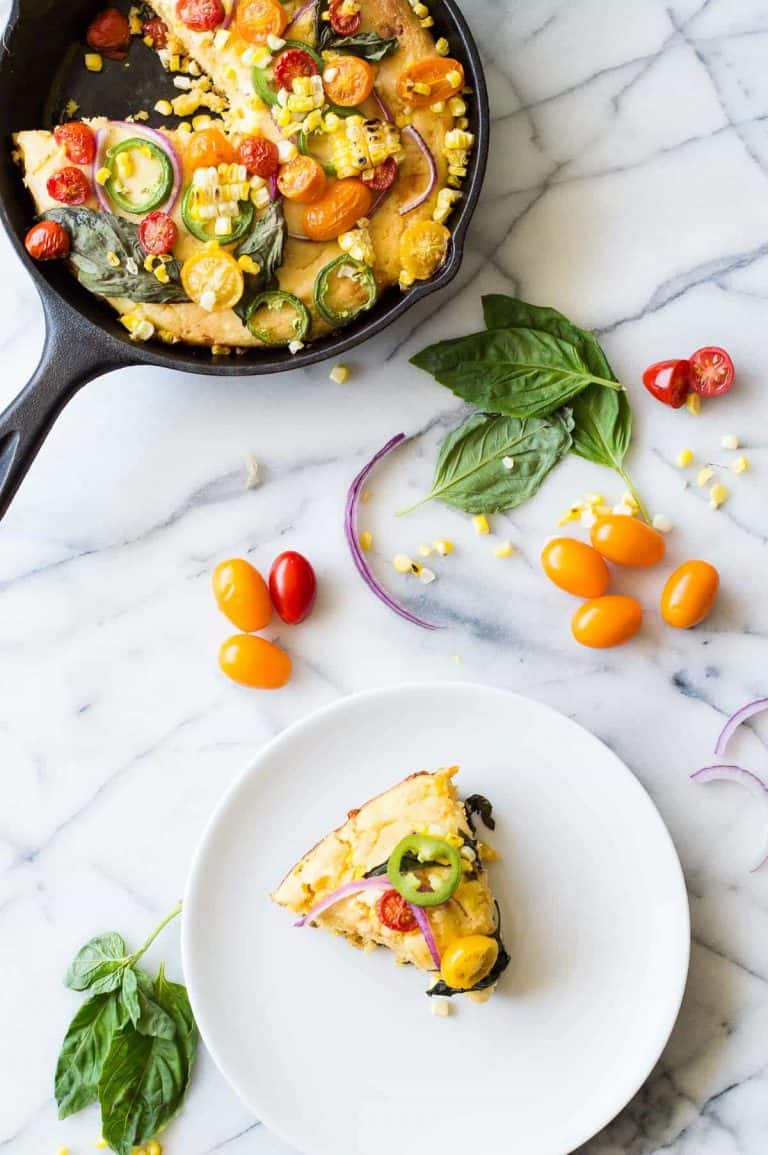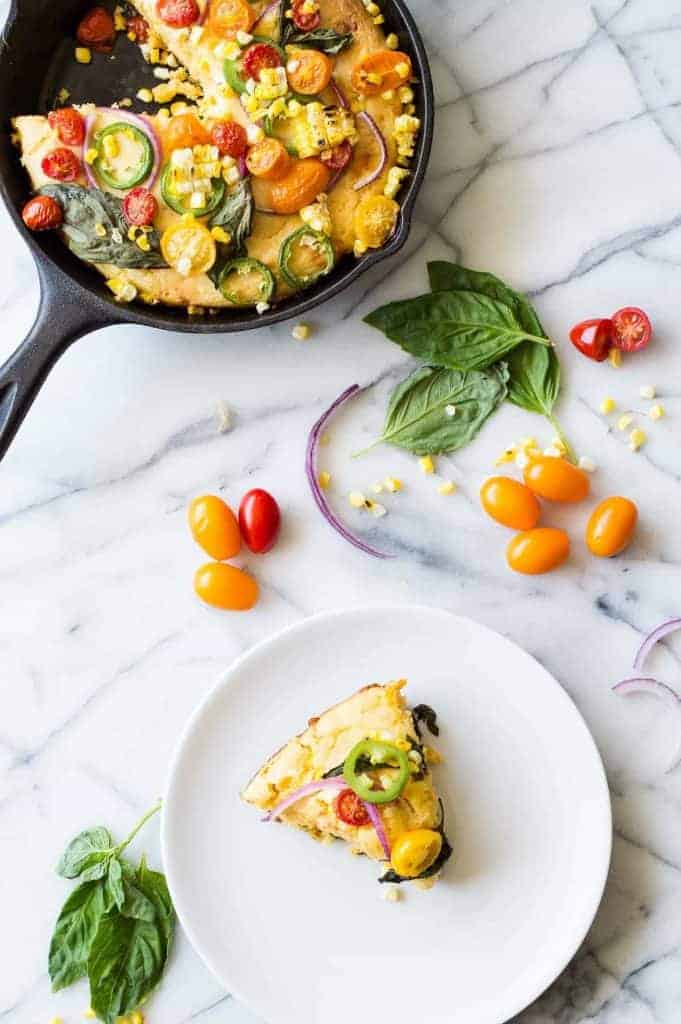 If you follow me on snapchat(@houseofyumm) then you were able to follow along with me while I made this and I gave a fun little tip about the buttermilk.  I NEVER have buttermilk on hand, but it's so important to use it when making cornbread, it just helps the cornbread be moist instead of making your mouth feel sticky.  So if you don't have buttermilk and it's called for, just pour a scant bit less milk and add a splash of white vinegar or lemon juice.  Let it sit a few minutes and the milk will curdle.  Voila!  Buttermilk!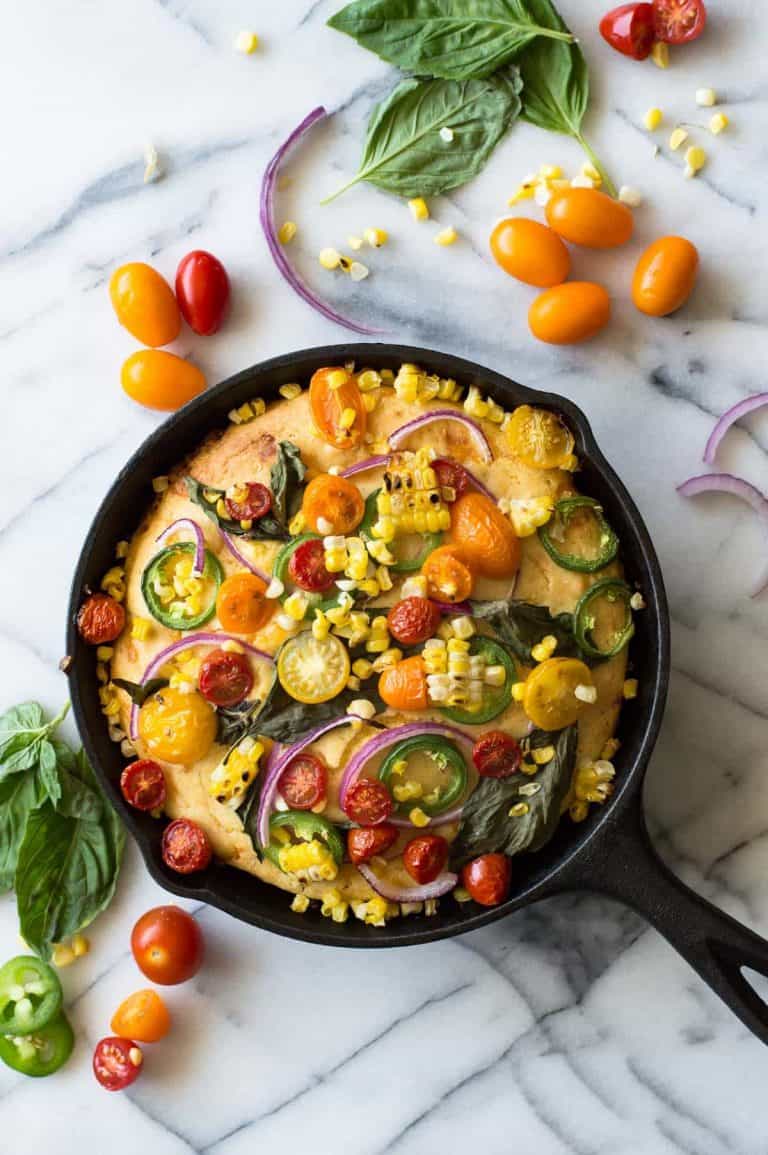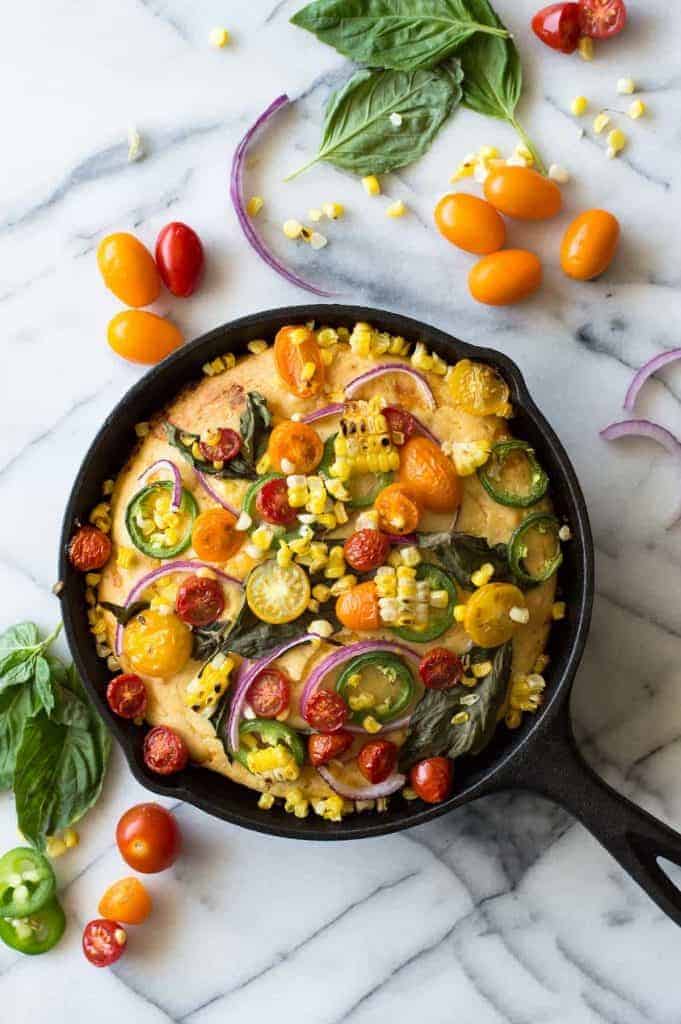 Need some more summer cooking inspiration?!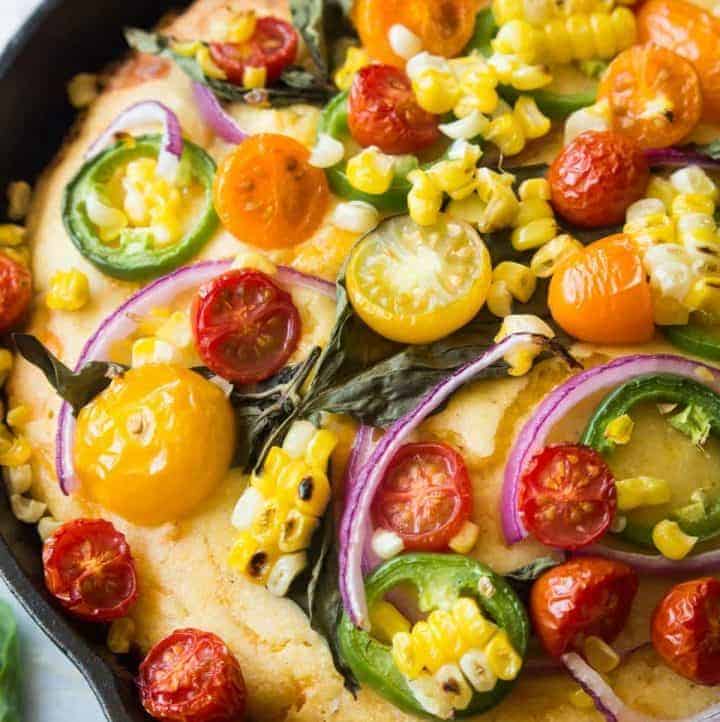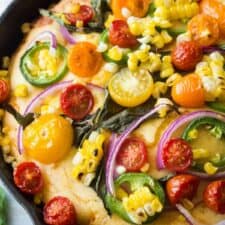 Farmers Market Cornbread
This cornbread is loaded with fresh grilled corn, cheese, and topped with farmers market finds! Tomato, jalapeño, red onion, fresh basil, and even more grilled corn! Make it your own by adding your own toppings!
Ingredients
2 tbsp canola oil
1 cup cornmeal
1 cup all purpose flour
1 tbsp baking powder
1 tsp salt
1 large egg
1 cup buttermilk
¼ cup honey
6 ounces sharp cheddar cheese, shredded
⅓ cup grilled corn
Toppings
cherry tomatoes
fresh basil leaves
sliced jalapeno
fresh grilled corn
sliced red onion
Instructions
Preheat the oven to 425°F.

Pour the canola oil into a 6.5 inch cast iron skillet. Place in the oven for 10 minutes to heat the oil.

Meanwhile, prepare the cornbread batter.

Add the cornmeal, flour, baking powder, and salt to a medium size mixing bowl. Whisk together. In another small bowl add the buttermilk, egg, and honey. Stir to combine.

Pour the wet ingredients into the dry ingredients. Stir until combined.

Add in the grilled corn and cheese. Stir to combine.

Once the oil is heated, remove the skillet from the oven. Pour the cornbread batter over the hot oil, be careful!!

Place the skillet back in the oven and bake for 10 minutes.

Remove from the oven and add your toppings. Place back in the oven and bake for another 20-25 minutes, or until the edges of the cornbread are golden and starting to brown. A toothpick inserted in the center should come out clean.

Allow to cool, slice and serve! Enjoy!
Nutrition
Calories: 412kcal, Carbohydrates: 50g, Protein: 14g, Fat: 18g, Saturated Fat: 8g, Cholesterol: 61mg, Sodium: 830mg, Potassium: 207mg, Fiber: 3g, Sugar: 14g, Vitamin A: 390IU, Calcium: 375mg, Iron: 2mg
Products I Recommend for this Recipe: 
**This post may contain affiliate links, but I only recommend products that I actually use and <3. Thanks for supporting House of Yumm!
House of Yumm is a participant in the Amazon Services LLC Associates Program, an affiliate advertising program designed to provide a means for us to earn fees by linking to Amazon.com and affiliated sites.