Pan Seared Steak with Garlic Herb Butter. Steakhouse quality right at home! The perfect sear on the outside and juicy on the inside!
Nothing will beat a classic, simple, steakhouse style steak! This steak is perfect in it's simplicity, generously seasoned with salt and pepper, seared in a cast iron skillet and then cooked in butter with herbs and garlic. Serve this steak with some Southern Green Beans, Garlic Butter Smashed Potatoes, and some Classic Southern Coleslaw.
Ingredients Needed: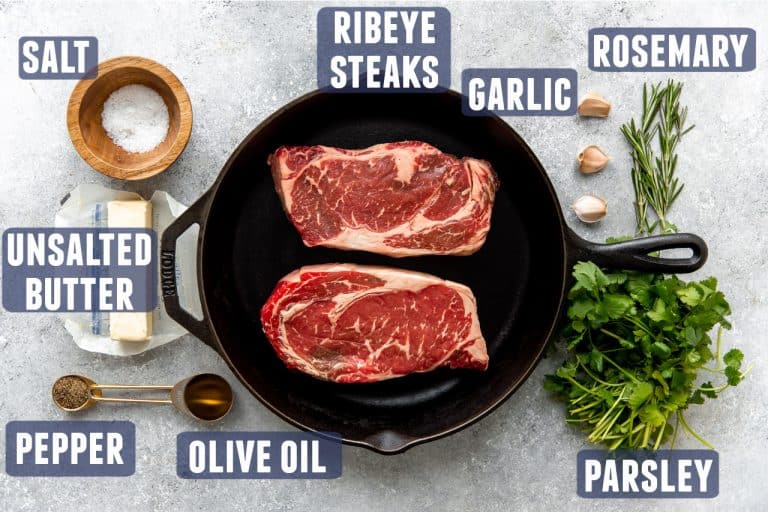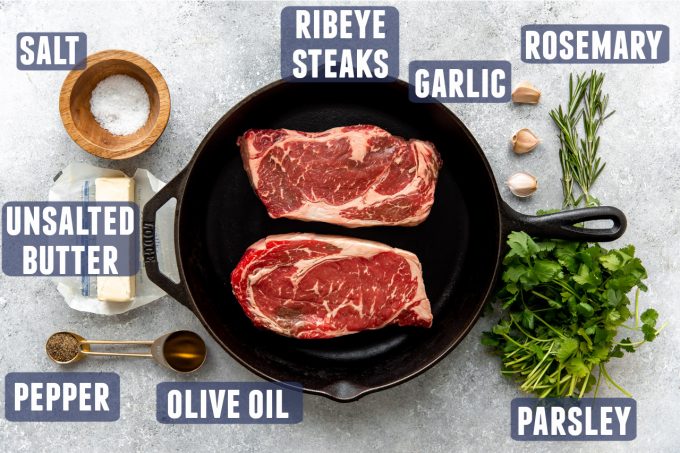 Notes on the Ingredients:
Ribeye Steak: this recipe will work with any cut of steak meat. The most popular cuts will be New York Strip Steak and Ribeye. Choose a nicely marbled cut of meat, and bone in is not needed for this quick of a cook.
How to make a Perfect Pan Seared Steak:
Preheat Skillet: to get a perfect sear the skillet needs to be HOT. We want to hear the meat sizzle when it hits the skillet. Be sure to heat the oil in the skillet while it's preheating.
Season Meat: pat the meat nice and dry using a paper towel, then season generously with salt and pepper.
Prepare Garlic Herb Butter: combine room temperature butter with the garlic and herbs.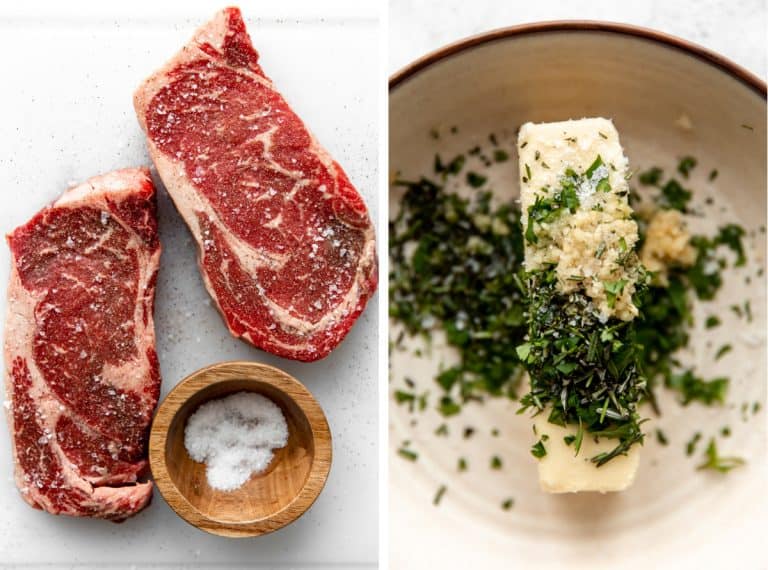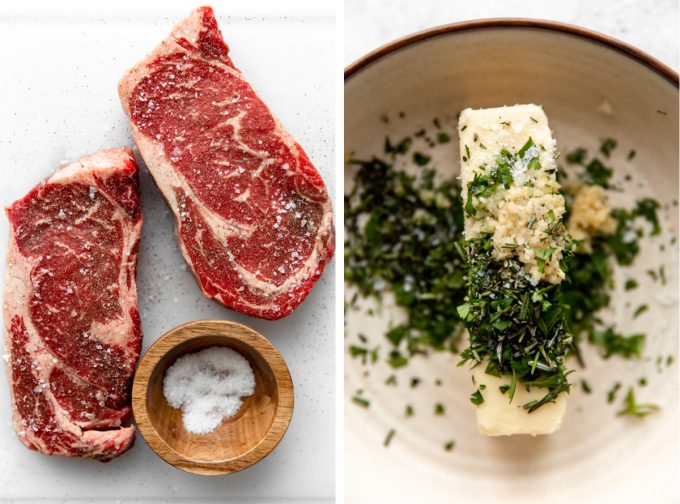 Sear Meat: gently place the steaks in the preheated skillet and let them cook about 3 minutes on each side to get a golden sear.
Add Butter, Herbs & Garlic: After searing we can add butter, herbs and garlic to help season the meat while it continues cooking. Spoon the melted butter over the top of the steak while cooking for extra flavor!
Cook To Temperature: cooking to temperature, ensures that you are getting properly cooked meat and that it's done to your preference.
Rest: rest time is important, let the meat sit undisturbed on a cutting board for about 10 minutes before cutting, this allows time for residual cooking and for the juices to redistribute.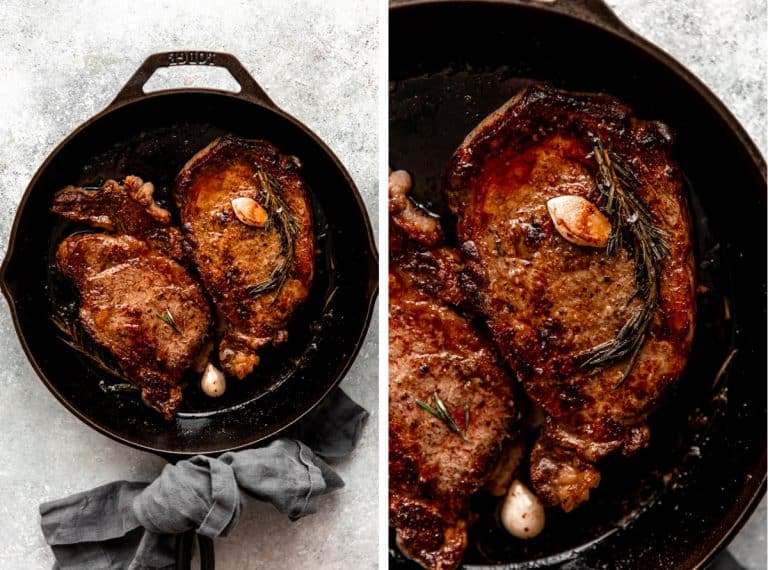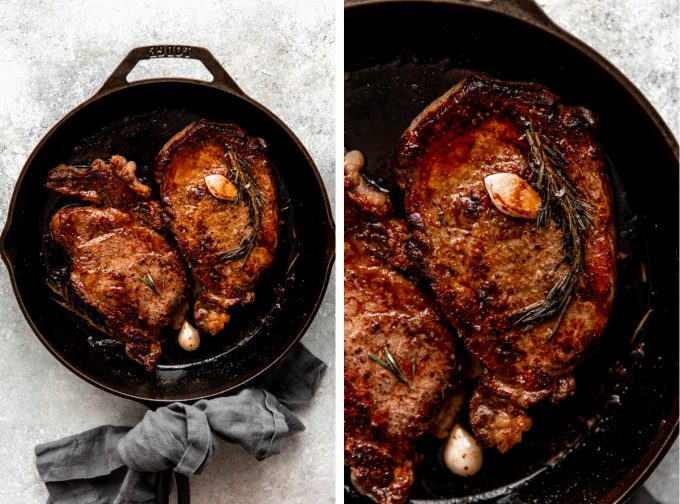 Pro Tips for the BEST Steak:
Cut: this recipe will work with any cut of steak, however, the most popular steaks will be a New York Strip or a Ribeye. Get a prime or choice cut, these meats will cook up more tender. You do not need a Bone-in for a small cut of meat like a steak.
Prepare the meat: set the meat out at room temperature for about 30 minutes before cooking. This helps with a more even cooking. Pat the meat with some paper towels to dry it off before adding the seasoning, this ensures that the salt and pepper will stick to the meat easier, giving more flavor.
Pan: cast iron skillets are the way to go for steaks. Heavy duty skillets, hold heat well which gives a nice brown coloring, and helps cook evenly.
Heat: heat the skillet with oil on the stovetop for several minutes, when the meat is added it should sizzle, this is what is going to give a nice sear on the outside of the steak and give great flavoring.
Oils: Oil has a high smoke point, while butter doesn't. Using only butter, will lead to burnt butter while cooking the steak and that flavoring will be transferred to the steak. Use an oil with a high smoke point, this prevents burning and smoking while cooking: extra virgin olive oil or avocado oils are a great option.
Rest Time: allow the steak to rest for 10 minutes after being removed from the heat. This allows time for residual cooking and lets the juices redistribute through the steak.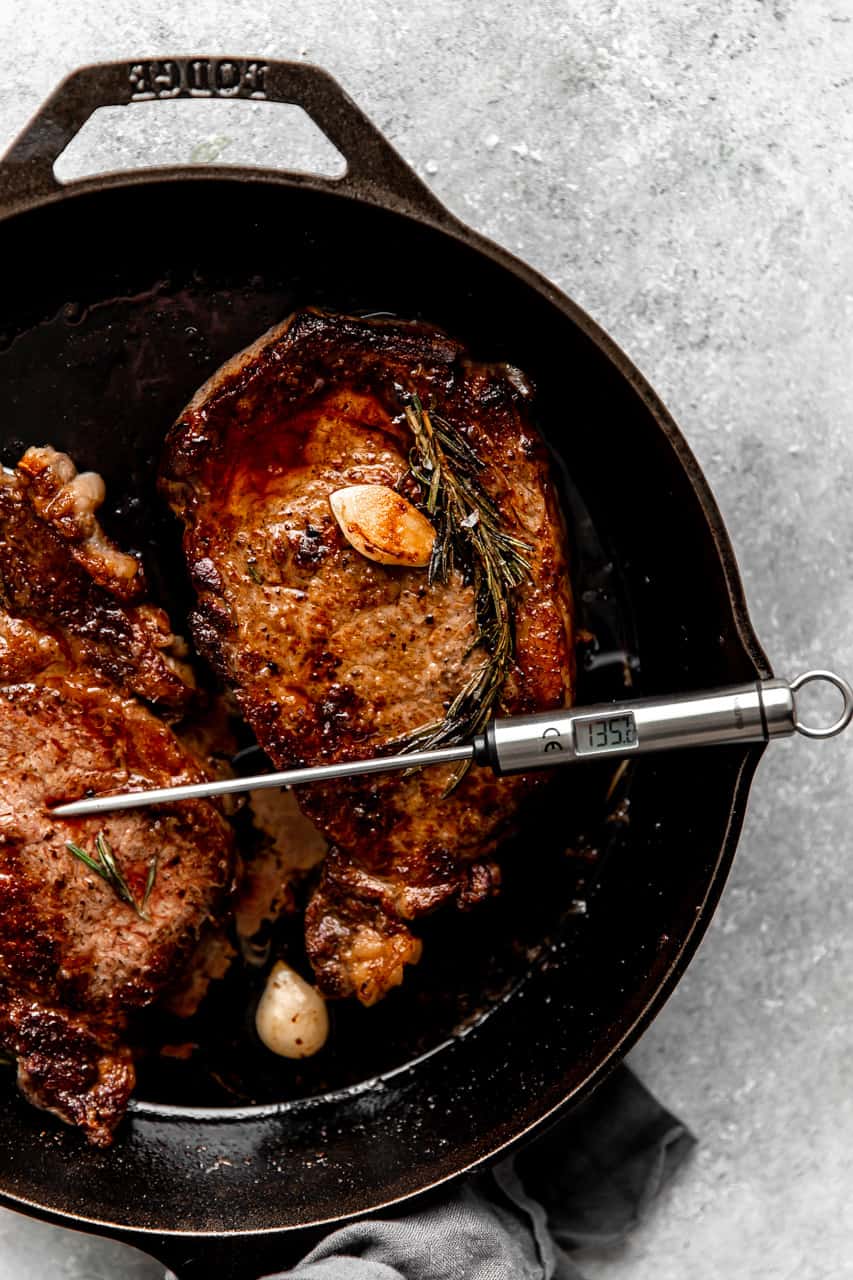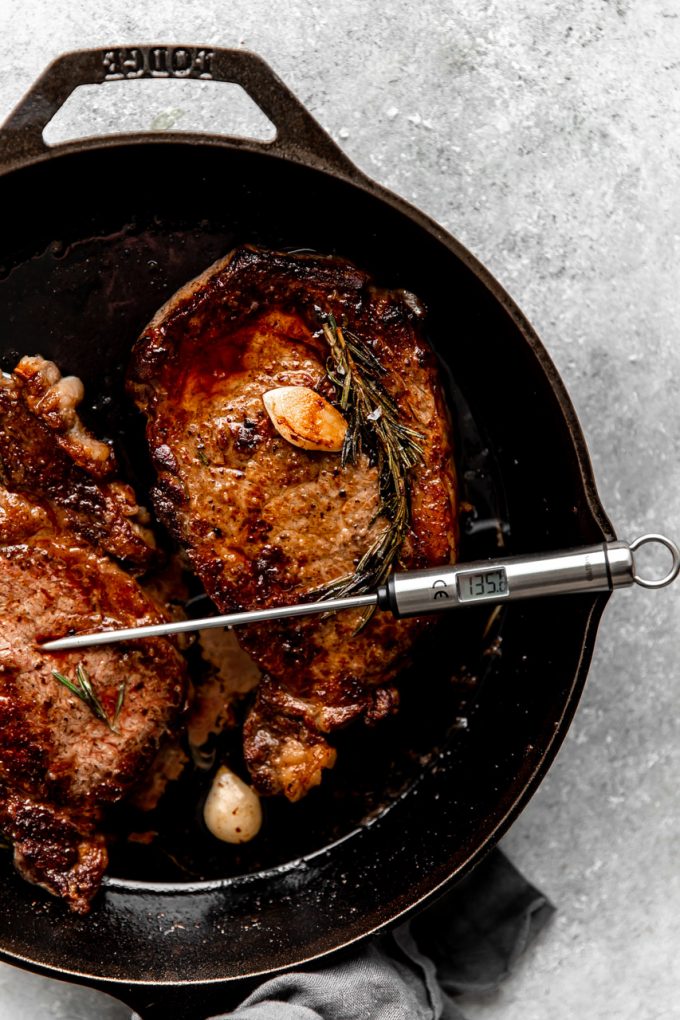 Beef Temperature Chart:
Rare: (cool center, red) 125℉
Medium Rare: (warm center, red) 135℉
Medium: (warm center, pink) 145℉
Medium Well: (warm center, slight pink) 150℉
Well: (warm center, little to no pink) 160℉
*For a visual check out Beef Loving Texans.
Remove the steaks from the heat 10-5 degrees before it reaches your preferred internal temperature. Residual cooking will take place for 10 minutes while the steak rests.
More Recipes Using Beef: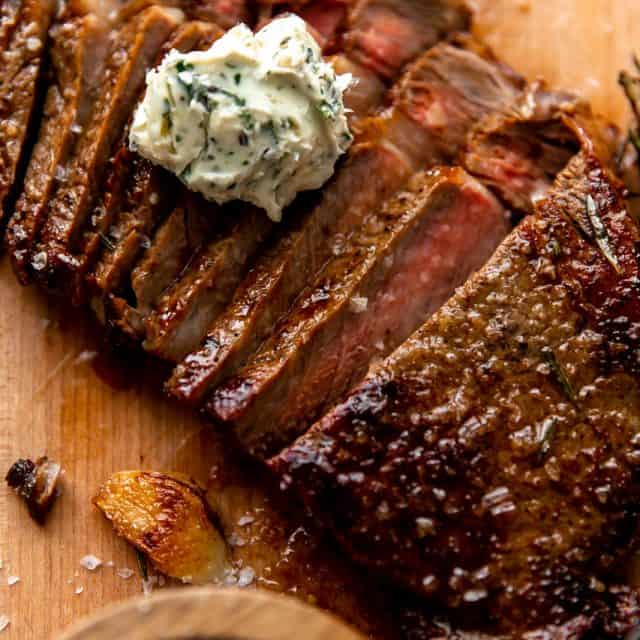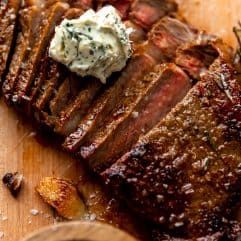 Pan Seared Steak with Garlic Herb Butter
Pan Seared Steak with Garlic Herb Butter. Perfect way to cook that steak indoors when it's way too cold to go outside. Plus top it with an easy to make, flavorful Garlic Herb Butter!
Ingredients
2 lbs Rib Eye Steaks, (2 steaks approx 1 1/4 inch thick)
1½ tsp Salt
1 tsp coarse ground black pepper
1 tbsp extra virgin olive oil , or avocado oil (use a high smoke point oil)
1 tbsp unsalted butter, cut into 2 slices
2 cloves garlic, crushed
2 fresh rosemary sprigs
Garlic Herb Butter
½ cup butter , room temperature
1 clove garlic , minced
1 tbsp fresh parsley, chopped (or 1 tsp dried)
1 tbsp fresh rosemary, chopped
½ tsp salt
Instructions
Heat a skillet over medium high heat for about 5 minutes to ensure that it is hot.

While the skillet is heating, prepare the meat by patting dry with a paper towel. Generously season on both sides with salt and pepper. Use fingers to rub the seasoning into the meat.

Add the tablespoon of extra virgin olive oil to the skillet, swirl to coat the pan with the oil. Gently place the steaks into the skillet. Cook for about 3 minutes, then turn to cook the other side for 3 minutes. Both sides should have a nice sear to them.

Add the butter, rosemary and garlic cloves to the skillet. Turn the heat to medium-low and continue to cook the steaks until 5-10 degrees below desired doneness temperature. (Cook to 125℉ for a medium rare steak) Spoon melted butter over the top of the steaks while cooking.

Remove the steak from the skillet and set on cutting board or plate to let rest for 10 minutes prior to cutting. The steak continues rising in temperature during this time.

Slice steak, top with garlic herb butter and serve!
Garlic Herb Butter
Mix together the ingredients until well combined.

Spoon a tablespoon of the butter onto a fully cooked steak. Enjoy!
Equipment
Notes
Garlic Herb Butter
Garlic Herb Butter makes enough for about 4 steaks.
Can substitute out fresh herbs with dried, use 1 tsp dried herbs.
Herbs that will work in the butter: parsley, rosemary, basil, thyme, oregano.
Steak degree of doneness:
Rare – 125°, red inside & cool interior
Medium rare – 135°, red inside & warm
Medium – 145°, pink inside & warm
Medium well – 150°, slightly pink inside & warm
Well – 160°, no pink inside
For safety the FDA recommends cooking to at least 145 degrees
Nutrition
Calories: 727kcal, Carbohydrates: 1g, Protein: 46g, Fat: 61g, Saturated Fat: 32g, Cholesterol: 214mg, Sodium: 371mg, Potassium: 606mg, Sugar: 1g, Vitamin A: 920IU, Vitamin C: 1mg, Calcium: 23mg, Iron: 4mg
Photography done by KJandCompany.co
Recipe first published December 19, 2016. Updated January 29, 2021 with new images and information.
House of Yumm is a participant in the Amazon Services LLC Associates Program, an affiliate advertising program designed to provide a means for us to earn fees by linking to Amazon.com and affiliated sites.