Pan Seared Steak with Garlic Herb Butter
Pan Seared Steak with Garlic Herb Butter.  Perfect way to cook that steak indoors when it's way too cold to go outside.  Plus top it with an easy to make, flavorful Garlic Herb Butter!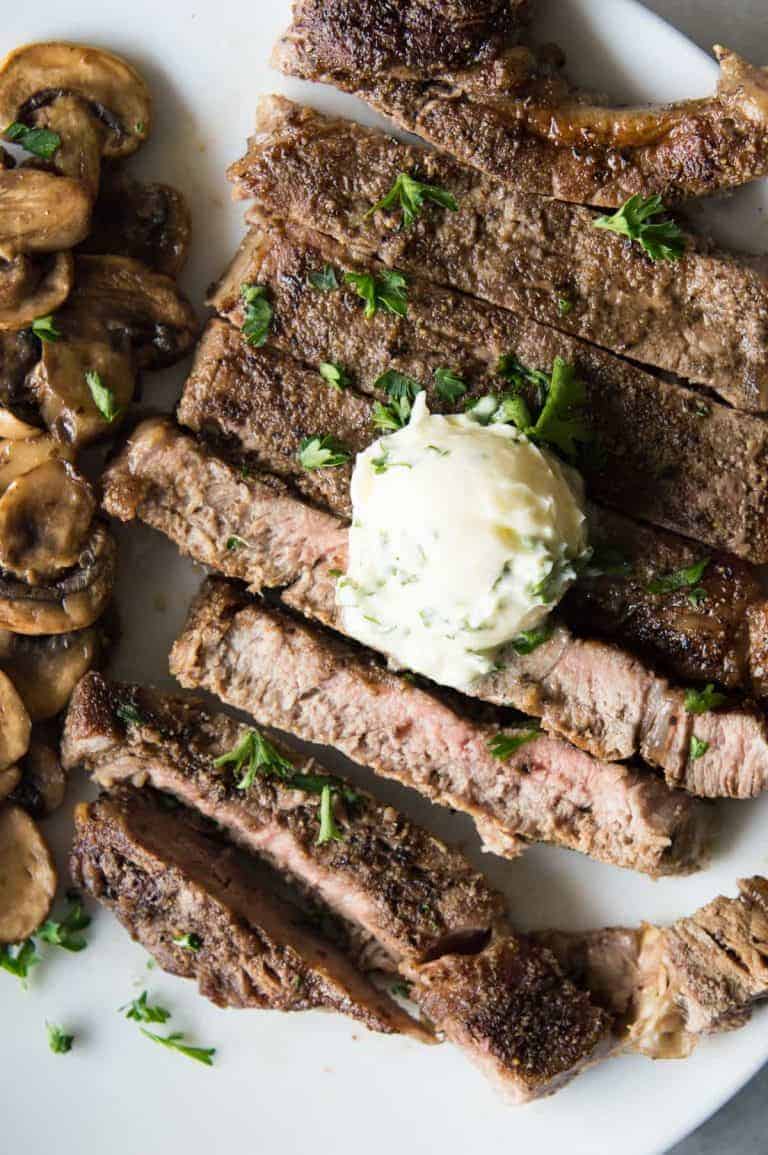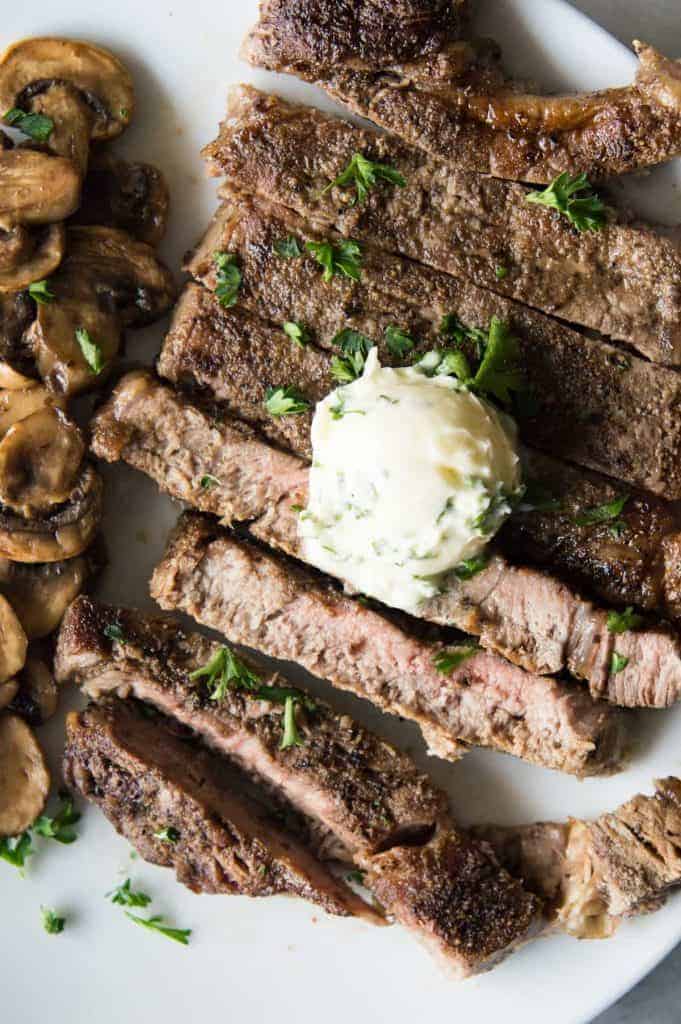 I received the product used in this post as a gift from Kansas City Steak Company. However, the opinions and text are all mine. Thank you for continuing to support the brands that make House of Yumm possible! 
Being able to cook and enjoy steak indoors is an absolute necessity when the temperatures outside just do not make grilling outside enjoyable.  Like this weekend.  Our high was 20 degrees.  Just not really enjoyable.  Which is why I'm sharing this Pan Seared Steak with you, plus the flavorful easy to make Garlic Herb Butter to enjoy it with!
These steaks came to us from Kansas City Steak Company, remember them from the How to Cook a Filet Mignon?  Love them!  They send out the steaks you order super fast.  They come frozen, and they are the best quality! The fact that they ship makes these steaks the perfect option for gift giving for family members and friends.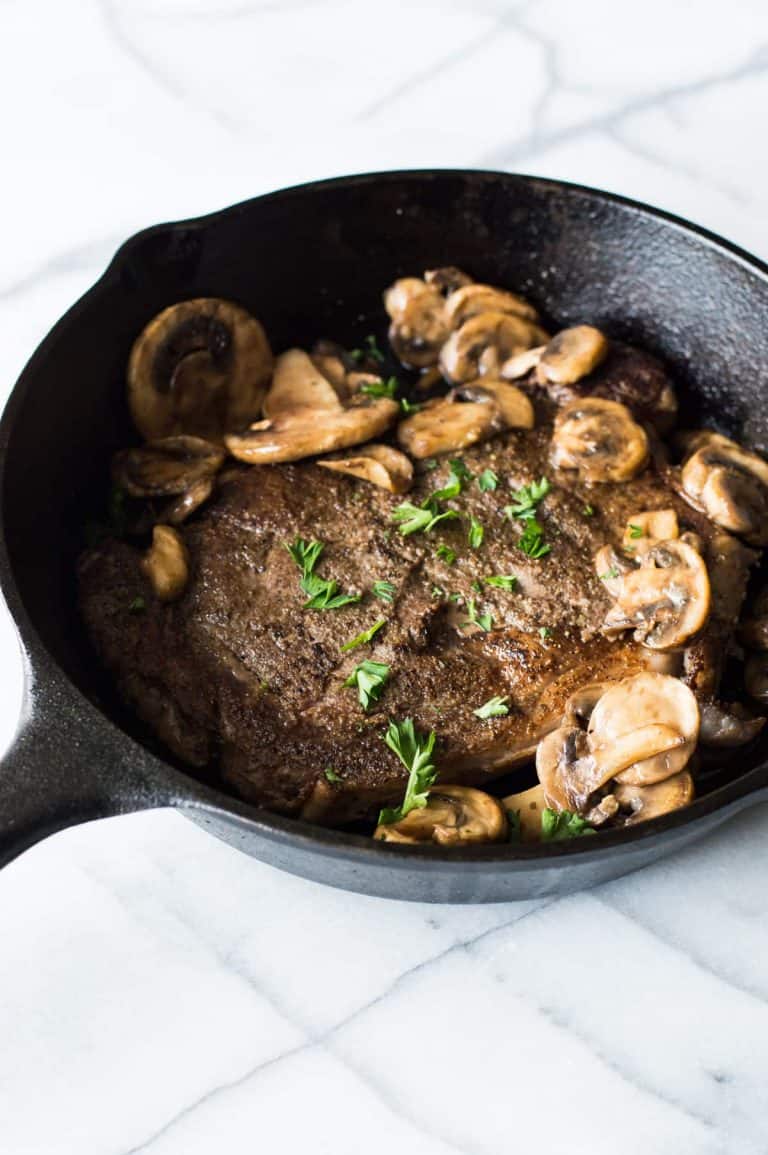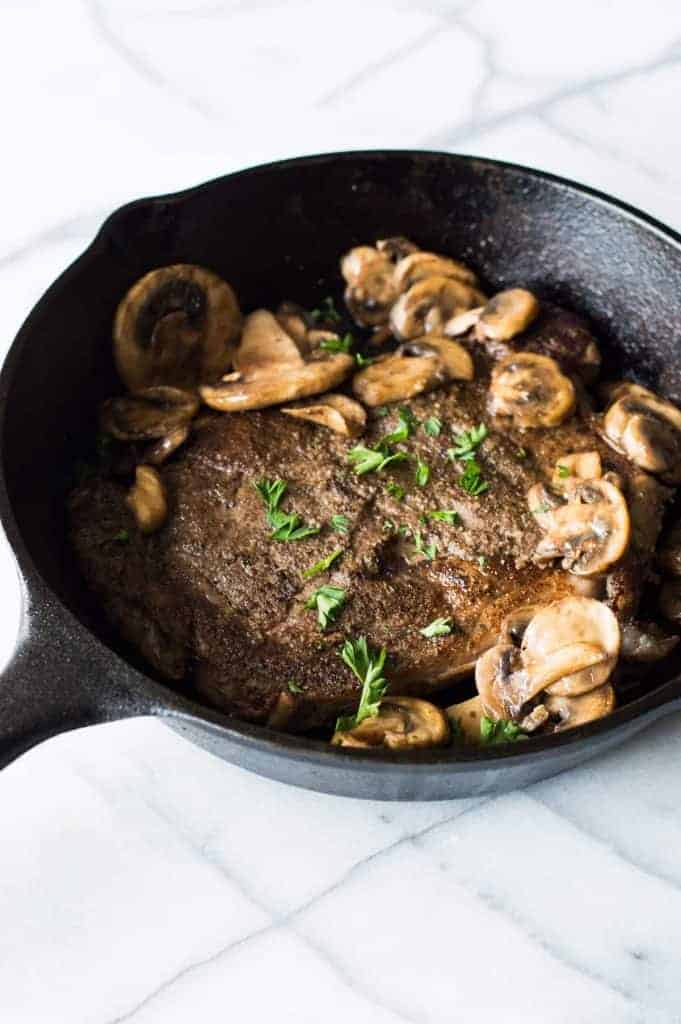 So about cooking these steaks inside.  I love using my cast iron skillet, just because they get nice and hot and I can transfer them from the top of the stove to the inside no problem.
To start we're going to preheat the oven to 375 so we're ready.   It really only takes a matter of minutes to cook the steaks indoors.  While the oven preheats we can heat the skillet also over a medium high heat.
As things heat we can prep our meat by patting it dry and generously seasoning on both sides.  Salt and pepper is all it needs.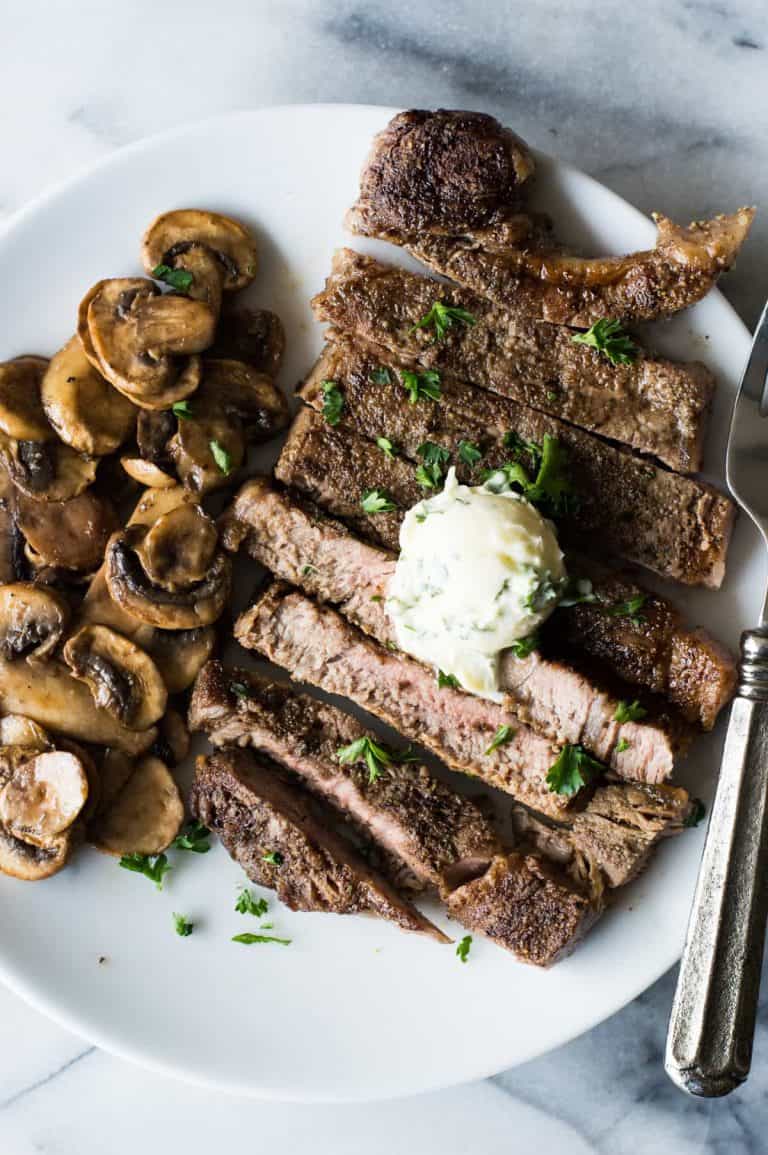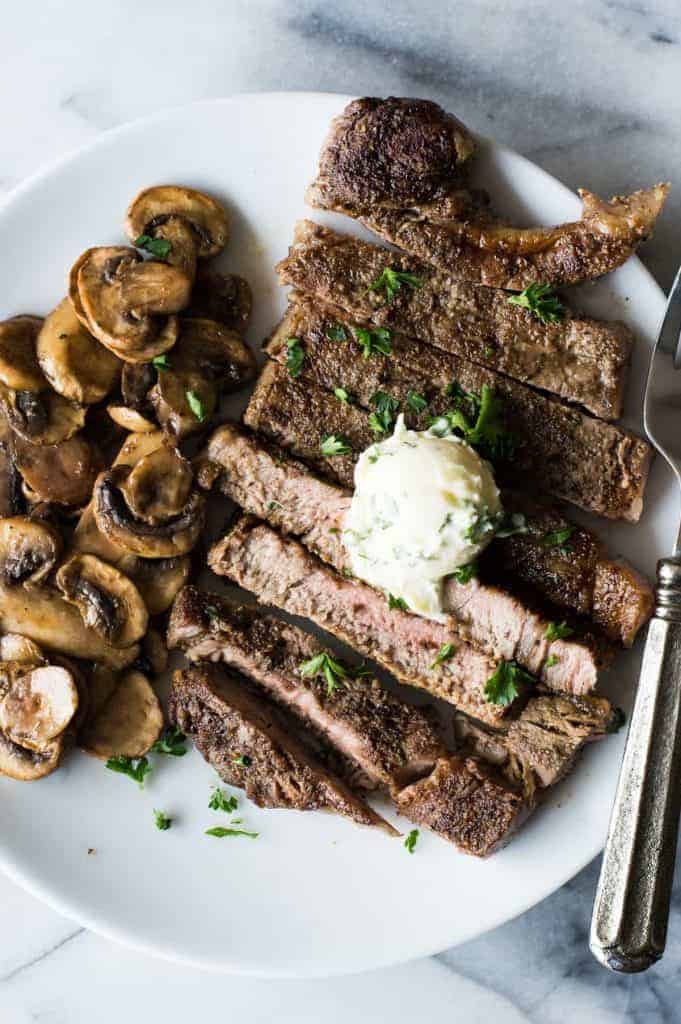 Once the oven is preheated and the skillet is hot, we're going to toss some butter into the skillet, turn the skillet to coat the bottom.  Place the steak in the skillet and allow the high heat to sear the meat for about  1 minute on each side.  That's going to give that glorious crust to the outside of the meat.  Once both sides are seared, place it in the oven for a matter of minutes to continue cooking to your preference.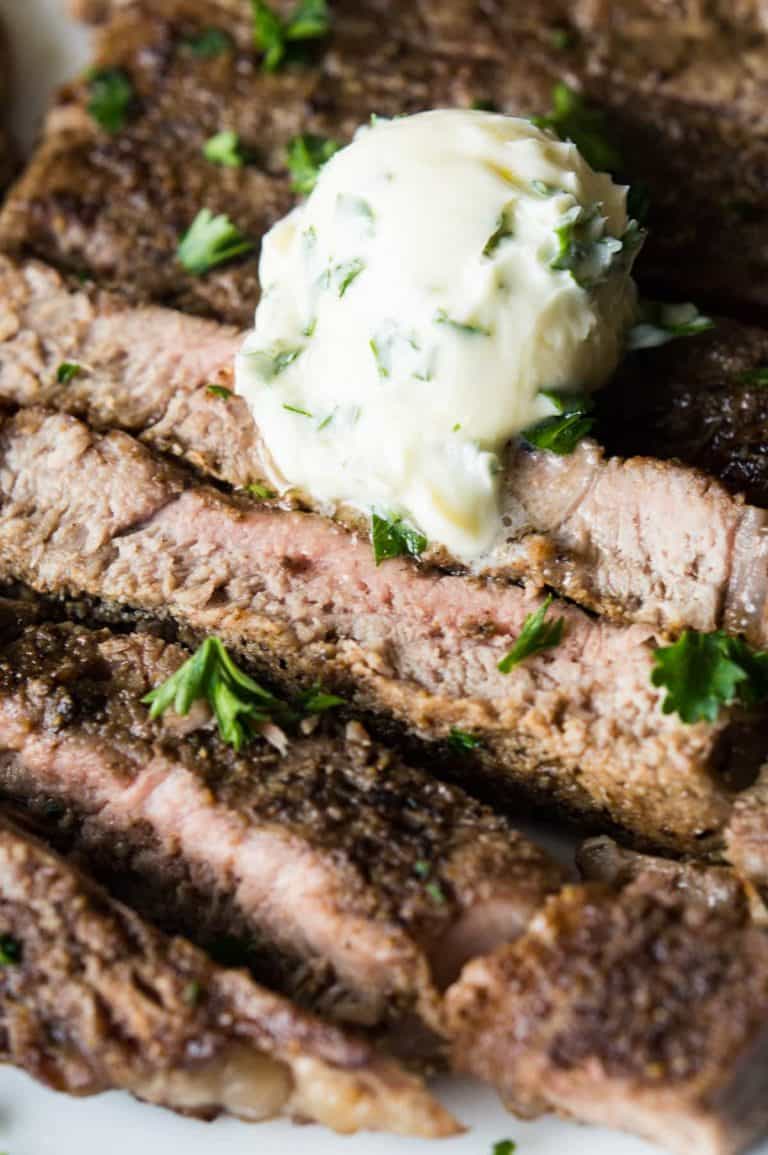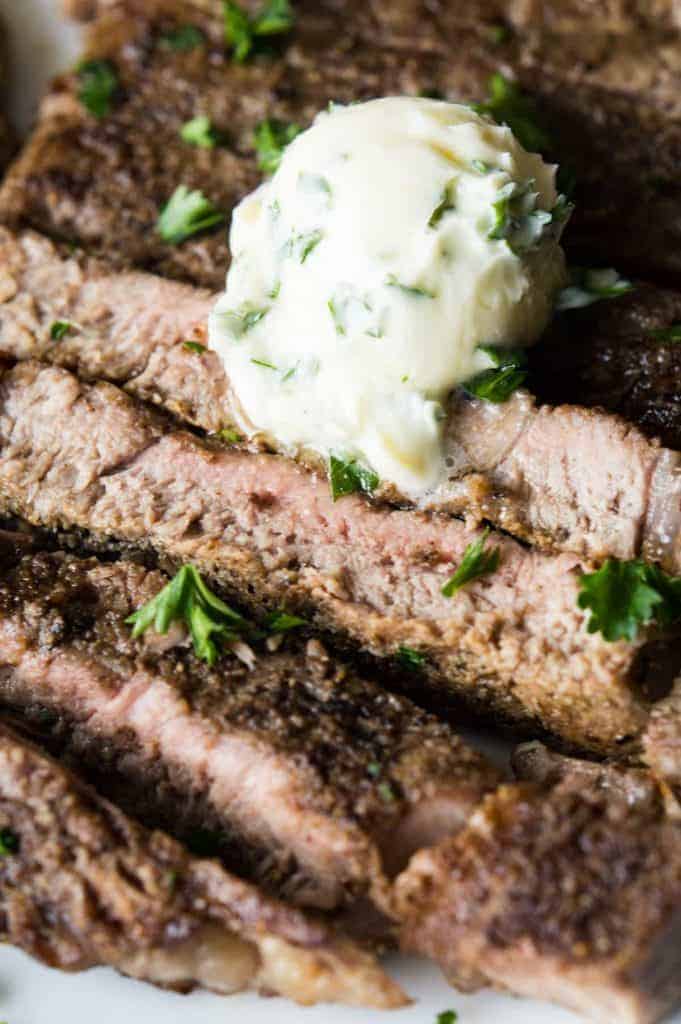 This steak was cooked for an additional 6 minutes which makes it a medium well.  The hubs called it a travesty though.  He prefers his rare.  Which would be cooking about an additional 3 minutes.
It's really quick, it's super easy, and the steak comes out juicy and perfectly cooked.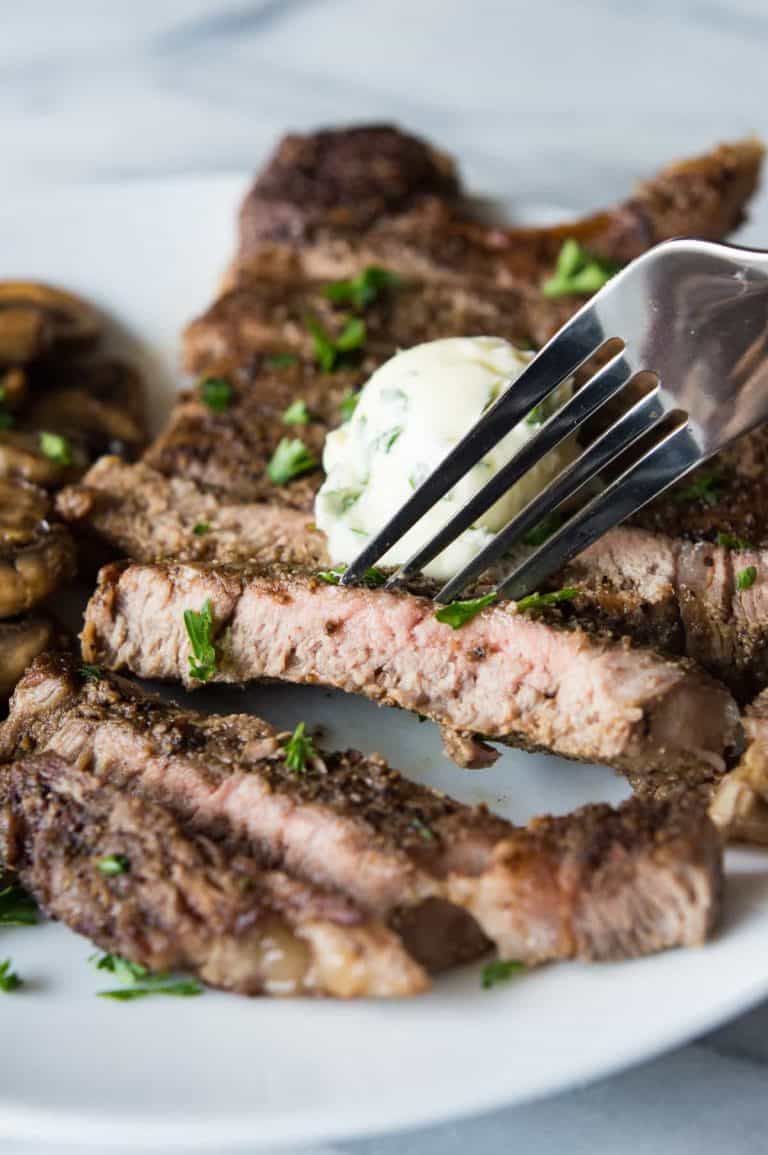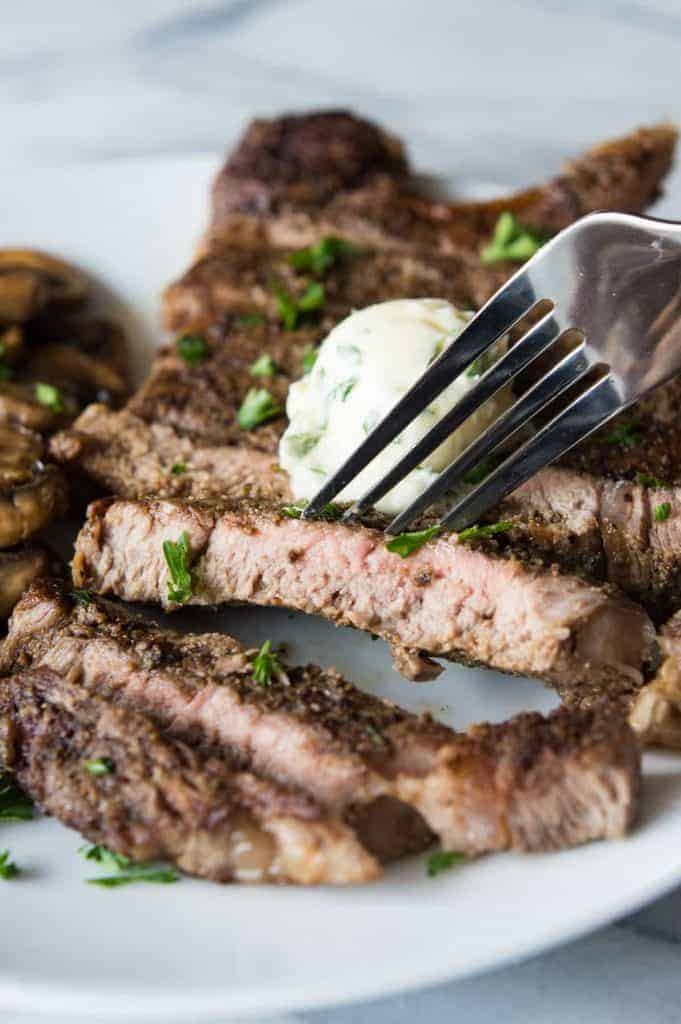 Now the butter is even easier to make!  And can be mixed together in the matter of a minute or two.  Make sure you start with butter that is at room temperature so that it's easy to stir together.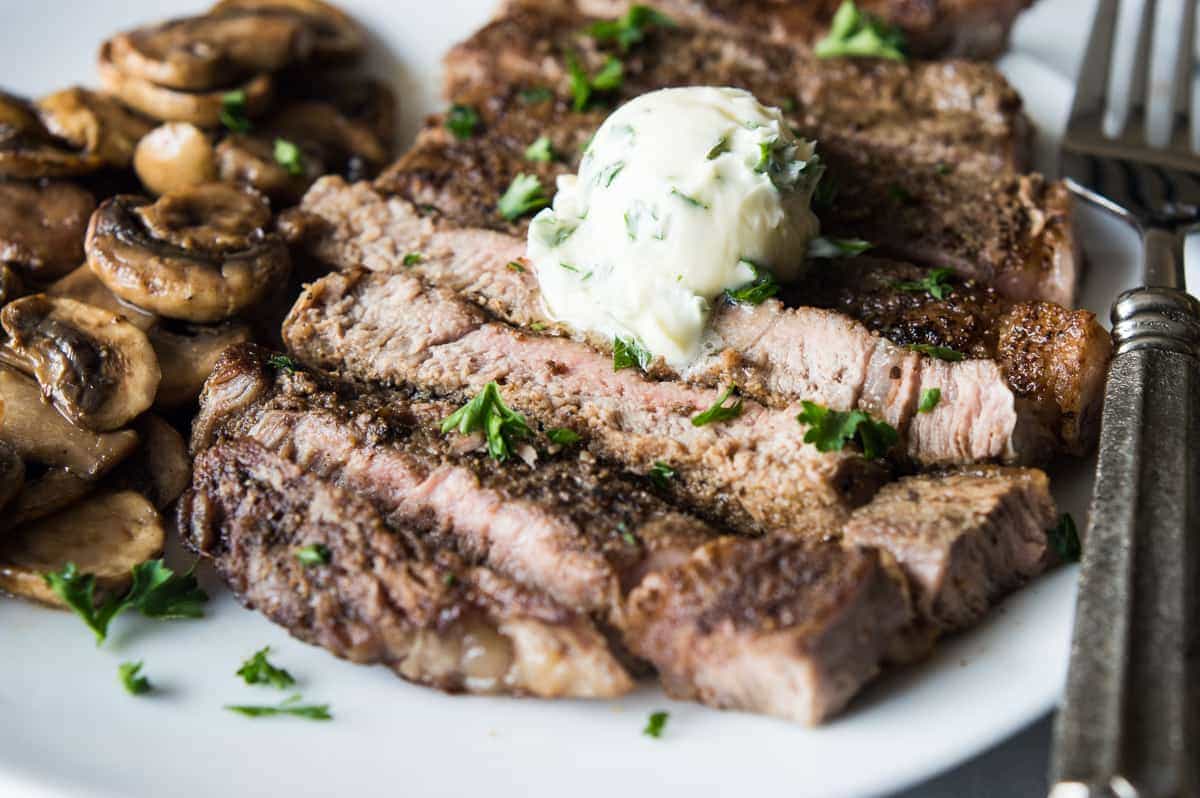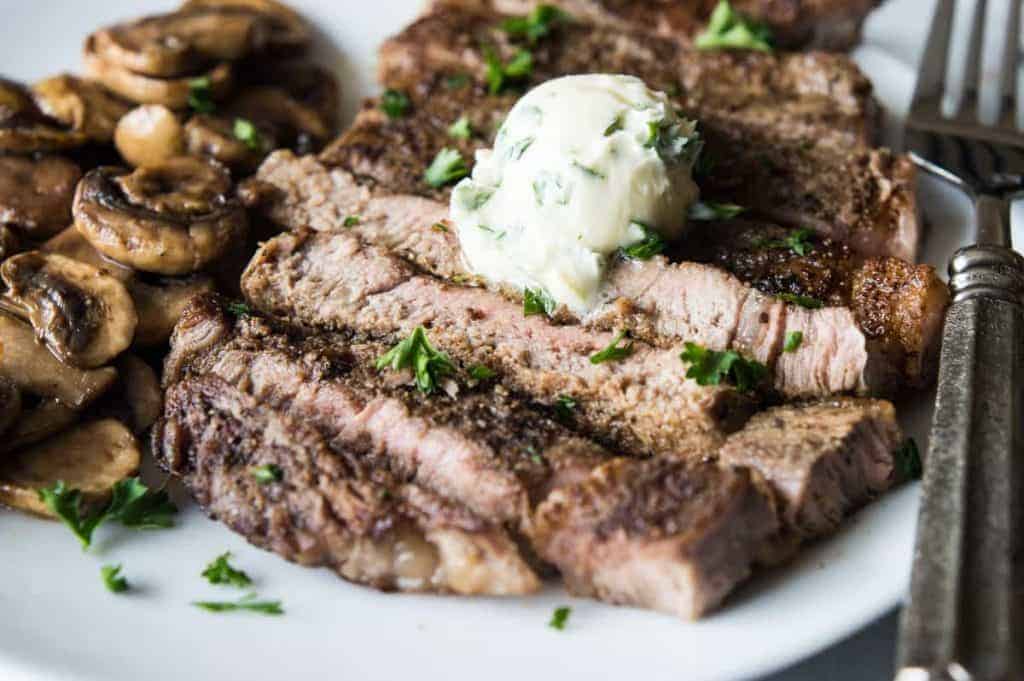 WANT TO TRY THIS PAN SEARED STEAK WITH GARLIC HERB BUTTER?
PIN IT to your DINNER, or QUICK AND EASY MEALS Board to SAVE FOR LATER!
Print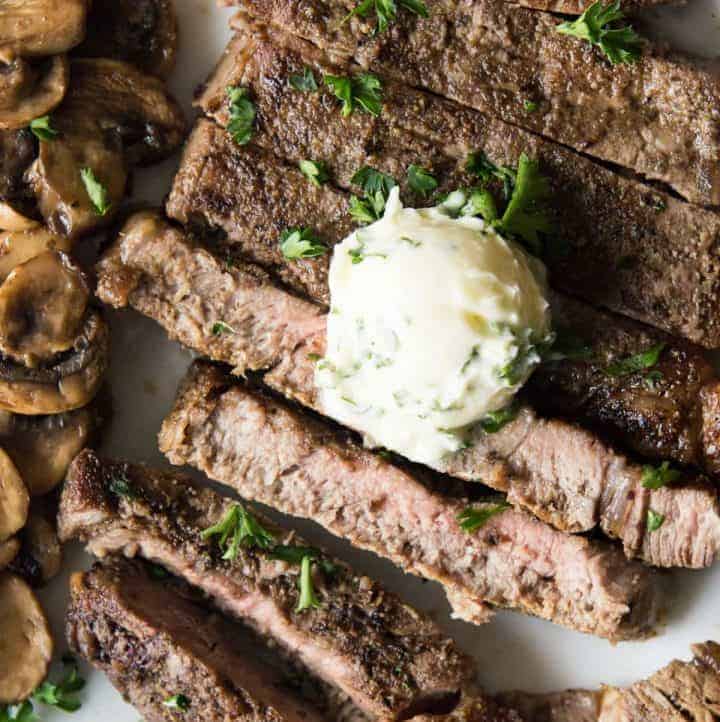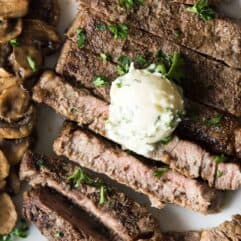 Pan Seared Steak with Garlic Herb Butter
---
Author:
Prep Time: 5 minutes
Cook Time: 8 minutes
Total Time: 13 minutes
Yield: 2 1x
Description
Pan Seared Steak with Garlic Herb Butter. Perfect way to cook that steak indoors when it's way too cold to go outside. Plus top it with an easy to make, flavorful Garlic Herb Butter!
---
Scale
Ingredients
2 Rib Eye Steaks
Salt and Pepper or Steak Seasoning of preference
1 tablespoon butter
Garlic Herb Butter
1/4 cup butter at room temperature
1 garlic clove minced
1 teaspoon fresh parsley chopped
pinch of salt
---
Instructions
Preheat oven to 375 degrees.
Heat a skillet over medium high heat for about 5 minutes to ensure that it is hot.
While the skillet is heating, prepare the meat by patting dry with a paper towel. Generously season on both sides. Use fingers to rub the seasoning into the meat.
Add the tablespoon of butter to the skillet swirl to coat the pan with the melted butter. Gently place the steaks into the skillet. Cook for about 1 minute, then turn to cook the other side for 1 minute.
Carefully place the skillet in the oven and allow to cook for an additional 6 minutes for a medium steak. Less time if you desire a rarer steak.
Remove the steak from the skillet and set on cutting board or plate to let set for 3-4 minutes prior to cutting.
Top with garlic herb butter and serve!
Garlic Herb Butter
Mix together the ingredients until well combined.
Spoon a tablespoon of the butter onto a fully cooked steak. Enjoy!
---
Notes
Garlic Herb Butter makes enough for about 4 steaks.
House of Yumm is a participant in the Amazon Services LLC Associates Program, an affiliate advertising program designed to provide a means for us to earn fees by linking to Amazon.com and affiliated sites.