Homemade Bubblegum Ice Cream
This homemade bubblegum ice cream is flavored with real bubblegum and loaded with colorful gumballs!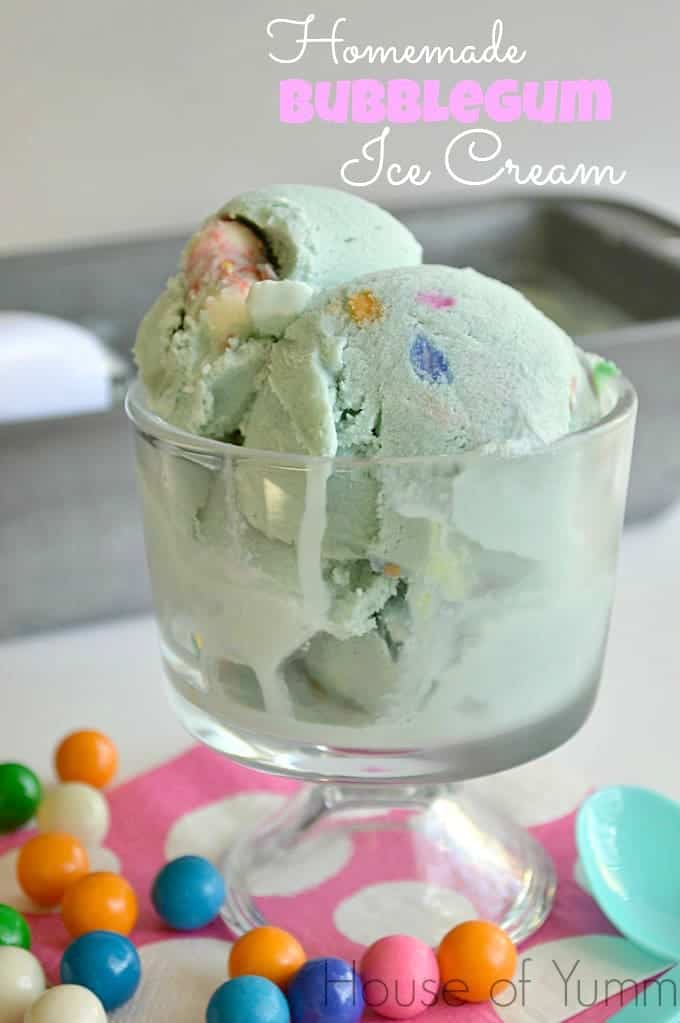 When the weather is in the 90's and you have a house full of hot kids (and adults!) what do you do?!?
Make HOMEMADE BUBBLEGUM ICE CREAM!!
I've always loved going to get ice cream.  There is definitely a difference between the ice cream from the ice cream parlor and the kind you buy in the tub at the market.  Maybe it's the feel of the ice cream parlors?  It's always cool and smells like sugar.
My favorite as a kid was the bubblegum ice cream.  Always a fun blue color and loaded with gumballs!  There was always the bonus of getting to chew the gum after the ice cream was gone too.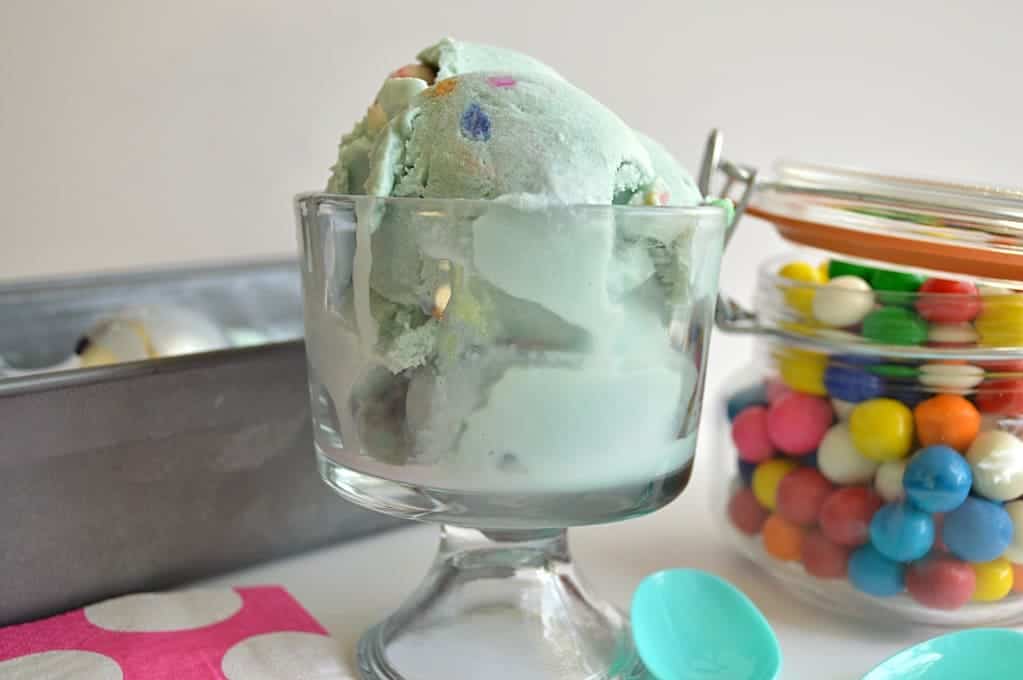 This ice cream is so creamy and delicious.  The ice cream itself is loaded with bubblegum flavor.  Eating this reminds me of hot, sticky days as a child.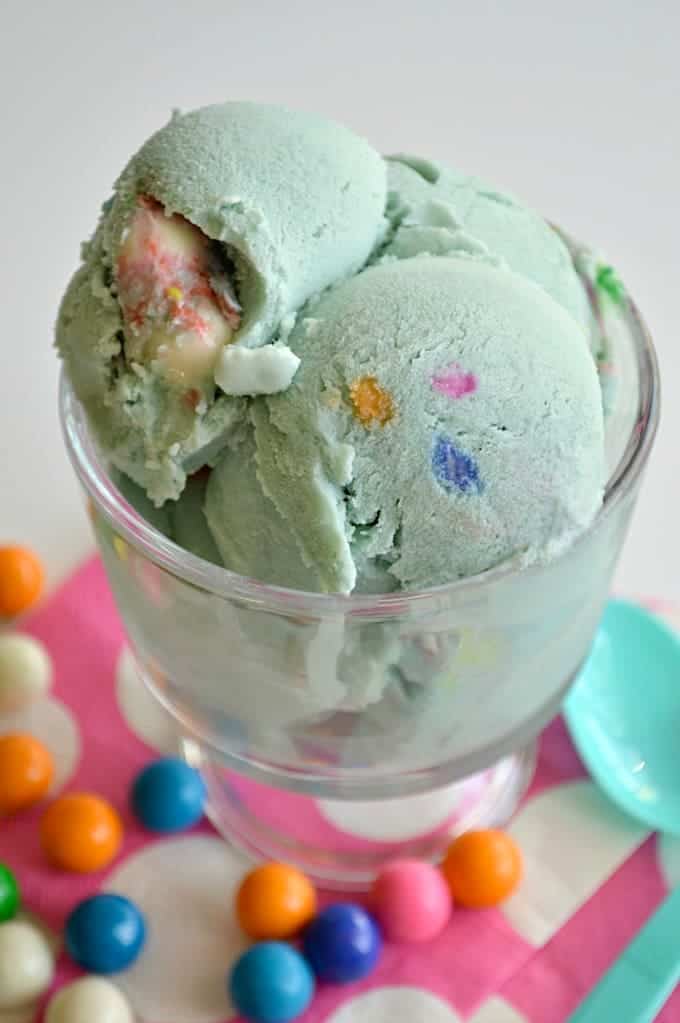 I have a confession to make, I've had my ice cream maker for several years, and never used it.  As I found myself pondering a cool treat to beat the heat, I thought of my ice cream maker sitting up on the shelf.  Then when I came across this recipe for bubblegum ice cream from A Spicy Perspective, I knew it was just meant to be!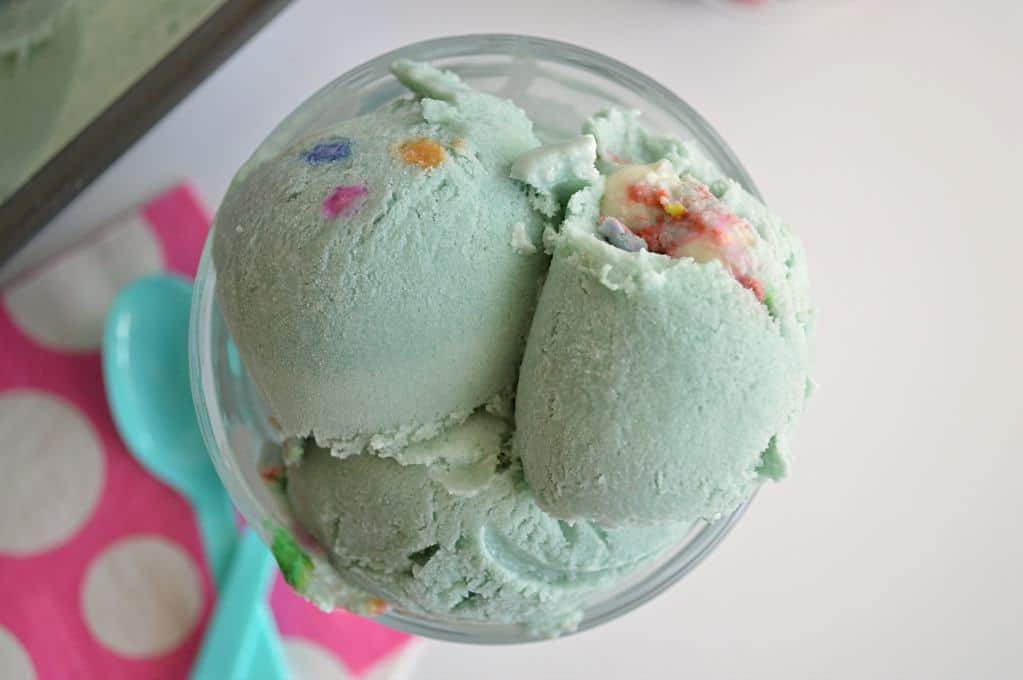 A few tips for making this frozen treat, when using a frozen bowl ice cream maker method, you will need to freeze the bowl for about 15 hours prior to making the ice cream.  So you will need to plan ahead.  Make sure that you are following the directions specific to your ice cream maker.
Since this recipe calls for cooking with real bubblegum to achieve that bubblegum flavor in the ice cream keep in mind that the color of the bubblegum you use will be released into your ice cream.  So since I used pink bubblegum, the blue food coloring didn't come out as blue since the pink combined with it.
And lastly, when you are washing your pot from cooking the ice cream mixture and the bubblegum, you will probably find a small amount of bubblegum residue on your pot.  Just turn on the cold water to give it a wash and it will come right off!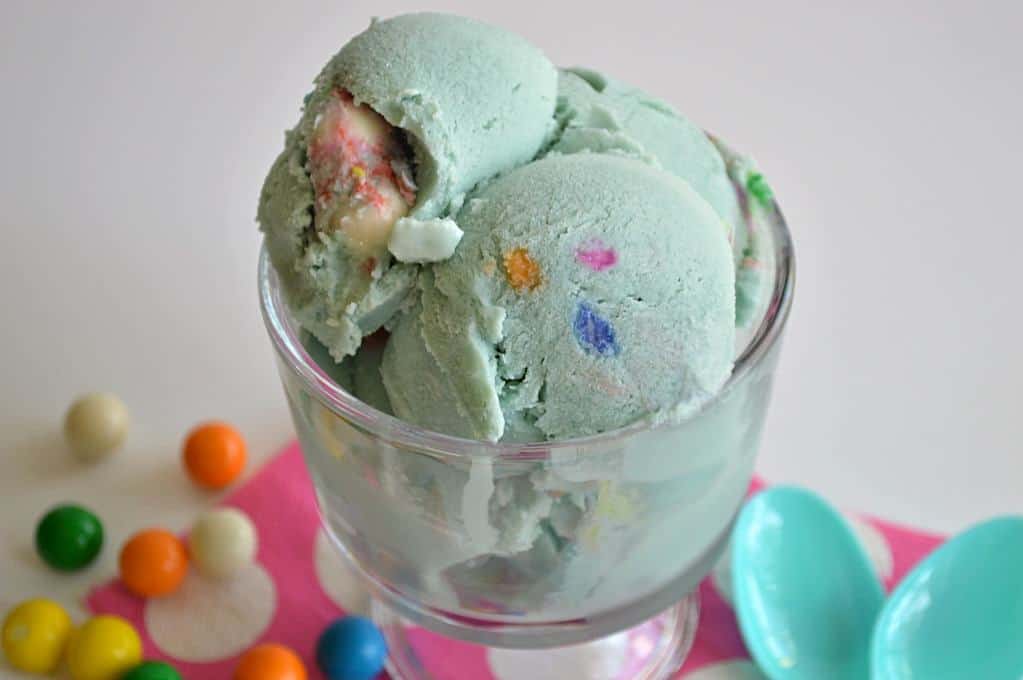 Thanks so much for visiting! Never miss a recipe from the House Of Yumm! 
FACEBOOK | PINTEREST| TWITTER | INSTAGRAM | BLOGLOVIN
Print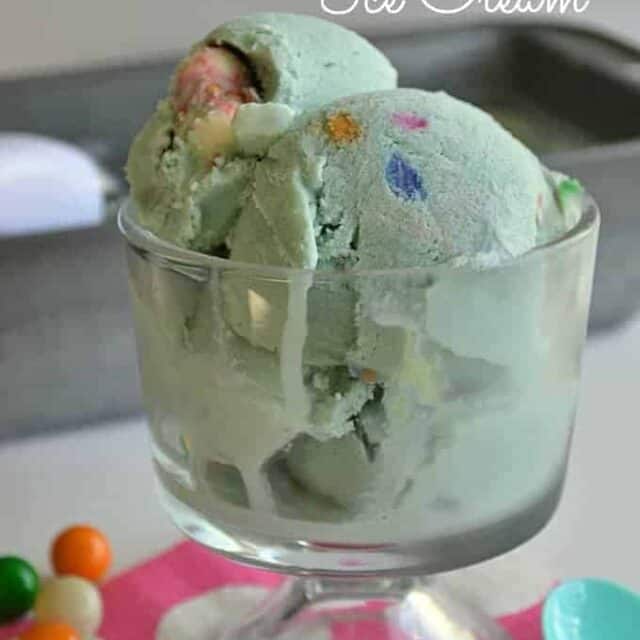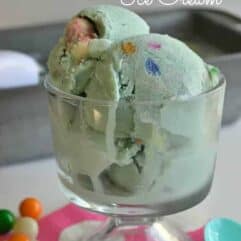 Homemade Bubblegum Ice Cream
---
Prep Time: 15 minutes
Cook Time: 25 minutes
Total Time: 40 minutes
Yield: 8 1x
Description
This homemade ice cream is flavored with real bubblegum and loaded with fun colorful gumballs.
---
Scale
Ingredients
2 1/2 cups half and half
1 1/2 cups heavy cream
3/4 cup sugar
2 egg yolks
1 tsp. vanilla extract
pinch of salt
4–6 drops of food coloring (I used blue-keep in mind the bubblegum color will mix with the food coloring you use)
1 package of bubblegum (I used Bubblelicious Original flavor)
1 cup small mixed color gumballs
---
Instructions
Add the half and half, heavy cream, sugar, and vanilla extract into a medium sized saucepan. Whisk together until combined and sugar is dissolved. Whisk the egg yolks and add to the mixture. Cook over medium heat.
Add in the regular bubblegum pieces and the food coloring as desired. Continue to cook while whisking and bring to a light boil. The gum will almost dissolve, there will only be small pieces of it in the mixture. Cook for about 15-20 minutes until the gum is dissolved and mixture is slightly thickened.
Pour mixture into a bowl, cover, and place in the fridge to cool. Allow to cool for at least 3 hours. Once mixture is completely cooled you can add to your ice cream mixer for churning. Strain to remove any gum residue from the mixture as you pour into the ice cream maker.
Churn ice cream for about 15 minutes, add in the gumballs, continue to churn for another 5 minutes. The consistency will be very soft. Place ice cream in a sealed container and freeze for about 2 hours prior to serving.
---
PS I think you may also like these 😉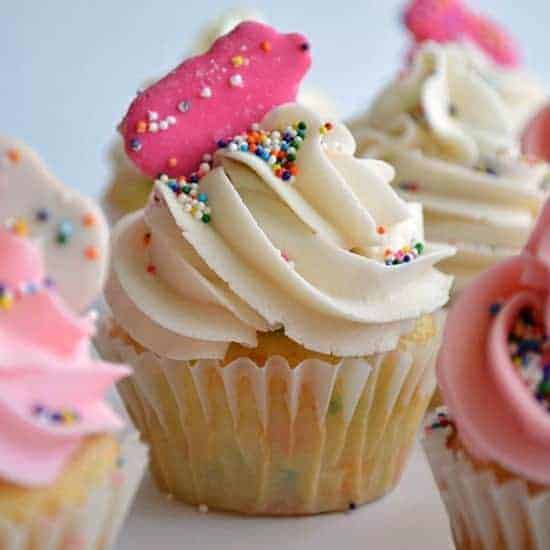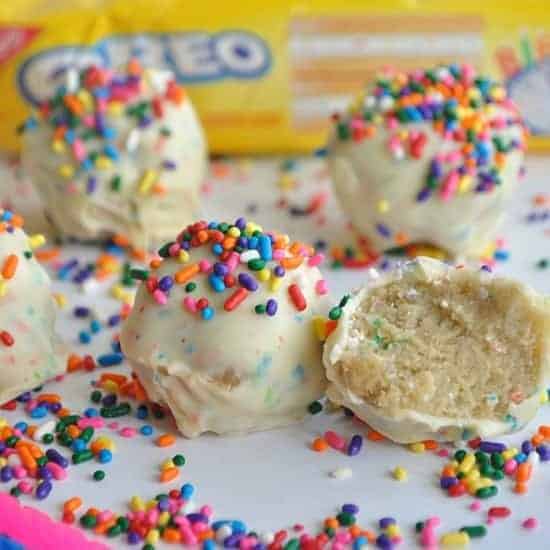 House of Yumm is a participant in the Amazon Services LLC Associates Program, an affiliate advertising program designed to provide a means for us to earn fees by linking to Amazon.com and affiliated sites.