EASY Buttermilk Cornbread. This tender, lightly sweetened, cornbread is made rich and flavorful thanks to using buttermilk and a little bit of honey. Enjoy this as the perfect side dish to all your meals!
Cornbread is a perfect side dish! It pairs perfectly with soups, stews, and chilis. It is a purely American side dish. Made either sweet or unsweetened it has a distinct, grainy texture. This quick bread comes together with pantry ingredients and is ready to be enjoyed within 30 minutes!
How to make the BEST Easy Cornbread Recipe:
Combine the dry ingredients.
Combine the wet ingredients, including melted butter, egg, light brown sugar, and honey.
Add the wet ingredients to the dry ingredients and then stir in the buttermilk. Notes on this ingredient are included below.
Bake for 20-25 minutes. Always check with a toothpick in the center to ensure it's baked completely through.
Serve with butter and honey.
Tips and Tricks to making the best cornbread recipe:
Use melted butter instead of oil. A lot of recipes will use oil, but you will find that the bread lacks flavor using that method. Melted butter gives a wonderful buttery flavor to the end result.
Use light brown sugar instead of white sugar this keeps the bread softer.
Use a combination of sugar AND honey to sweeten. The flavor that the honey gives to the cornbread is perfect!
Add a bit of baking powder. This helps to give a little lift to the bread, makes it a slight bit fluffier and not so crumbly.
Why is my cornbread crumbling?
Cornbread has a natural crumble to it. IF it is too crumbly, this could be due to using too much cornmeal. Make sure that you are using equal amounts of cornmeal and flour to get a better texture. Also be sure to use buttermilk since regular milk doesn't provide as much moisture. More on this down below!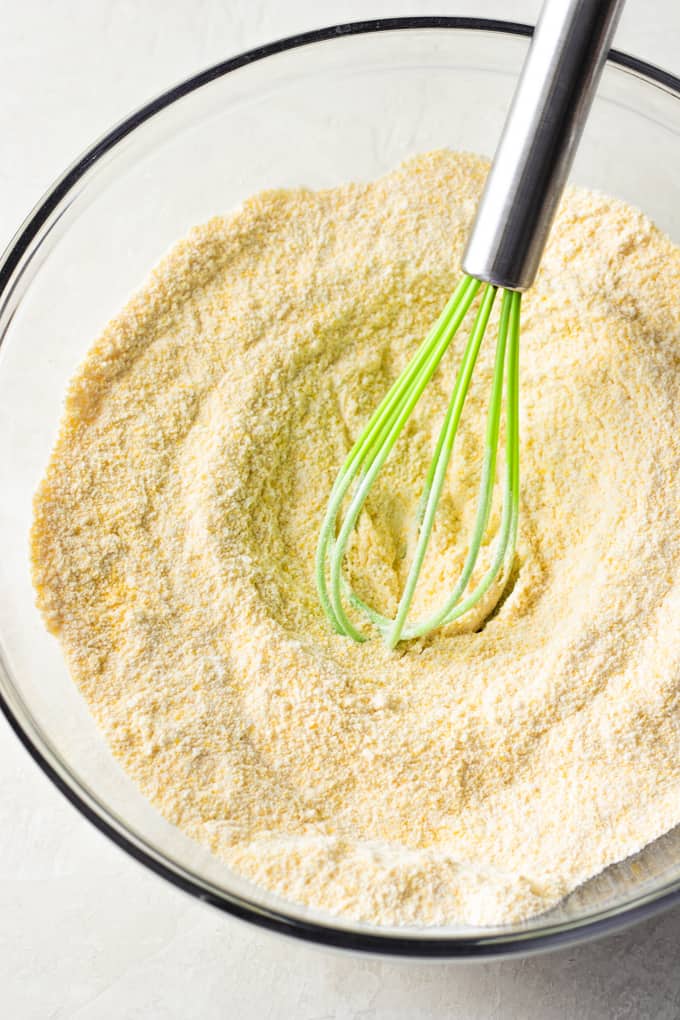 Should cornbread be sweet?
This is a major issue that divides America. Traditionally those in the South prefer their cornbread without any type of sweetness. However, those up North prefer to add a little sweetness. There's a lot of history behind this, that basically comes down to the ingredients that used to be available. Here's an article all about it if you're interested.
This particular recipe does have sweetness added to it, because that's how I personally prefer it. I love the addition of light brown sugar and a bit of honey.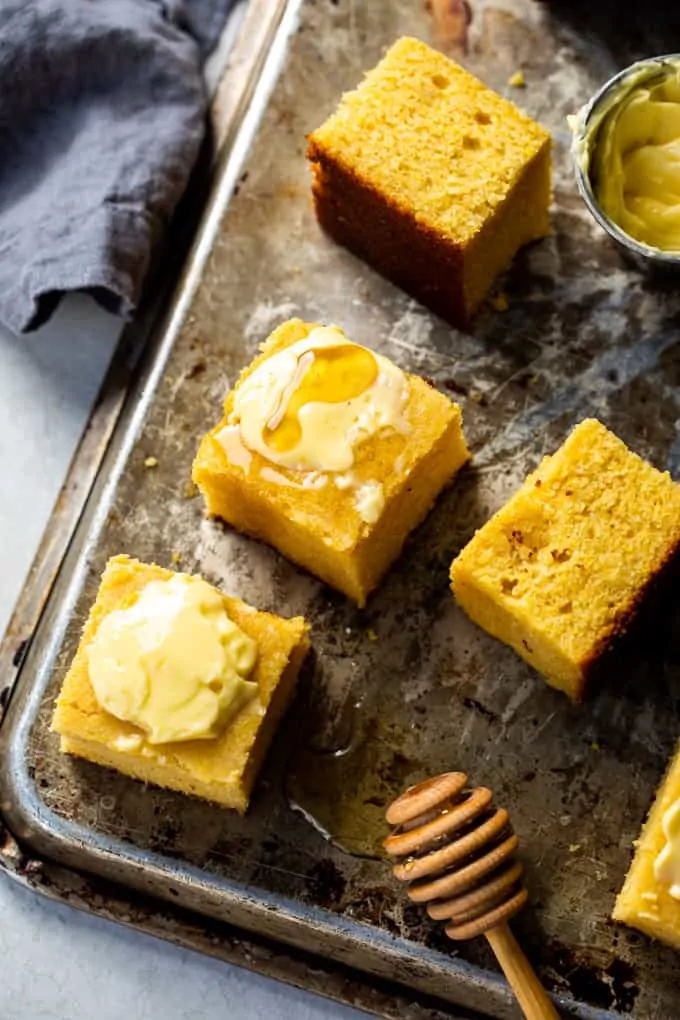 Frequently Asked Questions:
How to store cornbread:
Store at room temperature for 1-2 days. Simply wrap in foil, plastic wrap, or place in a sealable container.
Store in refrigerator for 5-7 days. Again, wrap in plastic, foil, or store in a sealed container.
Freeze for 2-3 months.
Can I freeze cornbread?
Yes you can freeze this bread! Let the bread come to room temperature, wrap in foil and place in a freezer bag. Store the cornbread in the freezer for 2-3 months.
Can I make this cornbread in a different size pan?
This recipe can be made in a 8×8 or 9×9 baking dish. Whichever size you have on hand will work. You can also use a 9 inch round cake pan. OR a 9 inch cast iron skillet. IF you would prefer to make muffins, you will be able to make about 9 cornbread muffins with this recipe. Muffins will need to bake about 15 minutes.
Double the recipe to make a full 9×13 cake pan of cornbread. Increase bake time to 25-30 minutes. Make sure you are checking with a toothpick to determine doneness.
What is cornmeal?
Cornmeal is dried and ground corn. You can find it in the baking aisle of most markets. If you feel like reading up on the differences between cornmeal, polenta and grits, this article is great!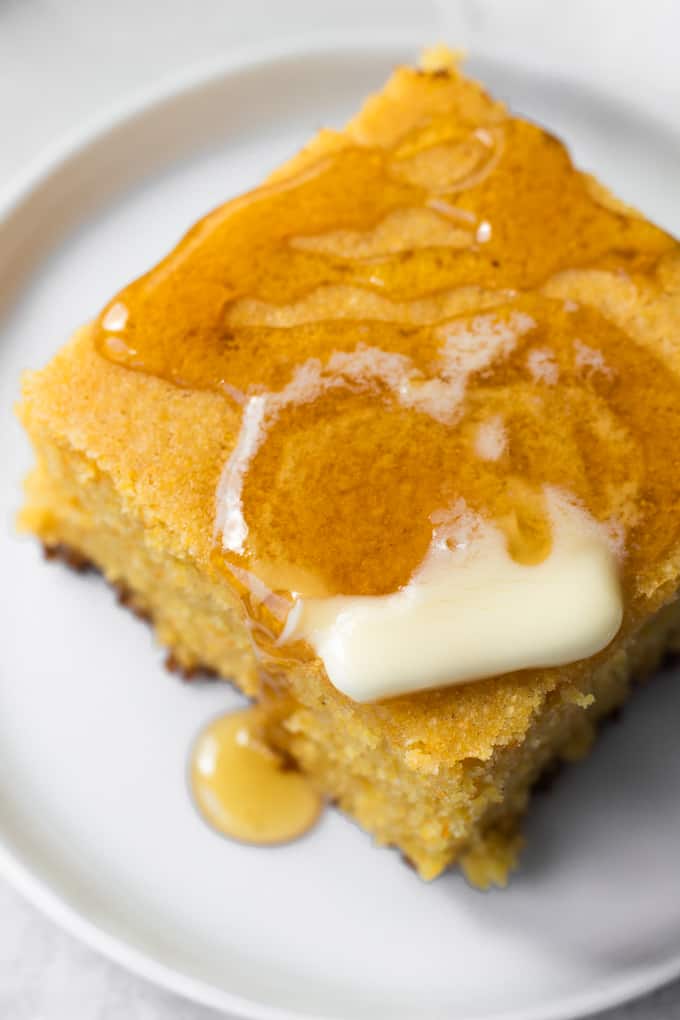 Can I make this cornbread without buttermilk?
I love and highly recommend using buttermilk when making cornbread. It helps to keep the bread soft and moist. If you don't have buttermilk on hand (which I rarely do!) you can make your own by measuring out the amount needed in regular milk. Remove a tablespoon of the milk and add in a tablespoon of vinegar or lemon juice. Stir it around, let it sit for a few minutes, and you will have sour milk, which can be used as a buttermilk substitute.
If you decide to opt for regular milk instead of buttermilk, you will notice a slightly drier texture to the cornbread.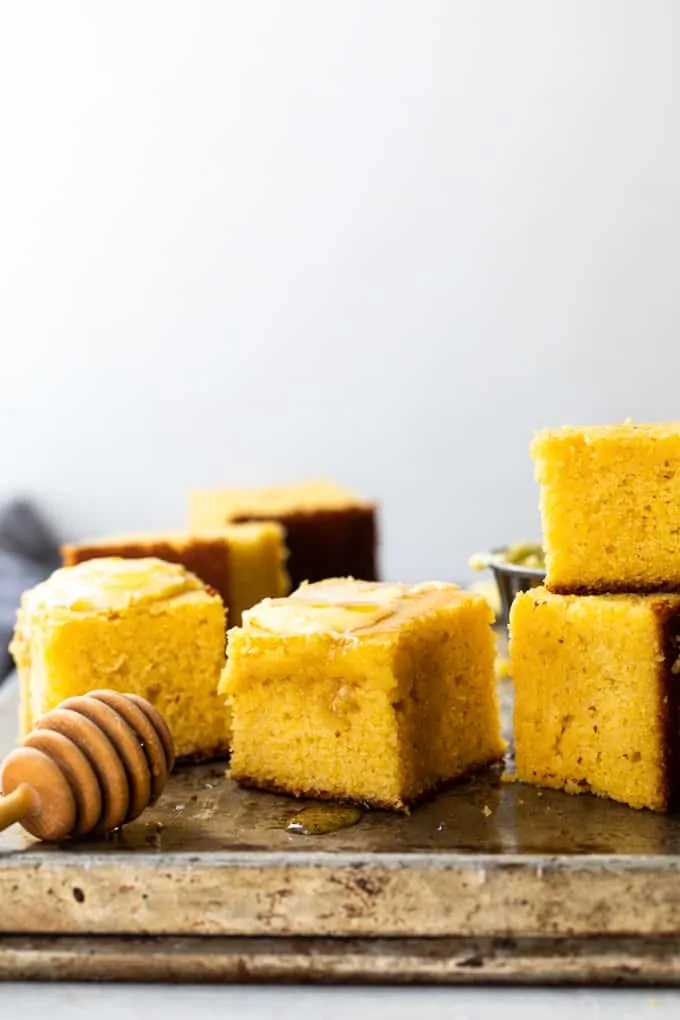 What do I serve cornbread with?
Cornbread
EASY Buttermilk Cornbread.
This tender, lightly sweetened, cornbread is made rich and flavorful thanks to using buttermilk and a little bit of honey. Enjoy this as the perfect side dish to all your meals!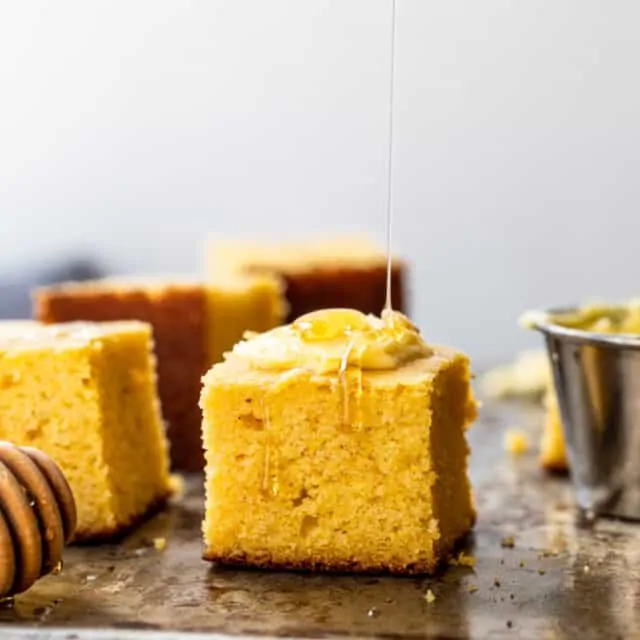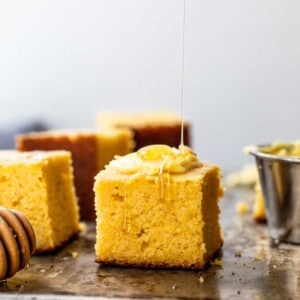 Ingredients
1

cup

cornmeal

1

cup

all purpose flour

1/2

teaspoon

salt

1

teaspoon

baking powder

1/2

teaspoon

baking soda

1/2

cup

unsalted butter

melted

1/3

cup

light brown sugar

1/4

cup

honey

1

large egg

1¼

cup

buttermilk*
Instructions
Preheat oven to 400℉ degrees. Spray 8x8 square non stick baking dish with baking spray. Set aside.

In a large mixing bowl combine the cornmeal, all purpose flour, salt, baking powder, and baking soda. Whisk together.

In a medium size mixing bowl add the melted butter (should be melted but cooled to room temperature, don't use while still hot). Whisk with the light brown sugar until combined.

Pour in the honey and whisk together.

Whisk in the egg. And whisk while pouring in the buttermilk, until completely combined.

Pour the wet ingredients into the dry and stir together.

Pour the cornbread mixture into the baking dish.

Bake for 20-25 minutes until completely baked in the center. Test by using a toothpick, it should come out clean once completely baked.
Notes
*If you don't have buttermilk on hand you can measure out 1 scant cup of milk (meaning 1 cup minus 1 tablespoon) stir in 1 tablespoon vinegar or lemon juice. Let sit for a couple minutes and use as buttermilk.
Nutrition
Serving:
1
|
Calories:
294
kcal
|
Carbohydrates:
45
g
|
Protein:
4
g
|
Fat:
11
g
|
Cholesterol:
48
mg
|
Fiber:
1
g
Nutrition information is automatically calculated, so should only be used as an approximation.
Like this? Leave a comment below!
Recipe first published on August 23, 2019. Updated October 21, 2020 with new images and information.