Strawberry Pancakes topped with a luscious cream cheese glaze and fresh cut strawberries
You know that moment when you take a bite of something and that "mmmmm" sound escapes? Exactly. That's what happened when I bit into this stack of pancakes right here. I love pancakes. Such a fun and easy meal. And not just for breakfast. I'm a big fan of breakfast for dinner, or in the case of these I would consider this a lovely breakfast for dessert meal.
The pancakes themselves alone were tasty. Made with chopped up strawberries and brown sugar in the pancake batter. Then I figured why not go all out and add a lovely glaze to these as well. Syrup on fruit just doesn't work for me. So a glaze of course was the only thing to do.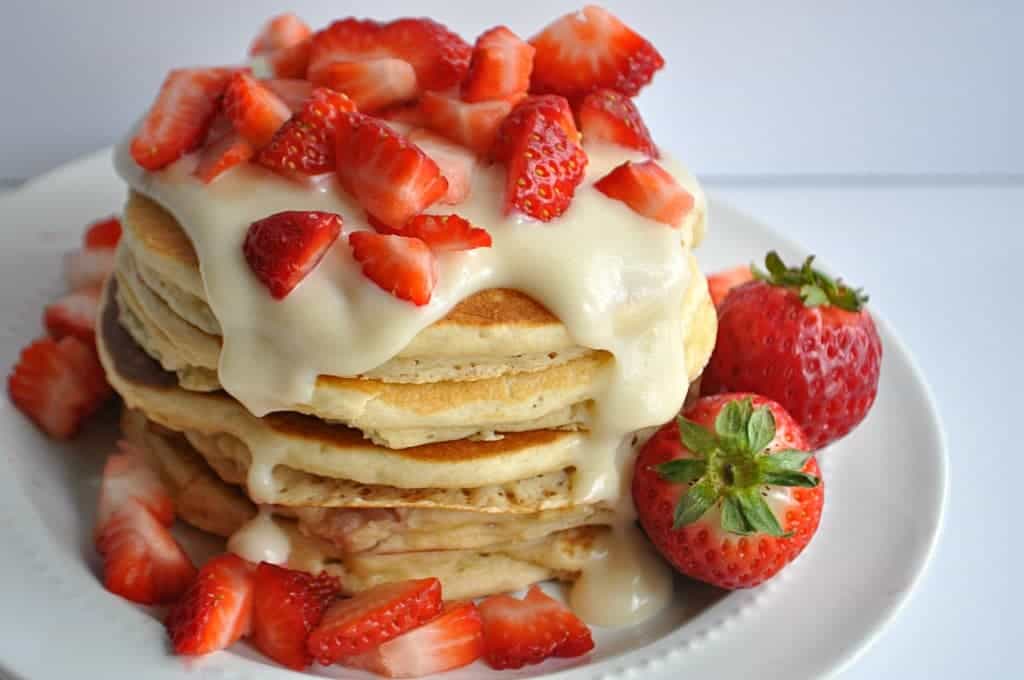 The cream cheese glaze on these is what makes this aMAZing! If I could get away with it, I would just eat the glaze, by the spoonful, standing in the kitchen in my pajamas. But sadly, my jeans would never forgive me for that transgression. So I restrained myself, and only devoured the glaze with the pancakes. Because of course that's better right?
I have a feeling that these strawberry and cream pancakes are going to become a regular meal in this household. So quick and easy to make, and tastes like heaven.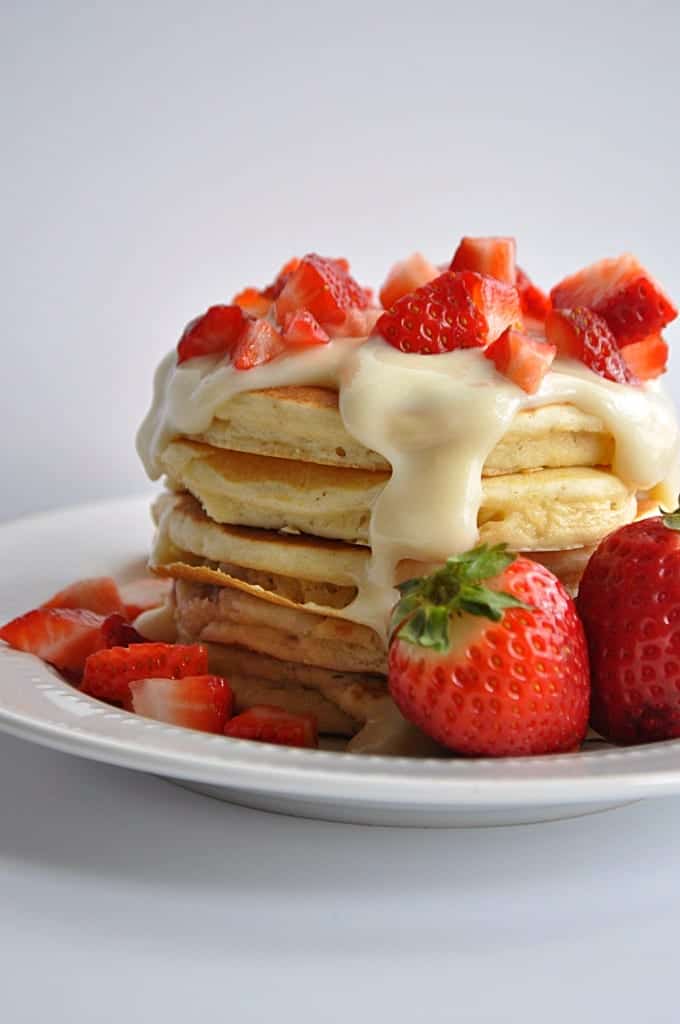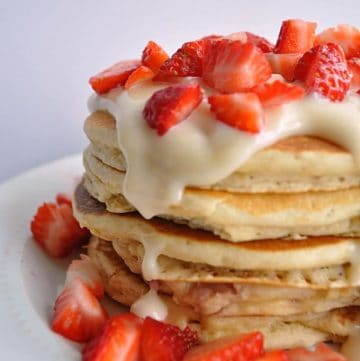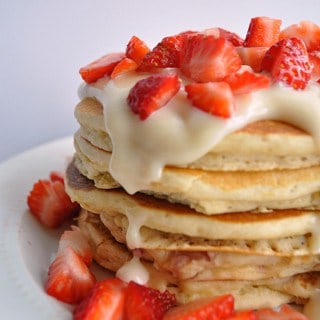 Strawberries and Cream Pancakes
Strawberry Pancakes topped with a luscious cream cheese glaze and fresh cut strawberries
Ingredients
For the pancakes
2 cups Bisquick
2 large eggs
1 cup milk
2 tbsp light brown sugar
1 cup strawberries, diced
For the glaze
4 ounces cream cheese , softened
1 cup powdered sugar
1 tsp vanilla
4 tbsp milk
Instructions
Add the Bisquick, eggs, milk, brown sugar into a large mixing bowl. Stir until combined. Add the strawberries and fold into the batter.

Cook pancakes on a skillet over low heat
Glaze
Place all ingredients into a small mixing bowl and stir until smooth and creamy. Add milk or powdered sugar as needed to get desired consistency.
Nutrition
Calories: 586kcal, Carbohydrates: 82g, Protein: 12g, Fat: 24g, Saturated Fat: 10g, Cholesterol: 122mg, Sodium: 923mg, Potassium: 323mg, Fiber: 2g, Sugar: 49g, Vitamin A: 623IU, Vitamin C: 21mg, Calcium: 244mg, Iron: 2mg
House of Yumm is a participant in the Amazon Services LLC Associates Program, an affiliate advertising program designed to provide a means for us to earn fees by linking to Amazon.com and affiliated sites.