Smoky Bacon & Blue Cheese Corn Salad. Take your corn salad to a whole new level with hints of smoke, fire roasted corn, bacon and chunks of blue cheese.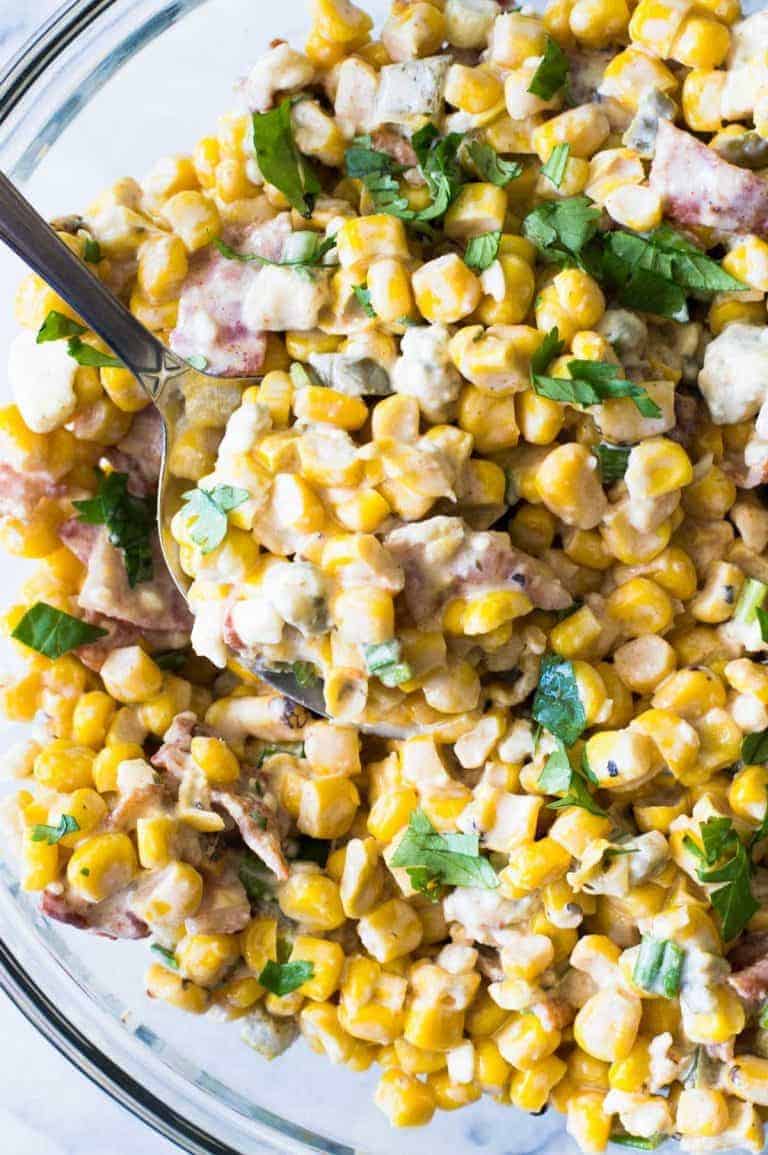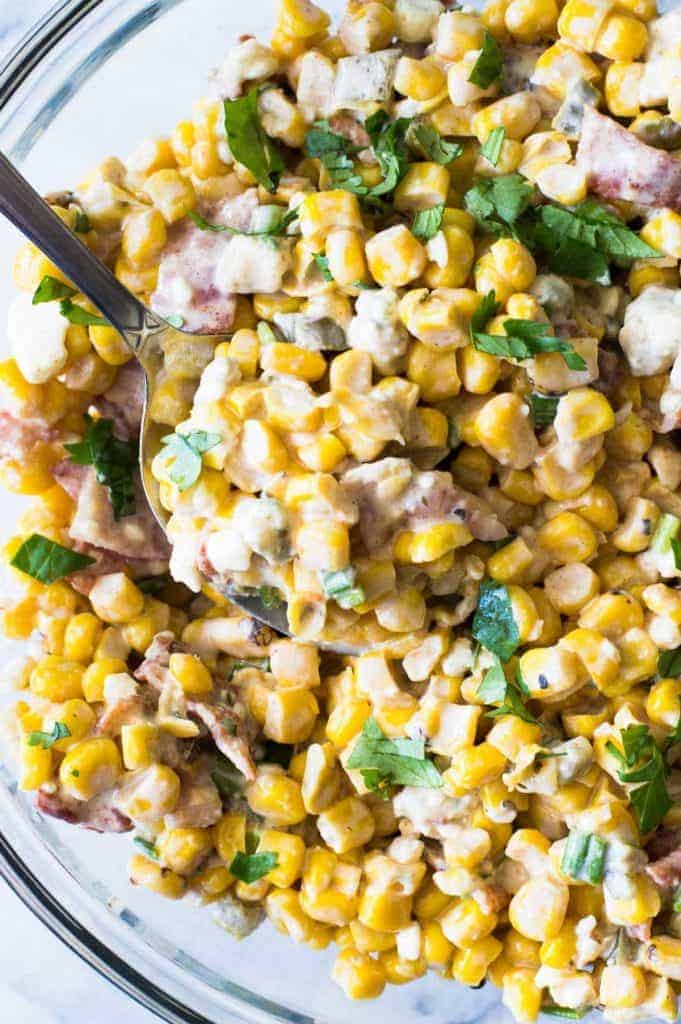 Hey y'all!  And welcome to this Smoky Bacon & Blue Cheese Corn Salad.  This was the hubs idea, and y'all always love his ideas!  So I'm fairly certain this will be a success as well.  You remember that Ramen Grilled Cheese?  That was his idea, and of course who can forget the Sriracha Jam Grilled Cheese? His ideas, while not always conventional, are usually tasty.  The not so tasty ones don't end up online.
This recipe is a play on a corn salad, typically we would make a version of this Mexican Street Corn Salad as a side dish in our home.  It can be eaten as a dip or on it's own as a side dish like a salad.  Or pile it on top of nachos like these Mexican Street Corn Nachos.  So yumm.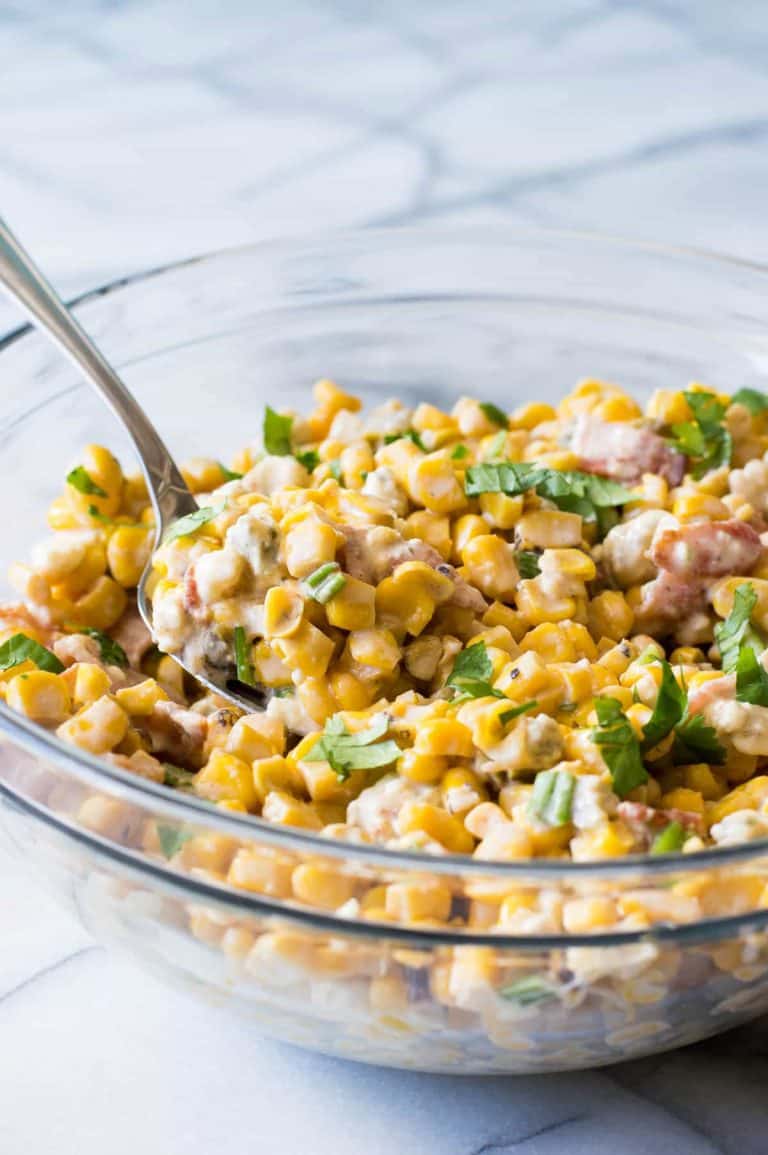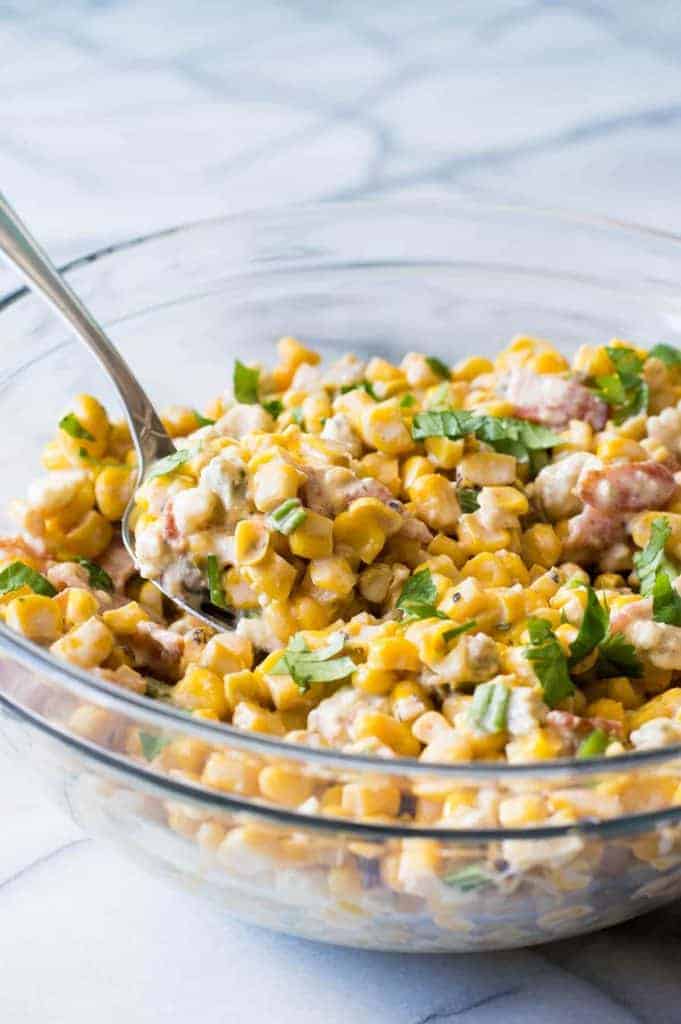 This corn salad is instead loaded up with salty, crisp bacon, chunks of blue cheese, and a hint of smoke.  Making it a more likely side dish for our nights of having BBQ.  Or would be perfect on the side of these Texas BBQ Brisket Meatballs.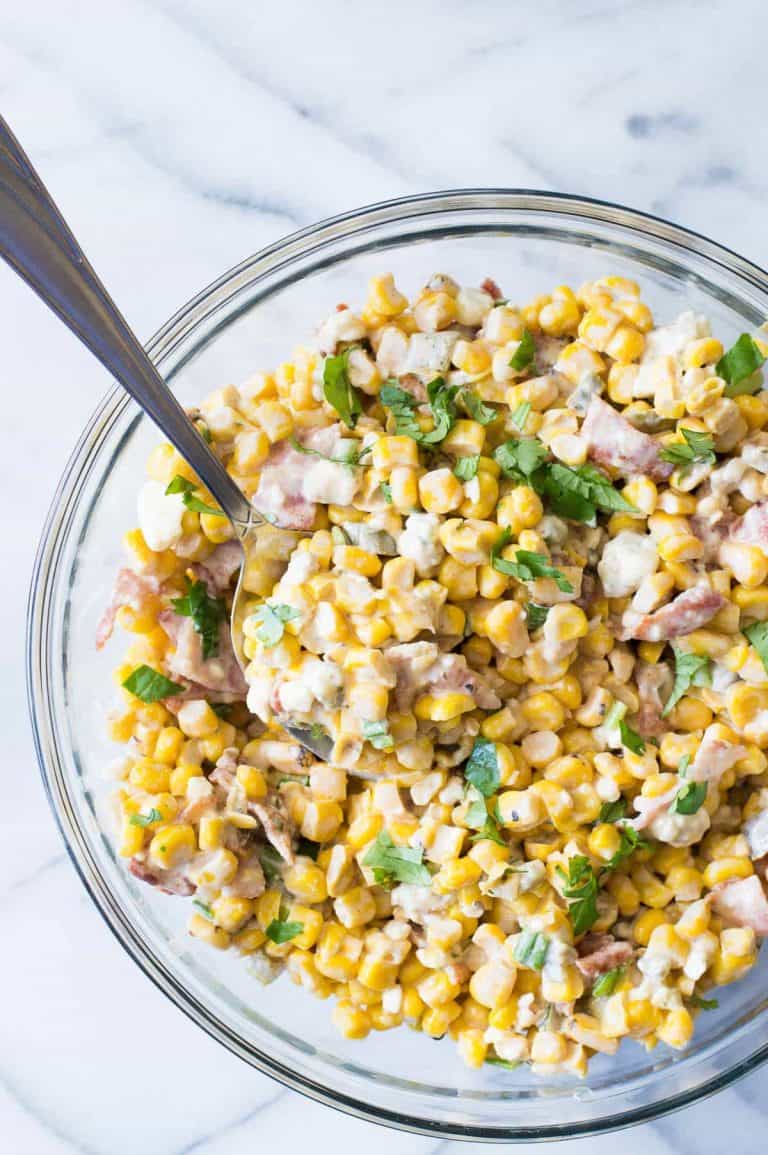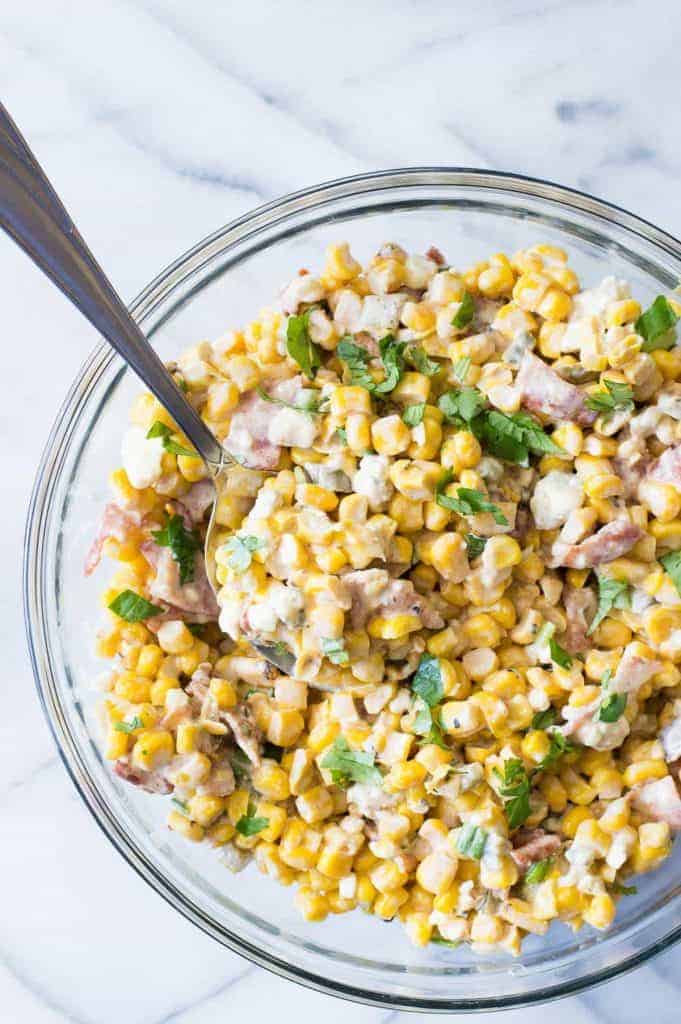 This is an easy dish that you can use either fresh corn for, just grill the cobs which can be done on a grill or on the stovetop in a skillet.  Or!  You can use canned corn for an easier dish.  I used can this time around, because the stores were running out of fresh corn.  But I grabbed some fire roasted corn so that it still has a slightly charred corn kernel.
The liquid smoke is exactly what it sounds like.  It's a liquid that you can find in the markets usually by the BBQ sauces and such, it has a smokey taste to it.  You can add it to things you're making in the house that you would typically want to have a smokey taste like you BBQ'd it outside.
Some green onion, jalapeño, cooked crispy bacon, and chunks of blue cheese finish us off!  Plus some spices just a little garlic, salt and pepper, and I used a smoked paprika for a little extra smokiness and a touch of heat.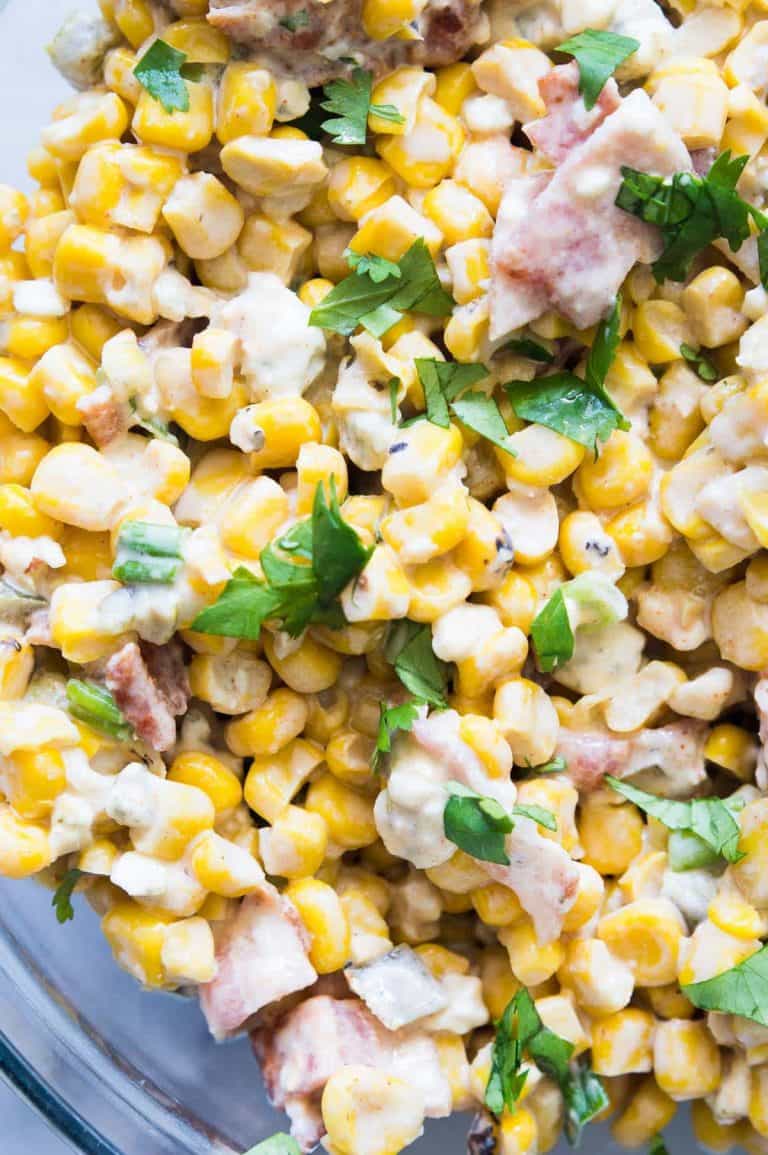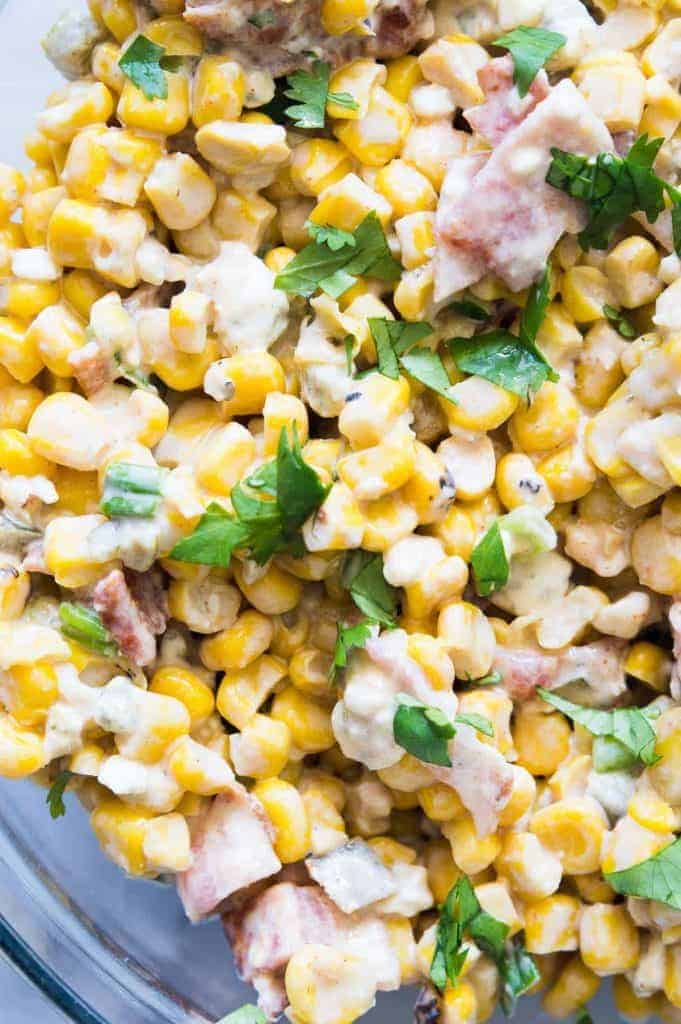 Some More Recipe Inspiration!
WANT TO TRY THIS SMOKY BACON & BLUE CHEESE CORN SALAD??
PIN IT to your Salad or Side Dish board  TO SAVE FOR LATER!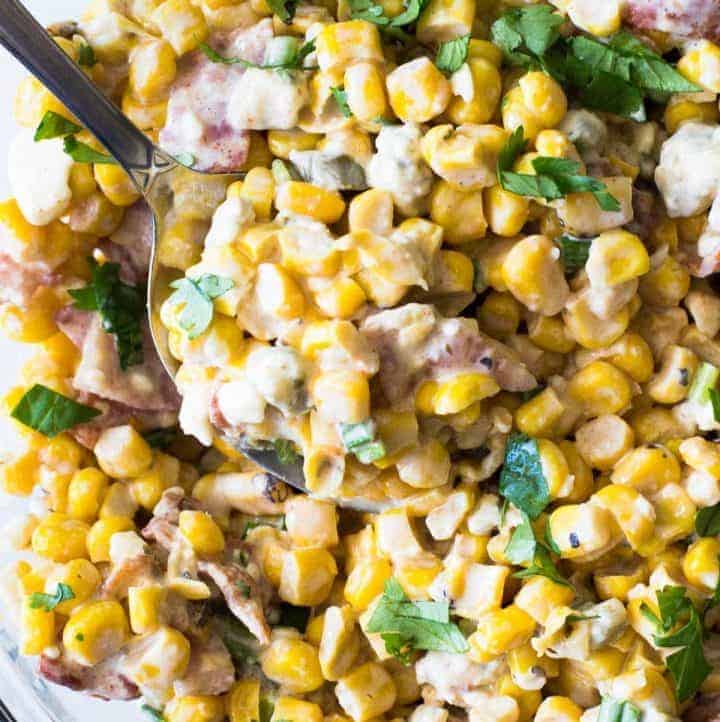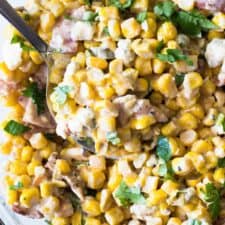 Smoky Bacon & Blue Cheese Corn Salad
Smoky Bacon & Blue Cheese Corn Salad. Take your corn salad to a whole new level with hints of smoke, fire roasted corn, bacon and chunks of blue cheese.
Ingredients
2 (15 ounce) can Fire Roasted corn, or 4 corn cobs grilled and kernels removed, drained
5 green onions, chopped
2 tbsp jalapeno (can use fresh or pickled), diced,
5 slices bacon, cooked, crumbled
⅛ tsp liquid smoke
⅛ tsp smoked paprika
¼ tsp garlic powder
¼ tsp salt
¼ cup mayonnaise
¼ cup blue cheese, crumbled
2 tbsp cilantro, chopped
Instructions
Add the corn to a medium size mixing bowl. Pat dry with a paper towel to get as much moisture off the corn as you can.

Add in the green onion, diced jalapeños, chopped bacon and stir to mix.

Add the seasonings and mayonnaise. Stir to mix. Add more mayonnaise if needed to get to consistency preferred.

Stir in blue cheese crumbles.

Sprinkle cilantro on top and serve!Enjoy! Store in refrigerator and eat cold.
Nutrition
Serving: 1g, Calories: 248kcal, Carbohydrates: 2g, Protein: 6g, Fat: 24g, Saturated Fat: 7g, Cholesterol: 30mg, Sodium: 537mg, Potassium: 136mg, Fiber: 1g, Sugar: 1g, Vitamin A: 339IU, Vitamin C: 12mg, Calcium: 55mg, Iron: 1mg
House of Yumm is a participant in the Amazon Services LLC Associates Program, an affiliate advertising program designed to provide a means for us to earn fees by linking to Amazon.com and affiliated sites.